You have probably seen pictures of Èze before – this beautiful medieval village is the subject of many postcards. Located about 8 km to the east of Nice, the town is a bucket-list destination on the Cote d'Azur. 
Èze is a staple on cruise excursions but luckily you can easily visit Èze on your own and save money compared to organized tours. Read on to find out how to get there and what to do in this little jewel of a town.
Here you can see the road and Èze-sur-Mer below and the upper road which the bus travels on to get to Èze-Village.
Unless you are looking for the beach, you want to go to Èze-Village. As the train stops in Èze-sur-Mer, you are better off taking the bus to Èze. As the bus travels high above the sea this will also give you some great views.
Even though there may be a shuttle from the train station to the upper village, the fastest and easiest way to get to Èze-Village from Nice or Villefranche is by taking bus 602. The ride will cost €1.50 and take about 30 minutes.
Èze is a very popular destination so buses can get full (especially in the summer and on weekends). If you want to increase your chance of getting a seat in the bus it might be best to board the bus at one of the first stops in Nice (e.g. Vauban G R). If you are coming from Villefranche (where most cruise ships stop) you will unfortunately have to take your chance.
In Èze the bus will stop near the entrance to the old village, close to a small grocery store. Nearby you will find the Tourist Information and a public bathroom.
To get to the medieval village from the bus stop just walk uphill (or follow all the other tourists)!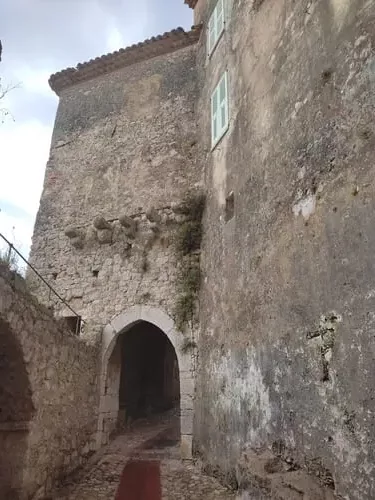 Is Èze worth a visit and how much time to you need?
With its narrow lanes, the old stone walls, beautiful flowers, and above all the gorgeous views over the azure sea, Èze is definitely worth a visit!
However, there actually isn't that much to do there. You should be able to see everything in just a couple of hours (unless you decide to eat a leisurely meal in one of several restaurants in town).
That's not necessarily a disadvantage though. You can combine a visit to Èze with a trip to Monaco, Cap Ferrat, or Nice.
Or, if you are here on a cruise and are worried about missing your ship, you can visit Èze in the morning and spend the rest of the day at the beach in Beaulieu or Villefranche.
What is the best time to visit Èze?
Èze is truly beautiful but unfortunately that also means that it is extremely popular. And given the small size of the village and the narrow lanes, much of the ambiance is lost when the entire town if full of tourists.
The best time to visit Èze is definitely early or late in the season (May/June or September). I would also avoid weekends and if possible any days on which many (or very large) cruise ships are docked in Villefranche (you can check the port schedule here).
If you are on a cruise yourself though that trick will obviously not work. In that case I would try to visit Èze as early as possible in the morning or around lunch time. Many cruise tours are half-day tours so there should be a bit of a lull around noon.
Given the somewhat remote location of Èze and the possibility of overfull buses I wouldn't recommend visiting Èze close to your departure time on a do-it-yourself-trip. But if you are staying in the area, late afternoon or early evening should work well for a visit.
Would Èze make a good base for a longer stay?
Quite honestly, as a solo traveller I would not choose Èze as my base on the Cote d'Azur. Even though it is very pretty, it is rather remote and there isn't too much to do. Nice, Villefranche, or Cannes would be cheaper and more convenient alternatives.
However, for a honeymoon or couples weekend Èze would be wonderful! Both Chateau Eza and Chevre d'Or look amazing (prices vary from very expensive to awfully expensive) and would be high up on my list for a romantic weekend.
Things to do in Èze
1) Explore the idyllic medieval town of Èze
The main activity in Èze consists of just exploring the quaint lanes and hidden corners of this cute as a picture town. Take your time, browse in some of the artsy stores, and enjoy the romantic ambiance.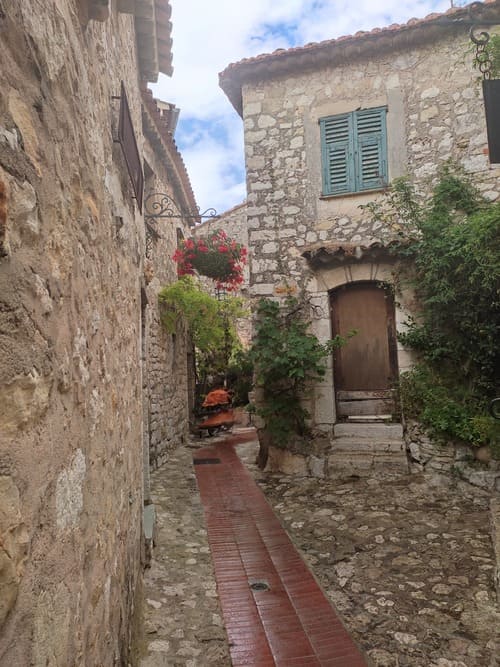 2) Visit the Jardin Exotique
If I was to make one recommendation for Èze it would be to not miss the Jardin Exotique. There is a small fee for visiting this botanical garden focused on cacti and succulents and I have heard people pass on a visit because of that.
But at Euro 7 the entrance fee really isn't very high and the garden is a definite highlight! Obviously, you would want to visit if you have an interest in plants, but even if not, a visit is worth it. The Jardin is located on the highest part of the hill (on the ruins of the former castle) and offers the most spectacular views over the blue sea.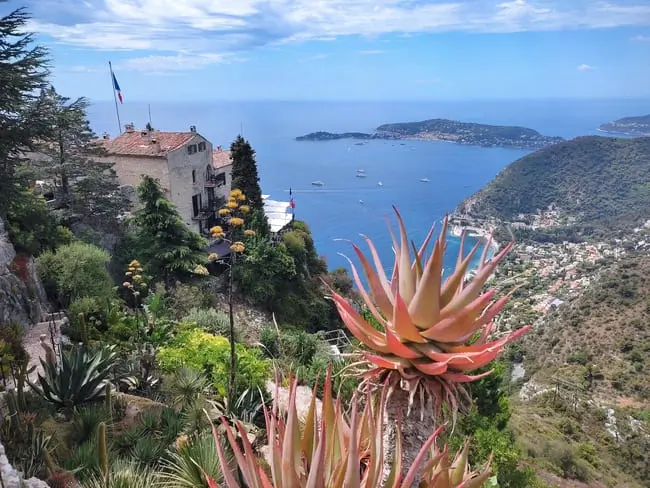 3) Check out one of the local perfumeries
Similarly to Grasse, Èze is known as a center for perfume manufactury and there are two perfumeries in town, Parfumerie Galimard and Parfumerie Fragonard.
The Parfumerie Galimard is right outside the village gates (near to the bus stop). You can shop for fancy soaps and souvenirs here – a good chance to stock up on gifts for people at home.
4) Indulge with a meal in a first-rate  restaurants
With Chateau Eza and La Chèvere d'Or, the small village of Èze offers not one but two Michelin-starred restaurants (one and two stars respectively) in the area. Do make sure to book a reservation ahead of time if you want to eat at either of those restaurants with their gorgeous views (and be prepared for a hefty price tag).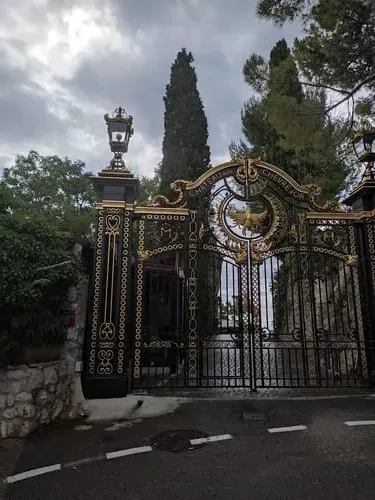 5) Enjoy a picnic with a wonderful view
If you don't want to spend the time or money for a fancy meal, stop by the Casino grocery store for some tasty snacks and eat them on the benches provided at the view point just below the village (at the start of the Chemin de Nietzsche).
5) Take on the challenge of the Chemin de Nietzsche
If you are up for a bit of a challenge, I recommend the Chemin de Nietzsche. This path connects Èze-Village on top of the mountain with the town at the seaside.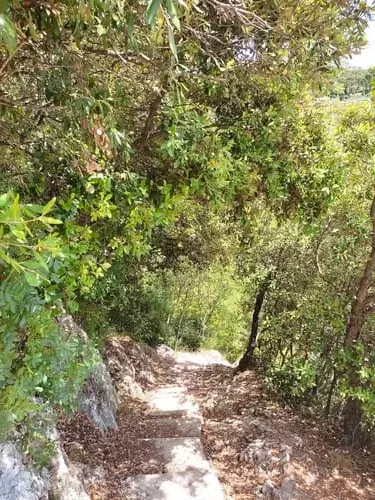 The path is named for the philosopher Friedrich Nietzsche who supposedly worked on his book "Thus spoke Zarathustra" while hiking on the hill.
You can of course conquer this path either uphill or downhill but I recommend going down instead of up. It really is quite challenging! When I was walking down, I did pass a number of people hiking up and most of them seemed quite exhausted.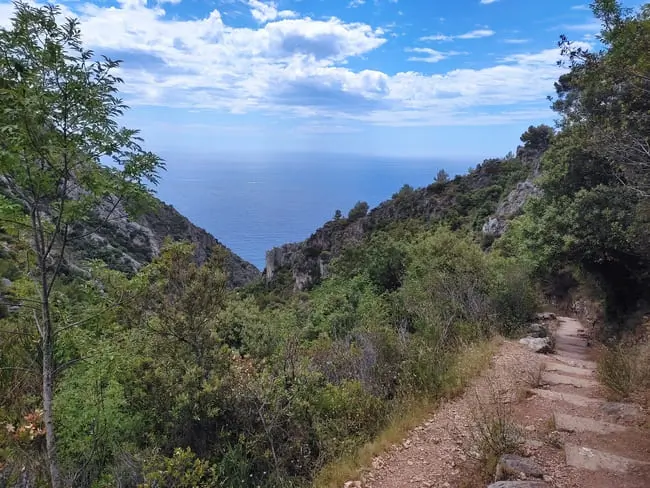 If you decide to hike down (or up) make sure to wear a hat and sunscreen. There is very little shade and it can get hot! Take plenty of water with you (you can buy water at the grocery store near the perfumery if you forgot to bring some with you) – it is easy to get dehydrated and there are no shops along the path.
I strongly recommend that you wear sturdy shoes. Though hiking boots would be good, any shoes with a decent grip should be fine. There is quite a bit of loose stones and gravel. I did encounter tourists with flip-flops on this trail and they did not seem happy!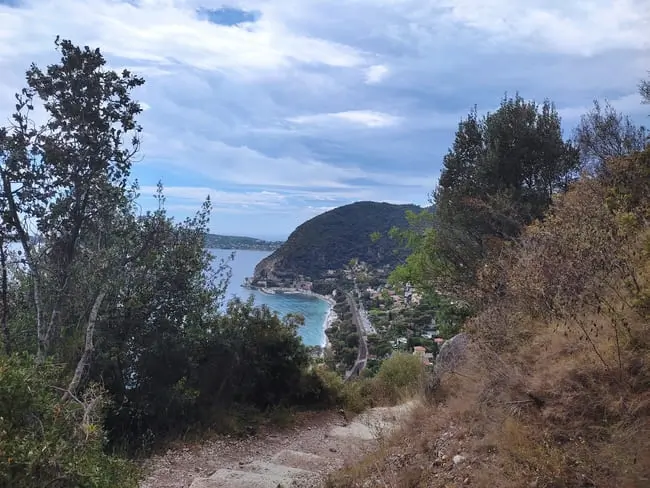 The Chemin de Nietzsche doesn't take too long – I would estimate around one hour (probably more going up than down). If you are in good shape, it probably won't be too much of a challenge for you.
The difference in elevation is almost 400 m though so for casual walkers it can be exhausting. My knees definitely felt weak when I arrived at the seaside!
From the bottom of the hill you can easily catch a bus or train back to Villefranche/Nice or westwards to Monaco.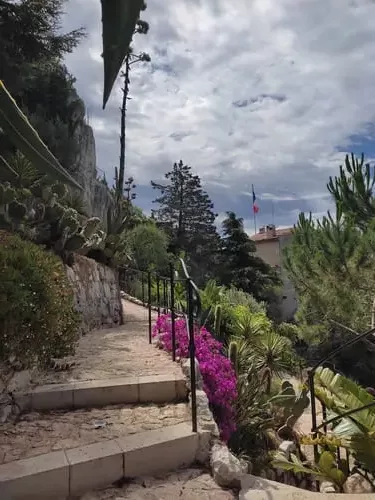 How about you? Have you been to Èze and if so, what did you think? Do you have any special tips for visiting this popular destination?