Do you want to visit Cornwall but have no desire to drive? I don't blame you – driving on the left side of the road, narrow streets, and a lot of traffic can make driving in Cornwall quite challenging.
For years I was thinking of touring Cornwall but decided against it because I wasn't sure it would be worth it without a car. But I finally did it – and it was a success!
So don't hesitate – with a little bit of flexibility (yes, public transportation in Cornwall is not without its challenges) you can see and do (almost) everything you are hoping to.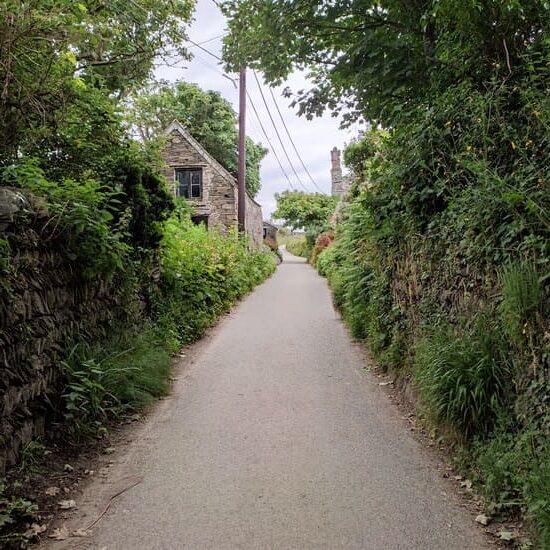 Getting to Cornwall by Public Transportation
Getting to Cornwall on public transportation is actually quite easy. It is definitely too far to be a day trip from London but if you have at least three days – or better a week – Cornwall can easily be done.
There are regular trains (about one per hour) from London Paddington all the way to Penzance in the West.
Some of the connections do require a change (usually in Plymouth) – if you are travelling with luggage choose a train that will not require you to change.
Actual travelling time varies a bit from train to train but generally it is just over 5 hours.
Night Riviera Sleeper
Great Western Railroads also offers a night train, the Night Riviera Sleeper. This is a great option if you don't want to waste any time travelling.
You can either book a regular seat or get a sleeper cabin. Though not exactly cheap (GBP40 to 124 per customer/one-way depending on when you travel), they offer use of lounges and showers and of course save you a night at a hotel.
Do book ahead though as these are popular. Everything was sold out when I visited Cornwall so unfortunately no personal experiences to share here.
Where do I get a ticket?
I recommend you buy your train tickets well ahead of time as you can save quite a bit. The downside is that you are committed to a specific train which can be a bother. But in most cases the savings will make up for this.
If you are buying the tickets ahead of time from overseas, you can pick them up at the automated machines at your departure station in London. Make sure to take the credit card you used for your purchase – you will need it to get your ticket.
The regular ticket price one-way from London Paddington to Penzance seems to be just under GBP80 but if you book ahead/are flexible you could maybe score tickets closer to GBP50 one way.
Travel Pass
Depending on your situation, a travel pass can be a good investment.
The first option would be an Interrail/Eurail Ticket or Great Britain Ticket (only available for foreign visitors). These can save you money if you do a lot of travelling.
As train connections within Cornwall are rather limited (as you will see in the next section) it may not be worth it just for Cornwall. But you may be able to use your Interrail/Eurail/Britain ticket also for getting from the airport to London and for any additional trips you may want to take (e.g. if you stay in London for a couple of days and plan any day trips).
There are various British Railcards offered – generally you buy the card for a set fee and can save 30% on most ticket purchases. These passes come with some restrictions (e.g. not valid in the busy morning hours) but can save you quite a bit if you are flexible.
British Railcards are sold for specific groups so you can only get one if you fall into these categories. The most likely ones are probably the ones for young people (16-25 or 26-30), Family & Friends (when travelling with kids), Senior Railcards (60+), and Two Travelling Together (if you are travelling with a companion).
Do you need a seat reservation?
I went in the summer so at a fairly busy time of year and had no issue finding a seat (just walk through the train to one of the wagons further down the track if the first couple of wagons have no available seats). Based on this I would say a reservation isn't absolutely needed.
However, if you are worried about it or if having to stand would be a big problem for you, it may be best to get a reservation.
In the Train
Trains are fairly similar to trains all over Europe. There are some seats that are grouped together with a small table (very handy!) and WIFI is available (though a bit spotty and slow).
Public Transportation within Cornwall
While getting to Cornwall by train is quite easy, exploring once you have arrived is a bit more difficult, especially if you want to visit more remote destinations.
Of the main transportation modes – train and bus – the train is the better (faster) option when available. Unfortunately, the route network in Cornwall is fairly sparse.
Basically, there is a main train line which extends straight from London Paddington via Plymouth to Penzance in the far West. From this main route lines branch out to St. Ives and Newquay in the North and Falmouth and Looe in the South.
However, all other destinations require you to use buses.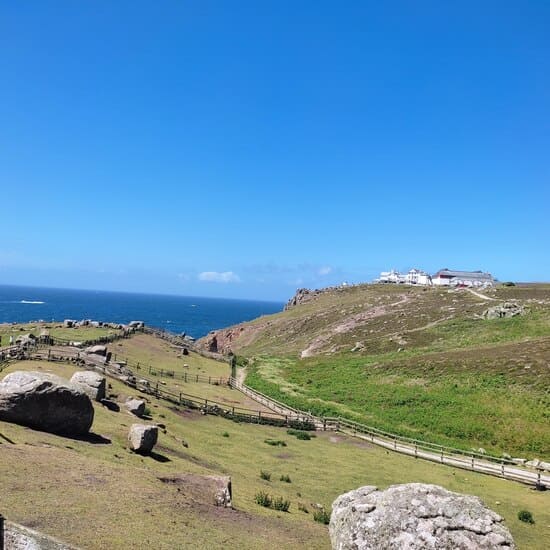 Buses in Cornwall
There are two main kinds of buses you could use – regular buses and special tourist buses.
Tourist Buses
The latter have the advantage that they go to the main tourist destinations. Also, they are often open top buses which are great in good weather (the ground floor of the bus is enclosed so unless the bus is full you can find shelter in less pleasant weather).
The biggest disadvantage of the tourist buses (aside of sometimes a slightly higher price) is that they only run during the summer season. So if you are travelling earlier or later in the year you will unfortunately have to make due with the regular local buses.
Regular Buses
Regular buses are absolutely fine – safe and reliable. However, their routing and time schedule are meant for locals so they are not always the most convenient.
The biggest issue is that the buses run when locals (especially school kids) need them so there may not be a connection on Sundays or during vacation times.
In addition, the buses don't necessarily service all tourist destinations. You may have to walk the last stretch.
On local buses it can be a bit difficult to know where on the route you are at a certain moment. Stops are not normally announced and often it is easy to overlook bus stop signs so you may be further along than you think.
One option is of course to ask the bus driver ahead of time to alert you to your stop. However, I have found it quite helpful to follow along on Google Maps during your ride.
You can see where you are in real time and can get ready once you are approaching your destination.
Taxis
Be aware that in smaller towns it may be quite difficult to get a cab, especially if you are planning to travel either in the morning or during the early afternoon.
Apparently, taxis are often needed for school runs and are not available. During my stay in Bodmin for example I was lucky to still snag a taxi to get to the train station (which is several miles outside of town). So it is advisable to pre-book taxis whenever possible.
How to get to the main Sights in Cornwall without a Car
In order to give a quick overview,  I have compiled a short list of main tourist destinations in Cornwall and how to best get there.
This should give you a rough idea how difficult it may be to reach a certain place. Once you have a preliminary idea of your itinerary you will have to do your own research as bus and train schedules change all the time.
You may even find a much better connection than I was able to!
But as a first indication, the color of the destination indicates how difficult it will likely be to get there without a car. Green – easy-peasy, Orange – a bit more difficult, likely with a longer bus ride, Red – a major pain (but may well be worth it, for example  Tintagel).
Cornwall Sights and how to get there
Destination
Best Way to Get There

Penzance

Easy to reach on main train line from London

St. Ives

Easy to reach; change at St. Erth from main train line to branch line

Newquay

Main train line to Par; Change to Newquay branch line (Or: Train to St. Austell and bus from there)

Falmouth

Main Train Line to Truro; Change to Falmouth Branch Line

Padstow

Main Train Line to Bodmin Parkway; Bus 11 to Padstow (about 70 min)

Tintagel

Main Train Line to Bodmin Parkway; Bus 11 to Wadebridge (about 40 min); Bus 95 to Tintagel (about 50 min)

Minack Theater and Pothcurno Beach

Main Train Line to Penzance; Land's End Coaster (about 45 min)

St. Michael's Mount

Main Train Line to Penzance; Bus U4 (11 min) to Marazion; short walk

Geevor Tin Mine

Main Train Line to Penzance or St. Ives; Tin Coaster (30 min)

Lizard & Kynance Cove

Main Train Line to Redruth; Bus 34 (Lizard) to Kynance Cove (about 90 min); walk of 2.5 miles

Land's End

Main Train Line to Penzance; Land's End Coaster (45 min); short walk
Royal Cornwall Show (read my trip report)
Main Train Line to Bodmin Parkway; Bus 11 to show grounds in Wadebridge (about 45 min)

Truro Cathedral

Main Train Line to Truro

Eden Project

Main Train Line to St. Austell; Bus 27 to Eden Project (25 min)

Lost Gardens of Heligan

Main Train Line to St. Austell; Bus 27 to Heligan Gardens (30 min)

Bodmin Jail

Main Train Line to Bodmin Parkway; Bus 11 (15 min) to Bodmin

St. Nectan's Glen

Main Train Line to Bodmin Parkway; Bus 11 to Wadebridge (about 40 min); Bus 95 to Tintagel (about 50 min)

From Tintagel either Bus 95 (8 min) or walk 1.5 miles

Trebah Garden

Main Train Line to Redruth; Bus U2 Copper to Campus (25 min); Bus 660 (15 min); short walk

Lanhydrock

Main Train Line to Bodmin Parkway; Walk from there (about 45 min)
Best towns to stay for exploring Cornwall without a car
As you can see, exploring Cornwall without a car can be tricky but it is definitely worth it!
Your best option is to use a couple of different hotels as your base so you don't have to spend hours on buses every day.
I would recommend staying in Penzance (or possibly St. Ives) to see the Western part of the county – Land's End, Minack Theater, Geevor Tin Mine, St. Michael's Mount.
Tintagel is a definite highlight of any visit to Cornwall but due to its remote location hard to get to. I definitely recommend an overnight stay in the area. Here you could easily see Tintagel Castle, St Nectan's Glen, Padstow, and Port Isaac (location of the Doc Martin TV show).
Depending on your specific interests, a stay either in Bodmin (Bodmin Jail, Lanhydrock, Murder Mystery Train Experience) or between Truro and Par on the main train line (Eden Project, Heligan Gardens, Truro Cathedral) might work well.
Of course, there is so much to see and do in Cornwall that it might just be best to plan several trips there, concentrating on a different region each time!
Looking for a good 7-day itinerary for Cornwall without a car?
If you are looking for a ready-made itinerary you can easily adjust, you can read my trip report and what I learned from it. I spent a bit over a week in Cornwall and have destilled my experience in a shorter 7-day itinerary you can easily adjust to your own taste!
My Top Tips for Touring Cornwall without a Car
Buy long-distance train tickets ahead of time
As travelling via public transportation can take a while, it is best to change hotels if you want to see different regions of the county
Check bus schedules carefully – especially on Sundays service may be quite limited
Use Google Maps to make sure you don't miss your stop
Be flexible – you can see pretty much everything if you are willing to arrange your schedule accordingly
There are strikes in England – often. So make sure to check and preferably have an alternate plan in case a strike should happen during your planned trip!