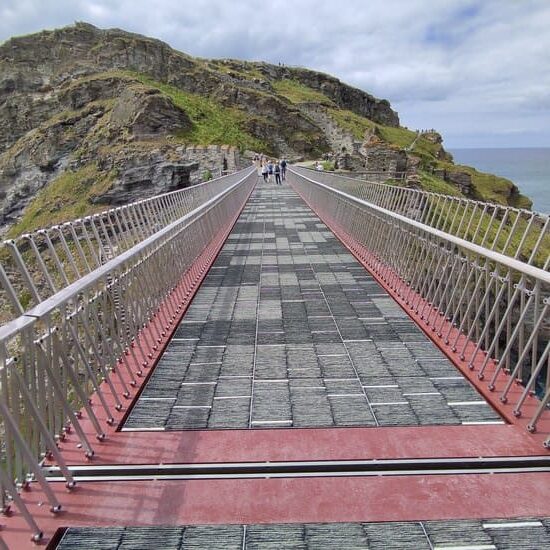 The town of Tintagel and especially Tintagel Castle have a magical atmosphere – shrouded in mystery and history. Whether or not this was the birthplace of King Arthur is debatable, but Tintagel certainly has been an important historic site.
When I was planning my trip to Cornwall I had some hard choices to make – there were many great sights but I only had a limited amount of time so had to weed out a lot. But ever since I first saw a picture of Tintagel Castle I knew that this mystical place had to be included.
And I am very glad I went even though getting there by public transport is not easy. It was probably the best part of my trip (yes, even better than Bodmin).
Where is Tintagel and why should you go?
Tintagel is a small town on the North Eastern Coast of Cornwall, halfway between Boscastle and Port Isaac (of Doc Martin fame). It is of course best known for Tintagel Castle, the ruins of a castle now run by English Heritage.
Aside of the castle ruins (not to be missed) it also boasts an adorable small town and impressive cliffs. Even better – it is close to St. Nectan's Glen, another must-see.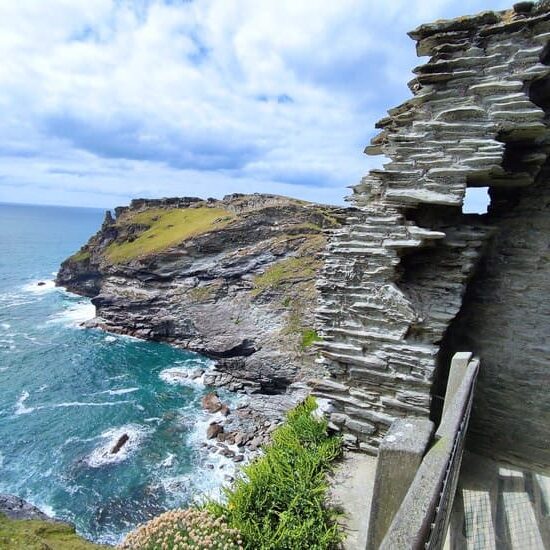 How do you get to Tintagel?
Getting to Tintagel without a car is a bit tricky as you will have to rely on local buses. I had stayed in Wadebridge the day before to visit the Royal Cornwall Show so took the 95 bus which takes about an hour.
However, the bus only goes a couple of times a day. You will have to adjust your schedule accordingly. And if you miss it, you are out of luck (I was travelling on a Sunday and I think there was only one bus that day).
Most visitors will though come either from the direction of London or from Western Cornwall. In that case the best way to reach Tintagel would be the train to Bodmin Parkway and then go on by bus to Wadebridge first.
Tintagel is a tiny town with one main street and the bus drops off/picks up right there near the Visitor Center.
Where to stay in Tintagel?
Tintagel is indeed small so there is only a limited number of hotels. I decided to stay at the Camelot Castle Hotel and was happy with my choice. I even chose it as one of my top four hotels 2022.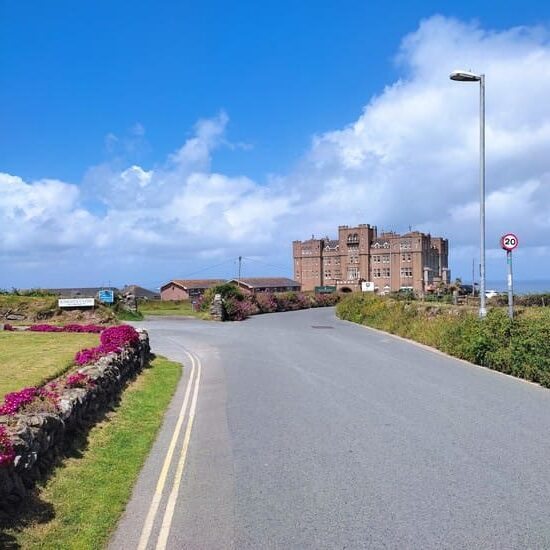 However, this hotel had definite pluses and minuses and will not be for everyone. Don't stay there expecting a luxury castle hotel. Instead, it has the vibe of visiting old school friends who just happen to live in a castle, worn carpet and all.
Some of the rooms (like the dining room) are very nice, some areas (like the stairs) are a bit threadbare. There is a lot of artwork everywhere that is quite… quirky.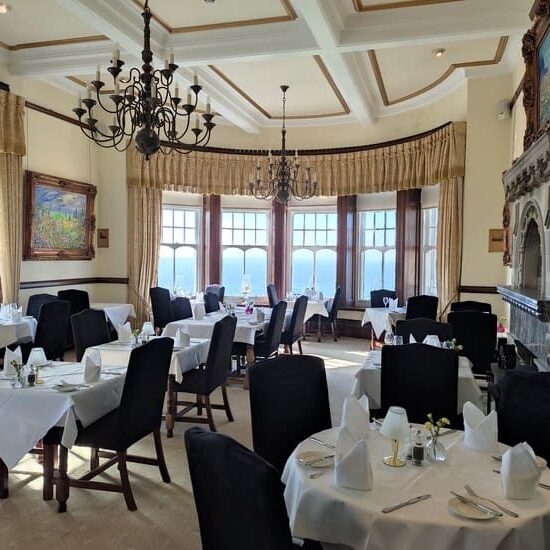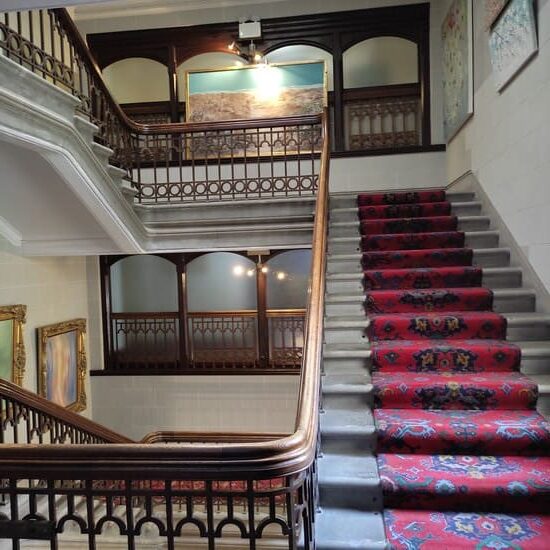 I believe there is a big variety in room quality. My room was extremely basic, reminding me strongly of my dormitory room in an old cloister. It also had the smallest bathroom I have ever seen (yes, even smaller than on a cruise ship).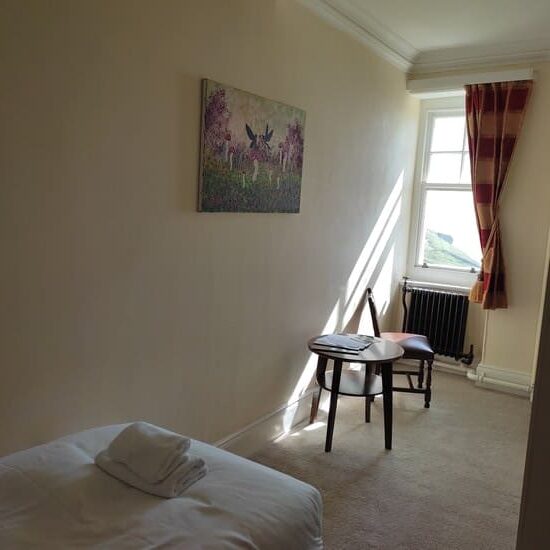 However, the view more than made up for it. It was just unbelievable!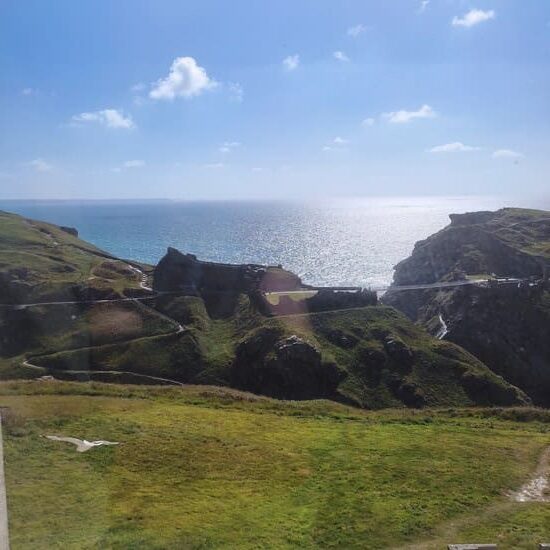 Anyway, I loved staying here. The slightly worn look, basic room, and wonky WIFI were more than made up for by the extraordinary location, the immersion of being in a lived-in castle and not just a hotel, and the opportunity to stay in a local landmark. Oh, and the price was quite reasonable as well!
So for me the Camelot Castle Hotel was a definite win and I would stay there again if I return to Tintagel but it definitely is not for everyone.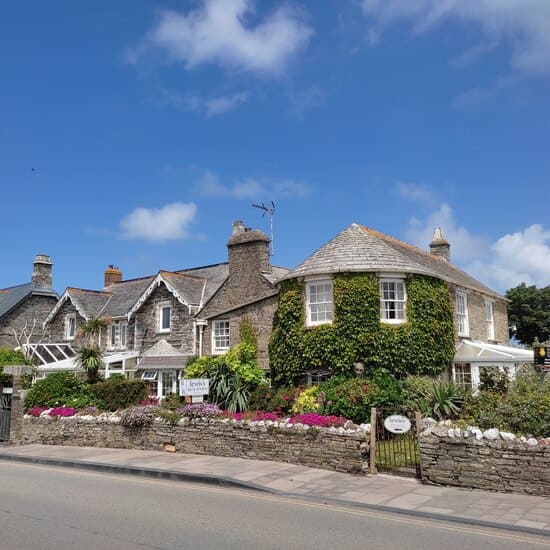 Day one in Tintagel
Town of Tintagel
I got to Tintagel quite early as there was only one bus from Wadebridge to Tintagel on Sundays (and yes, I was worried I might miss it). First order of business was of course depositing my luggage at the hotel. It was a bit basic (you just put it under the stairs) but fine as I don't travel with anything expensive.
Next, I was off to check out the town itself and find some lunch. The main part of Tintagel is quite small, basically just one main street. Most of it is very pretty though.
The stores and other establishments lean heavily into the King Arthur and mystical esoteric direction. If you are looking for some healing crystals or fairy statues you are in the right place.
Here I made a bit of a mistake – I passed the King Arthur's Great Halls attraction but decided to skip it as I had never heard of it. When I looked it up later it sounded interesting but unfortunately it was closed on Mondays (my only full day in Tintagel) so I didn't get a chance to see it. If you have visited please let me know what you think of it.
Lunch
I was getting quite hungry by that time and as it was a Sunday I decided to go for a typical English Sunday Roast.
I found exactly what I was looking for at the King Arthur's Arms Inn. Not only was it pleasant to sit outside in the sunshine and watch other tourists pass by but the meal was delicious. The roast potatoes were some of the best potatoes I have ever had – wish I had the recipe!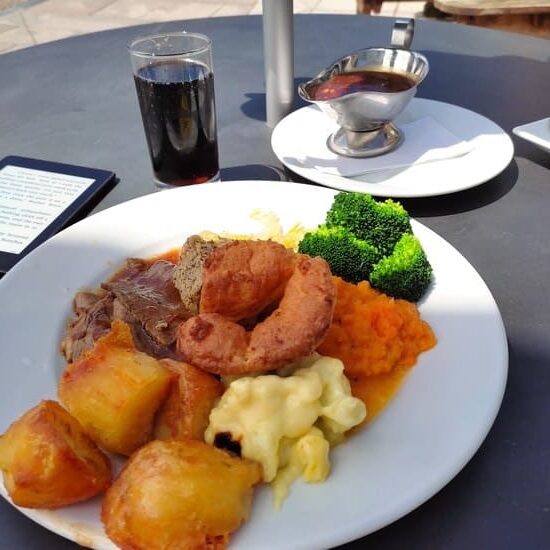 Cliffside Walk
After that meal I needed some exercise. Luckily, I had planned on doing a Treasure Trail anyway so off I went.
On the way I passed by the Old Vicarage. Doesn't it look like something from a picture postcard?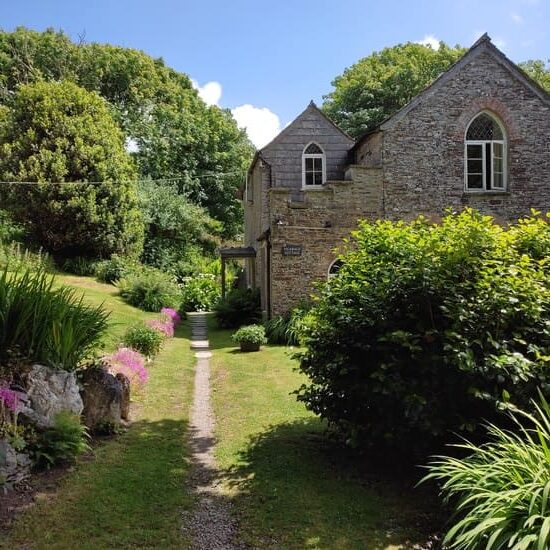 Soon after I reached St. Materiana's Church and Cemetery. The church is thought to be from the late 11th or early 12th century and the oldest graves are from around 1700!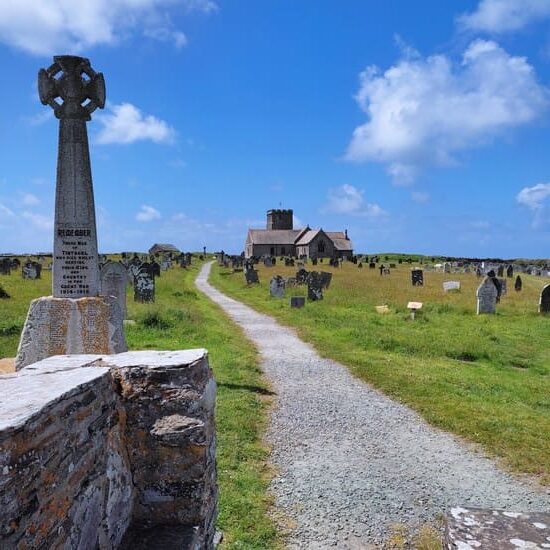 There was a bench nearby and I sat for a while in the sunshine, reading a book and enjoying the view over the cliffs to the sea. It was so peaceful here and even though Tintagel itself is quite busy with tourists it felt very remote and serene.
After a while I continued my walk along the cliffs and eventually got to the entrance of the National Heritage site of Tintagel Castle. I debated visiting right then but it was late in the afternoon and I figured the next day would work better.
So I continued on by and stopped at the Beach Café of Tintagel Castle. Not only can you find public bathrooms there but I also enjoyed a delicious ice cream cone.
After that it was time to get back to the hotel and finally settle in. The path back to town drags on a bit – if you would rather you could use their Range Rover service. For a small fee they will drive you up the hill. I was too impatient to wait though – an uphill walk it was for me.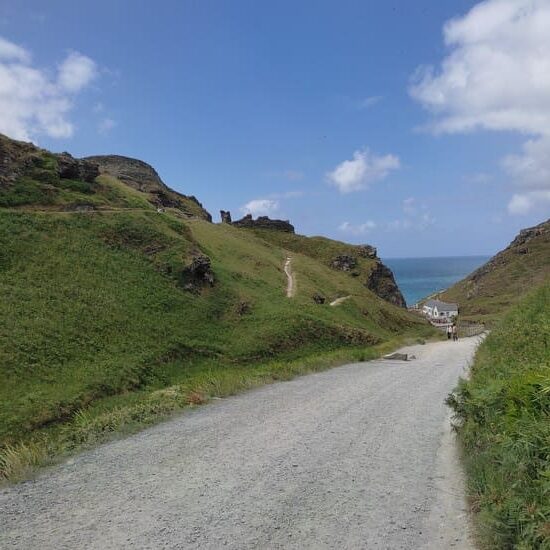 Day Two in Tintagel
St. Nectan's Glen
On my second (and only full) day in Tintagle I had a lot planned – so off I went!
My first attraction was St. Nectan's Glen – a beautiful glen with a waterfall. Not just any waterfall either – though only 60 feet high it is quite stunning as it has punched a hole through the original rock wall.
The entire site is quite magical. Supposedly, the sixth-century Saint Nectan had his hermitage right at the waterfall. Today though the area leans heavily in the faerie, crystals, nature faith direction.
How to get to St. Nectan's Glen
You can get to the entrance of St. Nectan's Glen with local bus 95 (21 minutes). However, the bus doesn't run very often and as I wanted to be back in plenty of time to visit Tintagel Castle, I decided I would have to walk at least one way.
I was a bit nervous about this – in my experience English country roads often have no shoulder to walk on and given the narrow streets feel quite unsafe to me.
Luckily, most of the walk did have a sidewalk though – only the last five minutes or so were actually on the road (bad enough). All in all, it took me a good half hour to walk from Tintagel to the St. Nectan's Glen carpark.
Basically, you follow the main road through Tintagel to the East and keep going until you reach the car park. You can't miss it as there are plenty of signs.
At the car park you turn right, inland and follow the signs to the start of the path to the glen.
The walk after you leave the car park was further than I expected and at least at the beginning I thought I might have taken a wrong turn as it looked more like a residential area than a forest walk.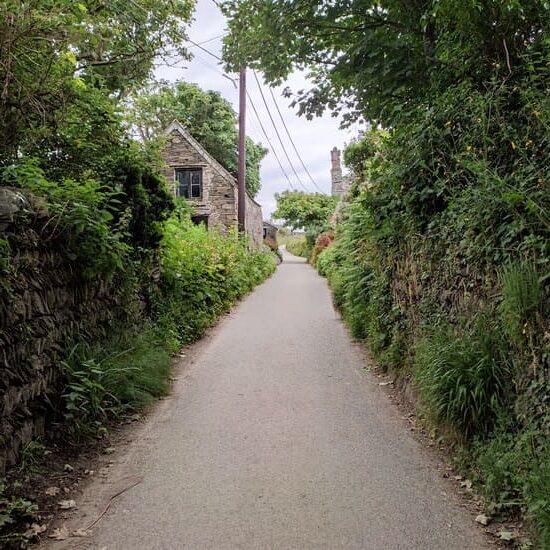 Eventually, the path turns though and you can enjoy a pretty path through the woods.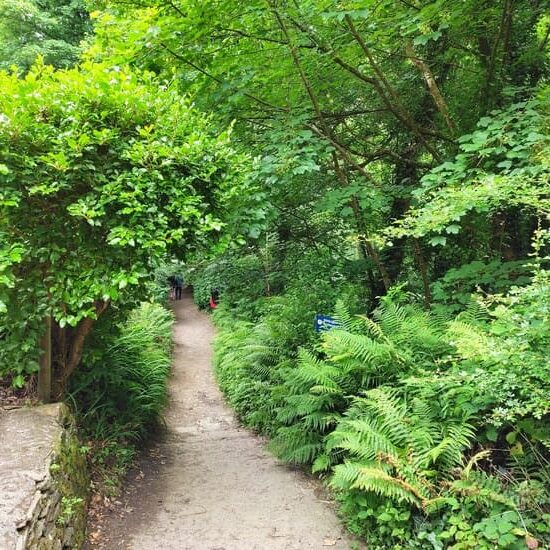 The path isn't difficult but it is a bit further than I expected, uneven, and goes uphill quite a bit. You don't need to be in prime shape but I would not recommend if you have a hard time walking.
At St Nectan's Glen
Eventually, you will get to the real entrance to the glen. Here you will find a restaurant, a shop, a nature path, bathrooms and some other amenities.
Up to this point everything is free. However, if you want to see the waterfall itself (something I highly recommend) you will have to pay a fee, GBP7.45.
There is no need to prebook – just go into the shop (there are plenty of signs pointing the way) and pay. You can then go through a back door to reach the path to the waterfall.
Now, you can see the waterfall earlier on without paying but it will not be at the correct angle. And while it may seem a bit annoying that basically a part of nature has been locked off and requires payment, they have done a very good various services so I think it is reasonable.
After paying you actually only need to walk a couple of minutes to get to the waterfall and it is far less exhausting than the way from the car park to the restaurant. So don't give up or you will miss the best part.
St Nectan's Glen and its waterfall
When you finally get there you will have to wade into the water to see the water cascading through the hole in the rock.
The water isn't deep but you will have to either take off your shoes or wear shoes that can get wet (and don't have slippery soles).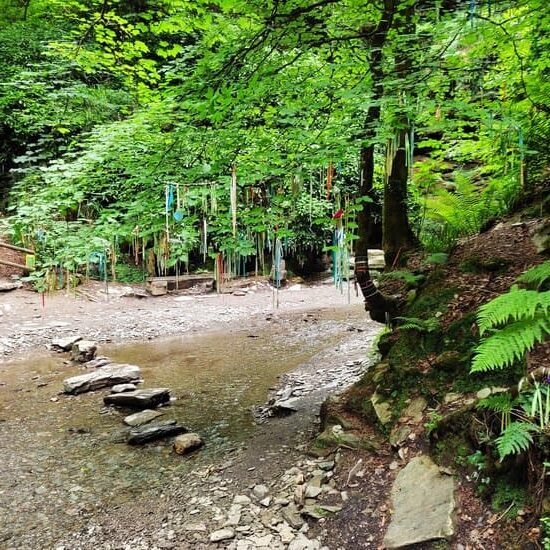 After balancing on the rocks/wading through the water you see what you have come for:
Opinions on the whole esoteric/faerie vibe may vary but there is no question about it – the waterfall is stunning. And it does indeed have something special and does feel quite serene and magical.
St Nectan's Glen Restaurant and Arbor
After all that walking I did need a bit of a break. Luckily, the attached Café was very cute and served a delicious brownie!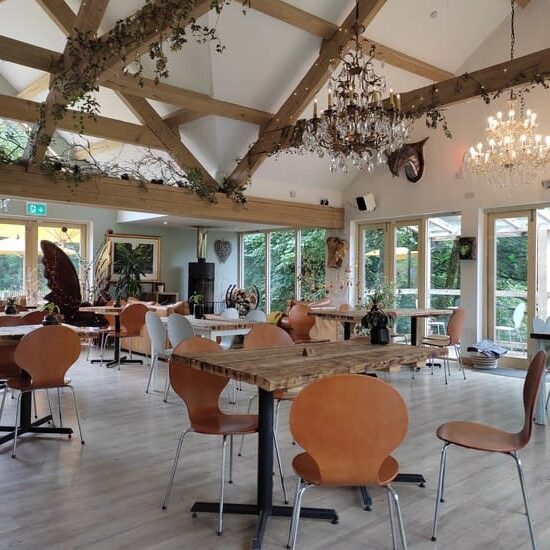 Right next to the Café you will find a little nature path. I believe it is still in development so it wasn't mega-exciting but a great place to sit, enjoy the quiet, and smell the lavender.
They also have an adorable Arbor – I would call it a Wedding Gazebo but this being Cornwall and St. Nectan's Glen it is used for "elopements, handfastings, and union ceremonies".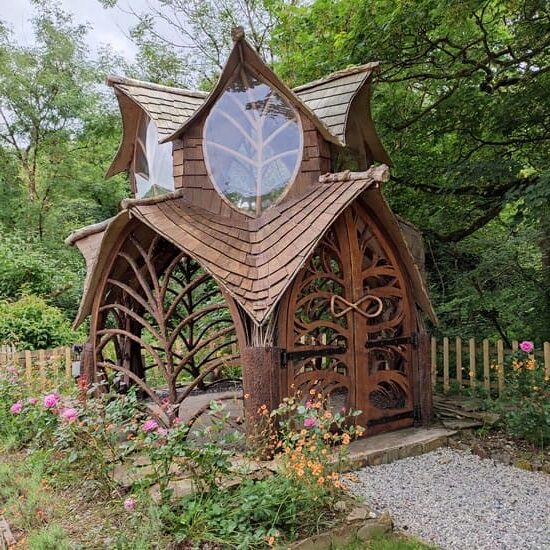 The Way back to Tintagel
I am not quite sure anymore why I decided to walk back to Tintagel instead of taking the bus – presumably the timing didn't work?
The walk back should have been easy enough as I just would have had to backtrack the same way I came. But then I saw a sign in the woods that seemed to promise a "shortcut" and I was hoping that this way I could avoid the street section without a sidewalk.
Let's just say – don't do the same unless you have no issue with crossing a field that is just completely full of cows!
Well, after some dithering I managed (the cows couldn't have cared less) and soon was back on the main road and eventually in Tintagel.
And finally it was time for the main attraction:
Tintagel Castle
How much does it cost to visit?
Like I said before, Tintagel Castle is run by English Heritage and if you are planning to visit several of their sites an annual pass may save you money.
Otherwise, prices range from around GBP15 to GBP20, depending on the season. They also offer an overseas visitor pass which includes 9 or 16 consecutive days of entry to all English Heritage sites (GBP 45 and GBP53 respectively for one adult starting April 1, 2023). The regular individual membership pass for a year runs GBP66 (discounts for students/seniors available).
When to go to Tintagel Castle
Tintagel Castle is open daily in the summer season (April to October) but only some days the rest of the year. Also, the site may close in inclement weather due to the exposed nature. So it is advisable to check the English Heritage website before travelling.
What exactly is Tintagel Castle?
The Castle is built parly on the mainland and partly on a headland into the sea. The history of the site goes way back – it was an important stronghold around the 5th to 7th century!
Richard, Earl of Cornwall, built his castle there in the 1230s, mostly because of the associated legends. Even then publicity was important!
Over the years, the castle was abandoned and became dilapidated. It wasn't until the Victorian Era that interest in the Arthurian legends led to  Tintagel Castel becoming a tourist attraction.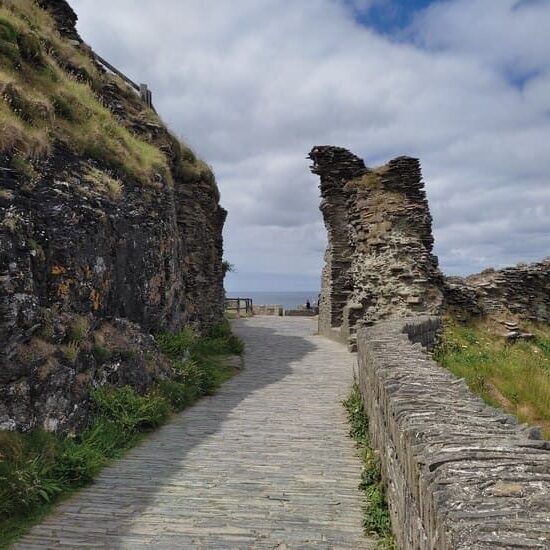 What will I see?
The main attractions are the castle ruins, the bridge leading to the headland, the Gallos statue, and the beach with cave.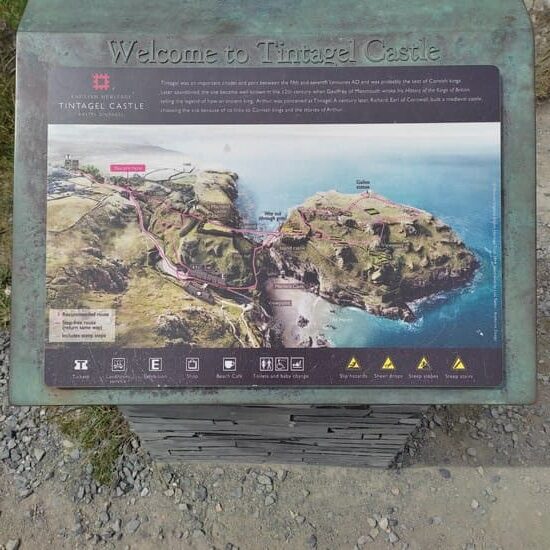 Unfortunately, the cave/beach area was closed during my visit because of storm damage. That was a bit of a bummer but it looks like you can once again visit.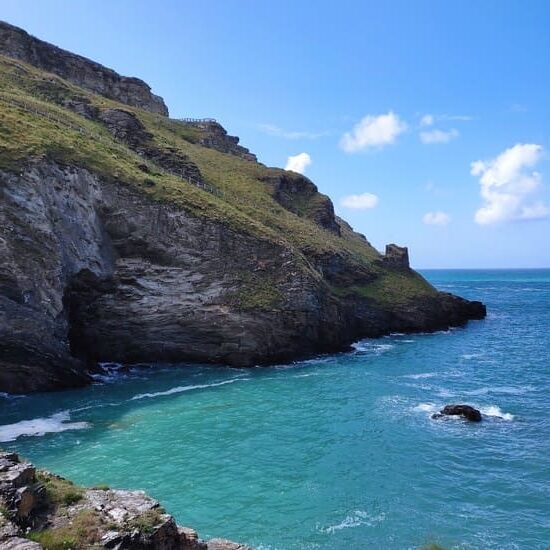 Now, the name Tintagel Castle is a bit of a misnomer. If you are expecting to see a castle or at least significant ruins of a castle you will be disappointed.
Only very little remains of the actual buildings. English Heritage has done a good job trying to evoke the original structures with their signs but ultimately this is more an important site with some vague memories of the past than an actual building.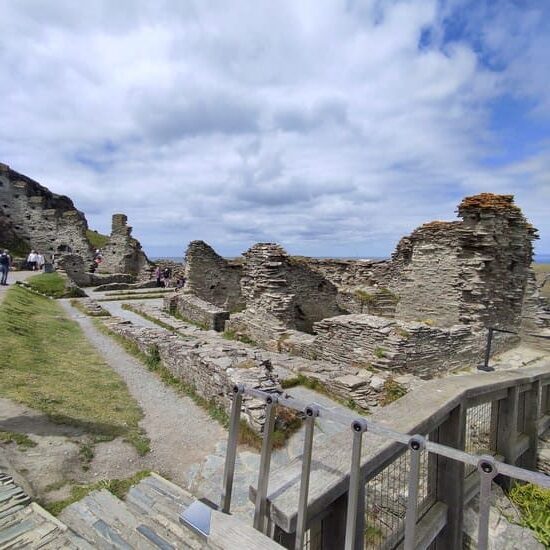 What about the Bridge to Tintagel Castle?
Apparently, the building of the bridge in 2019 caused quite a bit of a ruckus and not everyone was happy about it. I personally liked the way it looked and thought it was impressive (and helpful).
It is important to note that the Castle originally was connected to the cliffs by a narrow land bridge. Only later, sometime between the 14th and 17th centuries, did the crossing crumble away, so that the site was divided by a natural chasm. This made it necessary to climb down and back up to visit the Castle site.
No matter what you think about the bridge -it certainly makes it easier to visit. And if you want to experience getting to or from the island the "old-fashioned" way you can still climb down the steps and back up on the other side as I did on the way back during my visit. From here you can also get a good look at the underside of the bridge.
Is it worth paying the entrance fee?
I definitely think so. The entire site, exposed to wind and weather, has a special allure. I especially enjoyed the Gallos statue more than I expected.
I actually spent some time just sitting out there on the rocks, soaking up the atmosphere (and the fresh sea air). Doesn't sound exciting but was a definite highlight of my trip.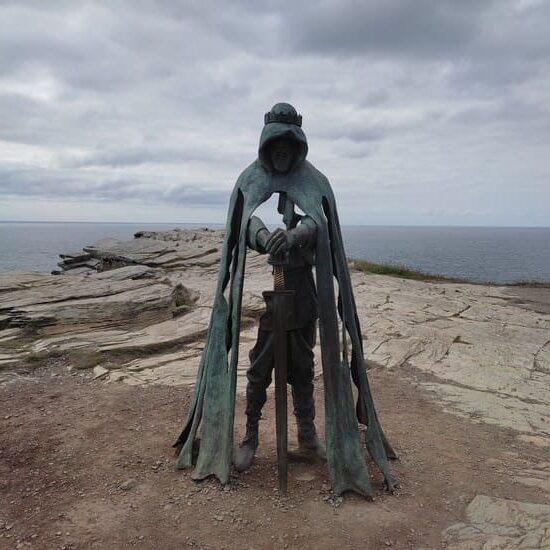 There are also plenty of other signs, pointing out important facts and landmarks. And of course the entire place leans heavily into the King Arthur mythos.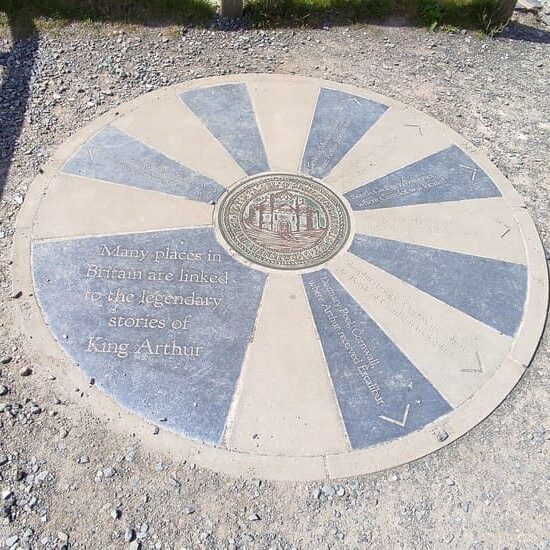 So if you have come all the way to Tintagel I think you should also see it properly. The entrance fee is used to preserve this important piece of history, something that isn't cheap as wind and weather take their toll.
However, if for some reason you can not do so (because you have no time or your budget just won't stretch), you will get a good look at it from the cliffs on the other side of the bridge and you can still enjoy the magic of this part of Cornwall.
Practical Info
Getting to Tintagel
Start by taking the train to Bodmin Parkway
Take bus 11 (Direction to Padstow) to Wadebridge – about 40 minutes
Take bus 95 (Direction to Bude) to Tintagel – about 50 minutes
Buses go about every 2 hours, less on Sunday. Schedules may vary according to season so double-check to make sure you don't get stuck on the way.
My Top Tips for Tintagel
Definitely try to stay overnight in Tintagel – the area is so much more atmospheric in the early morning and evening when all the day trippers have left
Don't give up on the way to St Nectan's Glen and don't skimp out on paying the entrance fee – the waterfall is worth it
Make sure to wear non-slip shoes that can get wet at St. Nectan's Glen (or take them off and go barefoot if it is warm enough)
Plan carefully – St. Nectan's Glen is open every day but Tintagel Castle is open only on some days during the winter season and King Arthur's Great Halls is closed on Mondays
If the weather is bad double-check the English Heritage website – sometimes the site is closed due to its exposed nature.
Consider whether it makes more sense to buy a day ticket or an annual pass (or overseas visitor pass)