Shanklin on the Isle of Wight is a prime example of a nostalgic English seaside vacation. As soon as you arrive, you will feel like you stepped back in time – maybe to the Victorian era or at least to the time of Five Friends on an Adventure.
Of course, the past was far from perfect (and I wouldn't really want to go back in time) but it is nice to pretend when on vacation. And that is exactly what you can do in Shanklin!
The Isle of Wight is a two by five mile island (surprise!) to the South of Portsmouth in the English Channel. Once the home of Alfred, Lord Tennyson and Queen Victoria, it has much to offer.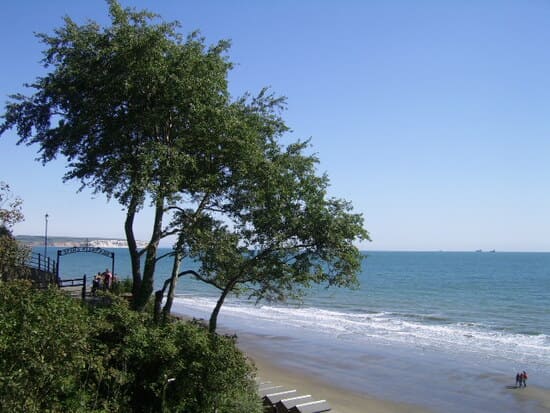 At a distance of 2 miles from the mainland, you can see Portsmouth across the Solent on a clear day (and some hardy souls even swim across).
The Isle of Wigh is often called "England in miniature" because here you will find  everything England is famous for – white limestone cliffs, rugged coastline, gentle green hills,  cute villages, old mansions, romantic ruins, and fancy palaces. Not to forget plenty of miniature golf, beach huts, ice cream, family-friendly attractions, and so much more.
And if the Isle of Wight is a fantastic destination, Shanklin is surely the best of the best – at least for me. Undoubtedly, Shanklin is very well connected by public transit and makes a great base.
There are so many things to do and see nearby that I have not managed to visit the big attractions of the Isle of Wight (like Osborne House or the Needles) even though I have spent three whole weeks on the island!
A good reason to return soon!
Why does Shanklin make a great base on the Island?
Shanklin is in the South-Eastern corner of the Isle of Wight and one  of the main reasons I chose it on my first trip is its transportation links.
Not only can you reach Shanklin easily by train (and ferry) from London but you have easy access to the rest of the island by bus.
But the location isn't the only reason I would recommend Shanklin as a base. It is also a very charming town with lots of amenities, restaurants, and shops. So if you want to just relax for a day or two there is still plenty to do. Perfect for a seaside vacation!
How do I get to Shanklin?
There are several options to reach the Isle of Wight but if your destination is Shanklin the easiest is via Portsmouth.
Take the train from London Waterloo to Portsmouth. Once there just follow all the other passengers around a couple of corners to the ferry landing.
The regular ferry ride to Ryde is operated by Wightlink and will take about 22 minutes (there is also a Hovercraft alternative that makes the trip in just 10 minutes). Either way this is not a huge cruise ship – it can get a bit choppy! So if you tend to motion sickness do take precautions.
Once in Ryde change to the Island Line. Normally, you will get straight on the train when you leave the ferry and the train actually drives over the pier! Currently, the pier is closed for restorations but should open in late Spring 2023.
Once everything is back to normal, two trains will operate between Ryde and Shanklin On this route, the trains are former London Underground electric trains – very cute and nostalgic.
It is easiest to buy a ticket straight through from London to Shanklin. If at all possible buy this well in advance – it is significantly cheaper than on the day!
Once in Shanklin make your way to your lodging (or if you are only here for the day to the town and beach).
When to visit Shanklin?
I am sure the Isle of Wight has its own charm in the winter (no tourists!) but realistically speaking this is a summer destination.
Not only most attractions but also a good number of restaurants and stores are closed during the winter and don't reopen until late March or even April.
 I would probably recommend visiting between May and September.
In May and September it will be less crowded but there may still be some limited services. June to August everything should be open but it will be busy (and more expensive).
Personally, I would try to visit either in June or late August to try to find a happy compromise.
Where to stay in Shanklin?
All my trips to Shanklin were with family so we stayed at the Parkdean Holiday Park in Shanklin. We have stayed both at Landguard Holiday Park and Lower Hyde Holiday Park. They share most of their facilities so I would recommend booking whichever one happens to be cheaper.
A couple of things to note so you can decide this caravan park would be a good fit for you:
We like the location as it is very close to the train station (great if you have a lot of luggage) and to a Lidl where you can stock up on provisions. However, the town and beach are a bit of a walk – there are more central locations.
When you stay in a caravan you will of course have a lot more room than in a regular hotel room. You can cook some of your own meals (or at least prepare some snacks and keep your beverages cool) and in bad weather you are in a much homier environment than at a hotel.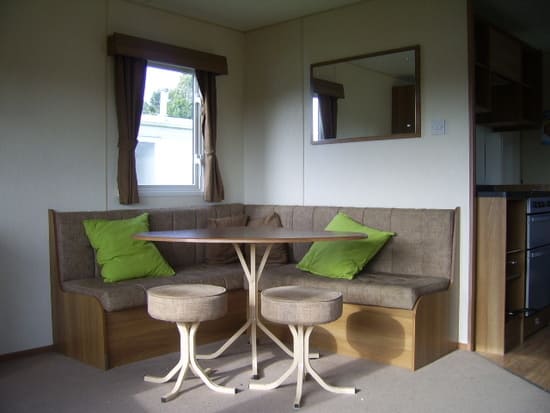 The prices during the summer are rather high but we usually went in shoulder season (May or September) and there were some good deals to be had.
We also enjoyed the amenities – there is a pool, a playground, and a restaurant. They also offer entertainment in the evening (and some during the day but we were always out). Usually this consists of Bingo, kids/family entertainment, and then a show or trivia etc. for adults. We enjoyed the family entertainment quite a lot (we didn't stay for the later adult entertaiment so can't comment on that).
The quality of the caravans varies. I would recommend booking one of the better categories. We have stayed in the cheapest version and it was fine but I have definitely prefered the upgraded caravans.
So would I recommend Lower Hyde/Landguard Holiday Park for your holiday?
That depends a bit. It is a great option when travelling with family. Solo travellers may be happier with a more central location, depending on how important it is to have  a kitchen and more room to spread out.
What is there to do in Shanklin?
Old Village
In the main upper part of town you will find Shanklin Old Village. It looks like a picture postcard of Olde England and there are plenty of cute tea shops, stores, several pubs and inns.
We enjoy browsing for candy in The Rock Store and looking at minerals and fossils at Jurassic Jim.
As far as food is concerned, Vernon Cottage seems to be closed at the moment (hope they reopen soon) but in the summer the pink Old Thatch Teashop serves cream teas at a reasonable price. Even better, you can enjoy the fairy garden of this incredibly cute cottage-style building. Here you will find more little fairy figures than you thought there are in all of England (kitsch or art, who is to say?). The garden can be shady though so bring a sweater or jacket if it isn't very warm.
Don't forget to stop by Rhylstone Gardens. In the beautiful gardens you will find a  Tea Garden with tasty cakes and a fun Crazy Golf! (Yes, there are a lot of tea gardens on the Isle of Wight).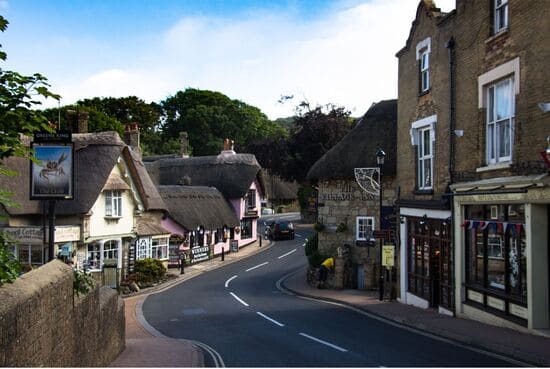 Shanklin Chine
Shanklin Chine is probably the biggest and oldest tourist attraction in Shanklin. It is a narrow gorge that connects Shanklin Old Village in the upper part of town with the sandy beach and Esplanade below.
"Chine" is a local word, only used in Dorset and the Isle of Wight. It derives from old Saxon and denotes a "deep narrow ravine, formed by water cutting through sandstone leading to the sea" -yes, "Chine" is certainly a lot more succinct!
It has been visited by Jane Austen and John Keats, it has been a smuggler's haunt (with a tunnel from the Chine Inn to the Old Village), and a favourite subject for artists.
The Chine was a must-see for Victorians and you too should not miss it when visiting the Isle of Wight!
If you are a keen gardener or botanist, you will be especially excited to see the over 150 varieties of plants and over 50 species of moss and liverworts. Apparently, some of them are quite rare.
However, even if you know nothing about plants you can appreciate the green, jungle-like atmosphere in the chine. It is especially pleasant on a hot day.
Shanklin Chine is also a great place for wildlife, including some red squirrels (of which the Isle of Wight is inordinately proud!).
There is a fee for visiting the Chine. Currently it is GBP9.50 but you can come back as often as you wish for one week. You can pay right when you enter the Chine at the top, near the Old Village Box.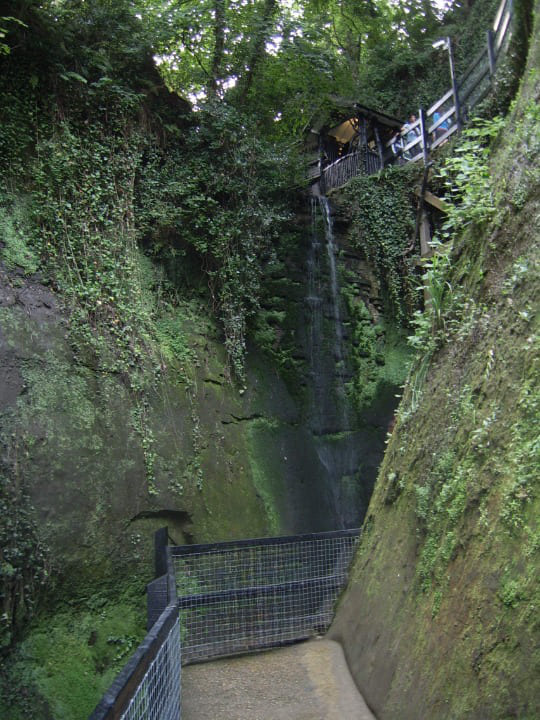 Another interesting historical fact about the Shanklin Chine is that PLUTO (Pipe Line Under The Ocean) ran through it. PLUTO was one of the great secret British successes during WWII. Initially, the pipe line ran for 70 miles along the seabed of the Channel from Cherbourg to the Isle of Wight.
During the invasion of Normandy 1944 pipelines from the Chine and Sandown carried 56,000 gallons of fuel to Cherbourg per day. You can see a small section of the pipe that is still there and in the Heritage Center they show a short film about PLUTO's history.
In good weather, you can also admire the Chine illuminated in the evening. It looks like a fairyland on pictures but for one reason or another we have never managed to visit.  Definitely something for my bucket list!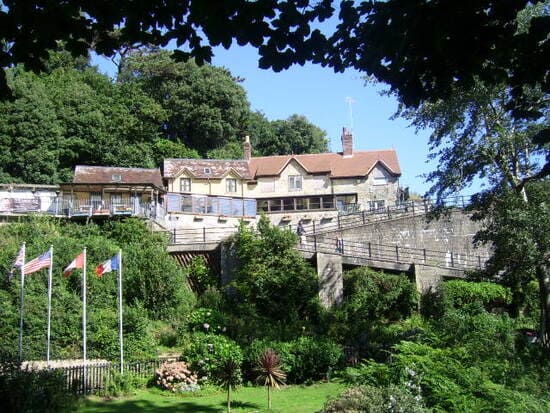 The Heritage center is in the Victorian Chine Lodge, near the bottom end of the Chine, once a popular guest house with newlyweds known as Honeymoon Cottage. Here you will find a pretty conservatory, historical exhibitions, a tea garden (of course!), and a gift shop.
Shanklin Beach
Once you reach the beach, you can either enjoy the waves and the beach itself (this being England it won't be like the Med but if you are hardy it is great) or the many amusements offered along the road.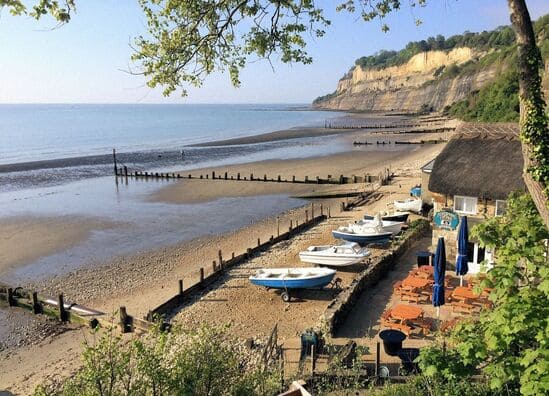 Along the beach esplanade you will finde family amusements (imagine a cross between Dave & Busters and a Las Vegas Casino), several miniature golf places (there is even a new indoor one we haven't tried yet), a number of restaurants and cafés and of course a public bathroom.
When you are done enjoying the seaside, you can either retrace your way through the Shanklin Chine or climb up the steps to the Old Village. Alternatively, during the summer season you could also take the Shanklin Lift – for 1.50 GBP this elevator will whisk you up the 45 meter in around 30 seconds. After a long day this may well be worth it!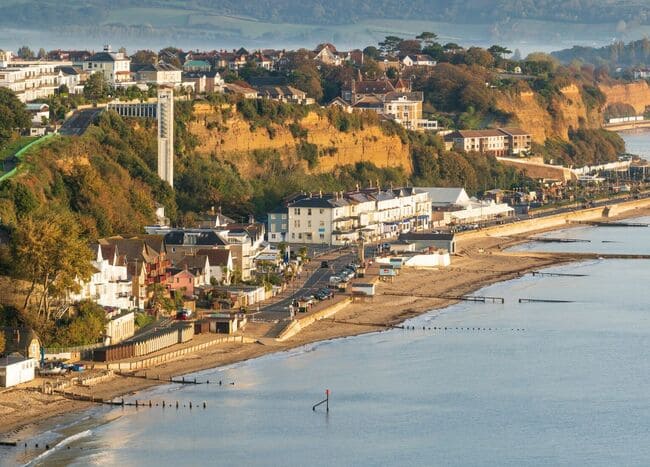 You can easily spend a couple of days enjoying the Old Village, Shanklin Chine, and the beach but once you have had your fill, there are plenty of other attractions in easy reach from Shanklin.
How to tour the Isle of Wight
The best way to explore Shanklin (aside of hiking) is with the buses operated by Southern Vectis.
There are basically two main types of buses, regular buses and open-top buses for tourists.
The network of regular buses is pretty decent and you can reach most parts of the island (though it may take a while). 
From Shanklin your main routes are number 2 to Newport via Godshill, numbers 2 and 3 to Sandown (and on to Ryde), and number 3 to Ventnor. If you want to go further, you will likely have to change buses.
During the summer season, special tourist buses (additional cost) operate, the Island Coaster, Downs Breezer, and the Needles Breezer.
The Downs Breezer basically makes a circle around the North-Eastern part of the Island, passing through Shanklin on the way.
The Island Coaster connects Shanklin with Ryde and with the Western End of the Island (Alum Bay/Needles). 
From there you can get on the Needles Breezer to reach various attractions in the West.
If you are staying a week or longer on the island and expect to use the buses a fair bit, the 7 day Freedom Ticket (GBP30) is probably your best buy.
Nearby Attractions
Sandown
Sandown is just a couple of miles to the East of Shanklin. Due to its closeness, Sandown is probably the easiest excursion from Shanklin. It is especially good for rainy days as it offers several indoor attractions.
You can reach it either by bus or train or you can walk there easily. Don't make the mistake we did on our first visit and walk overland. Nothing wrong with that but you get there much quicker along the coastal path. And it is much nicer too.
To get to Sandown from Shanklin beach you just follow the beach path to the East of the miniature golf places in Shanklin. On the way, you will pass adorable little huts. These can be rented and used to change/store beach equipment etc. Take a look at the creative names they have!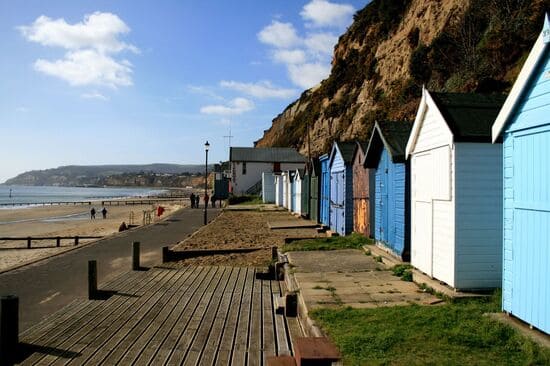 To be truthful, I always feel that Sandown seems just a tiny bit rundown when we visit but this may be due to going there in the shoulder season. The charm may be a bit faded but Sandown still is a must-visit as it has several major attractions:
Sandown Pier
This pier dates back to 1878 and houses indoor miniature golf, family amusements, a bowling alley, a cafe, a burger bar, and an ice cream kisok. There is also a sports bar, some old-fashioned rides, and you can even fish from the pier!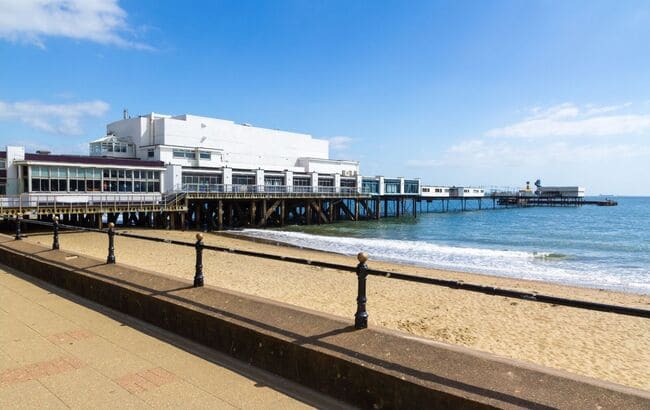 Wildheart Animal Sanctuary
I really love this little gem. Even if you are a bit ambivalent about zoos in general you can visit here with a clear conscience.
This sanctuary specializes in tigers (and other big cats) and lemurs. Wildheart Animal Sanctuary takes in animals from circuses or confiscated "pets" – who thinks a tiger or lion would make a good pet anyway?
Admission (with donation) is currently GBP14.85 and you can additionally book various experiences and events if you are a big cat fan. You will also find a cafe and a gift shop.
Dinosaur Isle
This little museum (Admission is GBP6) is all about dinosaurs and quite impressive. Very much a hands-on, family-friendly place for all dino enthusiasts.
Dinosaur Isle also offers special walks on which you get to hunt for fossils (book ahead if you want to take part). The Isle of Wight is part of the Jurassic Coast and every year people find new dino relicts as wind and water wear down the cliffside, exposing new treasures.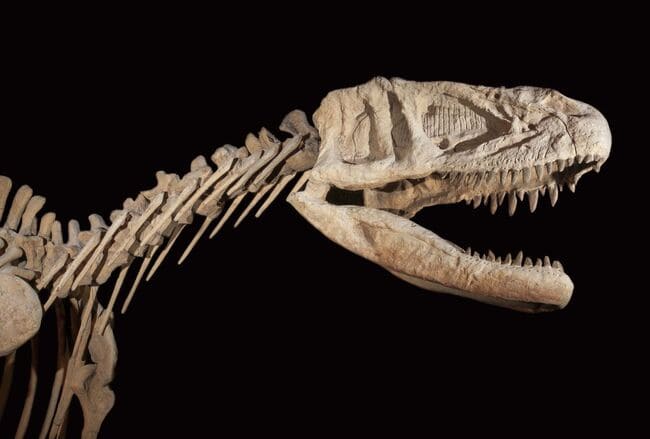 Other Sandown Attractions
In addition, you will find a golf course, a fitness park, and a miniature golf place in Sandown.
Godshill
Godshill is an adorable village inland, about 4 miles from Shanklin. It is easily reached by bus or you can hike there.
Footpath from Shanklin to Godshill
This is a mid-level walk over some pretty green countryside and makes for a nice change from the usual coastal walks on the Isle of Wight.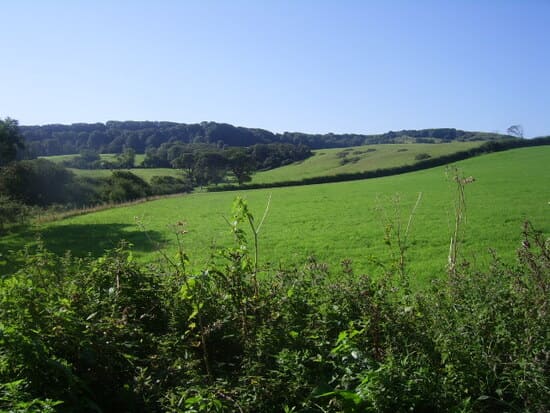 If you have time and energy, you could stop in at Appuldurcombe House (this English Baroque mansion was once the grandest house on the island but only a shell remains) and the Donkey Sanctuary. We had neither but maybe next time?
On your way you will see a gate – we almost turned back then as it looked like we were lost/on the wrong path. But no – you can just open the side gate and walk right through!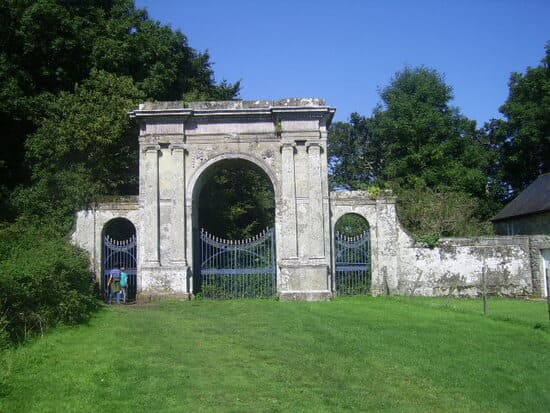 Once you get to Godshill you will be surprised by just how pretty this little town is. This unfortunately comes with a lot of tourists so depending on when you go it may be quite busy!
We had lunch at The Griffin – the food was just average, but the maze in the garden was neat (if you have read more of my posts you will know that I love mazes)!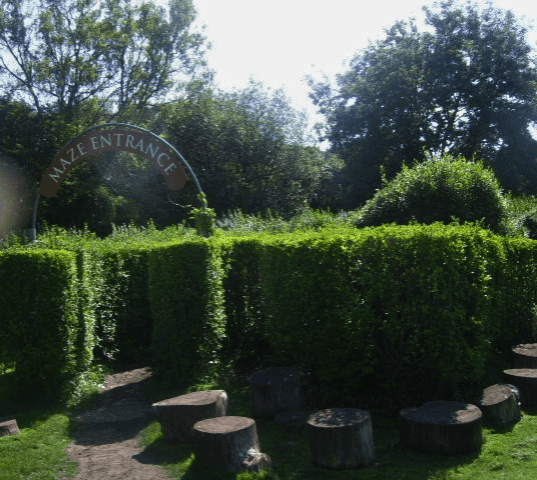 Aside of the small stores and cafés in town, there is of course one main attraction:
The Godshill Model Village
I can't stress enough how cool the Godshill Model Village is – for everyone, young and old. The model buildings are set in the Old Vicarage gardens and are miniature replicas of Godshill and Shanklin.
Built in the 1950s and 1970s, the model village represents life in the 1930s – a trip back in time. The buildings are remarkable for their level of detail – on pictures it can be hard to tell the difference between the model version and the actual building.
Of special interest is the garden – the tiny conifers and shrubs serving as the backdrop for the tiny buildings are an attraction on their own. A definite must-see for anyone interested in gardening/plants.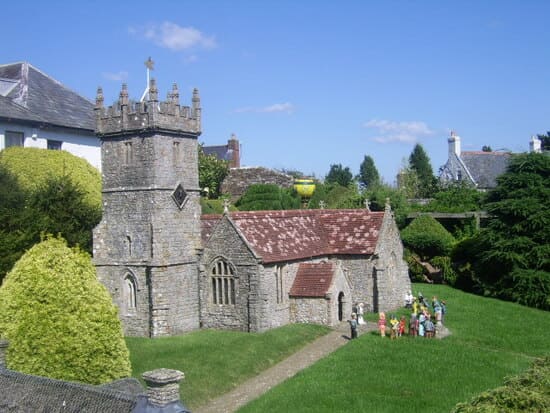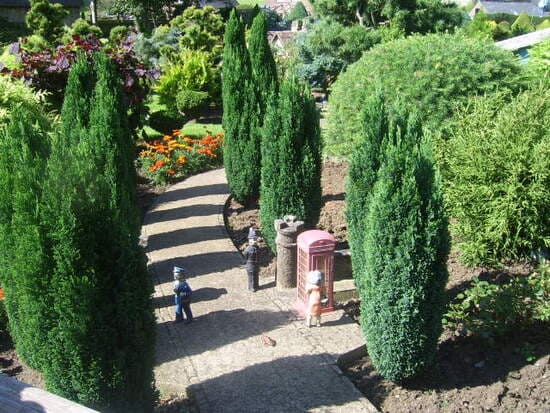 Godshill Model Village is easy to find as it is located on the High Street in Godshill. The attraction will reopen for 2023 at the end of March and with an entrance fee of GBP7 it is quite affordable.
Godshill is also known for its cream teas so definitely stop at one of the local cafés in the afternoon and see what you think!
When you are done you can just hop on the bus at and you will be back in Shanklin in just about 10 minutes.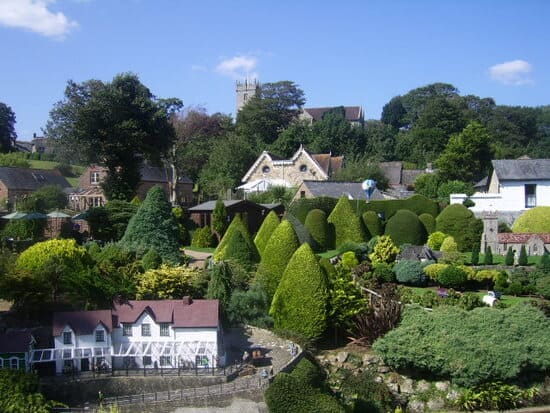 Blackgang Chine
Blackgang Chine is a typical old-fashioned family amusement park (don't expect Disney!). Its location right on the cliff edge is problematic for the park (parts have fallen into the sea) but makes for stunning views.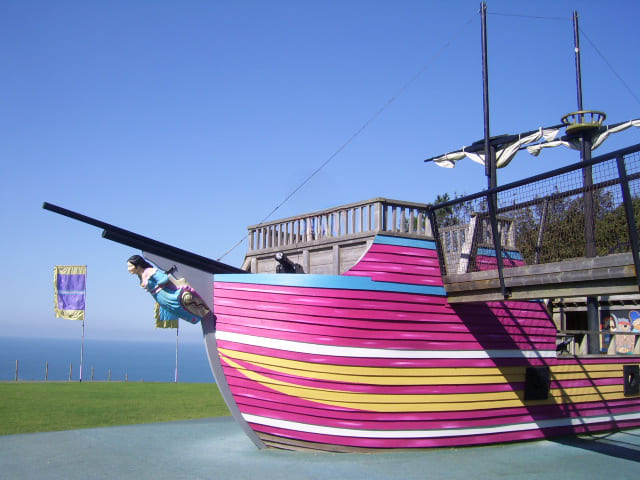 I do recommend this park if you are travelling with kids – there are many cute attractions, a couple of rides, and some neat play structures. It may not be worth the price (around GBP30) though if you have no kids with you as it is mostly a family attraction.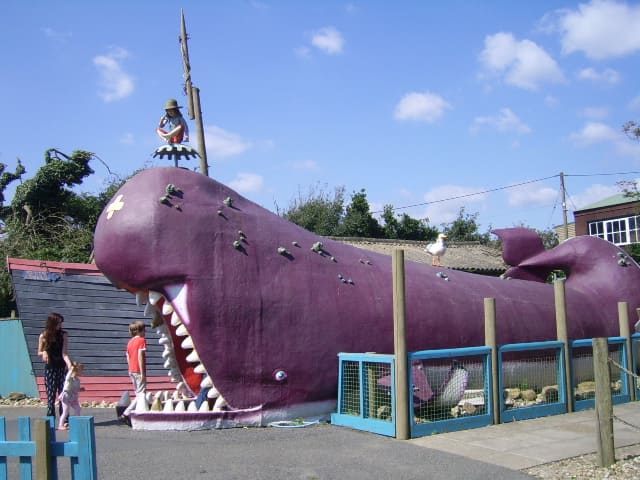 Either way, don't expect Disney World – this is a much smaller and more old-fashioned amusement park but it has a lot of charm.
Robin Hill Park
Robin Hill (GBP 30) is a partner park of Blackgang Chine (you can save by buying joint admission to both parks) but quite different.
Whereas Blackgang Chine is a traditional amusement park, Robin Hill is more a country park with some added attractions.
It is a great place for kids to run around and burn off excess energy. There are various climbing structures, play grounds, and a toboggan run.
They also have a falconry display and the gardens and park are a nice place to wander around. Whether it would be worth the price of admission if you are travelling without kids depends – take a look at their website to decide.
Hike to Ventnor and Visit of Botanical Gardens
Another great option during a stay in Shanklin is a walk to Ventnor (about 5 miles; or if you prefer you can take the bus) and a visit of the Botanical Gardens.
Ventnor still has a strong Victorian atmosphere (Charles Dickens spent a summer there!) and you can see many beautiful Victorian homes. Of course there are also plenty of restaurants and seaside attractions.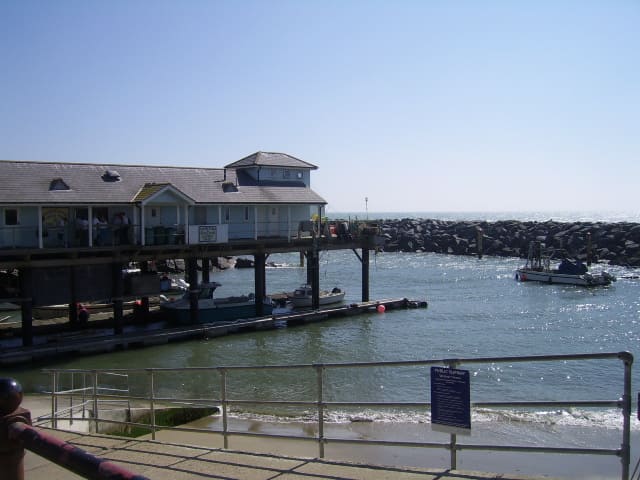 The beach in Ventnor is quite different from the one in Shanklin as it is all pebbles instead of sand.
A neat feature along the promenade is the wading pool shaped like the Isle of Wight!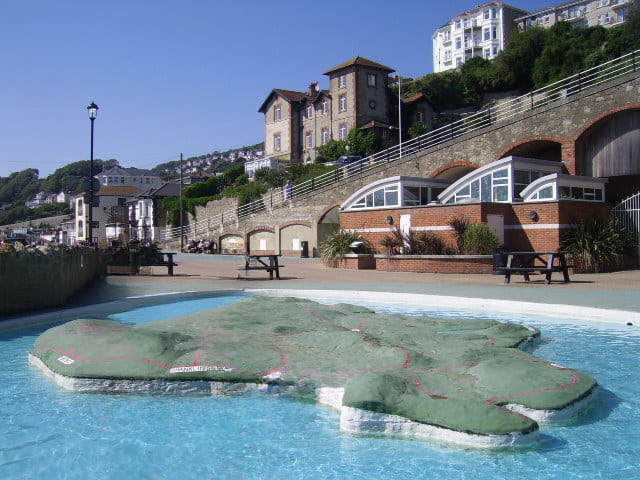 Unfortunately, we have not managed to visit the Botanical Garden in Ventnor yet. It was planned on our last trip but sometimes the best laid plans…
But the Botanical Garden (card-payments only) has a unique micro-climate that is similar to the Mediterranean. It calls itself "Britain's Hottest Garden" and is definitely on my list for our next visit!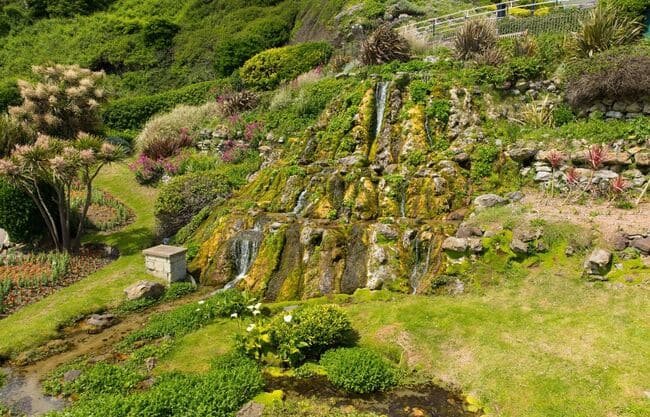 If you have visited – drop me a comment and let me know what you thought!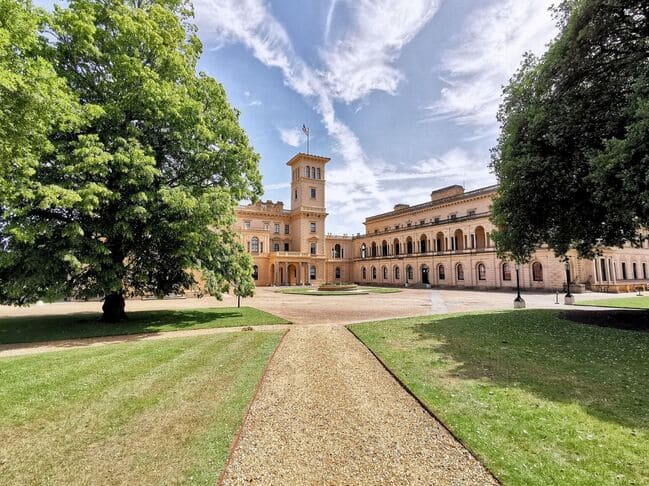 Carisbrooke Castle – King Charles I was imprisoned in this castle located in the center of the island. Apparently he was fed quite well during his imprisonment because when he tried to escape through a window he got stuck (not unlike Winnie the Pooh)! Another English Heritage property.
The Needles – This row of chalk stacks out in the sea is one of the most iconic sights of the Isle of Wight. There are various attractions built around it which fall somewhere between cheezy and nostalgic (depending on your personal taste).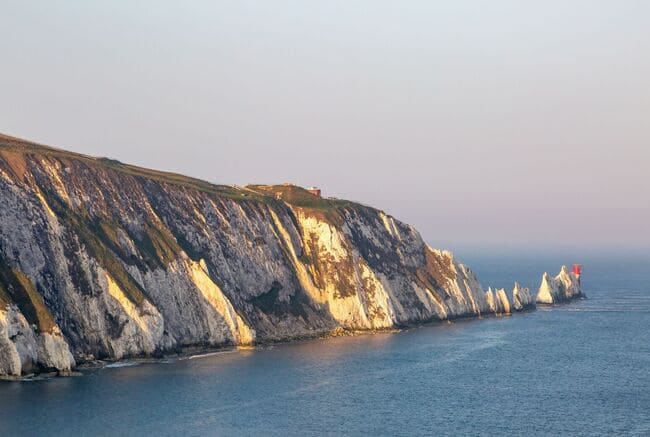 There is still more to see and do on the Isle of Wight, including some famous events like Cowes Week, but this should be enough to give you a first taste of the island.