Old Town San Diego is one of the top tourist sights in San Diego but is it worth a visit or just a tourist trap?
On my recent trip to Southern California I only had half a day in San Diego before moving on to Solana Beach.
Having been to San Diego a number of times before, I was considering a visit to Coronado but ultimately decided to just go by Old Town San Diego as it was fairly close to the hotel I was staying at.
It wasn't my first visit at Old Town but I always have a good time there. On this visit I actually saw more than ever before. Follow along to find out what you can expect at Old Town San Diego!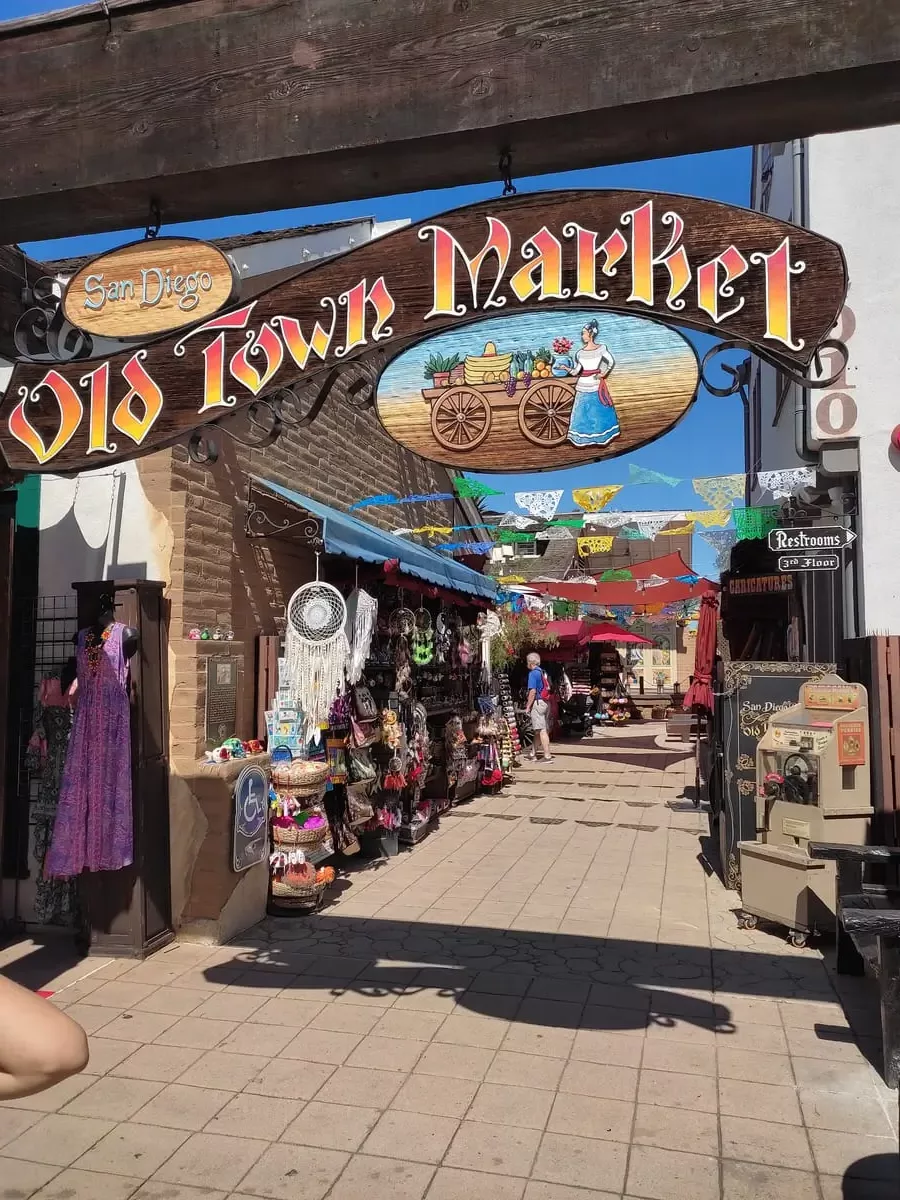 The Mexican vibe is strong at Old Town San Diego
What exactly is Old Town San Diego?
Old Town San Diego is a State Historic Park located in the northern part of the town of San Diego where the first European settlement on the West Coast was founded . With a collection of historic buildings from the 1820s to 1870s, it is a mix of open air museum and tourist attraction/shopping venue.
How do you get to Old Town San Diego?
One of the best things about Old Town San Diego is that it is very easily accessible.
It is located directly across from the Old Town Transport Center, one of San Diego's main transportation hubs.
From central San Diego you can get there on the Green Line trolley route or with the commuter train. Many bus routes also stop here.
All in all, getting to Old Town San Diego is a breeze and not very expensive.
It is also the starting point for the Old Town Trolley Tours. This is not at all the same as the Green Line trolley which is public transit via a tram. 
Old Town Trolley Tours is instead a Hop-on, Hop-off tour in a cute "trolley" (i.e. a small bus) that is significantly more expensive than public transit. However it is a good option to get an overview of the city.
At the Old Town Transit Center you will find trains, trams, and buses (including a free bus to the airport)
How much time do you need at Old Town San Diego?
Old Town San Diego is one of those sights that you can spend as little or as much time at as you want.
You can get a quick impression of the place in as little as 30 minutes but in general 2 hours would be a good amount of time to experience Old Town.
That would give you enough time to poke around in most of the shops, visit a museum demonstration or two, have a snack etc.
Of course if you want to eat a meal in one of the restaurants, do some serious shopping or take a tour, you could easily spend 3+ hours here.
You will find public restrooms right at the entrance of Old Town San Diego
What amenities are there at Old Town San Diego?
Aside of plenty of restaurants and stores you will find an ATM/Cash Machine, free benches, a water bottle-filling station, and plenty of public restrooms.
Map of Old Town San Diego
What could I combine a visit at Old Town San Diego with? 
Unless you are really into it, Old Town San Diego isn't an all day kind of destination so you may wonder what else you can do on the same day.
Luckily, the location right next to the Old Town Transit Center means that you can easily combine Old Town with pretty much any other destination in San Diego.
However, a couple of things are so close by that they are an especially good option:
Old Town Trolley Tours starts right next to Old Town and is a great idea to get an general overview of San Diego, especially if this is your first visit here.
Presidio Park is very close by and a good option if you are looking for some time in nature.
Iipay Tipai Kumeyaay Mut Niihepok, a small park dedicated to the first people of the land, the Kumeyaay.
This is not the most impressive place – there is definitely given much more room to the European settlers. Nevertheless, it is at least an attempt to honor the native people.
It provides a serene space in contrast to bustling Old Town and I am glad I took a couple of minutes to go by. 
If you are traveling from overseas and serious shopping is on your agenda, you can find a lot of big stores (Target, Old Navy, Michaels etc.) close by, across the street on the other side of Old Town Transit Center.
I recommend you visit Old Town first though so you don't have to drag your shopping along!
With native plants and interesting art, the small park honoring the Kumeyaay has a relaxing vibe
When is Old Town open and what does it cost? 
Old Town is open from 10 am to 5 pm daily.
And good news: Entry is completely free. So Old Town is a great place to visit if you have already stretched your budget as far as it will go (though it may be hard to resist the shopping).
Is Old Town San Diego worth a visit? 
Absolutely. In my opinion Old Town is definitely worth a visit.
Sure, it is pretty touristy but as you are reading this blog I am assuming you are a tourist. And there is nothing wrong with that.
It is a good place to learn more about California history and enjoy a vibrant Mexican atmosphere without having to cross the border.
Old Town is also a great place to buy some souveniers.
Who is Old Town San Diego good for?
Old Town San Diego has something for most everyone but my favorite parts are:
Souvenirs and presents
Here you will find pretty much anything, from unusual Mexican candy for just a couple of cents to expensive Artisan crafts.


Highlights are everything Mexican (from soda to blankets to colorful flower pots), minerals and fossils, fancy candles, sweets, soaps, and jewelry.

A great place to learn something about the early history of the state


There are several small museums, including one about textiles, a stable, and a blacksmith demonstration.

Tasty Mexican food


There are several restaurants as well as smaller food offerings.

You will find everything, from street tacos to churros and prices were quite reasonable for a major tourist destination.
My visit at Old Town San Diego
After walking about 20 minutes from my hotel I got to the Old Town entrance a bit before 10 am. It looked like it was still closed so I first checked out Old Town Transit Center across the street to see where my commuter train to Solana Beach was going to leave from.
But right around 10 am I made my way in and after a quick stop at the restroom (right at the entrance) I began my exploration of Old Town San Diego.
In hindsight I wish I had stopped by the Tourist Information Center (near the entrance) first to check about any special events that were offered. I later noticed there was a free historical walking tour but unfortunately I missed it.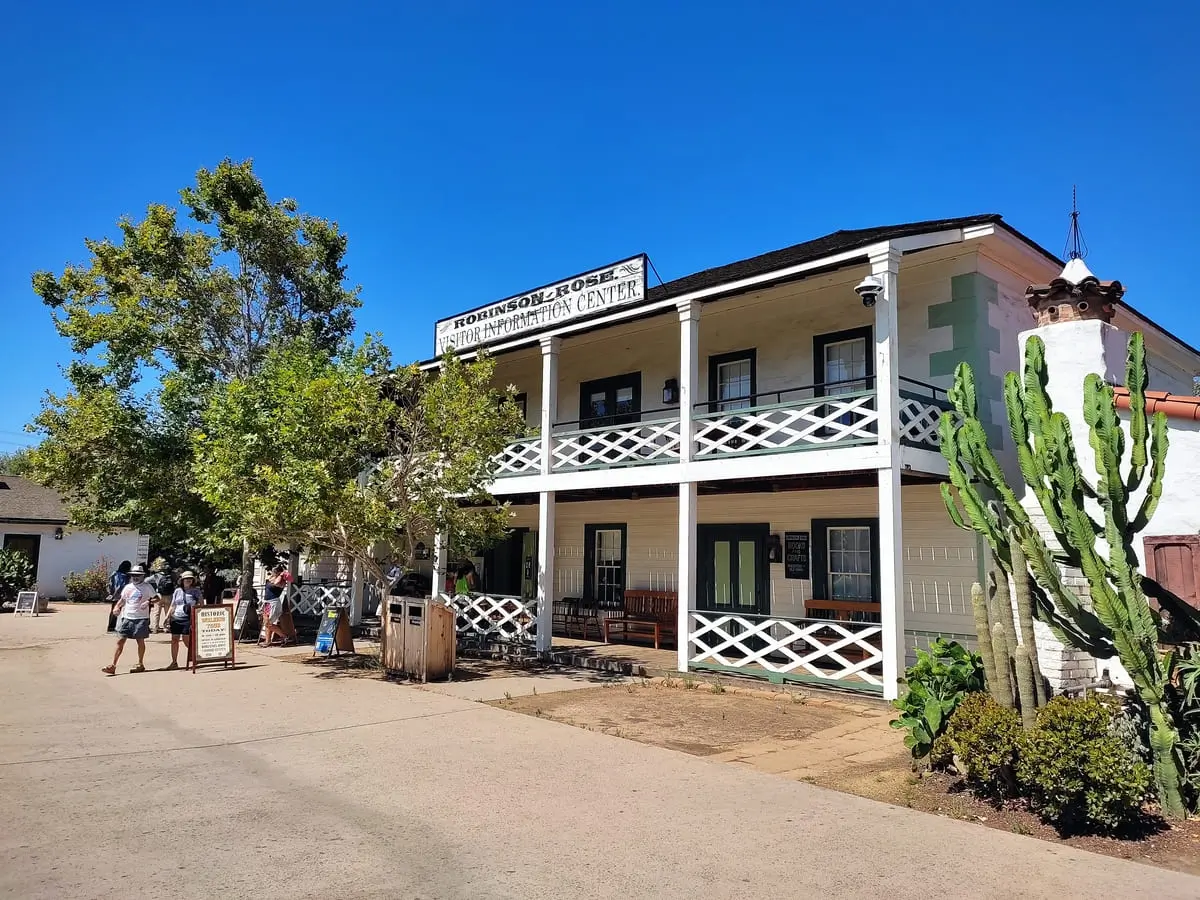 I'd recommend a quick stop at the Visitor Information Center to check for any special events
Instead of the Visitor Center my first stop was at the candy store (which says something about my priorities).
They offer freshly made fudge and toffee but I find the vast assortment of colorful Mexican candies the most interesting.
Careful with the lollypops with salt in the middle though – they are an acquired taste!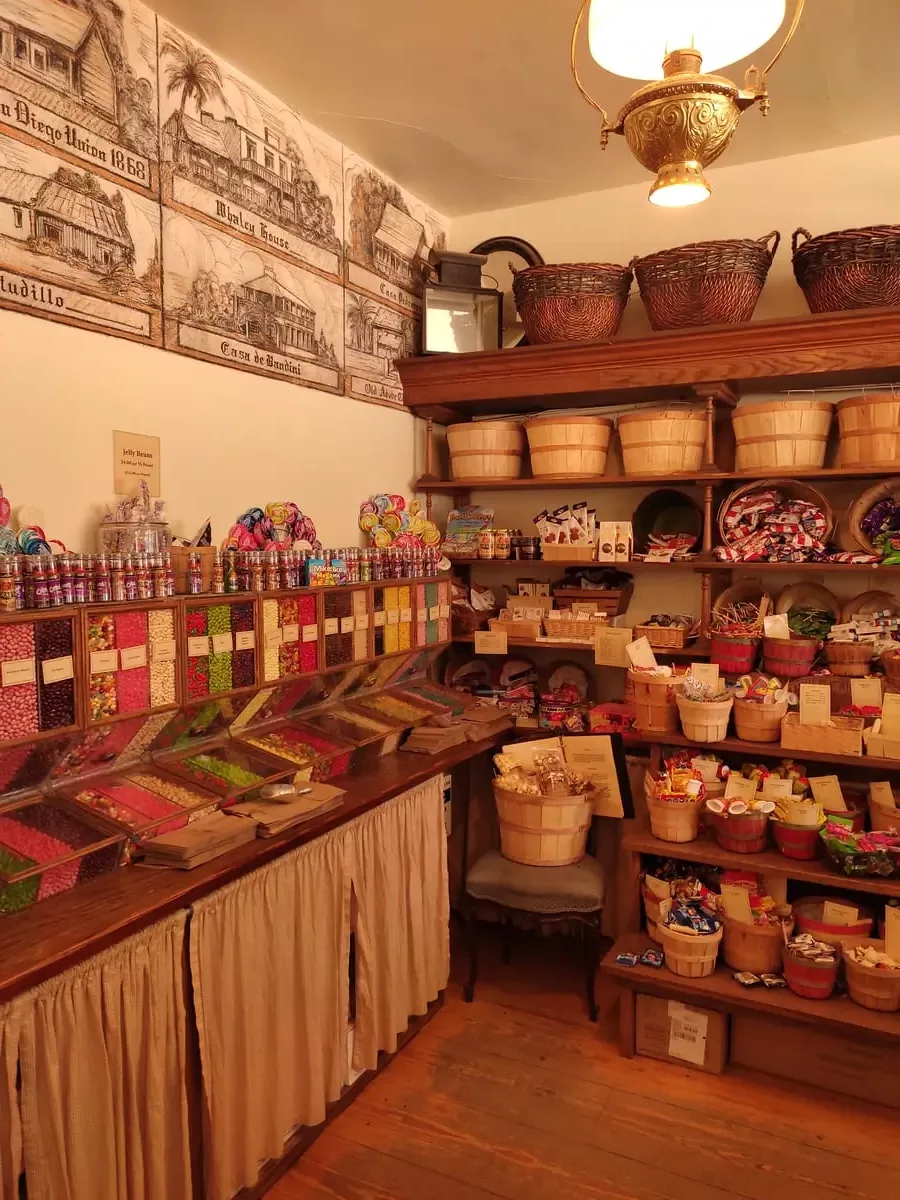 I can never resist an old-fashioned candy shop – makes me feel like a kid again
Next up was Threads of the Past, a small museum about textile history. In contrast to the candy store this was my first time here.
A volunteer was demonstrating spinning and weaving when I stopped in. Very interesting!
I have seen weaving quite often before (and had one of those small looms as a kid) but never really understood spinning so it was interesting to see how cotton puffs are turned into thread. 
There was also information about dyeing of the wool with native plants which I found fascinating.
Definitely stop by here if they are open/offering a demonstration.
Small textile museum with volunteer demonstations
Then I meandered along to the other shops on the main street – there are shops selling cool stuff made out of tin, lovely candles (you can even dip your own), and soaps.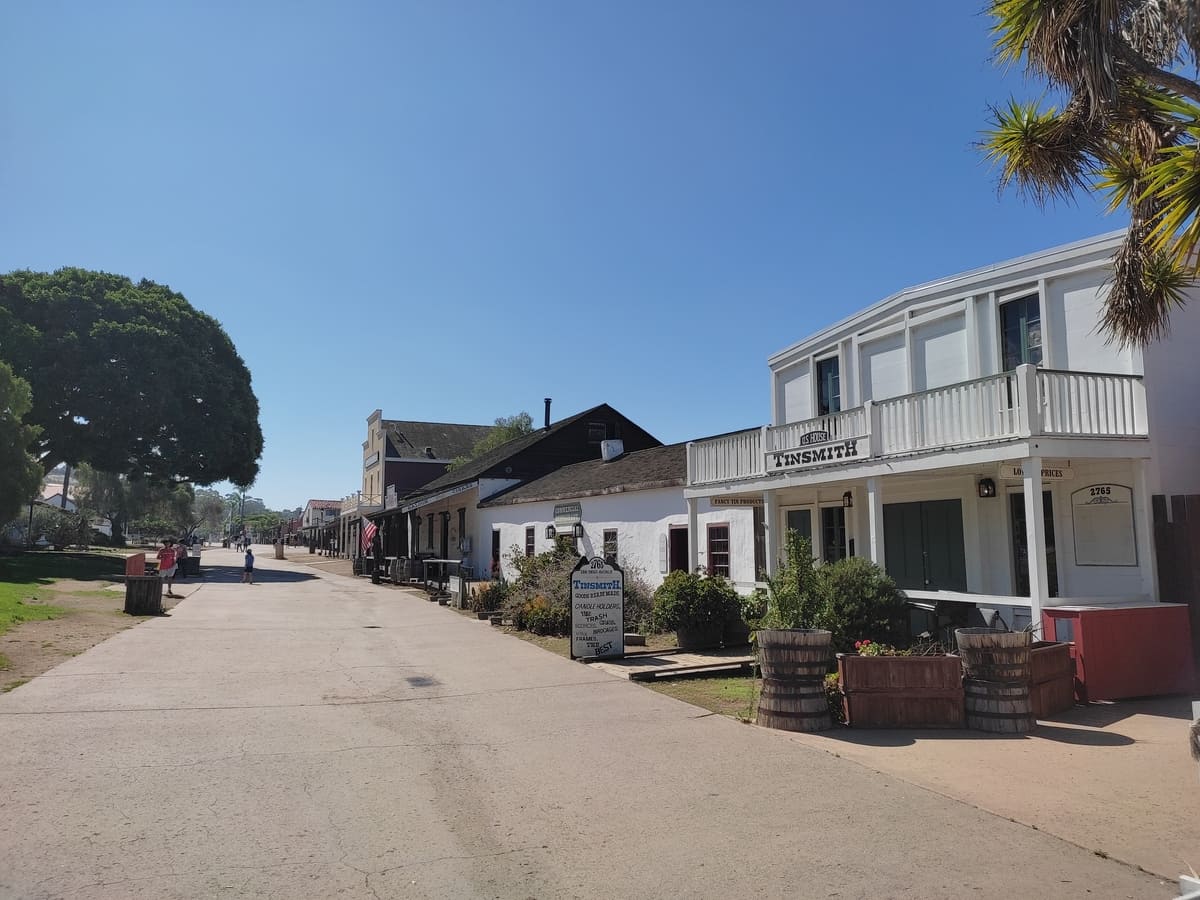 I especially loved the colorful pottery and other Mexican crafts sold here. If I wasn't flying I would not have been able to resist one of the large colorful flower pots. They just look so cheerful!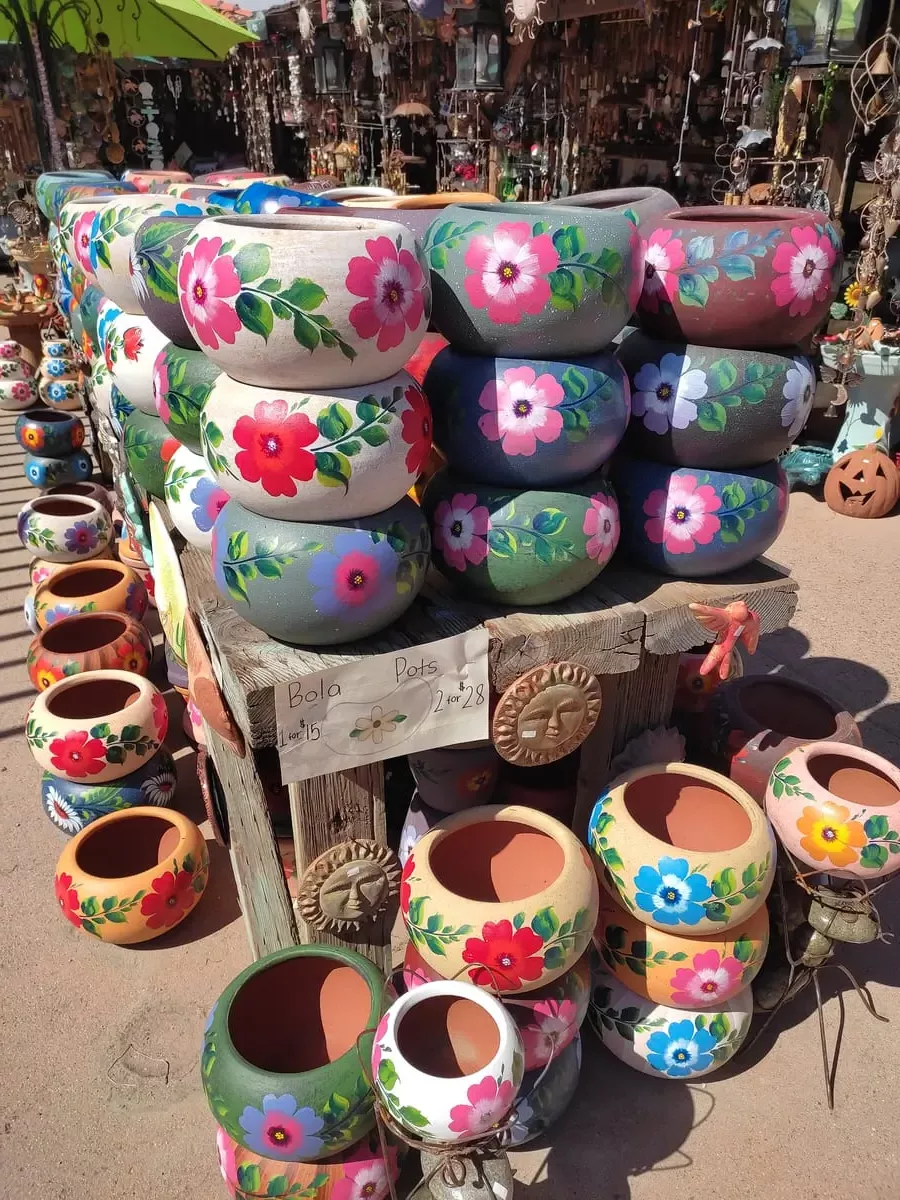 These colorful flower pots are hard to resist
Miner's Gems and Minerals is another store I could spend hours in is.
Here you will find different fossils and gems as well as various good luck bracelets and similar stuff. 
Great for kids or for getting an inexpensive present for loved ones at home.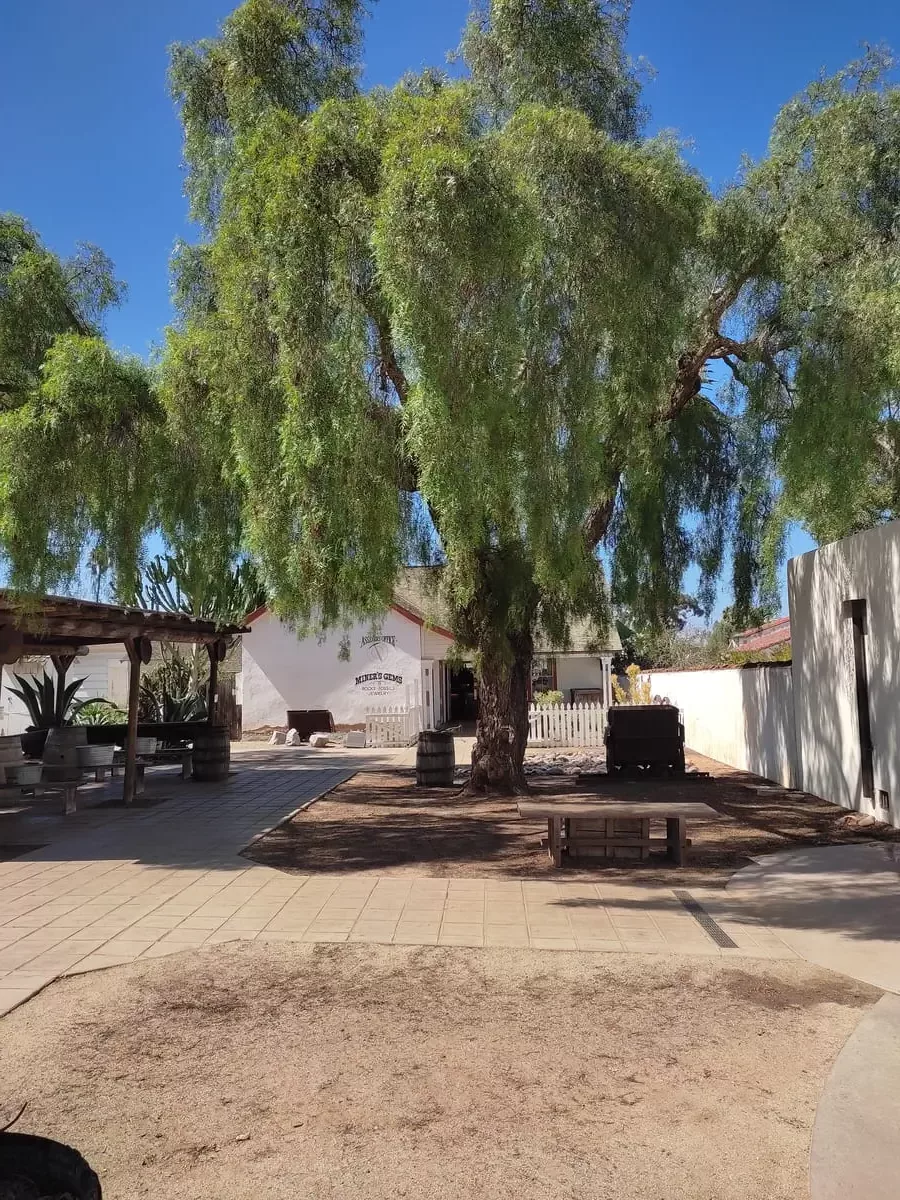 A shady spot for a short break from all the shopping next to the gem/fossil store
One of the shops across on the other side of the street offered not only different kinds of sausages/jerky (alligator, buffalo etc.) but also a vast variety of Mexican sodas.
I have no idea what they taste like but they do look interesting. Not so sure about Pickle Taffy though!
Butter Soda, Enchilada Soda, or Toxic Waste – choose your poison
The Seeley Stable Museum is another free (donations accepted) opportunity for some education.
Here you will find various coaches and information about the history of mail and stage lines. 
I was in a bit of a hurry as I didn't want to get to Solana Beach too late so just did a quick walk-through. But if you have an interest and time you could easily spend 20 minutes or so here.
The Wells Fargo Mail Coach looks like it is straight out of a Western
At the Blackhawk Livery Stable you can see a blacksmith and wood shop with loads of tools. During my visit there was a blacksmithing demonstration (I walked on by but with more time would have enjoyed watching for a bit).
The Blacksmith Workshop rather resembles a serial killer's torture chamber
On my previous visits I completely overlooked the courtyard in the upper left corner (number 6 on the map) with the Fiesta de Reyes Specialty Shops.
Don't miss out on the Fiesta de Reyes courtyard hidden in a corner of the park
If you pass through the gate the you get to even more upscale shops selling everything from books to hot sauce to kitchen ware (most with a Mexican theme).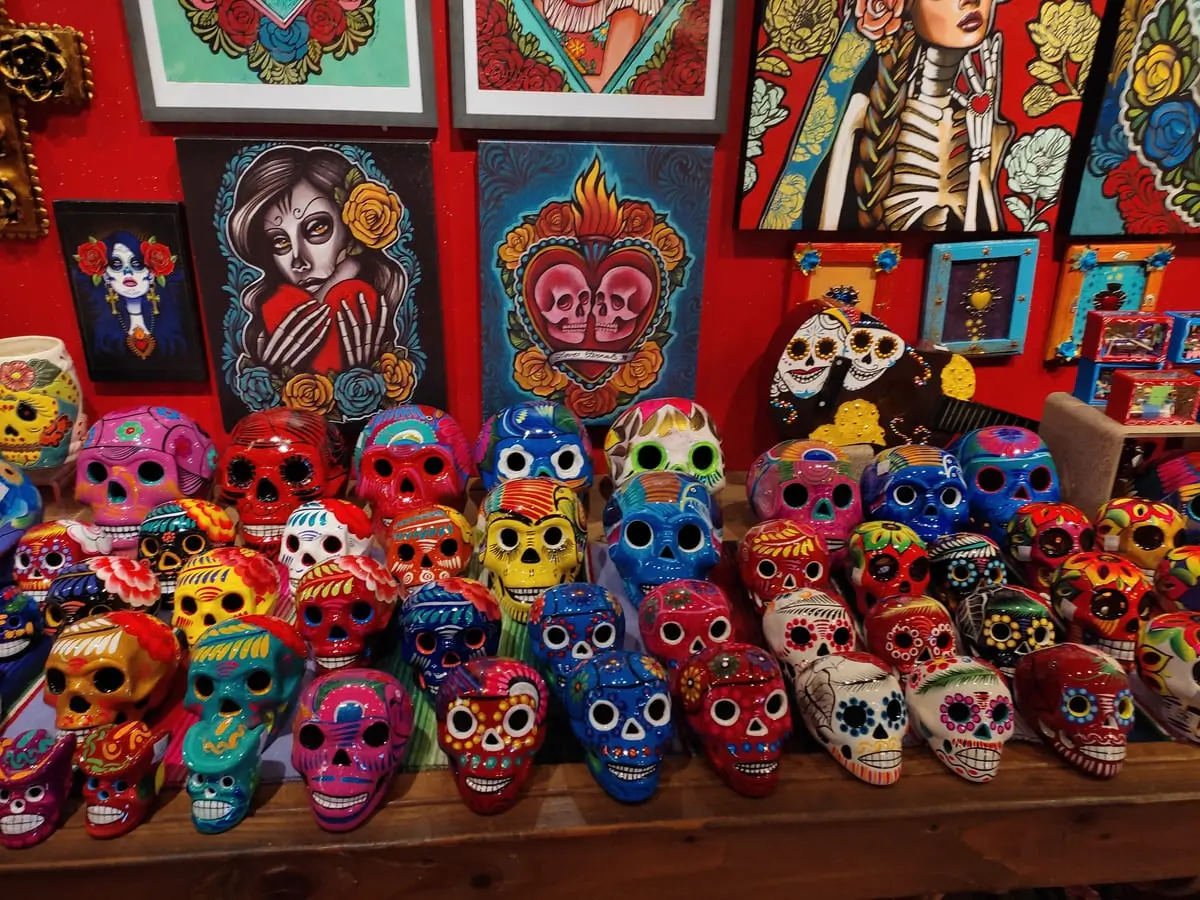 Who would have thought skulls could look that cheerful
The courtyard had various chairs and tables to eat at and several restaurants (both full service and counter service).
They looked (and smelled) very tempting – too bad I was still full from breakfast!
Recommendation: Hotel Cosmoplitan at Old Town San Diego
Usually, I only recommend hotels I have stayed at and I did not stay at the Cosmopolitan. However, I was so excited when I found out about it that I wanted to share it with you. It is on the very top of my San Diego bucket list now!
On a previous visit I had admired the former saloon building but had no idea it was still in use as a hotel today. I only noticed it on Booking.com when looking for a one night stay after my flight.
Eventually I decided against booking the Cosmpolitan Hotels as it was slightly above my budget, especially as I wasn't getting into town until late at night and leaving the next morning.
I bet you feel like you are part of Gunsmoke or Bonanza when staying at the Hotel Cosmopolitan
However, on my next trip to San Diego I will definitely try to stay here (and manage to fit it in the budget somehow). What could be more exciting than staying in an old saloon right in the middle of Old Town after all the other tourists have gone? There are even ghost tours offered!
All reviews I looked at looked great and online pictures of the individually furnished hotel rooms are right up my alley. The ideal place to stay at and watch old Gunsmoke reruns or read your favorite Western (Romance)!
Final Thoughts
Old Town San Diego is one of my favorite places in San Diego (and maybe in Southern California).
It  offers the perfect mix of education, good food, and quirky shops. Best of all, it is completely free – as long as you can resist the colorful trinkets and tasty treats!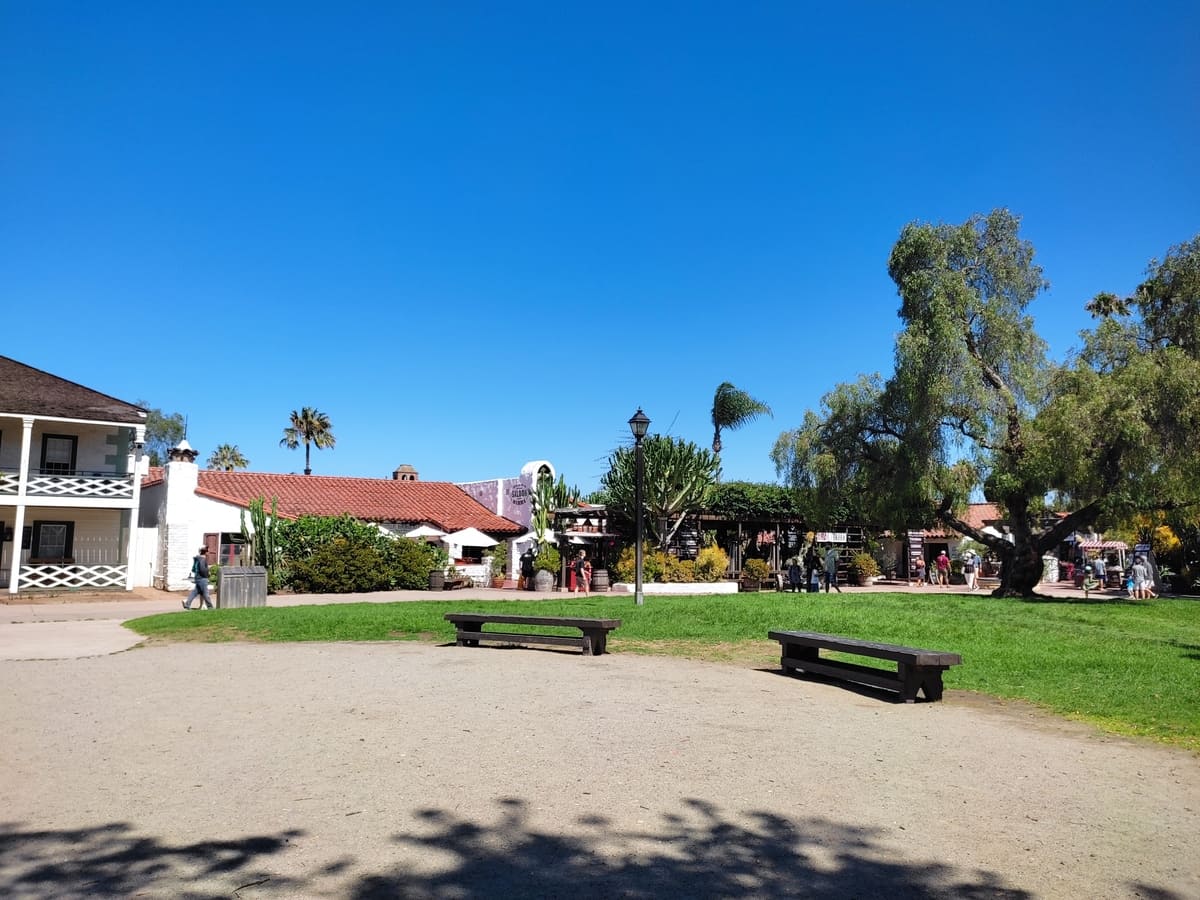 You can take a break on one of the benches and people watch