Sunny beaches, shopping, restaurants, and the laid-back Southern California vibe – Santa Monica/Venice is deservedly is one of the best areas to stay in for visitors to LA.
Unfortunately, hotel prices in these popular beach neighborhoods are often astronomical. So I was excited to find a quite reasonable price for the Inn at Venice Beach during my recent trip to Southern California.
I was a bit concerned though: The price was good but what would the Inn at Venice Beach be like? Run down and seedy or chick and modern? And what about the neighborhood? Would I feel safe?
In the following review I will hopefully all questions you may have and give a good overview of the Inn at Venice Beach.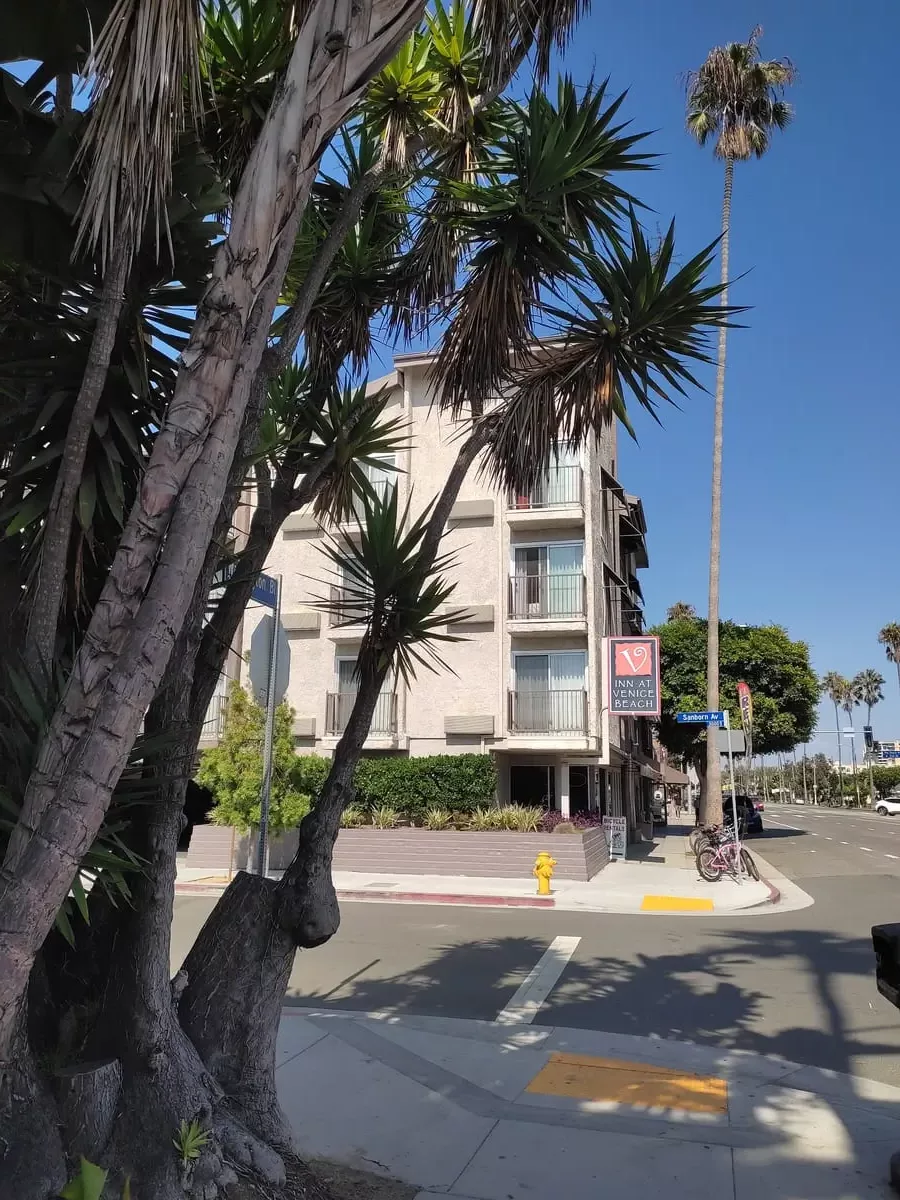 The Inn at Venice Beach is located in a pale grey apartment building on a wide street near the beach
Location of Inn at Venice Beach
Given its name it is not surprising that the Inn at Venice Beach is in Venice, CA (duh!).
To be more exact, the hotel is about a five minute walk to the beach and just south of the Venice Canals. The famous Abbot Kinney Boulevard isn't too far away either (a good 15 minutes by foot).
Immediately to the south from the Inn at Venice Beach you will find Marina del Rey with small beaches, yachts, hotels, and restaurants.
Prior to my trip I was a bit concerned that the area might be sketchy. I am not the biggest fan of the Venice Beach atmosphere (give me upscale Santa Monica any day).
But I needn't have worried. The neighborhood was more yuppie/bohemian than seedy or run-down.
There are a number of restaurants and small stores in the immediate area.
I went to the small market at the end of the block (2 minutes walk) to pick up some snacks and a soda. Prices were more reasonable than I expected so a definite plus.
I made two trips to the small store at the end of the block for some provisions
I stayed at the Inn at Venice Beach on the last day of my trip. One of the main reasons I decided on this hotel was that Venice/Marina del Rey are fairly close to the airport.
I ended up taking public transport to the airport (you can read a detailed review of that trip here) and it was great. Easy, cheap ($1.10 for the entire ride!), and convenient.
The location is definitely one of the big pluses of this hotel. If you are looking for a pleasant stay near the beach it is about perfect.
However, if you – like me – are visiting LA without a car, Venice is not the most central location.
While it can be done I wouldn't necessarily recommend Venice for a longer stay if you plan on touring a lot in the entire Los Angeles area.
Other neighborhoods – like Hollywood, Downtown, or at even Santa Monica itself – have easier access to public transit and would be more convenient for sight-seeing.
Getting to the Inn at Venice Beach
Let me be honest here – even though I am used to public transport I couldn't quite face the long trek from my previous hotel in Hollywood all the way to Venice with a suitcase so splurged on an Uber.
However, if you are coming from the airport, using the Big Blue Bus would work well (you can read a step-by-step review of the process here). I walked from the bus stop but you can easily take another bus if you want to avoid dragging your suitcase around.
From Union Station/Downtown LA I would recommend taking the Metro train to Santa Monica and then changing to Big Blue Bus Route . Total cost should be about $3.
Not unlike the Magic Castle Hotel you can easily overlook the Inn at Venice Beach if you are not specifically looking for it.
The building resembles a regular apartment building. There was a big sign on the building but I had a difficult time finding the entrance (I ended up going through the backdoor near the parking).
On the picture the entrance is clearly visible but it was more difficult if you were right next to the building (or at least I had difficulty seeing it).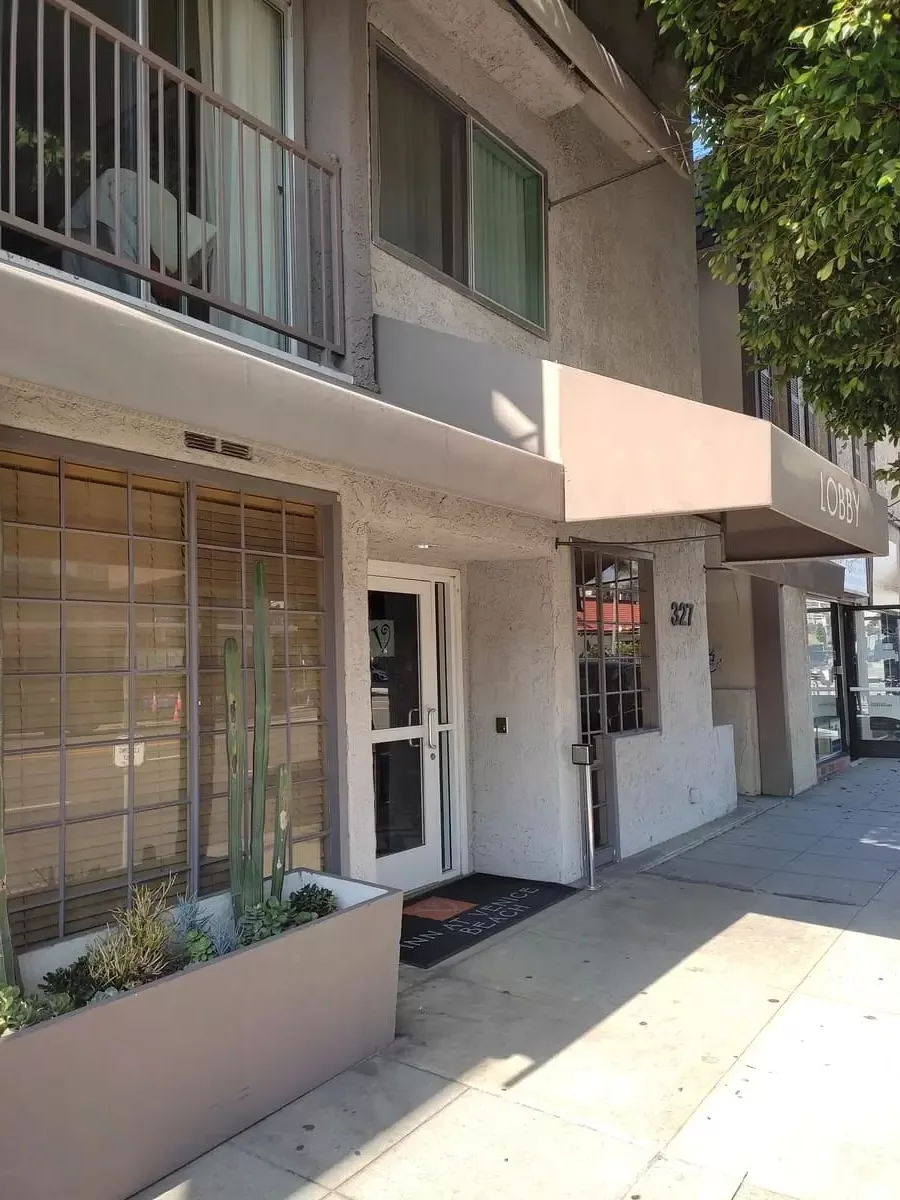 The entrance to the Inn at Venice Beach is fairly inconspicous, especially close up
Appearance of the Inn at Venice Beach
From the outside, the Inn at Venice Beach isn't very impressive. 
Don't get me wrong it looks neat and inviting but it doesn't scream luxury. For the most part it looks like a nice but unremarkable apartment building.
Check-in Inn at Venice Beach
The lobby is bright and well-appointed and check-in went smoothly. I was there early in the day so it wasn't surprising that my room wasn't ready.
However, it was no problem depositing my luggage at the front desk. I have rarely had any problems doing so but it is always good to know for sure.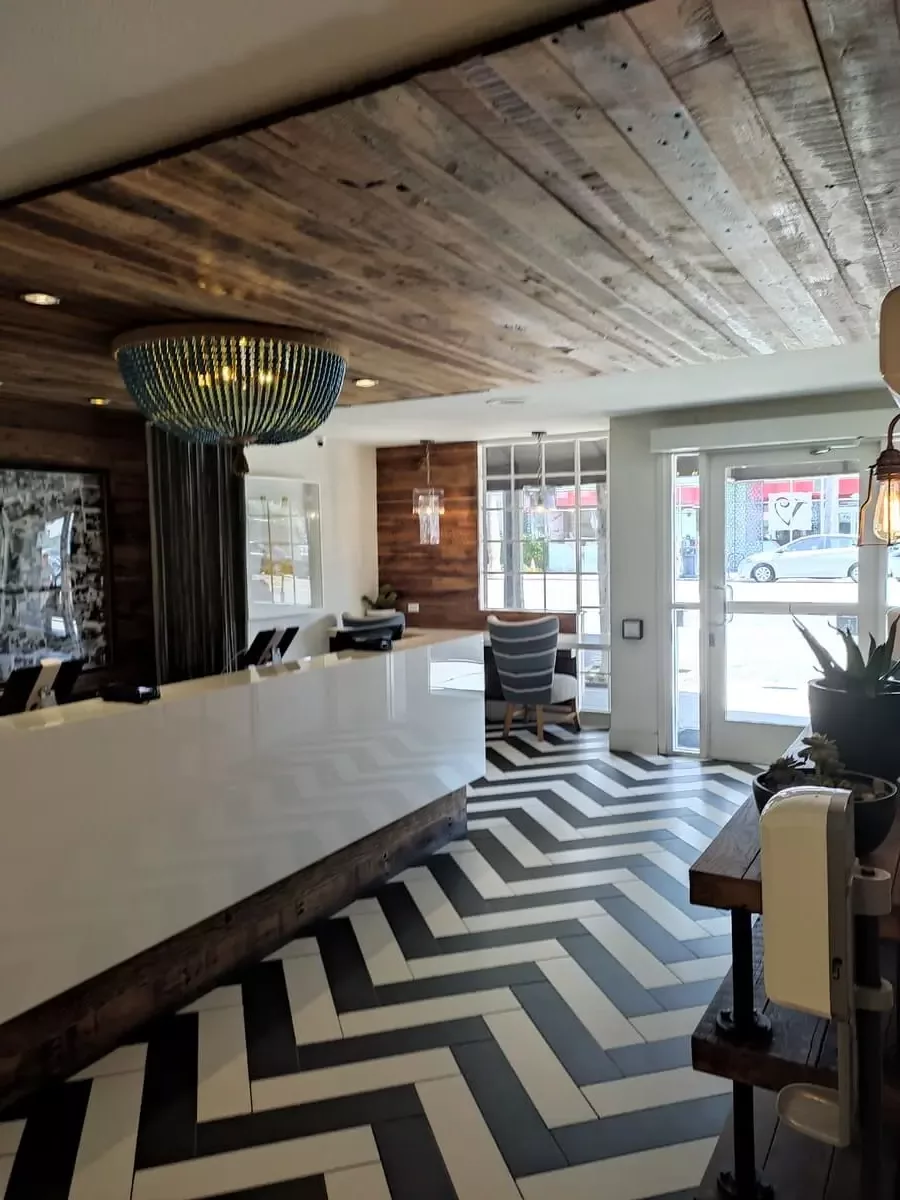 The lobby of Inn at Venice Beach is bright and stylish
Room at Inn at Venice Beach
Aside of the general location of the hotel, the room was definitely what I liked best about the Inn at Venice Beach.
I am not a fan of generic hotel rooms and loved the cool Midcentury styling of my room. It was bright, inviting, clean, and made me smile.
Sure, orange wouldn't be the color I would choose for my bedroom at home but it works here.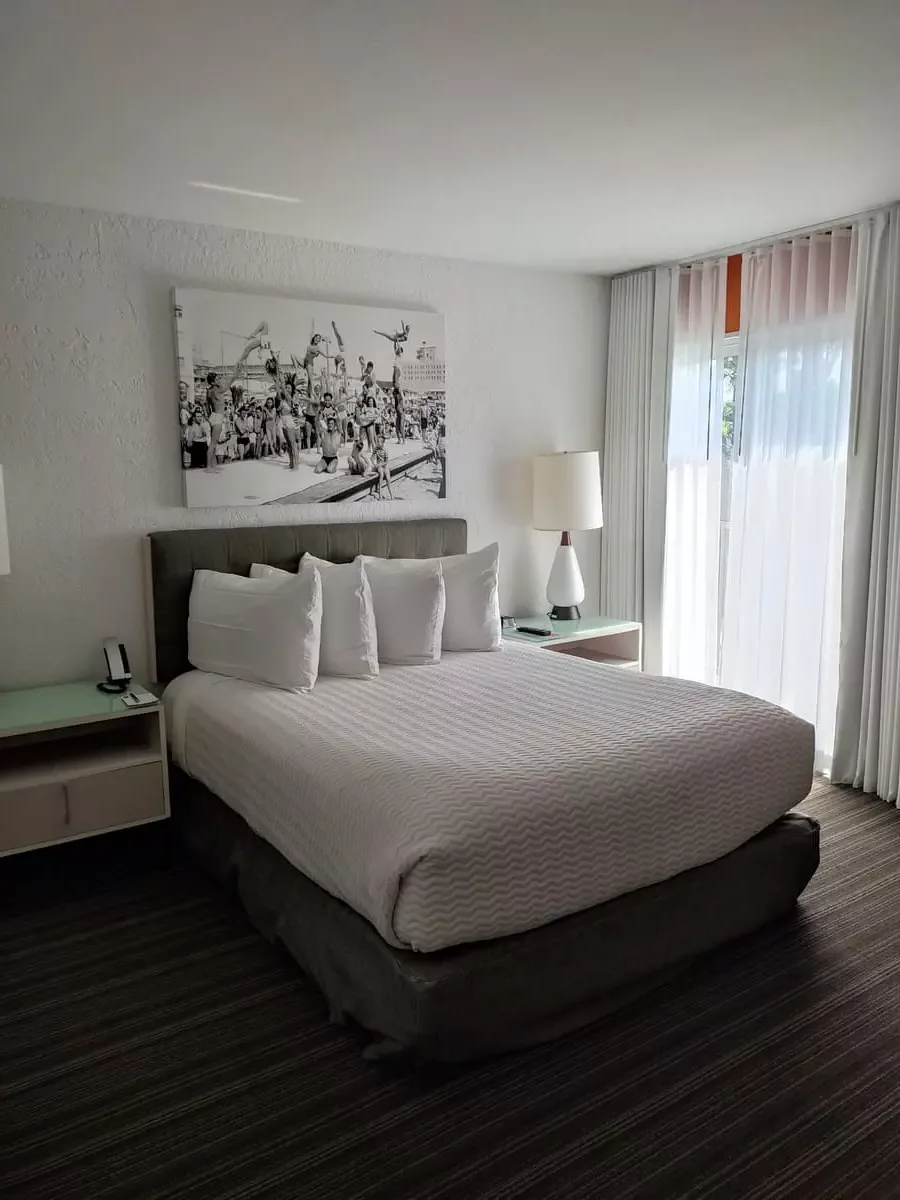 The clean, airy feel of the room made me feel right at home
My favorite part of the room was the sitting area – I just loved the design/style.
It reminded me a bit of Universal's Cabana Bay Resort (though less themed). Definitely not your generic cookie-cutter chain hotel.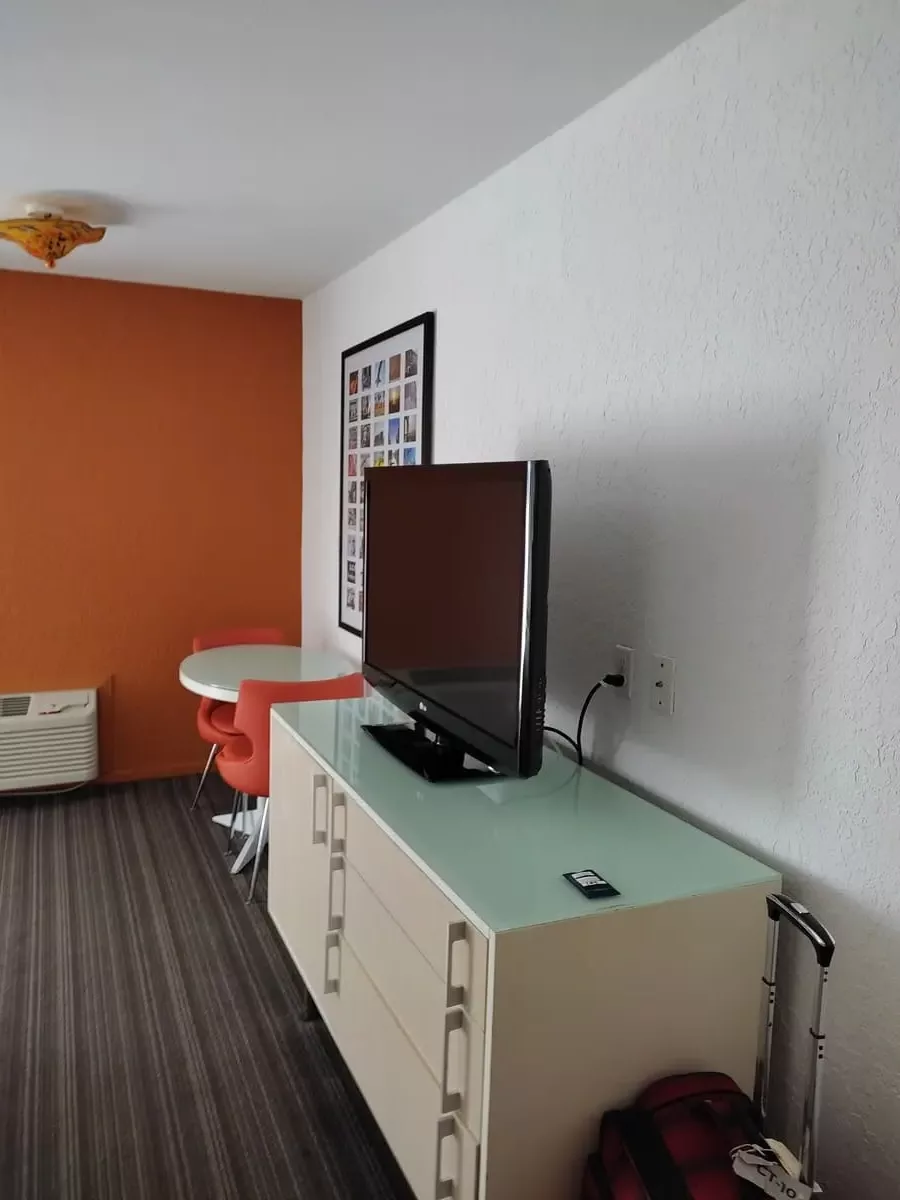 I loved the interior decor of my room
My room was spacious and the bed very comfortable. I even had a small balcony – once again I apparently didn't read the hotel description properly so it came as a surprise.
This one was pleasant though as opposed to the interior room on Queen Mary.
There was no furniture on the balcony and the view wasn't spectacular but it offered a chance to get a breath of fresh air and the side-street was nice and quiet.
Along one wall there was a long counter with ice bucket and coffee maker as well as a small fridge underneath.
I like a cold soda so I always appreciate having a fridge available.
This is yet another hotel with the sink outside the bathroom.
As a solo traveler I am indifferent to this but when traveling with others who tend to hog the bathroom it can be quite convenient.
The bathroom was definitely the weakest aspect of my room.
It did have a tub (finally – this was the only hotel with a usable bathtub during my entire trip!) but it was fairly shallow.
But the main issue was that the bathroom was tiny. You can see on the picture that the toilet is practically hidden by the door.
Not ideal but for me not a deal-breaker either.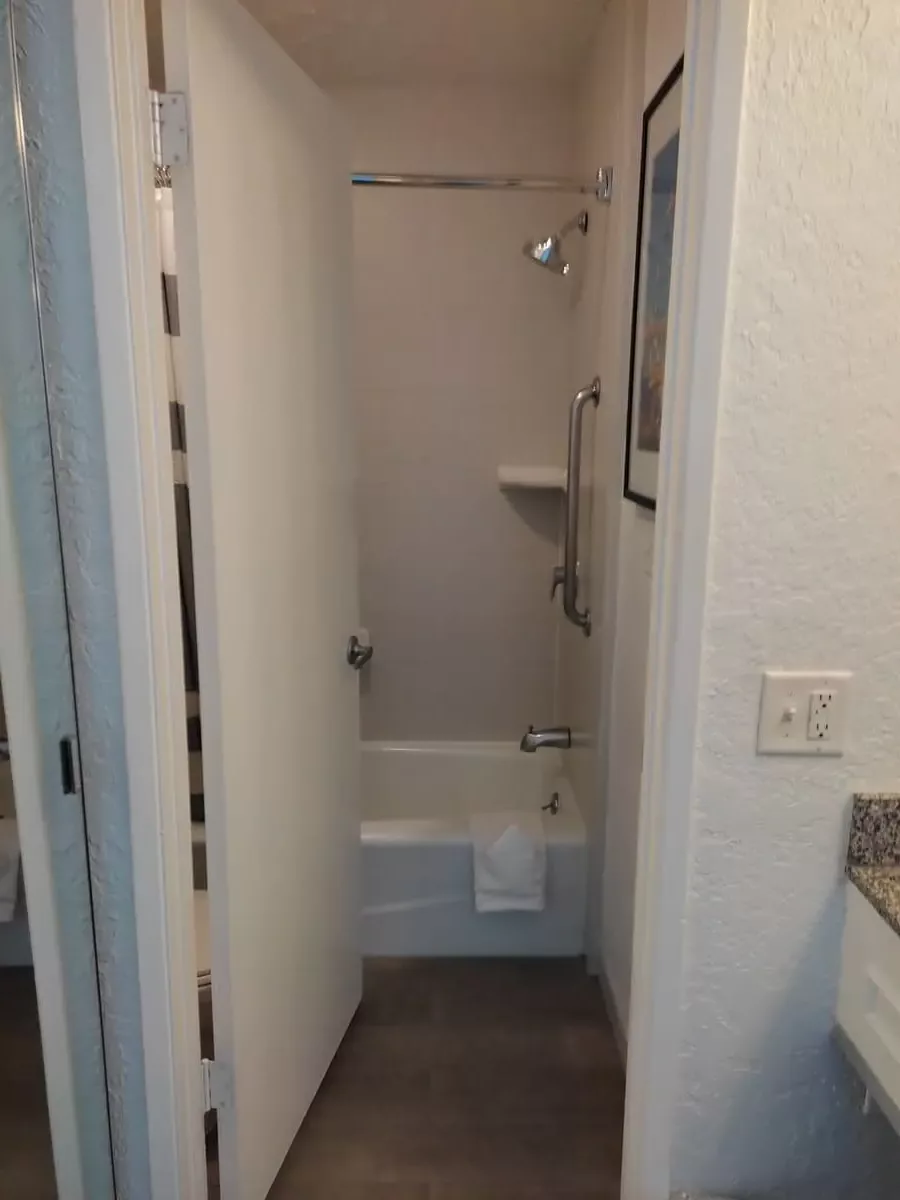 In spite of the not so impressive bathroom I loved my room at the Inn at Venice Beach.
It just had a really fun and soothing vibe. One of the nicest room designs I have seen in a while.
Amenities of the Inn at Venice Beach
While I loved the room, I wasn't as impressed with the offered amenities. There is neither breakfast, pool nor laundry facilities.
They do have an ice machine and a Coke machine out back but I thought the soda price a bit high.
The Inn at Venice Beach does offer convenient parking right next to the lobby but it isn't cheap. The daily fee is $22 (which didn't matter to me as I didn't have a car).
My biggest complaint however was the lack of proper free internet.
I feel that in 2023 internet is a basic necessity at a hotel, like a TV or running water.
There was free internet available but Premium internet would have cost extra (about $15 I believe).
This would have been fine if the basic internet was at least decent but I had a lot of problems with it. And I wasn't trying to stream anything but even basic internet searches etc. were a problem on my laptop.
However, there was one amenity at the Inn of Venice Beach I really loved and that was the small courtyard right next to my room.
It was so cute and inviting! That alone would make me want to return here.
This courtyard at the Inn at Venice Beach was adorable
Cost of my stay at Inn at Venice Beach
I paid $159.74 for my one night stay (Thursday) at the Inn at Venice Beach.
If you have looked at hotel prices in the Santa Monica/Venice area at all you will know that this is a great price!
However, I did notice that prices at the Inn at Venice Beach fluctuated wildly depending on the day.
While you can stay there for less than $160 on some days (like me), on other dates the price for a regular room is around $300 or even more.
Pros and Cons of the Inn at Venice Beach
I loved much about my stay at the Inn at Venice Beach but there were also some definite negatives:
Negatives:
I hated having to pay extra for internet
Without a car the location is not ideal for extended touring of LA
The bathroom was on the small side
There weren't a lot of amenities
Positives:
Its location is great to visit Marina del Rey, Venice Beach, the Venice Canals, and Santa Monica
The surrounding area felt quiet and safe and there were plenty of stores and restaurants around
I absolutely loved the decor of my room
The small courtyard was adorable
Inn at Venice Beach is fairly close to the airport so you can easily get there by public transport or a cheapish Uber/taxi ride
My room included a small fridge as well as a table
I paid a very reasonable price for my stay
How long for a stay at the Inn at Venice Beach?
Los Angeles is a great city with a wealth of activities so you could spend weeks in the area without getting bored.
However, without a car the Inn at Venice Beach does not have the best location to tour Los Angeles (though it is possible) as you will either have to transfer between buses or first travel up to Santa Monica.
But there is plenty to do in the immediate area without needing a car.
My recommendation would be two or three nights if you don't have a car and want to concentrate on Santa Monica/Venice while staying here.
With a car a week would not be too long.
What is there to do near the Inn at Venice Beach?
Again, you can tour all of LA from here but there are a number of sights/activities that are close enough to be ideal if you are only staying for a couple of days and want to limit travel time:
Even though I do not love Venice Beach I do enjoy the brightly colored buildings
Venice Beach
I am not the biggest fan of the slightly seedy atmosphere of Venice Beach (I much prefer Santa Monica) but it is a fun experience and everyone should check it out at least once.
Who wouldn't want to have a pink swan boat?
Venice Canals
Even though I have spent a lot of time in Santa Monica I had never previously made it all the way to the Venice Canals area.
They are located right behind the Inn at Venice Beach though so I made it this time and am very glad I did. The houses are just adorable and it makes for a fun walk to meander along the canal and admire boats and bridges.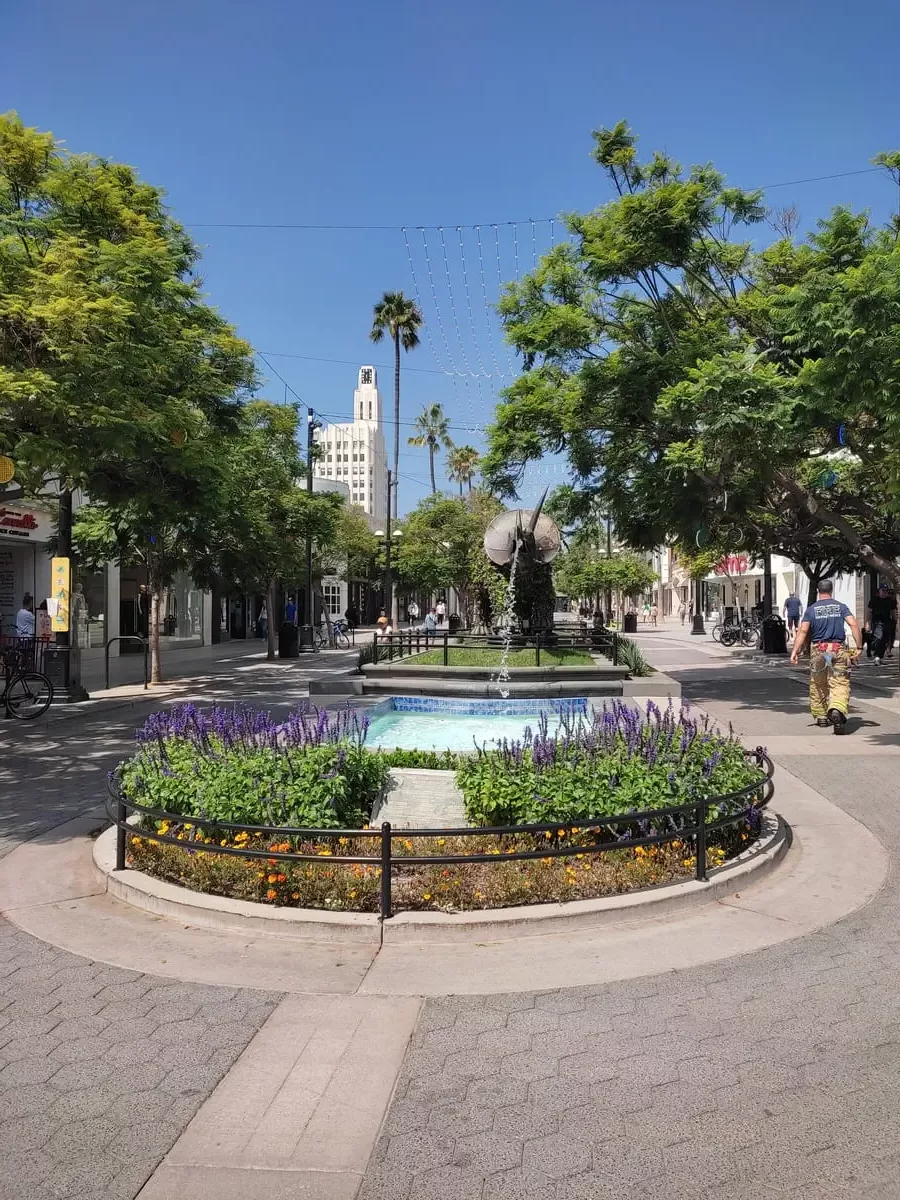 Santa Monica
Santa Monica is one of my favorite places in the LA area. The pier, the beach, the parks, the mall, Third Street Promenade, quirky shops, and cool restaurants – what's not to love.
There is loads to do here and for me Santa Monica personifies what many people expect when they come to LA.
You can walk there from the Inn at Venice Beach. It will take you a good hour but it is a nice walk along the beach with plenty to see.
Alternatively, there are regular inexpensive buses (Big Blue Bus charges $1.25 per ride) so you can save your energy for shopping or the beach in Santa Monica.
Abbot Kinney Boulevard
I had never been to this popular and hip street but was planning to visit on my trip. Unfortunately I ran out of energy (should have taken the bus to Santa Monica instead of walking) so I still didn't manage.
But it is only 15 minutes from the Inn at Venice Beach so a convenient place to check out. If you do, let me know what you thought!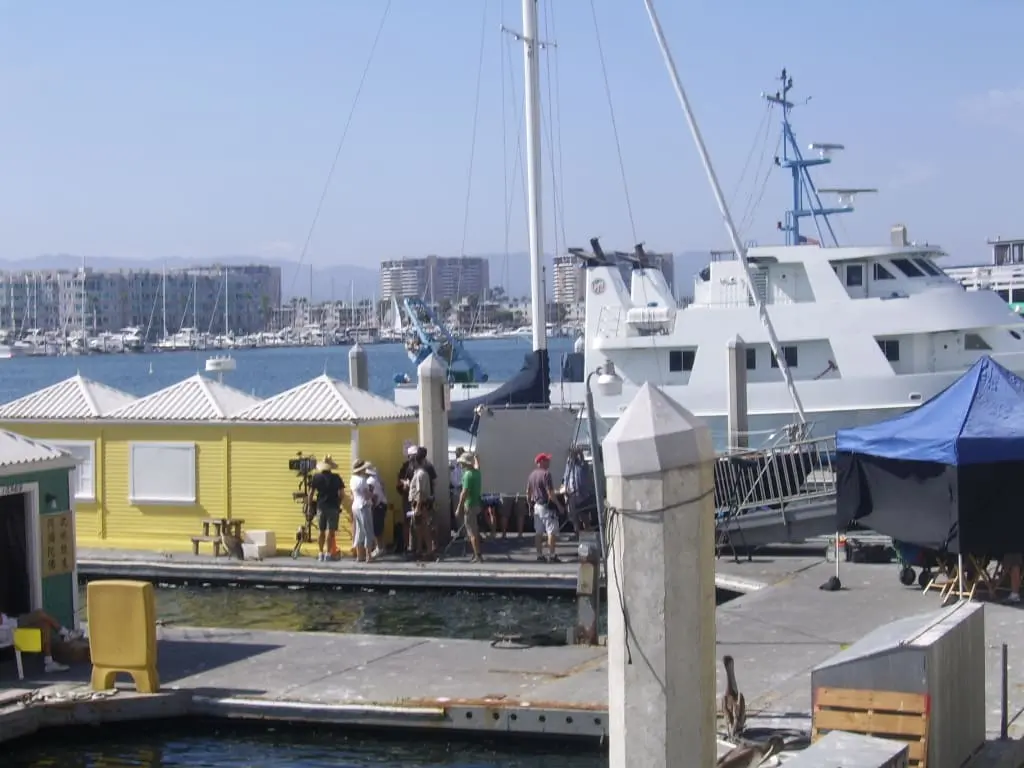 Fisherman's Village, Marina del Rey
With just one day (and little energy) I didn't make it to Fisherman's Village either on this trip but I have visited on a previous visit and had a great time.
There are lots of restaurants and you can watch pelicans as well as stand-up paddle boarders. When we were there last we happened on a film shoot which was fascinating to see (but obviously isn't a regular occurence).
Overall Opinion of the Inn at Venice Beach
The Inn at Venice Beach is in a great location to visit the Marina del Rey/Venice/Santa Monica area. The immediate neighborhood felt safe and there were plenty of small shops and restaurants closeby. The walk to the beach takes just minutes.
I loved the vibe of this hotel and especially the courtyard. The rooms are unique, fun, and inviting.
My only real complaint about the hotel was the lack of proper free internet (it bothered me quite a bit though).
I got a great price but at $300+ like I saw for some dates I would probably look for a hotel in Santa Monica or something cheaper in Hollywood or Downtown as these areas work better without a car.
But at a similar price as I paid (i.e. under $200) I would snap up a stay at the Inn at Venice Beach without thinking about it.
It was an upscale stay in a fun and convenient location at a good price!