Hollywood is usually on top of the list for first time visitors to Los Angeles. The iconic Hollywood sign, Walk of Fame, the glamour of the movie industry – what could be more emblematic for Southern California?
But if you do any sort of research – be it on Tripadvisor or on YouTube – you will find that Hollywood is considered one of the most overrated attractions anywhere. Trashy, cheap, and boring are adjectives often used.
So what is it? Should you just skip Hollywood or is it worth a visit after all?
If you ask me: Yes, Hollywood is overrated and will likely disappoint you but you should absolutely make it part of your LA itinerary!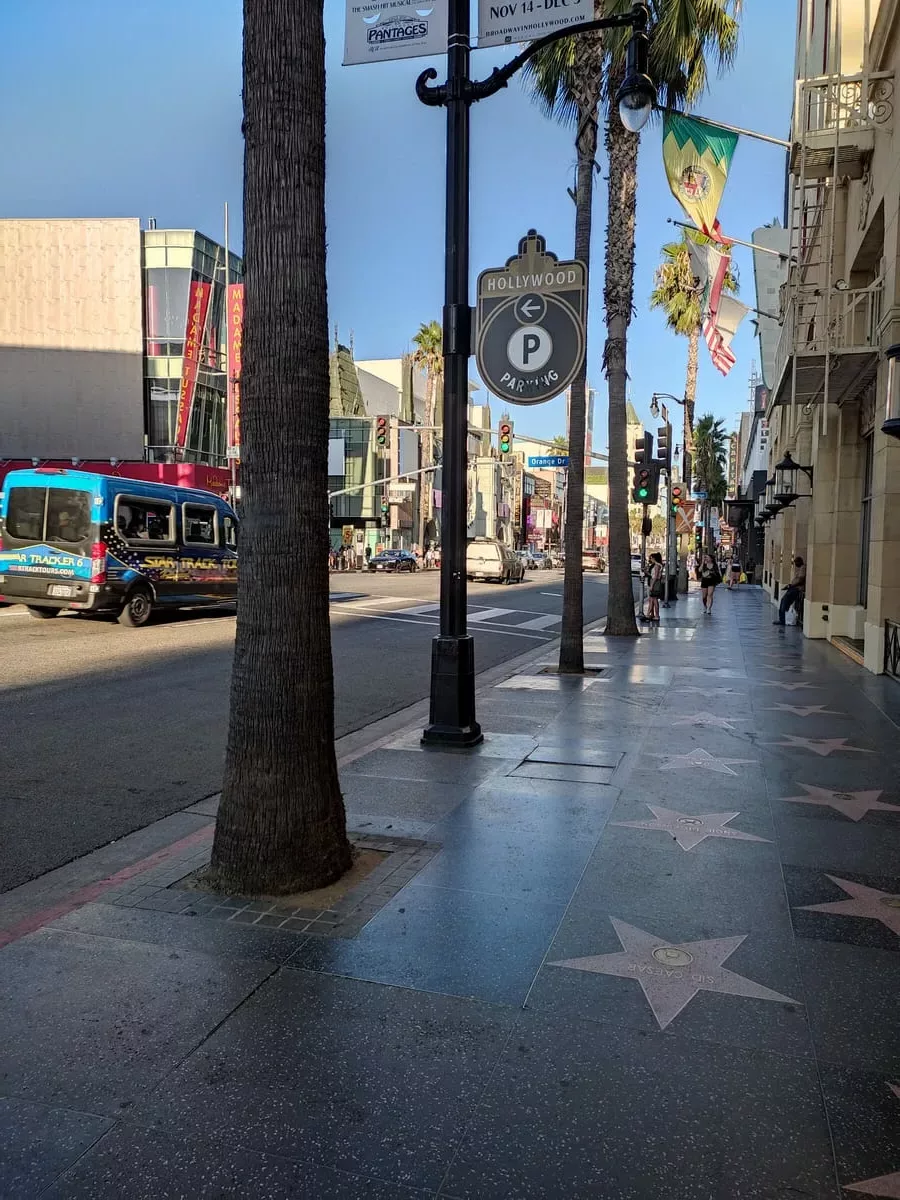 Why you might find Hollywood disappointing
There are two main reasons many people find Hollywood underwhelming:
There isn't all that much to do
If you look just at the main stretch of Hollywood Boulevard with Walk of Fame and the Chinese Theater there isn't all that much happening.
You take a look at some of the engraved stars and footprints, snap a couple of photos, and maybe try to get a picture of the Hollywood Sign (often barely visible and even on a clear day quite small due to the distance).
And after 20 to 30 minutes you are basically done (or not if you follow my suggestions below).
The Hollywood Vibe is far from what they expect
If you come to Hollywood expecting impressive celebrity mansions, bustling film studios, and the glamour of the Golden Age of Film and Television you will be disappointed because you are in the wrong place.
Stars live in Malibu, Brentwood, Beverly Hills, Bel Air or the Hollywood Hills, definitely not on the busy Hollywood Boulevard.
Most film studios are out in Burbank or down in Culver City (and filming is often done out of town).
What you will find instead in Hollywood is a street filled with tourists (so many tourists!), hustlers, stores selling cheap and tacky souvenirs, and car exhaust.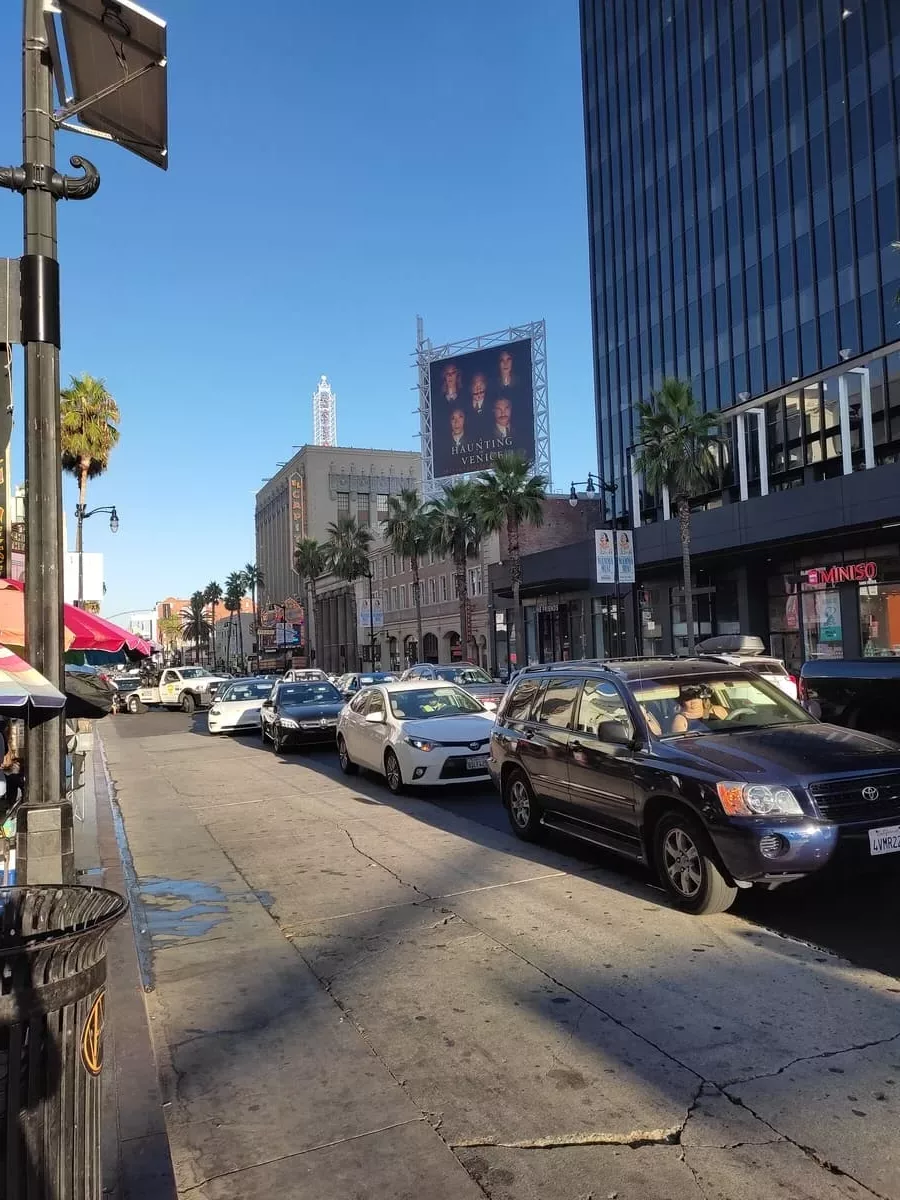 Traffic along Hollywood Blvd can be crazy
Why Hollywood should be part of your LA itinerary anyway
Yes, there is a good chance the most famous Hollywood attractions will disappoint you but would you feel that you have really seen Los Angeles/Southern California if the Hollywood Sign, Grauman's Chinese Theater, and the Walk of Fame were not part of your trip?
It is like the Mona Lisa in Paris (smaller than expected and extremely crowded), the Little Mermaid in Copenhagen (pretty enough but quite small) or the worst of the lot, Manneken Pis in Brussels (honestly, a tiny statue of a peeing child?).
Not impressive on its own but still part of a well-rounded trip.
And there is of course always the chance that you will feel differently. My kids for example have always enjoyed Hollywood and I rather like it myself.
Read on to find out how you can make the most out of your visit to Hollywood.
How to make the most of your Hollywood visit
There are two different ways to tackle Hollywood on your trip to Los Angeles without being disappointed: the minimalist approach and leaning in.
Which one will work better for you will depend on your personality, interests, and how much time you have in Los Angeles.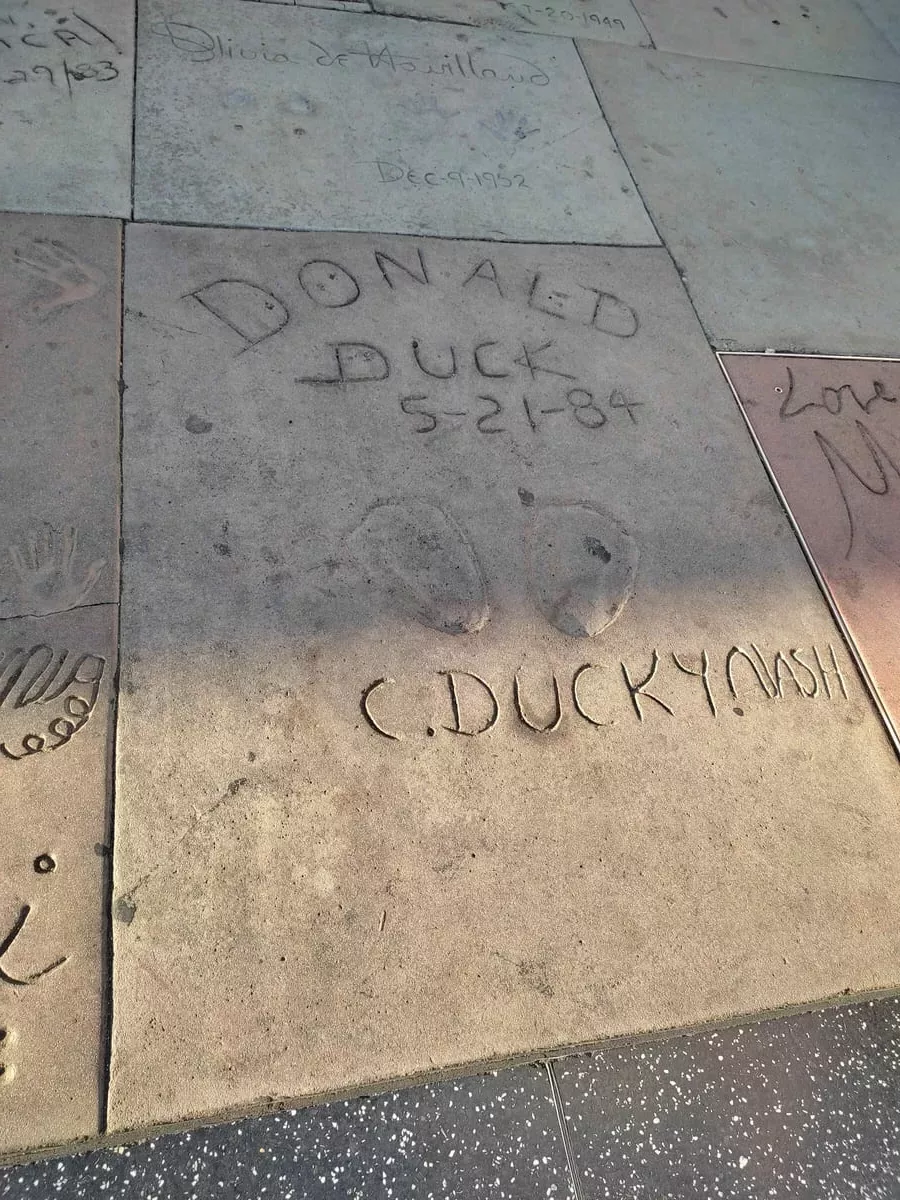 The famous hand and foot prints should be part of any itinerary – and take hardly any time
A) Make your Hollywood Trip short and sweet
If using this approach you basically just accept that Hollywood will be a short photostop on your wider LA exploration.
What to do
You allocate maybe one hour to Hollywood. That should give you enough time to:
Snap a picture of the Hollywood Sign from the upper floor of the Hollywood and Highland Shopping Center
Walk along the Walk of Fame and look at who all has a star there
Take a couple of photos of Grauman's Chinese Theater and search for hand or footprints of some of your favorite celebrities
Pick up a cheap souvenir or two
What else to do on the same day:
Depending on your other travel plans, Hollywood can be combined very well with Downtown Los Angeles (the Metro B-Line will connect you with Pershing Square in just 22 minutes) or a visit at Universal Studios.
If you – like me – decide on a hotel in the Hollywood area you can just explore the main Hollywood attractions either before or after your regular touring for the day. I highly recommend the Magic Castle Hotel – you can see my review here!
Also, Hollywood is a tourist hub so many tours (e.g. to celebrity homes) and the HoHo buses start here.
Consequently it is fairly easy to make a quick stop to check out Hollywood without having to sacrifice too much time.
Best for:
Visitors who have very limited time in LA
Anyone who hates tacky, crowded tourist attractions
Visitors will little or no interest in the movie industry
From the Ovation Shopping Center you have a clear view of the Hollywood sign – but it is pretty far away
B) Lean into the tackiness and enjoy
Yes, Hollywood Boulevard is tacky and touristy but you can still have fun. After all, you are a tourist!
There are plenty of attractions around to fill an entire day or more.
What to do
Depending on your preferences, you allocate half a day to a whole day to Hollywood.
In addition to the activities from Version A there are numerous small attractions in the immediate area (no specific order):
Explore the Dolby Theater
You can either watch a movie or take a guided tour in this venue that hosts the Academy Awards. We attended a Cirque du Soleil show here when it was still the Kodak Theater but that is unfortunately long gone!
Tour the TCL Chinese Theatre to see the impressive interior
Spend some time at the Hollywood Museum
We visited a couple of years ago and had a great time! Favorites were Elvis Presley's bathrobe with peanut butter stains and Dorothy's Red Ruby Slippers from the Wizard of Oz
Explore Guiness World Records at the Hollywood Wax Museum
Be amazed at World of Illusions
Go shopping at the Hollywood and Highland Center
Discover the power of wax at the Hollywood Wax Museum or Madame Tussauds
Check out the Hollywood Roosevelt Hotel
I am not sure if you can just walk in to look around but you definitely could have a drink or meal there
Watch a (Disney) movie at the El Capitan Theater
We have seen several movies there in the past and have had a great time in this old-fashioned, glamourous movie theater. And afterwards you can enjoy a delicious treat at the attached Ghirardelli Soda Fountain & Chocolate Shop – what could be better?
For kids a movie at the El Capitan Theater followed by an ice cream sunday at Ghirardelli will be a highlight of any LA trip
What else to do on the same day:
As you can see there are enough smaller (often touristy) attractions to keep you busy for a day right along Hollywood Boulevard. I bet I even missed some in my list!
However, if you want a bit more variety there are other sights and activities close by that you could check out:
Visit the Magic Castle to see amazing magicians and enjoy the intimate atmosphere (if you can get in)
Go on a hike in Runyon Canyon (probably your best bet to spot celebrities in the area unless you manage to be in Hollywood during a movie premiere)
Tour the Hollywood Bowl or even better attend a performance there
Jump on a Hop-on Hop-off Bus to explore West Hollywood, Beverly Hills, and Miracle Mile
Take a Celebrity Home Tour (most start right there in Hollywood)
Best for:
Visitors who have enough time in LA to spend a full day for Hollywood/the Film Industry
Anyone open to enjoy attractions even if they are a bit tacky and touristy
Families traveling with teens or older kids as they will likely get a kick out of some of the smaller museums and movie theaters (mine did!)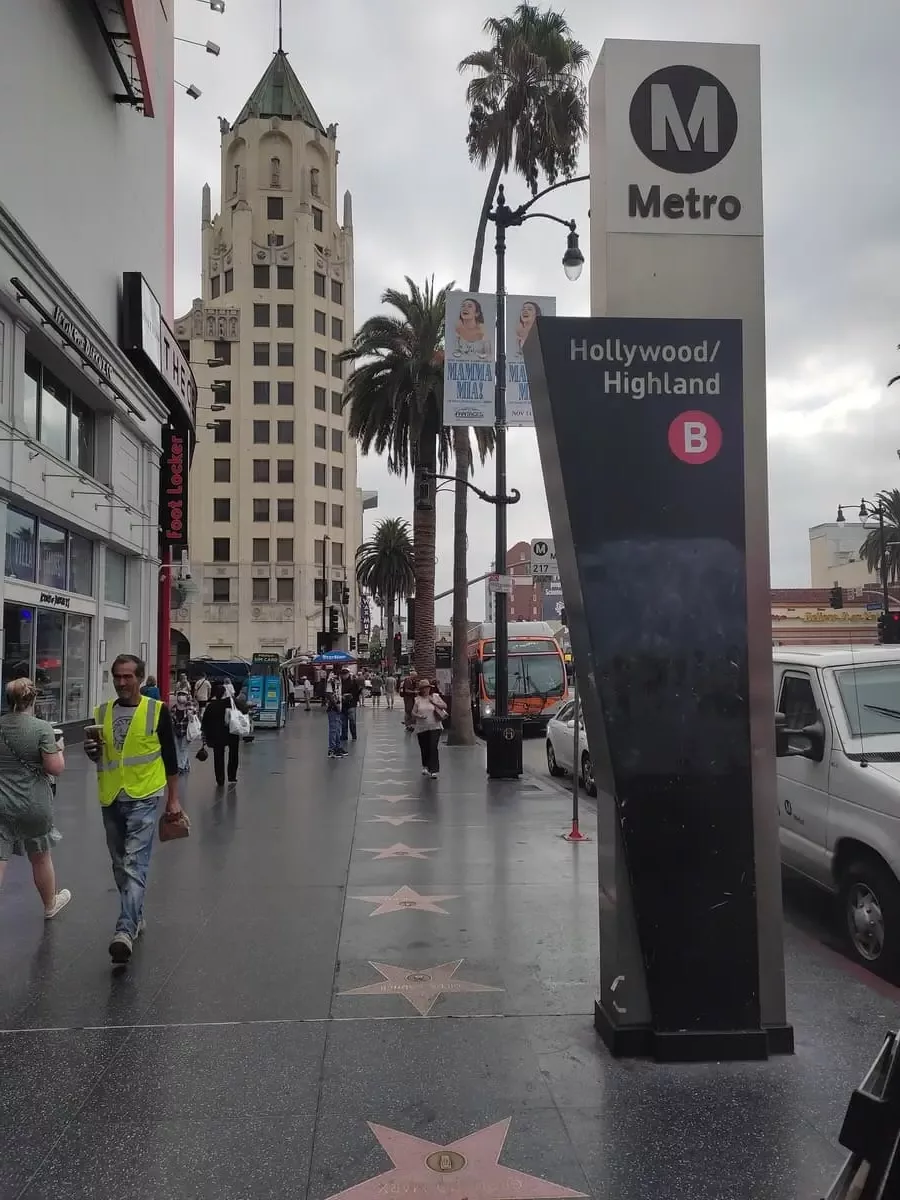 The Metro will take you straight to Universal Studios or Downtown LA from Hollywood
How far is Hollywood from Los Angeles?
Hollywood is actually not its own town but just a neighborhood in Los Angeles so the distance between Hollywood and Los Angeles is actually 0 miles!
One of the most confusing things about the huge city of Los Angeles is that there are several smaller independent towns scattered in the middle of it. Surprisingly enough, those towns are not what you would expect though.
So while Hollywood is not its own city, West Hollywood is! Other better known independent cities in the LA area are Santa Monica, Beverly Hills, and Culver City.
However, when you are wondering how far Hollywood is from Los Angeles you may actually be interested in how far Hollywood is from certain other places in the greater LA area.
Here is a short overview of the distance between Hollywood and other tourist destinations around Los Angeles. I have also included what would in my opinion be the best public transport option to travel between and how long it would take.
| | | |
| --- | --- | --- |
| Location | Distance in miles/km | Best public transit option |
| Downtown LA | 7.7/12.3 | Metro B-Line (about 25 min) |
| The Grove and Original Farmers Market | 3.2/5.1 | Bus 217 (about 15 min) |
| Beverly Hills | 5/8 | Bus 217 to LACMA, then change to Bus 4 (about 50 min) |
| LACMA/Miracle Mile | 4/6.4 | Bus 217 (about 20 min) |
| UCLA/Westwood | 7.2/11.5 | Bus 2 from Sunset/Orange (about 50 min) |
| Getty Center | 11/17.6 | Bus 2 to Westwood, then Bus 761 (about 1.5 hours); I would consider an Uber instead |
| Santa Monica | 13/20.8 | Metro B-Line to 7th Street/Metro Center and then Metro E-Line (about 1.5 hours) |
| LAX Airport | 14/22.4 | Metro B-Line to Union Station and Flyaway Bus (find out more here) |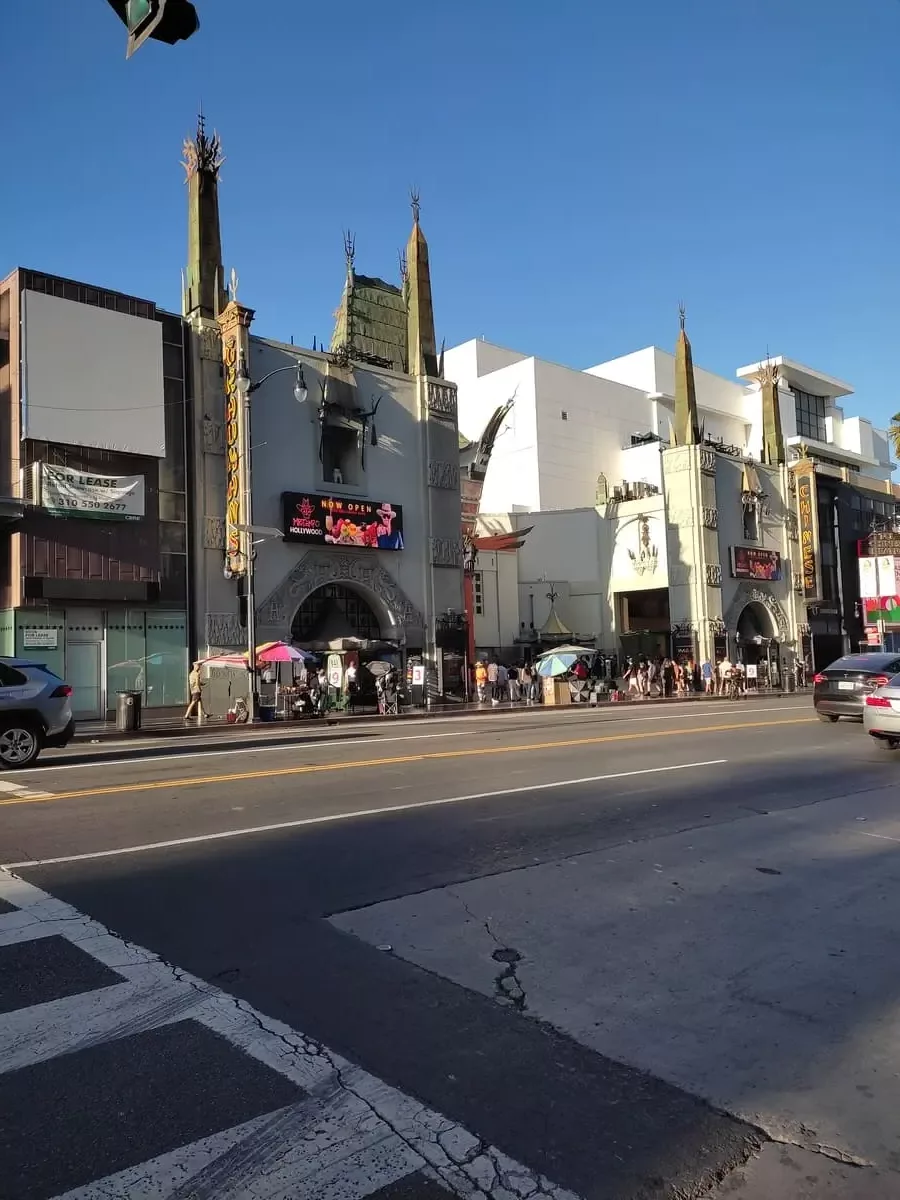 Hollywood's sidewalks are crowded with tourists – as long as you follow common safety precautions you should have no problems
Is Hollywood safe?
The main Hollywood area around the Walk of Fame is a bit seedy with plenty of hustlers and a fair number of homeless.
However, during my visit it seemed safe enough, at least during the day.
Given how busy it is and its touristy nature I would assume that it is not too bad even later on at night (though I did not check this out myself).
Just keep an eye on your belongings and avoid any scammers/hustlers and Hollywood should be perfectly fine, even if you are a solo female traveler.
Madame Tussauds is just one of many smaller attractions in Hollywood. Prices can add up though.
How expensive is a tour of Hollywood?
Checking out the stars on the Walk of Fame, taking a picture of the Hollywood Sign and admiring the Chinese Theaters with its footprints are completely free. (Looking for more free activities in LA? Read about 40+ best free things to do in Los Angeles!)
However, if you decide to make a day out of Hollywood and want to visit several of the smaller attractions it can get quite pricey.
Savings Tip
I rarely recommend Go Card in different destinations. While the idea is great, I always have a hard time seeing how you can cram in enough attractions to really save money.
However, if you are planning to hit up a bunch of smaller attractions in Hollywood the Go Card makes sense.
The smaller Hollywood museums are close together, don't take much time, can be expensive (compared to how long you will spend there) and several are included with the Los Angeles Go Card.
If you also plan to visit Universal Studios, get a HoHo Ticket, and do a Celebrity or Warner Brothers Tour the Go Card will definitely save you money!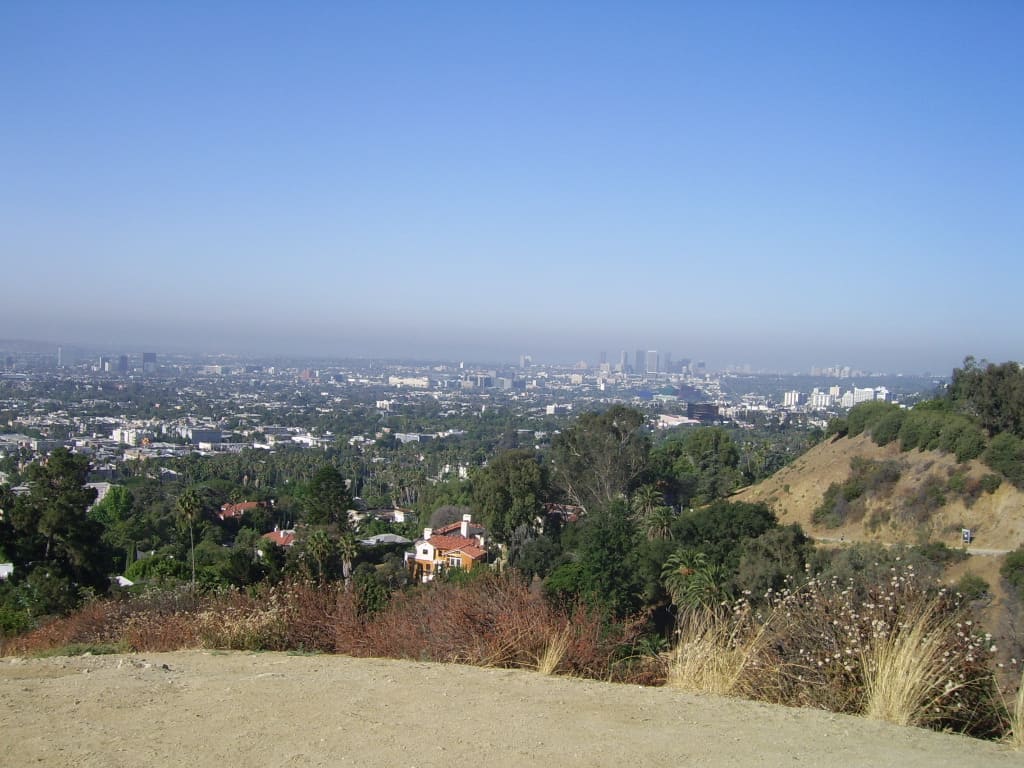 Runyon Canyon makes for a nice contrast to bustling Hollywood – and you may even spot a celebrity
Will I see any celebrities when in Hollywood?
Probably not. Stars don't generally hang out along the touristy Hollywood Boulevard (unless maybe if they have out of town guests).
An exception is of course if there are any special events during your visit, like a movie premiere or a new star being inducted on the Walk of Fame. (Unfortunately, special events may also mean that you won't have access to the Chinese Theater's courtyard or other areas.)
Either of these events is a great chance to see a celebrity – at least if you don't mind waiting early enough to get a good spot.
Aside of that, going on a walk in Runyon Canyon early in the day is probably your best bet for seeing someone famous.
While far from guaranteed, many celebrities are known to exercise in this urban park.
Or you could take one of the many Celebrity/Celebrity Home Tours offered. Even if you do not see any stars you will at least catch a peek of where they lived or used to live.
The TCL Chinese Theater is maybe the most famous sight in Hollywood
Final Thoughts
If you are expecting to see celebrities and Hollywood Glamour you will likely be disappointed when you visit Hollywood Boulevard. Instead of stars, mansions, movie studios, and glitz you will find traffic jams, small attractions, tacky souvenirs and hustlers.
However, skipping Hollywood isn't the solution. After all, can you really say you have been to LA if you don't have a blurry photo of the Hollywood Sign and haven't marveled at the size (or not) of famous actors' hands or feet?
You can have a great time visiting Hollywood by either accepting its limitations and making it just a short stop on a longer tour of LA.
Or you embrace the tackiness and tourist traps and enjoy your time as a tourist.
For my family, Hollywood has always been a highlight of any visit to Los Angeles, inspite (or maybe because) of its many corny attractions and faded charm!
How about you? Have you been to Hollywood and if yes, what did you think? Did I miss your favorite Hollywood attraction in my list above? Let me know in the comments!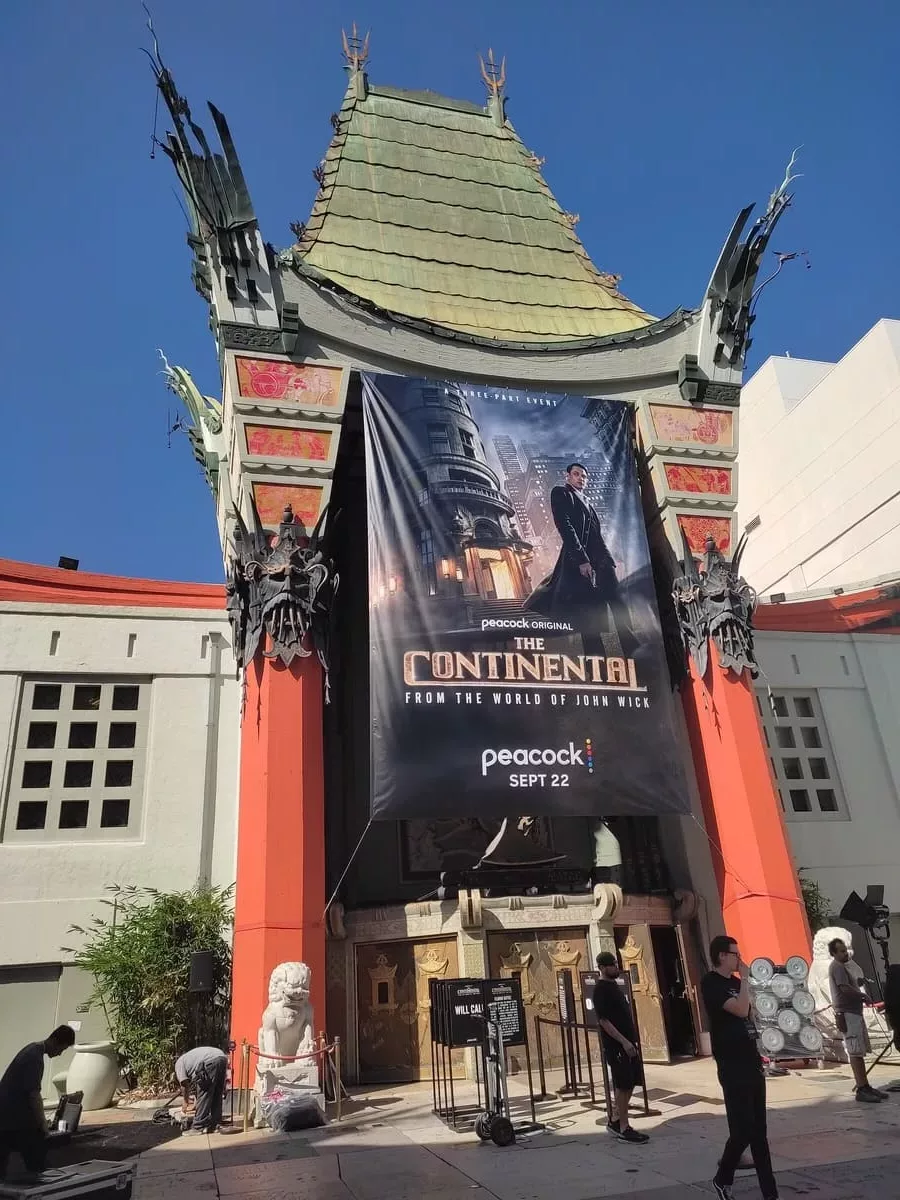 If you are lucky there may be a special event scheduled during your visit (regular access to theater may be restricted)