Deciding on a place to stay in Anaheim is not easy. There is a surprising number of motels and hotels in a small area, ranging from fairly inexpensive to outrageous prices.
As this trip to Anaheim was a last minute change to my travel plans the budget was already stretched. So I decided to go with the cheapest option within an acceptable distance to Disneyland – Capri Suites Anaheim.
Online reviews I found online ranged more than usual – from excellent to barely acceptable. So I was a bit nervous – what would I find?
Read on to get a detailed review of Capri Suites Anaheim as well as my overall impression.
Capri Suites Anaheim
The first thing to remember is that  Capri Suites Anaheim is basically a plain motel. If you book a room there in the expectation to get a full scale hotel or even resort you are bound to be disappointed.
However, the same is true for the majority of accomodation in the Disney Resort area. They might gussy it up a bit but most places are older motels – only the prices are significantly higher.
The main differences between the hotels/motels are distance to Disney (the big one) and included extras (pool, shuttle, breakfast…)
Location of Capri Suites Anaheim
For most, the biggest factor when choosing a hotel in Anaheim is distance to the Disneyland Resort.
After walking around all day at Disneyland or Disney California Adventure every extra step hurts.
Distance to Disneyland Resort
Capri Suites Anaheim is located on Harbor Boulevard, the wide and busy street bordering Disneyland Resort on its eastern side.
The hotel is located 1.2 miles south of the entrance to Disneyland Resort. In my opinion this is about as far out as you will want to be but still doable.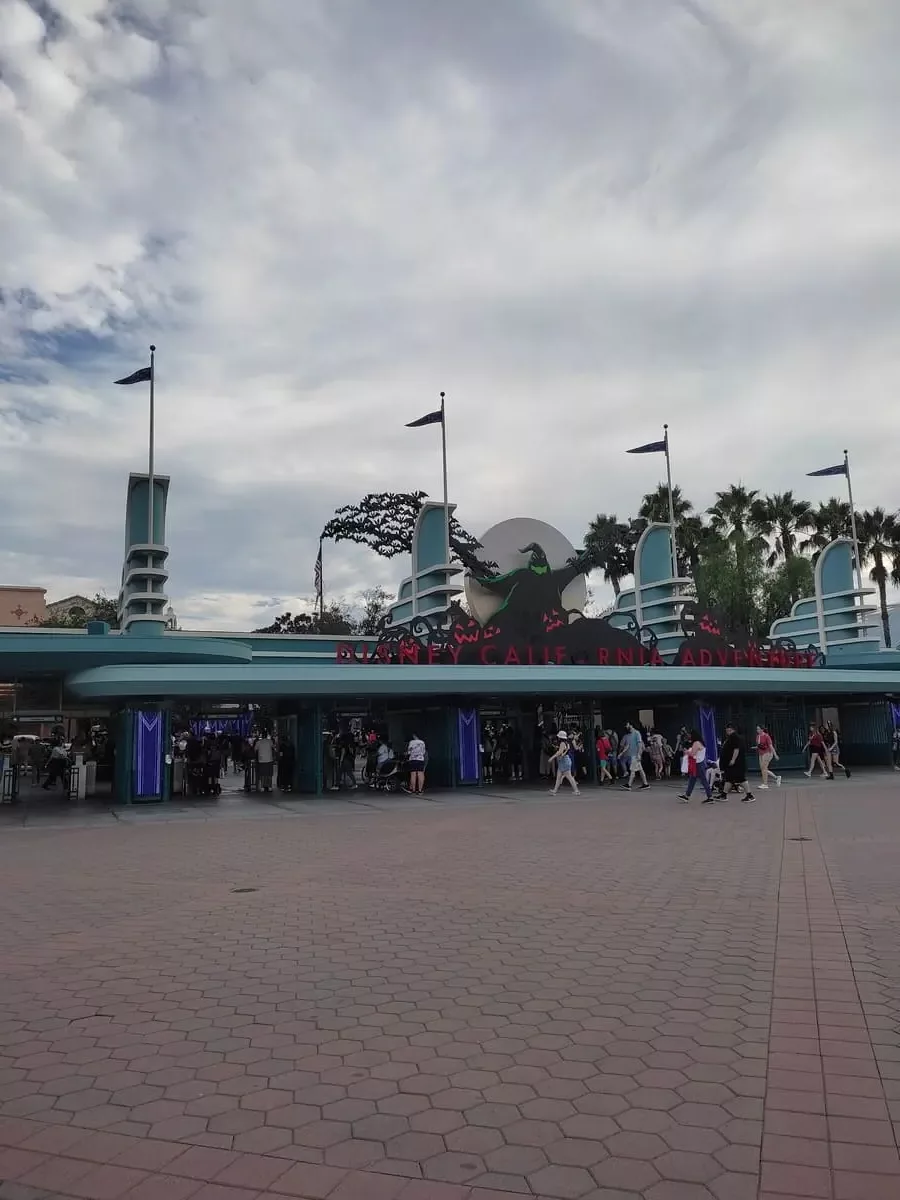 Getting to Disneyland from Capri Suites Anaheim
You have several options to get from Capri Suites Anaheim to Disneyland:
1) Walking
It is a bit of a stretch but doable, especially if you go only once a day (as opposed to going back for naps/relaxation during the day).
I timed the walk and it took me 25 minutes and 2,822 steps to get to the entrance of Disneyland (after security check).
2) Using the Toystory Parking Shuttle
One way to cut down on the steps is to walk only 1.5 blocks north and then turn right into the Toystory Parking Lot for Disney.
You will have to walk all the way across the large parking lot to board the Disney bus, adding some steps.
However, at 2,048 steps it was still about one third shorter than walking the entire distance (based on my personal measurements).
When I timed getting to Disneyland with this method it took me 40 minutes – quite a bit longer than walking all the way.
However, I happened to go at the same time as people arrived for the Oogie Boogie Bash so it was much busier than usual.
I also took the bus prior to park opening on a different day and it was much faster (about 28 minutes).
Depending on the time of day, you will pass security check before boarding the bus which can save time when you get to Disneyland Resort if the security lines there are long.
3) ART shuttle
If you dont mind paying you could also use the ART shuttle. It stops right in front of Capri Suites Anaheim.
The ride takes about 16 to 18 minutes and you can use the 04 Harbor or 03 Grove Line. A day pass for the ART shuttle costs $6 (a single ride $4).
As I am cheap and the budget was tight, I did not use this service but the Toystory Shuttle is run by ART as well so the experience will be the same.
Best option for getting to Disneyland
If you don't mind paying a bit and potentially waiting, the ART shuttle will minimize your steps at a reasonable price.
Personally, I prefered walking as you have more control over how long it will take. But the Toystory shuttle is a good alternative if you want to walk a bit less and will usually take about the same amount of time as walking.
What is the walk to Disneyland like?
Harbor Boulevard is not the prettiest street in America. It does however offer many restaurants, drugstores, convenience stores, and hotels.
So it is easy to pick up missing sunscreen or some water on your walk to Disney. You can also get a quick snack or a sit-down meal along the street.
Like in most cities in the US, there are a number of homeless in the street. I did not feel unsafe though.
Due to the location near Disney, Harbor Boulevard is always busy, not just with cars but also with pedestrians.
Even at night (i.e. at Disneyland closing time) there are enough people to make the walk okay. Up to the Toystory lot entrance it is very busy.
The last 1.5 blocks are slightly quieter. Most guests will feel safe even at night here.
If you are a single traveler and tend to easily get nervous you may feel a bit uncomfortable. In that case the ART shuttle would be your best option.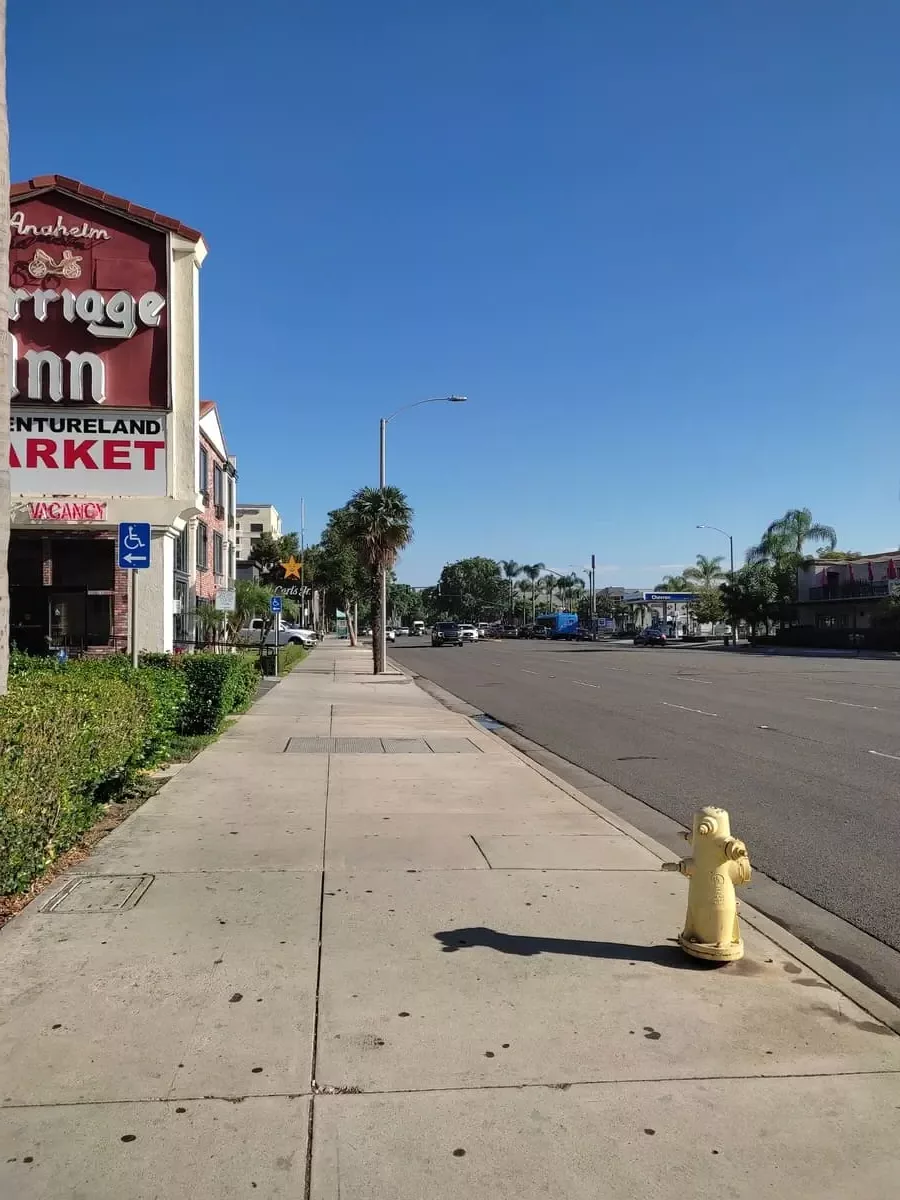 Location overall
Capri Anaheim's location is not pretty (as is true for almost all the hotels in this area) but convenient.
It is not as close/convenient as some but easily doable. So for a visit at Disneyland I would give it 4/5.
Layout of Capri Suites Anaheim
Capri Suites Anaheim consists of a fairly typical four-story motel building with a higher "tower" in front.
Parking spaces are located right next to the rooms in typical motel style.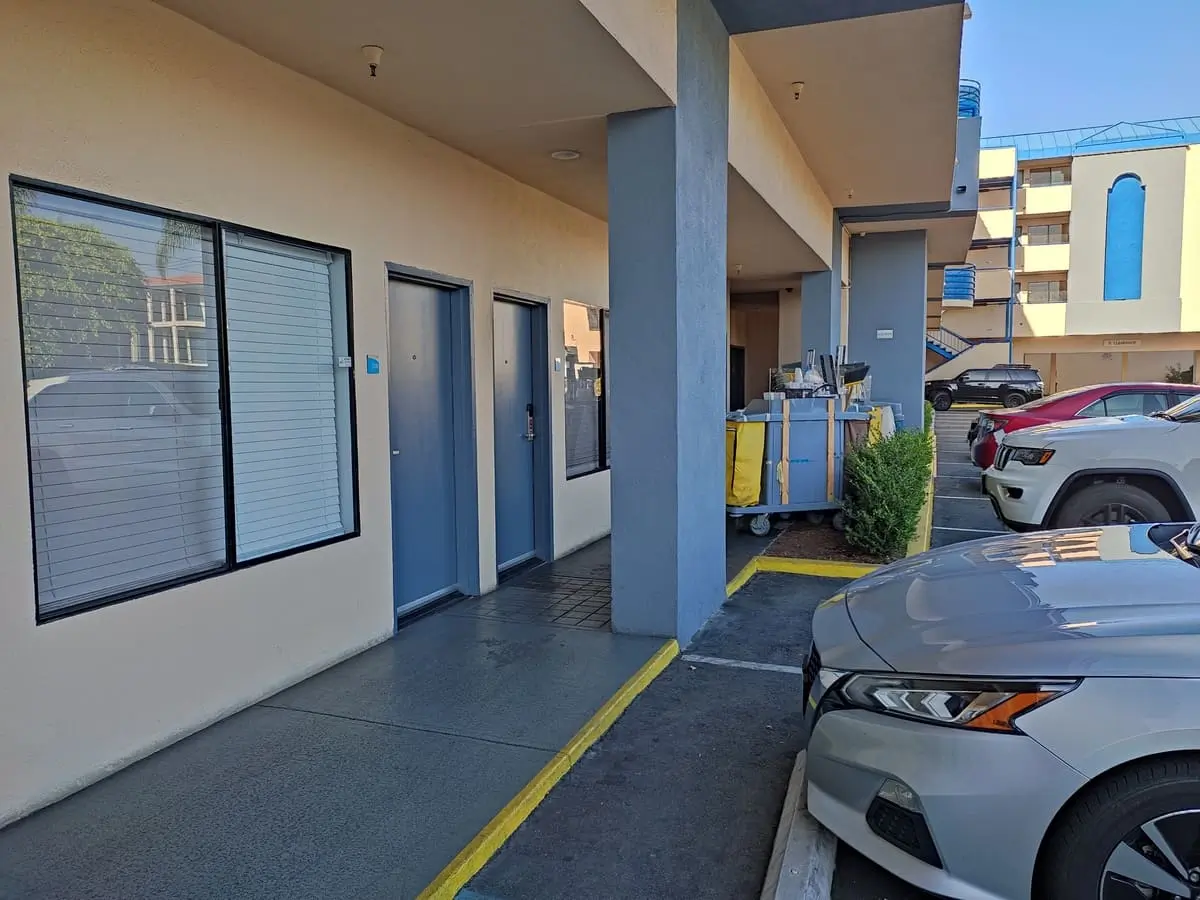 Checking in at Capri Suites Anaheim
Check-in is at reception in the front of the building. The check-in area was clean, bright, and inviting.
When I made my booking, Capri Suites was the cheapest option in the area by far. So I was a bit apprehensive that it might feel unsafe or like a dump. Nothing could have been farther from the truth.
Even though I was a bit earlier than the check-in time of 4 pm I had a choice of several rooms and got upgraded to a regular suite from the cheaper ADA room I had originally booked.
I really appreciated getting into my room a bit early as it gave me a chance to relax a little before making my way to Downtown Disney to try out Pluto's Pumpkin Pursuit, a Halloween-themed scavenger hunt.
Check-in was friendly and efficient. They do take a $150 security deposit so keep that in mind, especially if you are on a trip with several hotels after each other.
It can take a little while until the deposit is returned so it is easy to max out a credit card!
Check-in: 4/5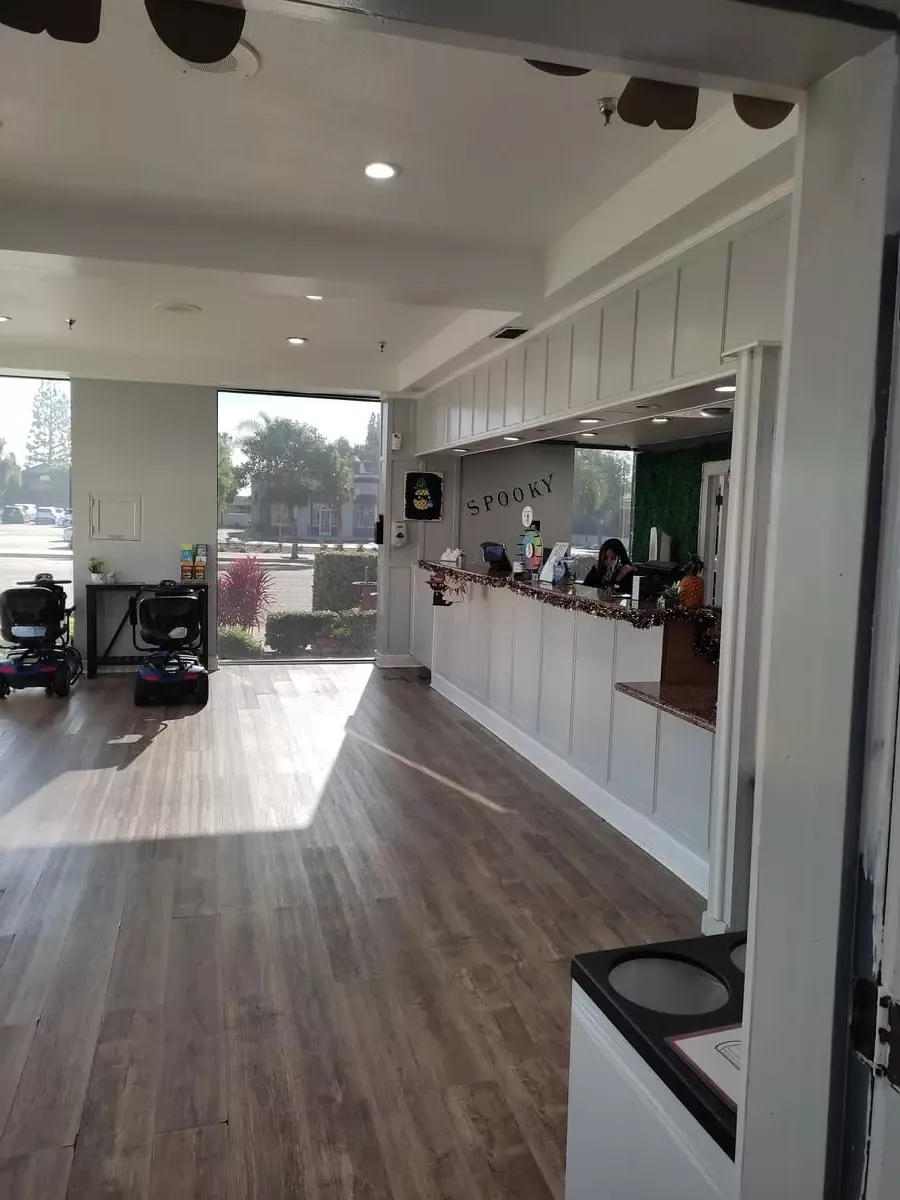 My room at Capri Suites Anaheim
When choosing the hotel I focused on price, distance to Disney, and overall quality so I was actually surprised to see that I got basically a suite. Hence the name I guess!
The suite/room was quite spacious, clean, and very bright. It had clearly been furnished quite recently.
All in all, it was much nicer than I had expected!
The front room had a large dark grey sofa which presumably can be used as a pull-out bed.
There is a TV located on the opposite wall so this room could be used to watch some TV and to hang out as a family.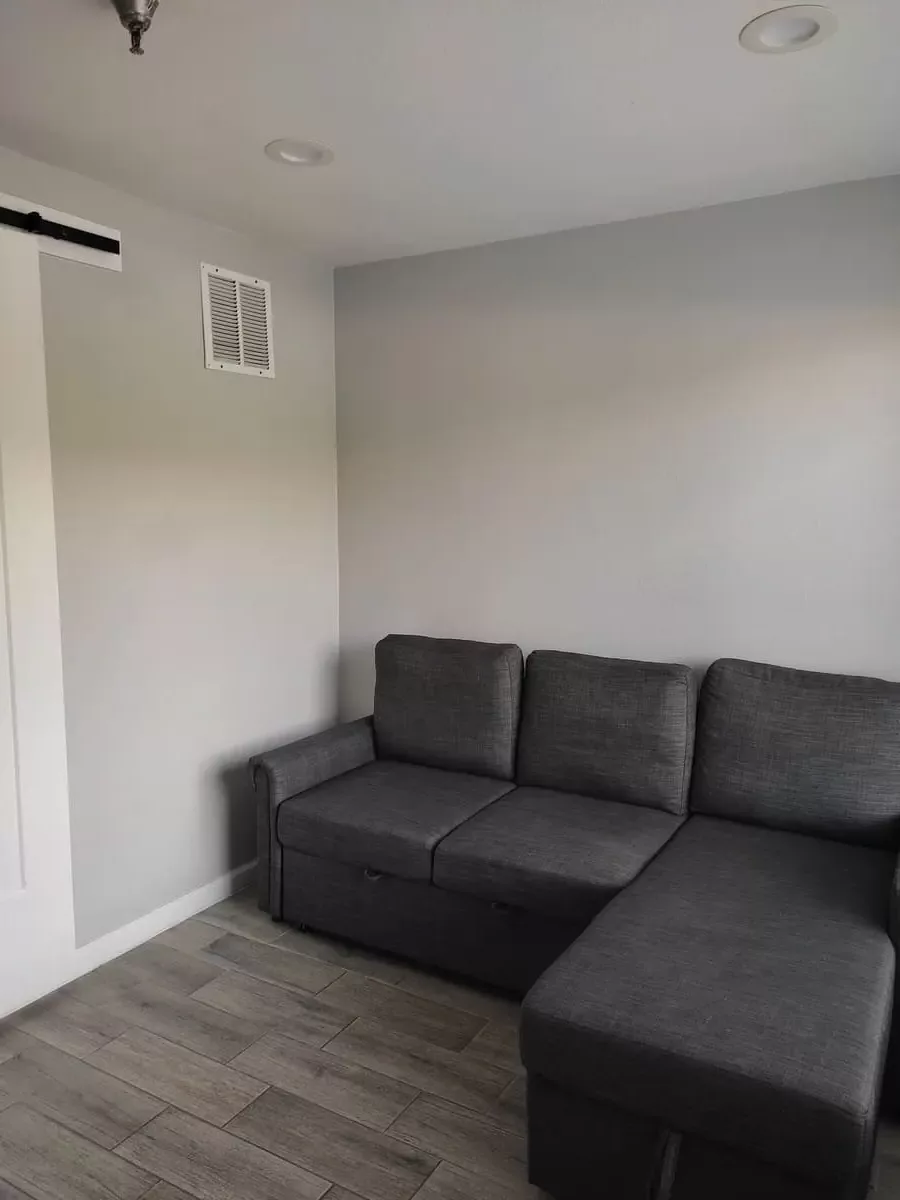 There was also a chair and a desk in this area.
I do appreciate a proper set-up for working or eating so was happy about this.
Internet was included in the hotel price and worked just fine.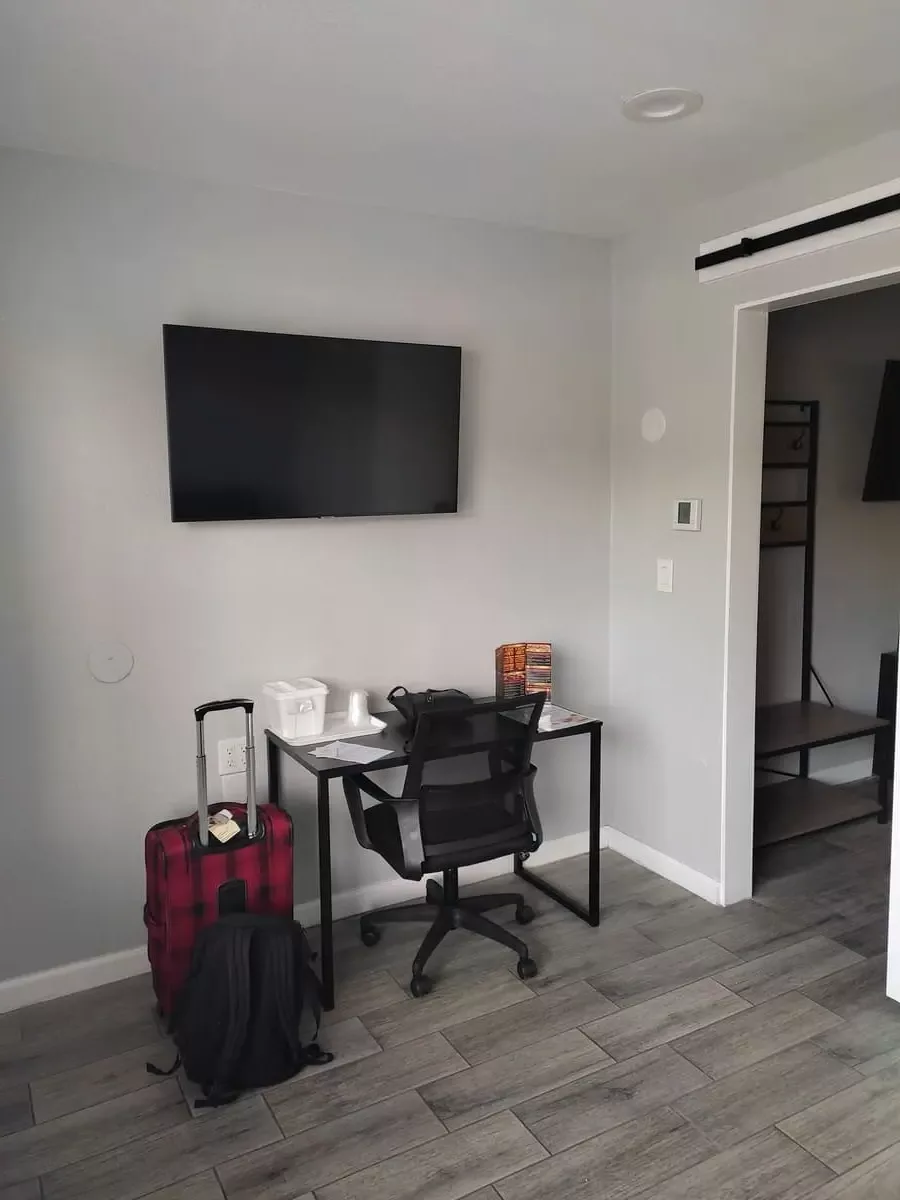 The main room had a large bed, a TV, microwave, small fridge, iron/ironing board, sink, and coat rack (instead of a closet).
The mattress was extremely firm. Depending on how you like your bed, this may be a problem for you or not. It wasn't the coziest bed I have ever been in but to me it was fine.
I love having a fridge and microwave as you can keep drinks cold and potentially reheat any leftovers you take back to the hotel from a restaurant.
Unfortunately, there was no safe and there also wasn't a proper closet. I assume most people only stay 2 or 3 days to visit Disney so it was fine. It would be a bit inconvenient on  longer stays.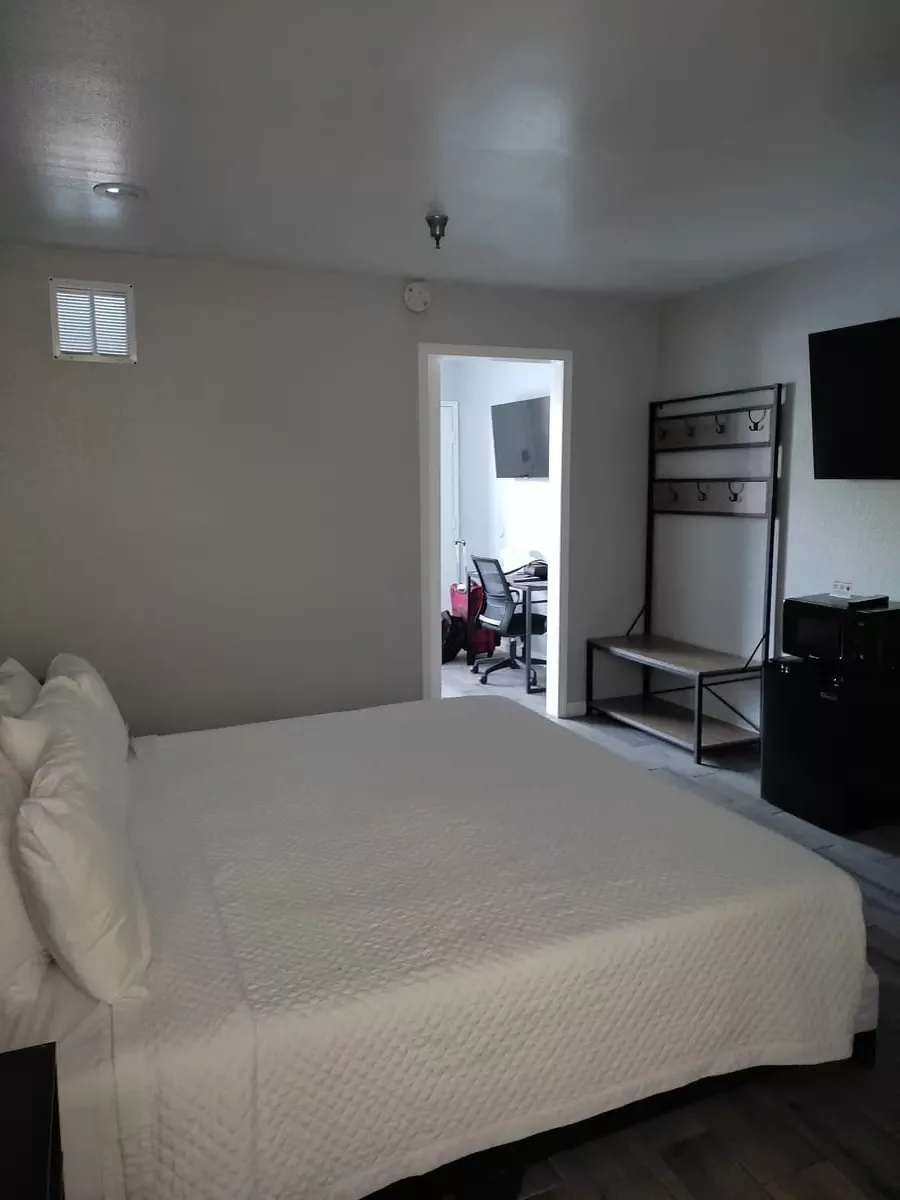 I know some don't like the sink set-up outside the bathroom but it is handy if you have several people getting ready in the morning. Traveling solo, it doesn't really matter to me.
Next to the sink was a hairdryer and soap was provided via a dispenser.
It would have been handier if there had been some hand towels located at the sink. But it wasn't hard to get one from the bathroom either.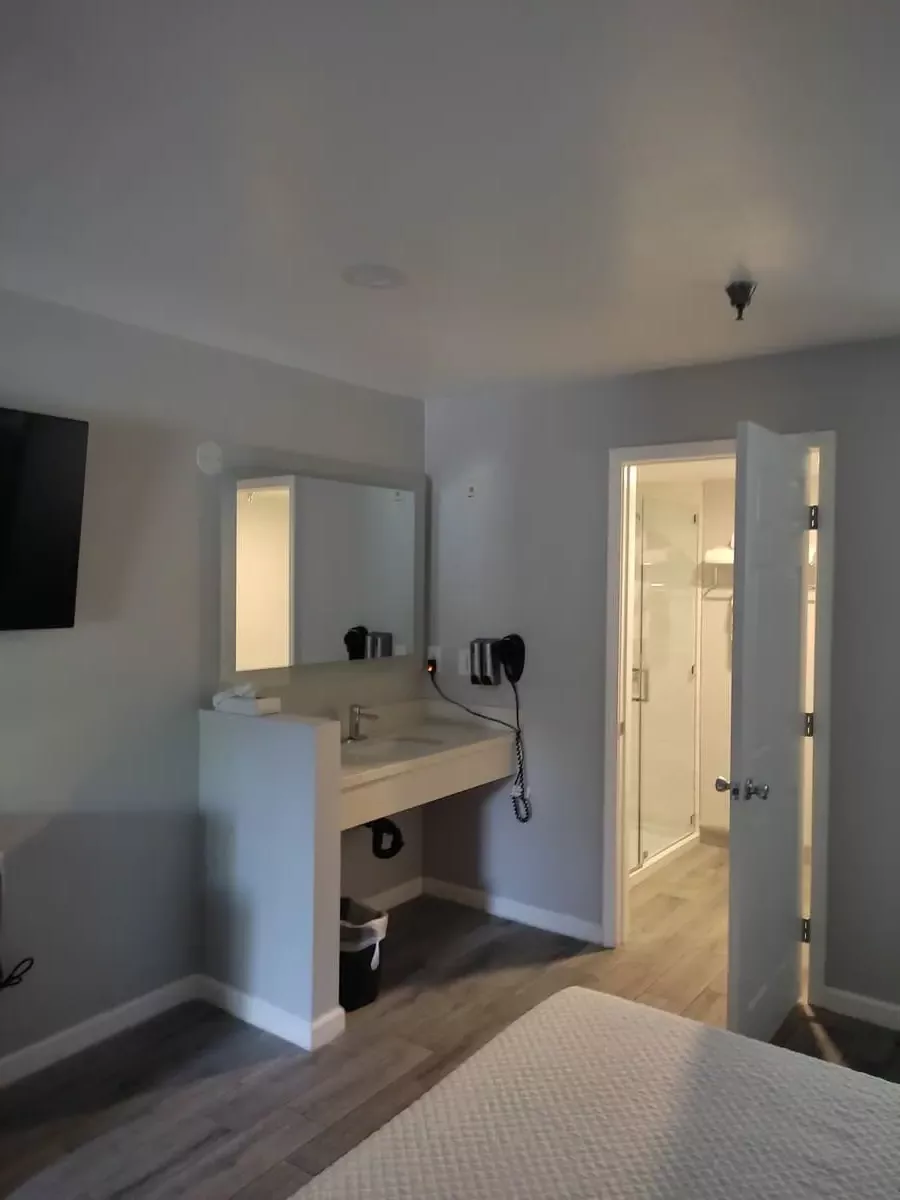 The bathroom was also fairly spacious and new with a large shower and plenty of towels.
The room is extremely bright. One of my pet peeves are hotel rooms without proper lighting. The room at Capri Suites Anaheim was bright enough for surgery. Not maybe the coziest environment but better than the opposite (but that is up to personal taste).
My room was close to the lobby which helped me feel safe even though it was on the ground floor.
All in all I would give the room a solid 3.5/5. It was much nicer than expected but the lack of safe, closet, and the very firm mattress kept it from being higher.
Amenities at Capri Suites Anaheim
Capri Suites is a fairly basic motel so I didn't expect a lot of amenities. The property did better than I had hoped for.
There was an elevator (which I did not use as my room was on the ground level).
They also had a laundry room – for $4 per load you could wash or dry your clothes.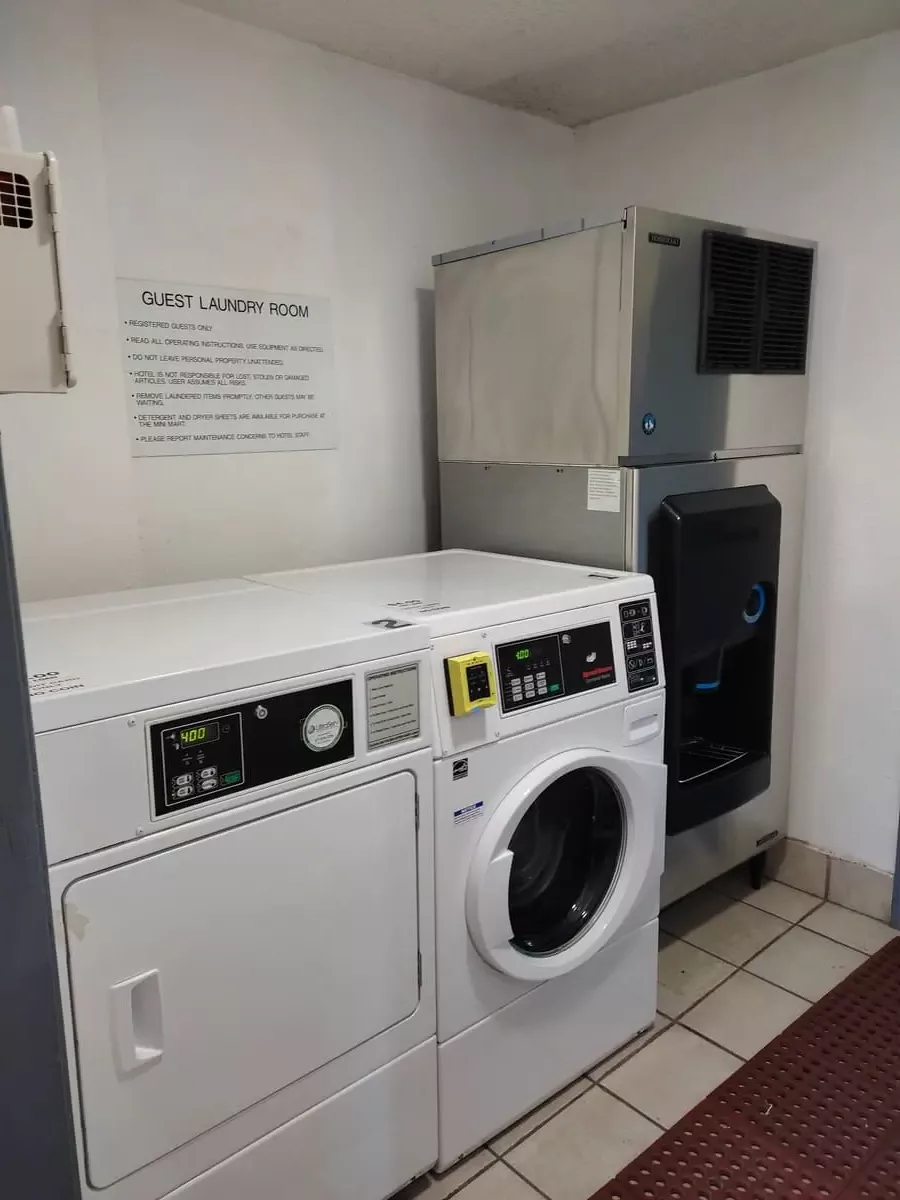 On this trip I didn't need to do any laundry as I had just done mine before leaving San Clemente. But in general it is a great bonus to be able to do laundry on longer trips, especially when traveling with small luggage like me.
Capri Suites Anaheim also has a small pool and hot tub that are open from 9 am to 10 pm. (Locked aside of that time).
Disney kept me so busy that I had no time for the pool but I did walk by to check it out. Personally, I didn't find it very inviting as it was fairly small and kind of hidden away inside the building.
However, there were people using it so maybe I am a bit too critical.
If you are looking to make pool time an important part of your trip, Capri Suites Anaheim is not the right place for you. But if you just want to cool off a bit in the pool or relax for a short time in the hot tub, you can do so here.
If you are traveling with kids and are looking for a nice pool and a water park near Disney, I can recommend the Howard Johnson that we have stayed at in the past. It is however significantly more expensive than Capri Suites.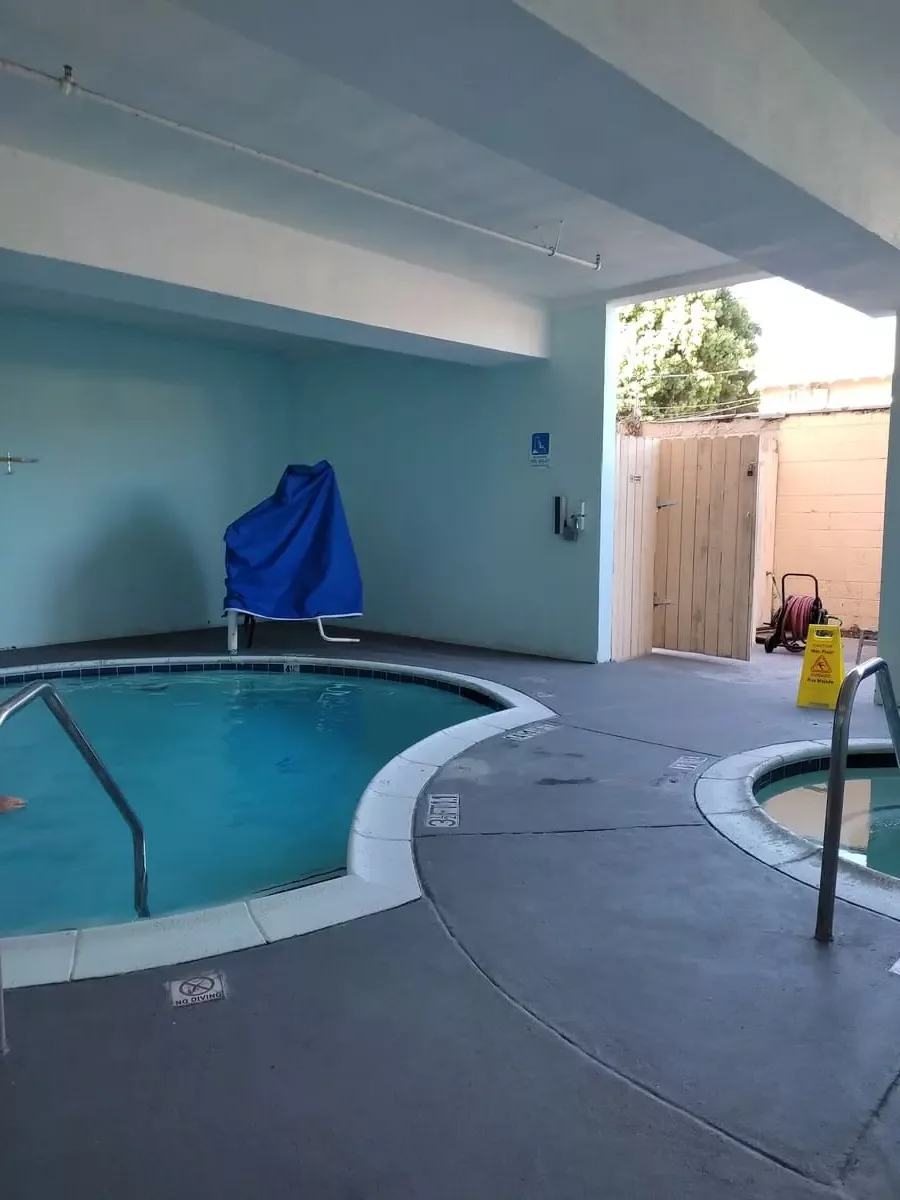 Included Breakfast at Capri Suites Anaheim
A definite plus of Capri Suites Anaheim was the included breakfast. It is served in a bright and clean room next to the lobbby. Whenever I went for breakfast there were enough empty tables.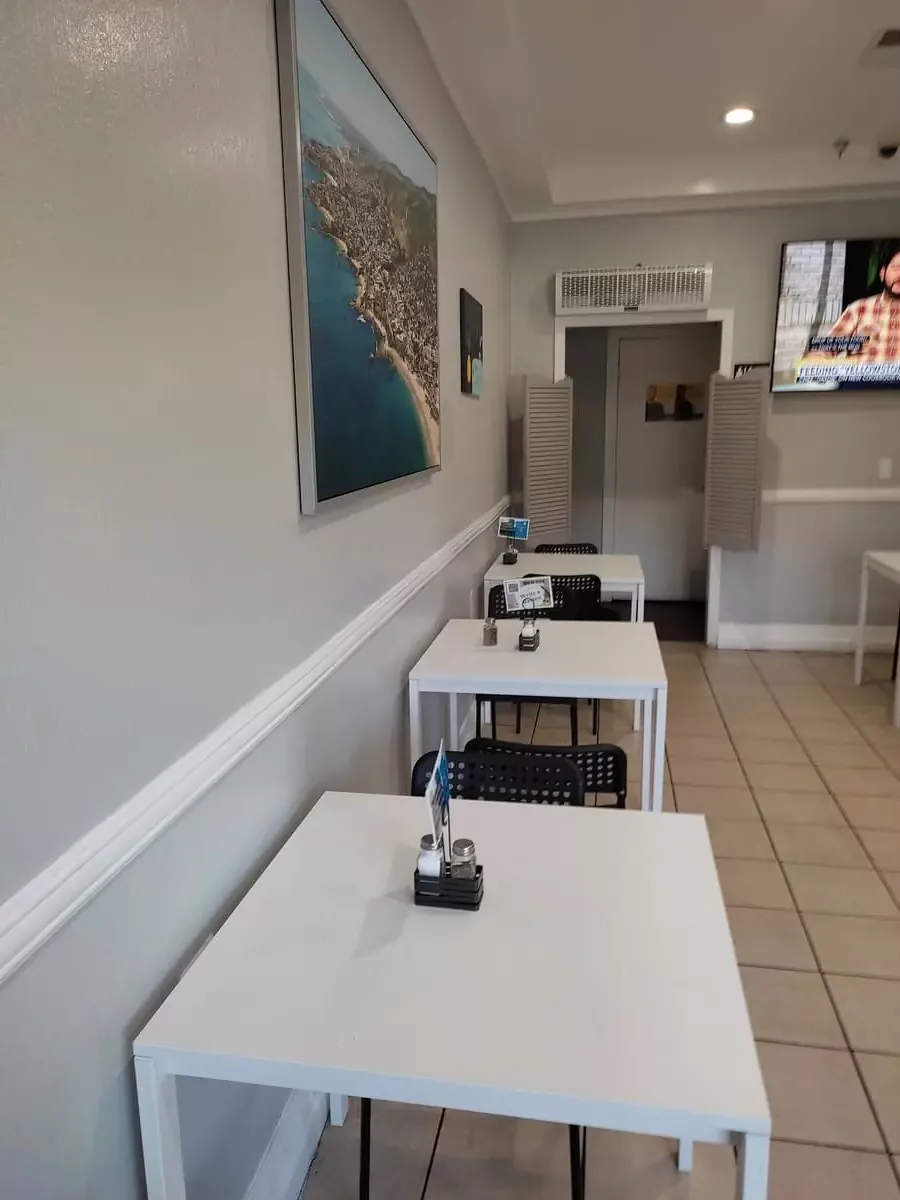 There is a basic breakfast buffet with bagels, toast, several varieties of cereal, fresh fruit, Nutella, syrup, jelly etc.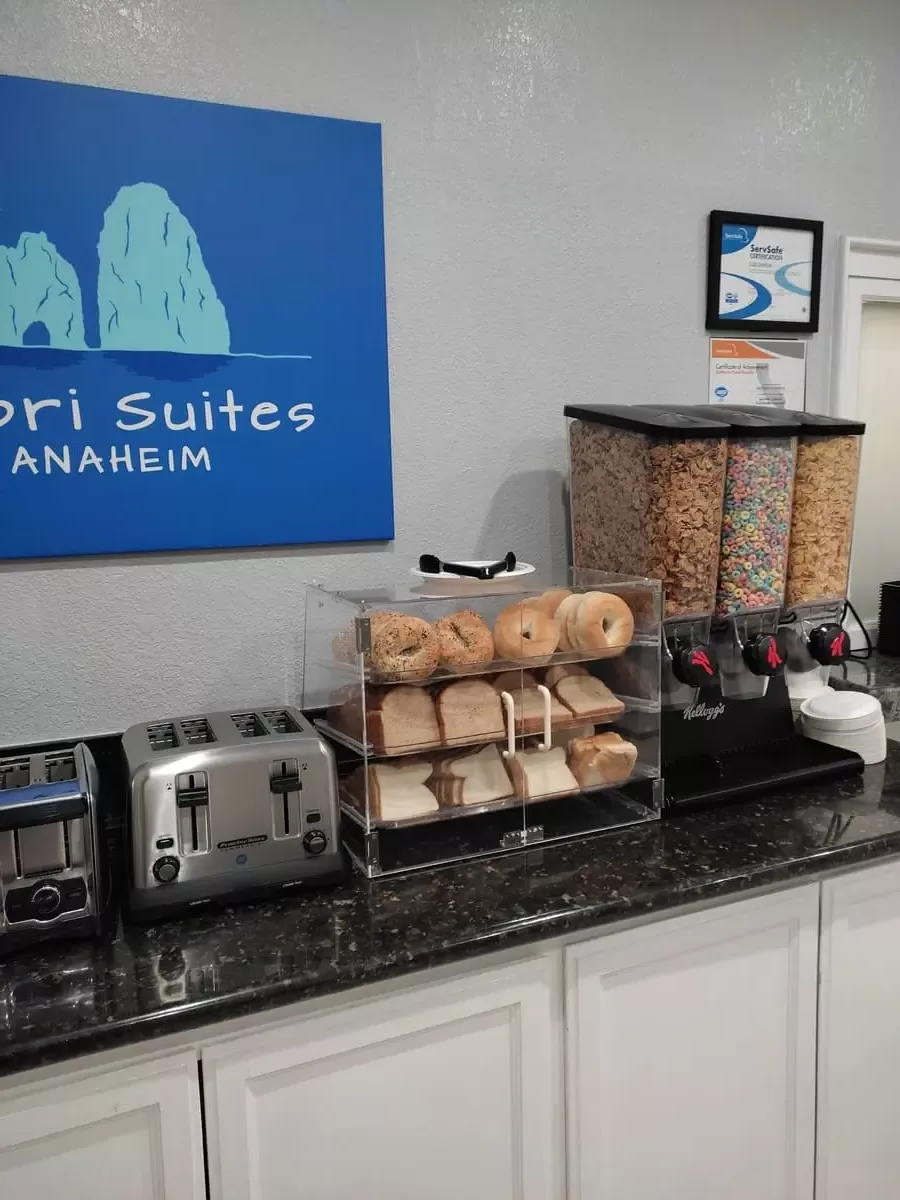 However, Capri Suites Anaheim does provide a cooked breakfast as well. I didn't see it the first morning, but there is a window at which you can order bacon, sausages, hash browns, scrambled eggs, and mini waffles.
The food wasn't outstanding (the waffles were rather stodgy and the hash browns didn't impress me either) but perfectly edible.
By having this breakfast included you can not only save money (food at Disney is NOT cheap) but also valuable park time.
As most guests are up and about early (rope drop is waiting) breakfast is served earlier than most places – from 6 to 9 am on weekends and from 6:30 to 9:30 during the week.
Capri Suites Anaheim Cost
I paid around $315 for three nights (Saturday to Tuesday) which comes out to an average price of $105 per night. Monday night was a bit cheaper than the weekend.
Not exactly dirt-cheap but way less than most other places in the area. The average price for motel-style accomodation during the time of my stay was closer to $220 per night.
Motels right across from the Disney entrance even charged around $300!
In comparison, the price of my room at Capri Suites was quite reasonable.
Pros and Cons of Capri Suites Anaheim
Capri Suites Anaheim exceeded my expectations (which were not very high). There were a couple of negatives but more positives:
Negatives:
Due to the location rooms can be a bit noisy
The pool is rather small and not awfully inviting
The bed was very firm, the light a bit too bright, and there was no safe and no closet
Positives:
The location was still within walking distance of Disney and right next to an ART stop
The price was reasonable
The room looked new, clean, and bright
The included breakfast was quite decent
Overall, service and atmosphere were better than expected
Rooms included a small fridge and microwave as well as a desk
The included WIFI worked fine
How long should you stay at Capri Suites Anaheim?
This will of course depend on your plans but I would recommend staying at Capri Suites Anaheim for three to four days to visit Disney.
If you are planning a longer stay, the lack of closet, the firm mattress, and the lack of nicer amenities may be an issue.
For a longer stay in Anaheim I would recommend Dolphin's Cove, a timeshare across the street from Capri Suites Anaheim that we have stayed at previously as a family.
Overall Opinion of Capri Suites Anaheim
Capris Suites Anaheim was much nicer than I expected.
Given it's lower than average price, I thought it might be a bit of a dump. This was not at all the case!
Capri Suites Anaheim is a well-run, modern, and clean motel that is trying hard to exceed expectations.
That being said, it remains a basic 2 star property so if you are looking for a resort or hotel experience you will be disappointed.
Capri Sutes is probably not better than the majority of motels along Harbor Boulevard but it is significantly cheaper and of comparable quality.
On my next trip to Disneyland in Anaheim I would definitely book here again as long as the price remains similar.