Are you planning a trip to Disneyland Anaheim and are wondering what Pluto's Pumpkin Pursuit is all about?
If so you have come to the right place – I just got back to my room at Capri Suites Anaheim after completing this scavenger hunt at Downtown Disney and am happy to share my experience with you.
Below I am answering all the questions you might have (did I miss something – let me know) about the Pumpkin Pursuit. And at the end I will tell you what I thought about this scavenger hunt.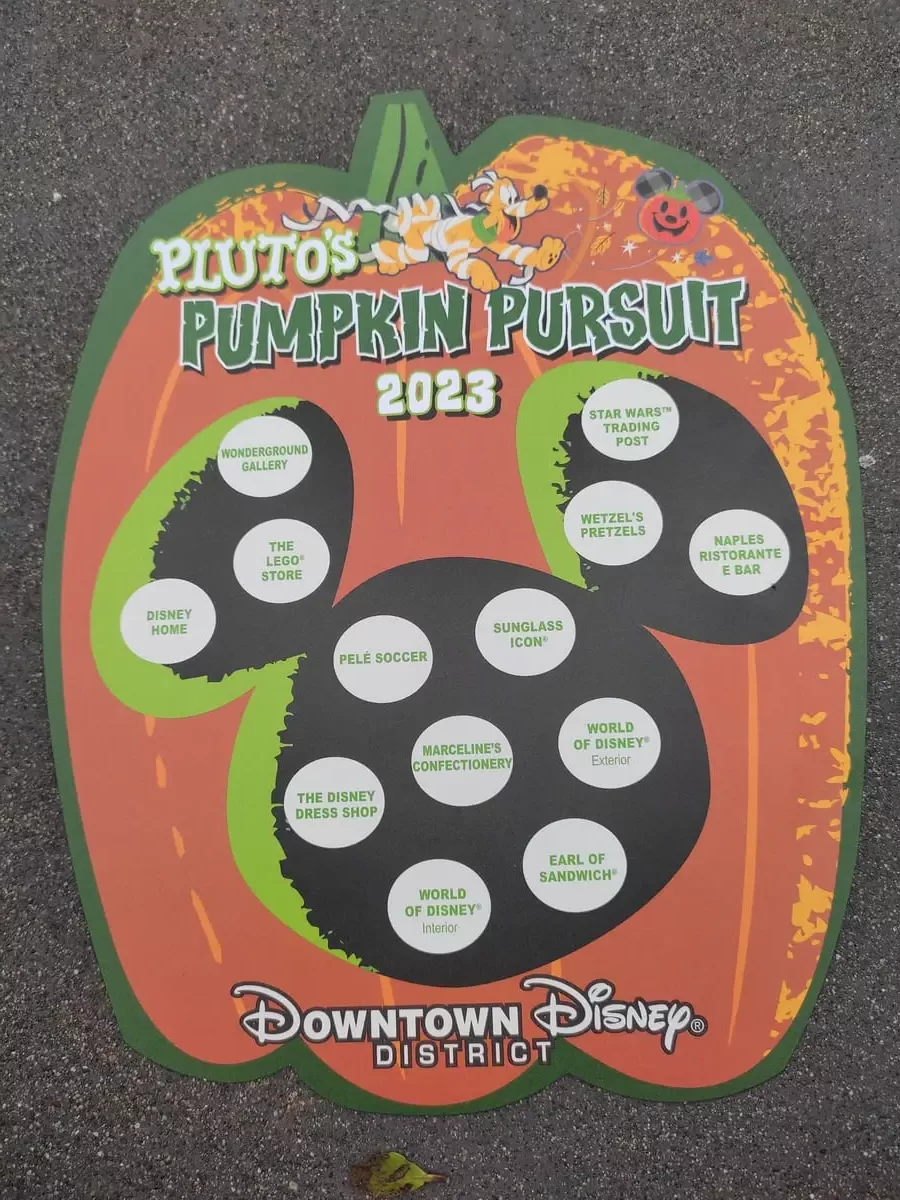 Where and when can you participate in Pluto's Pumpkin Pursuit 2023?
You can take part in this game from now until November 1, 2023. You will have to enter some of the stores to play so you can play as long as the stores at Downtown Disney are open.
The entire game is played in the Downtown Disney area – no theme park admission required.
Do you have to pay to play Pluto's Pumpkin Pursuit?
Yes, there is a charge. You will have to pay $10.76 (after tax) to get one of the sticker cards you need for playing.
How do I sign up for Pluto's Pumpkin Pursuit?
Just go to a check out register at one of the shops selling the Pumpkin Pursuit cards and ask for one.
You can buy a card at the following locations:
Acorns Gifts & Goods (Grand Californian Hotel)
Disney Home
Disney's Fantasia Shop (Disneyland Hotel)
Disney's Pin Traders
The Disney Dress Shop
WonderGround Gallery
World of Disney
How do I play Pluto's Pumpkin Pursuit?
Once you have bought your card you should make your way to the locations named in the white circles on the front of the card.
At each of these locations you will find a pumpkin with a unique style. 
Once you have found that pumpkin just take the sticker with the same design off the back of your game card and stick it on the circle of the location.
For example: If you found a pumpkin with a red heart at Starbucks you would take the sticker of a pumpkin with a red heart and stick it on the circle marked Starbucks (just an example – there is neither a heart pumpkin nor does Starbucks participate).
Is there a reward for playing Pluto's Pumpkin Pursuit?
Yes! At the end of the game you can take your card to one of the reemption locations to exchange it for a price.
For your price you can choose one of five different themed sippy cups.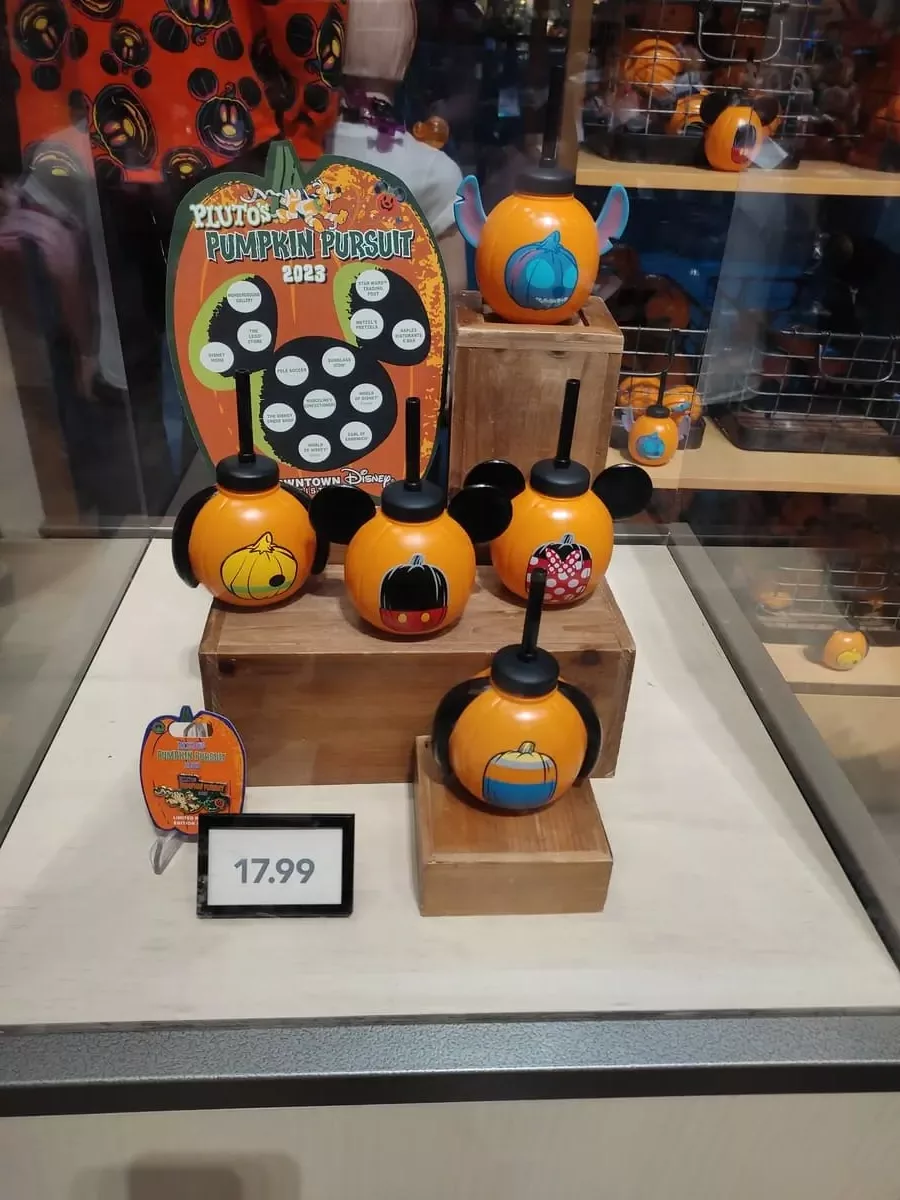 Where can I redeem my Pluto's Pumpkin Pursuit card for a price?
You can turn in your card to get a price either at World of Disney or at Disney's Pin Traders.
I can't find all the pumpkins. Do I still get the price?
Yes, you can redeem your card for a price even if you didn't find all (or any) pumpkins.
I don't want to play but I do want a sippy cup. What do I do?
No problem. You can redeem your card for the price without playing.
Do I have to turn in my card to get the price? I would like to keep it as a souvenir.
No worries. They will scan your card at the register (so it can not be redeemed more than once) but will return it to you.
How difficult is Pluto's Pumpkin Pursuit? Can kids play?
Pluto's Pumpkin Pursuit is not difficult to play at all. Most of the pumpkins are easily found.
The scavenger hunt is clearly geared to families and kids. Even a three year old can probaby help to spot some of the pumpkins.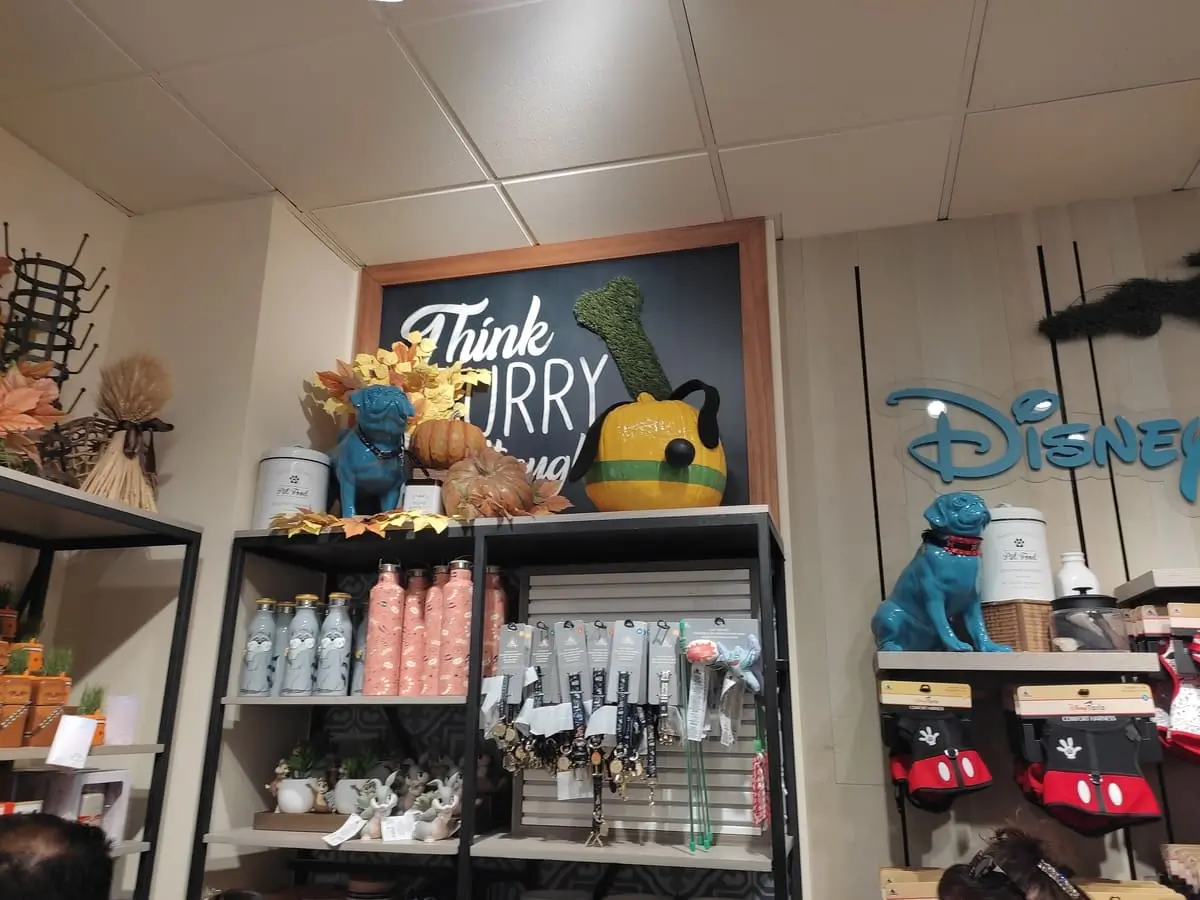 How long does Pluto's Pumpkin Pursuit take?
This will depend how much time you spend in the stores and whether you get distracted on your way between pumpkins.
Completing the card took me about one hour. But remember, you can get your price even if you run out of time.
What I thought of Pluto's Pumpkin Pursuit
Pluto's Pumpkin Pursuit is an example for true Disney marketing genius.
I can imagine a Disney executive saying: "Why should we pay for marketing? The guests should pay US."
It's true: With Pluto's Pumpkin Pursuit you pay Disney about $10 so that you will be required to visit a bunch of stores (and likely be tempted by something or other).
And the reward is cute but does look pretty cheap. Honestly, this seems the kind of activity that would have been offered for free a couple of years ago.
Does that mean I hated it? Not at all. I absolutely love scavenger hunts so I did have fun looking for the pumpkins.
The game is clearly geared to kids/families but I still had a hard time finding a couple of the pumpkins. It was challenging enough to be fun but not so difficult that it was frustrating.
Who is Pluto's Pumpkin Pursuit good for?
Pluto's Pumpkin Pursuit is a good idea for:
– Families looking for a fun activity while hanging out at Downtown Disney
– Anyone who loves scavenger hunts
Final Thoughts
I had a good time playing Pluto's Pumpkin Pursuit 2023 though I clearly wasn't the target audience.
There were quite a lot of families playing as well and they seemed to enjoy it.
Are you planning on taking part in Downtown Disney's new Halloween scavenger hunt? If so, which price will you choose?