During 2022 I stayed at 21 different hotel, sometimes just for one night, sometimes for an entire week. Almost all of the places I stayed at were pretty nice but some definitely stuck out as something special!
So below I will show the top 4 hotels for 2022 based on my personal experience (which may be impacted by various external factors of course).
Number 4           Tahiti Village Resort, Las Vegas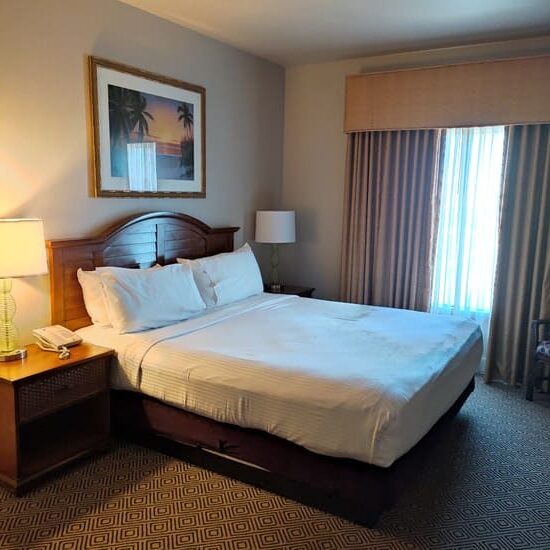 We stayed a week at this timeshare resort south of the Las Vegas Strip for a week in late August and overall were quite happy with it. This was an exchange through RCI and as August is not exactly high season in Las Vegas the stay came out to about per night (counting both the exchange fee and the points from my home resort). Not bad for one bedroom apartment with a small balcony, a large living area/kitchen (with sofa bed), a very nice bathroom (shower and tub), and our own washer/dryer.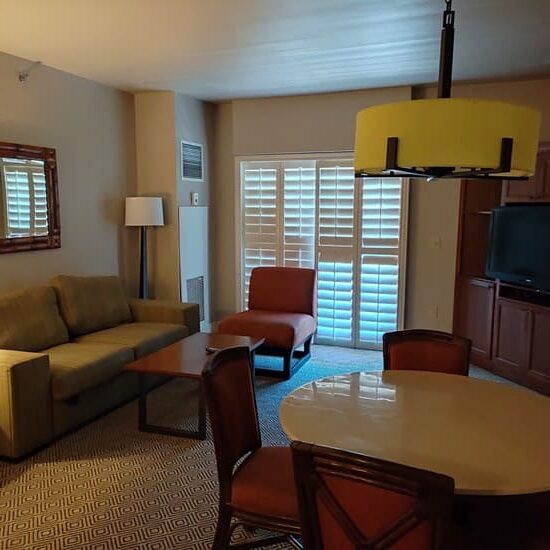 Tahiti Village is a good choice if you want to stay in Vegas but not be constantly surrounded by casinos/typical Vegas stuff. This resort has a similar feel to a resort in Orlando or Palm Springs – so maybe not ideal if you are looking to be in the middle of the action but perfect for families or anyone looking for a more limited exposure to the hustle and bustle of Sin City.
Highlights for me were the extensive pool area (they have their own lazy river) and the location close to a large outlet mall and various restaurants (they have an onsite restaurant and a Dennys is basically right there as well). Most impressive for me was their shuttle service though. It was the best hotel shuttle service I have ever encountered (maybe other than Disneyworld's) – they offered a twice weekly run to the grocery store as well as a shuttle to the Tropicana and the Mirage on the strip every half hour and not only were they right on time, but the vehicles were clean, and the drivers were courteous.
Number 3           Premier Inn hub Spitalfields, Brick Lane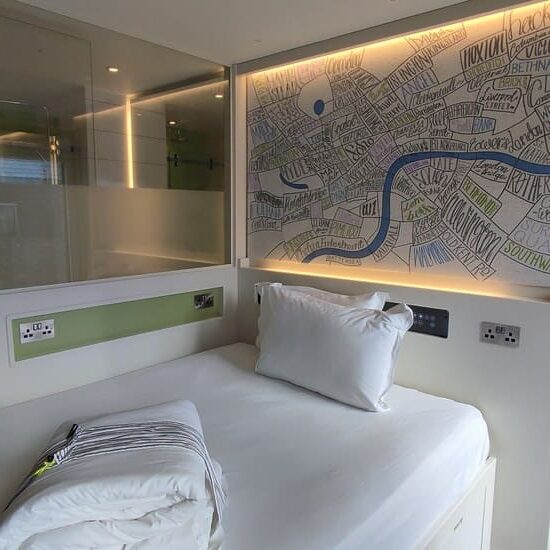 Okay, maybe it is a bit of a strange choice to put a chain hotel on this list but I was so happy and impressed with this location! Premier Inn is usually my go-to when in England as their prices are generally very competitive, they offer many great locations, and the quality is fairly consistent.
This was my first time staying in one of the newer hub subcategory hotels. As far as I can tell these offer smaller, streamlined rooms at an even better price and I am definitely glad I chose this for my 4-night stay in May. The price came to around GBP 104 per night, quite decent for London.
I did enjoy the aestetic of the room, it made me feel like being in a cozy cabin on a ship or loft. Please note that this room may be a bit too cozy for two people but for me on my own it was quite sufficient. I especially appreciated that the room was laid out very well so even though the area was small, there was quite a bit of storage etc.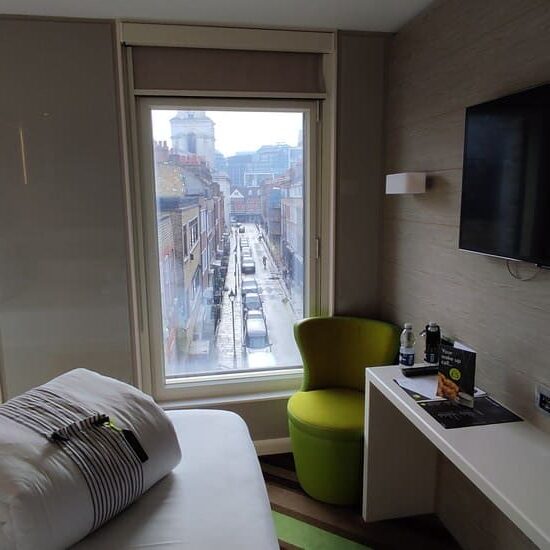 The biggest selling point for this property is definitely the location (You can read all about my time in the City of London here). Right on Brick Lane you are only minutes away from Portobello Market? And getting to Liverpool Street Station is a breeze (which was my main reason for choosing this location as I flew Ryanair and this made it easy to connect via the Stansted Express). At least for me, the hotel also has quite an upscale feel when you walk into the lobby. Definitely feels more expensive than it is!
Be careful though – there are so many Premier Inn locations in London that it is easy to get confused. I actually tried to check in at the Premier Inn hub Southditch location first – how embarassing! Luckily, it is a fairly short walk between the two properties and I don't think I was the first to go to the wrong hotel. Anyway, double check which location you are booked into so you don't make the same mistake!
To be quite honest, the main reason this hotel shot to number four was probably the view from my window which I loved:
I don't think many rooms have a similar view though so I probably just got lucky. Still, I loved it here and so it is on number 3 for the year.
Number 2           Camelot Castle, Tintagel, Cornwall, UK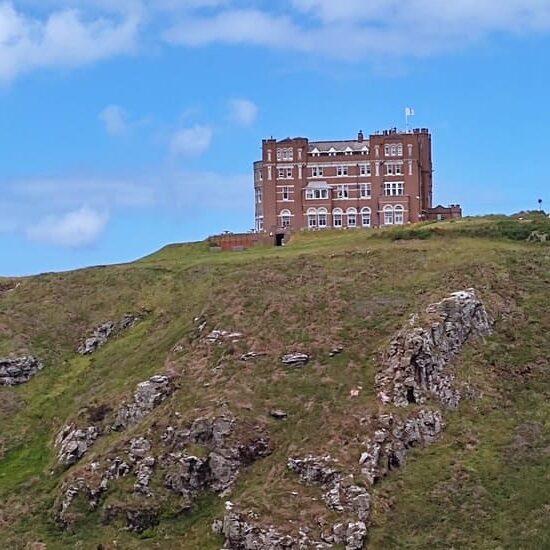 When booking this hotel I was very unsure if I would enjoy it, as the Tripadvisor reviews were rather dire – but I am so glad I decided to chance it as I absolutely loved my stay here! So were the Tripadvisor reviews wrong or even lying? Nope, they were absolutely correct so proceed with caution!
This property is definitely somewhat… quirky. The bathroom was the smallest and strangest I have ever seen, the bedroom furniture reminded me forcefully of my old room in a college dormitory run by nuns, WIFI is spotty, the artwork scattered all through the hotel is "different", and in general the place has a bit of a run down vibe.
So why put this on number two? Two main reasons. First, it made me feel like I was truly staying at a castle and not just being a hotel guest. The threadworn carpet, toys stored under the staircase, and general ambiance made it feel like staying with posh friends who happen to live in a castle. I can stay in a luxury hotel anywhere but don't get many chances to "visit" at a castle.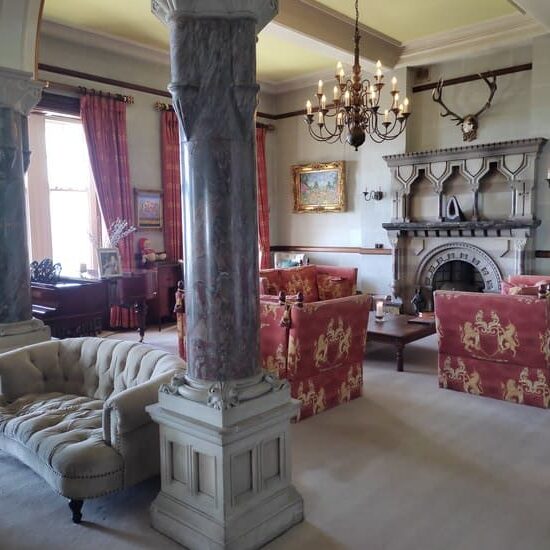 Second, location. I loved Tintagel in general – I am not really the type but it has a truly mystical feeling. And not only can you see Camelot Castle from a distance (it is even pointed out as a sight on sign posts) but it just has the best location right on the cliff and the view (from my cheap room) was outstanding!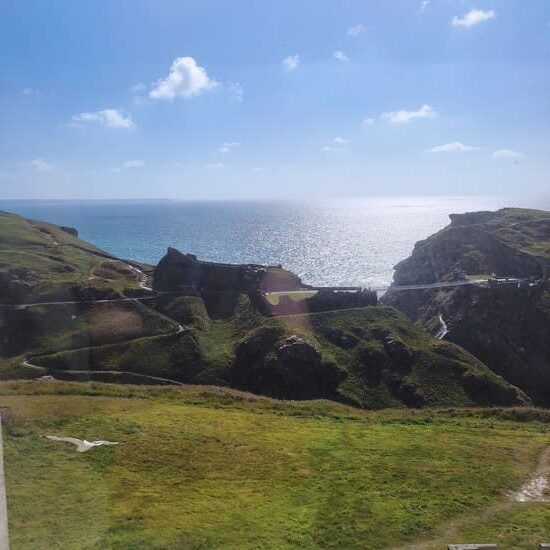 Oh, and the price was more than reasonable as well. At per night it was actually one of the cheapest places to stay in Tintagel.
So would I recommend staying here? Depends what you are looking for. If you are looking for a luxury experience in a fancy castle with all the amenities to pamper yourself for a special occasion – nope! But if you want to stay in an iconic location, feel like you are visiting quirky acquaintances in a stately mansion, and have the best views – definitely!
Number 1           Bodmin Jail Hotel, Bodmin, Cornwall, UK
And tada, my favorite hotel that I stayed in 2022! Now this hotel I can wholeheartedly recommend. At 154.8 GBP for one night it wasn't exactly cheap but it was definitely worth the splurge.
Bodmin Jail Hotel is both new (it was opened 2021) and old (it is located in the old Bodmin Jail). I was looking for a place to stay in Bodmin as I badly wanted to take part in the Murder Mystery Train ride offered there and without a car it was chancy to get out of town after. But I am so glad I was "forced" to stay here
The hotel is quite luxurious and really feels like something special. Everyone was super-helpful and friendly. Breakfast was great. The bathrooms and rooms were cool. I loved it.