Are you looking for a detailed hotel review of Queen Mary, the iconic ocean liner moored in Long Beach? You have come to the right place.
In her almost 90 year long history the Queen Mary has ferried the rich and famous across the Atlantic and served as a troop ship (even Winston Churchill crossed the ocean on her).
But in recent years, 347 of the cabins were converted into (more or less) modern hotel rooms available to anyone.
Many years ago I visited this Long Beach attraction on a day trip and absolutely loved the glamour and history of the ship. So when I needed a hotel for one night during my recent trip to Southern California and I saw that the Queen Mary is actually kind of affordable I couldn't resist.
Did the ship live up to my expectations? What can you see and do while on the ship? Read on for my detailed review of this experience.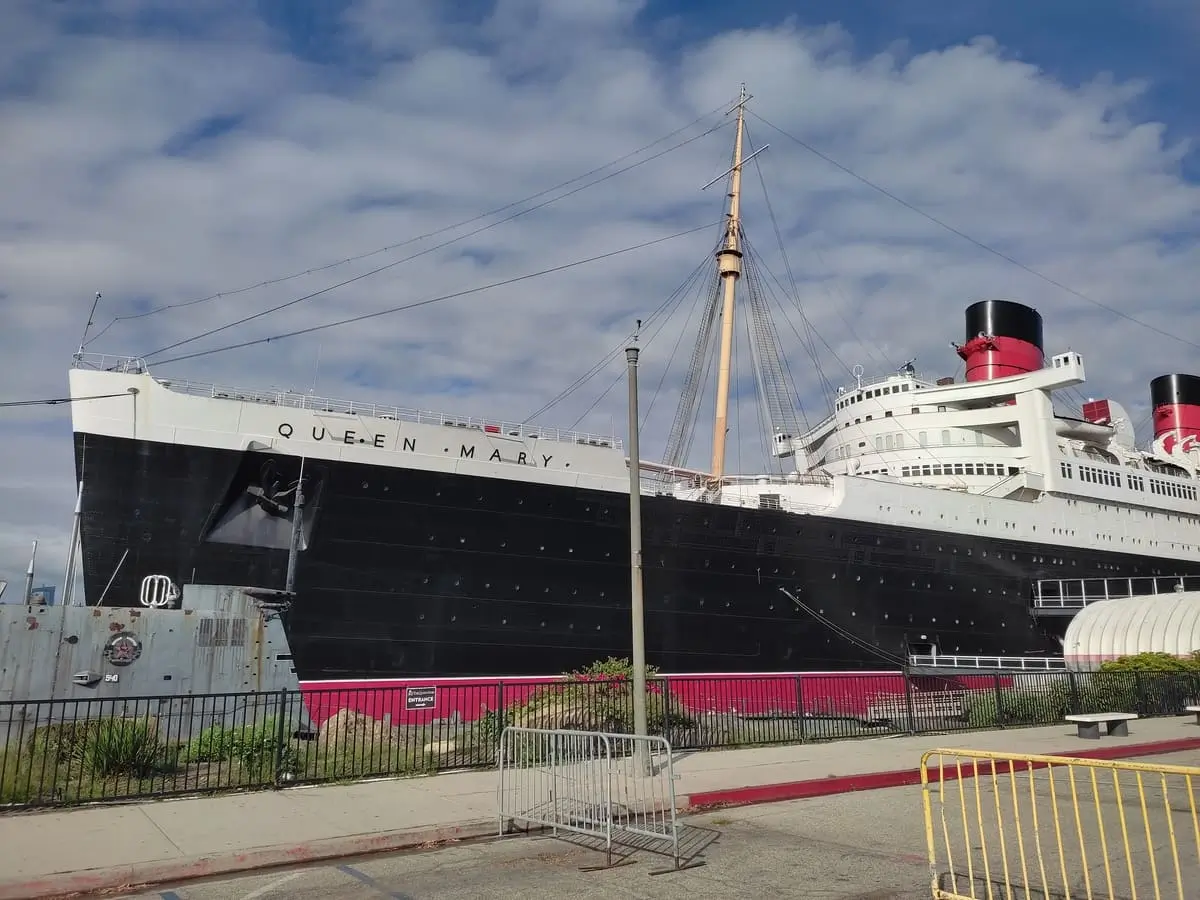 Location of The Queen Mary
The Queen Mary is now anchored in the port of Long Beach, about half an hour south of Los Angeles.
How to get to The Queen Mary in Long Beach
It is easy to get to Long Beach by car – the 110 and 710 are just two options. Just input the Queen Mary into Google Maps to get exact directions from wherever you are traveling from.
Getting to the Queen Mary by public transportation
Yes, you can fairly easily get to Long Beach and the Queen Mary by public transportation (if your trip doesn't get derailed by rain like mine did).
From Los Angeles your best option to get to Queen Mary is the A-Line train from Union Station that gets you to the center of Long Beach for the low price of $1.75 in just about an hour.
There you can change to the free Long Beach bus service, Passport, which will drop you off right outside the ship.
From Orange County to The Queen Mary your best option is probably the OC bus route 1 which will take you all the way to Long Beach.
There you will again have to change to Passport or another bus to get you to the ship.
Great location right in the harbor
Thanks to the free Passport bus service it is easy to explore the Long Beach area from the Queen Mary. This bus connects the ship with Shoreline Village and downtown Long Beach and runs every 15 minutes during most of the day.
From the Queen Mary you have a great view of the container port on one side and the skyline of Long Beach on the other. Yes, Long Beach really does have a skyline!
Actually, we often think of Long Beach as just part of Los Angeles but if it was located anywhere else it would be a well-known city in its own right.
With over 450,000 inhabitants it is actually about the same size as Miami and bigger than New Orleans, Orlando, and Pittsburgh!
Speaking of Miama – The view of Long Beach from the Queen Mary was used as a stand-in for Miami when filming Dexter and CSI Miami.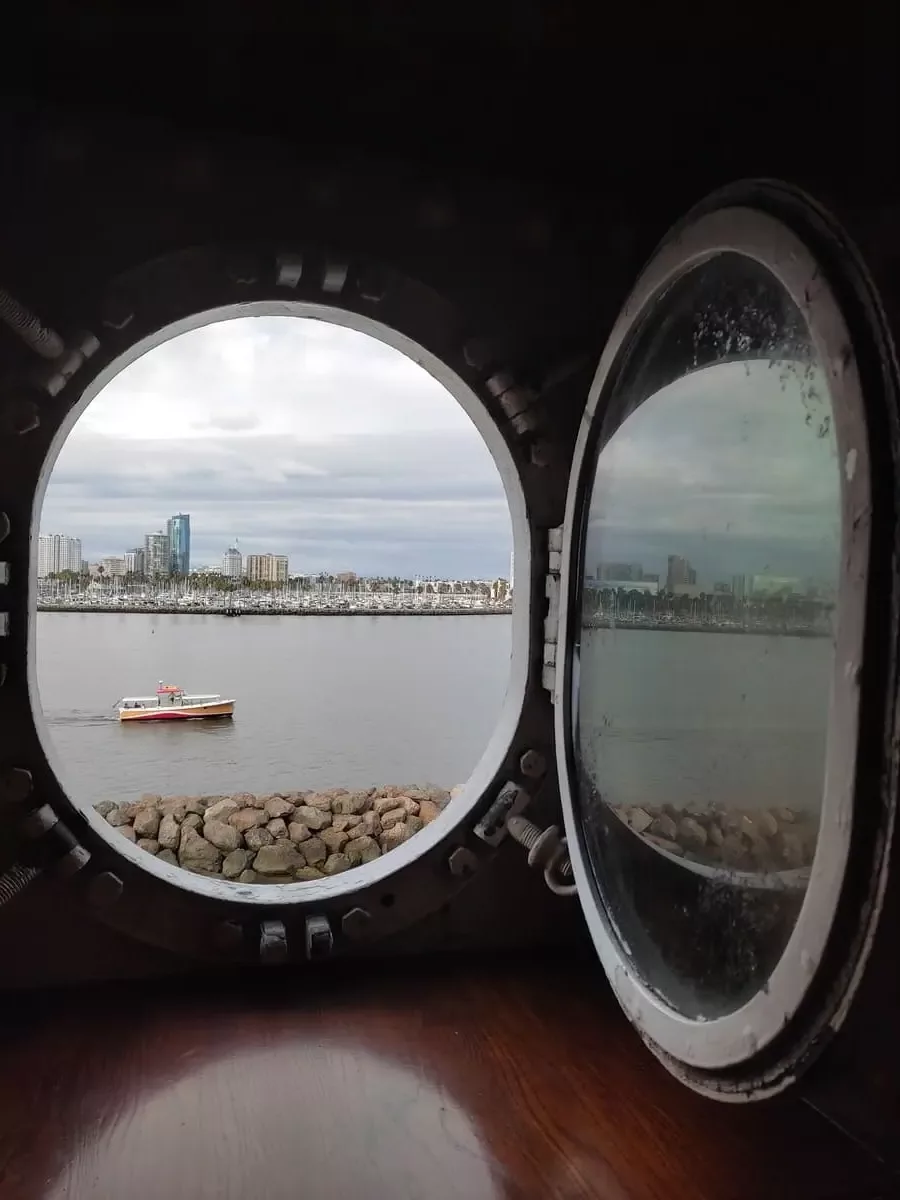 Short History of the Queen Mary
Cunard's RMS Queen Mary first crossed the ocean in 1936 to carry passengers and mail across the Atlantic. The RMS in the name actually stands for Royal Mail Ship!
After serving as a troop ship during WWII,  the Queen Mary once again served as a passenger ship.
But in the 1960s airplanes became more popular and there was no longer much need for ocean liners. The Queen Mary was put to auction and the highest bid in the amount of $3 million was made by the city of Long Beach.
Since then, this grand ship has been anchored right there in the harbor. It is one of the bigggest tourist attractions in Long Beach.
Every day beetween 11 am and 6 pm, day visitors can take various tours and explore the ship.
But after the regular opening hours, Queen Mary stays alive as a hotel (and the location for ghost tours)!
Checking in at The Queen Mary in Long Beach
My trip from Solana Beach to Long Beach did not go quite as planned – a slight drizzle was enough to throw Metrolink into disarray. Consequently, my 4 hour journey got longer and longer and eventually I had to give up if I still wanted to have time to enjoy the ship before the 8 pm Paranormal Walk I had booked.
So instead of making the entire trip by train/bus I had to get an Uber from Anaheim. An unexpected expense but to be honest it was a lot easier and more convenient!
At the parking lot I was a bit disoriented at first but eventually figured out that you have to go close to the water and turn left (towards the front of the ship) to walk alongside the ship.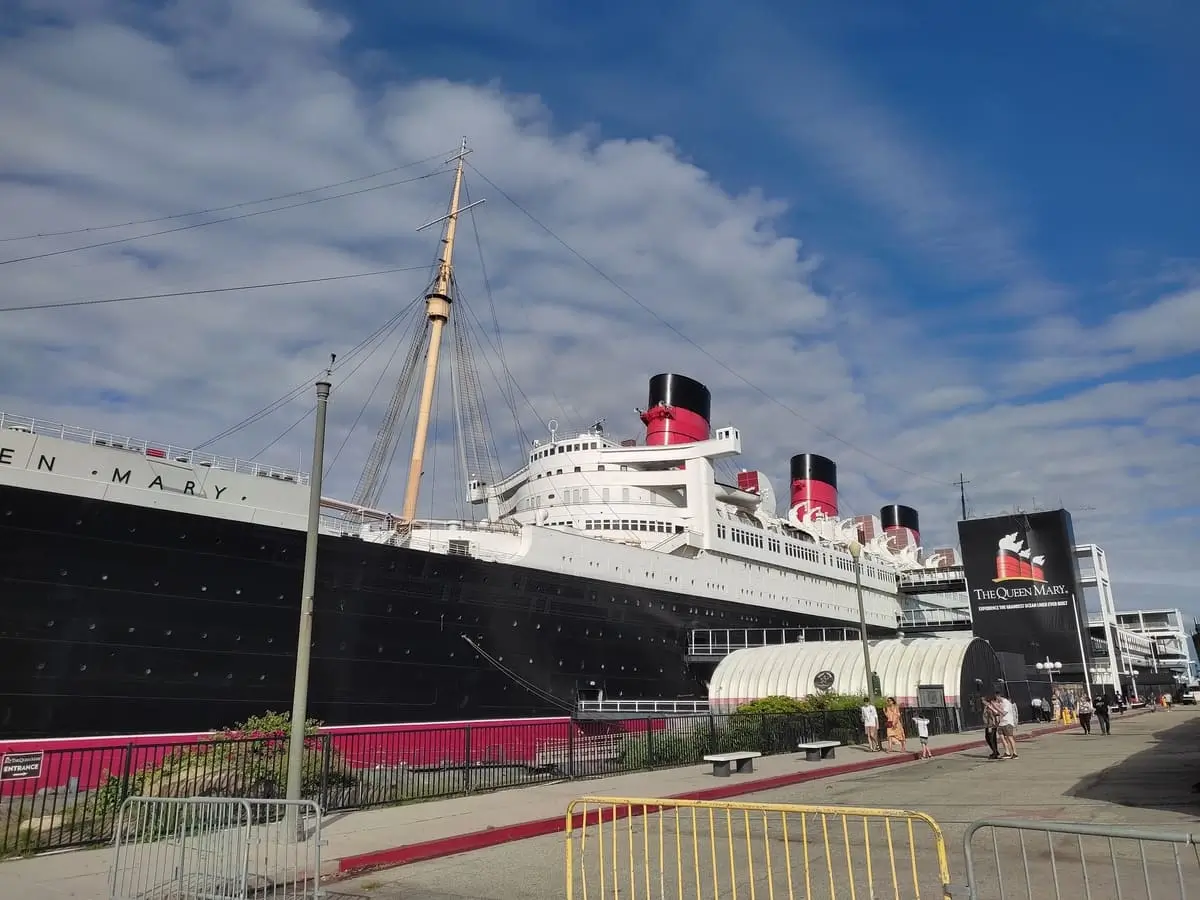 Soon I reached the first "tower" where you do a first check-in both for tours and for the hotel.  When I told them that I had a reservation they sent me straight up to the third floor on the elevator.
I didn't even have to show my reservation – I guess my suitcase was proof enough that I was staying overnight and not just sneaking in.
The third floor is on A deck, one of the three decks with hotel rooms. Here you find not only the iconic view of Long Beach from earlier and a piano Liberace once played on but also the hotel's reception.
After a short wait it was my turn. The checkin process went very smoothly. I received my key card as well as a map of the ship that came in handy.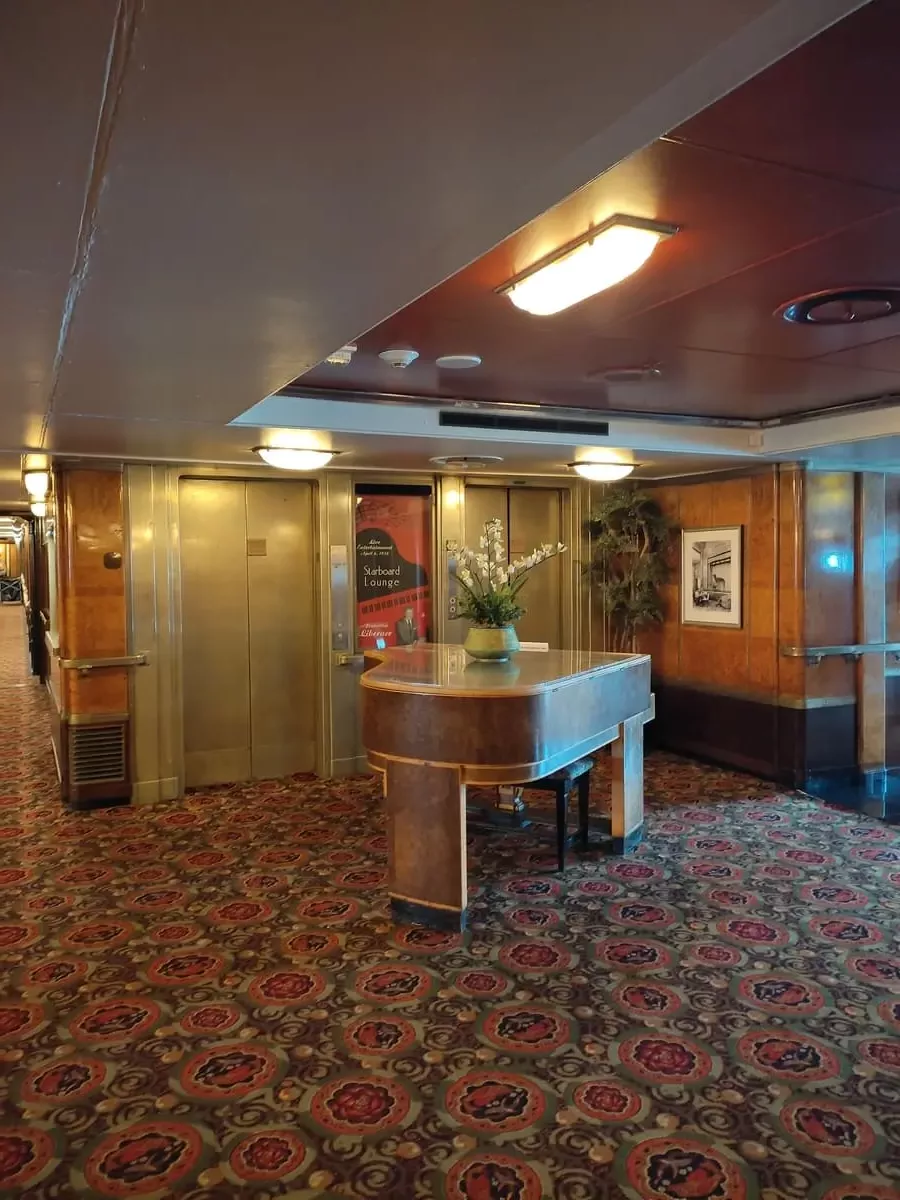 Queen Mary room review
There are rooms on three decks of the Queen Mary: A-Deck, B-Deck, and M-Deck. My room was located conveniently on A-Deck, the same level as the reception.
The long hallways to the rooms with their honey-colored wood paneling and the rather loud carpet typical for the Queen Mary do give a bit of a spooky vibe. Can't you just imagine a ghostly apparition at the far end?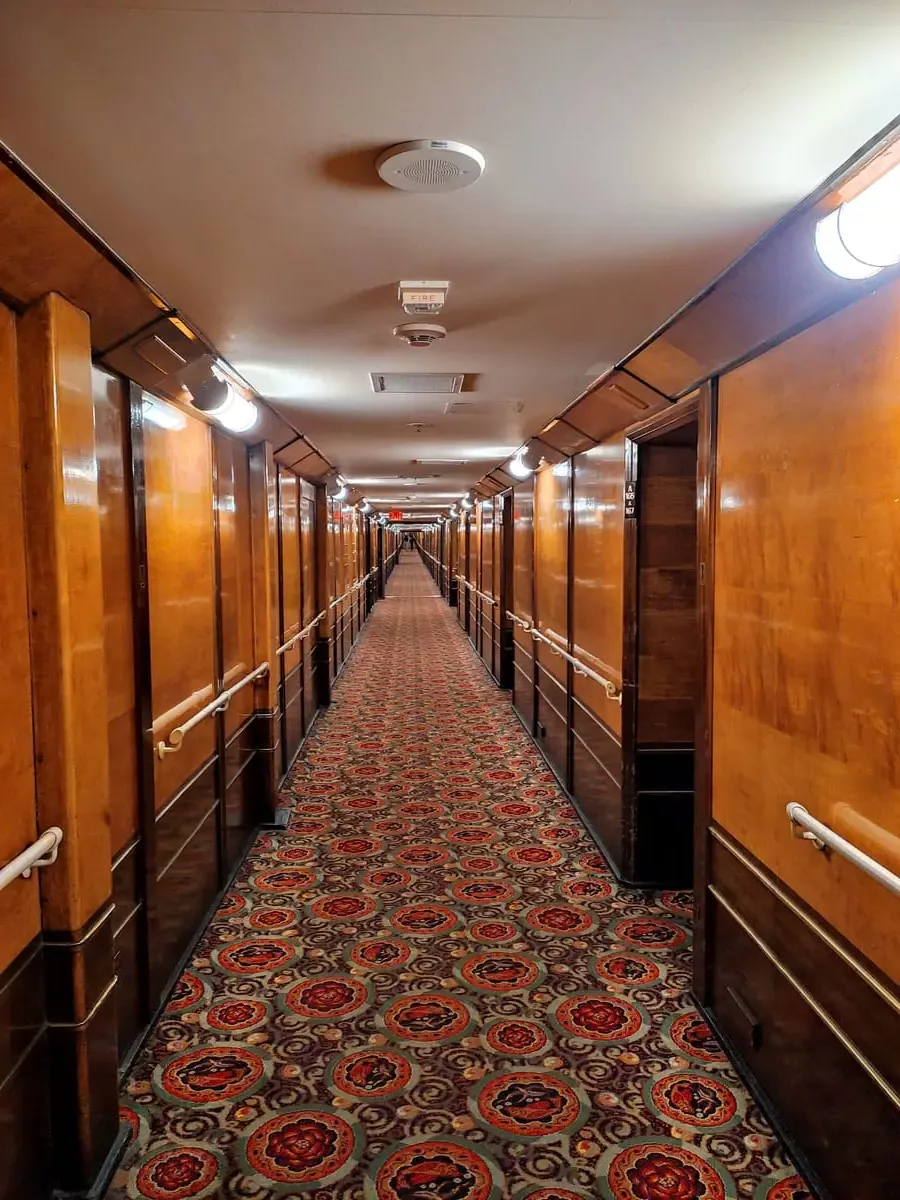 My room was at the end of this long hallway. It was so far down the hallway, that the hallway walls were no longer prettily panelled but had a rather dingy wallpaper. Definitely gave it more of a Jack than Rose vibe!
To be honest, I was a bit disappointed when I first entered the room – or cabin to be more exact.
This was mostly my fault – I had forgotten that I had booked the cheapest, interior cabin. So it was disappointing that there were no portholes.
But even aside of that the room was a bit less fancy than I had expected. Somehow I had expected more based on the website pictures. The room wasn't bad at all but neither did it scream luxury.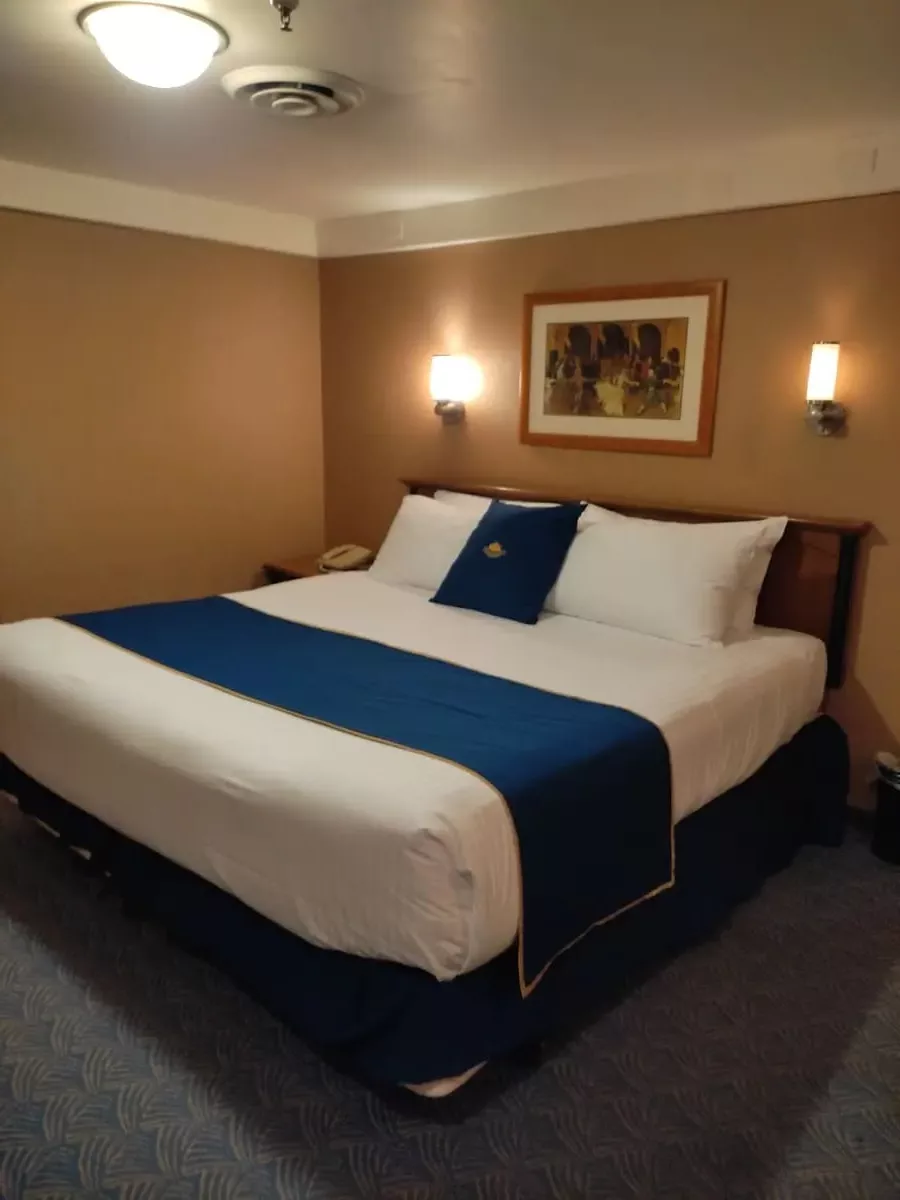 My room was a decent size and the large bed was comfortable. There was a TV on the wall though it was on the smaller side. I didn't love the wallpaper but that may just be personal taste.
The bathroom had been updated and had everything you need (including a hair dryer). The Queen Mary did provide shampoo/conditioner etc. in little bottles which I always enjoy.
I was excited to see that there was a bathtub – the first on my trip to Southern California. Unfortunately, I couldn't find the plug after getting back from the Paranormal Ship Tour and was too tired to do something about it. Oh, well, next time!
All in all, the room was serviceable but next time I would probably book a deluxe room (the price difference wasn't huge).
Once I reset my expectations from first class glory days to historical paranormal I was happy with my room.
Amenities on The Queen Mary, Long Beach
This is an old historical ship so there are less amenities than you would normally expect from a nicer hotel.
There is a small fitness room on the landing between A- and B-Deck. I didn't see anyone using it (and I definitely didn't) but it was rather cute.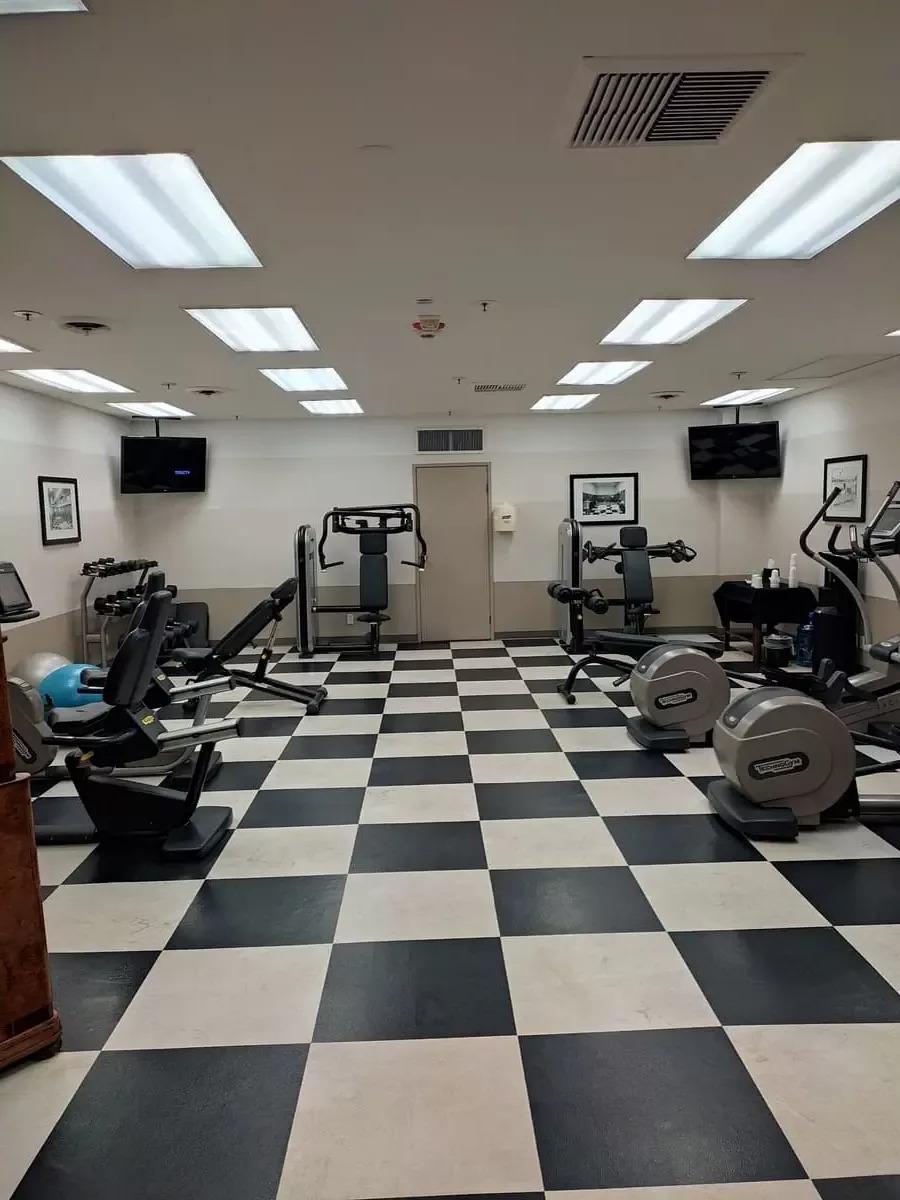 You will also find a restaurant, Chelsea Chowder House, the Midship Marketplace (a Starbucks), and a very nice bar on the Queen Mary.
However, the main amenity is the ship itself. You are welcome to explore the different areas at your leisure.
Please note that some areas close around 5 pm and dont reopen until 11 am the next day. So if you are staying only for one night you should either arrive before the regular check-in time (4 pm) or leave later than check-out (11 am) to fully explore the ship.
This is expected and there is a nice facility for storing your luggage until you are ready for check-in and/or departure.
Exploring the Queen Mary
As my trip from Solana Beach to the Queen Mary took longer than planned I didn't get to the ship until almost 5pm. And I was starving as I hadn't eaten all day. So I opted for dinner instead of touring the ship.
I did take a quick look around – the Lego model is impressive – but unfortunately never managed to see the engine room. It was closed by the time I finished dinner and didn't reopen before I had to depart to San Clemente.
However, I have seen the engine room on a prior visit and remember it as being impressive. So I recommend you fit it in your schedule if at all possible!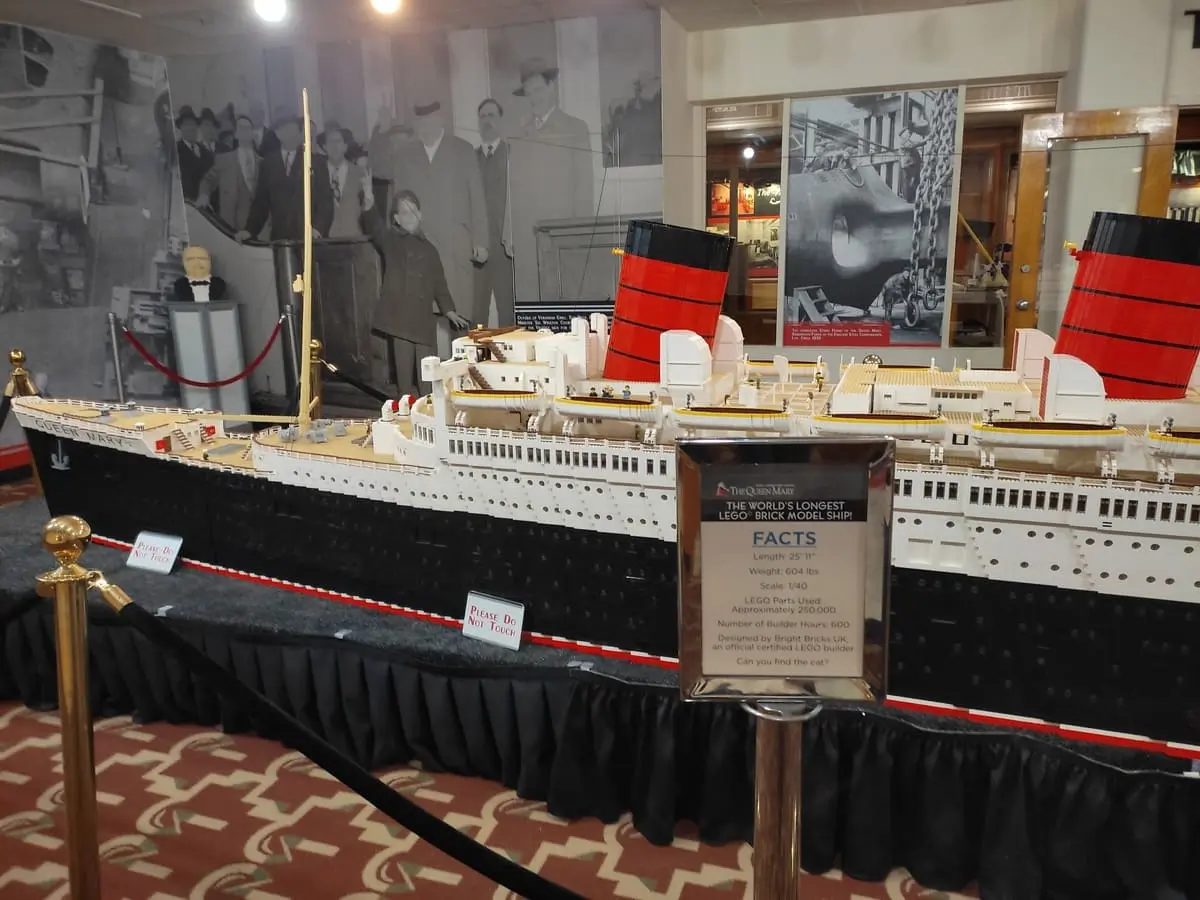 Guided Tours of the Queen Mary
If you are interested in seeing more photos of different areas of the ship you can find them in my review of the Paranormal Ship Tour.
I had pre-booked the 2 hour guided Paranormal Ship Walk Tour at 8 pm. The price varies from $55 to $65 before tax depending on the day.
As this tour only takes place once or twice per night I definitely recommend booking early if you are interested!
So what was the Paranormal Ship Walk Tour like? How scary is it? Is it worth the price? You will find all the info as well as my personal opinion here.
Even if you are not up for the Paranormal Tour, I highly recommend taking one of the other tours offered. If booking ahead daytime tours cost per $35 person (they include ship admission) and are generally one hour long. Admission without a tour is $20.
During the day you can take part in the following Queen Mary tours:
Glory Days
Haunted Encounters
Steam and Steel
How spooky is a night on Queen Mary?
When my Uber driver dropped me off at the ship he commented that he wouldn't want to spend the night there because of possible ghosts. After all, the Queen Mary has been on many shows about supernatural phenomena and is supposed to be one of the most haunted hotels anywhere.
How spooky was it?
If you are truly worried about ghosts this may not be the best hotel for you. The long eerie hallways, the many reported sightings, and the slight air of decay can make for a little bit of unease.
However, I did not see any ghosts nor encounter anything that I would consider scary.
You can find out more about the reported ghosts on the ship and about the one spooky thing that did happen to me in my review of the Paranormal Ship Tour.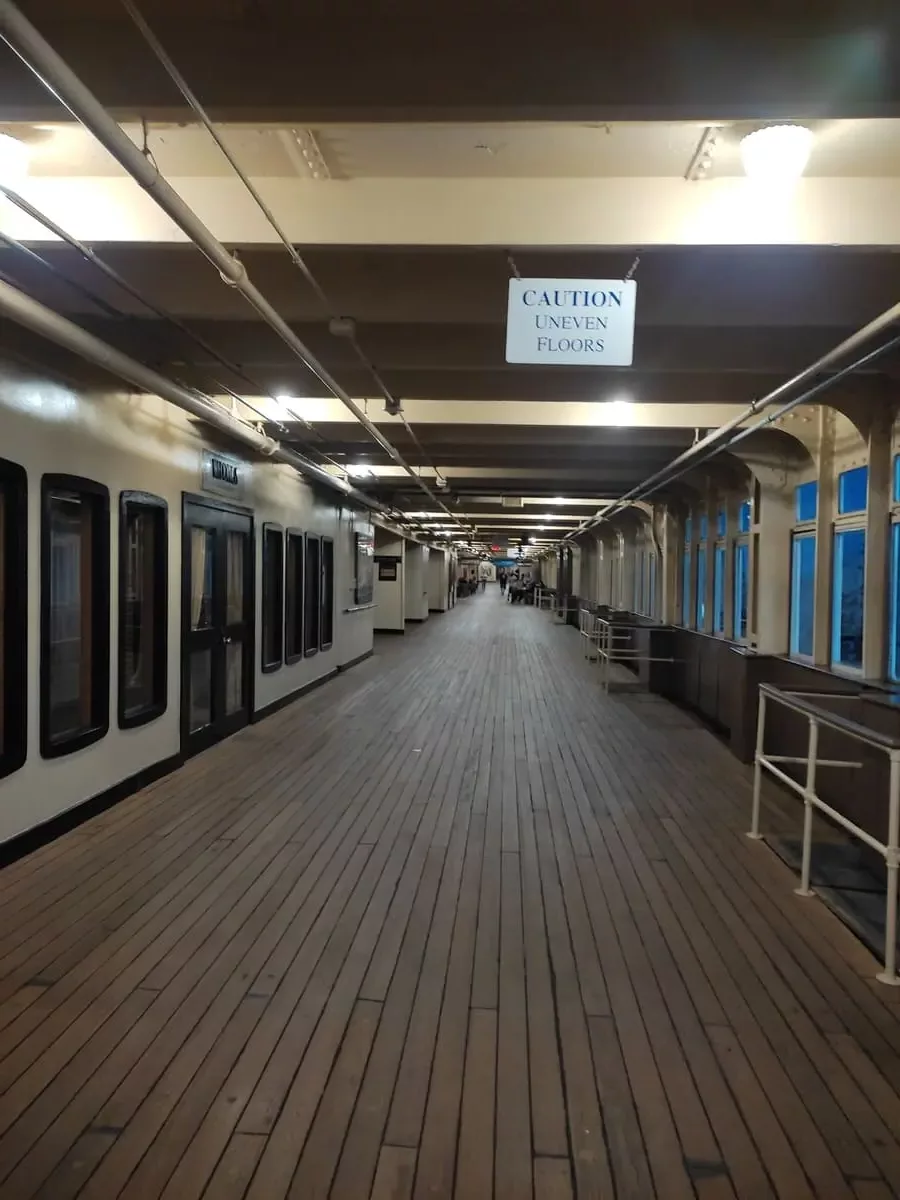 Food and Drink on The Queen Mary, Long Beach
Midship Marketplace
This is basically a Starbucks and offeres coffees, bakery items, and small meals. During my stay it was the only place offering breakfast on the ship.
I took a good look around but didn't purchase anything (not a breakfast person). However, I assume it is your basic Starbucks experience.
Chelsea Chowder House & Bar
Chelsea Chowder House & Bar is the only proper sit-down restaurant on the Queen Mary at this time. It is located on the Promenade Deck, close to Midship Marketplace and the Tour Center.
I did not have a reservation  and was aksed to wait about 5 to 10 minutes for a table. That was a bit surprising as there were plenty of empty tables on the Saturday night in September. However, there were various seats and a small bar to wait at so it was absolutely fine.
The restaurant itself wasn't as impressive as I had expected. For some reason the room reminded me of a gym – probably the markings on the floor and the tiled walls. But there were large windows with a great view of Long Beach – a real plus.
The menu
The menu isn't extensive but does offer a good selection of sandwiches, salads, steaks, and other entrees. For a place named "Chowder House" it didn't have a huge number of seafood dishes (but they do have clam chowder).
Prices were on the higher end but not so high as to be prohibitive. Anyway, after traveling all day without time to grab  a bite I was starving and didn't care about the price too much.
Review of my dinner at Chelsea Chowder House
I ended up ordering the Shrimp Casarecce after googling "Casarecce" as I had no clue what it is. Wikipedia told me that "Casarecce" are short twists of pasta that seem rolled up on themselves which sounded good to me.
Unfortunately my photo didn't turn out great and the pasta seem more like penne, but I absolutely loved this dish. Now part of it was probably because I hadn't eaten all day. Food always tastes best when you are hungry.
But even aside of that I enjoyed this dish very much. It was one of the best things I have eaten in a while.
There was a decent number of juicy shrimp, the pasta was well cooked, and the zucchino and cherry tomatoes gave it a nice summery vibe. The fava bean pesto was an interesting twist.
It was maybe a bit oily so not ideal if you are looking for something light but I would definitely order this dish again!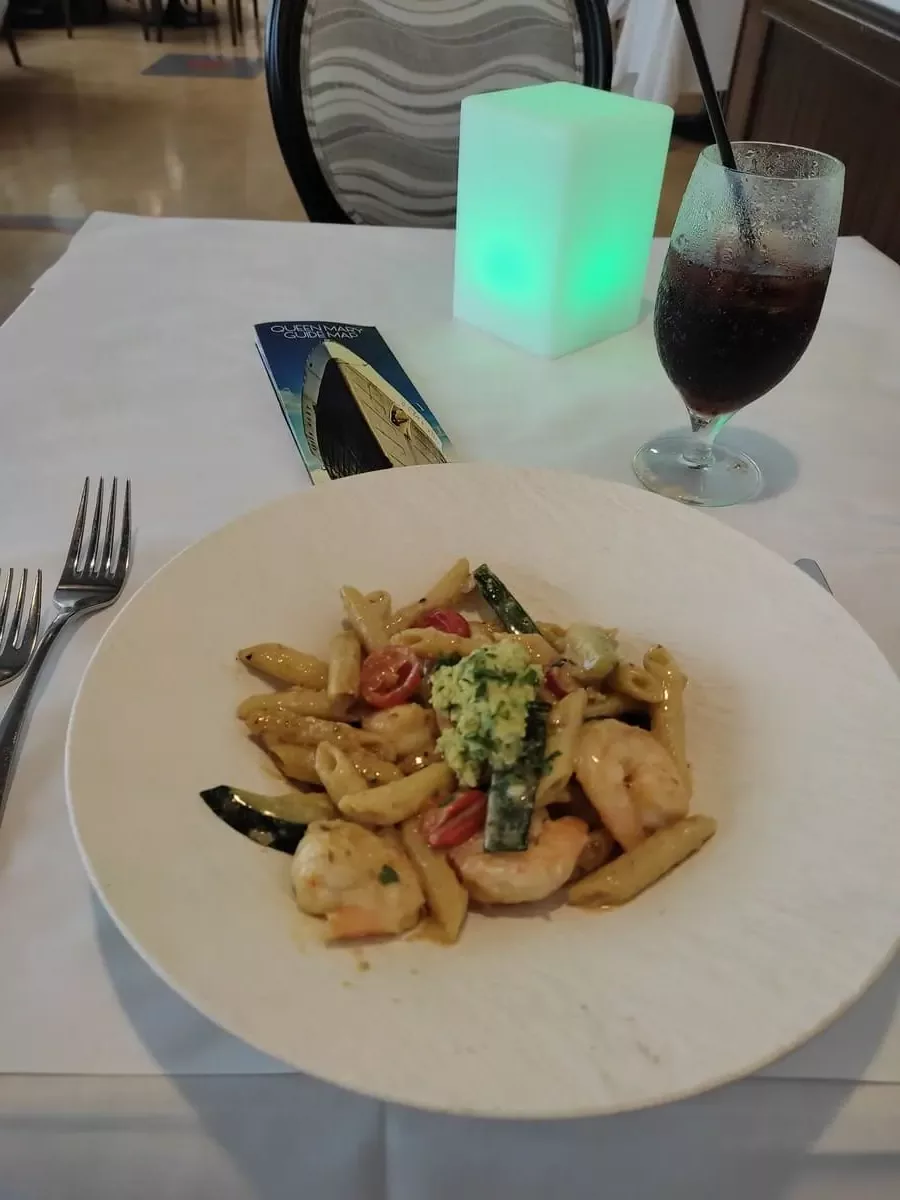 Observation Bar
The Observation Bar at the bow of the Promenade Deck was my favorite place of all the public areas. I have complained a bit about the ship looking less glamourous and more worn than I had expected but that was not true for the Observation Bar.
I loved the Art Deco design that made it feel quite unique and special. The chairs were comfortable and the entire bar very inviting. There is an outside area but I enjoyed a nighttime view of Long Beach through the large windows.
You can order small bites but I just had a cocktail as I wasn't hungry after my pasta dish earlier in the evening. I went for the Missionary's Downfall, a Queen Mary specialty. At $15 it wasn't cheap but the drink with bacardi superior, peach, lime, pineapple, honey and mint was delicious.
Value for Money of staying at Queen Mary
I paid $204.43 for my one night stay on the Queen Mary. For me, that is a bit of a splurge but compared to the hotel prices in the LA area in general it actually wasn't bad. Even very basic accomodation (like a Motel 6) was well over $150!
I definitely thought the stay was worth its money. Yes, the room wasn't as fancy as I had expected and the ship does show its age, but you do feel a real sense of history and the alleged supernatural apparitions give it a bit of extra adventure.
Pros and Cons of the Queen Mary in Long Beach
I very much enjoyed my stay on the Queen Mary but in the interests of a balanced and honest review:
Negatives:
The ship definitely shows its age in many areas
There is no pool
The rooms have been updated but aren't luxurious (at least not the cheaper inside cabins)
If you are easily spooked this may not be for you
However, there were many more aspects that speak for the Queen Mary:
Positives:
The sense of history
The organization (check-in, tours, etc.) was very good
I loved my dinner at the Chelsea Chowder House
The Observation Bar is a wonderful place to relax
There are great views of Long Beach
The Long Beach location lends itself quite well for spending a weekend there
Staying overnight is ideal if you want to take the evening tour but don't enjoy traveling around at night
A chance to look for ghosts
What is there to do when staying at the Queen Mary?
The main activity is of course the ship itself. I would allocate at least half a day for exploring the ship. Depending on your interests it may take even longer.
But there are several other sights and activities that would work well while staying at the Queen Mary and thanks to the free Passport bus they are easy to get to.
Best things to do from Queen Mary without a car
 1) Visit the Aquarium of the Pacific
I didn't have time on this trip but have visited the Aquarium of the Pacific several times before and had a great time. If you enjoy animal experiences and aquariums you definitely should check it out!
2) Take the Catalina Express and explore Catalina Island
For years I have been wanting to go to Catalina Island and I thought I would for sure manage on this trip. Unfortunately, I had to cut the trip to stay within budget when I decided to go to Disneyland for two days instead. But Catalina looks amazing on pictures and is still on the top of my bucket list!
The Catalina Express leaves right across the bay from the Queen Mary and would make a great day excursion.
3) Enjoy a walk along the waterfront and spend time at Shoreline Village
Shoreline Village is a fairly typical waterfront shopping area with quirky shops and restaurants. A great place to spend a sunny afternoon!
4) Take the A-Line to LA
A trip on the A-Line to LA's Union Station is only $1.75 (one way with TAP card). It will take around one hour (plus a Passport ride to get to Downtown Long Beach from the Queen Mary) – definitely doable.
While you could of course visit any part of Los Angeles I would recommend exploring Downtown LA on a trip from the Queen Mary to limit the time spent in transit.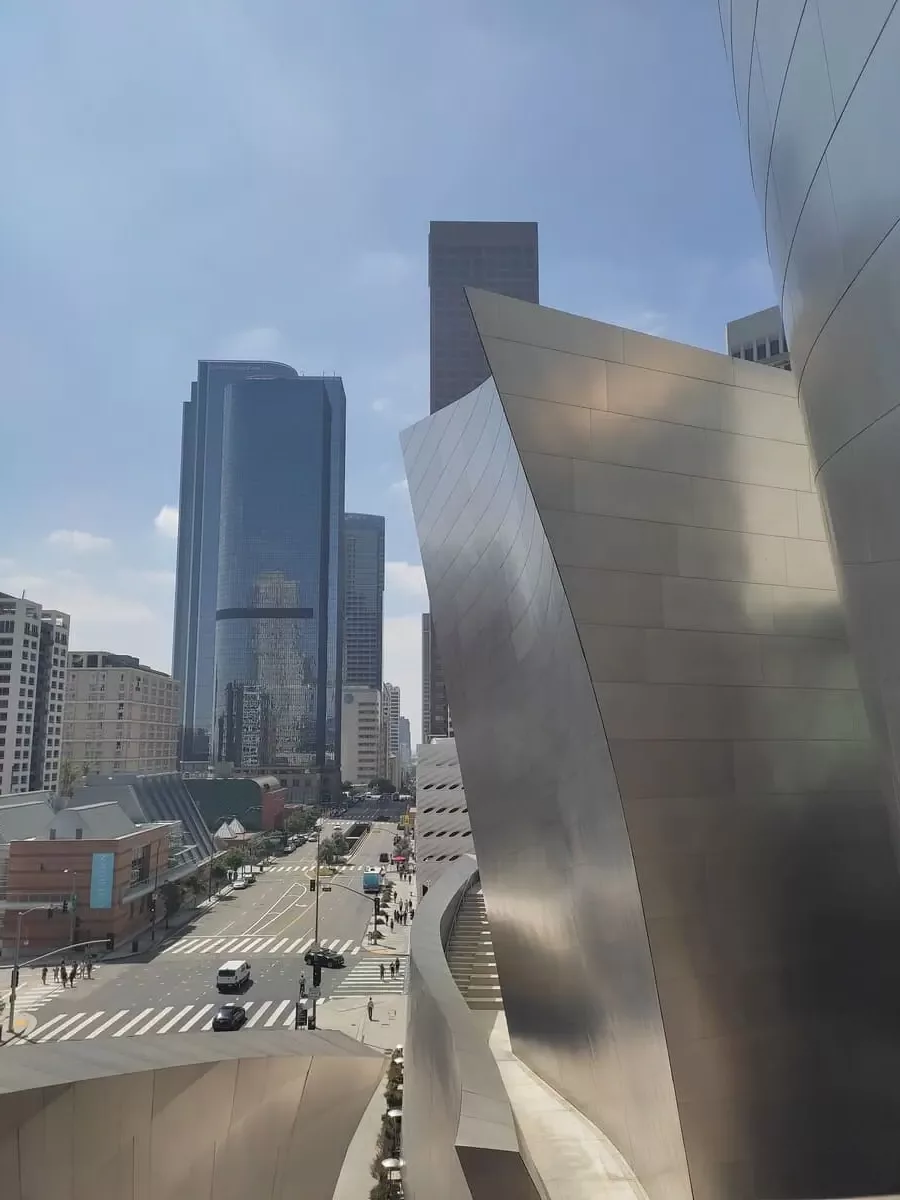 5) Spend the day at a beach
By bus you can easily reach beautiful beaches from Long Beach. I traveled all the way down to San Clemente without any problems and for little money.
San Clemente by bus would be a bit far by bus but on the way we passed numerous beautiful beaches – Belmont Shores, Huntington Beach, and Newport Beach are just some possibilities.
How long should you stay at the Queen Mary?
There is loads to do from Long Beach but for most two nights are probably the perfect length of time at the Queen Mary.
Two nights would give you enough time to see all there is to see on the ship, spend a day at the Aquarium of the Pacific or visit Catalina Island, and enjoy the Long Beach waterfront.
Overall Opinion of The Queen Mary, Long Beach
I had a great time staying at the Queen Mary. While it is a nice enough hotel it is the sense of history and the ghostly vibe that make a stay here something special.
The ship is not as luxurious as one may expect and the Queen Mary does show her age (with scratch marks and buckets for leaky ceilings). But there are few places in the US that will rival her for history and spookiness!
I also enjoyed my dinner at the Chelsea Chowder House and loved the atmosphere in the Observation Bar.
Highly recommended!