I love Los Angeles – there is so much to see and do. So I am always surprised to hear that many do not care for the city at all.
I think it has to do with expectations and the fact that Los Angeles is different from many other famous cities. Attractions are spread out over a large area instead of condensed into the city center.
Really, LA is more a amalgam of different neighborhoods than one homogenous city. And the sights most people think of when they hear Los Angeles – Hollywood, Beverly Hills, the beach or even Disneyland – are scattered in different directions and can be far from Downtown.
In the past the recommendation was often to skip Downtown LA completely and concentrate on the area further to the west. But much has changed in the last decade(s) and today Downtown Los Angeles has much to offer for tourists – most of it free!
On my recent trip to Southern California I allocated a whole day to Downtown Los Angeles. Not only did I not regret it but it was one of my favorite days of the entire trip! 
Is Downtown LA safe?
This is actually a tricky question. While in most large cities the downtown area is the safest area this isn't true for Los Angeles.
While more apartments and regular stores have come up in the last decades Downtown LA is still largely a financial and business center.
It is busy during working hours Monday to Friday and fairly empty of people on the weekends. So your experience will vary depending on when you visit.
The main problem though is that on the southern edge of downtown Skid Row starts. This is one of the worst areas in any city and you should definitely avoid it.
I strongly recommend you make a plan before visiting the downtown area to make sure you know where you are going and don't end up in the wrong neighborhood (we ended up in one last year in San Francisco and it wasn't pleasant).
However, as long as you know what you are doing Downtown LA is perfectly safe during the day, especially during the week and business hours.
If you follow my route below you should have no issues (other than what I mention in my report).
How do you get to Downtown Los Angeles?
By car:
Several freeways will take you right into the downtown area.
You will find many one way streets downtown so it can be easy to get confused (I will do). I would not drive between the different downtown attractions. Just park the car in one place and pick it up at the end of the day.
Plan ahead where you want to park and then head there. Be aware though that parking in downtown LA is not cheap.
By public transport:
You can find detailed information on how to get from LAX to Downtown Los Angeles in my post about getting to LAX without a car.
If traveling from other parts of the city by public transportation you are in luck (at least comparatively speaking).
Union Station right in downtown LA is a major transport hub and the Metro lines as well as buses will take you there.
Please be aware that you need a TAP card (a public transport card you can preload with money and then just tap at the turnstyles) to ride the Metro. A single metro ride will cost you $1.75. TAP cards are sold at the ticket machines for $2.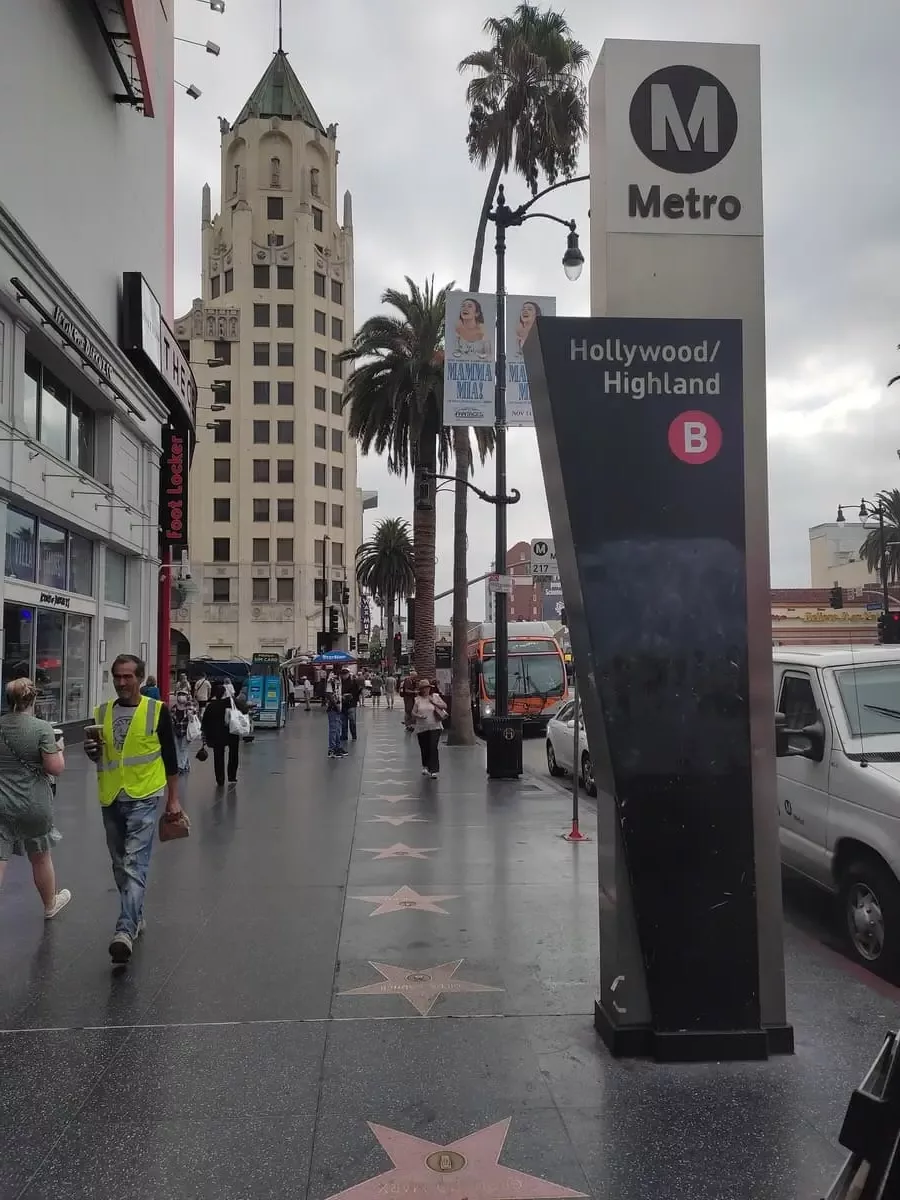 Hollywood is a pretty good base for touring LA without a car
My Day in Downtown Los Angeles
Getting to Pershing Square
I was staying at the Magic Castle Hotel in Hollywood so getting to downtown LA was quite easy.
From the Hollywood/Highland station (right next to the Hollywood and Highland Shopping Mall) I took the Metro B-Line towards Union Station. This line runs about every 15 minutes and takes 22 minutes.
Now I would be lying if I said that the ride was the best. At most it was okay-ish. If you are used to big cities and public transportation or if you are traveling with a small group it should be absolutely fine.
The Metro station and train were not as clean as I am used to and there tend to be quite a number of passengers with mental health problems.
If you are a nervous traveler you may prefer to either take an Uber/taxi or to use the Hop-on Hop-off bus (fun but expensive).
Getting out in Pershing Square the area was slightly seedy. Not horrible but not exactly a vacation paradise either. It gets better so in a minute though so hang in there!
The Biltmore Hotel
Right across on the other side of Pershing Square is the Biltmore Hotel.
The Millenium Biltmore is of course an iconic hotel often seen in movies and television. In the early days of Hollywood it was even the place where the Academy Awards were hosted!
I have a soft spot for this hotel – the Biltmore was the first hotel I stayed at in Los Angeles. And as a matter of fact I had booked it for two nights on this trip.
Even better, I had even booked a walking tour by the Los Angeles Conservancy and was very much looking forward to it.
Unfortunately, that tour was canceled due to a strike of the hotel workers. And after some reflection I decided that I would rather not stay at a hotel that was under boycott so ended up canceling my stay and visiting Disneyland instead.
But if you are in town on a Sunday after the strike I would recommend the tour. The people at the Los Angeles Conservancy were very helpful during the booking process and I am sure the tour is fascinating (and at $15 a great deal).
Even if you are not up for a tour I recommend checking out the hotel. The rooms aren't that special ( a bit faded and not quite luxury) but the public rooms are stunning and worth a visit.
On this visit I skipped the Biltmore as I was in a bit of a time crunch. I had a 6 pm reservation at the Magic Castle and did not want to be late!
The Egyptian inspired pyramid atop the Public Library is a surprising touch
The Los Angeles Public Library
Just a minute or two onwards from the Biltmore you get to the Los Angeles Public Library. 
It is housed in an early Art Deco building with a surprising Egyptian vibe. You can easily recognize it amid the modern skycrapers.
If you have time (or want to use the bathroom) I recommend going inside. It is a beautiful building (and of course the books are worth a look too)!
But again on my trip I walked on as there was more to see and do and I had been at the library many times before.
Bunker Hill Steps
Downtown Los Angeles is fairly hilly so you will have to climb some steps when exploring. Luckily, the city has various ways to make it easier on you – from escalators to a furnicular.
The hilly terrain also lends itself to a great view and the steps/escalators at Bunker Hill across from the library  are quite pretty.
By this time the streets were also getting a bit busier and I no longer felt nervous in the slightest. There were plenty of tourists and office workers around.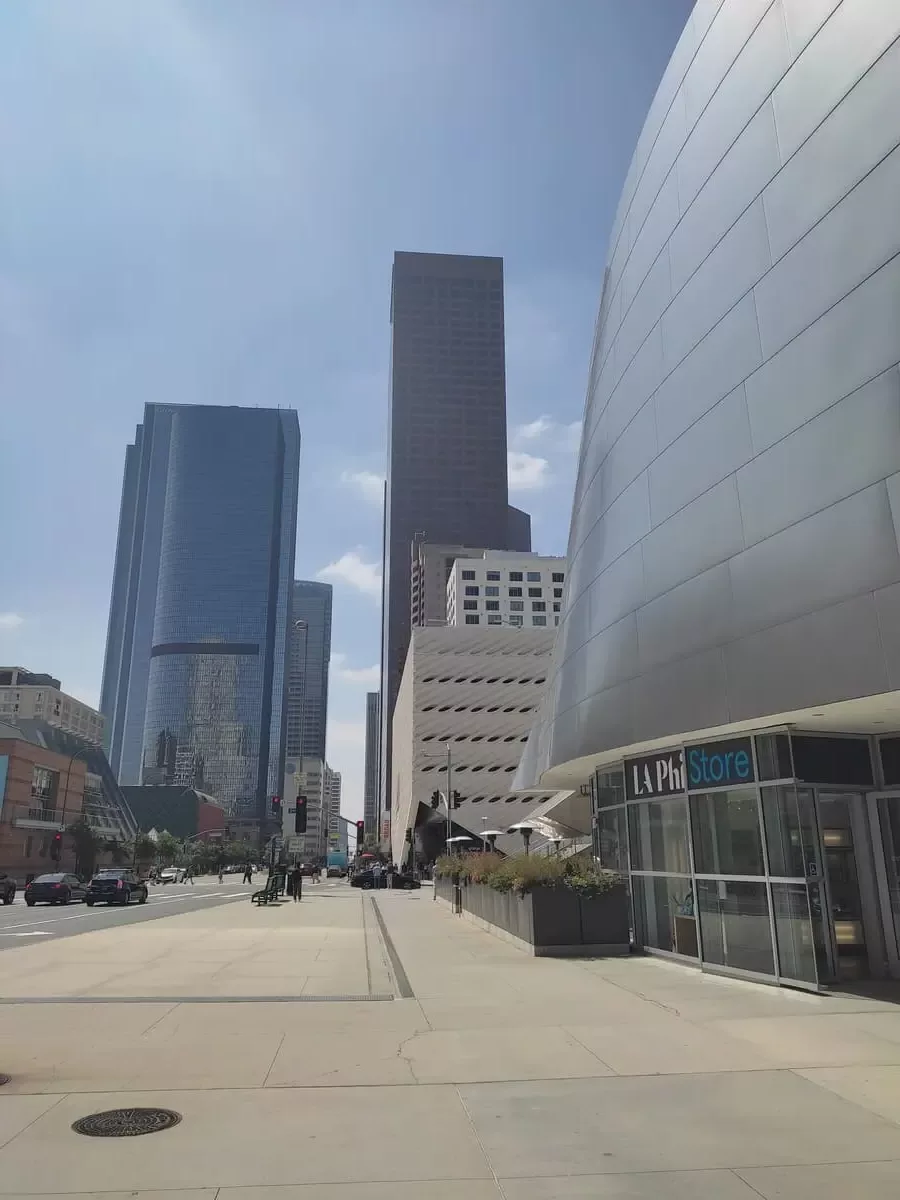 This part of downtown was busy with tourists and felt completely safe
The Walt Disney Concert Hall
During the first part of my walk through Downtown LA I just passed by the various sights but this was about to change now.
On past trips I had just admired the shiny, crumpled paper facade of the Walt Disney Concert Hall from the outside.
But this time I went inside to explore further. Most days the Disney Concert Hall offers a free audio tour (usually from 10 am to 2 pm).  Check before your visit on their website to make sure it is available when you will be in town.
The wooden pillars serve a practical purpose, both for cables and lighting
After entering through the large glass doors you will see a small souvenir shop to your right and next to it a desk to sign up for the audio tour.
The tour is free but you need to check in to get a small sticker to put on your shirt which shows that you are taking the tour.
You can borrow an audio guide. Unfortunately, I didn't have the necessary picture ID with me so had to pass on that.
Luckily, you can scan a code with your phone to access the audio guide instead. Not sure why but the tour didn't work great on my phone. I guess my data plan wasn't sufficient as the audio kept getting stuck.
No worries though, there was a transcript you could access and that worked fine. I am not a very auditive person and was in a bit of a rush so that worked fine for me.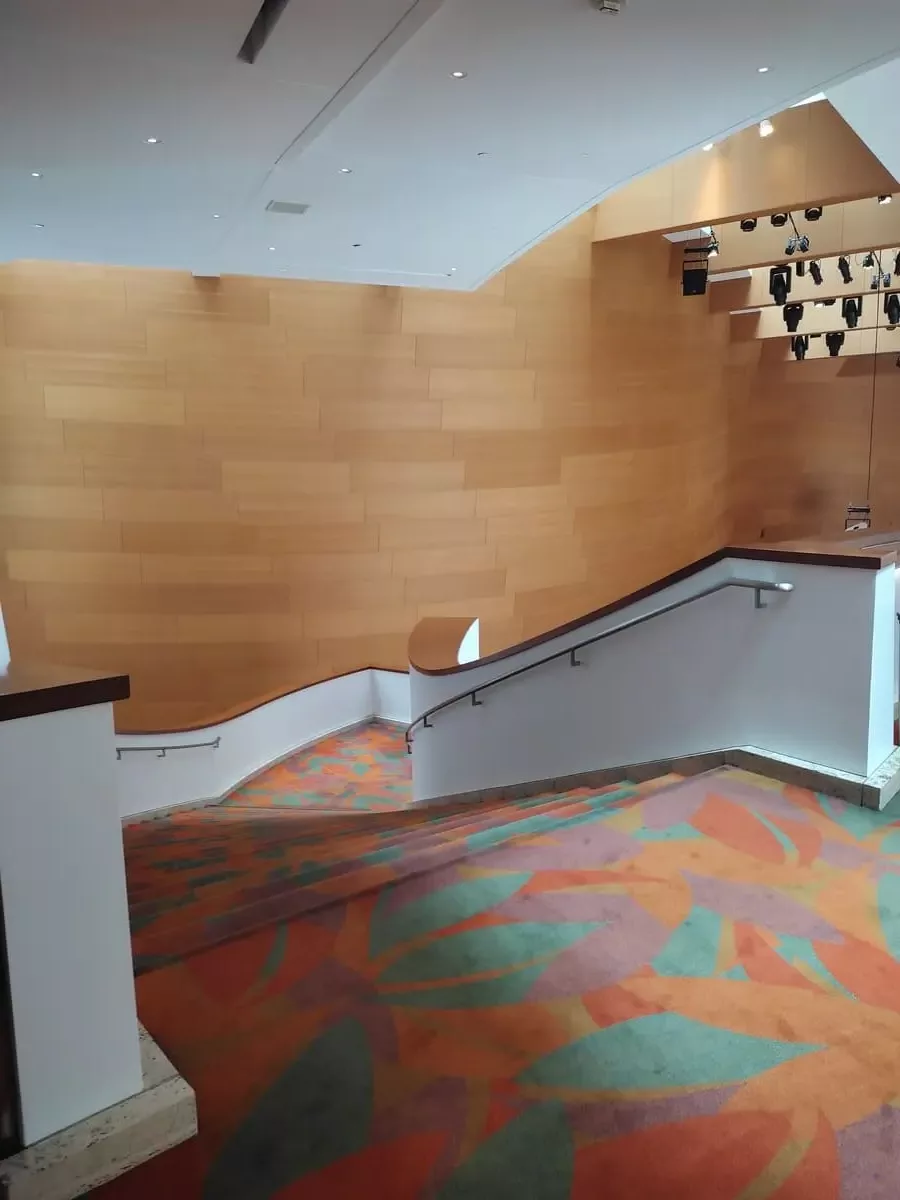 The carpet pattern reminds me of the Contemporary Resort at Walt Disney World – maybe it's the colors
I started my tour in the entrance hall. From there I went on different floors of the building and learned interesting facts about its history, acoustics, and design. There are sound bites from various people involved in the development of this modern music center.
I don't have a huge interest in architecture or concert halls but still found the tour very interesting.
When I arrived on the 3rd floor I got lucky – a friendly employee invited me in to take a look at the actuall concert hall. This is not part of the audio tour per se and not always accessible.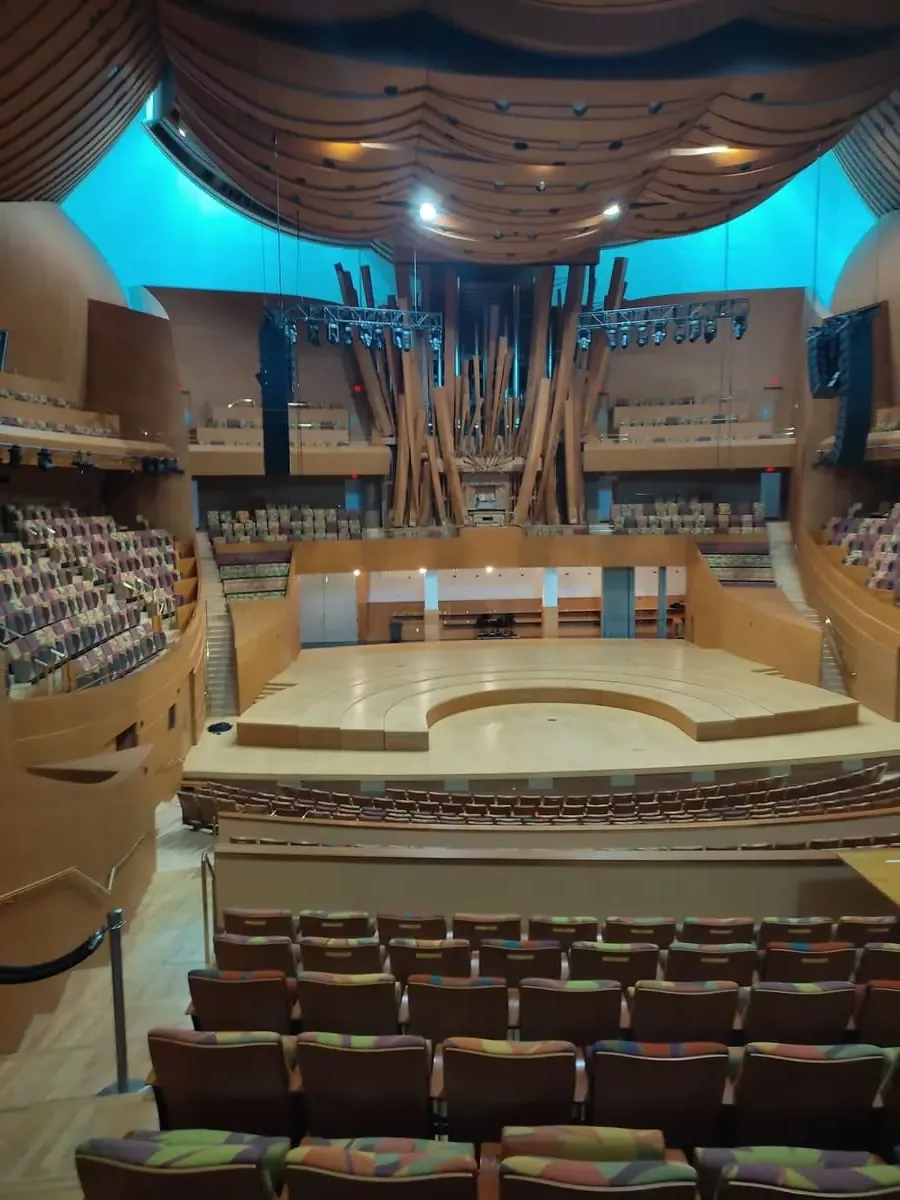 The Hall supposedly seats 2,000 but looked far more intimate
I loved the atmosphere and look of the main concert hall. It was both cozy, grand, and quirky. My favorite part were the crazy shapes of the organ pipes!
I wish I could have attended a concert there but unfortunately the concert season doesn't start until October.
Summer concerts take place in the Hollywood Bowl instead (something I still haven't visited in LA).
The second highlight of the Walt Disney Concert Hall for me was the outside garden area. I enjoyed a wonderful view over the city, admired the shiny metal outside of the building from different angles, and enjoyed the peaceful atmosphere of the gardens.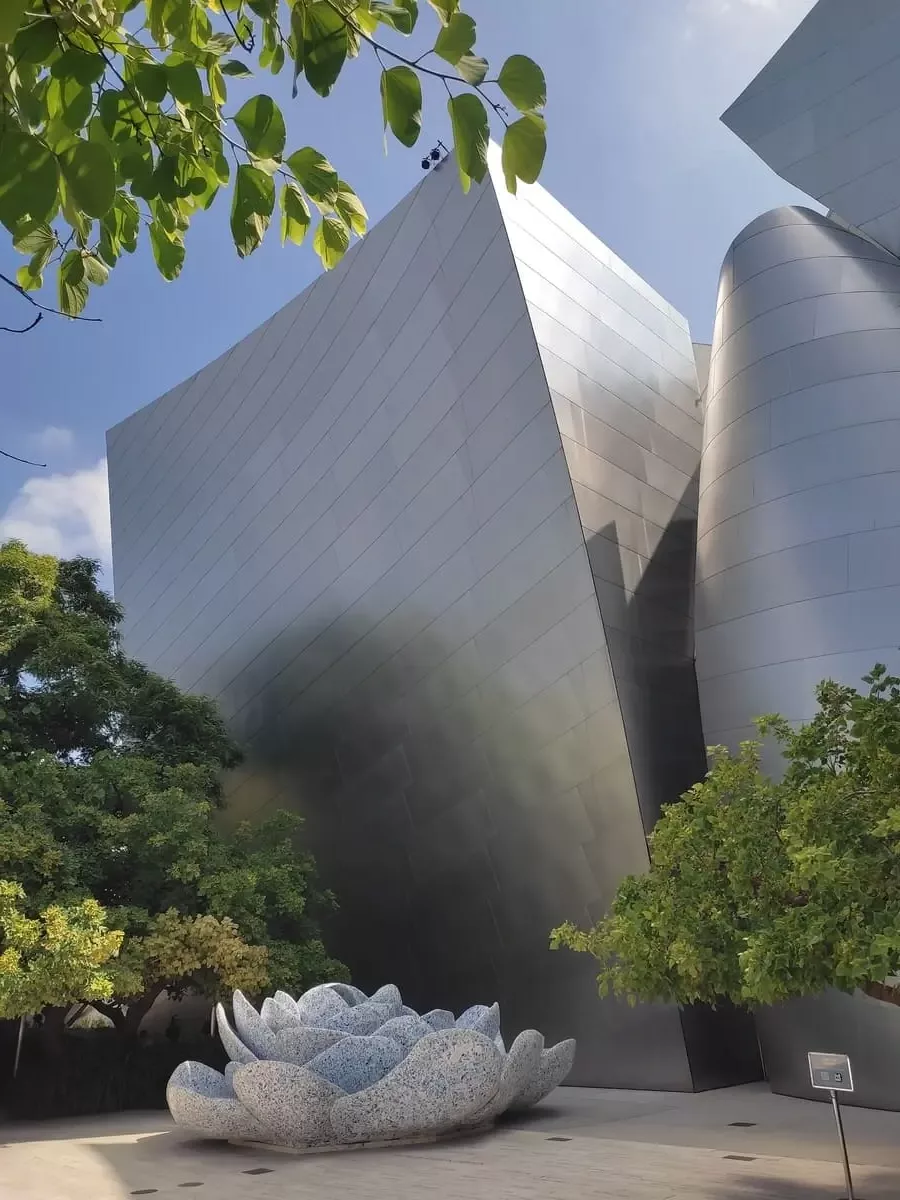 The surface of this fountain is covered with thousands of small blue shards of broken Delft vases
The fountain in rose shape was my favorite part. Apparently, roses were Lilian Disney's favorite flowers and the Disneys enjoyed collecting cheap Delft porcelain. So the fountain honors that – a nice personal touch in such a public venue.
I would say the complete tour will take about 90 minutes. Unfortunately, I had to hustle through the last part as I had a reservation I did not want to miss at the Broad right next door to the Walt Disney Concert Hall.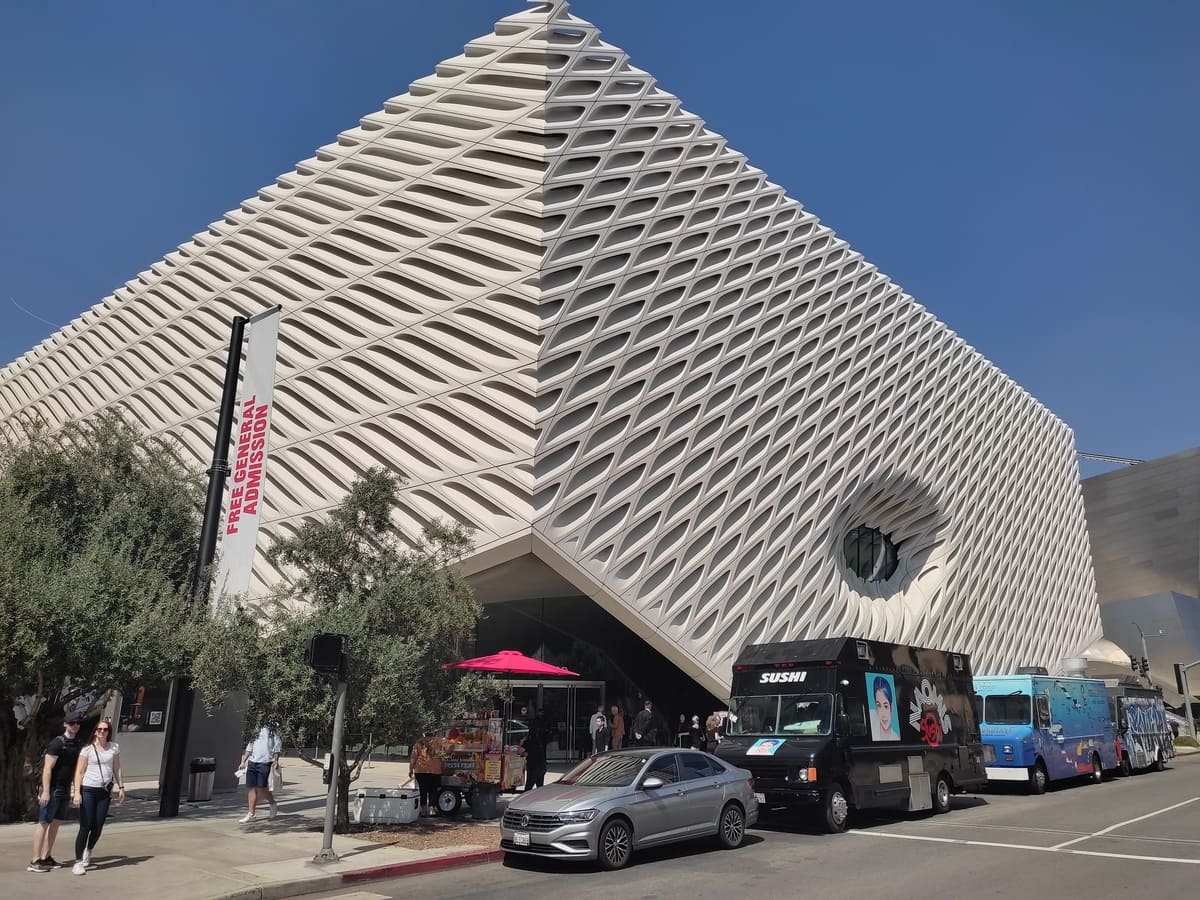 The Broad
The Broad is a pretty new (it opened 2015) contemporary art museum in downtown Los Angeles.
Not everyone likes the design of this building (I saw references to a "cheese grater") but I quite liked it.
Like many other museums in LA it offers free general admission for the permanent exhibits.
The Broad has a number of famous art pieces but the most popular is clearly Yayoi Kusama's Infinity Mirrored Room – The Souls of Millions of Light Years Away. An Instagram dream!
Even though admission is free you do need a ticket (available online ahead of time) to enter the Broad. When I got there right around my reservation time there were two lines, one for people with a reservation and one for people without.
I assume that without a reservation they will get you a ticket as long as it isn't too busy.
However, I strongly recommend you pre-plan as you need a separate ticket for the Infinity Mirrored Room and those do "sell out" fast. Just like London's Sky Garden, the Broad rewards those that plan ahead!
If you are interested in visiting you should try to book your free ticket on the last Wednesday of the preceding month at 10 am PT (you can get them here).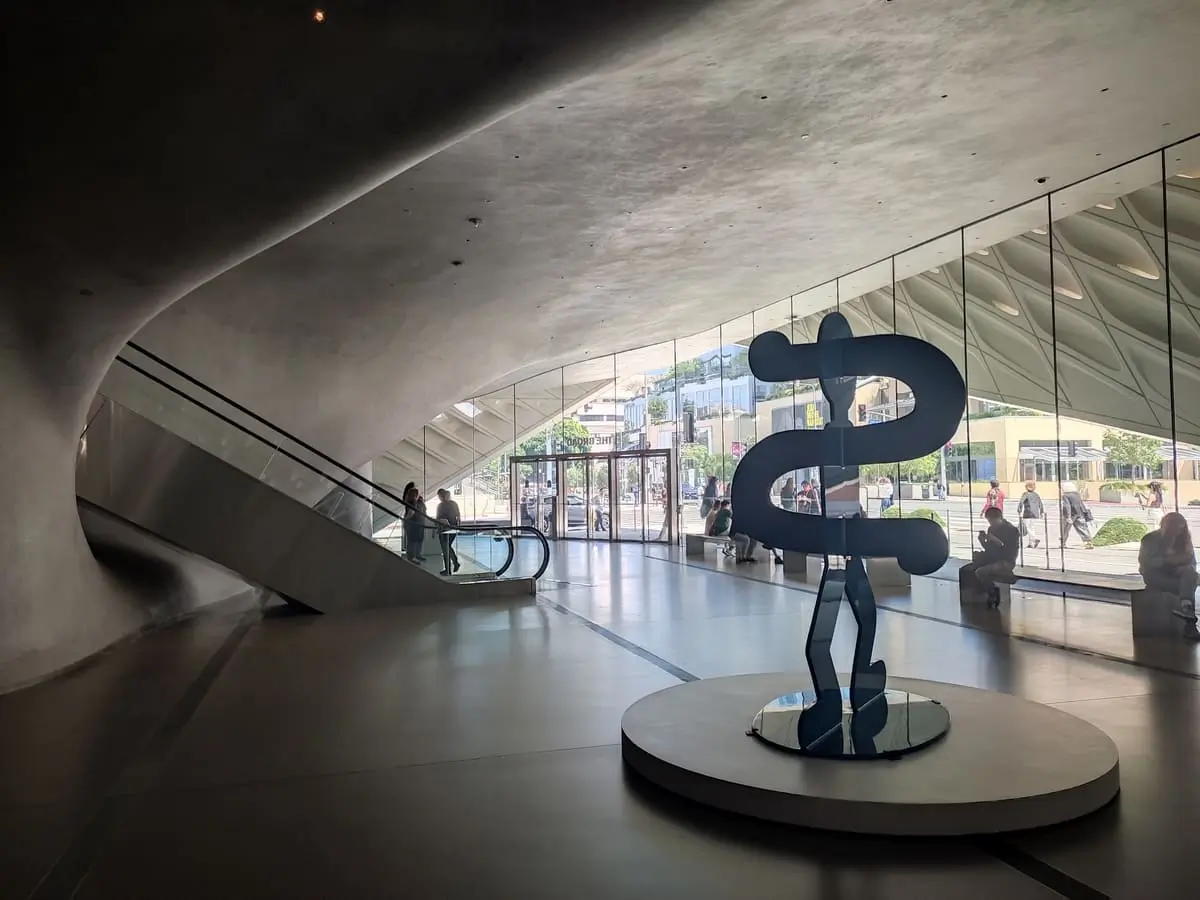 After having my ticket checked at the entrance (near the large glass doors on the picture above) I had to cross the main foyer area Upast the large sculpture9 to the opposite wall where a line had formed for the Mirrored Room.
Here there was a second ticket check so you won't be able to sneak in without a separate reservation for the Mirrored Room. The line was fairly long when I got there at 12:30 pm and I had to wait around 20 minutes. Not too bad especially after just having been to Disneyland!
The employees at the Broad were extremely friendly and personable. I was truly impressed!
Up to 4 guests are allowed to enter the Mirrored Room at a time for one minute (they will tell you when it is over). As a solo traveler I got a turn on my own though.
It was a great and very intimate experience. You wait in front of the door and when the prior party leaves you enter. There is a large rectangular platform you step on and which you are not allowed to leave.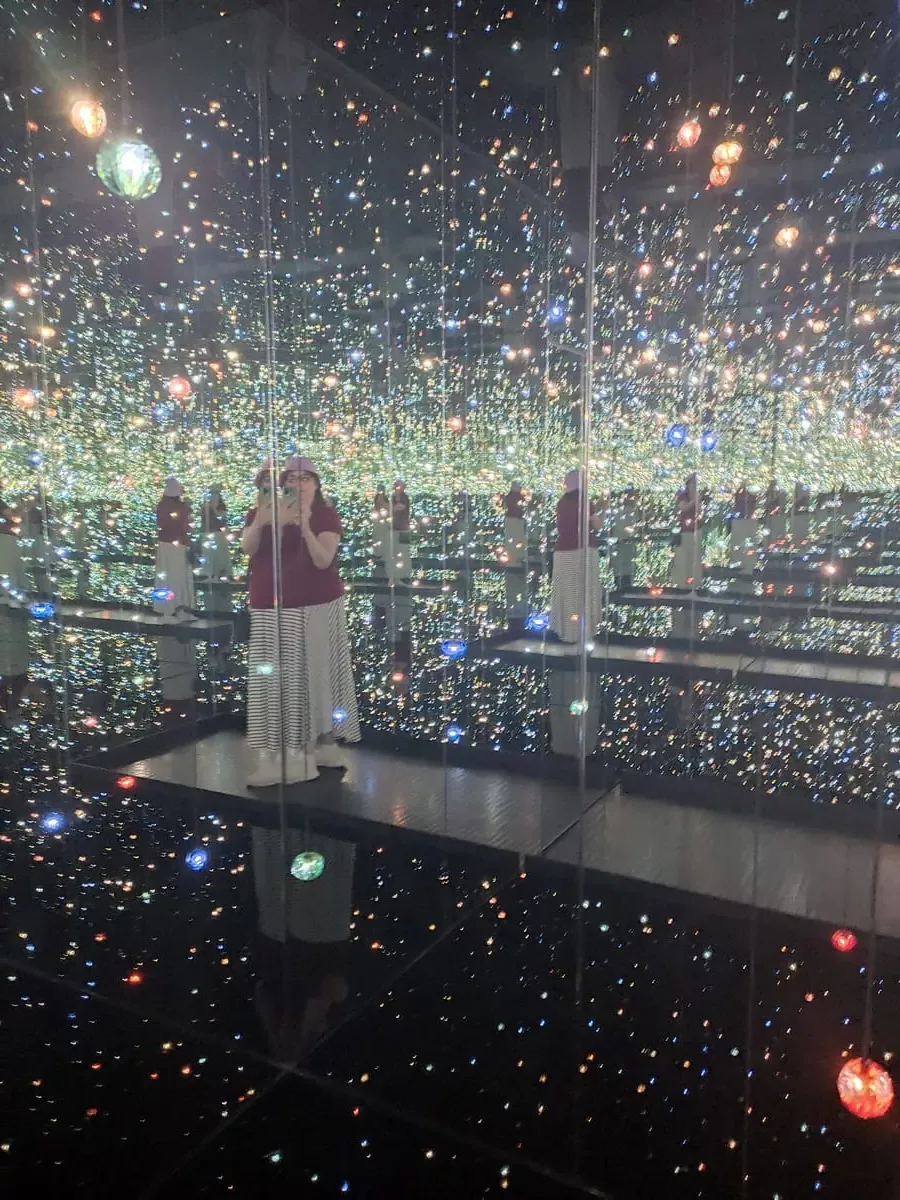 Then you have minute in which the lights will blink on and off and mirrors seem to appear and disappear. You can dance around (as long as you stay on your platform), twirl, take pictures, whatever.
I highly recommend you see this attraction if you will be in Los Angeles! A truly unique experience!
Next I made my way up the rather intimidating escalator to take a look at the other art works at the Broad.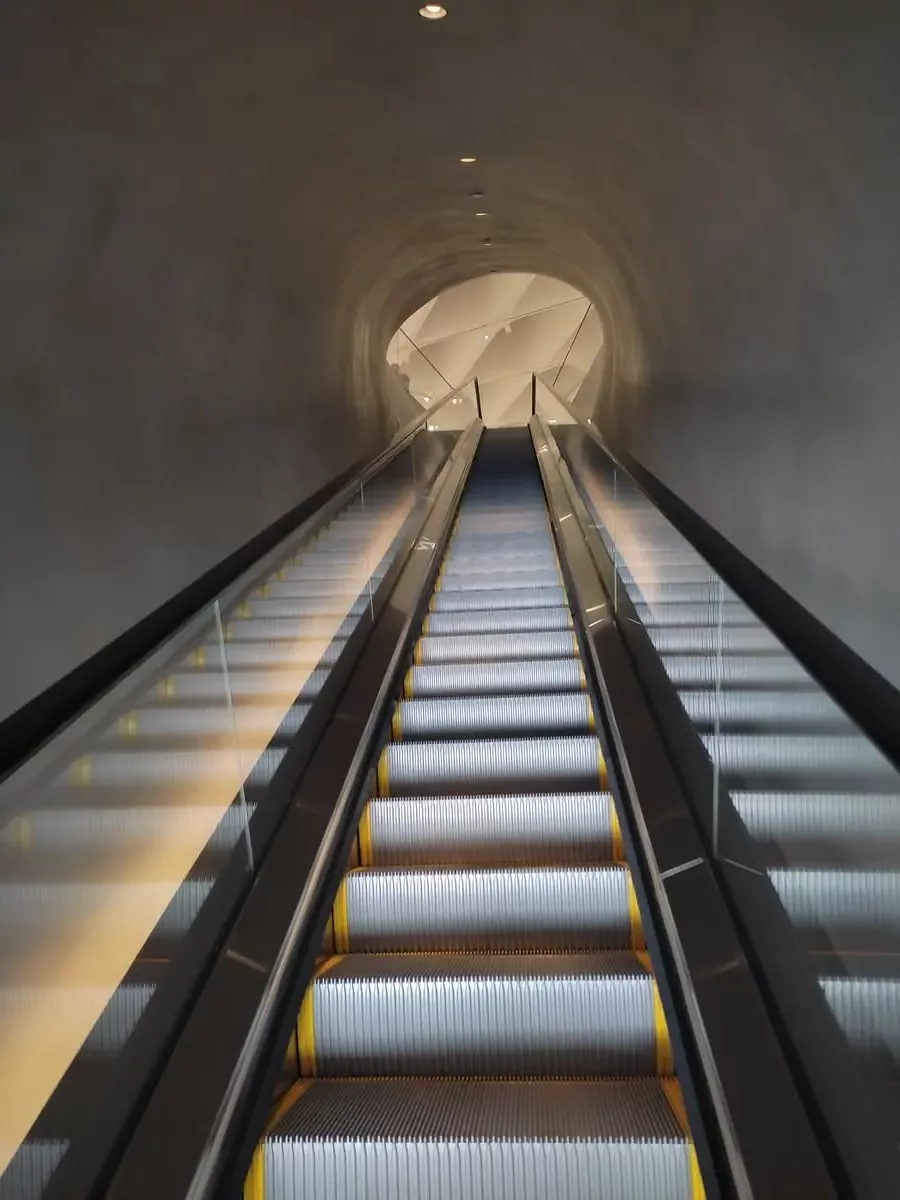 A rather daunting escalator – maybe you are meant to feel "birthed" into the gallery space
I hate to admit it but I am not the biggest art connoisseur and definitely not too much into modern art.
My main reason to visit the Broad was the Mirrored Room. Mirrors and twinkling lights – what's not to like.
I would maybe have left right after but as I was waiting for my turn in the Mirrored Room the museum guard asked me what other art work I was excited to see during my visit.
"Nothing really – no clue what there is" didn't seem a great response. So I asked for his recommendation and then felt honorbound to go check it out.
Surprisingly, looking at the artwork was a highlight of my day. There weren't so many pieces as to be overwhelming and many of them were just cool and fun.
Not sure I got much of the deeper meaning but I enjoyed looking around and that does count for something.
Apparently, not all art critics are impressed by the collection as a whole (maybe that is why I liked it) but here are some of my favorite exhibits:
Balloon Dog (Blue) by Jeff Koons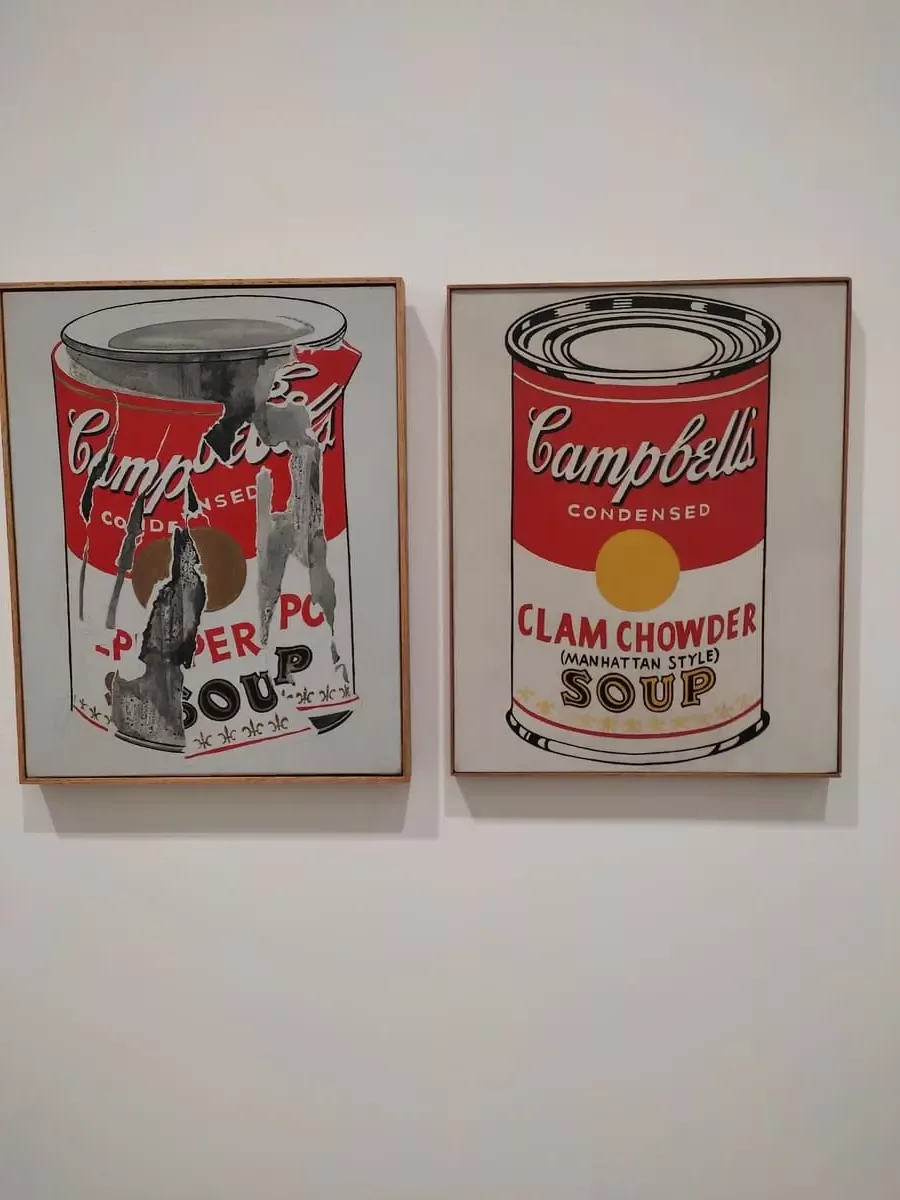 I believe the soup can picture on the left was bought for $11.8 million!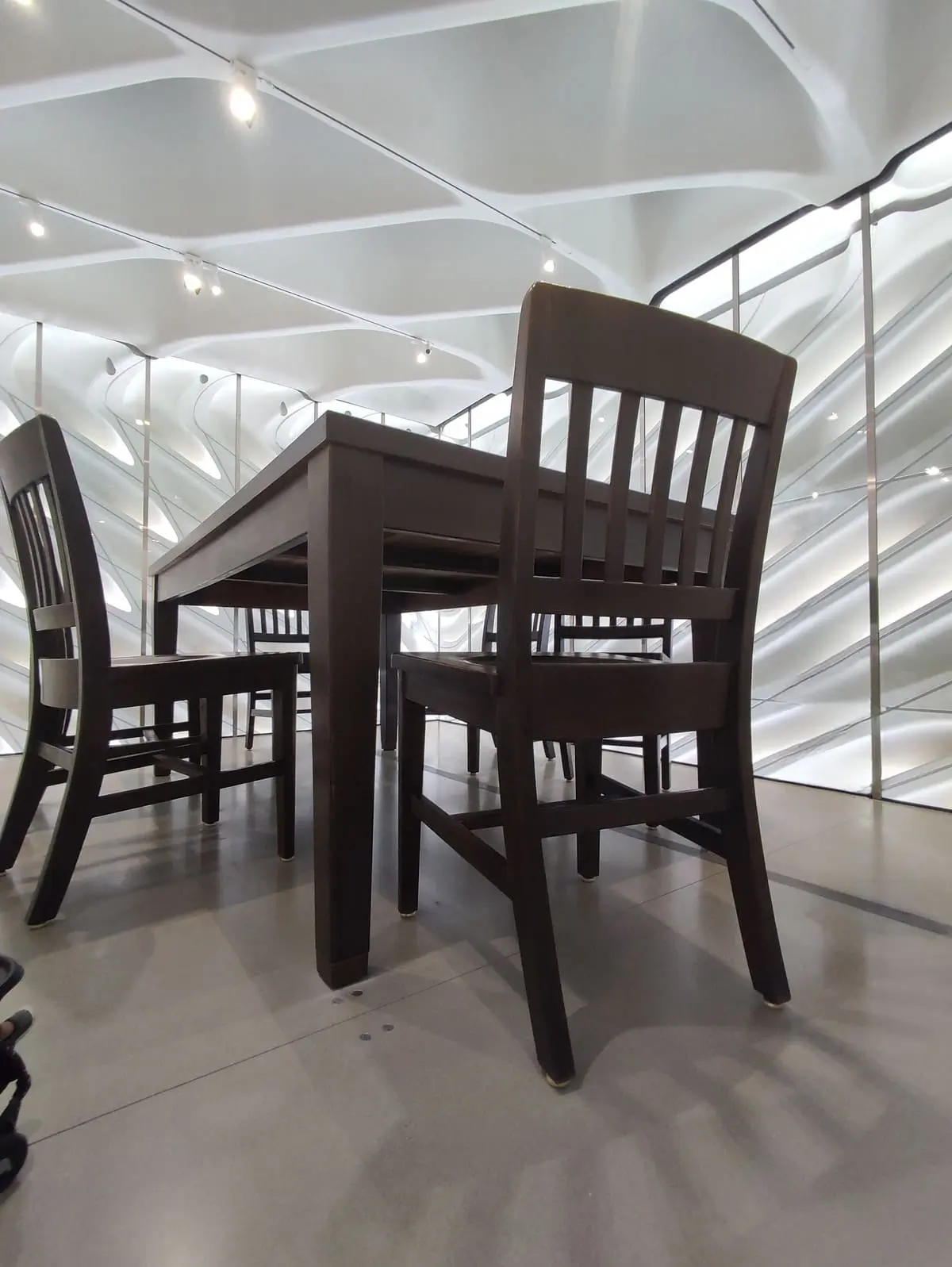 The huge table and chairs by Robert Therrien were an interesting experience
Coup de Chapeau II by Roy Liechtenstein – who doesn't like some comic art?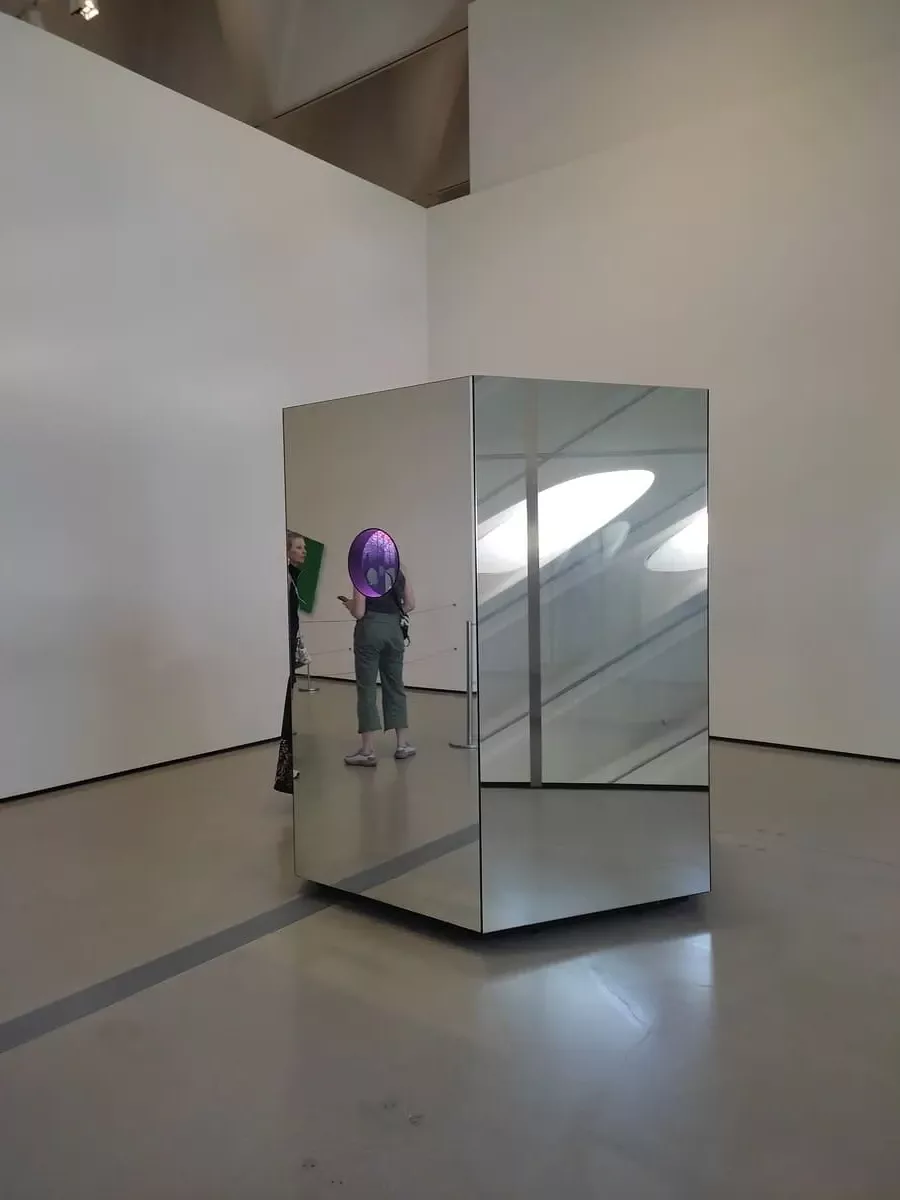 This is the second installation by Kasuma at the Broad (no separate ticket needed). You have 45 seconds to walk around and peek into the peepholes in different heights to see the shifting patterns.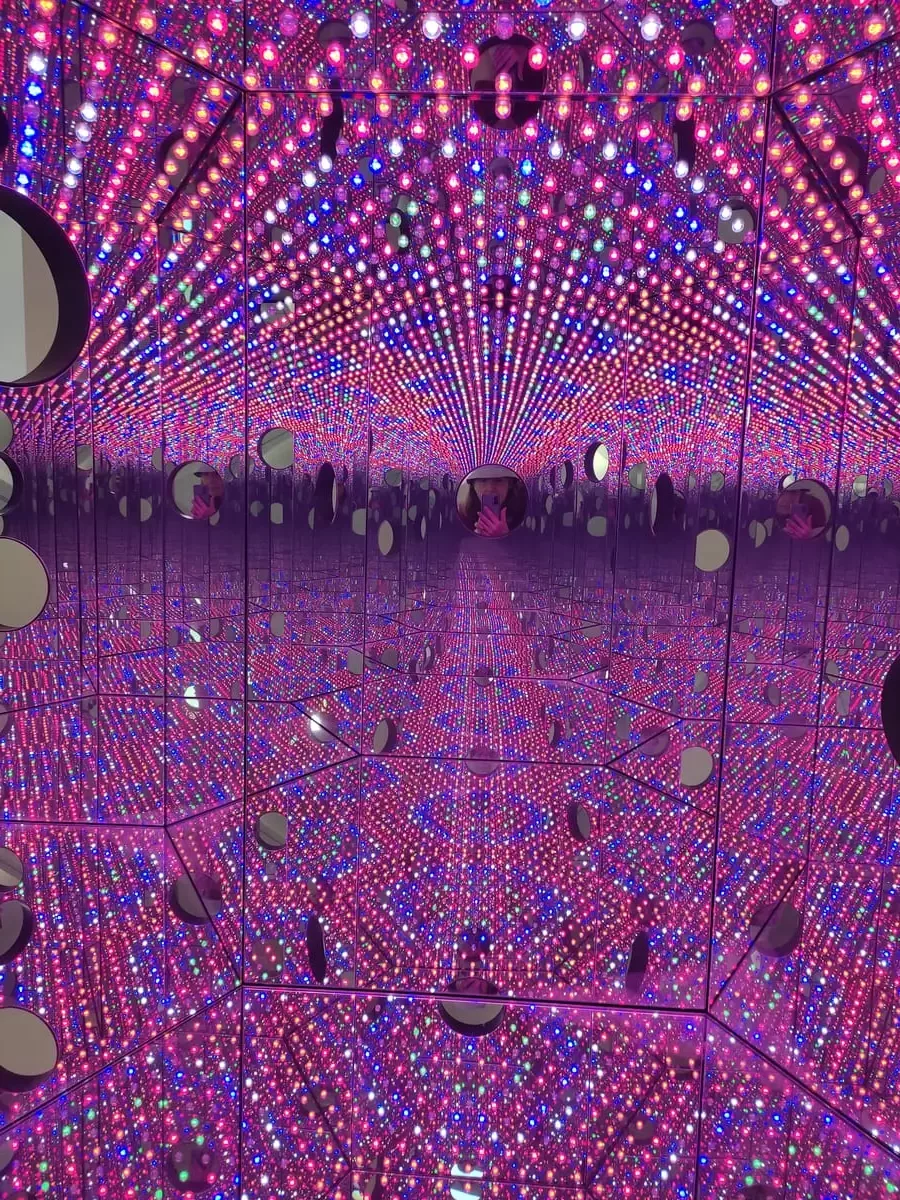 Angels Flight
My next stop after the Broad was this short furnicular, connecting Olive Street and Hill Street.
On my many visits to Los Angeles and while working in downtown I had never been on Angels Flight. I believe it was out of service for quite some time.
But on this trip I finally managed!
The ride is very short but it is inexpensive. It costs $1 if paid by cash but only $0.50 with a TAP card.
If going downhill, like me, you pay at a little kiosk prior to entering the wagon. If going uphill you pay after your ride when disembarking.
The ride was very short but fun. It was a little creaky and spooky so maybe it is just as well that the ride isn't much longer.
It wasn't the hugest highlight but fun and I am glad I finally got to do it.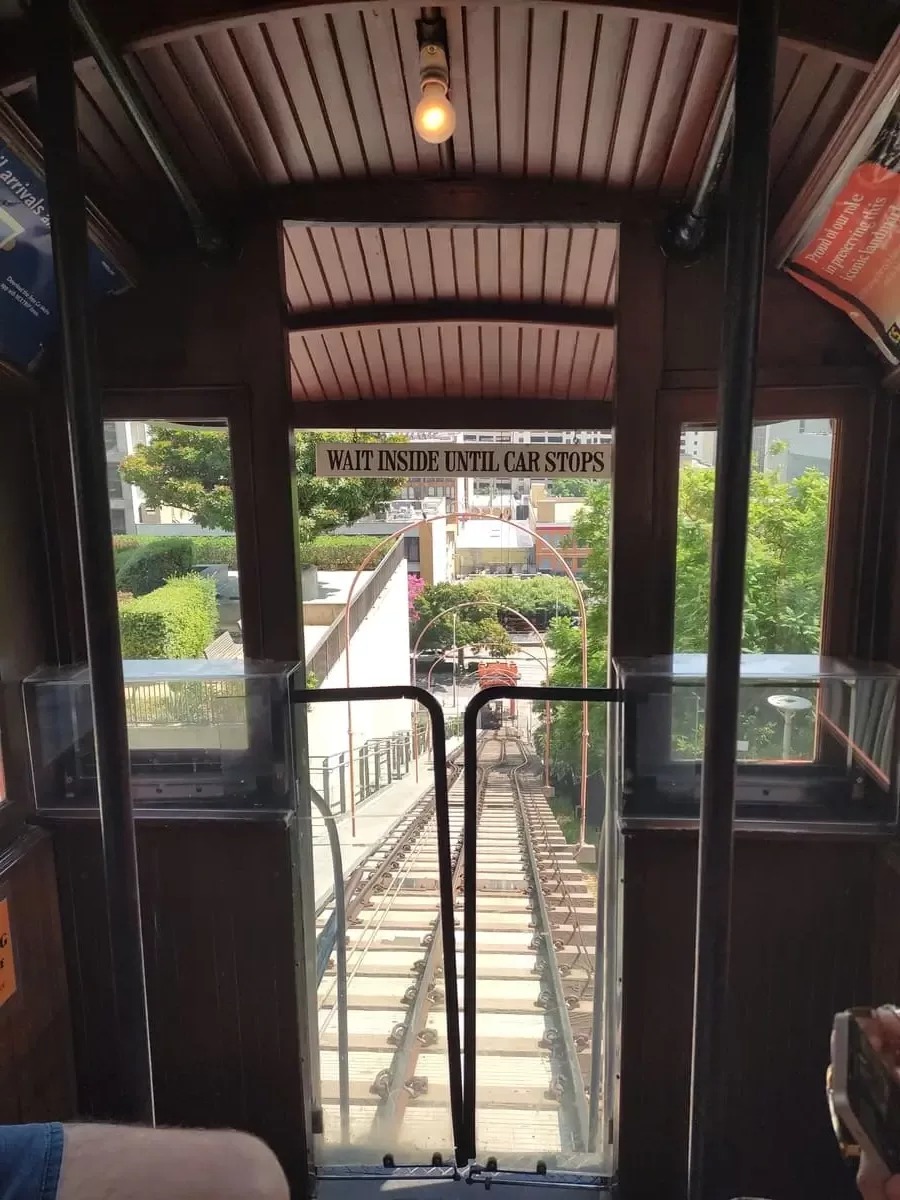 I was relieved when we arrived safely at the bottom of the hill
Grand Central Market
When stepping off Angels Flight you are right across the street from Grand Central Market.
Grand Central Market is both a traditional fruit and vegetable market and a food court. Again I had never been (what did I do with my time when I lived in LA?) and it has been on my bucket list for a while.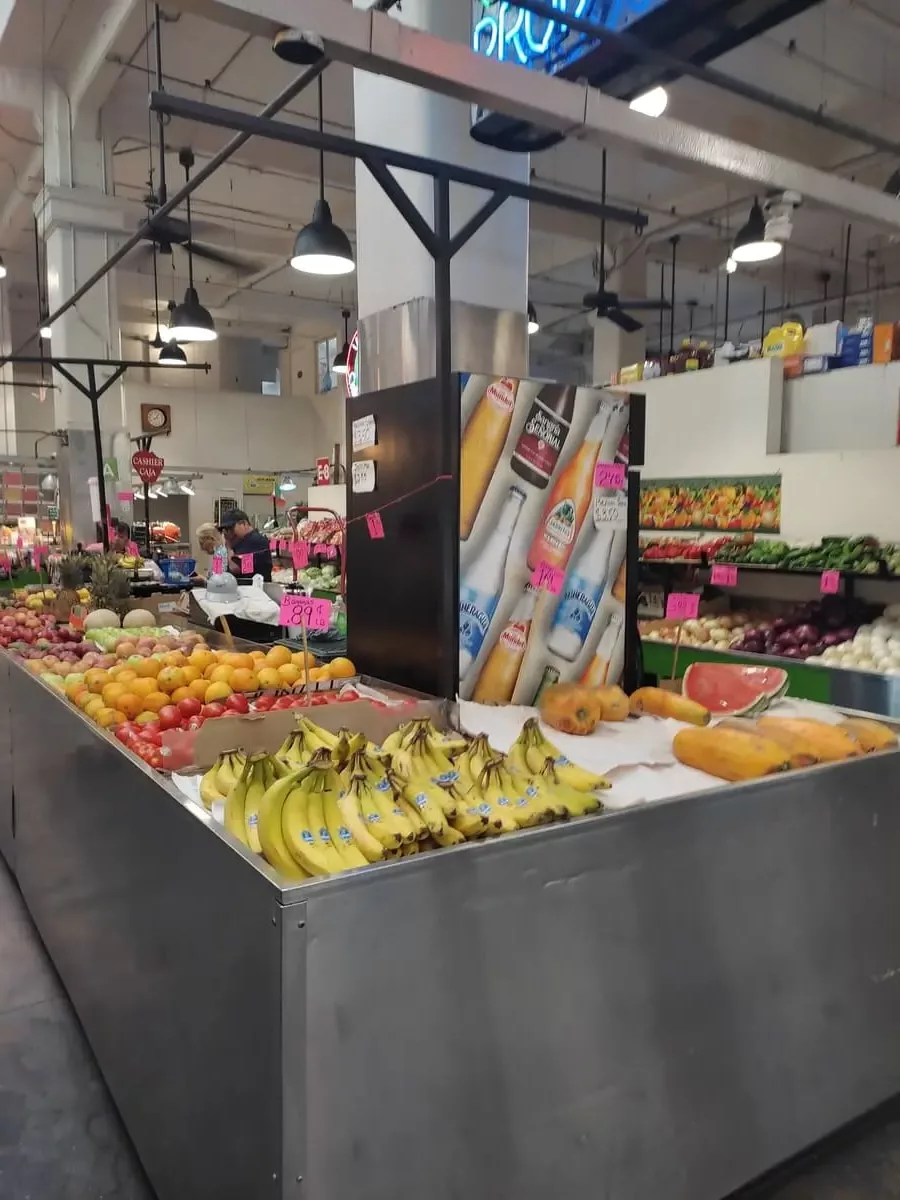 I wasn't in the market to buy any produce but fruit in Southern California is amazing
Unfortunately, it was already afternoon when I got here. I didn't really feel hungry, especially as I was planning on a big dinner at the Magic Castle later on that evening.
So I just took a look around without eating anything. Hopefully, I will get to do sometime in the future.
The stalls did look enticing and I have read great reviews.
If you manage to get there hungry, Sari Sari, Shiku and Eggslut seem to be popular vendors.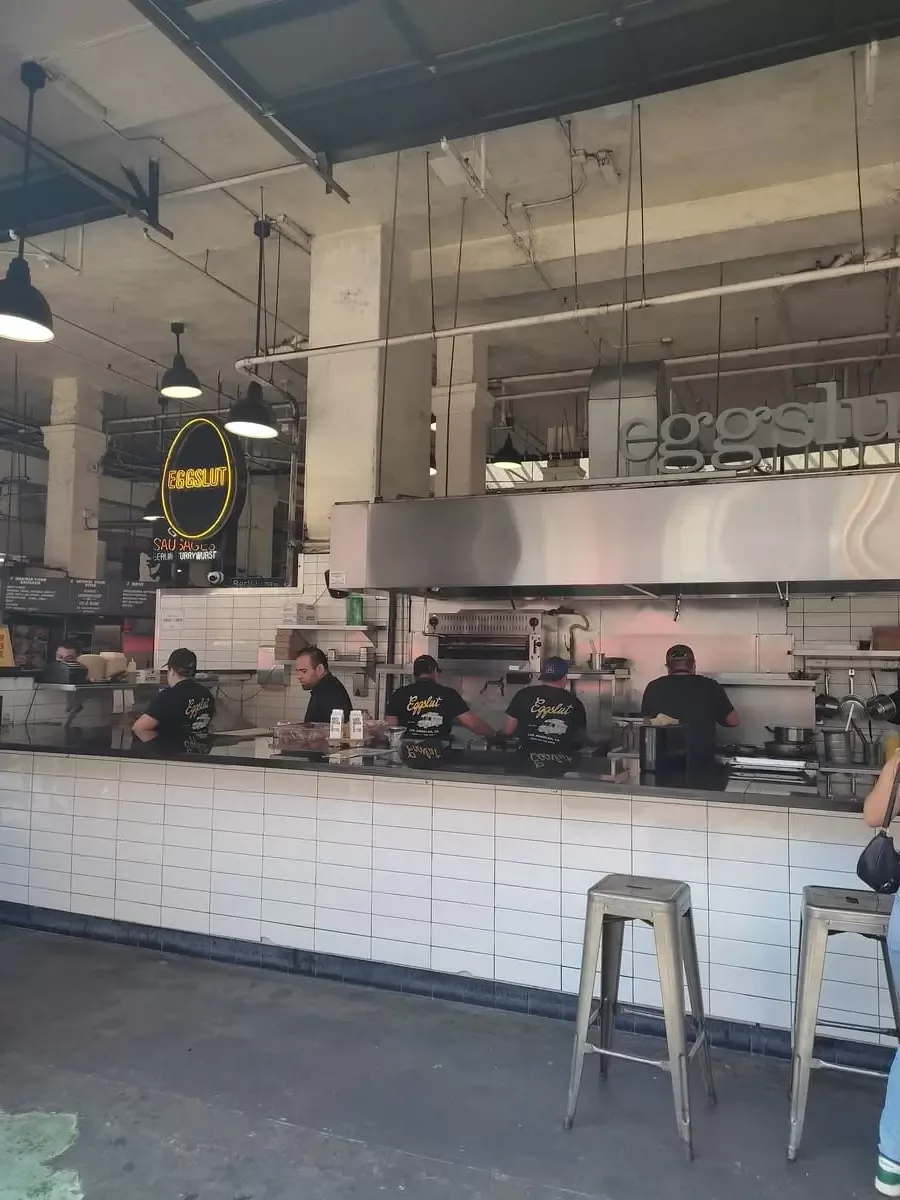 The Bradbury Building's outside is pretty but far less remarkable than the interior
My next stop was the Bradbury Building. You may recognize it from Blade Runner and various other movies and shows.
It is still used as an office building so is only semi-open to the public. You can enter the lobby and are allowed to take pictures with phones only.
There were several security persons inside and they were quite strict so you won't be able to go up the steps or set up a fancy camera.
The angles weren't great for taking pictures (or maybe my phone isn't the greatest) so I am not sure if they show how beautiful the building is.
I absolutely loved it. I wish they built like that today. Especially the glass ceiling and the ornate elevator were wonderful.
I have a weakness for conservatories so it isn't surprising that I loved the serene atmosphere evoked by the glass ceiling
Walk to Olvera Street
Now I was on the way to my last major stop, Olvera Street. As I walked on, there were far less people (i.e. no tourists).
It still felt safe though as I first passed by the LA Police Department. How dangerous can that area be?
Scene of many police shows on TV
Right next came City Hall and the LA Courthouse.
There were surprisingly few people to be seen near City Hall and the Courthouse
Olvera Street
And soon after I reached Olvera Street, the historic area where Los Angeles (originally El Pueblo de Nuestra Señora la Reina de los Ángeles de Porciuncula) got started.
It has a strong Mexican vibe and is basically LA's version of Old Town in San Diego.
Now, if you have a chance to visit San Diego's Old Town it is bigger, more upscale and has more attractions, but if you won't get that far south Olvera Street is still worth a visit.
Here you will find stalls selling cheap souvenirs and Mexican candy. I was a bit sad to see that many of the stalls were boarded up. I assume this is still due to the pandemic though it might have been seasonal.
The colorful stalls and tile floor made me feel like I was on a Mexican vacation
Inside a building on the left side of the street (coming from City Hall) you will find public bathrooms as well as Mr. Churro.
Definitely grab a tasty treat there – people come all the way from the valley for these churros!
Union Station
There was still more I would have liked to see in the Downtown area but it was getting late. I wanted to cool off a bit and chill out before getting dressed up for my evening at the Magic Castle.
So I made my way from Olvera Street to Union Station (5 minutes tops). Union Station was opened 1939 and is one of the iconic US train stations.
The first time I saw Union Station I mistook it for a church
Coming from Europe I am always surprised by the grandeur of US train stations. Marble floors, a richly decorated ceiling and leather seats in the waiting area are quite impressive.
What a contrast between this grand building and the far less impressive Metro trains
It didn't take me long to catch a Metro train back and 25 slightly uncomfortable minutes later (the train was quite disgustingly dirty) I was back in Hollywood.
Is there more to do in Downtown Los Angeles?
Absolutely!
Due to having an early dinner reservation I had to rush a bit. Aside of exploring the Biltmore Hotel and the Public Library and taking time for a nice meal at Grand Central Market or Olvera Street there were several other sights I would have liked to include:
MOCA Grand
Yet another free museum with modern art. I have never been but it is definitely on the list.
The Last Bookstore
For me, any bookstore is a good bookstore but some are definitely better than others. The Last Bookstore looks amazing on pictures and has an excellent Google Rating of 4.7. It was on my itinerary but had to be cut – but not for forever.
Cathedral of our Lady of the Angels
We attended mass at this Cathedral some years ago but you can also do a self-guided tour to explore the building and its artworks
Chinatown
I love the bright colors and quirky shops of this ethnic neighborhood. My favorites are the candy shops with their exotic sweets.
Japanese Village Plaza
On our trip to San Francisco last year we loved Japantown so I really wanted to check out the Japanese shopping area near downtown LA. Unfortunately, I ran out of time (and stamina) but I can't wait to get there next time.
How long do you need for Downtown Los Angeles?
Difficult to say as it will depend on your interests and the time of your visit.
You can easily spend a full day visiting sights if you don't just walk by but go inside and take part in tours/explore a bit.
If you are in a rush you could get a good overview of downtown in half a day.
Of course if you are a true lover of art and architecture a day may not even be enough.
My conclusion
I had a wonderful time in downtown Los Angeles. Travel plans don't always work out like we plan but in this case the reality was better than I had anticipated.
The weather was great. My tour of the Walt Disney Concert Hall, the Mirrored Rooms at the Broad, and the Bradbury Building were definite highlights.
I wish I would have had a little more time to make it all the way to Chinatown, to revisit the LA Library, and to enjoy a delicious meal either at Philippe's or Grand Central Market.
But all in all this was about as perfect a sightseeing day as there is.
Have you visited Downtown LA? Is there something I missed seeing (or at least mentioning)? Let me know in the comments!