With its central location in Hollywood, the Magic Castle Hotel is an obvious choice for a visit to LA.
Over the years, my kids and I have stayed at numerous hotels of all types. If I ask them today one of their top five experiences ever would be the Magic Castle Hotel.
So when planning my trip to Southern California I knew that the Magic Castle Hotel was a great place for families. But would it also be the right choice for a solo traveler?
Read on to find out what I thought and the one reason that makes the Magic Castle Hotel something truly special.
The Magic Castle Hotel is located in a former apartment building
Location of the Magic Castle Hotel
The Magic Castle Hotel is in Franklin Avenue, right next to the Magic Castle (more about that later) and just one block north of the Dolby Theater, the Hollywood Roosevelt Hotel, and the center of touristy Hollywood.
I would go so far as to say that the Magic Castle Hotel has the best location in Hollywood.
In under 10 minutes you can walk to all the main attractions of Hollywood and yet you are far removed from the hustle and bustle of Hollywood Boulevard.
Walking along the quiet and low key Franklin Avenue it is hard to believe how close the noise and crowds of a major tourist hub are.
The Magic Castle Hotel is located at the end of the street, just to the left of the Magic Castle's mansion
Good public transportation
One of the main reasons I chose Hollywood and more specifically the Magic Castle Hotel on this trip was the decent public transportation options.
Right down the street you will find the Hollywood/Highland Metro station from which you can get either to Universal Studios or to Downtown Los Angeles for little money ($1.75).
Alternatively, public bus route 217 will take you down to the Miracle Mile with the La Brea Tar Pits, LACMA, and the Petersen Automobile Museum (about 20 minutes) or to the Original Farmers Market and the Grove (just 15 minutes).
Getting to the airport or to Santa Monica is a bit less convenient, but this is LA so you can't expect miracles from public transportation.
And finally, various tourist tours and buses start out at Hollywood Blvd as well so without a car the Magic Castle Hotel offers an optimal location.
Getting to the Magic Castle Hotel
If you have read some of my other recent blog posts you may have realized that I fell down quite a bit on using buses/trains during this trip.
And the same was true when traveling from Capri Suites Anaheim to the Magic Castle Hotel.
There would have been a fairly straight-forward way to get there with public transit: first a bus to the Anaheim train station, then either Metrolink or Amtrak to Union Station and on with the Metro B-Line to Hollywood.
But even though it would have been doable it was going to take quite a bit of time. I had already cut short my time in Los Angeles when I decided to spend two days at Disneyland at the last minute.
So once again I decided on Uber and 75 minutes later (and $50 poorer) I arrived at the Magic Castle Hotel.
The driveway to the Magic Castle Hotel is clearly marked which is lucky as you would otherwise miss it
Overall look of the Magic Castle Hotel
In order to avoid disappointment there are a couple of things that need to be said first.
The Magic Castle Hotel does NOT resemble the fairy-tale mansion of the Magic Castle at all.
Nor does it look like a hotel really. Basically, it is a converted apartment building. The low-rise wings with rooms surround a small but adequate pool and a nice courtyard.
The entire property does look a bit worn and isn't exactly modern. On the other hand it will make you feel like you just moved into an apartment in Hollywood and not like you are staying at a hotel.
Even though the actual design is different, it reminds me very much of the old TV show Melrose Place. If you have always wanted to live there – this is your chance!
Check-in and Service at the Magic Castle Hotel
Arrival
After my Uber driver stopped in the driveway he looked at me with confusion. This did not look like the entrance to a hotel and he was unsure if he was in the right place!
Unfortunately, my memories of my prior stay were hazy so I wasn't sure either but I assured him that I would figure it out.
Once I stood alone with my suitcase in the driveway, I hesitantly climbed the steps to the front door. It really didn't look like a hotel entrance and I was half afraid I would have to explain why I was entering a strange apartment building!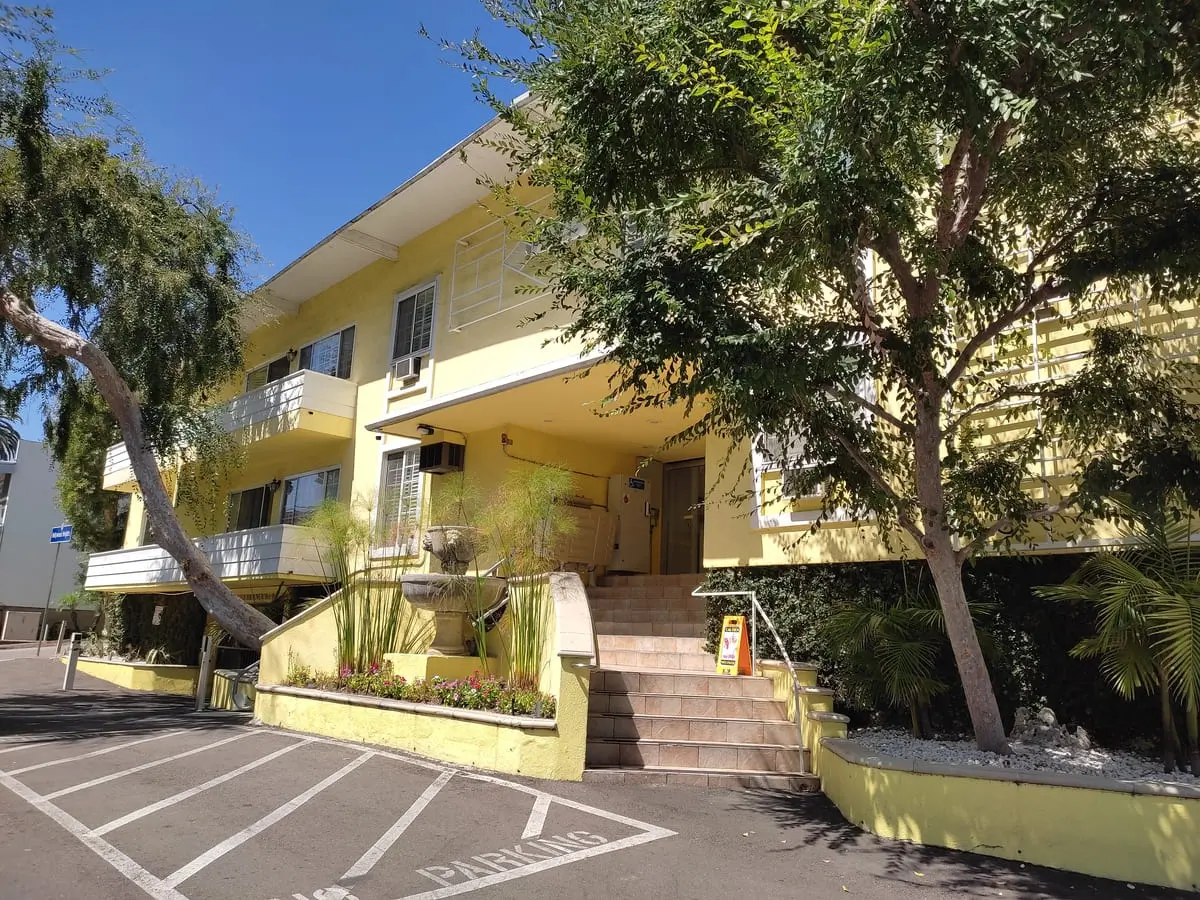 These steps do indeed lead to the Magic Castle Hotel's reception even if it looks like the entrance to an apartment building
Check-in and Service
But once I was inside and saw the reception this first confusion was forgotten.
Check-in went smoothly and one of the things that sets the Magic Castle Hotel apart was apparent: The service is incredibly friendly, efficient and personable.
Even though it was still fairly early in the day, a room was ready for me. I even had my choice between several different ones.
The receptionist explained all the amenities (more about these later) and answered any questions I had.
And every other time I stopped by the reception (more frequently than normal for me due to all the offered treats) I was greeted with smiles and professional help.
At the Magic Castle Hotel they truly know how to make you feel well taken care of.
Top marks for service without a doubt!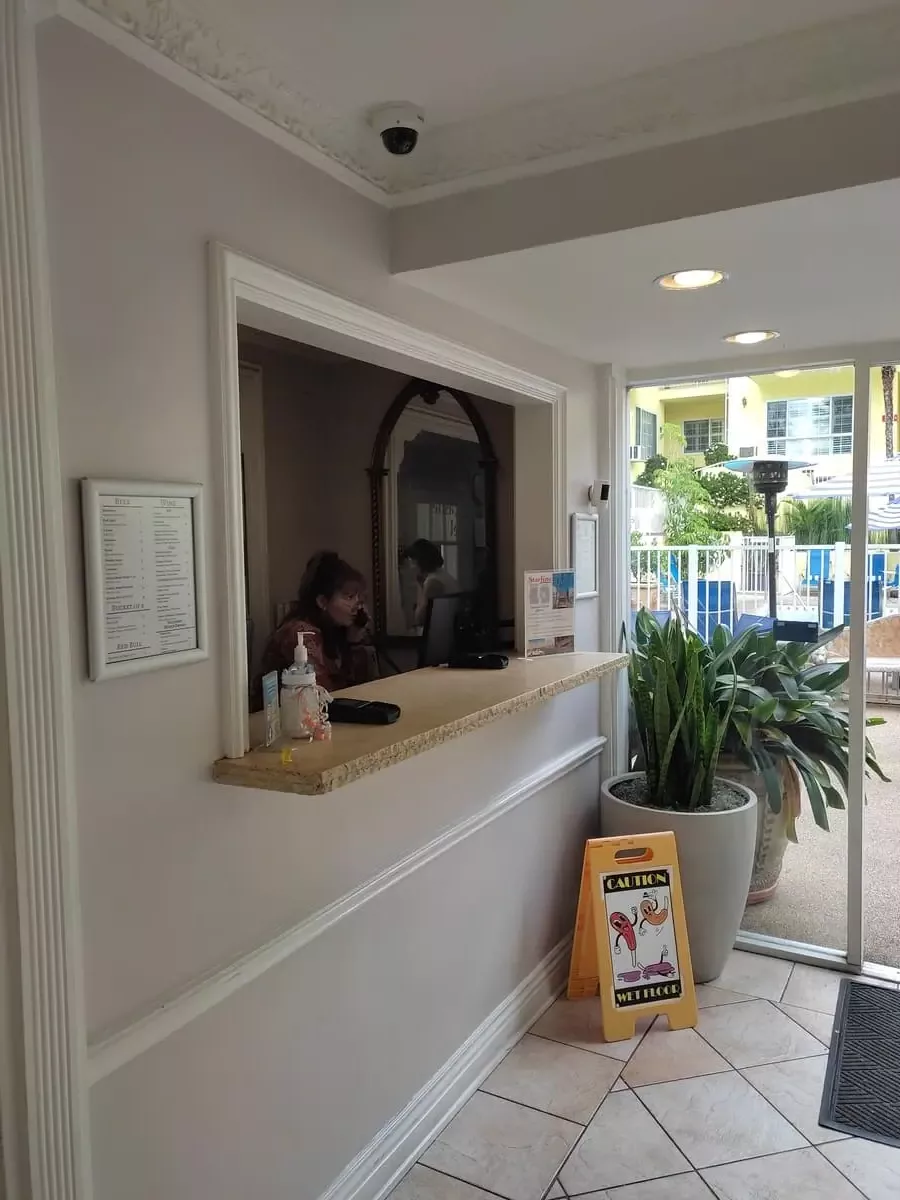 I was greeted with a smile no matter how often I came by to pick up treats!
My room at the Magic Castle Hotel
For our first stay at the Magic Castle Hotel we booked a One-Bedroom-Apartment.
On my own I opted for the much cheaper Single Queen Room.
Whereas location and service at the Magic Castle Hotel are top-notch, my room was a bit more of a mixed bag. I was perfectly happy with it but in the interest of an honest and balanced review I want to also mention the not quite perfect parts.
They offered me a room right next to reception but I opted for one on the top floor instead. I loved looking down on the pool area and as I had little luggage did not mind there was no elevator. However, depending on your personal situation the lack of an elevator may be a bigger disadvantage.
At the Magic Castle Hotel you feel like you are part of the TV show Melrose Place
Your content goes here. Edit or remove this text inline or in the module Content settings. You can also style every aspect of this content in the module Design settings and even apply custom CSS to this text in the module Advanced settings.
A second negative of the room was that it was a bit scuffed and old-fashioned. The furniture had its fair number of dings. Again it resembled a somewhat faded apartment more than a fancy hotel.
I didn't mind – it helped me to feel even more like I was on the set of Melrose Place. But if you are used to upscale hotels and on the picky sides it may bother you.
Finally, there was a slight noise issue. First, you do hear music and voices from the pool. I actually loved that – it gave it a vacationey feel – and it was quiet at night.
Secondly, there was a connecting door between my room and the apartment next to it and no sound-proofing.  The family next door was fairly quiet but with noisier neighbors it could be an issue. You could hear every word that was said (and if my French was better I could even have understood what they were talking about).
I do not remember this problem from our stay in the larger apartment so it probably depends on what room you are in.
Bed and pillows were top of the line
But on to the positives of my room: There was a decent desk with good plug ins and a chair. If you had to do some work you could definitely do it here.
The closet was large and there was finally a safe in the room. I hate not having a safe. I end up hiding my ID/cash etc. all over the place and then have a hard time finding it when I move on. (Huh, maybe that is a me-problem?)
Funny story:
Years ago we had just checked into a hotel in Florida when security came by "on a special mission".
Apparently the prior occupants of the room had a new laptop that didn't fit into the tiny room safe. So the hid it between the two mattresses on one of the beds and then forgot about it when they moved out.
Luckily, Apple laptops seem to be quite sturdy – it looked fine even though my kids had been jumping around on the bed!
And best of all, the bed was the best. It was definitely the most comfortable bed during the entire trip (though my bed at the Inn at Venice Beach was also great).
I especially loved the pillows. If you knew how much I dislike pillows in general – they all end up on the floor – you would know how surprising that is.
One thing about the bed though: it was so so high up (you can see on the picture that the bed surface is higher than the desk). I was fine with that but you definitely wouldn't want to fall out!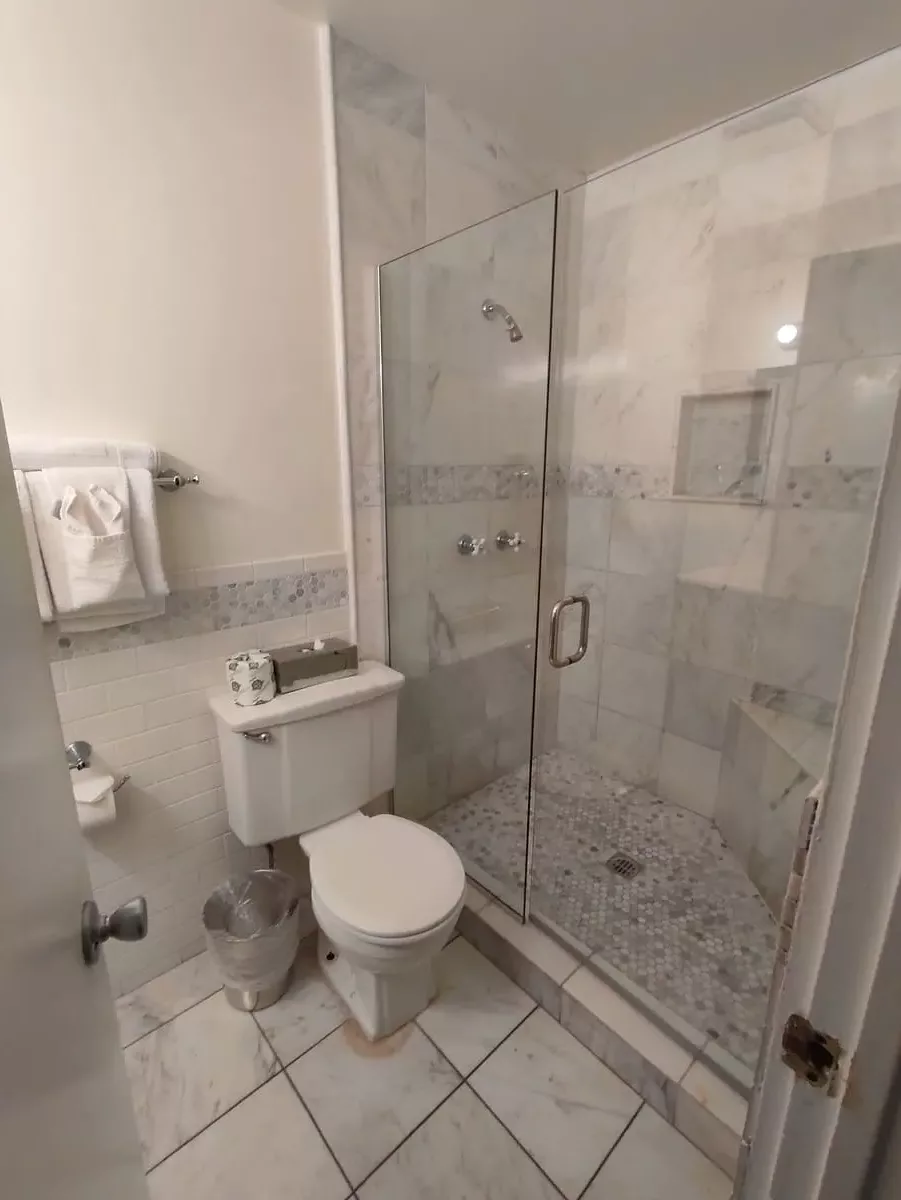 I did appreciate the big shower with seat
The bathroom was absolutely fine. No tub but a large shower with a seat to sit on (great for shaving your legs or whatever).
There were also plenty of nice bathroom amenities, like shampoo, conditioner etc.
So all in all, the room was perfectly fine but not outstanding (aside of the wonderful bed).
In the interest of comprehensiveness – most rooms at the Magic Castle Hotel are larger apartments. On our prior visit we stayed in a One-Bedroom-Apartment.
I have a couple of pictures though they are possibly outdated. At the time the apartments were comfortably furnished with a distinctly Mid-Century charm (especially the kitchen area).
Please excuse the extra-bad picture quality. At the time I had no idea the photos were destined for the internet!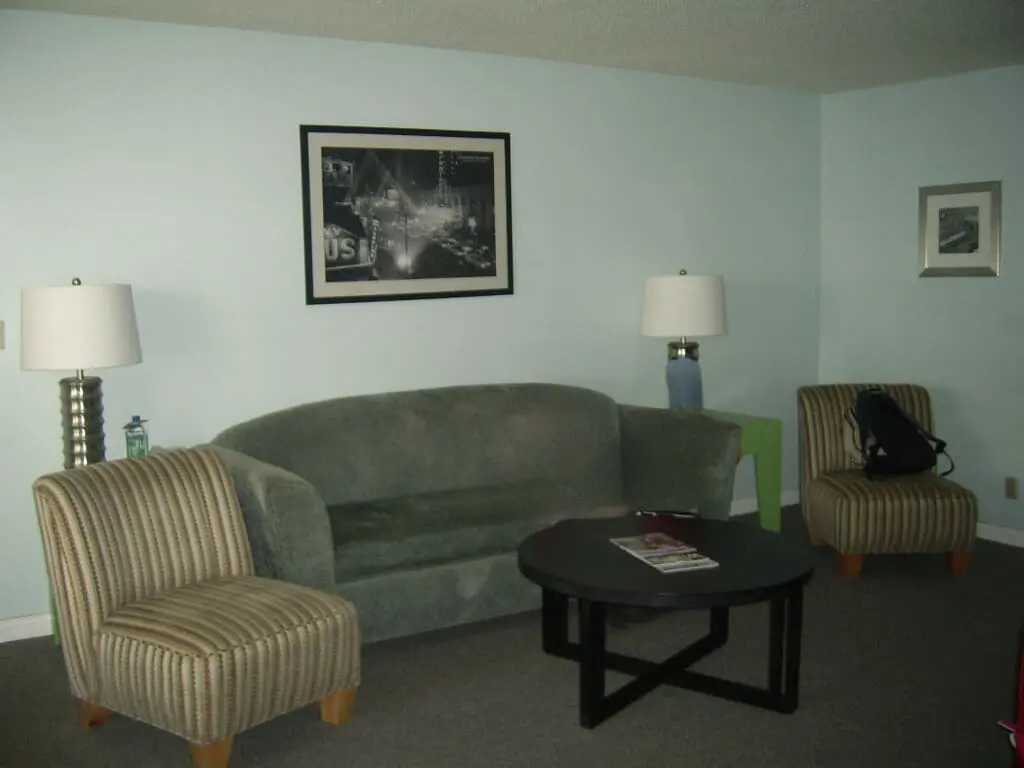 Living room of One-Bedroom-Apartment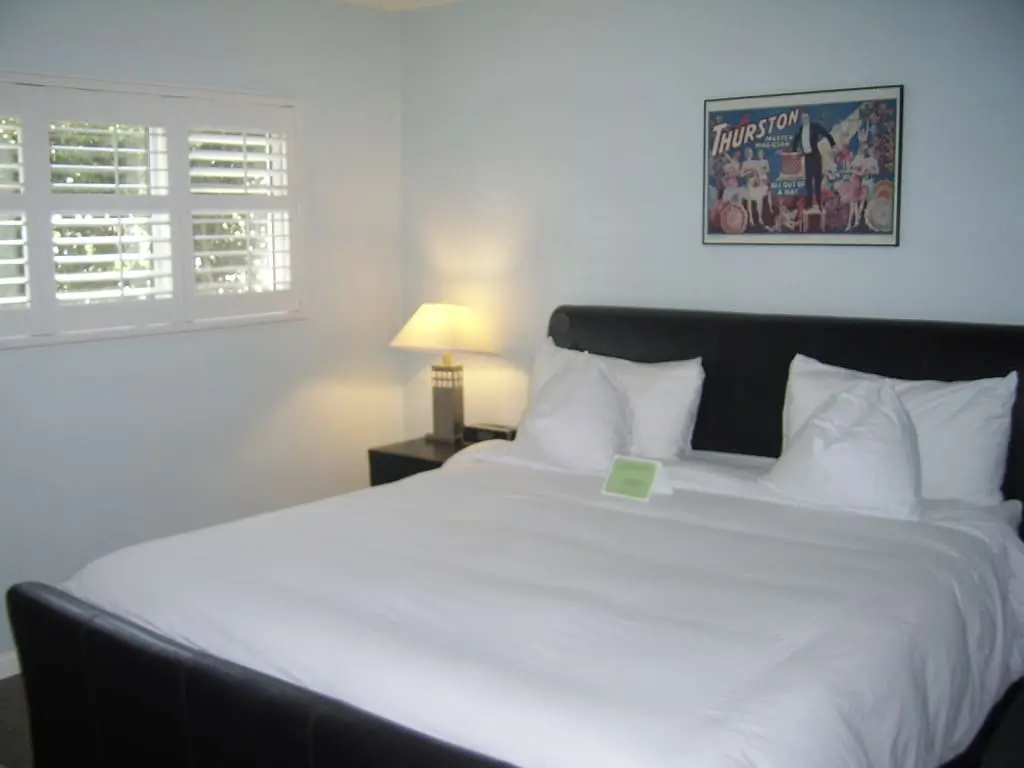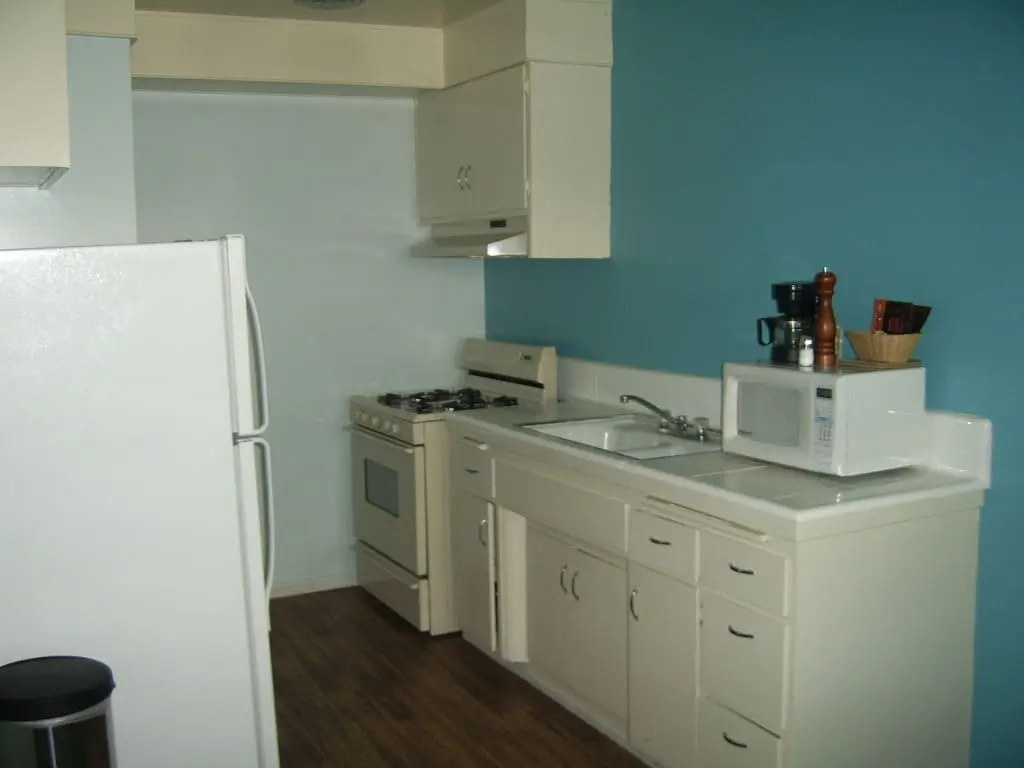 Kitchen of small apartment at Magic Castle Hotel
Amenities at the Magic Castle
While the room was fine (but maybe a little less than overwhelming), this is where the Magic Castle really shines. Yes, even more than service and location!
Continental Breakfast
With your room you get continental breakfast included. As you may know from my other posts I am not a big breakfast fan so I only had a tiny taste.
It wasn't the most impressive breakfast I have seen (but wait for the other amenities).
They offer cereal, some baked treats, juices, coffee, and some fruit. It is a basic continental breakfast. Not exciting but enough to fill your stomach before going out to explore the town.
One definite benefit is the cute courtyard with plenty of tables and chairs. Sitting in the bright California sunshine makes this breakfast!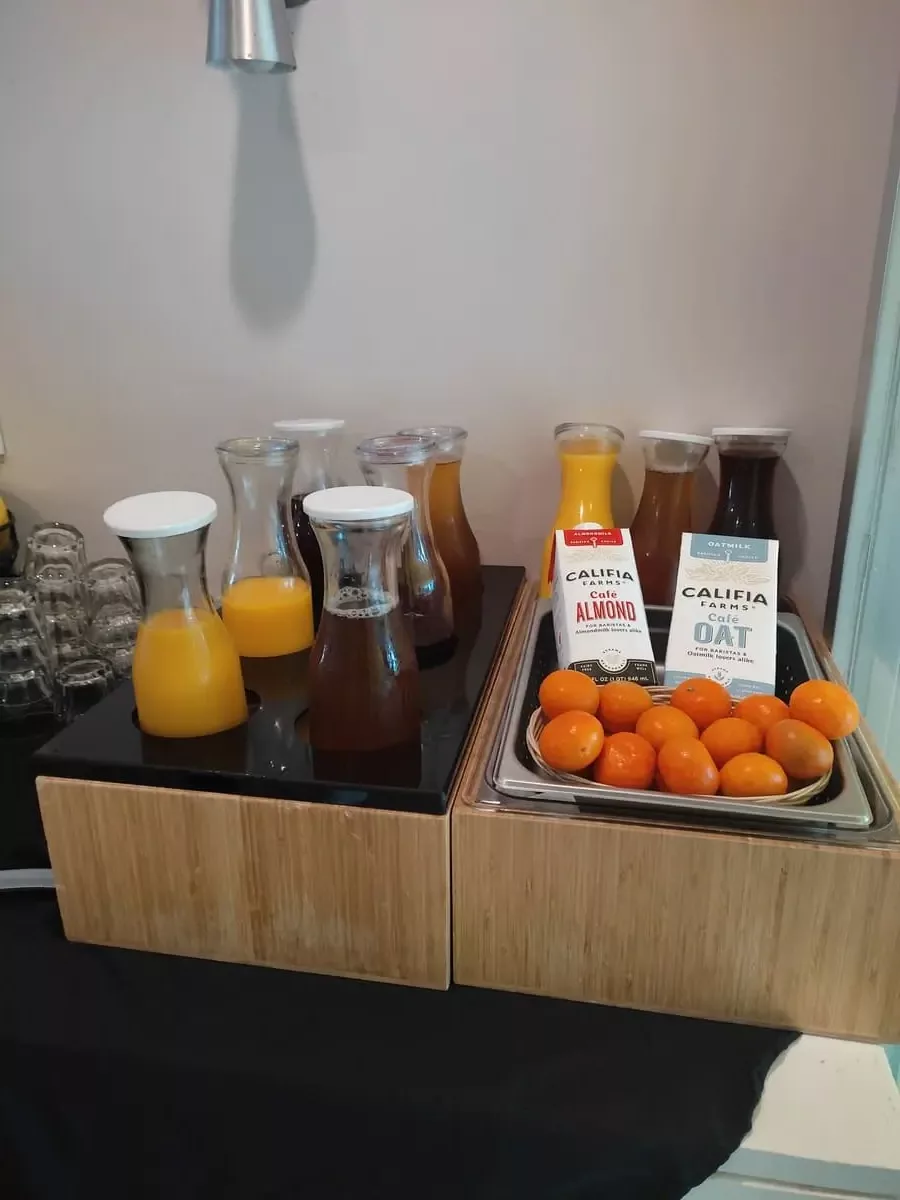 The Pool
The pool is not spectacular but about average for California. In contrast to Florida, California hotels don't usually wow you with their inventive pool design and water features. A plain rectangle is about all you can hope for.
There are a couple of things setting the Magic Castle Hotel's pool apart though: it is comfortably heated, offers various floating devices and pool noodles for the kids, and has a popsicle line.
Yes, they have a special phone right there at the pool and if you call reception on it they will bring you popsicles!
Unfortunately I didn't have time to try it out but what fun for kids!
Between the pool toys, the music during the day, and the popsicle phone you can see that the hotel is geared to families.
Though not horribly loud there definitely was some noise from the pool. I enjoyed the music and happy splashing (it was fairly muted in my top floor room).
In contrast to most hotels, the Magic Castle Hotel keeps the pool open around the clock (though there are quiet hours from 9 pm to 9 am).
So if you fancy a swim but don't want to compete with hordes of kids you can swim your (short) laps late at night when the little ones are asleep!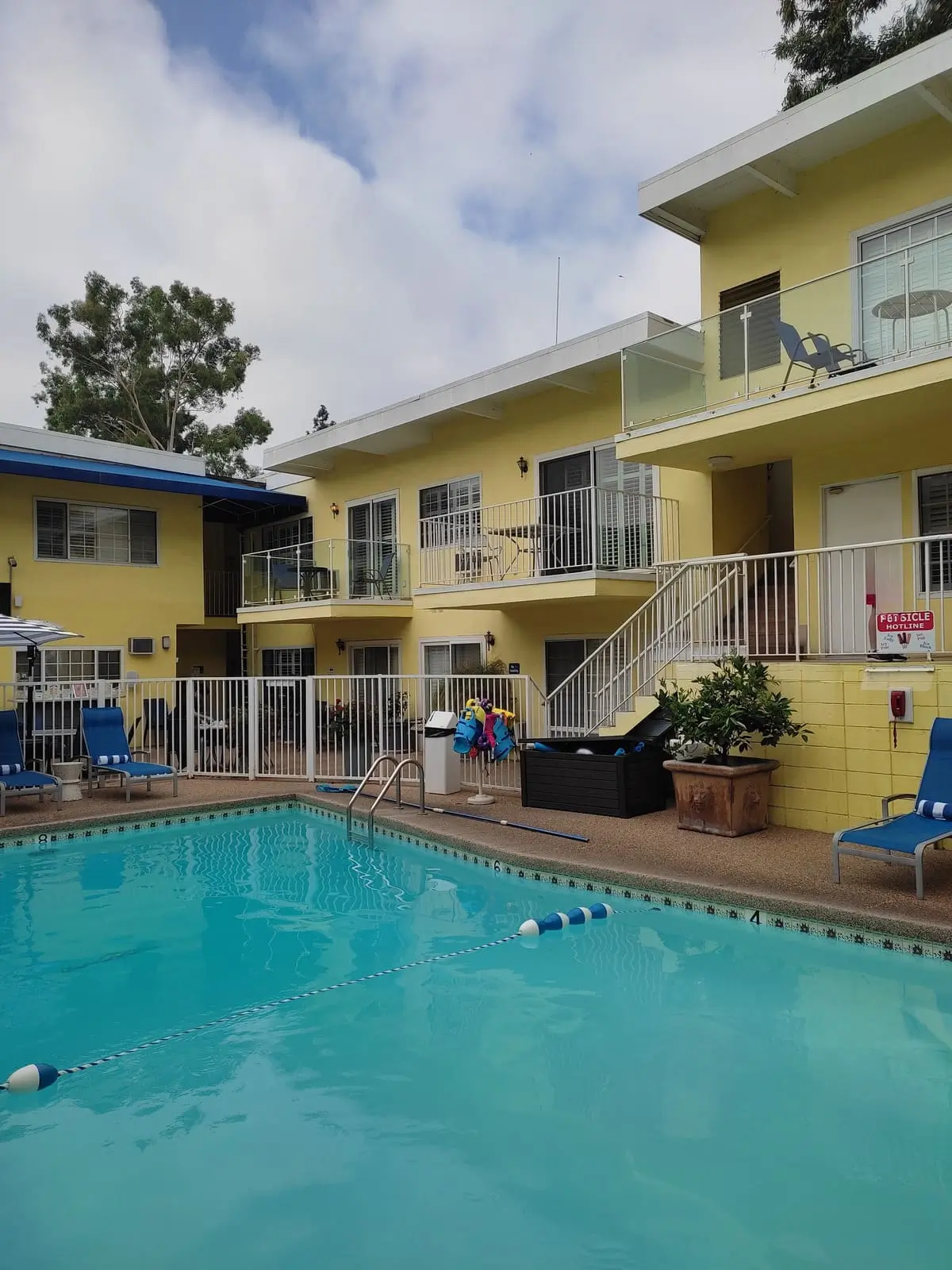 The Popsicle Hotline is definitely the most unique feature of the Magic Castle Hotel
Free Treats
Now we are coming to my second favorite amenity (saving the best for last) at the Magic Castle Hotel: Free treats!
The have a long list of single serve treats – from Cracker Jack to Doritos – and you can get as many as you want!
All you need to do is go by reception and ask for them. Knowing no shame I went by three times during my stay and asked for several at a time.
I actually replaced a couple of meals with these not so healthy snacks to save up for my big splurge meal (keep on reading).
It isn't so much about saving a bit of money. After all, if you can afford a vacation you can probably afford a couple of chips packets.
But it is just so fun to go and stock up whenever you feel like it (and the employees were unfailingly polite and happy to oblige)!
This is definitely one of the things my kids remember the most from our first trip to California as a family.
Free Soda
Almost as nice as the free snacks is the freestyle soda machine where you can fill a cup around the clock.
Personally I prefered the old method where you could get soda cans instead but I understand that this is more economical for the hotel.
Also, if you like to experiment with your drinks the soda machine may be your preference. As a Coke purist I see no need for experiments and definitely prefer my drink canned.
With a top floor room it would also have been easier to take a soda can up than to balance a filled glass.
But nevertheless, free soda is definitely a plus and sure to be a highlight for young guests.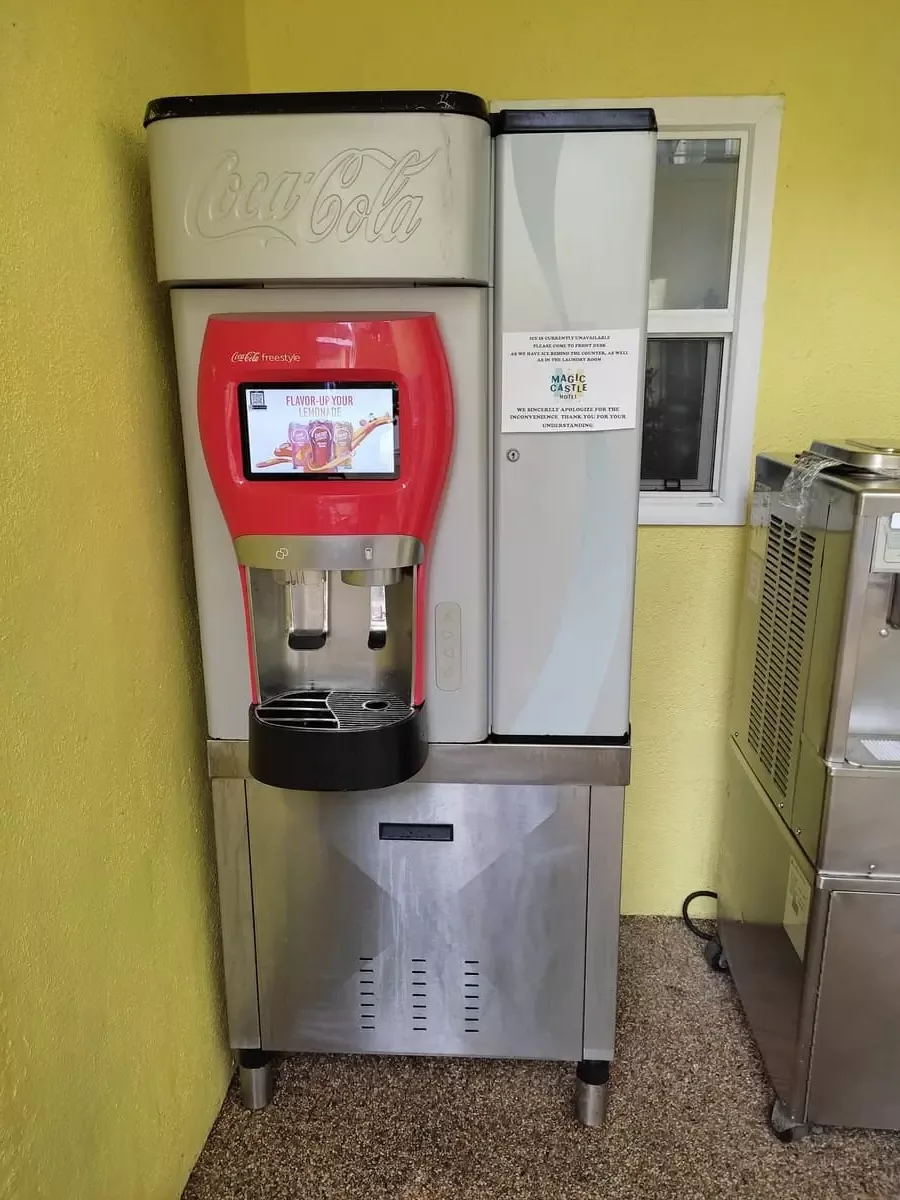 There is no limit to the amount of soda you can drink (unless you are a kid and your parents keep an eye on it)
Free Soft Serve Ice Cream
Right next to the soda machine in the courtyard is the next amenity (yes, they keep on coming): free soft serve ice cream.
Daily from 10 am to midnight you can get yourself a sweet treat here. Unfortunately, I didn't get around to try this but I heard that others loved it!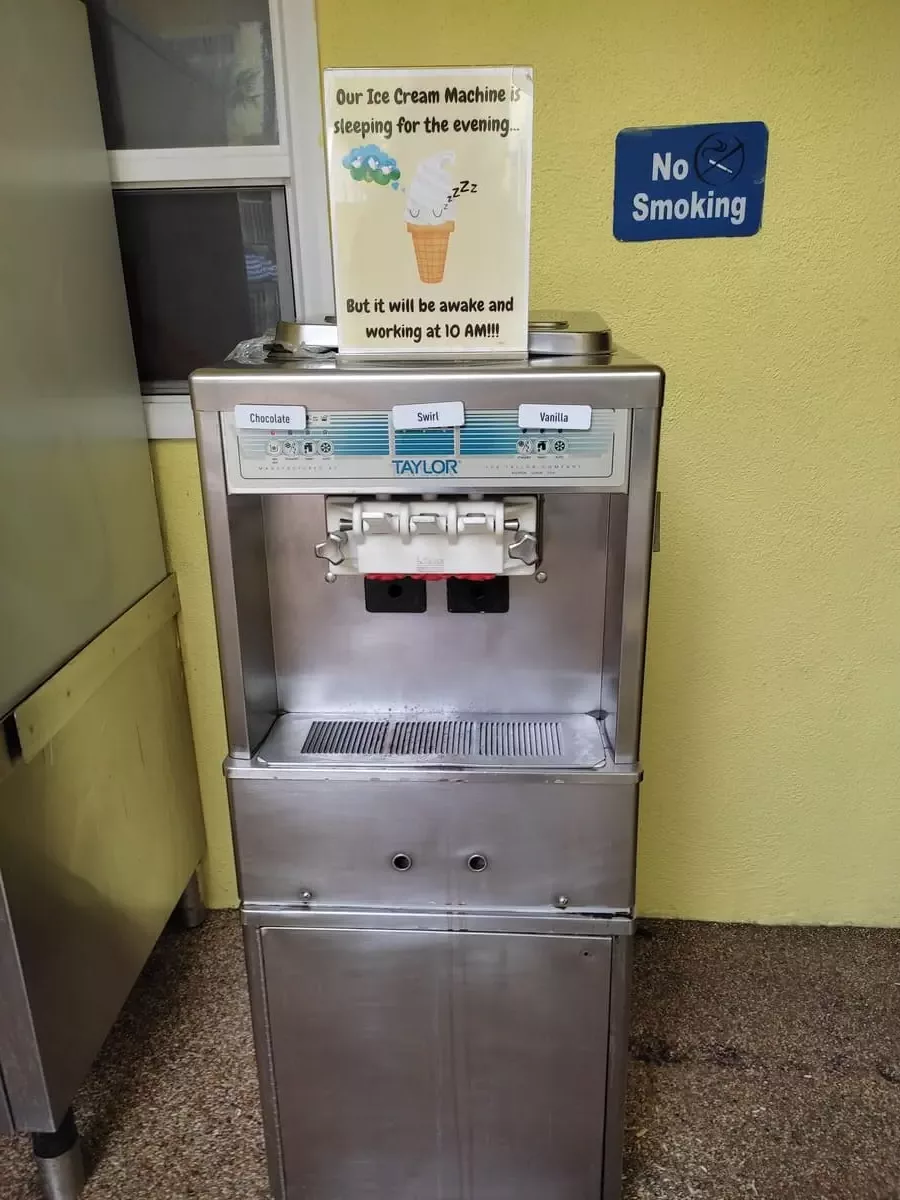 Looking back I wish I had at least had one soft serve ice cream during my stay
Free Laundry
But I definitely did make use of the next amenity: free laundry.
When traveling for several weeks with just carry-on luggage, being able to do laundry is key. On this trip I stayed mostly at timeshares so managed just fine.
But the Magic Castle Hotel is definitely even better than your average timeshare resort.
First of all there are numerous washing machines and dryers available free of charge (including free detergent).
No need for loads of change to get clean clothes
But the Magic Castle Hotel offers something even better: if you stay for at least two nights (due to timing) they wash your clothes for free!
All you have to do is put your dirty laundry in one of the provided plastic bags prior to 10 am and drop it off at reception: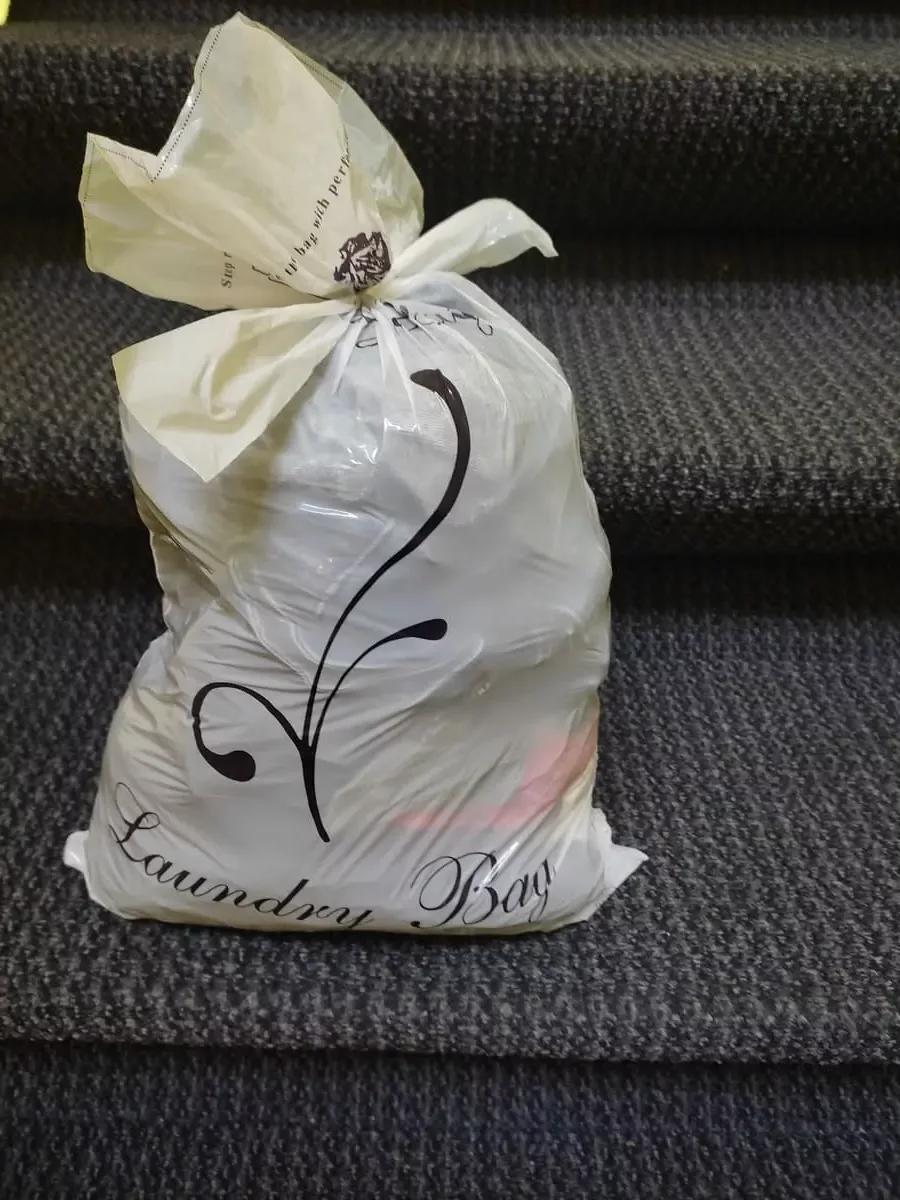 And when you return to your room in the evening, your clean clothes are waiting for you on your bed, neatly wrapped up in a package:
There was even a small sprig of lavender attached – how fancy can you get?
There were a couple of additional amenities I didn't get around to try – like free magic shows at the pool on certain days or games you can borrow.
But now it is time for the most important amenity and the reason I decided to book the Magic Castle Hotel for two nights even though it was a bit of a strain on my travel budget:
Entrance to the Magic Castle
Unless you are a magician yourself or (more likely) know a member of the Academy of Magical Arts, staying at the Magic Castle Hotel is (as far as I know) the only way to visit the Magic Castle.
If you are not familiar, the Magic Castle is the clubhouse of the Academy of Magical Arts. Basically, it is a private venue with restaurant and various magic shows.
It is one of the coolest experiences ever (at least if you enjoy magic shows) and I highly recommend it!
Children (under 21s) are only allowed to visit for brunch on the weekends and that is what we did on our previous trip. Both kids loved it!
On this trip I was going solo so attended dinner and shows on a Wednesday night. If possible that experience was even better!
To attend you not only have to stay at the Magic Castle Hotel (or have an invitation from a member) but you also pay a cover charge ($25-$45 depending on the day) and are required to eat at the restaurant (not cheap).
Not cheap but in exchange you get to spend 5+ hours at the Magic Castle, see 4 or more different magic shows and rub elbows with professional and amateur magicians.
For me that is by far the best perk for staying at the Magic Castle Hotel!
Important: I book most of my hotels via booking.com but I believe in order to use the Magic Castle perk you do have to book directly on the hotel website!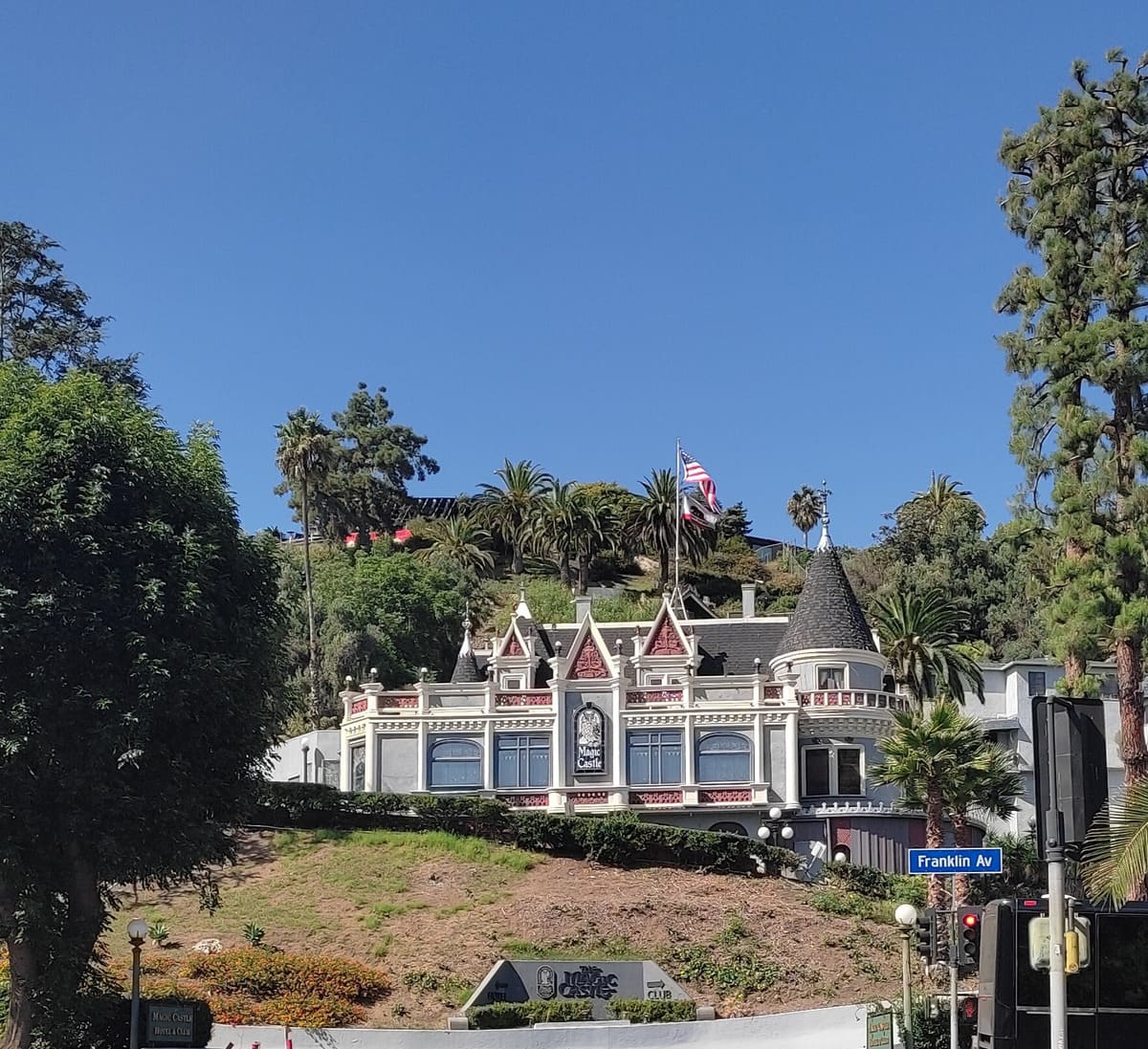 My visit at the Magic Castle was one of the highlights of my trip
Cost of my stay at the Magic Castle Hotel
I paid $490.50 for my two night stay (Tuesday and Wednesday) at the Magic Castle Hotel.
At around $245 per night this was the most expensive hotel on my trip and definitely a bit of a splurge for me.
However, if you compare it to the average hotel price in Hollywood/Los Angeles it is barely average. Sure, you can find some cheaper places but most decent hotels will cost at least as much if not more.
And you get so many extras – from treats to laundry to breakfast – that I felt the value for money was very good!
At around $350 per night apartments are quite a bit more expensive but you will not only havemore room to spread out but the kitchen can save you money if traveling with family.
Pros and Cons of the Magic Castle Hotel in Hollywood
There were a couple of small "areas for improvement" but overall my stay was incredibly impressive. In the interest of full transparency I will note both.
Negatives:
The Magic Castle Hotel is in an old apartment building, not as impressive as most hotels
There is no elevator
The furniture in my room was rather scuffed and worn
My room could have been quieter
Positives:
It has one of the best locations in Hollywood: central and still quiet
The service is incredibly competent and friendly
They offer continental breakfast
You get free soda and soft serve ice cream
My room had a safe, a fridge, and a desk
The hotel will do your laundry for free (or you can use their washing machines/dryers)
You can have as many free snacks as you want
There is free WiFi and it works fine
The pool is heated and open 24/7
You can borrow games and there are pool noodles
Best chance for a visit to the Magic Castle!!!
How long for a stay at the Magic Castle Hotel?
Hollywood is actually a very good location if you are visiting Los Angeles without a car. So you could easily stay here for your entire time in Los Angeles.
Still, if staying longer than 5 days in LA I would probably split my stay over two hotels in different areas (e.g. Hollywood and Santa Monica) to reduce travel times.
So my recommendation for the Magic Castle Hotel would be between two to five nights.
What is there to do near the Magic Castle Hotel?
Not only can you explore all of Los Angeles, but you are only minutes away from the tourist hub of Hollywood Boulevard.
If you are wondering whether Hollywood is even worth a visit go ahead and read my post about what there is to do in or near Hollywood.
Hollywood can be tacky but it is one of the most iconic sights in Southern California
Overall Opinion of the Magic Castle Hotel
If you read through the review (or at least skimmed it) you will already know that I loved my stay at the Magic Castle Hotel. Location, service, and amenities are some of the best I have seen anywhere. 
The hotel is very family-friendly and I believe that this is probably the best hotel in the entire LA area if traveling with kids.
The Magic Castle Hotel is also great for solo travelers or couples but may not be the best option for everyone. If luxury and modern amenities are important to you, there may be other hotels that will serve you better. 
But if you are looking for a place that will make you feel like nothing is too much and that you are well taken care of, the Magic Castle Hotel is an excellent choice.
But most importantly: if you want to visit the wonderful Magic Castle, a stay at the Magic Castle Hotel may be your best/only option to do so. Luckily, staying here is no hardship at all!
Highly recommended!