There are numerous great beach towns all along the coast from LA down to San Diego, but if you are looking for a day trip to the beach from Los Angeles without a car nothing beats San Clemente.
I have visited many of the small communities along the coast and love them all – from artsy Laguna Beach to quaint Newport Beach and upscale Solana Beach. But during my recent trip to Southern California I spent a week in San Clemente and not only did I have a great time but I realized that it is the very best for a quick jaunt to the seaside – even without a car.
In this post I combine all the things I did during my stay at the San Clemente Inn in a one day itinerary that will let you enjoy the very best of this beautiful little town. (There is even a shortened version if you have less time).
The San Clemente train station is right next to the beach and the pier – what could be more convenient?
What and where is San Clemente?
San Clemente is a town of about 64,000 inhabitants in Northern Orange County, about 65 miles south of LA.
Whereas Laguna Beach is known for its art galleries and Newport Beach for its marina and quaint cottages, San Clemente is world-famous for its pier and surfing. During my stay there I even had a chance to attend the Surfing World Championship!
Two things quickly became apparent when I got to San Clemente:
1. The general look of the town is much more cohesive than most other towns in the area
Generally, the beach towns are an eclectic mix of New England clapboard, modern buildings, Ye Olde English cottage, and whatever else you can think of. In contrast, most of the buildings along the main streets in San Clemente have a Spanish look with white stucco and red roofs.
The building along San Clemente's El Camino Real mostly have the same aesthetics
2. San Clemente seems a bit more down to earth and less gentrified
Instead of the the art galleries, home decor stores, vegan restaurants, yoga studios, and fancy boutiques of neighboring towns, you will find sports bars, taco shops, tattoo studios, and second hand shops.
But don't let this deceive you! Yes, it has more of a casual surfer/biker vibe but if you look at it closer you realize that it is a very "clean" version of it. Basically, San Clemente is a Disney version of a hardscrabble beach town.
Streets are clean, pedestrians either upwardly mobile or tourists, and the stores much fancier than one might have expected.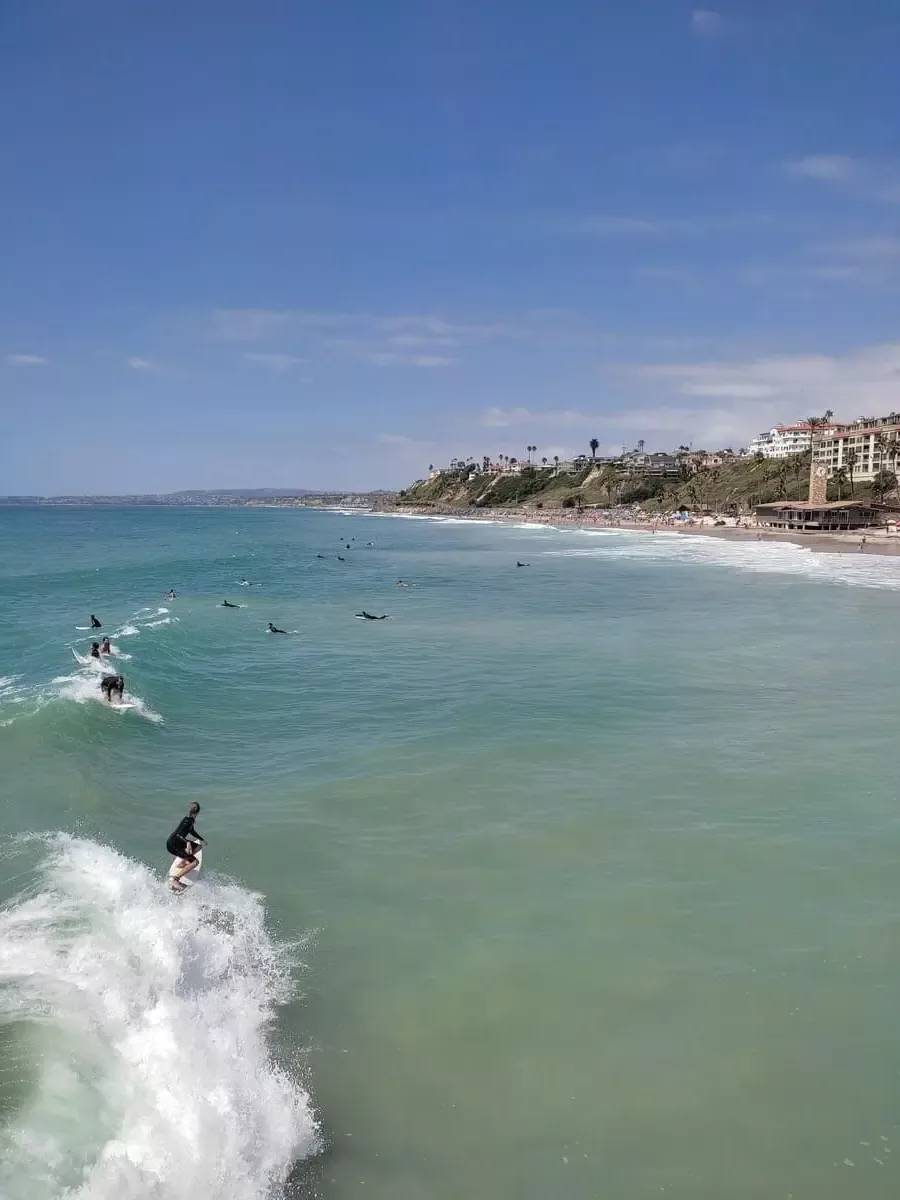 Surfing is big in San Clemente
Why is San Clemente the perfect beach day trip from LA?
Not only does San Clemente offer the perfect mix of sandy beaches, good surf, a long pier, nice restaurants, and interesting stores, but it is also easily reached by public transport from LA.
Whether you are an overseas visitor and want to avoid driving in California or a local who is not keen on looking for parking near the beach and getting stuck in freeway traffic – it is easy and inexpensive to get to San Clemente for the day (especially on the weekend)!
Even better: During the summer season the San Clemente Trolley offers convenient and pleasant public transport in the entire town for free!
How to get to San Clemente from LA by train
A day trip to San Clemente from Los Angeles will work best on the weekend. Not only are there more connections at a convenient time (during the week the train tends to run way early for commuters) but it will also be cheaper.
The below schedule is current as of October 2023. I will update this post regularly but as changes can be unexpected it is best if you check Metrolink's schedule on their website.
Weekend Travel to San Clemente (recommended)
When to travel
Saturdays and Sundays I recommend taking the Metrolink Orange Line train at 8:40 am that will arrive at San Clemente Pier at 10:20 am.
Your best bet for getting back to LA is the 5:47 pm train that arrives at Union Station at 7:38 pm.
Alternatively, you could take the Amtrak Surfliner at 5:20 pm (arrives 7 pm) or at 6:23 pm (arrives 8:04 pm). Taking Amtrak will make your trip more expensive however.
Cost of Metrolink trip on Weekend
The best part about taking Metrolink on a Saturday or Sunday is that you can buy the $10 Weekend Day Pass. This ticket is available at the ticket machines and will allow you to ride any Metrolink train all day on the day of purchase (Saturday or Sunday only). So you can travel all the way to San Clemente from LA and back for just $10!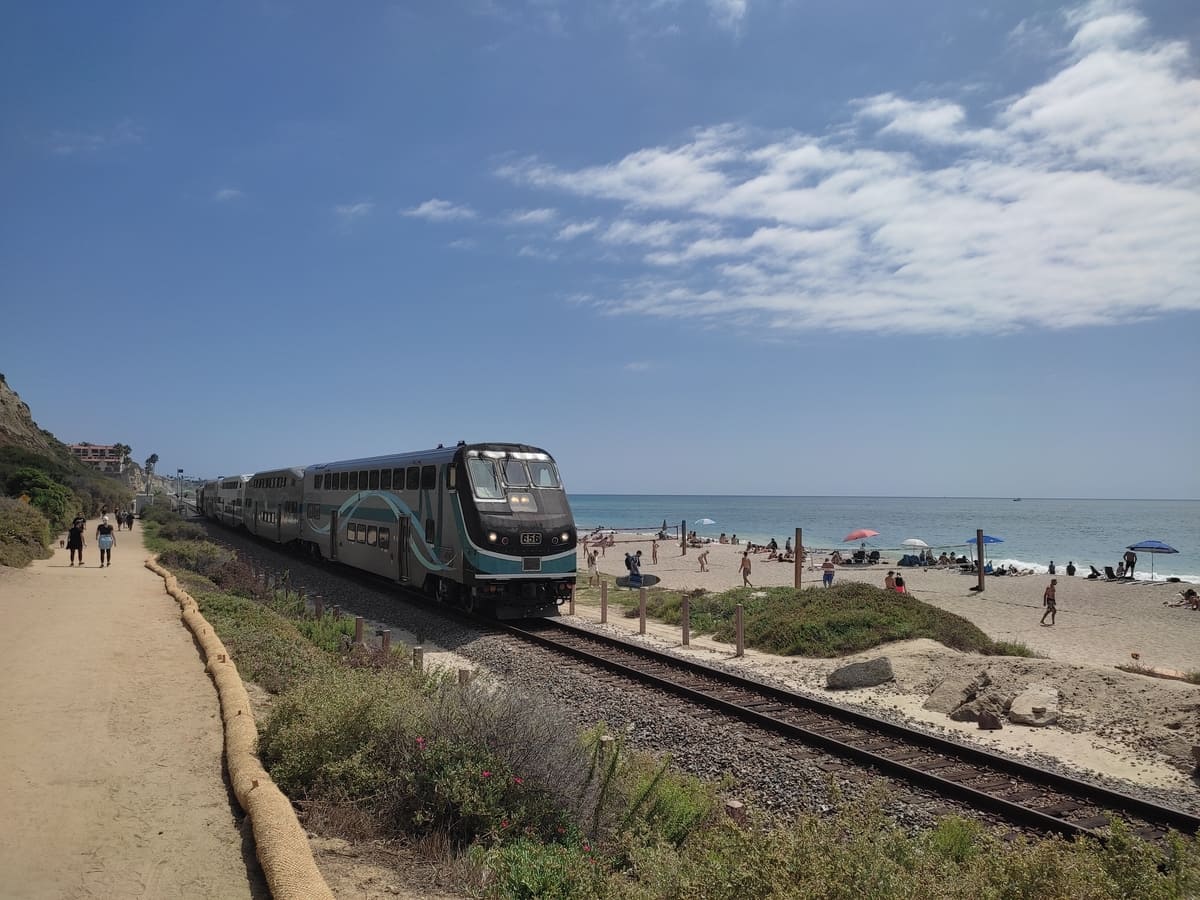 The train tracks run right between Beach Trail and beach in San Clemente
Weekday Travel
During the week, connections are a bit less convenient.
When to travel
You can take the 7:58 am train from Union Station which will get you to San Clemente by 9:38 am. The only return with Metrolink is already at 3:50 pm (arrives Union Station at 5:27 pm). These weekday trains will use San Clemente station (not San Clemente Pier).
If 3:50 pm is too early for your return you can take the same Amtrak trains noted above so you could stay until 5:20 pm or 6:23 pm.
Cost of Metrolink trip on Weekdays
There is no convenient day pass for Metrolink during the week so your total cost will depend on where you start out from.
The ride from Los Angeles Union Station to San Clemente and back with metrolink should cost $27 ($13.50 each way).
One way on Amtrak starts at $23 so a return trip would be $46 and a combo trip Metrolink/Amtrak $36.50.
Some important things to consider
1. There are two train stations in San Clemente (a bit of overkill considering there are only a handful of trains per day): San Clemente and San Clemente Pier.
San Clemente Pier is a bit more convenient but either one will work. Make sure though which one(s) your train will stop at or you might miss your stop and find yourself in Oceanside.
My Perfect Day in San Clemente itinerary assumes you will travel on a weekend so uses the San Clemente Pier station.
2. Both Metrolink and Amtrak are generally pleasant and more or less reliable. However, I would skip the trip on rainy days. My trip from Solana Beach to the Queen Mary in Long Beach turned into an odyssey due to a light drizzle in the morning. I ended up having to catch an Uber from Anaheim instead or I would have been late for my Paranormal Walk Tour!
3. Finally, do check the trains are running during your stay. As the tracks between LA and San Diego are so close to the beach and next to the cliff, mudslides and other natural disasters have disrupted service quite a bit lately.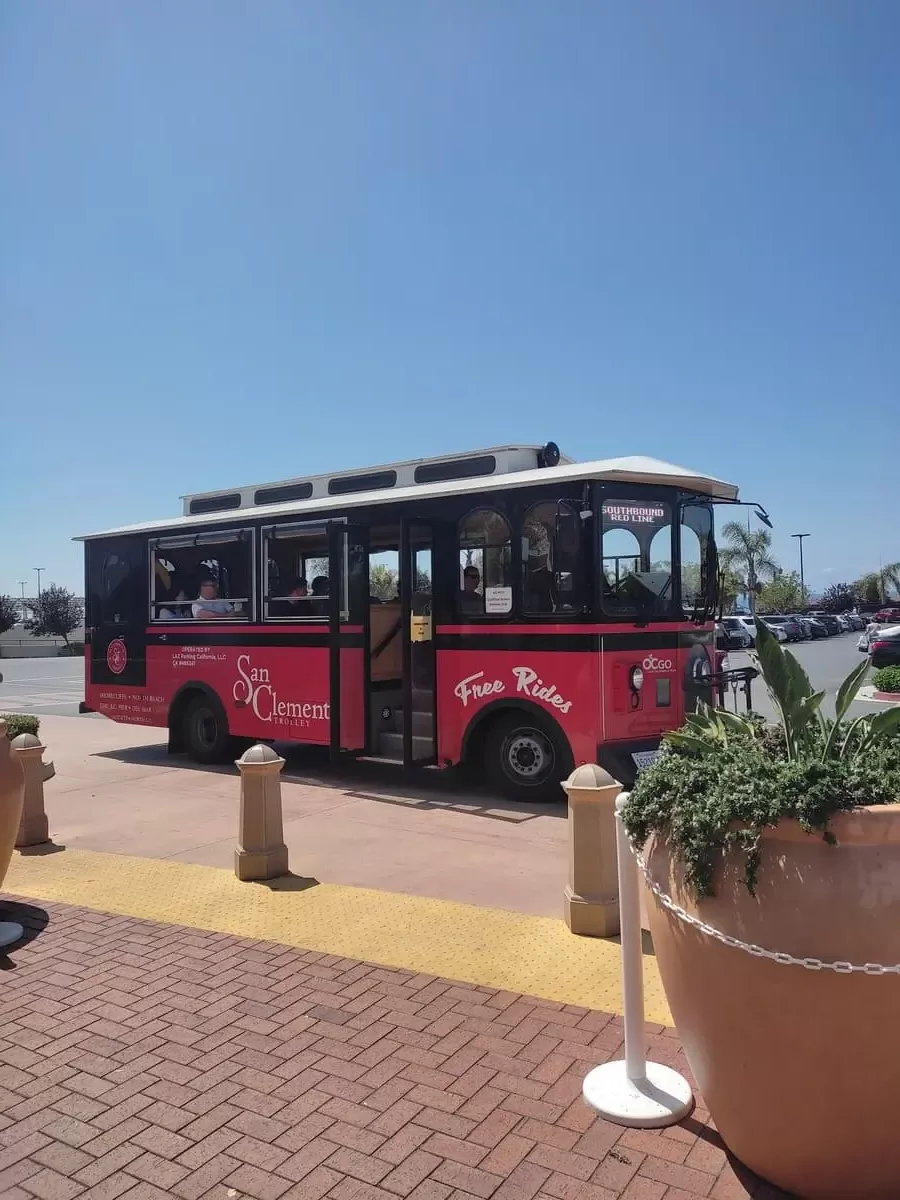 Don't miss a ride on the San Clemente Trolley. It is not only convenient but lots of fun!
The San Clemente Trolley – perfect transport during the summer
During the summer season the San Clemente Trolley is a great help. Not only is it cute and lots of fun (almost like a Disney ride) but it will save you having to walk up the steep hill into San Clemente.
There are three San Clemente Trolley Lines – Red, Blue, and Green. For this itinerary only the Red and Green Lines are of interest (the Blue Line connects the San Clemente Outlet Center with Dana Point).
The Red Line connects San Clemente Pier with the shopping district (save yourself an uphill climb), the San Clemente Metrolink station (if traveling on a weekday), and the Outlet Center.
Green Line Trolleys connect the Pier with San Clemente State Beach.
Trolleys generally leave every 15 minutes.
Unfortunately, the Trolley does not run every day. Basically, the Red Line runs every weekend as well as during the week in the summer.
The Blue Line runs daily in the summer. I couldn't find much info about the Green Line's schedule. It was active when I was in San Clemente so hopefully you will be lucky as well!
Check the online schedule of the San Clemente Trolley to check the trolley status before your visit.
How to spend a perfect day in San Clemente (Weekend)
Travel to San Clemente
Get an early start and take the Metrolink train at 8:40 am to San Clemente Pier Station. Of course this itinerary also works if you travel to San Clemente by any other means – be it car, bus, or helicopter (lucky you).
Assuming you take the train you should be in San Clemente by 10:20 am. Plenty of time to spend an unforgettable day at this cute beach town.
The San Clemente Pier is just a few steps from the station
Check out San Clemente's famous pier
Right next to the train station you will find the long wooden pier. Unlike some other piers, for example in Santa Monica, you won't find any rides or amusements here.
You can however rent gear for angling, get a snack, or watch the surfers skim the waves (almost every time I passed by there was some action going on).
There are plenty of places to sit along the pier if you want to watch for a while (and there is even a public restroom at the end of the pier!).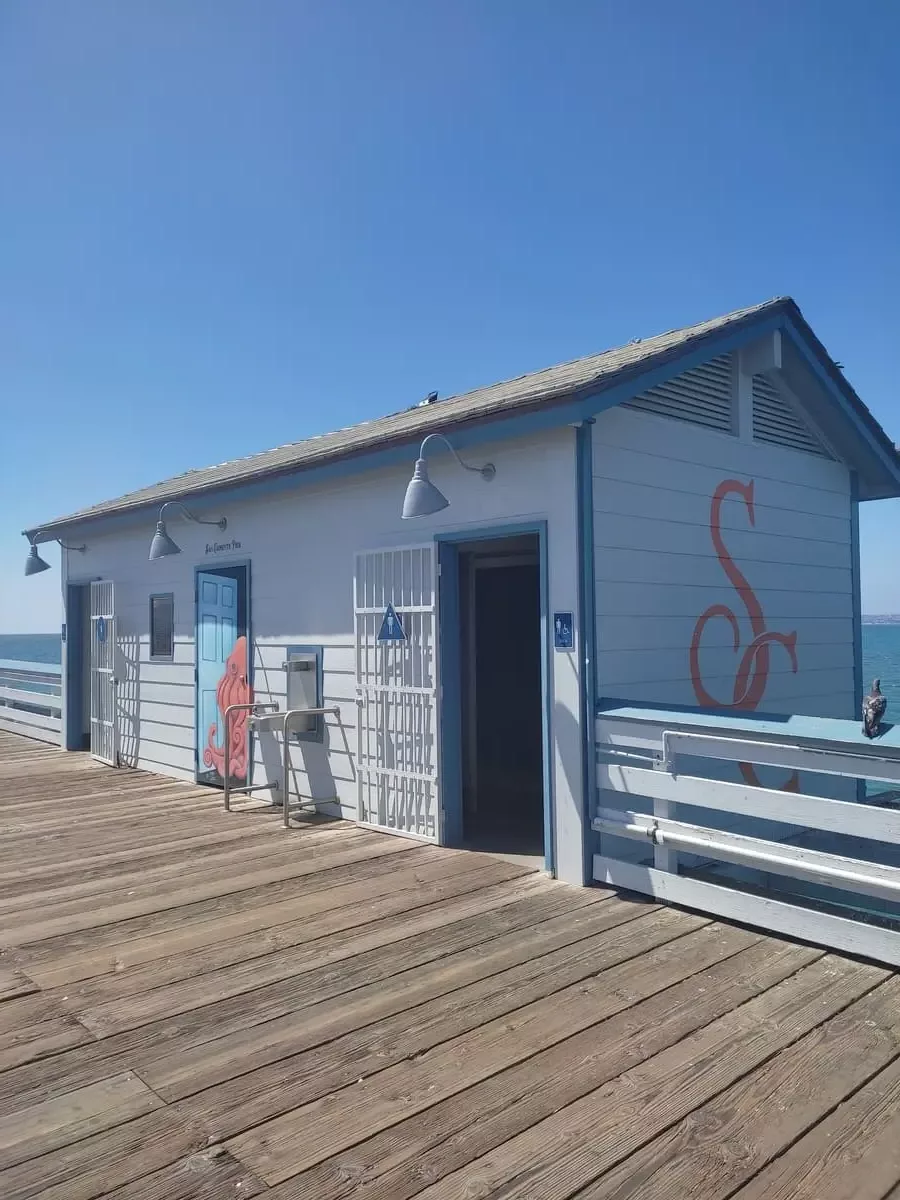 Isn't this the most adorable public restroom?
Enjoy the beach and the Beach Trail
Now you have a choice to make – do you want to spend time at the beach near the pier or further South?
It is completely up to you – the beach stretches all the way between the pier and San Clemente State Beach, miles further south.
Don't miss out on a walk along the Beach Trail. This sandy path is squeezed in between the cliffs on one side and the train tracks on the other.
Walking along this trail on a sunny day is great fun. The only negative is that there aren't really any places to sit down along the trail to enjoy the view (I saw just one bench).
There also isn't a crossing to the beach across the tracks. Now, I did see plenty of people just crossing the tracks anyway. You can see easily in both directions to make sure no train is coming.
However, if you feel at all unsure (or definitely in heavy fog) you are best off going to the beach either near the pier or at the other end of the Beach Trail when you reach San Clemente State Beach.
Either way, let's assume you spent about 30 minutes checking out the pier, 30 minutes walking the beach trail to the southern end (about 1.6 miles), and spent an hour at the beach.
If taking the train recommended above it should be around 12:20 pm by now.
The Beach Trail is a great alternative if you would rather not stomp through the sand for almost 2 miles
Take the San Clemente Trolley up to town
If you are in San Clemente during the summer you are in luck – the Green Line of the San Clemente Trolley will take you back to town from the beach.
You can pick it up right at San Clemente State Beach and ride it up to town or all the way back to the pier. (If the trolley is not running you will have to walk up the hill which is a pain but doable)
However, you are likely to be hungry by now so I recommend you get off somewhere along El Camino Real to grab a bite of lunch.
Sancho's Tacos offers a great mix of beach atmosphere and Mexican restaurant
Enjoy a light lunch
My personal recommendation would be to get some tacos at Sancho's Tacos. I got two tacos (Carnitas and Tri-Tip) and a soda for $11.70.
I loved both tacos (so much better than the ones at the Del Mar race tracks) and the taco shop is rather cute.
If you aren't feeling like Mexican food, Antoine's Cafe (closes at 2.30 pm) or Pizza Port would be good alternatives.
Nothing beats tacos in Southern California!
Time for some retail therapy
After lunch (so around 1 pm if you just grabbed tacos), it is time to do some shopping!
Depending on your personal taste you can either visit the San Clemente Outlet Center or check out the cute stores in town.
San Clemente Outlet Center
To get to the San Clemente Outlet Center you will have to take the San Clemente Trolley Red Line. You can get on at the corner of El Camino Real and Avenida del Mar, just a 5 to 10 minute walk from where you ate lunch.
The San Clemente Outlet Center is your regular upscale outdoor shopping center with outlet stores. Some of the main shops are Adidas, Converse, Levis, and Vans.
I would skip the Outlet Center if you are in San Clemente during the week outside of summer unless you are desperate to get there. While it is possible to walk there if the trolley is not running it is about 1.5 miles and will take you over an hour (there and back).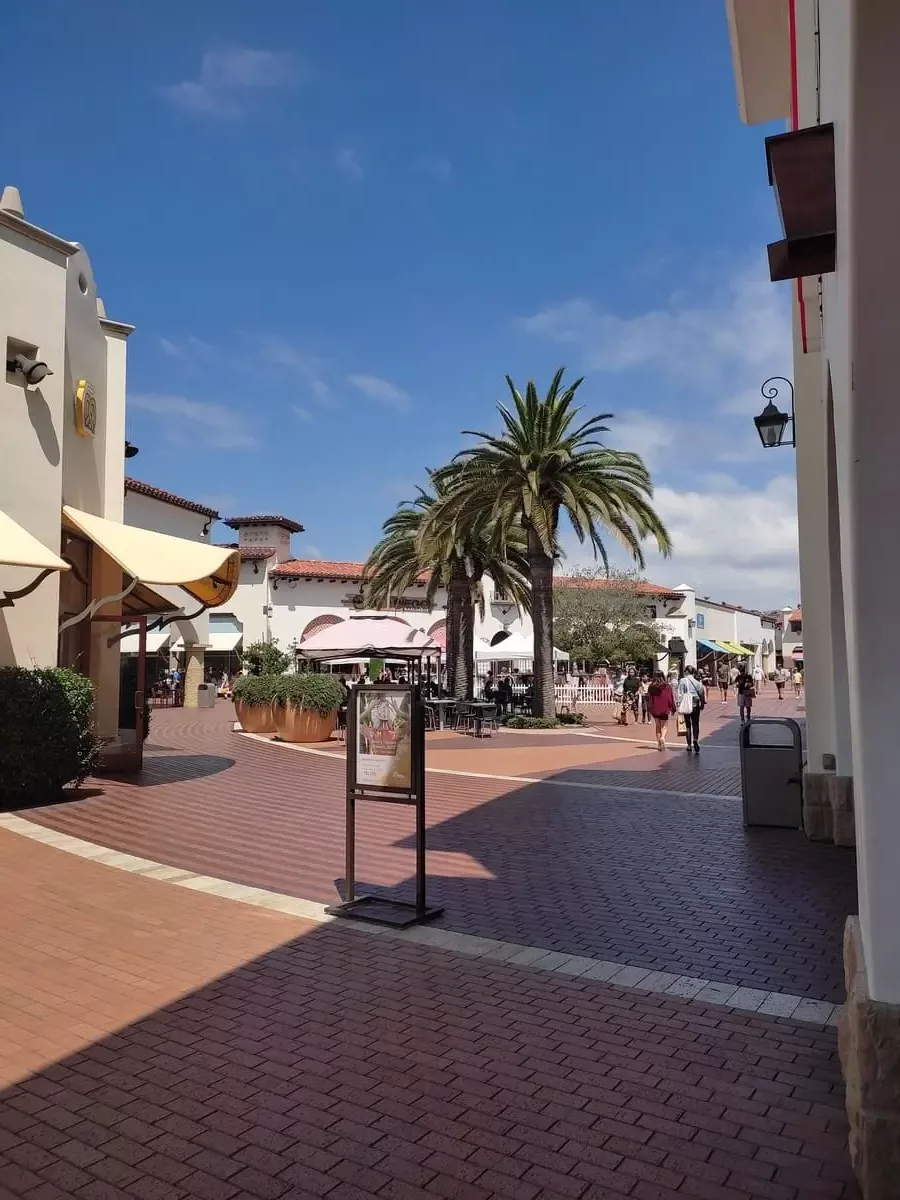 Outlets at San Clemente offers a nice variety of outlets and restaurants
Shopping in San Clemente
As nice as the San Clemente Outlet Center is, you may prefer spending your time in the town itself if you are only there for the day.
Rather surprisingly for a decidedly upscale beach town, San Clemente has a whole row of second hand stores. So if you enjoy hunting for a bargain that is the place for you.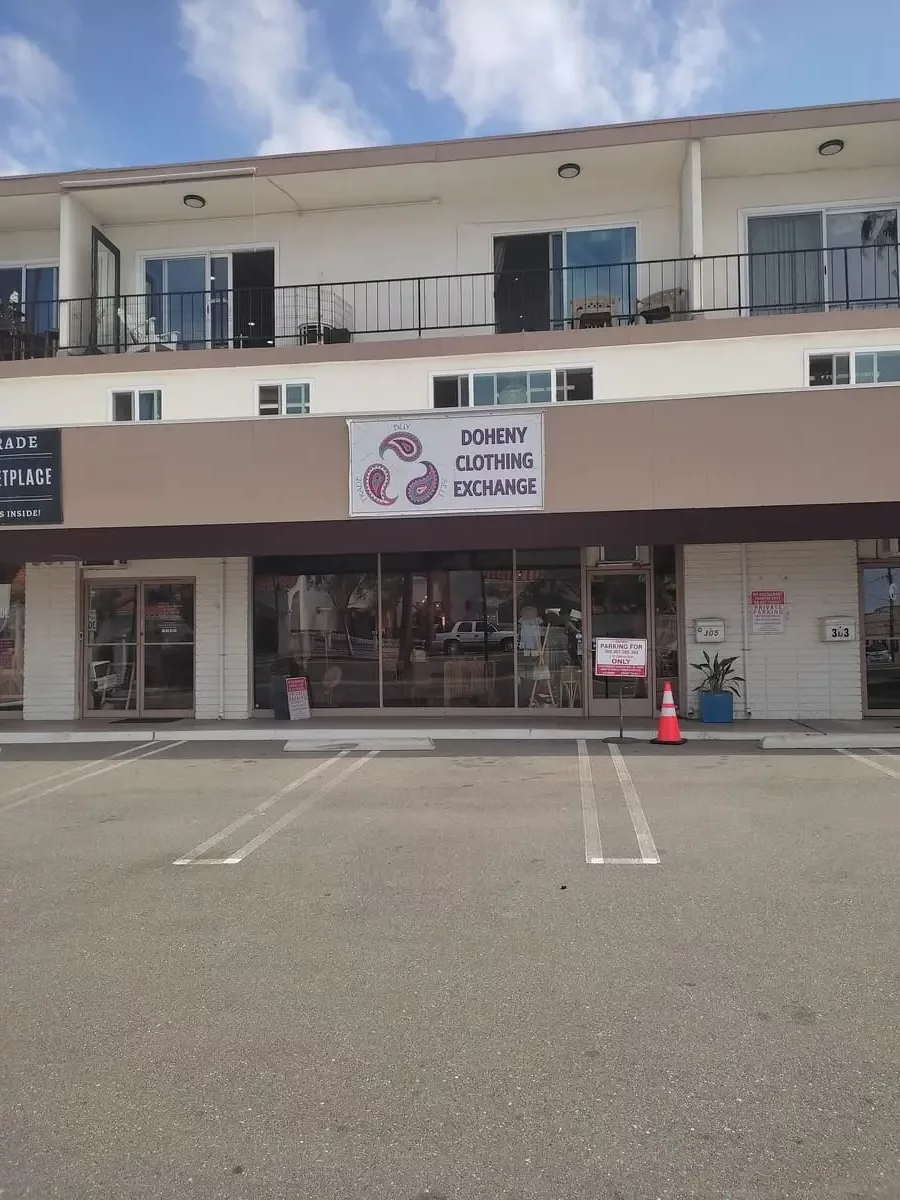 I love hunting for hidden treasures -how about you?
But no matter what you do – don't miss the local bookstore: Beach Town Books!
You will find it right on El Camino Real, San Clemente's main street. However, the entrance is actually on the side of the building so turn left until you find the door.
Turn right here on this smaller street to enter this wonderful bookstore!
I love reading and a good book store. One thing I love especially in the US are used bookstores, the kind where you can trade in books you have read for credit to buy used books at half price.
Now, over the years I have visited dozens of such bookstores but Beach Town Books is one of the nicest I have been to.
Not only do they have a great variety (romances, young adult, mysteries, SciFi, thrillers, non-fiction etc.) at good prices. No, the bookstore is also incredibly inviting with cozy corners, a cute kids' room and many comfortable chairs to check out books before buying.
This bookstore was one of my favorite parts of San Clemente. Highly recommended.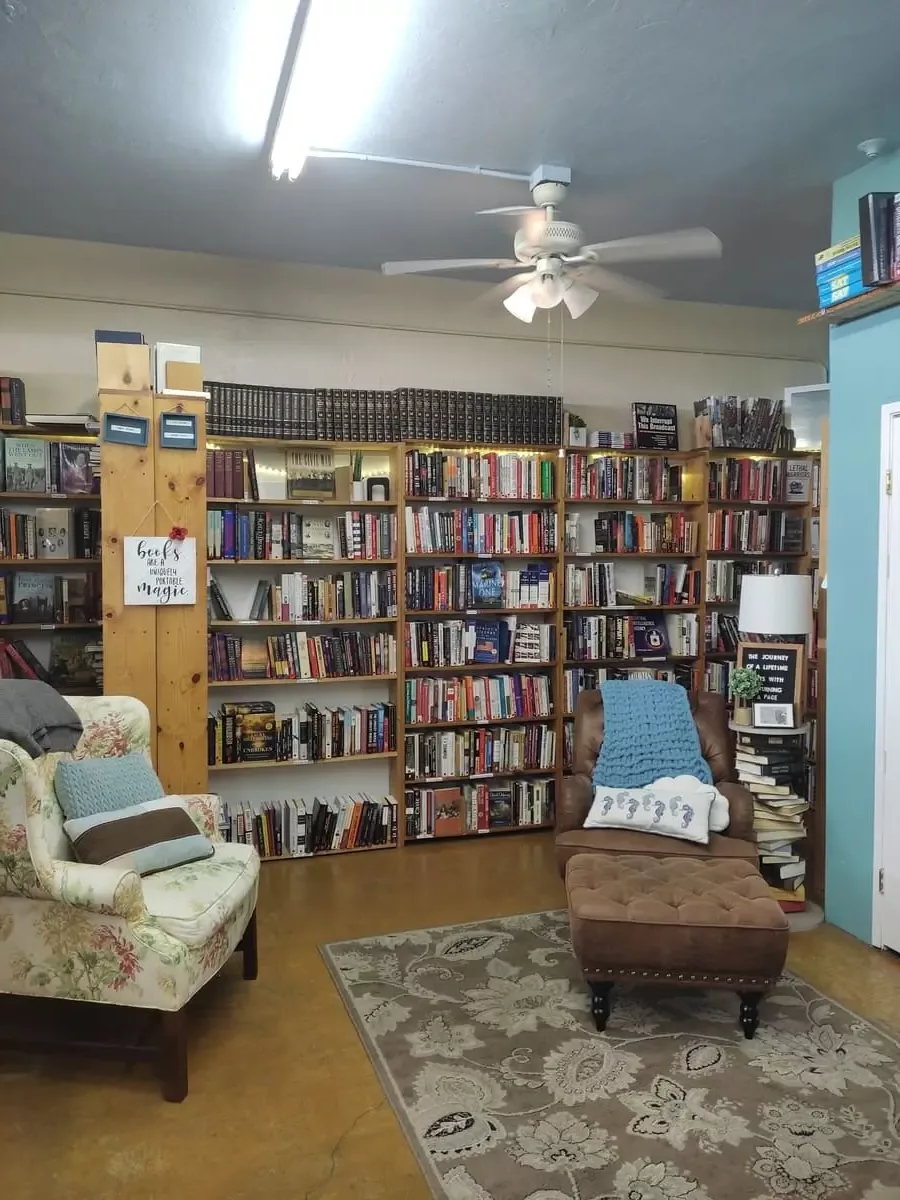 If you like reading at all you are sure to find something here!
Make your way down Avenida del Mar
Just a couple of blocks south of Beach Town Books you can turn right into Avenida del Mar. This cute street with its boutiques, quirky stores, and ice cream shops will lead you back to the pier and beach.
If you spent too much time shopping or at the beach and are running behind plan you could skip this part and take the San Clemente Trolley back down to the pier.
Detour: Casa Romantica
If time allows consider making a small detour to visit Casa Romantica.
Casa Romantica was the home of San Clemente's founder, Ole Hanson. It is now a cultural center and its house and gardens can be toured ($5).
Unfortunately, Casa Romantica's gardens were severly damaged not too long before my trip. A good portion of the garden was lost in a mudslide and only parts of the estate are open at the moment.
Partly because of that (and partly because I somehow ran out of time) I did not tour the Spanish Colonial Revival home. Still, I did walk by and take a couple of pictures of the outside and the courtyard and loved the look of it.
I would recommend a visit if you are in San Clemente after most of the renovations have been completed.
I didn't get to Casa Romantica until right when they were closing
Return to the Pier for an early dinner
The pier is only about 10 minutes walk downhill from Casa Romantica.
Depending on how much time you spent shopping and possibly touring Casa Romantica, it should be around 4 pm when you return to the pier.
If you are hungry after all the exercise and fresh sea air, I recommend an early dinner at The Fisherman's Restaurant and Bar.
This restaurant is right on the pier in San Clemente. It consists of two separate buildings: on the left is the restaurant and on the right a bar with a limited menu. Choose depending on how hungry you are.
I had lunch there and enjoyed my bread, soup and salad quite a bit. At $30 (including tip) for the combo prices weren't great but not horrible either.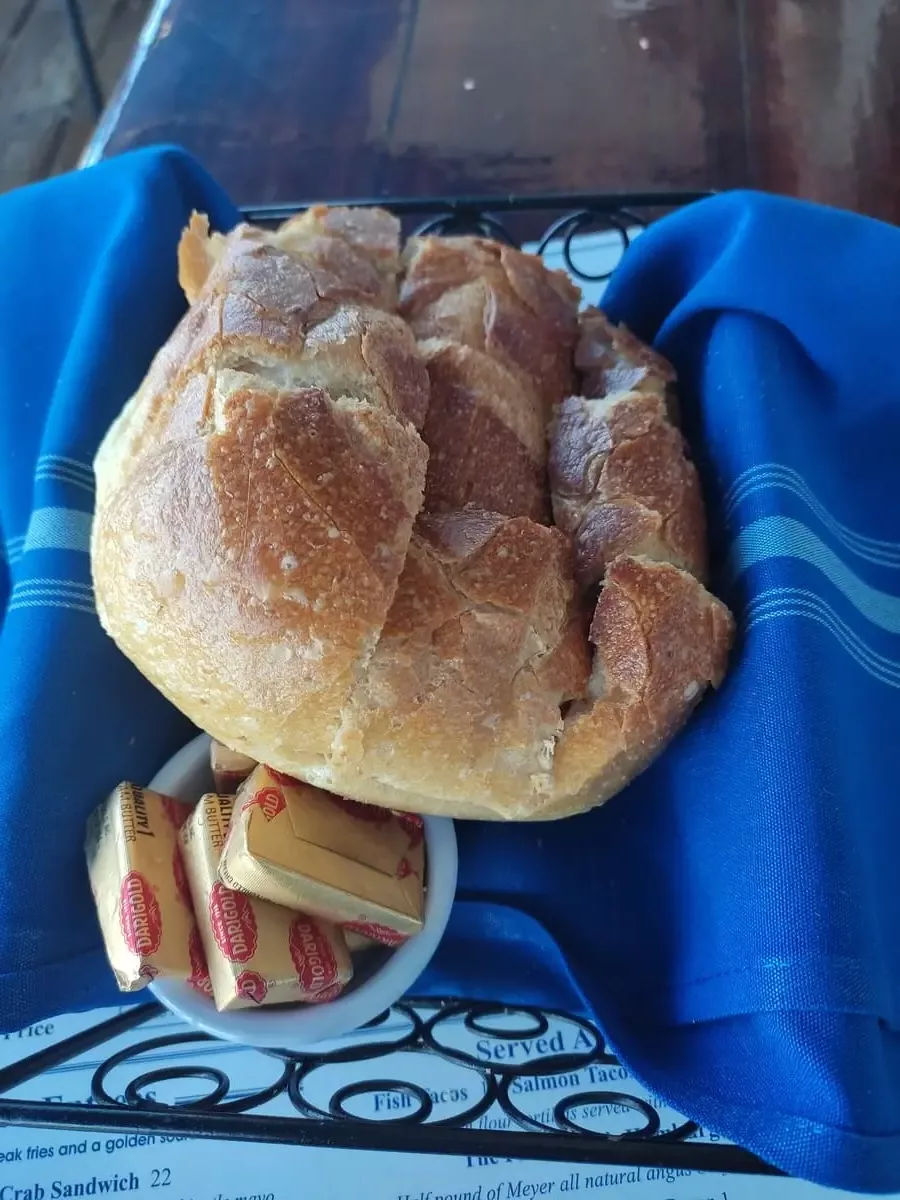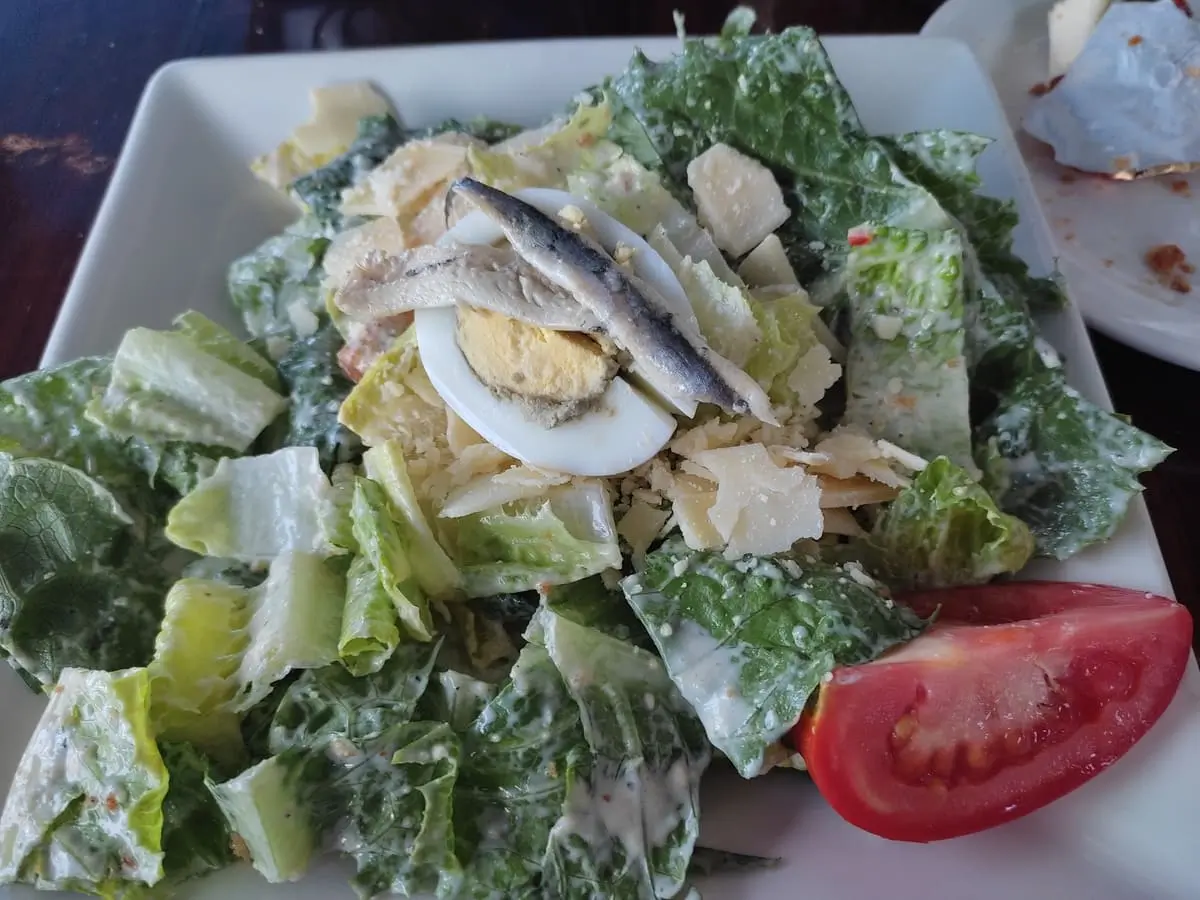 But while the food was good it is the location and the beautiful view of the pier and sea that make this one of the best places to eat in San Clemente.
Fisherman's restaurant has a great vacationey vibe and wonderful views (which I missed when taking this picture)
Finish up your day and return home
If your train leaves from San Clemente Pier you are just steps away from the station. So take your time, enjoy your meal or your drink and then make your way over there for your return back to Los Angeles.
Short version of my Perfect Day in San Clemente Itinerary
The above itinerary is great to have a perfect day at San Clemente on summer weekends.
However, if you come during the week and will only be in town from 9:38 am to 3:50 pm it may be too rushed.
In addition, Metrolink trains during the week stop at San Clemente Station instead of at the Pier (check for your specific connections though) and the San Clemente Trolley may not be working.
So some changes to the itinerary are needed if you come Monday to Friday or in the off-season. But no problem – here is a shortened itinerary that should work.
The times given are of course just suggestions. You can take longer or shorter or skip parts if you want.
Let me know what you think of Casa Romantica if you manage to visit!
Walk along the Beach Trail from the station to the Pier
Enjoy the Beach and explore the Pier
Have lunch at the Fisherman's Restaurant at the Pier
Make your way up the hill along Avenida del Mar (stop at Casa Romantica if desired)*
Enjoy an ice cream at Orange County Creamery or South Swell Hand Dipped Ice Cream
Browse in the shops along A. del Mar and El Camino (don't forget the bookstore!)
Around 3 pm make your way to the station your train will leave from (Metrolink or Pier)*
*If the Trolley is running you can use it to cut down on walking!
Trolley Stop for Red and Green Line right next to train station and pier
Have you been to San Clemente? If so, did I miss anything? Let me know in the comments!