Interlaken is one of the most popular destinations in Switzerland and a great base for exploring Jungfernloch, Grindlwald, and the nearby lakes. Consequently, it was one of the first destinations on my itinerary when I started to plan an interrail tour of Switzerland (just like a trip on the Glacier Express).
As there is a lot to see in this small Alpine country (and I surprisingly had never visited), I only had two days to spare for Interlaken. There is a lot to see in the area so two days was cutting it short but I was determined to make the most of my time there and see as much as possible.
Unfortunately, things didn't quite work out as planned. Circumstances (aka the weather) conspired against me (well, it rained) and I only saw a fraction of what I had planned. But read on to find out what I did manage to see and what I thought of Interlaken.
Where is Interlaken?
Interlaken is a smallish town (or actually a conglomeration of several small towns) in the canton of Bern, pretty much in the middle of Switzerland. It is the main transport gateway to the mountains and lakes of the Bernese Oberland.
As the name Interlaken (Between Lakes) indicates, the town is located between two lakes, Lake Brienz to the east and Thunersee to the west. The river Aare connects the two lakes and the town is kind of built along that river.
Why is Interlaken famous?
To tell the truth, I had never heard of Interlaken before I began to plan my trip but it soon became apparent that it is a major tourist hub.
The town itself is pretty and has a number of grand hotels. However, the main advantage is probably the location. From Interlaken you can not only explore the local mountain "Harder Kulm" and the two stunning lakes, but there are also excellent connections to some of the most famous and stunning peaks in the area.
How do you get to Interlaken?
It is easy to get to Interlaken by train (and I presume by car). There are regular connections to Zürich and Basel with an average travel time of around two hours.
My Plans for Interlaken
Interlaken was the first stop on my interrail tour of Switzerland and I stayed there for two nights. My original plan was still a bit vague (as there was more to see than I had time for) but basically went like this:
Day One: Arrive in Interlaken early afternoon, check into hotel, explore town, and maybe either do a boat tour on one of the lakes or take the ride up to Harder Kulm, the local mountain
Day Two: Explore either Jungfraujoch or Grindelwald. From Interlaken you can reach Grindelwald in about 35 minutes and Jungfraujoch in a little under 2 hours. Both require a (fairly expensive) train ticket that was not included in my Interrail Ticket.
Day Three: Possibly do Jungfernloch/Grindelwald (whichever I didn't get to the day before) or explore the lakes on a boat ride. Then take the train to Zermatt in the mid-afternoon for my next stop.
Unfortunately, most of this got scratched but read on to see what I did manage to do…
The Reality of my Trip to Interlaken – Day 1
My Journey to Interlaken
Interlaken was the first stop of this trip so day one I had to travel all the way from Germany. Unfortunately, my interrail ticket was not good for the first section of the journey within Germany.
You can only use an interrail ticket twice in your home country (to get in and out) and as I was doing several smaller trips with my interrail ticket I had already used my home country allotment.
This wasn't a huge problem as I did have the 9 Euro ticket (no longer available but has been replaced by the Deutschlandticket for 49 Euro) which basically included all non-express trains in Germany. However, it did mean that I couldn't take any express trains until I passed the German-Swiss-Border which was a bit of a pain.
Additionally, a bunch of trains got cancelled in Stuttgart so that I had to wait an hour for my connection and it just kind of dragged on. I had originally planned to make a stop to see the Rhinefalls but decided to skip that as it was getting later than I had expected.
Once in Switzerland the journey went like clock-work, just as you would expect. The train from Schaffhausen (at the border) to Zuerich took about 36 minutes and I managed to make the train to Interlaken West even though I had only 10 minutes to change trains.
I arrived in Interlaken West just before 3:30 pm and went looking for my hotel.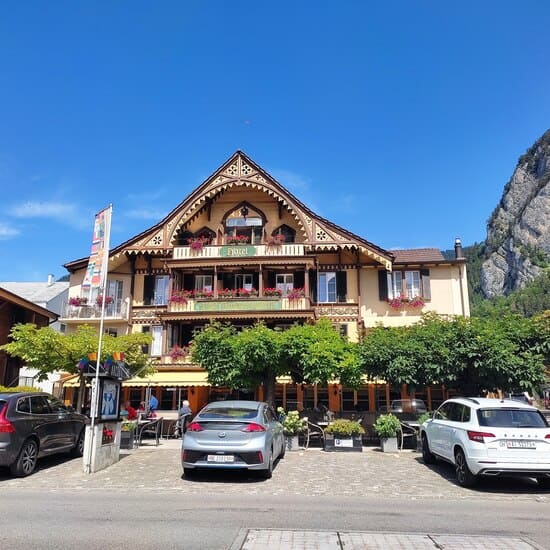 My Hotel in Interlaken
There are several grand hotels in Interlaken that looked tempting but they were of course expensive. As I was trying to stay within a budget (so many vacations planned), I decided to go with a cheaper option.
After some back and forth I decided on the Post Hardermannli. This was only a two star hotel (I generally pick at least three star properties) but I was quite happy with it.
The guesthouse was located across the river in what I believe is the town of Unterseen. However, the walk to the train station or the center of Interlaken only took like five minutes so that was no problem. There was also a fairly big grocery store nearby so the location worked out great!
I had a single room that was smallish and on the top floor but it was perfectly adequate. I would not hesitate to recommend Post Hardermannli for anyone looking for  reasonably priced accomodation in Interlaken.
If I hadn't known differently I would have thought the hotel to be a solid three star property. I think the lower rating may be because there was no air conditioning and no elevator (normal for Switzerland).
The bathroom was quite modern and perfectly adequate.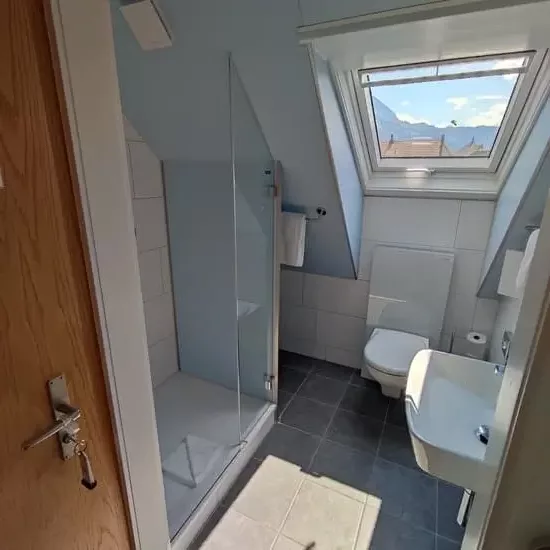 My Top Tip for Switzerland:
Do go ahead and book your room with breakfast included!
I am not a big breakfast person and generally book hotels without board. However, in Switzerland the included breakfast usually does provide good value. Food is so expensive there that your (included) breakfast will likely be by far the cheapest meal you can get.
I paid CHF 130 per night with a pretty good breakfast included which was quite reasonable I thought.
Exploring Interlaken
By the time I had checked into the hotel it was getting to be fairly late in the afternoon and the bed looked pretty inviting. But no rest for the wicked – off I went to explore the town!
Unfortunately, I wasn't feeling too great at this point. I was exhausted after the long train ride and it was really hot. But looking back the main problem was probably that I was quite dehydrated.
As it was Sunday it took a while to find a store that sold cold drinks. Once I was sitting on a park bench with my ice-cold Coke everything started to look better.
But by then it was getting too late to still go up to Harder Kulm or do much of anything else. So I just sat there for a bit in the park, reading on my Kindle, and watching paragliders land in the park.
After a while I realized that the church bells had been ringing and ringing and ringing and remembered that it was Sunday. I quickly hopped up and made my way to the church and took part in the service.
This was a good decision. The church was cool and serene and probably one of the highlights of my day. Which goes to show that planning a vacation thoroughly is helpful but it is even more important to be flexible if things go wrong. Often the best parts of a trip are the parts you didn't anticipate at all!
After church I spent a bit more time relaxing in the park before picking up wine, crackers, and cheese for the hotel room.
Summary of my first day in Interlaken
The journey to Interlaken turned out to be more exhausting (and longer) than I expected and combined with the unexpected heat it kind of nixed my original plans.
My opinion of Interlaken was likely influenced by heat, exhaustion, and dehydration. I loved the unusual color of the river and the imposing mountain panorama but thought Interlaken itself a bit underwhelming.
 The river is a stunning color and you have a good view of the surrounding mountains but the main street in town seemed very touristy. Obviously, that is to be expected of a main tourist destination but it just seemd kind of… tacky?
There were some nice-looking  restaurants/hotels but most of the stores seemed to sell kitschy souvenirs or watches. I don't think I have ever seen so many watch stores in one place before. And as I wasn't in the market for some super-expensive designer watch that day (or really ever), the appeal was somewhat lost on me.
Attending church and spending some relaxation time reading at the local park were highlights of my day.
Top Tip: Stay hydrated!
The Reality of my Trip to Interlaken – Day 2
My early morning got rained out
After the heat of the previous day the weather changed and I was woken by the sound of rain. And not just a little sprinkle, but a definite downpour!
This was not in the plan! I was supposed to go on an all day excursion to Jungfraujoch but spending about CHF 180 (with a reduction of CHF 58 due to my Interrail Ticket) just to spend the day in rain and clouds did not appeal.
And – not sure if it was the mountain air or the long train ride the day before – I was still exhausted. So I decided to – gasp – just sleep in. This isn't really like me but in the end it was probably the best decision (definitely for my budget).
Walk to Jetty for Boat Tour
Around 11 am the weather had mostly cleared up but by now it was too late to venture as far as originally planned (and the weather forecast still wasn't great).
When I realized that boat rides on the two lakes that give Interlaken its name, Thunersee and Brienzersee, were included in my Interrail ticket the decision was made. A boat tour it was!
I more or less arbitrarily chose Brienzersee – both lakes offer beautiful scenery and different places you can explore.
Lake Brienz is connected to Thuner Lake by the river. The dock for Lake Brienz is near the second train station, Interlaken Ost (East).
You can take the train from Interlaken West to Ost (and this would have been free with the Interrail Ticket), but I decided to walk. From my hotel it was about 2 km or 25 minutes and I am glad I walked as it was very pretty.
If I was a bit disappointed by the center of Interlaken, Unterseen (where my hotel was located) is much prettier. It is tiny and there isn't much to do there but the main square felt much more real and was far quainter.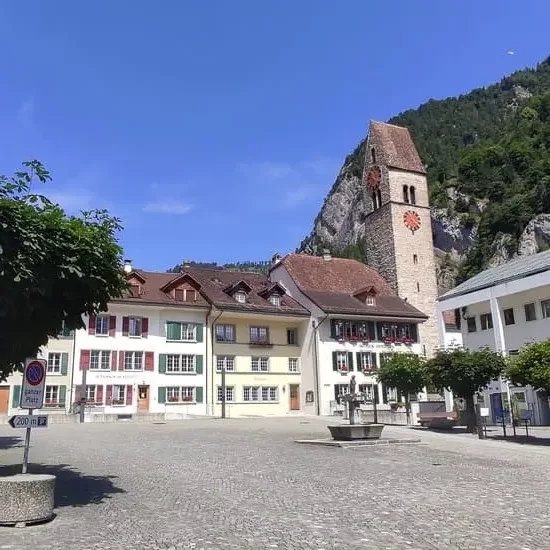 After passing the church the path follows the river Aare and you have a great view of the surrounding glaciers. You also pass the stop for the Harder Kulm and I was hoping to take the train up later in the day to at least explore this local mountain (Spoiler Alert: This never happened).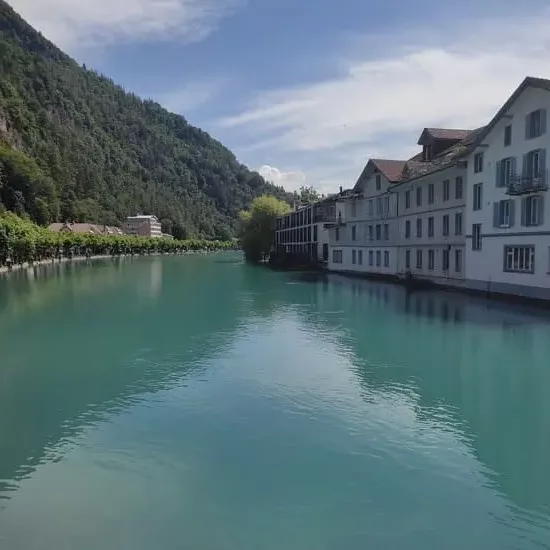 Boat Tour on Brienzersee
The dock for the boat is right across from the train station Interlaken Ost so easy to find. In the summer (mid May to mid September) bls Schifffahrt runs about one boat per hour either going clockwise or counter-clockwise on Lake Brienz.
As mentioned above, the boat ride was included in my Interrail Ticket. Otherwise you can choose between a Day Ticket (good for both lakes) at around CHF 72 if you want to hop on/hop off whenever you want. If you have a fixed itinerary in mind, you can buy a ticket for that route which will likely be cheaper (if you just go around one time on one lake).
The boats are fairly big and nicely set up and you have a good view of the surrounding mountains and villages. The bright greenish-blue color of the water is truly stunning, especially when set against the vivid green of the surrounding landscape.
For the most part, the boat ride was uneventful but two funny (maybe not for me) things did happen.
Funny story # 1:
I was standing on the boat, enjoying the fresh air, and thought regretfully that I had not yet seen any funny/strange signs in Switzerland. I love discovering funny or unexpected signs when travelling.
Sometimes they are funny on purpose and sometimes not so much (translations are especially tricky) but either way I enjoy them. I saw quite a number in England but nothing so far in Switzerland.
I kid you not – I was thinking this and not five minutes later I went to the bathroom and saw this: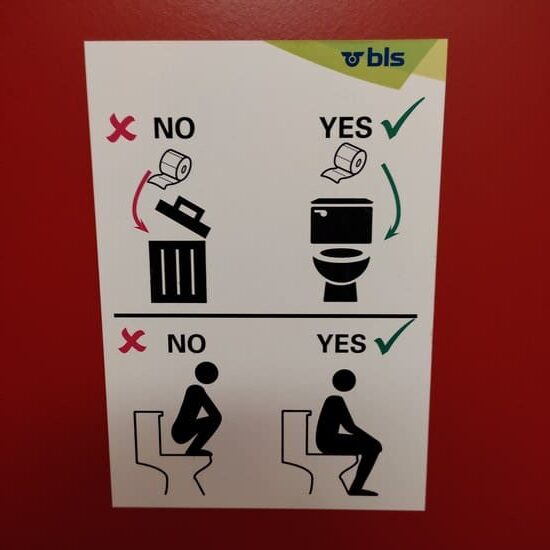 Funny Story #2: Walk of Shame
Soon after the most embarrassing incident of the whole trip happened (yes, having all my plans swept away by rain wasn't enough).
It was lunch time, I was hungry, and as I had saved so much money by taking the (included) boat tour instead of an expensive trip to the glaciers, I decided to splurge and treat myself to a nice lunch on the boat.
So I went to the fancy on-board restaurant and ordered quiche and a soda. I was still waiting for my food when the ticket-checker came by. But when I proudly showed him my digital ticket he pointed out that it was an Interrail Ticket for second class.
Now, I was aware of that of course and I also noticed that there was first and second class on the ship but I had not realized that applied to the restaurants as well. I had just chosen the nicer looking one (it was a splurge after all) and assumed it would be fine as I was paying for the meal.
Apparently not. Only with a ticket for first class can you sit in the fancier restaurant and order a meal there.
Woops. So I had to grab my soda bottle and glass and walk down to the second class restaurant. The food hadn't been served yet so they had to call the kitchen to tell them to send it to a different place. I wonder if that happens more often?
How embarrassing!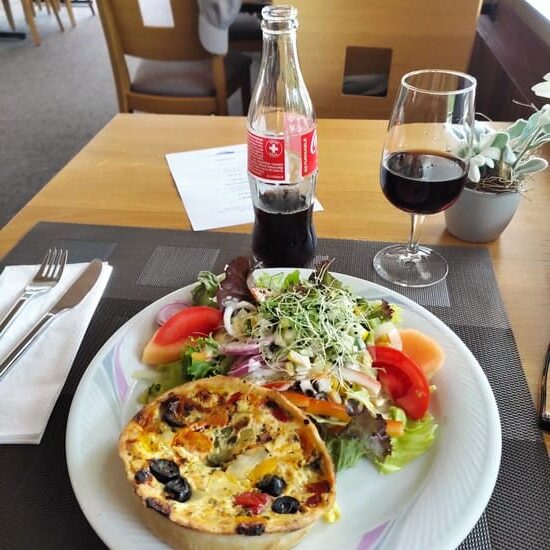 Stop at Giessbachfälle (Giessbach Waterfalls)
During my adventures in the restaurant the boat had made several stops but after about an hour we got to Giessbach. This is the location of the Giessbachfälle, a waterfall whose waters gush into the lake.
This was one of the stops I had planned on making during the tour – with a day ticket (or Interrail) you can use the Boats on Brienzersee like a Hop-on-Hop-Off-bus. Getting a closer look at the waterfall was definitely on the itinerary.
When you get off the boat you can either use a small train up the mountain to the Hotel Giessbachfälle or follow a path to the left. I did the later and after a couple of minutes you get close to the waterfall. Definitely worth a quick detour!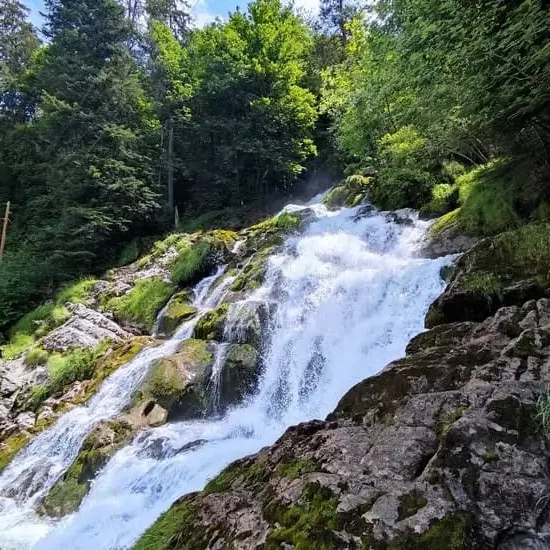 You can cross the waterfall via a small wooden bridge. From there you also have a good view of the water from the Giessbachfälle rushing into the lake.
I then started to hike up the path to the Hotel Giessbach but it was taking longer than expected. By that time the weather was taking a turn for the worse. It was still dry but there were a lot of dark clouds moving in. I really did not want to get stuck at this rather remote stop in the pouring rain so I decided it would be better to take the next boat back to Interlaken.
While waiting for the boat I checked out the small station/stop for the funicular that takes guests to the Grandhotel Giessbach. This cable railway was built in 1879 and very cool. If the weather hadn't been so threatening I would have loved to take the funicular up to the hotel –  the current carriages are 130 years old (for non-hotel guests one way tickets are CHF 7/return tickets CHF 12).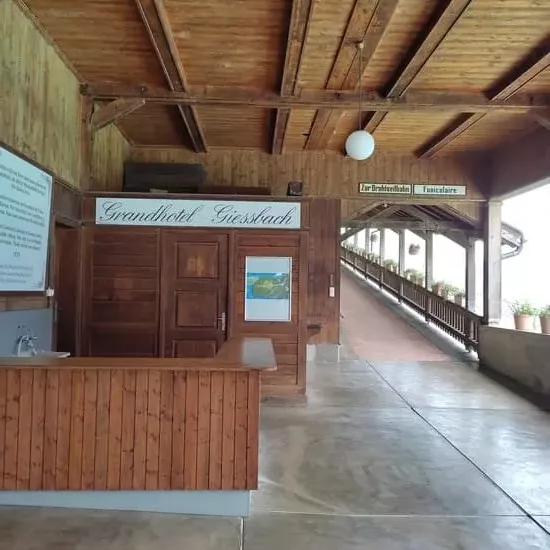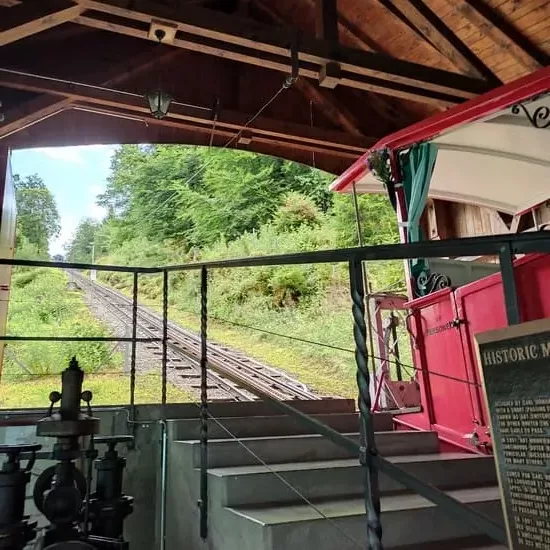 By now the sky looked very menacing and all I wanted was to get back to Interlaken before the storm broke. Luckily I didn't have to wait long for the next boat and managed to get on even though it was rather full.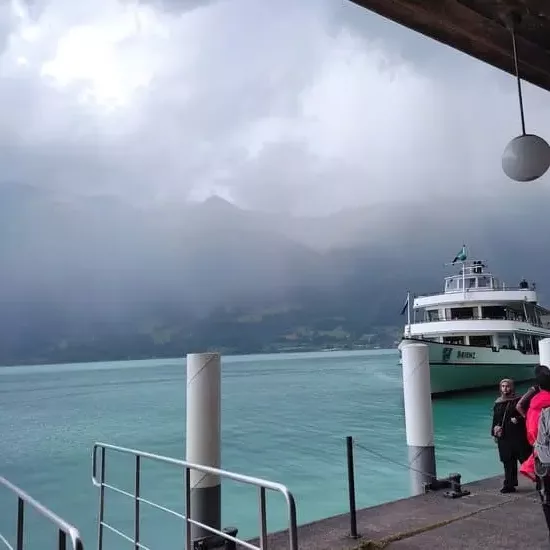 As it had started drizzling a bit I was glad to get a covered seat on the boat. It was quite a tight fit as more tourists had decided to return instead of braving the coming rain.
The boat moved faster than the clouds so most of the ride back the sky looked fairly blue and there was some sunshine (as long as you didn't look back).
The colors of the lake are truly stunning (my favorite part of Interlaken). They reminded me of the Caribbean or maybe South-East Asia.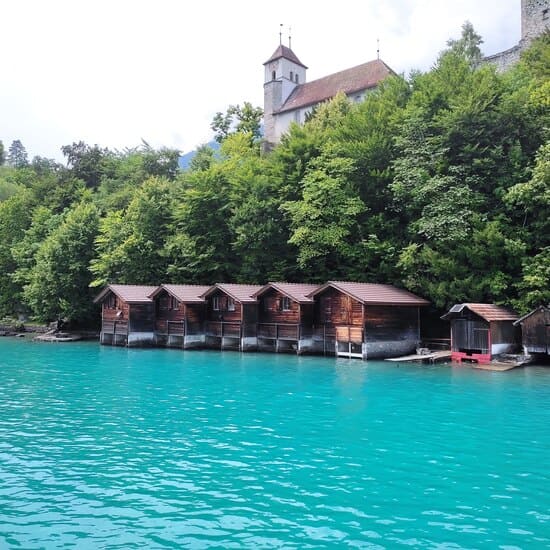 I was starting to wonder if I had overreacted by cutting my excursion short but right when we got back to the dock the clouds reached us. Walking back to the hotel I first felt some fat drops and then it started pouring in earnest.
Inspite of wearing a rain jacket I was dripping by the time I got back to the room, even though I had only been out in the rain for 5 minutes. I was sure glad I hadn't gotten that wet miles away!
And that is it. That is pretty much all I managed to get done on my second day in Interlaken.
I made a quick run to the grocery store a bit later but otherwise I relaxed in the hotelroom. Luckily it was quite cozy! (And I did have some work that needed to be done so it worked out fine in the end).
The Reality of my Trip to Interlaken – Day 3  (or not)
In my original plans I wasn't quite sure whether I was going to spend this day in Interlaken or Zermatt. After day 2 got rained out, I was hoping to visit at least one of the major sights nearby on the next day.
Unfortunately, it was drizzling again when I got up. Not the best kind of day to enjoy mountain views. A quick check of the weather forecast showed that the weather in Zermatt was better – so I decided to give up on Interlaken for this trip.
I checked out of the hotel and made my way to the station to catch the train to Zermatt.
My conclusion
Unfortunately, Interlaken did not quite work out as I had hoped. The original plan was sound – even though I didn't love Interlaken it was a great base for explorations and the Brienzersee and Thunersee are very pretty. But the weather just would not cooperate.
In the end, I am glad I gave up and traveled on to Zermatt as I really loved my time there (the Matterhorn!). But I do hope to get back to Interlaken someday to see all I missed this time around.
Have you been to Interlaken? If so, were you luckier with the weather and what did you think?