Are you planning a cruise with Royal Caribbean and wondering whether Unlimited Dining is worth it for you? Do you want more info about the different for-fee dining venues on Royal Caribbean's Oasis class? Or do you – like me – find it difficult to visualize what different menu items might look like without seeing a picture? If so, read on and find out!
In this post I will first give a short explanation about the Unlimited Dining offer on Royal ships. Then you can find some more info about the different dining venues on Oasis class ships (specifically on Harmony of the Seas) as well as photos of some of the menu items. And finally, I will tell you my personal opinion on whether the Unlimited Dining add-on is worth its money.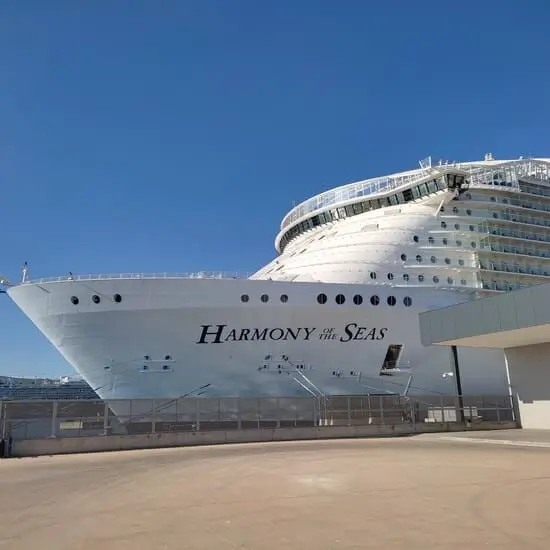 What is Unlimited Dining on Royal Caribbean?
Royal Caribbean offers a special add-on called Unlimited Dining. With Unlimited Dining you can basically eat as often as you want in the various dining venues that normally cost extra for one flat fee.
The cost for Unlimited Dining varies based on ship, length of cruise, and basically the whim of Royal Caribbean. For my 7-day Med cruise on the Harmony of the Seas in October 2021 I paid about €181 for Unlimited Dining.
Is Unlimited Dining a necessity on Royal Caribbean?
Absolutely not. There are plenty of "free" dining option on Royal Caribbean Ships: at a minimum the main dining room and the Windjammer Buffet. There are generally additional food venues included. For example on the Harmony of the Seas you can eat at Park Café, Solarium Bistro, Boardwalk Dog House, and Sorrento's Pizza in addition to MDR and Windjammer buffet without paying a penny in addition to your cruise fare.
As a matter of fact, my October 2021 Med cruise on the Harmony of the Seas was my seventh cruise with Royal and during the first six I didn't step a foot into any for fee restaurants. I enjoy the main dining room and honestly, I feel you already paid for food so why pay extra?
What was different this time? On my last RCI cruise I was travelling solo and due to the pandemic there were no shared tables in the main dining room (something I enjoy quite a bit).
On the other hand, the cruise fare was very low (again due to the pandemic) so I felt this was a great time to try out all the for fee restaurants offered for a fairly low price. A perfect chance to use my "mix and match" strategy for luxury travel on a budget.
Which for fee dining venues are there?
This will vary according to the ship. The Oasis class ships are some of the biggest at sea and have a large number of restaurants.
Specifically, the Harmony of the Seas offers the following:
| | | | |
| --- | --- | --- | --- |
| Restaurant | Type | Location | # of visits |
| 150 Central Park | Continental | Deck 8, Central Park | 1 |
| Chops Grille | Steakhouse | Deck 8, Central Park | 3 |
| Izumi | Sushi/Hibachi | Deck 4 | 2 |
| Jamie's Italian | Italian | Deck 8, Central Park | 1 |
| Johnny Rockets | Burger | Deck 6, Boardwalk | 1 |
| Sabor | Mexican | Deck 6, Boardwalk | 1 |
| Wonderland | Eclectic | Deck 12 | 1 |
| | | |
| --- | --- | --- |
| Restaurant/ Type | Location | # of visits |
| 150 Central Park/ Continental | Deck 8, CP | 1 |
| Chops Grille/ Steakhouse | Deck 8, CP | 3 |
| Izumi/ Sushi & Hibachi | Deck 4 | 2 |
| Jamie's Italian/ Italian | Deck 8, CP | 1 |
| Johnny Rockets/ Burger | Deck 6, BW | 1 |
| Sabor/ Mexican | Deck 6, BW | 1 |
| Wonderland/ Eclectic | Deck 12 | 1 |
I did not eat at Chef's Table or Vintages Wine & Tapas Bar as they (and any other "premium experiences) are not included with Unlimited Dining. I also did not eat in the Hibachi area of Izumi which would have incurred a $10 surcharge.
As I wanted to maximize the value of the Unlimited Dining add-on, I did not eat in the MDR or the buffet on this trip so can't make a direct comparison. However, I have eaten there on all previous trips so am quite familiar with them.
My experience with Unlimited Dining on Royal Caribbean
I will start by giving some short comments/description for each of the restaurants and then show pictures of what I ordered.
A couple of caveats: I realize that some of the photos are rather blurry. When I took this cruise I had not yet started my blog so the photos were just for my personal use and I didn't stress about them. After thinking it over, I decided to include even the less optimal pictures – I know when I am planning a trip and looking for information I would rather have a blurry picture than none. But I do apologize and will try to do better in future.
For the same reason, I also didn't take any notes at the time. I have looked at the current menus for Harmony of the Seas and I am fairly sure the description of the dishes match what I ordered. Still, there may be mistakes so no guarantees!
If I remember anything positive/negative about the dishes themselves I will mention it. If I don't say anything about a dish it was fine – there were no issues but it also wasn't so special that I remember it more than a year after.
Johnny Rockets
Johnny Rockets on the Harmony of the Seas is similar to any Johnny Rockets you may have been to. They offer the regular American staples, like burgers, fries, sandwiches etc. I believe they do the little "show" there but nothing happened while I was eating.
The restaurant is located on the Boardwalk Area of the ship, which is supposed to evoke a boardwalk near New York with a carousel and a beachy vibe.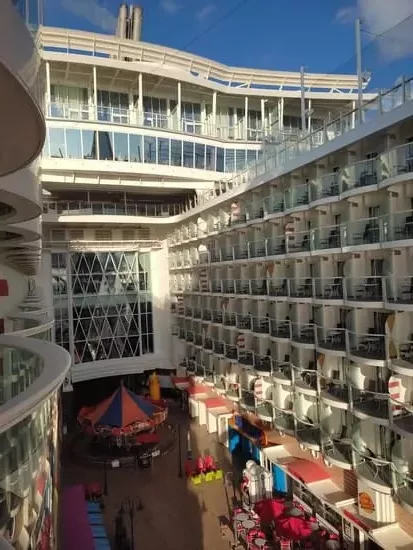 I ate at Johnny Rockets for lunch right after boarding the ship on the first day.
The Food
Onion Rings: Sliced onions in crunchy sourdough breadcrumbs
BBQ Chicken Bacon Melt: Grilled chicken breast, cheddar cheese, applewood smoked bacon, our crispy onion rings & tangy barbecue sauce on grilled sourdough bread
My Opinion:
This was good but not amazing. Pretty much what you would expect at Johnny Rockets. It was too much food for me though.
Sabor Taqueria & Tequila Bar
This Mexican restaurant is also located on the Boardwalk, pretty much across from Johnny Rockets. One small issue was that this restaurant is kind of open on the side. Great in the Caribbean but on an October night in Italy it was decidedly chilly even inside the restaurant.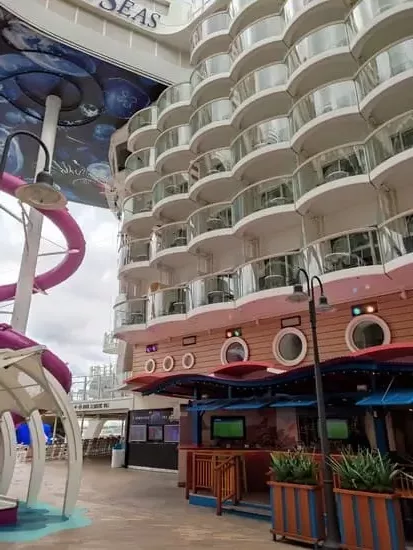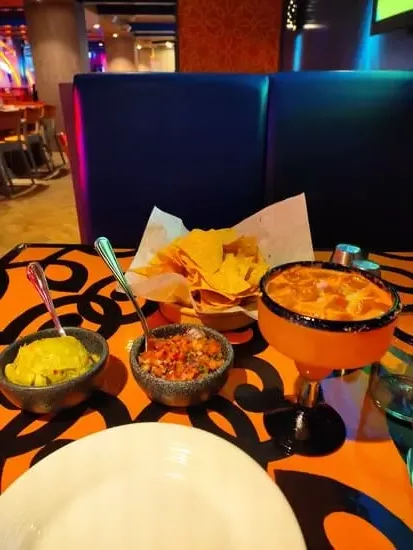 Guacamole: Avocado, tomato, onion, lime, coriander, served with house-made tortilla chips and salsa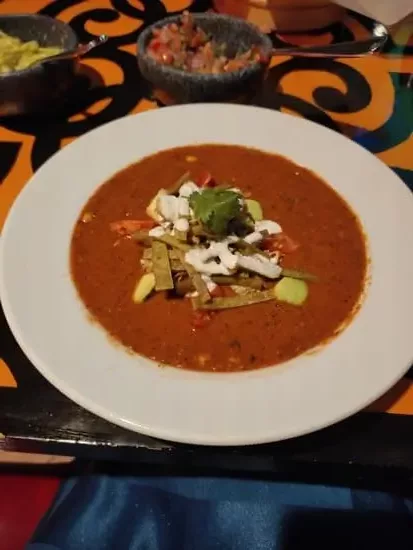 Chicken & Corn Tortilla Soup: Black beans, tomatoes, toasted cumin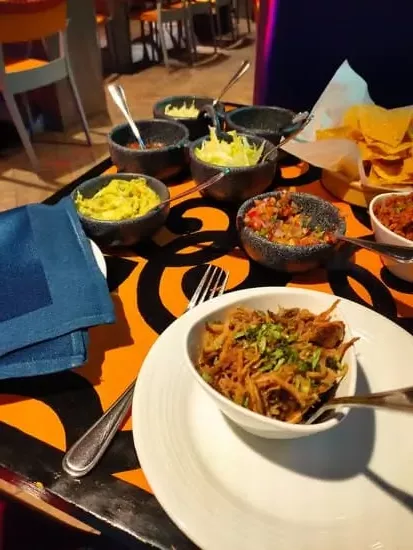 Tacos Barbacoa (I think): Three crispy corn tortillas, shredded short rib, chipotle BBQ sauce, queso fresco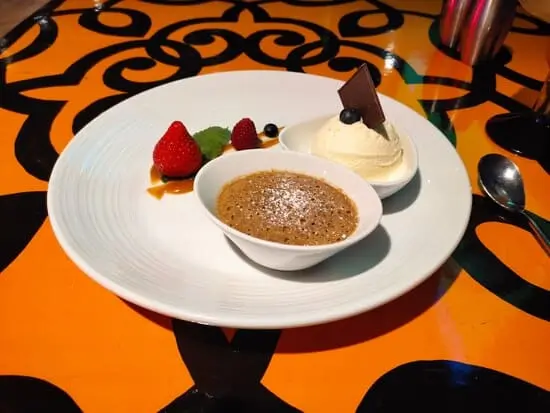 My Opinion:
The chips with salsa and guacamole were fine but I don't remember them being outstanding.
I didn't love the chicken tortilla soup but I think that was just due to personal preference. The soup was very thick (something I have noticed in more upscale restaurants) and I prefer it  smoother/thinner as I am a bit sensitive to texture.
The tacos don't really stand out in my mind – they were tasty but not something I would necessarily order again (I wasn't very hungry at that point though so I may have felt different otherwise). They were a lot more filling than regular street tacos like I got in San Clemente when I went to California this summer.
The dessert on the other hand I loved. It was probably my favorite dessert for the whole trip.
The service was nice and very friendly. I never went back to Sabor – not quite sure why. Maybe because it was so chilly there?
Chops Grille
Chops Grille is Royal Caribbean's for-fee steakhouse and I believe you will find it on all ships of the fleet.
On the Harmony of the Seas it is located in the Central Park Area, an interior open-air courtyard with real plants. The vibe of this area is more serene and upscale in comparison to the bustling atmosphere of the Boardwalk (well, it wasn't very bustling on my cruise as the ship was fairly empty but in general).
I think overall Chops Grille was my favorite restaurant on this trip and I ended up eating there three times! Nobody needs to see three pictures of the same dish so I will combine all my visits and just show you everything I ate. But remember this was not on one day!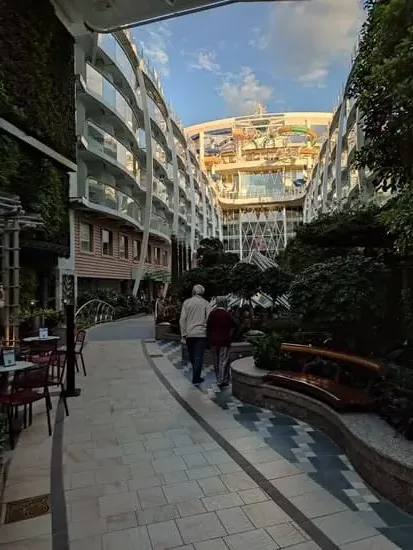 Wild Mushroom Soup: Scented with white truffle oil, chives
Lobster Bisque: Brandy, tarragon cream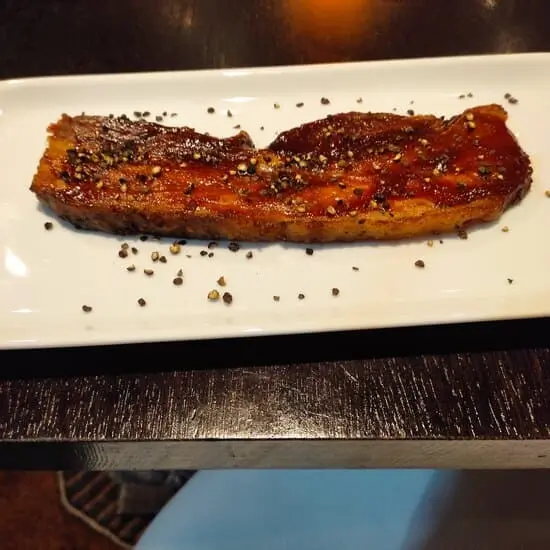 Grilled Black Pepper Bacon: Slow-cooked Berkshire pork, sweet and spicy glaze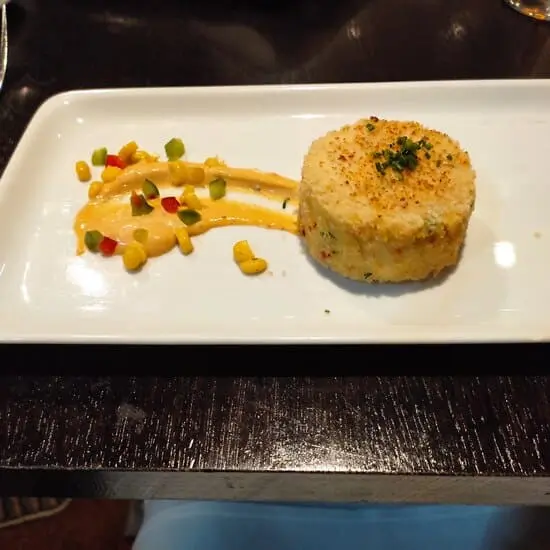 Jumbo Lump Crab Cake: Chipotle aioli
Caesar Salad: Romaine, shaved Parmesan, Caesar dressing, fresh baked croutons
Petite Filet: A smaller 6-ounce cut of lean, midwestern beef
Grilled Jumbo Asparagus
Yukon Mashed Potatoes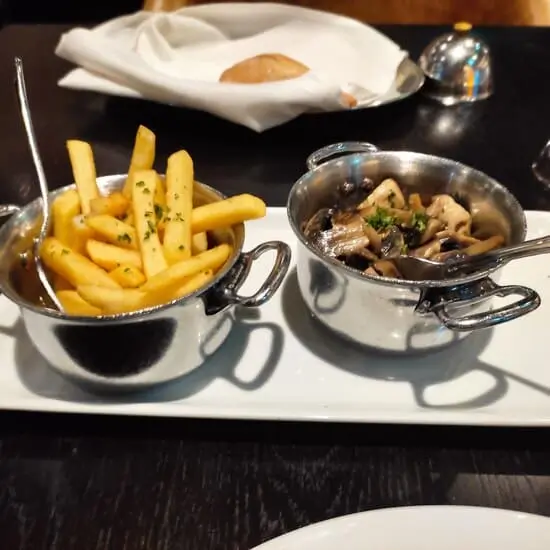 Bread Basket
Truffled French Fries
Mushrooms (no longer available)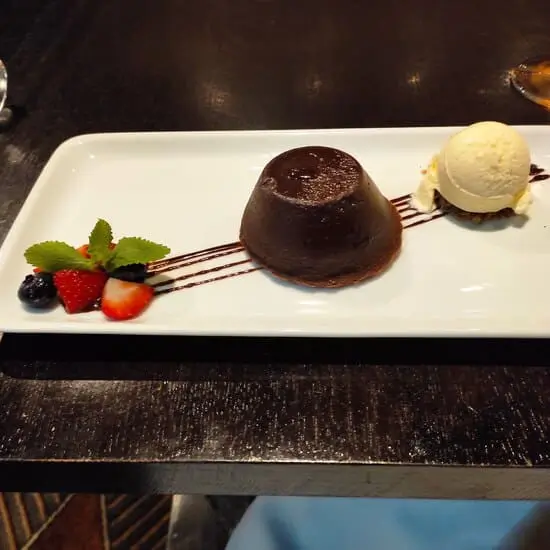 Warm Chocolate Cake: Vanilla ice cream, berry compote
My Opinion:
Overall, I really enjoyed Chops Grille (clearly as I kept returning). The service was especially engaging and friendly.
As far as the appetizers were concerned, the lobster bisque was probably my favorite. The wild mushroom soup was a bit too thick/chunky for me (again, that is probably a personal issue) and I thought the beef carpaccio a little boring.
I was disappointed by the grilled bacon. I think I just expected something else? It wasn't bad but a bit too fatty for me (especially when eating all the other rich foods).
The crab cake and caesar salad were fine. Tasty but they don't stick out in my memory.
I clearly loved the filet mignon as I had it every single time I went there and the same goes for the warm chocolate cake.
I don't remember loving any of the sides. The truffled fries and asparagus were nice but not spectacular. I hated the mashed potatoes though – they were the worst thing I ate on this trip. Not sure if they just had an off day but they were kind of runny and not at all what I expect from mashed potatoes.
Jamie's Italian
Aside of Chops Grille, Jamie's Italian (or a variation of it) is probably the most common for-fee restaurant on Royal Caribbean ships. As the name implies, you will mostly find Italian inspired dishes at this popular venue.
And just like the steakhouse, Jamie's Italian is right in the Central Park Area. The restaurants located there all have outdoor seating (though on my cruise it was a bit too chilly for that) which gives the Central Park area an atmosphere reminiscent of a fancy neighborhood in a large city.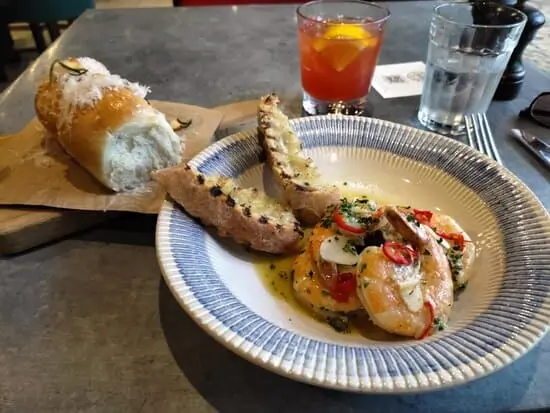 Ultimate Garlic Bread: Warm artisan buttermilk buns, herby garlic butter, veggie parmesan & rosemary
Garlicky Prawns: Cooked with herby garlic butter, chili & crunchy ciabatta
Truffle Tagliatelle: Truffle cream, fresh truffle & nutmeg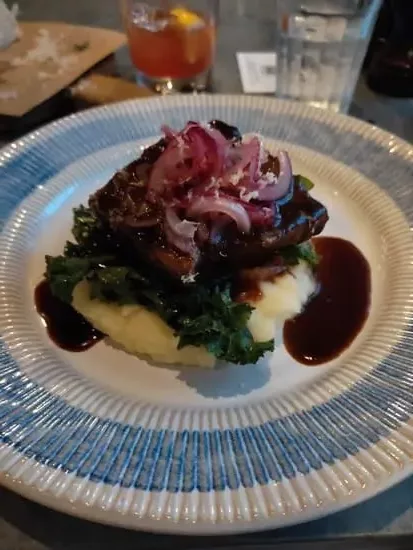 Chianti-Braised Short Rib: White Oak Pastures beef short rib cooked low & slow, served with Parmesan mash & horseradish garnish
My Opinion:
I think Jamie's Italian was the most disappointing of the restaurants for me. None of the food was bad but there were some issues that would have bothered me if I had paid extra specifically to eat there for a special night out.
The prawns were a bit difficult to eat as you had to peel them – not ideal food if on a date. The waiter did warn me about that beforehand so I can't really complain (and as a solo diner I didn't care too much). But do be aware when ordering if that bothers you.
The garlic bread was tasty but not amazing – possibly because the prawns also came with bread so it might just have been too much garlicky bread.
So far so good but I did have two  complaints:
First of all, when I order pasta in an upscale Italian restaurant I expect it to be served as its own course not at the same time as the meat dish.
Unfortunately, I did get both the tagliatelle and the short rib at the same time. I think I would have enjoyed them a lot more separately. They didn't go together that well and I felt rushed eating as I didn't want the food to get cold.
And finally the Tiramisu was quite underwhelming. Taste was fine but the presentation was basically non-existent. It was just kind of slapped on the plate. No garnish at all. It looked like something from a mall food-court.
Don't get me wrong – all the food was tasty. But if I pay extra to eat in a specialty restaurant on a cruise ship I do expect  a really good meal. Something special. And during my visit Jamie's Italian didn't really deliver on that.
However, I know that it is a very popular restaurant on Royal Caribbean so there is a good chance they just had an off-day. I would definitely try Jamie's Italian again another time (but didn't during the cruise which is kind of a bad sign as I ate at Chops three times).
150 Central Park
As the name implies, 150 Central Park is also located in the Central Park area on Harmony of the Seas. The atmosphere is quite upscale and refined, more so than the other specialty restaurants I visited.
Delicious Bread (Not the official name – unfortunately, I couldn't find name or description of this bread online)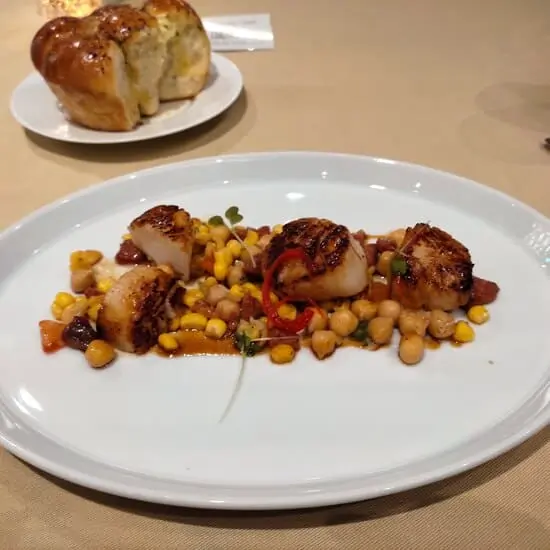 Seared Honey Glazed Scallops: Red peppers and chorizo stew, orange sauce
Lobster Thermidor: Cognac cream, tarragon and parmesan cheese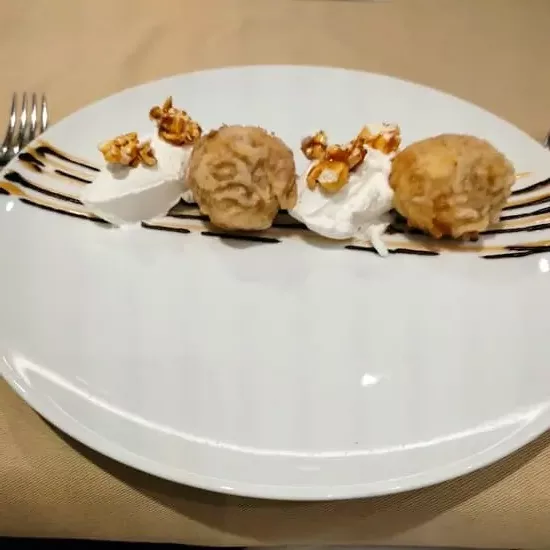 Fried Cheesecake: Nutella, whipped cream, caramelized popcorn
My Opinion:
The star of this meal was definitely the bread at the beginning. Not because there was anything wrong with the other dishes but because it was so delicious! It was definitely one of my favorite foods during this cruise – absolutely loved it.
The rest of the meal was fine but not my favorite. I think I would have liked the scallops better without the honey glaze. It just made the naturally sweet scallops a bit too sweet for my taste.
And the Lobster Thermidor and the fried cheesecake were good but very heavy. Which I should have expected as these dishes are supposed to be rich but it was just too much for me.
All in all, a very good meal. Next time I would order dishes that are a little less rich though.
Wonderland
Wonderland isn't so much a restaurant as an experience. So if you don't want to have any surprises spoiled, you might want to skip this section.
However, if you are like me and are a bit leery of the unexpected, read on to find out more.
Basically, Wonderland is loosely based on the Alice in Wonderland story as far as decorations/costumes are concerned. The food is eclectic/inspired by molecular gastronomy.
Unlike most of the specialty restaurants, Wonderland isn't located in Central Park or Boardwalk but it does offere a view of the Boardwalk area.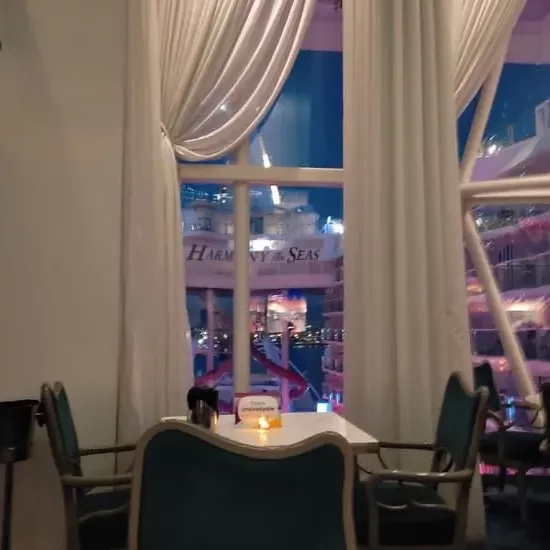 In keeping with the theme, some quite unusual cocktails are offered. I had a whimsical drink with cotton candy!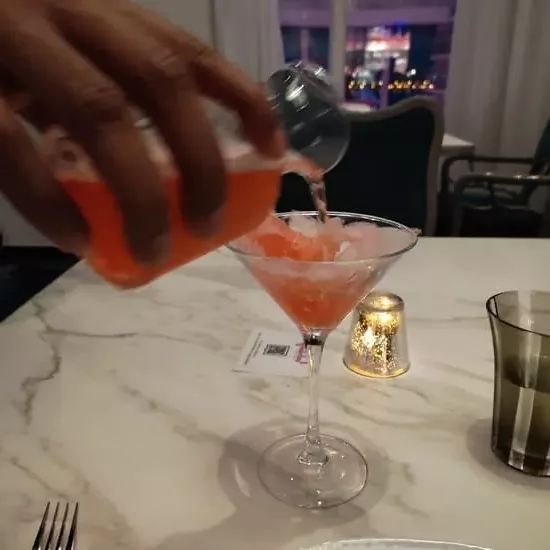 At Wonderland, you get a menu that you basically "make" yourself (writing appears when you "paint" the paper with water). However, you don't get to order yourself (unless you insist). Instead your waiter will ask about possible allergies/dislikes and then just bring you what they think best for appetizers/dessert. You do get to choose your main dish however.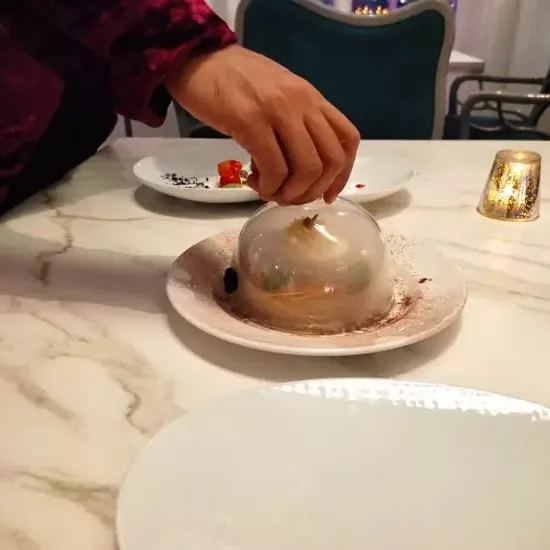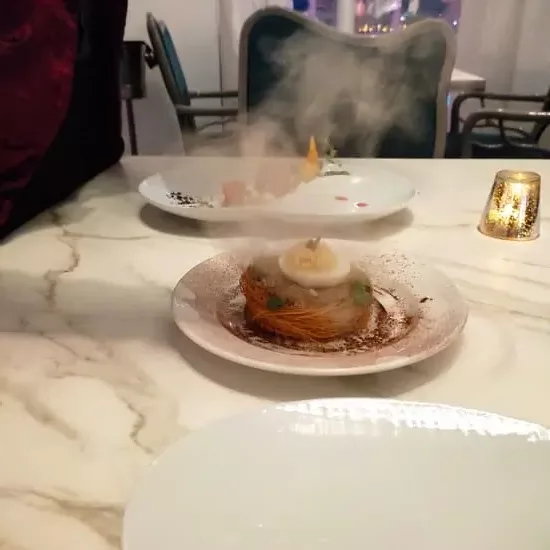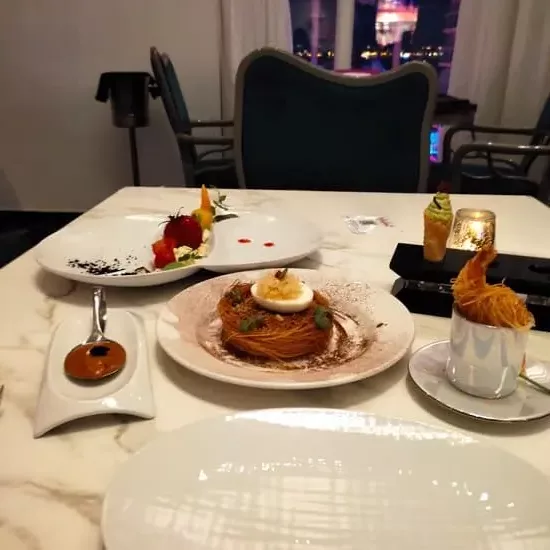 SUN – Reconstructed Caprese: Liquid olive, ricotta powder, basil (back left)
ICE – Crispy Crab Cones: Cilantro, avocado mousse, ohba leaf (back right)
FIRE – Mad Hatter's Purple Potted Shrimp: Crispy crumb, scotch bonnet (front right)
FIRE – The Bird's Nest (center)
SEA – Liquid Lobster: Bone marrow, caviar (front left)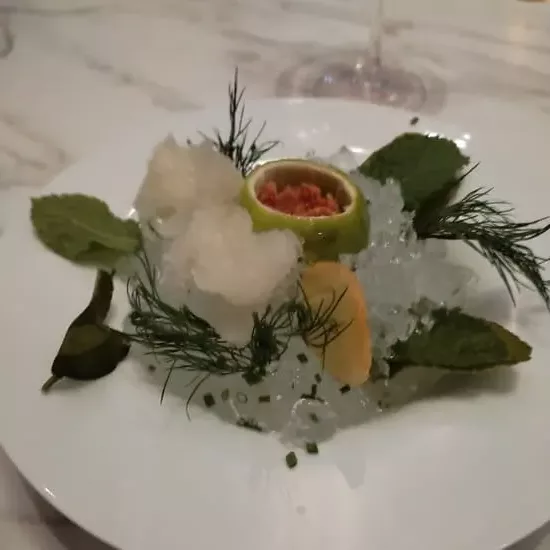 ICE – Citrus Seas Shhhh*: Spicy tuna, floral yuzu granite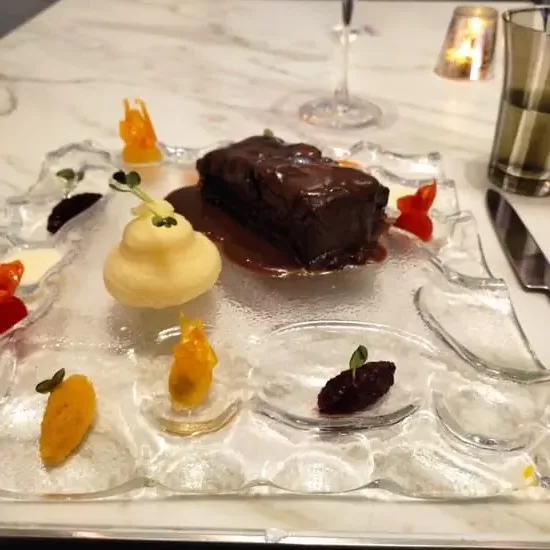 The Rib "I" Luscious Short Rib: Bordelaise sauce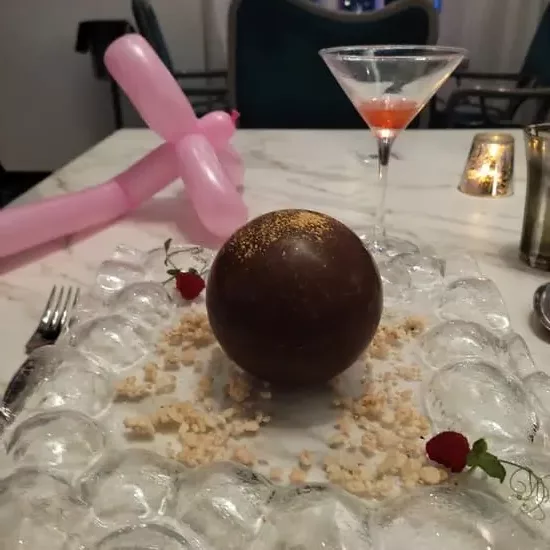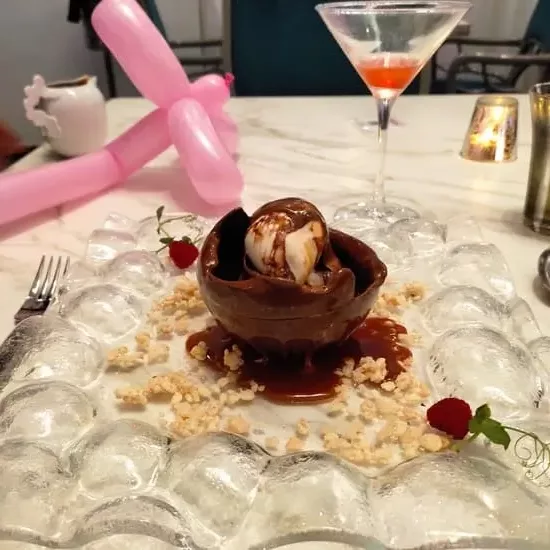 The World: Peanut butter ganache, Valrhona chocolate mousse, salted caramel ice cream
My Opinion:
I really wanted to love this meal but I was rather ambivalent about it. The concept is very cool and it is definitely different!
In the end though I felt that they tried a bit too hard to be edgy/incorporate so many different flavours. Partly, this may have been because there were just so many dishes to try.
I do appreciate that they gave me a large variety as a solo diner (I am not sure if couples would get more appetizers for example). The size of individual dishes was quite small so it wasn't really too much food per se. But it was just too many divergent flavors. Maybe I am just not adventurous enough but by the end I felt a bit queasy. For me, less would have been more.
I also didn't enjoy the World dessert as much as I had expected. For me the salted caramel ice cream was too salty and it was just way too much and too rich for me on my own. Even though I tried to eat as much as possible so as not to waste all that chocolate, I barely made a dent in it.
In the end I am very glad I tried it but it wasn't my favorite meal. However, this was quite personal and you may love the experience. Definitely something everyone should give a shot!
Izumi
Izumi is another staple on Royal Caribbean Ships. On the Harmony of the Seas, Izumi is located on Deck 4, near the main dining room and not in the Central Park or Boardwalk Area like most of the other specialty restaurants.
Izumi is divided in two sections, Hibachi and Sushi. I did not try the Hibachi area, but heard a lot of laughter from that area and people seemed to have a great time.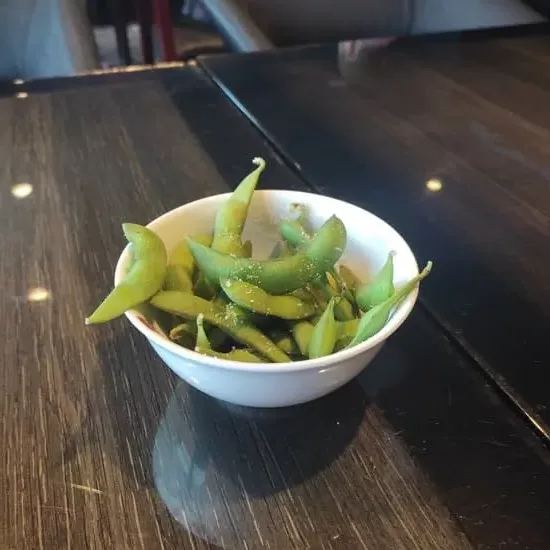 Pork Gyoza Dumpling: Pan-fried pork wontons, gyoza sauce
Shrimp Wonton Soup: Clear chicken soup, shiitake mushrooms, scallions, shrimp & pork wonton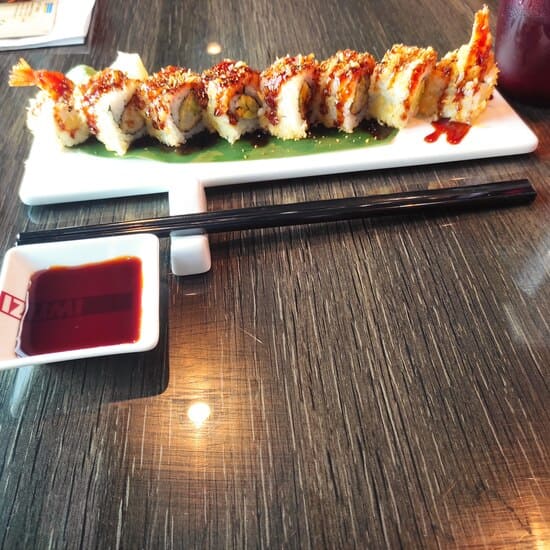 Spicy Crispy Shrimp Roll: Shrimp tempura, avocado, crispy tempura flakes, unagi sauce, togarashi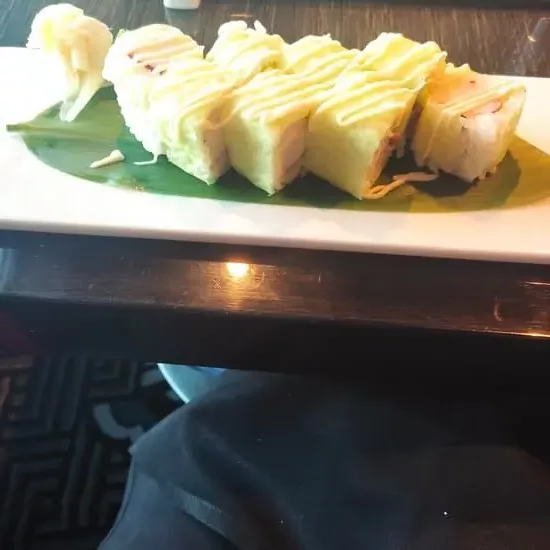 Champagne Lobster in Yuzu Wrap Roll: Blanched lobster, avocado, daikon sprouts, soy wrap, Champagne sauce, chili thread
Chicken Teriyaki: Chicken and vegetables in a flavorful teriyaki sauce, served with steamed rice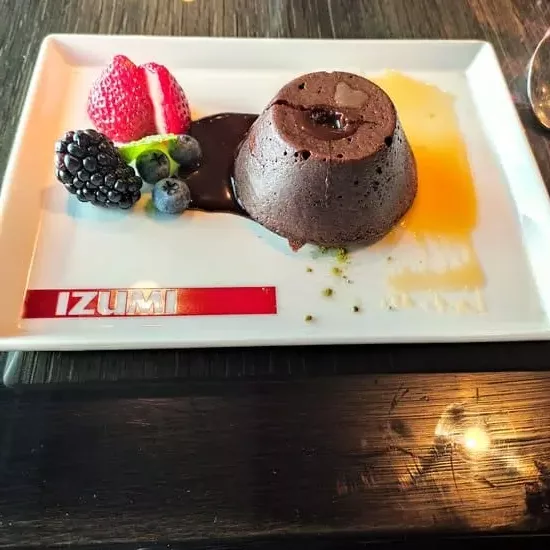 Chocolate Lava Cake: A warm, gooey chocolate center, finished with matcha powder and fresh berries
My Opinion:
I know I said earlier that Chops Grille was my favorite of the specialty restaurants but Izumi is a strong competitor. Izumi for sure had my single favorite dish by far (can you guess what it was?).
The appetizers were good but not that special (I did prefer the dumplings) but I absolutely LOVED the spicy crispy shrimp roll! I had it both times I went there and I am still thinking about it!
The Champagne roll and the Teriyaki bowl were fine but couldn't compete with the Crispy Shrimp. It was definitely too much food for me though – next time I would order only one main dish.
The Chocolate Lava Cake was also excellent and easily made it into my top 3 desserts on this trip.
I am normally not a big Sushi fan but am so glad I tried Izumi. Even without a dining package I would make a point of going there to get the Spicy Shrimp Roll. Actually, just thinking about it makes my mouth water. Hm, maybe it is time to book another cruise on Royal Caribbean?
Is Unlimited Dining on Royal Caribbean worth its cost?
Whether or not Unlimited Dining on Royal Caribbean is worth it will depend on personal preferences and the ship/itinerary.
In general, Unlimited Dining is a good purchase if:
– You prefer specialty dining restaurants to the Main Dining Room
– You vacation on a ship with many for fee restaurants (i.e. one of the bigger/newer ships)
– Your itinerary isn't very port-heavy (as specialty restaurants usually are closed for lunch on port days)
For me personally, I am very glad that I had Unlimited Dining on this trip and got to try all the specialty restaurants. I do not like to spend a lot of extra once on the ship so having prepaid for this plan was great. Otherwise, I probably still wouldn't have eaten in any extra-charge restaurant. I absolutely loved the food at Izumi and will definitely go there on my next Royal Caribbean cruise!
However, I love the grandeur of the MDR, enjoy sharing a fixed table with other passengers and like having the same servers every day. While the food in the specialty restaurants was good, I have no complaints about the regular MDR food so to me the extra benefit wasn't huge.
So I probably will not regularly book Unlimited Dining on future cruises but may consider doing so on specific itineraries (e.g. a transatlantic cruise on a large ship).
How about you? Have you tried Unlimited Dining on Royal Caribbean and if yes, what did you think?