When planing for a cruise vacation you may be tempted by the low price of a transatlantic cruise. But what exactly does a transatlantic cruise entail and is it the right vacation for you?
I recently (June 2023) completed my second transatlantic cruise  and below I will give you some general information about this type of vacation as well as the advantages and disadvantages of a transatlantic journey.
And finally you will find a number of tips on how to make the most of a transatlantic cruise if you do decide to go for it!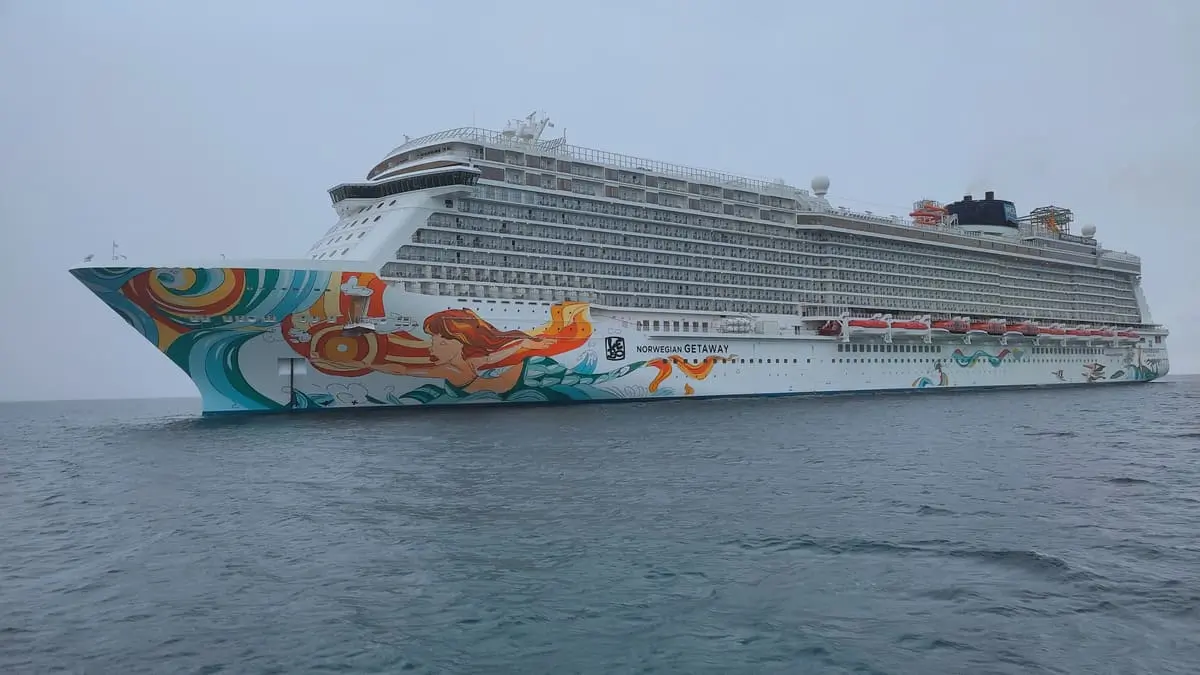 What exactly is a Transatlantic Cruise?
Like the name already implies, transatlantic cruises are cruises that cross the Atlantic Ocean. Though any cruise between Europe or Africa and the Americas would qualify, the  majority of transatlantic cruises offered are between Europe and North America.
When are Transatlantic Cruises offered?
In general, transatlantic cruises earn less money per day for the cruise line so they aren't offered as part of the regular rotation but only when ships have to be moved across the ocean for the new season.
Regular cruises generally take place during the prime travel season in each region, e.g. during the summer in the Mediterranean und during the winter in the Caribbean.
Consequently, most westbound (Europe to America) cruises are offered between Mid-October and early December (when the weather in the Mediterranean becomes too cold to entice guests to a cruise) and most eastbound (America to Europe) cruises are offered in late March to late May.
Looking for a transatlantic cruise at another time of the year? One major exception to the above rule is Cunard's Queen Mary. As the Queen Mary is an ocean liner and not a regular cruise ship she spends most of the year going back and forth between Southampton and New York.
The second exception is that ocasionally ships have to cross the Atlantic for other reasons. For example several years ago I went on an easttbound transatlantic on the Oasis of the Seas in early September – the ship had to return to Europe for a check up/dry dock.
How long does a Transatlantic Cruise take?
The duration of a transatlantic cruise depends on the exact route (New York to Southampton will be shorter than Miami to Civitavecchia), the number of ports visited, and the speed with which the ship drives.
Queen Mary's trip straight across the Atlantic without any intermediate stops from New York to Southampton takes just six days. However, most transatlantic cruises take between 12 and 15 days and incorporate at least a couple of port stops.
Will I get seasick on a Transatlantic Cruise?
No one can predict the weather exactly. However, the seas are likely to be rougher during a transatlantic crossing than in the Mediterranean.
Though it is largely up to luck, transatlantic cruises in May/June are more likely to be smooth whereas the chances for some rough weather increase in November/December.
Both my trips across the ocean were very smooth and my recent transatlantic cruise on Norwegian Getaway in late May/early June actually some of the calmest seas I have ever seen.
You can increase your chances for a smooth ride by booking a cabin closer to the middle and lower down in the ship (The expensive suites on top decks are not always the best choice if you are prone to seasickness).
Should I choose a Westbound or an Eastbound Cruise?
It depends on what you are looking for. The most important consideration in my opinion is which will fit timewise better into your vacation plan.
Personally, I feel that the choice of cruise line, ship, price, and itinerary are more important than the direction.
That being said, I like Eastbound cruises because for me the flight and jetlag are much worse when returning to Europ and a transatlantic cruise let's you skip that unpleasant aspect of traveling.
However, on an Eastbound cruise you will "lose" an hour on several days and some prefer Westbound cruises on which you "gain" hours and therefore vacation time.
Why are Transatlantic Cruises often cheaper than other cruises?
Cruise lines set the prices according to supply and demand – the more popular a cruise is the more you will have to pay for it.
There are several factors that make it more difficult for the cruise line to sell transatlantic cruises:
1. There are many sea days and fewer ports visited

Not everyone enjoys the more leisurely sea days and the variety of ports visited on a cruise is often one of the main draws. With around 8 sea days and as little as two or three ports, transatlantic cruises attract less interest.
2. The cruise is significantly longer than the average 7-day cruise

Especially North Americans, who often only have two weeks of vacation times per year, tend to prefer shorter cruises. A transatlantic cruise is a fairly big time committment.
3. Transatlantic Cruises are generally at less popular times of the year

As transatlantic cruises usually serve to reposition the ships, they are mostly offered in April/May or October/November – a time when schools are in session and families can not travel.
Because of this lower demand, prices are often quite low – especially for solo cruisers who may have to pay no or a low supplement.
So if these disadvantages do not apply to you – you have time to travel off-season and enjoy sea days – a transatlantic cruise can be a great bargain!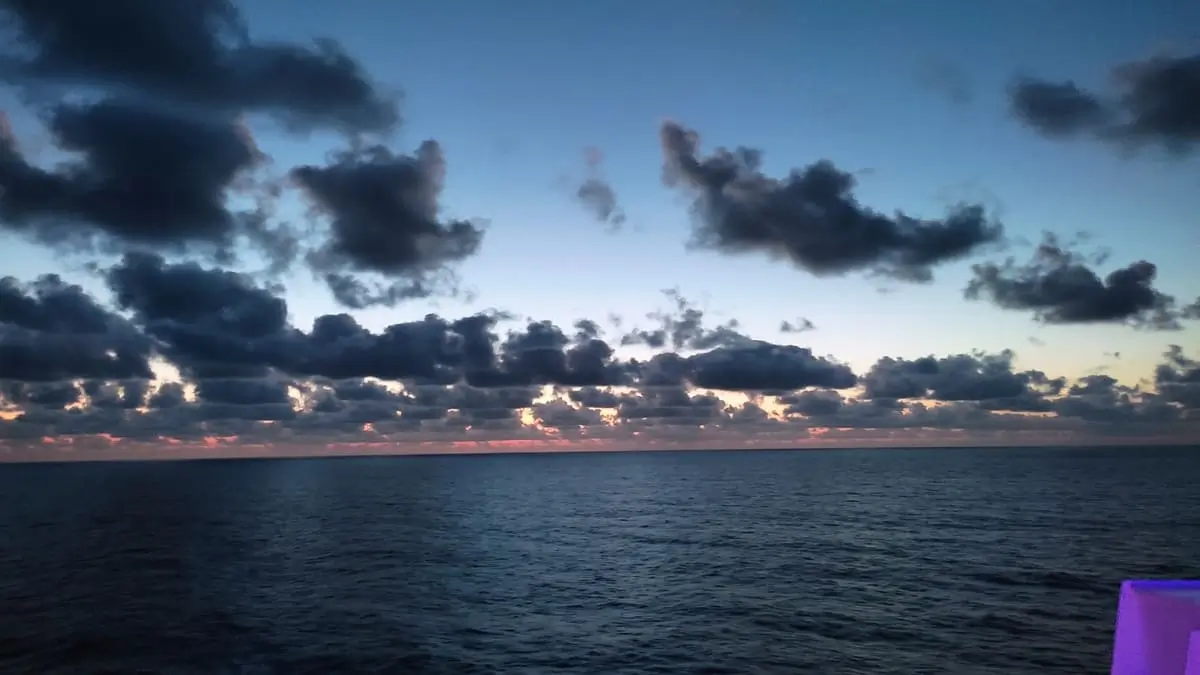 Advantages of Transatlantic Cruises
Transatlantic Cruises offer several advantages, especially for solo travelers.
Prices are often lower than for regular cruises
As explained above, transatlantics are often significantly cheaper than regular cruises. Especially for solos who often have to pay a supplement that doubles the price per person the savings can be significant. 
Transatlantic Cruises are very relaxing
If you – like me – are the type of person who always feels they should explore a little further, do another activity, or try something else, a transatlantic cruise can force you to slow down and smell the ocean.
On a transatlantic cruise there really isn't anywhere much to go. Sure, you have the choice of whether to go have a meal, watch a show, lie in the sun, or take a nap but that is pretty much it.
No need to feel guilty about reading a book instead of exploring the town or hiking through the heat!
You will have plenty of time to explore and enjoy the ship
Have you ever been on a cruise on one of the larger ships with all the bells and whistles – carousel, water slides, ice skating ring, escape room, flowrider and so on? If so you know that there just isn't enough time to do it all.
On a regular cruise with one or maybe two sea days, you can barely scratch the surface of all there is to do and see. Well, a transatlantic cruise is the perfect chance to really dig into all that is offered.
With six to eight full days, you can truly take advantage of all the options. Sure, I never made it to Norwegian Getaway's Rope Course but it wasn't because there was no opportunity – I was just too much of a chicken!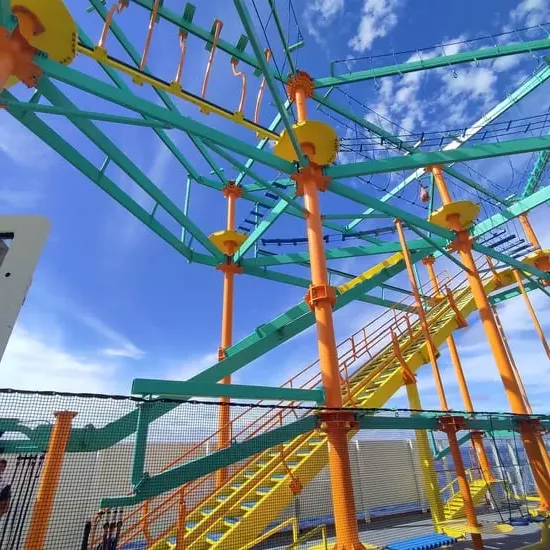 The ship is likely to be less crowded than usual
And enjoying the ship is even easier as there are likely to be less people on board. With few families and more solo travelers, transatlantic cruises are usually not crowded.
So no long waits for the flowrider or to go ice skating. And it shouldn't be hard to find a sunbed either.
Even though all the cabins were occupied on my recent transatlantic, I never had a problem finding a seat in the buffet or a lounger on deck – a definite plus!
Transatlantic Cruises make it easy to meet people
As everyone spends so much time together on the ship, you will meet the same people more often than on a regular cruise. And generally, people are more open to meeting fellow guests.
There are often various activities organized to fill the sea days. Whether you are a solo cruiser, enjoy card games, love a good pub crawl, or are an avid crafter – there is likely a meet-up planned you could join. And if not – go ahead and organize one yourself!
Disadvantages of Transatlantic Cruises
Of course it is not all roses – transatlantic cruises are not for everyone and there are some (potential) disadvantages:
The average age of cruisers is usually higher than on normal cruises
For the same reasons that make transatlantics  cheaper than other cruises – they are during the off-season and require more vacation days – they appeal less to families and more to older couples/solos or retirees.
So if you are looking for a young and hip crowd, a transatlantic may not be your best bet. However, the age demographics are also heavily dependent on the cruise line you choose.
If you are concerned about the age of fellow cruisers a mainstream cruise line known for their fun family activities (like NCL or Royal Caribbean) will probably be a better fit than a more upscale line (like Cunard or HAL).
One way flights between America and Europe can be expensive
If you are a frequent traveler you will know that flight prices make no sense whatsoever. At times a flight LA-New Orleans-Seattle may be cheaper than a straight LA-Seattle connection!
The same is true for transatlantic flights. Even though you would think that flying only one way costs half of a return ticket this is unfortunately not true. Indeed, you will be lucky if you can get a one way ticket for the same price as a return – often they are more expensive!
This can make the cost for an otherwise inexpensive cruise rise sharply and is another reason transatlantics don't sell well.
Transatlantic cruises are one case in which it may make sense to utilize a flight package offered by the cruise line. Generally, these are more expensive than booking flights yourself but for one way tickets cruise lines are in a better position to get a good deal than individual travelers.
Other options are to use frequent flyer miles (don't I wish) or to use a budget airlines. Some budget airlines do offer one-way tickets for basically half the price of a return flight. So definitely check around!
Or if you really enjoy transatlantics you can do what I did – buy a return flight and hope/plan to take another transatlantic cruise with that.
Many sea days and fewer ports
If ports are your favorite part of a cruise and the ship is only a place to sleep (and of course eat), a transatlantic cruise may not be for you.
Cruise lines generally offer additional/more activities on sea days – depending on cruise line everything from lectures and dance classes to trivia and arts and crafts – but if the idea of just relaxing and enjoying the fresh sea air sounds like torture to you you will be better off sticking with regular port-intensive cruises.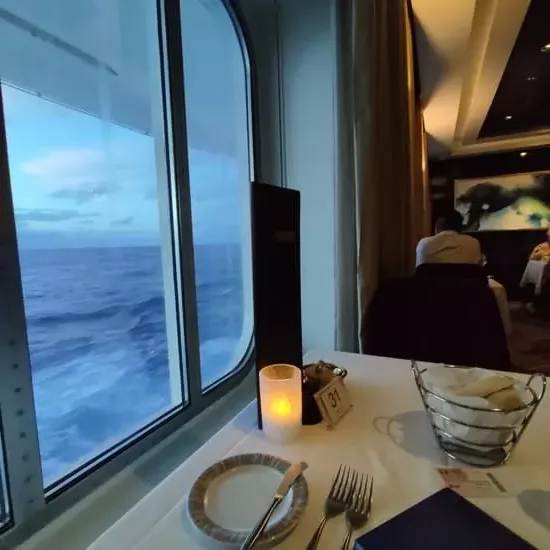 Are transatlantic cruises good for solo travelers?
If you read the above you can already guess my answer: Yes, transatlantic cruises are great for solos.
Not only are they more affordable than most other cruises but you will likely meet many other solo travelers that are also happy to make new friends. I am not an extrovert but even I met so many new people on my recent transatlantic cruise on the Norwegian Getaway!
And like any cruise the ship will provide you with a safe environment (no walking home from the theater in the dark alone), plenty of entertainment, and a dining experience that is good for solo diners.
Should you take a transatlantic cruise?
You will likely love a transatlantic cruise if you enjoy shipboard activities, want to relax and slow down, and have plenty of vacation days.
Even though I believe transatlantics are a great choice especially for solo travelers, I would not recommend to take one as your first cruise though. If you are completely new to cruising I would recommend to take a one week cruise with four or five ports first.
That way you are not stuck on the ship for six days straight if you find that you hate being cooped up out at sea. It will also give you a better idea what you like and what you dislike about cruising so you can make a better choice once you are ready for your transatlantic.
If you hate the sea days a transatlantic likely won't be for you. But if you can find plenty to entertain you on board, a transatlantic would be a great next step!
6 Top Tips for a great Transatlantic Cruise
1. Choose your Cruise Line carefully
I find that on a transatlantic cruise the cruise line is more important than on a regular 7-day Med or Caribbean cruise with many ports. You will spend so much more time on the ship – small annoyances you would barely notice when out and about most days can grate much more on a Transatlantic cruise.
Consider how important food quality, type of entertainment, style of cruising etc. is to you before comitting to a Transatlantic cruise.
I firmly believe there is no such thing as a best cruise line – but there is a best cruise line for you. Flow rider, ice skating rink, water slides, and ropes courses are great – but if your idea of a good time is listening to quiet piano music and doing sudokos they are not much help.
2. Choose your ship carefully
Just as the overall style/vibe of the cruise line, the actual ship will also be more important for your enjoyment on a transatlantic than on a regular 7-day Med or Caribbean cruise with many ports.
Read some reviews and definitely look at the deck plans before booking. Don't forget to consider the time of year of your planned cruise – not all ships are good in all weather.
I had a great time on my late May/early June transatlantic on Norwegian Getaway but quickly noticed that there was very little public space indoors. This was no problem as we had great weather but I would hesitate booking the same ship to cross the Atlantic in November.
3. Book the right kind of cabin
Often you hear "I don't care about my cabin. I am never in it anyway." While this may still hold true during a Transatlantic Cruise for some, most will probably spend more time in their cabin during those long seadays.
So consider what you need carefully. Do you want to upgrade to a higher category than you would normally book? Will you feel claustrophobic in a small inside cabin for six or more days?
Conversely, if your transatlantic cruise is early (March/April) or late (November/December) in the year chances are the weather won't be good enough to get much use out of a balcony.
If money is tight it may make sense to book an inside or oveanview cabin instead and use the money saved to buy a pass for the spa!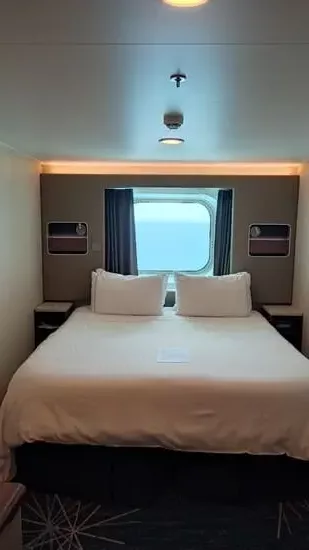 4. Engage with other cruisers before your trip
There are various ways to "meet" fellow cruisers ahead of time. Join a Facebook group or roll call for your trip to stay informed.
Experienced cruisers are always happy to answer questions you may have and you are less likely to miss any important "deadlines". Yes, depending on the cruise line it is indeed highly advisable to book entertainment, excursions, or dining well in advance to make sure you get what you want.
You will also hear about any special activities organized by other guests – on my recent transatlantic they ranged from Bible Study to Pub Crawl and from Dice Games to Tarot.
5. Do participate in any events that appeal to you
If you are chronically overworked and all you want to do on this cruise is eating, sleeping, and maybe reading on your balcony that is perfectly fine and you can just ignore this paragraph.
However, if you would like to connect with other travelers and make some new friends, there are many options available.
Do attend the Meet & Greet and show up for some of the activities organized by others. Offer to share a table at dinner if the cruise line doesn't have fixed seating. And be open to chat with others – you will be surprised how interesting most of your fellow guests are!
6. Elevate your cruise with upgrades
Transatlantic cruises save money but you will spend a lot more time on the ship. The perfect time to upgrade your experience!
Carefully go over the list of possible updates and consider which would benefit you. Have you always dreamed of unlimited drinks, a spa pass or of eating all your meals in specialty restaurants? If so this may be the best time for it.
Are you going on a cruise on Norwegian Getaway? If so, my free photo scavenger hunt is a great way to explore the ship and have fun! 
You can download the pdf for the completely free Norwegian Getaway Scavenger Hunt right here.
And you may also be interested in my ultimate tips for having a great cruise on the Norwegian Getaway.
Summary
Transatlantic Cruises are a great chance to relax and make new friends. I hope after reading this post you have a better idea what a transatlantic would be like and whether it is right for you.
And if you do decide to cross the Atlantic by ship:
HAVE A GREAT TRIP!