Choosing the right cruise line and ship is always tricky but especially so for a transatlantic cruise. With many sea days and so much time spent on board, finding the right fit is even more important. Hopefully this review of my recent 12-day Transatlantic Cruise on NCL's Norwegian Getaway will give you a good idea of what to expect on this ship and on a Norwegian Cruise Line (transatlantic) cruise.
Like any review, this one is somewhat subjective but I will try to stay as objective as possible (or at least note if something is just a matter of taste).
Read on for lots of information and (hopefully) helpful tips and tricks if you decide on a (NCL) transatlantic cruise or just any trip on Norwegian Getaway!
The Basics of this cruise: What, when and where
This was my first cruise with Norwegian Cruise Lines. It was a 12-day Transatlantic Cruise from Port Canaveral, Florida, to Lisbon, Portugal, on NCL's Norwegian Getaway from June 3 to 15, 2023.
The price of the cruise for a solo guarantee cabin in the oceanview category was EUR855.50. I added on NCL's Free at Sea special for an additional EUR250 so that my final price was EUR1,105.50 – an excellent price!
Review of Ports on Norwegian Getaway's Transatlantic
The cruise started in Port Canaveral, Florida, and ended in Lisbon Portugal. Here is the itinerary:
| | |
| --- | --- |
| Day | Port |
| 1 | Port Canaveral, Florida, USA |
| 2 | Great Stirrup Cay, Bahamas |
| 3 – 8 | At Sea |
| 9 | Ponta Delgada, Azores, Portugal |
| 10 | At Seas |
| 11 | Madeira, Portugal |
| 12 | At Sea |
| 13 | Lisbon, Portugal |
Like most transatlantic cruises this Norwegian Getaway cruise had only very few ports – most of the time was spent on board.
However, I was quite excited as two of the ports were completely new to me. So what were they like?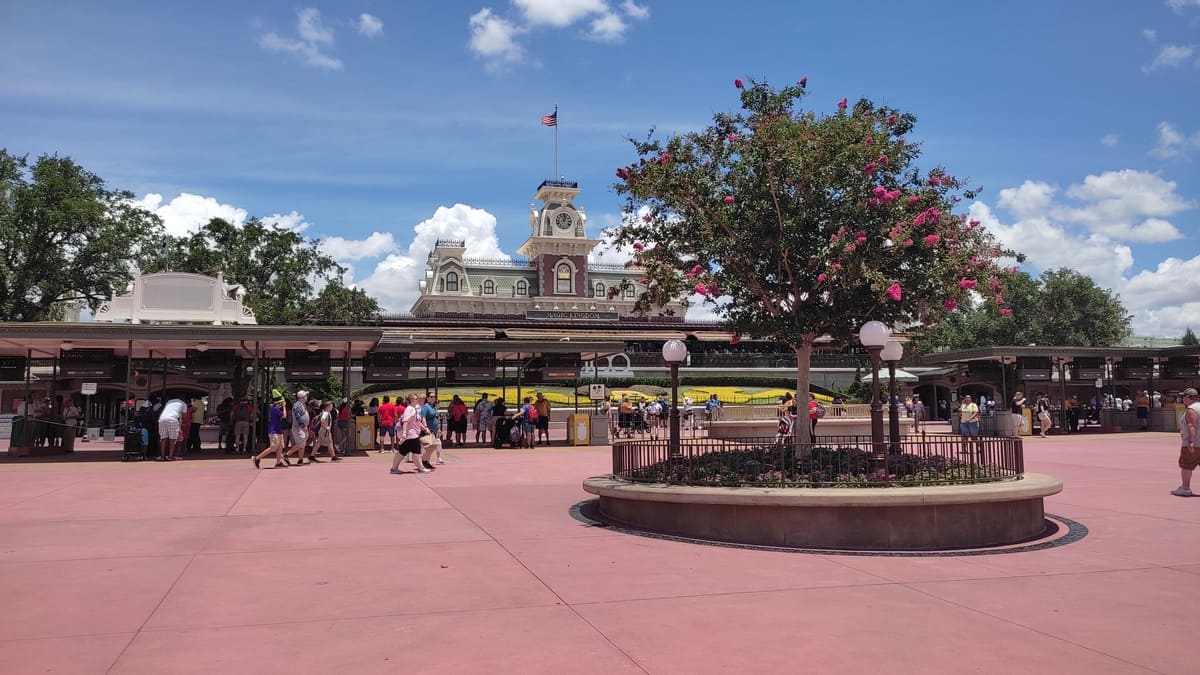 Embarcation Port: Port Canaveral, Florida, USA
Port Canaveral is of course a popular embarcation port for Caribbean cruises.
We have actually spent a week at a beach resort nearby a couple of years ago and had a great time but the number of sights right at Port Canaveral is limited (pretty much to the beach, the Ron Jon Surf Shop, and of course Cape Canaveral which definitely is worth a visit).
However, Port Canaveral is of course not far from Orlando. Orlando's MCO airport offers very good connections worldwide and the transfer from airport to port is fairly easy. I used GoPort but Uber would also be a good option.
So given the comparative ease of getting to the port and all the fun to be had in Orlando, Port Canaveral is a convenient and fun port to start a cruise at.
Score: 4/5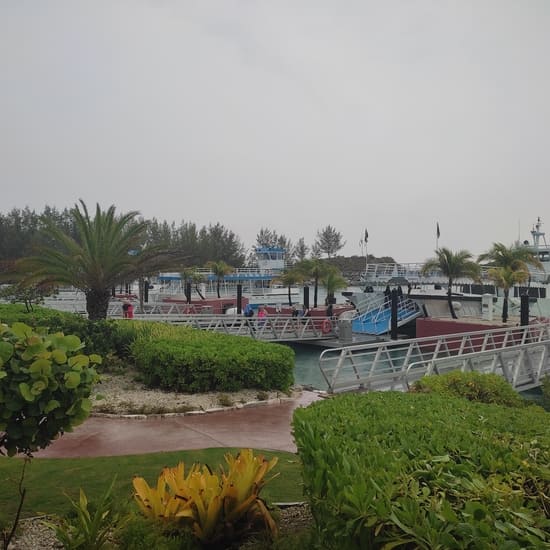 First Port: Great Stirrup Cay, Bahamas
Great Stirrup Cay is NCL's private island in the Bahamas and promises a great time in the sun!
Norwegian Cruise Line's Great Stirrup Cay is a tender port which means you will have to sign up for tender tickets a day ahead if you want to get off the ship early. This also means that getting on and off the ship is more cumbersome than if the ship is docked.
I was very much looking forward to a day at the beach (the weather in Germany had been rather grey so far this year and I was dreaming of sunshine). Unfortunately, the weather turned out to be lousy the day we were at the island: grey with drizzly rain all morning!
As it hadn't even occured to me that the weather could be anything but perfect, I didn't notice the rain until I stepped off the tender boat. I did try to make the best of it for a little bit but soon returned to the ship – there is limited shelter on the island.
Even though I managed to find a dry spot but staring out at the rain isn't that much fun so I returned to the ship pretty early on. Soon after they also stopped tendering due to the bad weather.
Unfortunately, I couldn't form a proper opinion on Great Stirrup Cay in the rain. I am sure it is great in sunshine but will refrain from giving it any kind of score.
Score: NA
Top Tips for visiting Great Stirrup Cay
Yes, even though I only spent less than an hour on the island I made several mistakes so can give some helpful tips for your hopefully sunnier adventure on NCL's Great Stirrup Cay:
1. Get a tender ticket the day before if you want to get to the island early on
2. Check the weather before bording the tender! That way you can avoid wasting time tendering if the weather is so bad that you won't want to stay there.
3. Make sure to wear plenty of sunscreen and take a hat
4. Bring a towel from the ship. Unlike me, don't just grab one of the white towels from your bathroom. You can get a proper blue beach/pool towel up on the pool deck.
5. If it is or might rain and you decide to go to Great Stirrup Cay anyway bring some rain protection or at least something to protect your phone from the rain
6. Bring/take your medication/arm bands (or whatever you are using) if you are prone to seasickness . The tender will likely be choppier than anything you will experience during the rest of your cruise.
7. If going in (potential) rain choose your shoes carefully. Walkways on Great Stirrup Cay get extremely slippery when wet!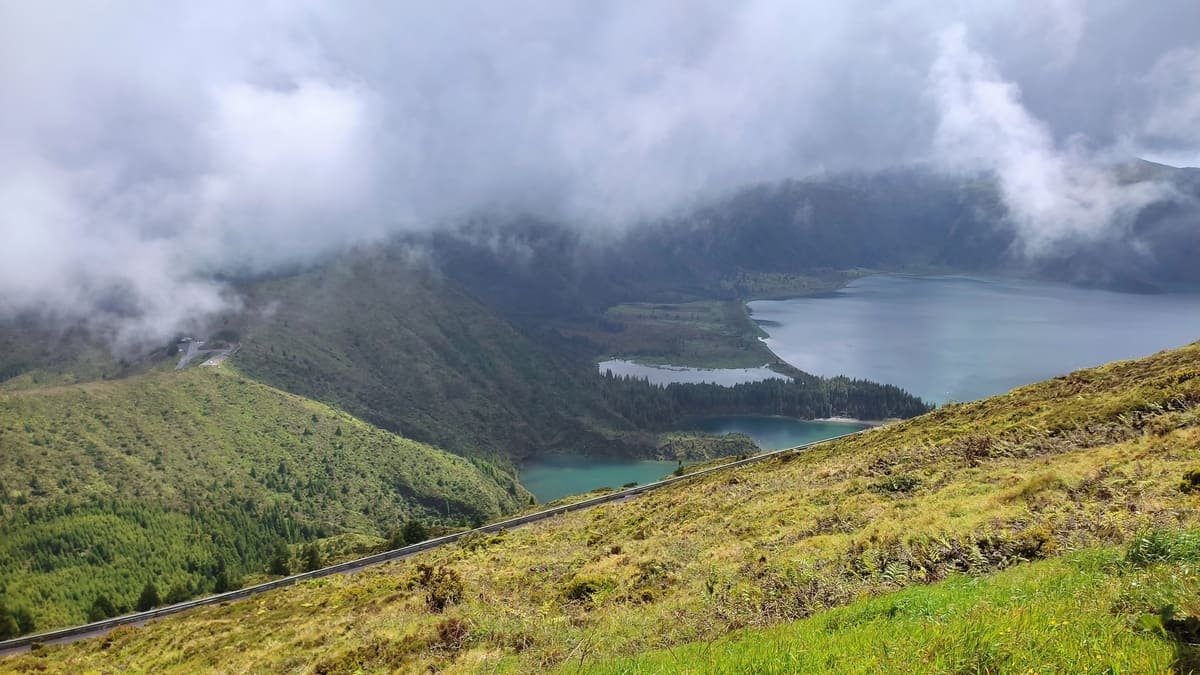 Second Port: Ponta Delgada, Azores, Portugal
Given their location way out in the Atlantic, the Azores are not the most common holiday destination. They are however a fairly common port on transatlantic cruises.
It was my first visit to these islands and I absolutely loved it. They are part of Portugal but geographically belong to Africa. Heavily volcanic, they offer a lush, green, and verdant landscape.
Shore Excursion: Island Views, Tastes and Horses
As I have often mentioned before, I am not the biggest fan of organized tours and prefer doing my own thing. However, when I researched the island of Sao Miguel, I soon had to accept that public transport on the island is sparse.
It may be possible to use public transport to explore the island if staying there overnight but with just a couple of connections per week to most destinations it seemed far too chancey on a cruise.
As the idea of driving myself is even worse than taking organized tours, I decided on the later. Generally, third-party tours will be cheaper than those sold by the cruise line but as part of the Free at Sea promotion I had a Euro 50 credit per day for tours.
Consequently, I decided on the shore excursion Island Views, Tastes and Horses which included several scenic view points, a visit to a thermal pool area and a small town, as well as a short tour of a horse ranch and a wine and cheese tasting.
At the reduced price of Euro 73 the cost was reasonable and I actually enjoyed the whole experience very much. If you would like to learn more you can read my complete review of this shore excursion on Sao Miguel.
Score: 4/5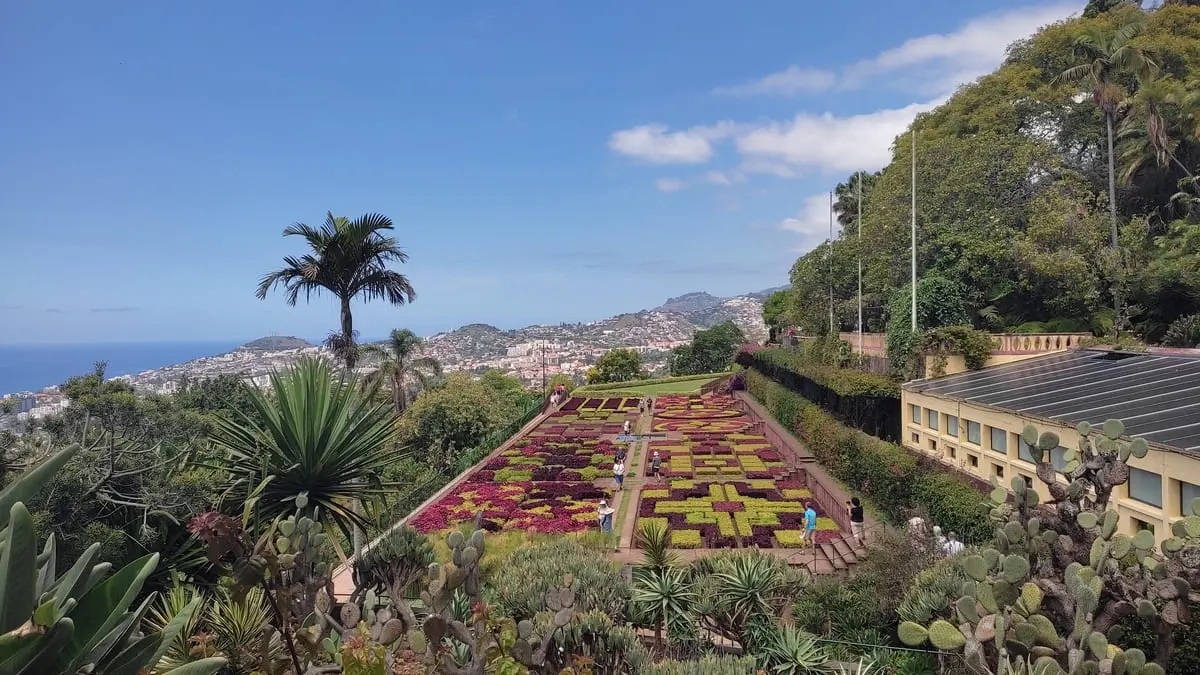 Third Port: Funchal, Madeira, Portugal
This was my second visit to the Portugese island of Madeira and I again loved it. Due to its "eternal spring" the island is especially known for its plants and botanical gardens.
The port is right next to the center of town. While it is a little bit of a walk (maybe 20 minutes) I do appreciate that no shuttle or tour is necessary to start exploring.
Hop-on-Hop-Off Bus
Due to the Free at Sea promotion the Hop-on-Hop-off-bus was free so I took advantage of it. Riding the full two hour circuit gives a good overview of the layout of Funchal and the surrounding area and is an excellent choice if you can't walk far or just want a quick peek.
If you have a list of sights to see though it may not be the most efficient way to spend your time. The town is not very big and you can likely get where you are going much faster without the HoHo.
After riding the full circuit I got out at the furnicular station and made my way up to Monte. Like so often, everything took much longer than expected and I only managed to visit one of the two famous botanical gardens.
No matter, hopefully I can visit the second one sometime soon which will also give me a chance to try the famous toboggan ride back down the mountain.
All in all, Madeira is a great port with a number of easy options to explore on your own. There is definitely enough to do for four or five port stops!
Score: 4.5/5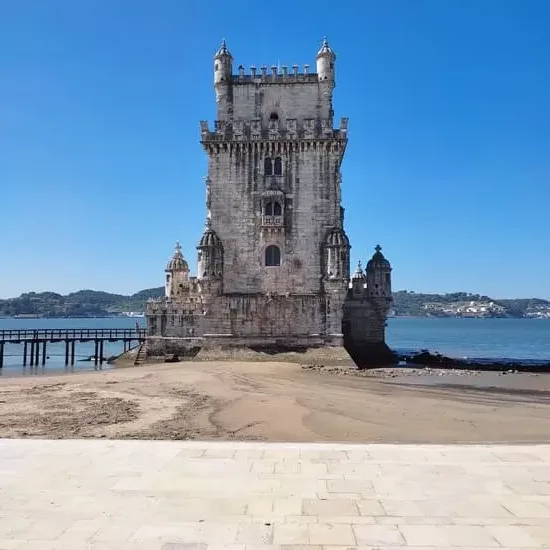 Fourth (Disembarcation) Port: Lisbon, Portugal
Lisbon as the capital of Portugal offers a large number of sights and is very well connected with the rest of the country by public transportation. The city reminds me very much of San Francisco – shaped by earthquakes, extremely hilly, on a bay with a large suspension bridge.
Score: 5/5
My cruise ended in Lisbon but I spent several more days in the area. You will soon be able to read all about my adventures in Portugal on this blog but for now let's just say that yes, you definitely want Lisbon as a port on your cruise!
Norwegian Cruise Line's App
Over the last couple of years I have seen/used the websites and apps of several cruise lines and unfortunately NCL's was probably the worst.
Making reservations ahead of the cruise was a big pain. For some strange reason certain things worked only in the App while others could only be done on the website. Changes were basically impossible and there was a lot of confusion about Syd Norman's, a free venue that consistently showed up with a fee.
The actual app once on board was better. It worked fine to look at a copy of the dailies, see menus, and what was going on. However, you couldn't really do much on it so it wasn't a great tool. On the other hand, in contrast to Royal Caribbean's App this one wasn't crucial to enjoy your vacation. There was no down-side to not having/using the app as all bookings could be made in person.
(Dis-)Embarcation on Norwegian Getaway's transatlantic
Embarcation in Port Canaveral
Check-in for Transatlantic
Embarcation in Port Canaveral was very easy and smooth. During online check-in prior to the trip I could only get a fairly late check-in time of 1 pm but as I am an anxious traveler I got to the port already around 11 am. This turned out to be no problem whatsoever. Noone ever mentioned anything about it and I just joined the check-in line.
The actual check-in was very fast (and no more waiting with bated breath while the COVID-test was run). Around 30 minutes after getting off the GoPort-Shuttle I was on board.
Once on board Norwegian Getaway
Once on board it is a good idea to take care of any urgent sign-ups or changes for dining or entertainment. In my case I needed to change one of my specialty dinner reservations. Unfortunately, the line to do this was quite long and it was a bit of a pain.
The worst part of embarcation on Norwegian Getaway was though that it took forever for the cabins to be ready. On my recent cruises the cabins were ready the moment you entered the ship but even before the pandemic I don't remember ever waiting past 2:30 pm.
Unfortunately, on this cruise some cabins (i.e. mine) weren't done until about 5 pm. They did provide the option to drop off luggage somewhere but there really is no good indoor space to relax in on the ship and the weather was fairly bad.
I will say more about this lack of space later on, but generally it wasn't a huge problem as not everyone is trying to hang out there at the same time. But on this first day basically everywhere on the ship was very crowded and noisy – not a great start to the trip.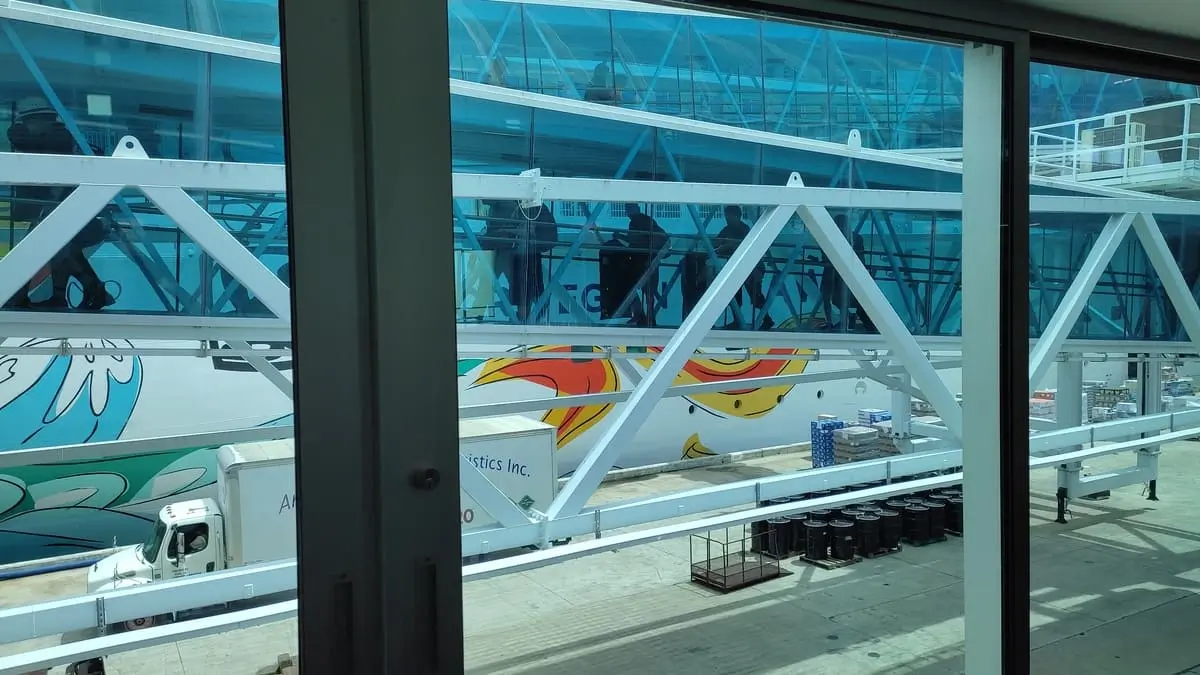 Disembarcation in Lisbon
For me, disembarkation in Lisbon was as easy as it could possibly be. In line with NCL's Freestyle Cruising approach they did not assign a group for leaving the ship. You could choose it yourself up to the day by simply grabbing the correct luggage tag at guest services.
As I was travelling with only carry-on luggage I opted to just walk off with my suitcase on my own. Consequently, I did not have to worry about which group was being called but had a somewhat leisurely breakfast and then walked off once I was ready (rooms had to be vacated by 8:30 am).
The line for walking off the ship was a bit longer than usual (presumably because most people prefer a civilized 8 am to earlier times) but doable. Norwegian Getaway docked right in town so it was easy to get to a nearby Metro station and continue my trip.
Non-EU travelers beware
One big caveat for Non-EU travelers: There was no immigration/passport check when walking off the ship. Presumably, this was taken care off while at sea/before reaching Portugal's Azores Islands.
While this made the process very painless, it seems that some non-EU passengers ran into problems on their way back home because they did not have a passport stamp/no way to show how they ever entered the EU.
For most this just meant a couple of unpleasant minutes at the airport until everything got straightened out. However, for some cruisers that stayed on the ship for the next cruise it turned into a major hassle. When they arrived in Gibraltar (UK) on a shore excursion they were not admitted because the paperwork was missing and had to return to the ship.
So if you are not an EU citizen and arriving in Europe on a transatlantic cruise it may be a good idea to check with the cruise line/ship on how this is being handled and on whether you can get a passport stamp from immigration.
Review of my Cabin on Norwegian Getaway
I booked again a guarantee oceanview cabin as there were no inside cabins available when I made my reservation.
When you book a "Guarantee" cabin you do not get to choose the actual cabin/location. Instead the cruise line will assign you whichever cabin they want within the category booked (or higher).
I did put in an upgrade bid to a spa cabin (you will receive an email after booking if you are eligible for bidding on an upgrade) but did not get it. Probably lucky as the upcharge was quite a bit and I was trying to stick to my budget.
Just a week or so after booking I received my cabin assignment, an oceanview cabin aft on deck 5 (the lowest public deck).
Review: Location of Cabin (5834)
Prior to my cruise I read some negative comments about cabins on deck 5 but I am not sure why – to me it was a great location!
The aft location was very convenient as I was close to stairs and elevators. And as I was so far aft, the restaurants were close – always a plus. I didn't really have to use the elevators that often as many of the public areas are on decks 6 to 8 so not too far from 5.
Deck 5 was also convenient when leaving the ship in ports and when returning there was no need to wait for a crowded elevator when everyone wanted one after the tours.
Finally, the location on a lower deck also is an advantage in rough seas. Our cruise had the smoothest water ever so it didn't make much of a difference but when up on the sun deck or in the Garden Cafe I did notice a bit of movement some days. Not so in the cabin! If you are sensitive to motion, I would definitely recommend a cabin on one of the lower decks.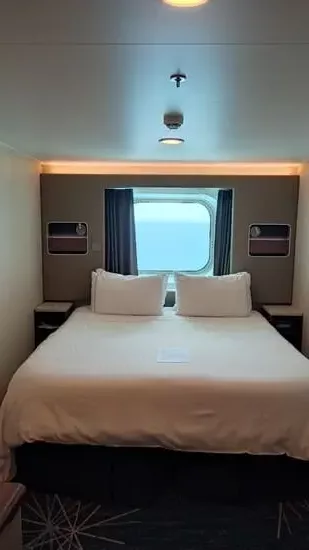 Review: Cabin Layout and Amenities (5834)
Let me just start by saying that I absolutely loved this cabin!
When I first walked in I wasn't so sure as it looked kind of bare but it grew on me and I was very happy with my choice.
I believe there are different layouts offered on Norwegian Getaway – Stateroom 5834 has the bed in front of the window. Great natural light and it makes it easy to "climb" into the window for a cozy view of the ocean.
I don't think there would be a lot of privacy concerns with the location of the window (the only people who could look in would be on another ship or on the dock) but there definitely weren't any on this transatlantic. With few ports and not a lot of ships around you could dance naked in front of the window and noone would see (I didn't though).
The room's furnishing were a bit bare. There was little in the way of decoration and I was suprised that there was no couch/love seat. Aside of a small stool the bed was the only place to sit (aside of the window I guess). This did keep the cabin from feeling too small/crowded though.
There was a pretty big closet and several other storage options. I travel with little luggage but even if you had more clothes along you wouldn't have a problem to put them away. The suitcase easily fit under the bed.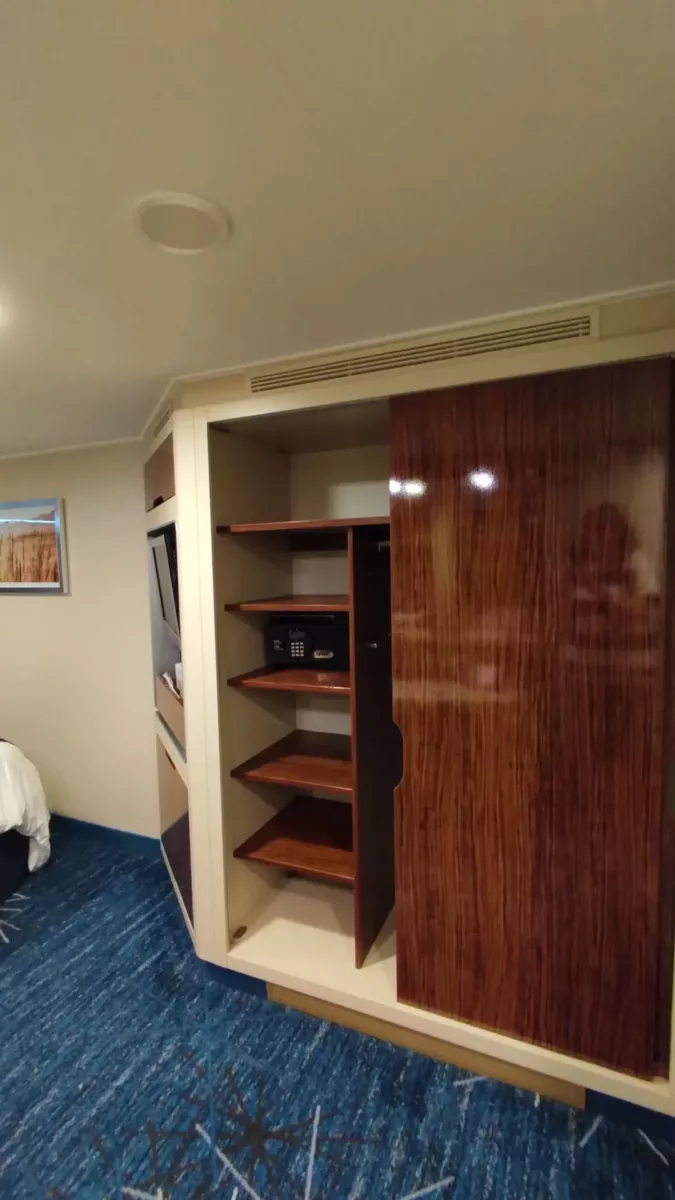 Unfortunately the only table/desk was rather small and slanted in a weird way. Combined with the not very ergonomic stool it wasn't the best set-up to do some work. However, it was better than nothing and if you were not planning to work you might not even notice.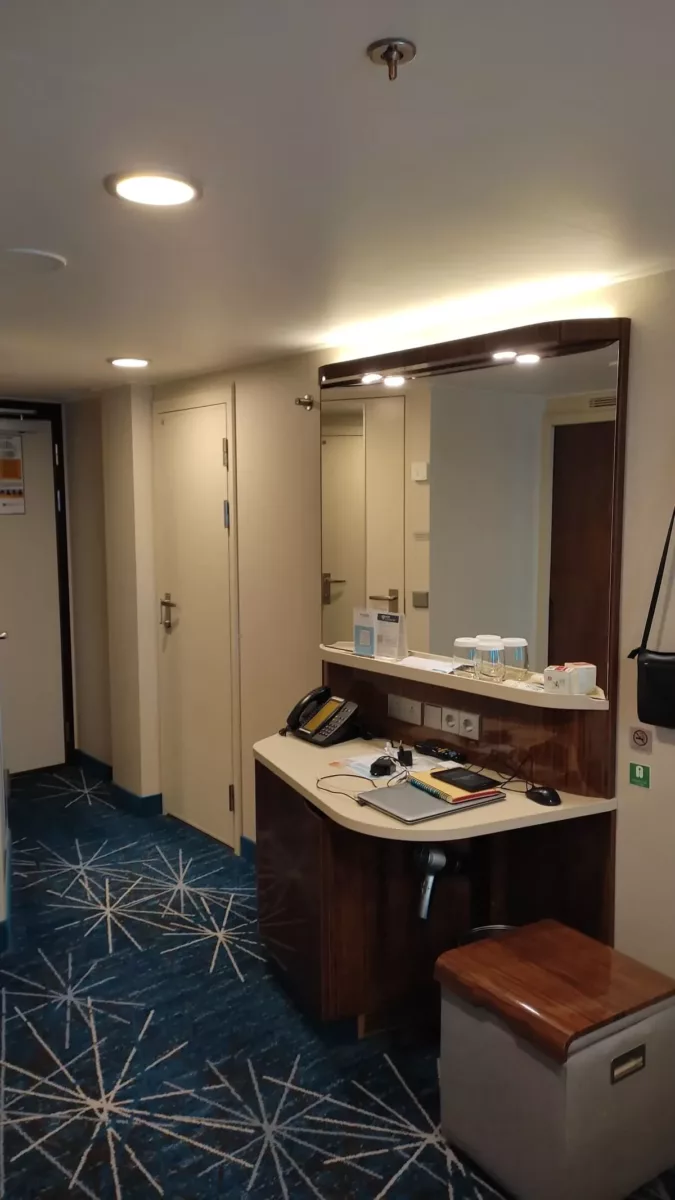 As you can see on the picture above this stateroom had a connecting door to the next cabin. This didn't bother me though.
The cabin was actually very quiet. I didn't hear any noises from adjacent cabins or from above. The only noise I did hear was either from the hallway or when doors were opened or closed.
The bathroom was of average size for a cruise ship. The shower did have glass walls, better than the clingy curtains that you will find on some ships.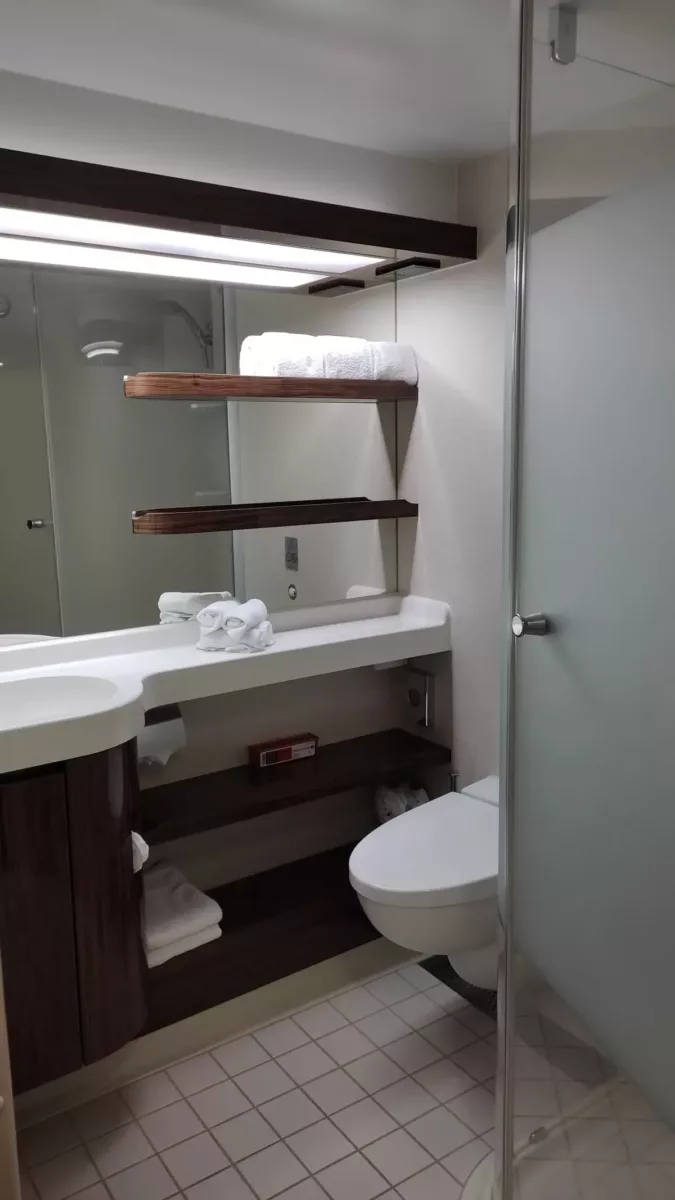 All in all I would give the cabin an average score. I really did love that window though!
Score: 4/5
Review: Room Attendant
This is a tricky point this time. I have always been very impressed with the room attendants on cruise ships. Not only do they clean your room but they also provide a turn-down service in the evening. More important, they always seem to be hanging out in the hallway, happy to help you.
In the past, I would see my room attendant several times a day and they would know my name by the second day at the latest. It is generally a very pampering experience – like having your very own servant.
Don't get me wrong – I am not demanding at all and hardly ever need/ask for anything in addition to the regular cleaning service. But I do like knowing that if there is a problem someone is right there to help.
On this cruise, the experience was completely different. However, I don't believe that had anything to do with my room attendant. I am sure he worked very hard and was quite busy.
Unfortunately, Norwegian Cruise Lines has made a change and now only provides cleaning once a day. Consequently, room attendants are assigned to more cabins and aren't around as much.
It was fine – the room was cleaned promptly – but I did miss getting a towel animal in the evening. More importantly I did have some small issues/questions (for example I couldn't get the TV to work properly) but it just seemed too much trouble to try to find the room attendant to get this fixed.
So my score below is not for my hard-working room attendant but for the new policy by NCL.
Score: 2/5
Food and Drinks on Norwegian Getaway
Food
On this cruise I ate most of my meals (lunch and dinner) in one of the three main dining rooms of the ship: Savor, Taste, and Tropicana. I only went to the buffet in the Garden Cafe for some breakfasts and snacks.
As part of the Free at Sea promotion I had two specialty dinners included and opted for Ocean Blue (Seafood) and Cagney's (Steakhouse).
I also had a small dinner at the included Shanghai's Noodle Bar and ate several times at O'Sheehan's Irish Pub, the only dining venue open around the clock.
For the most part, the food was fine but not great. A comparison with my other cruises since the pandemic is maybe a bit unfair as I had the Unlimited Dining Plan on Royal Caribbean (all specialty dining) and both Cunard and Celebrity are at a higher price point than Norwegian Cruise Lines.
As may be expected the food was a bit less inspiring than on these other cruises. My two specialty meals were good and almost everything else was acceptable but maybe not the stuff dreams are made of.
In general, pasta, chicken, and shrimp dishes were quite good and the plainer the dish the better it usually was. Beef unfortunately tended to be a bit overcooked and tough.
You can read my complete review for more info on the restaurants and all the dishes I tried.
Score: 3.5/5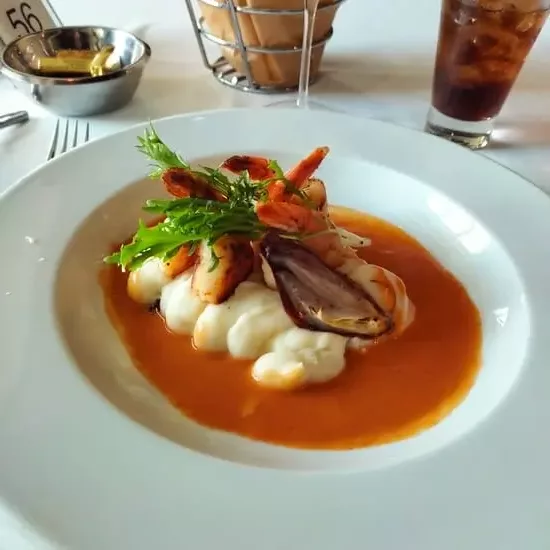 Drinks
I am not a big drinker so generally don't get a beverage package. However, as part of the Free at Sea promotion unlimited drinks were included for a low price. 
I generally had a glass of wine with dinner, a couple of sodas, and usually one or two cocktails. With 8 sea days (and one of the port days so rainy that it wasn't worth getting off) I was glad to have drinks included especially as Norwegian Cruise Lines does not let you bring any sodas on board. It was definitely nice to get a drink whenever without having to consider cost.
Prices for drinks were quite high but not sure it matters as almost everyone does have the unlimited drink package. It was very easy to get drinks at the bar (I sometimes struggle with that) and I hardly ever had to wait. Additionally, the cocktails were very tasty, much more to my taste than on some other recent cruises (my preference is for slushy, sweet or fruity concoctions though).
Score: 4.5/5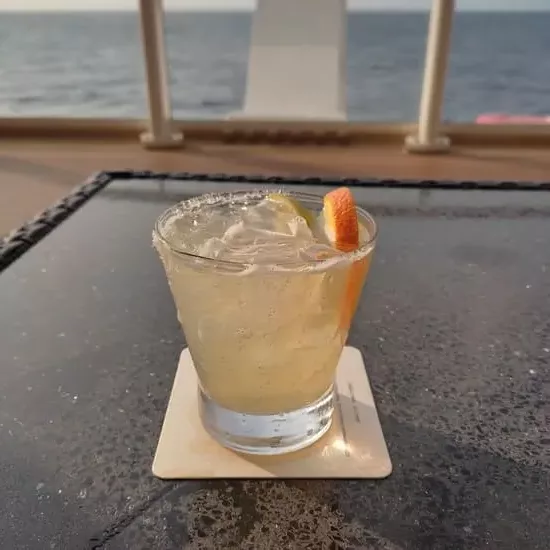 Ship in General
Like its sister ship, the Breakaway, Norwegian Getaway is one of the larger and newer ships in the NCL fleet but not one of the newest. With a capacity of around 4,000 passengers it is big but significantly smaller than for example Royal Caribbean's Harmony of the Seas (you can read my complete review of the Harmony here).
In line with this, the ship has more activities/venues to offer than many ships, but definitely less than for example the Harmony.
Are you going on a cruise on Norwegian Getaway? If so, my free photo scavenger hunt is a great way to explore the ship and have fun!
You can download the pdf for the completely free Norwegian Getaway Scavenger Hunt right here.
Somewhat unusually for transatlantic cruises, this June trip was completely sold out. However, I believe that was largely due to low prices, especially for solos as they waived the solo supplement.
Consequently, there were many, many solos on board and even though all the cabins were occupied I believe the overall number of passengers was significantly lower than the maximum/average.
This was great as it made it pretty easy to get a seat in restaurants or a place on the sun deck. In spite of this I did notice that there was a definite lack of public indoor spaces. This is definitely a ship better suited to warm climates!
I found the layout of Norwegian Getaway very easy to navigate. Basically, the only decks of interest to you (other than the one where your cabin is located of course) are 6-8 and 
Some people dislike large ships (which are more like swimming hotels than regular ships) while others love them. It is up to personal taste!
Personally, I prefer ships that are slightly smaller but do appreciate all the Oasis class has to offer.
Due to the pandemic, Harmony of the Seas on this trip was fairly empty so I never had an issue with it being crowded or there being too many people. I can imagine that during busy times it could be an issue though.
As far as the layout of Oasis class ships is concerned, it is actually fairly straightforward and easier to navigate than you might expect.
 You will likely spend most of your time on decks 3 to 6 (MDR, theater, Royal Promenade with bars and stores, Spa, Boardwalk with Aqua Theater, restaurants), deck 7 (Central Park with restaurants, stores, and bars), deck 15 (Solarium, pools, Sports), and 16 (flowrider and Windjammer buffet restaurant). Most of the rest is cabins.
The main thing to know about Harmony of the Seas (and all Oasis ships) is that it is set up as a series of neigborhoods. Once you realize that it is much easier to find your way around.
The main ones are:
Deck 6
On Deck 6 you will find two of the included main dining rooms, Taste and Savor. These are basically identical (and serve the same menu), the main difference is that on has blue as the main color and the other red.
Between these two restaurants you will find the Mixx Bar, a good place to get a pre-dinner cocktail. There are a couple of seats in front of the restaurants so if you have to wait to be seated (or you are so hungry that you show up before the opening time) you can relax.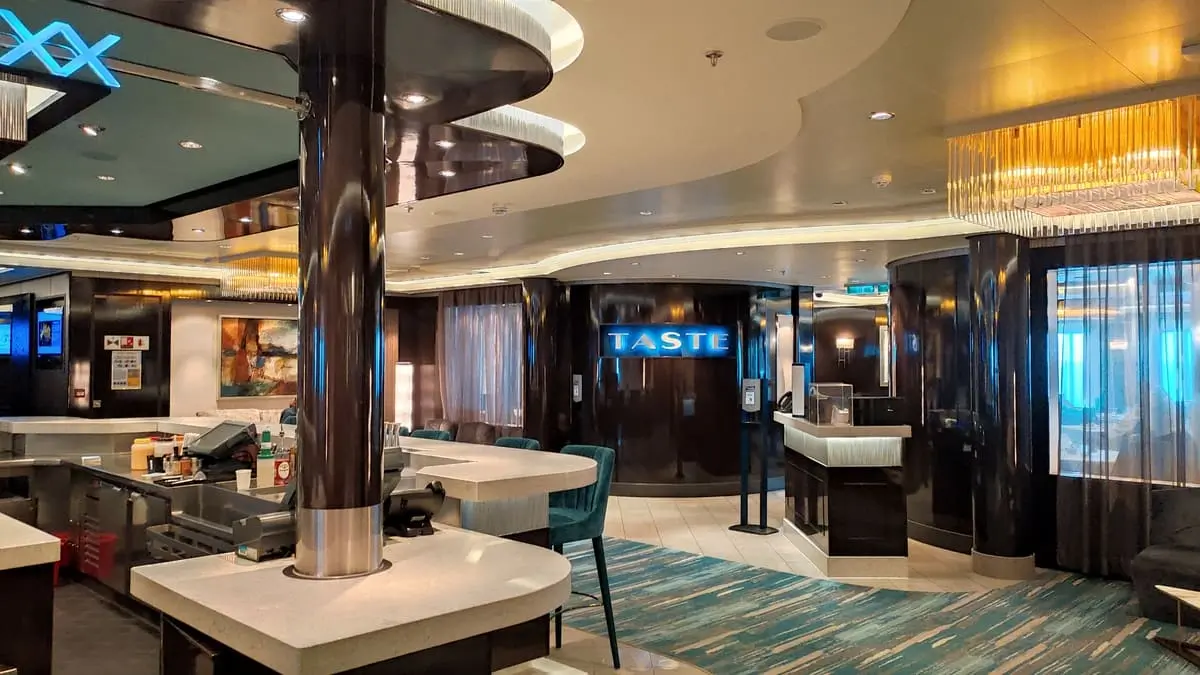 Further along on this deck you will find two specialty restaurants (for an extra fee) – Teppanyaki and Le Bistro French Restaurant – as well as the Headliners Comedy Club. I didn't visit any of these so unfortunately can't give any special tips.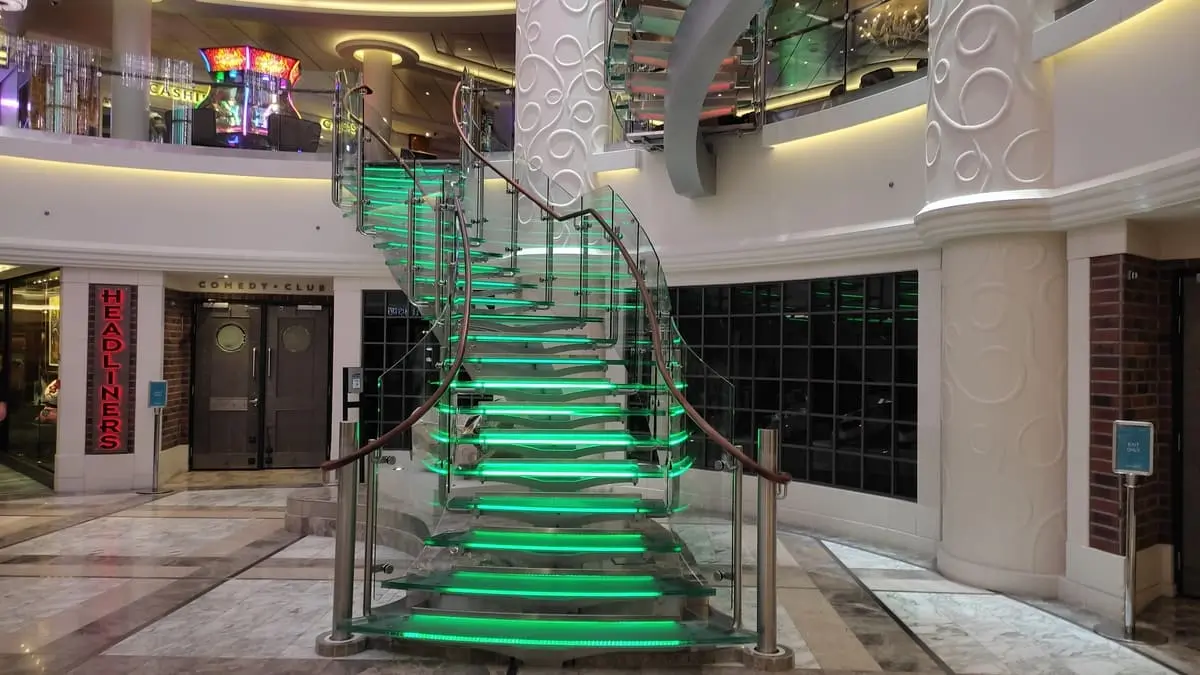 Next you will get to the Atrium. Now I want to be upfront and say that I very much disliked this multi-purpose space. Here you will find a stage with a large screen surrounded by various seating arrangements and around the edges guest services, the shore excursion desk, the internet cafe, a bar and Starbucks are arranged.
For some reason Norwegian uses this space for their trivia games/enrichment activities/gameshows. Now you could probably get a seat if you show up early enough but the atmosphere was just very noisy/chaotic and if you were further away the acoustics were not great.
Maybe it is just me, but I disliked this space so much that I didn't really take part in any of the activities there (I did watch for a couple of minutes when walking through though).
It definitely was not a nice, relaxing area and was one of the things I liked the least about the Norwegian Getaway.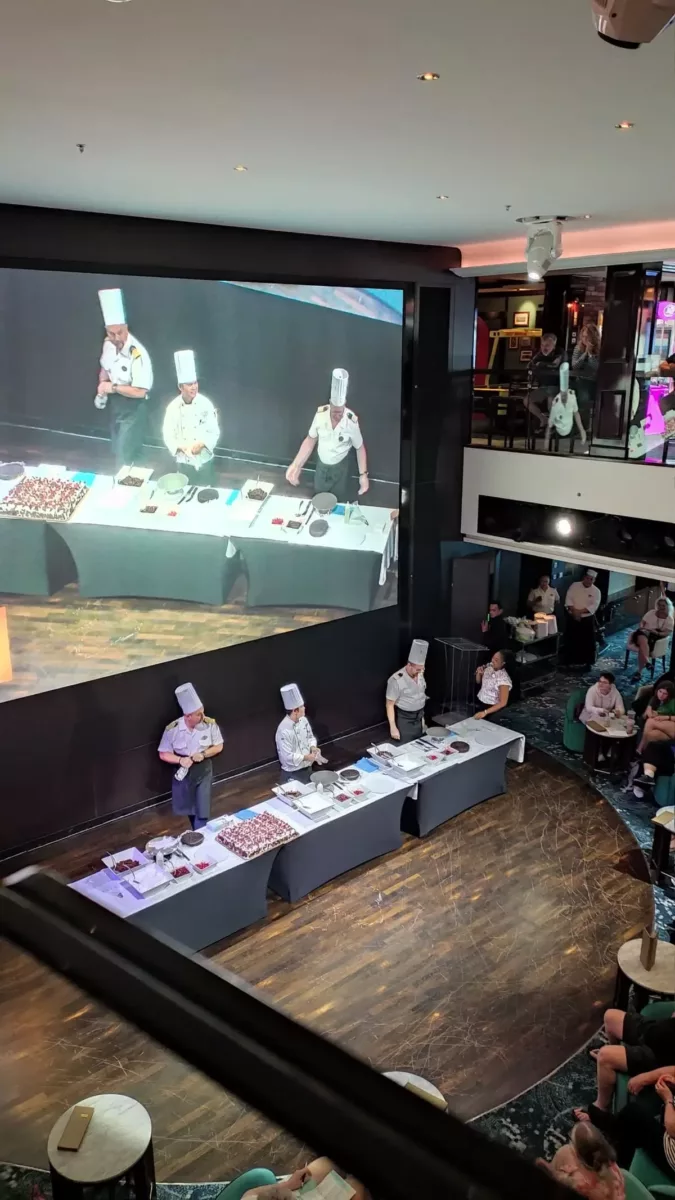 At the end of Deck 6 you will find the Theater (a fairly standard cruise ship theater) and the Illusionarium. This venue has a very cool circus/steam-punk vibe and was used for private functions (like Meet and Greets), some activities (like the Tabletop Escape Room), music, and some talks/shows. I liked this so much more than the Atrium though the seating isn't tiered so it can be hard to see if you are in the back.
You can also find a small library/game room and several meeting rooms tucked away between Illusionarium and Atrium.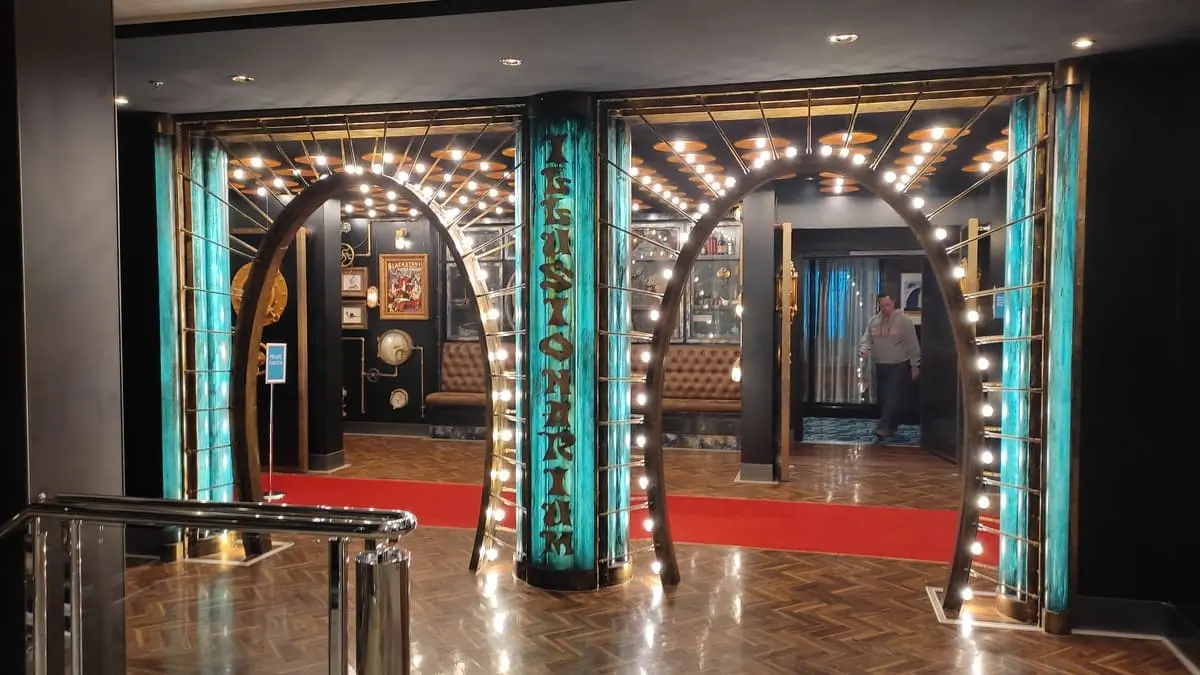 Deck 7
For me, Deck 7 had one big issue I didn't expect – the smell of stale smoke. Now I have before read people complaining about the smell of smoke from the casino but have always ignored it as I thought they were just overly sensitive.
But on Norwegian Getaway it was just very noticeable – I don't remember ever being bothered by cigarette smoke on another ship. Not sure if they have better ventilation, do not allow smoking, or if I was just more sensitive this time around.
Whatever the cause, the smell on deck 7 was distinctly unpleasant and made the entire floor less appealing to me.
At the Aft of deck 7 you will find the Tropicana Room. This is the third of the included main dining rooms and though the menu is once again identical to Savor/Taste it was my favorite.
Styled more like a New York Supper Club, it had a small dance floor and offered music at certain times during dinner. On one evening the cast of Burn the Floor even did a dance show!
Next you get to Shanghai's Noodle Bar an included venue offering Asian dishes (no surprise there). Unfortunately, it is very small so that it was hard to get in without extended waiting times. As a solo diner I did manage to slip in without waiting late one evening. Loved the food but it did take significantly longer than I would have expected for basically just an appetizer.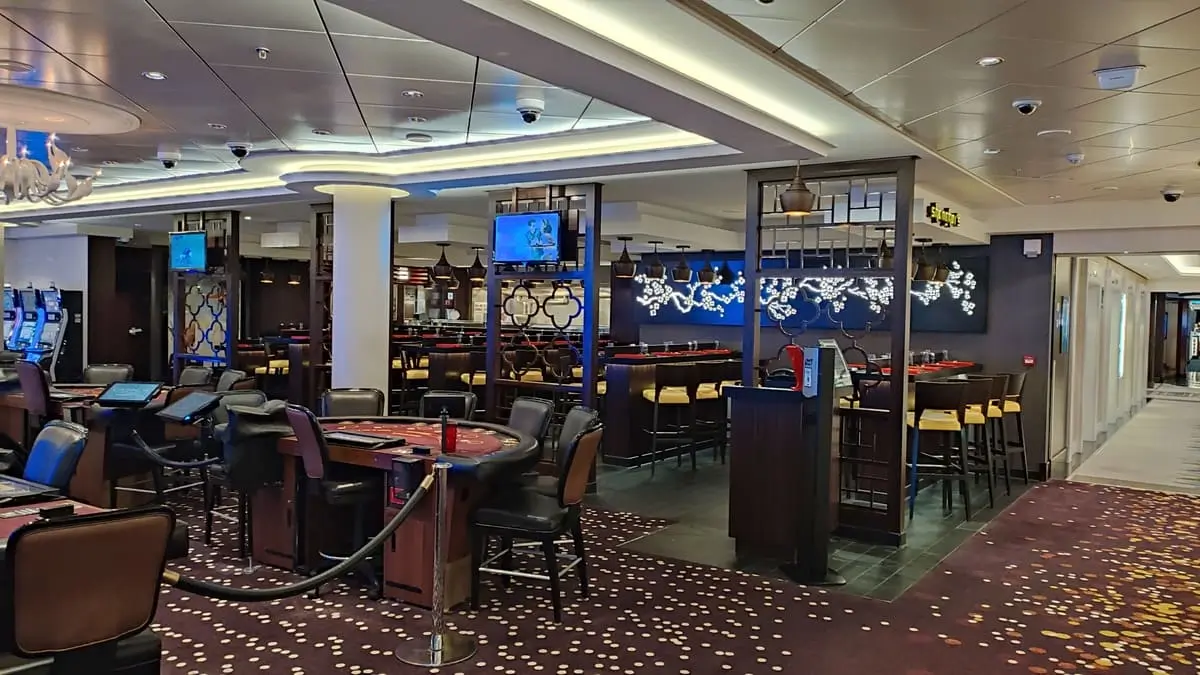 Across from Shanghai's Noodle Bar was Bliss Ultra Lounge. Not quite sure what is up with that. Every time I looked in it was either used for a private function or empty/closed. This is rather surprising given the severe lack of indoor spaces on the Getaway.
The entire middle of deck 7 was taken up by the (smelly) casino. An unfortunate waste of space to me, probably a great source of fun and entertainment for others.
As I didn't play here I can not say anything about the games/pay-outs/services offered. On this transatlantic cruise the casino did not seem very busy to me though.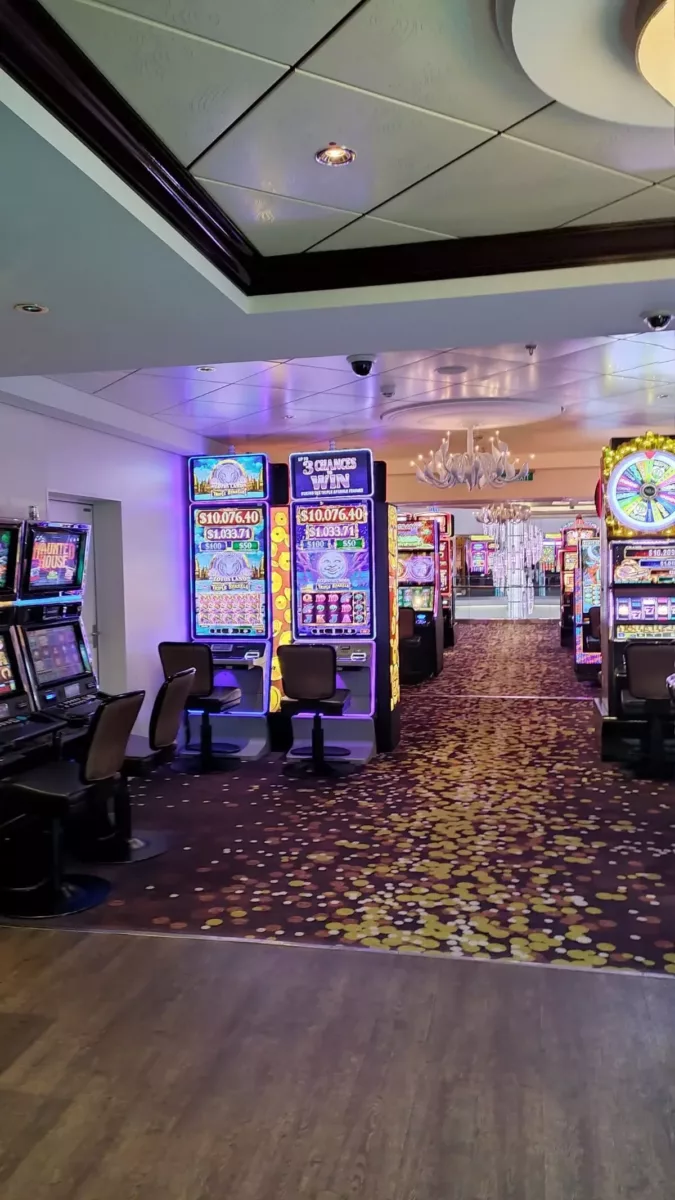 Next to the Casino finally a space I did indeed approve of: O'Sheehan's Neighborhood Bar & Grill. In addition to a pub/bar area (some seats have a view of the Atrium below so you can watch shows from up high if you prefer) it also has the only all day/night eating venue.
O'Sheehan's offers a mix of bar/pub food (included in cruise fare) and I found it quite tasty! Which is good because after about 9:30 pm it is the only place to get a bite to eat (other than room service).
And finally the forwards area of deck 7 is again taken up by the Getaway Theater. Aside of two production shows (a dance show and a musical) they had two hypnosis shows as well as various musical performances here.
But my favorite part of deck 7 was definitely the outside deck area. The view was obstructed by life boats but the same life boats also served as a protection from the weather so the floor was much less slippery/wet than other outdoor spaces.
As there isn't much aside of deck space here, it is the best place if you want to get in some exercise/steps while on board.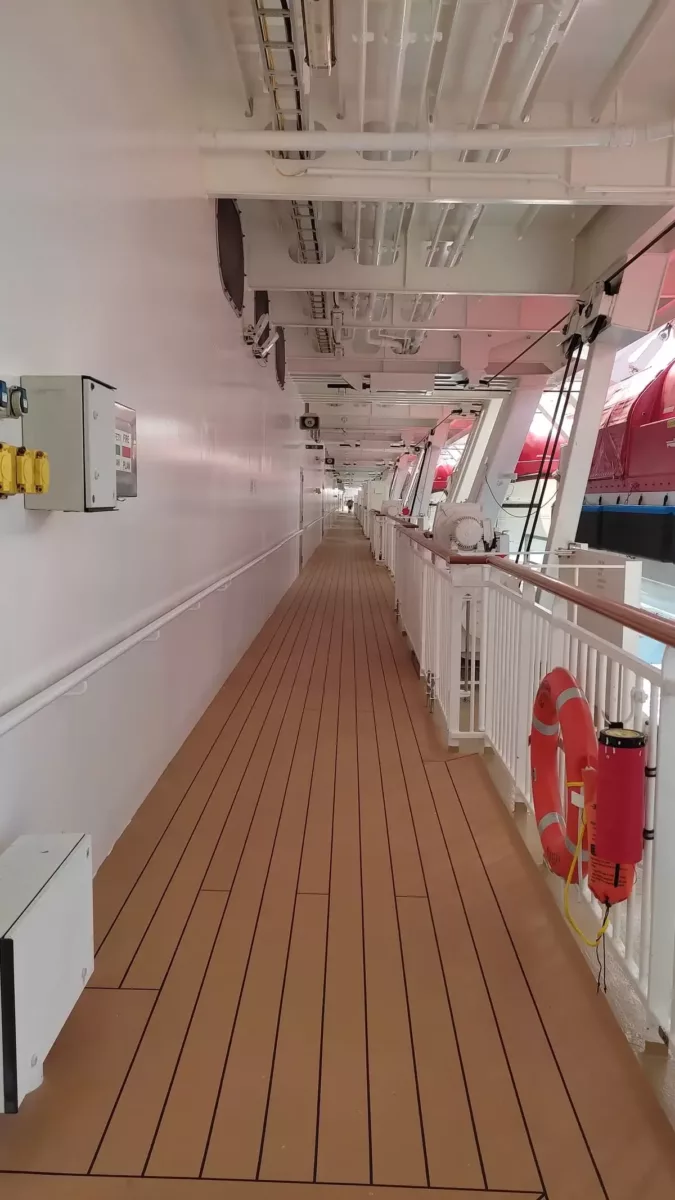 Deck 8
Deck 8 is the quietest of the three lower public decks and your best bet if you want to find a quiet spot to sit, enjoy a drink, have a quiet conversation, or read a book.
In the aft you will find two additional specialty restaurants: Cagney's Steakhouse and Moderno Churrasceria as well as the Prime Meridian Bar.
A little further on is The Bake Shop which sells ice cream as well as macarons and other treats. I am not a fan of paying extra for food on a cruise so didn't try anything there – it sure looked tasty though.
The next section of Deck 8 is is occupied by various shops (a boutique, the photo gallery and the duty free store).
The middle of deck 8 is open to the floor below and around the edges you will find the Humidor Cigar Lounge, specialty restaurants Wasabi, Raw Bar, and Ocean Blue, the Ice Bar, as well as the Sugarcane Mojito Bar.
This area, from the Sugarcane Mojito Bar onwards is probably your best bet to find a quiet place to relax inside. In the evening they did have performers playing the piano/singing at the Mojito Bar and this was quite popular.
If the bar is full you can often find a seat along the hallway to the Sunset Bar at the end of the ship. There La Cucina Italian Restaurant and Syd Norman's Pour House are waiting for guests.
I regret that I never went to Syd Norman's – just like the Comedy Club I had heard so many horror stories about long lines to get in that I didn't even try. Maybe it wouldn't even have been so bad? Lesson learned – check it out for yourself.
But undoubtedly the best part of Deck 8 is the The Waterfront. This outside promenade deck wraps all the way around the ship from La Cucina to Syd Normans – i.e. you can walk around the aft of the ship but will have to cross through the ship inside to complete a circle.
Not only can you stroll along and enjoy the ocean breeze, but there are also various comfortable seating groups (couches and chairs with tables) dotted along the way. These were pretty popular but you could usually snag a seat if you walked around for a bit (even faster if you asked to join another party). 
In addition, the specialty restaurants and bars on this deck have outdoor seating. All in all, it looks very nice and gives the Waterfront the feel of strolling along a Boardwalk or along a small town sidewalk.
One of the best features of the Norwegian Getaway!
Deck 15
Norwegian Getaway's buffet restaurant, Garden Café, is located at the aft of deck 15. It is fairly big and I appreciated that even though it was busy it never was so crowded that I had a hard time finding a table. A big plus for me as I HATE hunting for a table with a full plate in my hand!
If you can't find seating right away head towards the pool deck. There is additional open-air (but protected by a glass wall) seating available. In my opinion those were the best tables in the entire Garden Café but for some reason they were usually half-empty.
I ate almost all my meals in the main restaurants and mostly went to the buffet for breakfast and snacks so can't say too much about the food. The presentation wasn't astonishing – have definitely seen better but that was before the pandemic – but not bad either.
Selection was pretty good (looking at you Cunard here). There didn't seem to be much in the way of salads but I had some great sandwiches one evening.
The desserts looked fairly lackluster but they generally had either some sort of fruit cobbler or bread pudding. I love both so the lack of desserts didn't bother me (and they may have tasted better than they looked).
Walking through I noticed that they did have some higher quality dishes at dinner – I even so prime rib and shrimp. As far as taste is concerned, what I did try was fine – typical buffet food but not bad.
On the pool deck you will find water slides, a Kids Aqua Park, the Waves Pool Bar, and the main pool as well as four (I think) hot tubs.
I haven't been in a pool on a cruise yet but this definitely wouldn't have been the ship to start on. It looked fairly small and crowded – most ships I have been on had more than one pool.
The Sun Deck overall (including on the higher decks) were quite extensive. In spite of it being mostly sea days I never had a problem finding a space (but I am not particular as far as location is concerned). I believe it might have been a struggle to get a sun bed near the pool.
The front of deck 15 is the home of the Spa as well as the Fitness Center. Again, I didn't visit either…
I was very tempted to get a Pass for the Spa Thermal Suite – everyone raves about it. But at around 350 Euro it wasn't cheap and I was trying to keep cost down.
However, if I were to travel on Norwegian Getaway in bad weather/colder climate I would definitely splurge on this as it is hard to find a relaxing place inside.
Deck 16
Norwegian's ultra-posh ship-in-ship area, the Haven, takes up the front of the ship on this deck. I wish I could report more in detail on the experience but unfortunately this is definitely out of my budget range…
In the center of deck 16 you have a sun deck and the jogging track as well as the water slides.
And in the aft you find the Teen Area, the Video Arcade (figures), and the American Diner for fee restaurant. More importantly (at least to me), behind these was Spice H2O. If you are specifically looking for it Spice H2O isn't hard to find but you probably wouldn't come across it by accident (unless you went by the teen club).
Spice H2O is an adult only sun deck with some water features and a bar. For some reason it felt a bit more exclusive and I usually spent an hour or so there every day.
Deck 17
Deck 17 is basically split in two. The forwards part is taken up by the Haven as well as the Vibe Beach Club. Vibe Beach Club similar to the Thermal Spa requires you to buy a pass for the length of the cruise to access.
It basically provides a more exclusive sun deck with comfy loungers as well as a bar. I know a lot of people swear by it and it usually sells out on the first day but personally I am not sure I would want to pay extra for it as the public areas were quite sufficient.
The aft section of deck 17 has the sports complex with the ropes course. This looked mega-mega-cool and was quite popular (and no extra cost). However, my knees started shaking just watching so I chickened out… Booh to me.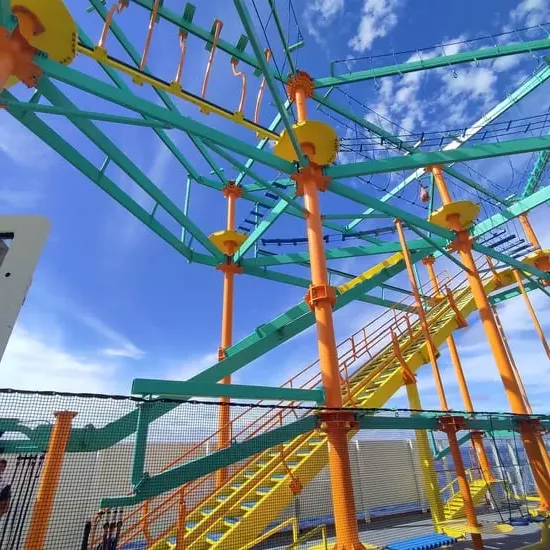 Deck 18
There is a small sun deck up here high on deck 18 and it was pretty deserted when I went so a good choice if you are having a hard time finding a sun lounger. It can get windy though so best on a sunny, calm day!
WIFI on Norwegian Getaway
Cost of WIFI
The Free at Sea promotion included 300 minutes of internet. As I was planning to do some work during the long sea days I upgraded to the Basic Unlimited WIFI plan. 
To save some money, I did not access those minutes at all until day 3 and bought the Unlimited WIFI only for the remaining ten days. Unlimited WIFI had a cost of 29.90 (so 299 USD for the ten days) but I got a credit of USD 145 for the 300 minutes included with Free at Sea so out-of-pocket cost was USD 159.
WIFI Performance
So far so good. However, the WIFI was horrendous. I did expect some outages/slower speeds while out on the Atlantic but it was significantly worse than expected.
We had maybe two days at the end (after Madeira) in which the internet kind of worked – very slow but at least you could access banks, book a hotel, or maybe work online. Presumably the internet was similar the first two days (Like I said I did not purchase it for those days).
But the eight days in between there was basically no WIFI. If you were lucky you could send an email and What's App generally worked after a bit. Anything else – forget it!
Summary of WIFI on Norwegian Getaway
The WIFI situation was the main complaint I heard on the ship and the line at the internet manager's desk was always long. I did get most of the additional I paid back but there was no compensation for the Free at Sea component (the internet minutes/credit was the main reason I decided to add it).
I believe NCL is going to add Starlink to the Norwegian Getaway soon and that may improve the WIFI. However, I would not recommend purchasing WIFI on any similar cruise unless you find more positive recent reviews/reports after the change.
Also, based on my experience do not expect to get any online work done while crossing the Atlantic. It may work but likely won't. I would have prefered telling clients up front that I would not be reachable for the duration of the trip instead of constantly having to move deadlines and not sticking to my commitments.
Score: 1/5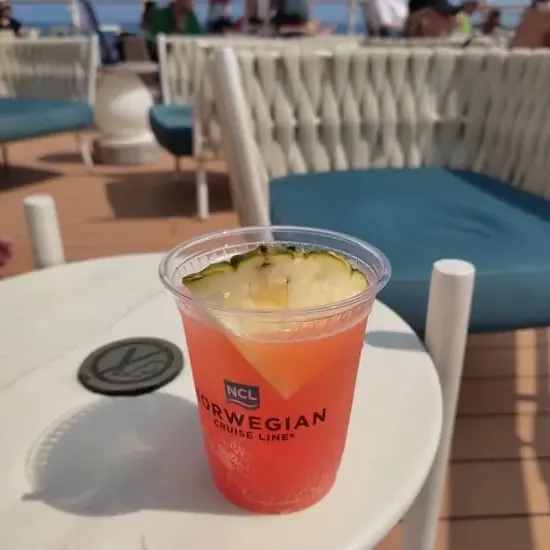 Activities and Entertainment on Norwegian Getaway
As can be expected considering the size of the ship, Norwegian Getaway offered a decent number of activities but less than mega-ships like the Harmony of the Seas. Given the large number of sea days there were probably more activities offered than on a regular sailing.
Daytime Activities
The Ropes Course and Water Slides are definite draws (if you are a bit more daring than me). The Thermal Spa is supposed to be very nice but does come at an extra cost (I missed the Solarium as offered by Royal Caribbean).
There was a fairly steady stream of trivia/quizzes/game shows etc. in the Atrium. I didn't take part in any of these and just watched for short amounts of time as I sincerely disliked the noisy Atrium with the poor acoustics but that might have been just me. I also prefered the more "serious", competitive trivia on Cunard but again that is a matter of personal taste.
I missed any sort of lecture/educational show. The only "lectures" I noted were basically sales presentation (e.g. for watches, art, future cruises, spa services…). This is usual on mainstream lines that make a large percentage of their profit with selling add-ons but I did expect more non-sales talks.
Both on my prior transatlantic cruise on the Oasis and on my Canaries Cruise with Cunard (also several sea days) there were a number of talks about various subjects, ranging from Murder Mysteries to Historical Figures. This was completely absent on this cruise.
On the other hand I loved the chance to take part in the Tabletop Escape Room Adventure which is right up my alley. I did feel the groups were a bit too big and the game too hard but that may just have been because we sucked. It still was fun and a nice change from the usual cruise fare!
Evening Entertainment
There were two main shows (repeated twice on two days each) during this transatlantic cruise on Norwegian Getaway: Burn the Floor and Million-Dollar-Quartet. For both you should make reservations as soon as possible prior to the cruise, usually 21 days before.
I wasn't a huge fan of Burn the Floor, a dance show with mostly Latin American flair, but that is probably just because I am not a big fan of dance shows. Everyone else seemed to love it so definitely see it if you get the chance.
On the other hand I enjoyed the musical Million-Dollar-Quartett a lot more than I expected. Although there isn't much of a story and I didn't get most of the inside jokes, I still had a great time and highly recommend attending.
I also had a great time at the Hypnosis Comedy Show with Brenda Kaye (yes, that is about my level of sophistication). It has been years since I have loved so hard!
Most other nights there was some sort of performance in the theater. There was also quite a bit of music and comedians in Headliners, Syd Normans and at the Illusionarium. 
In addition, they had someone playing the piano and singing at the Mojito Bar in the evenings and there was always quite a crowd.
Many of the venues are quite small and it can be difficult to get in. As I hate waiting for shows I may not even enjoy, I didn't give this a try but wish I had gone to more.
All in all, the variety and number of evening entertainment was excellent!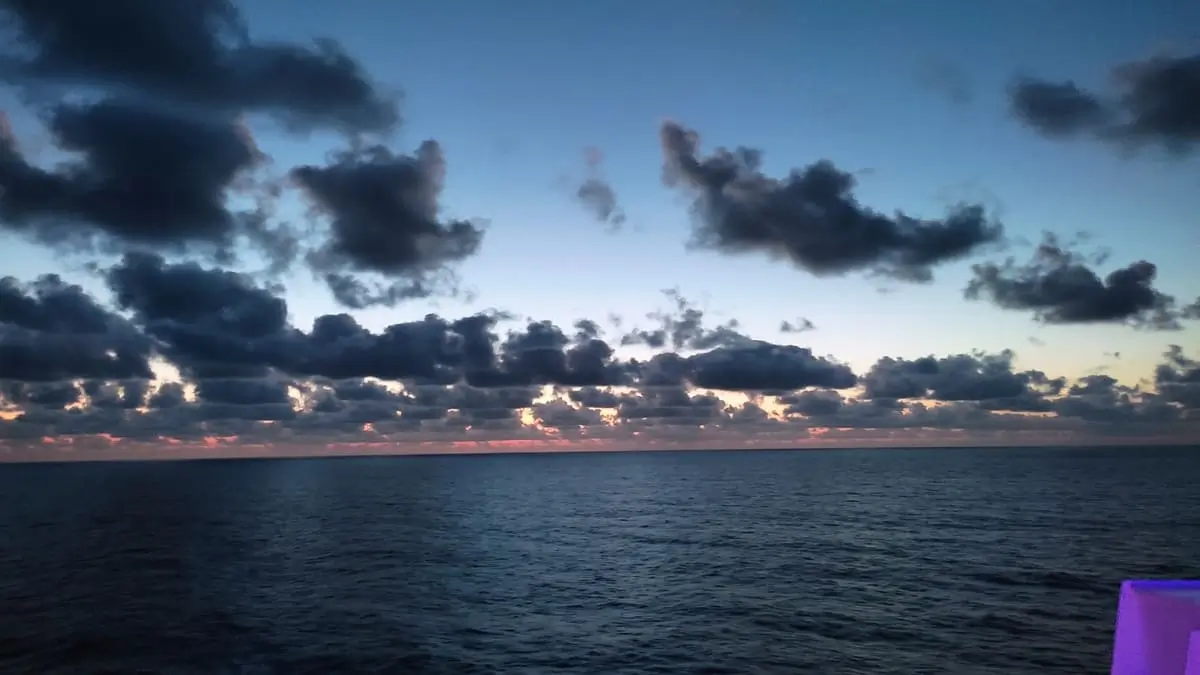 Guests on Norwegian Getaway
Age
For a transatlantic cruise, the average age of the guests was rather lower than I had expected. Though not overrun by children/teenagers, I did see more than I would have expected.
While there were quite a number of older guests, pretty much every age group was present. My guess would be that the average age was around mid-forties but with a wide spread.
There were surprisingly few fellow cruisers that I would consider elderly or that were using walkers. It definitely did not feel like a nursing home!
Nationality
Most of the passengers were definitely from the USA but there was a sprinkling of other nationalities, especially German, Canadian, British.
Other
Given the casual atmosphere on Norwegian Getaway, the "party vibe", and the complete lack of a dress code, I was surprised that the passengers were very similar to guests on Royal Caribbean or even Celebrity.
All fellow cruisers I talked to were educated, friendly, and appeared fairly well-off.
How was this cruise for Solo Cruisers?
This cruise was excellent for solo cruisers, probably the best I have ever been on. There were several reasons contributing to this:
1. NCL has a reputation for being "solo friendly"
2. The waived single supplement made this cruise very affordable for single cruisers
3. Due to the many sea days there was more time to mingle and meet new people on the ship
4. Due to length/# of sea days, many meet-ups were organized – from Tarot readings to pub crawl
5. Passengers on Norwegian Getaway were extremely open, friendly, and willing to connect
All this combined to make it very easy to meet new people. And with so many solo passengers you never felt weird having dinner on your own (if you didn't want to join other tables) as there were many other solo diners around you.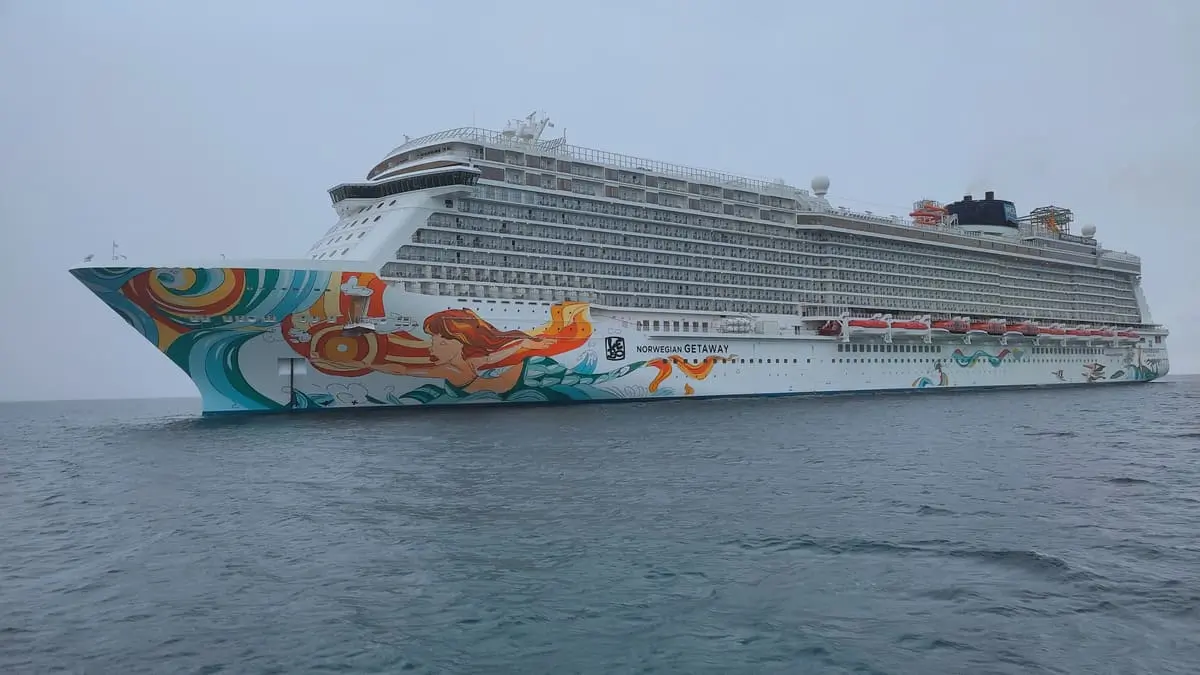 Highs and Lows of my Cruise
The Great
It was very easy to meet people
The atmosphere was great – everyone was looking to have fun
Norwegian Getaway offers plenty of pleasant outdoor spaces
I loved my cabin
The price was great
Free at Sea offered good value
The cocktails/drinks were delicious
The offered entertainment/shows was very good
The I-did-not-love-this-but-your-mileage-may-vary
NCL's smoking policy is rather lenient which leads to the entire deck 7 having an unpleasant stale cigarette smell
Norwegian (like other mainstream lines) has cut back cabin service to once a day. Though that is enough to keep the stateroom clean, it does take away a lot of the luxury/pampering feel of the experience.
NCL's freestyle dining concept has a lot of fans and advantages, but I personally prefer a fixed time/table. With fixed dining your waiters get to know you and your preferences and service is generally much better.
There are quite a lot of areas of the ship that require an extra payment – Vibe Beach Club, Thermal Spa, the Haven – so it is not surprising that the remaining indoor space is rather limited.
The Bad
WIFI was atrocious. I understand the difficulty of getting a connection out at sea but feel they should not even have sold internet plans. At the least the entire plan should have been reimbursed.
Norwegian Getaway does not have enough comfortable indoor spaces in bad weather. It was fine on this cruise (or any of the regular Med/Caribbean cruises) but I would not for example recommend booking a transatlantic on this ship in the winter
Do I recommend a transatlantic on Norwegian Getaway?
Absolutely. This was a great cruise – relaxing and never boring! Though transatlantic cruises are not for everyone (read my post on transatlantic cruises to find out if a TA would be the right vacation for you), I loved my time on Norwegian Getaway.
Even though I was a bit critical of some aspects of the ship, the overal experience was outstanding.
The "Fun Factor" was very high – passengers were determined to have a great time and it was extremely easy to meet new people. I am very introverted and even I talked to so many people (but still had plenty of alone time)!
The price was great, drinks tasty, and the entertainment very good. It wasn't the best cruise ship food I have ever had but perfectly acceptable.
The biggest complaints I had were related to WIFI (always a bit tricky when far out at sea), smoking, and the limited indoor spaces (luckily the weather was good on my trip so it didn't really impact me).
If you are looking for an affordable, relaxing but fun, solo-friendly vacation it would be hard to find a better choice than a transatlantic cruise on Norwegian Getaway!
Are you going on a cruise on Norwegian Getaway? If so, my free photo scavenger hunt is a great way to explore the ship and have fun!
You can download the pdf for the completely free Norwegian Getaway Scavenger Hunt right here.