Are you looking for some time in nature in Northern San Diego County? Want to go hiking but not up for a huge challenge?
Torrey Pines State Natural Reserve is the place for you. This was my second visit at this park with its rare trees and I enjoyed it even more than the first.
Read on to find out more about what you can expect when you visit Torrey Pines!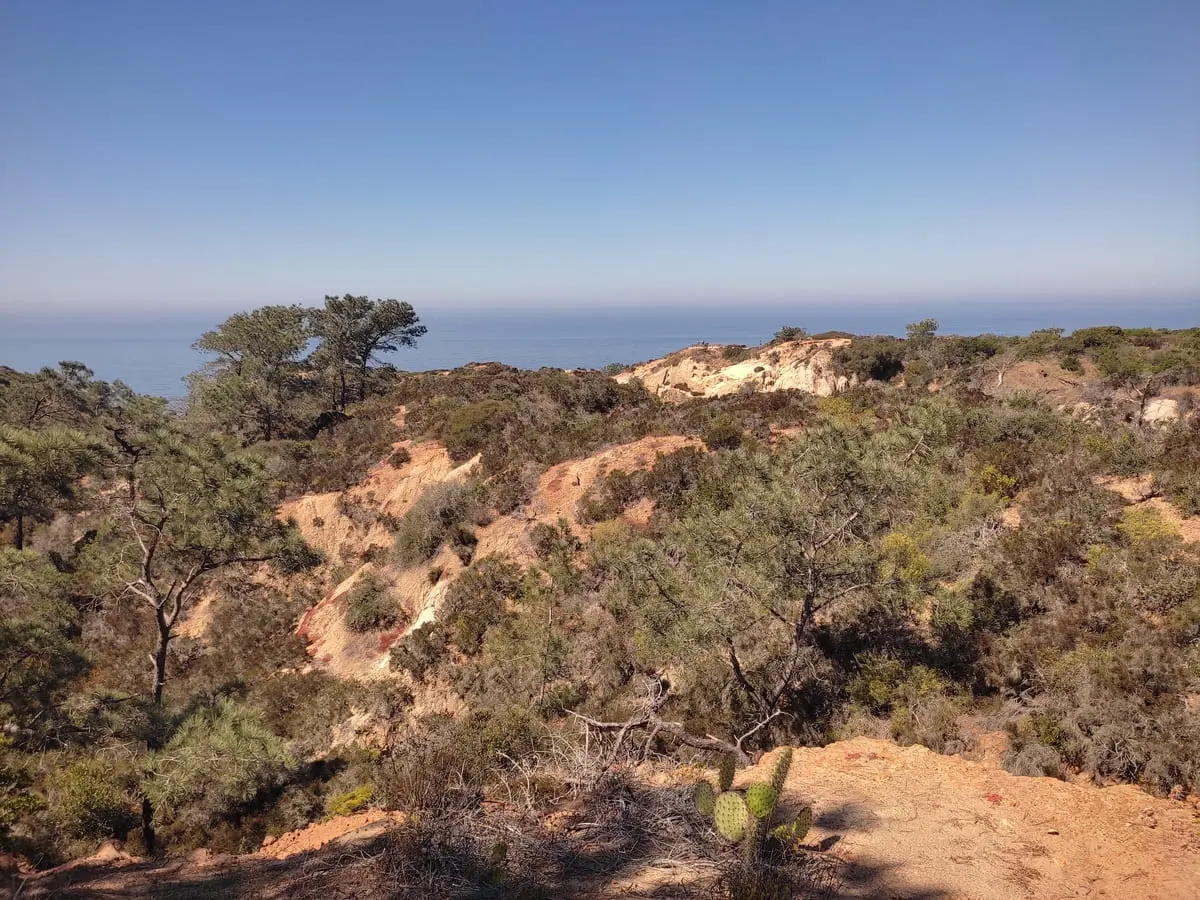 Just minutes from Highway 101, Torrey Pines is a piece of unspoilt nature
Things to know before visiting Torrey Pines State Natural Reserve
Torrey Pines State Natural Reserve is home to the rarest pine tree species in the US, the Pinus torreyana.
After Old Town San Diego, Torrey Pines is the most popular State Park in the San Diego area.
If you are hoping to use the Beach Trail and walk back along the beach, you should check the tide tables before your visit to ensure you are there around low tide.
No food or alcohol is allowed in the reserve.
My visit to Torrey Pines State Beach
This was my second visit to Torrey Pines State Reserve so getting there was fairly easy as I knew what to expect.
The entrance/parking lot is right off Highway 101 so would be easy to get to by car. However, note that the South Beach lot can fill up in the summer. If you see a flashing light at the top of the kiosk the lot is full and you will have to use the North Beach parking lot.
As I was using public transport there was no need to worry about parking or to pay the day use fee that varies between $10-25.
I caught the 101 Bus in Solana Beach (runs every 30 minutes) for $2.50 and about 10 minutes later I got out at stop N Torrey Pines Road & Torrey Pines State Beach. If you are staying in the area I definitely recommend visiting Torrey Pines by bus – easy and convenient!
From the bus stop you can walk right into the parking lot or onto the beach. I followed the path you see in the picture below towards the hill in the background, the State Natural Reserve.
On your way you pass some public restrooms. You will find more near the visitor center in the Reserve but the ones at the beach are definitely nicer!
Torrey Pines State Reserve is easy to get to – by car as well as public transportation
After crossing the parking lot you follow the street up the hill. In some places there is a separate path for pedestrians but in others you just walk on the road. Not the most fun ever but there is hardly any traffic so not dangerous or nerve-wracking at all.
Walking up is a little tiring if you are out of shape like me but there is nothing challenging about it. All in all it took me about 15 minutes to get up the hill.
As soon as you are almost up, some trails branch off the main road. All of them are clearly marked so it is easy to find your way.
I had decided on the Beach Trail so passed by the first couple of branching paths (Guy Fleming Trail and Parry Grove Trail). I did however check out some short trails to viewpoints along the way.
One of these led to the Whitaker Garden. This is an interesting area with various native plants labeled with information. Given the dry climate in Southern California these plants are all of the hardy, enduring kind. So don't expect a pretty garden in the English style!
These will be of interest mostly if you are interested in botany/plants. I have to admit that the paths here were a bit over-grown and narrow for my taste.
On a previous visit my son was freaked out about the chance of encountering a rattlesnake (yes, there are rattlesnakes here!). Apparently, this fear has sprea to me a bit. While I wasn't worried on the regular trail, I did feel a bit uncertain in this area. So I didnt explore that much.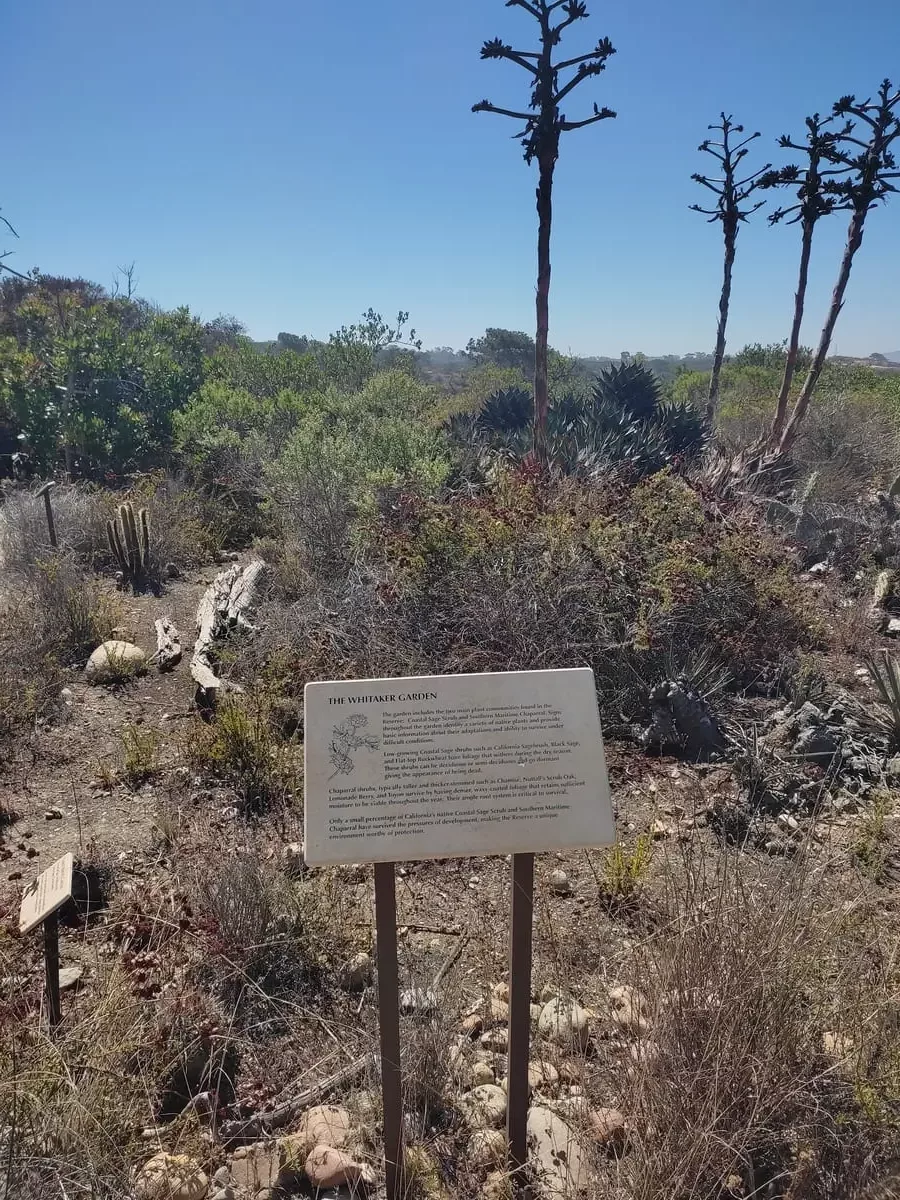 The native vegetation is hardy and enduring
My first real stop was at the West Overlook. Here I found not only a bench but a bench in the shade!
A great chance to sit a bit, recover from the uphill climb (yes, I know it wasn't that challenging), hydrate, and enjoy the views over the canyons out to sea.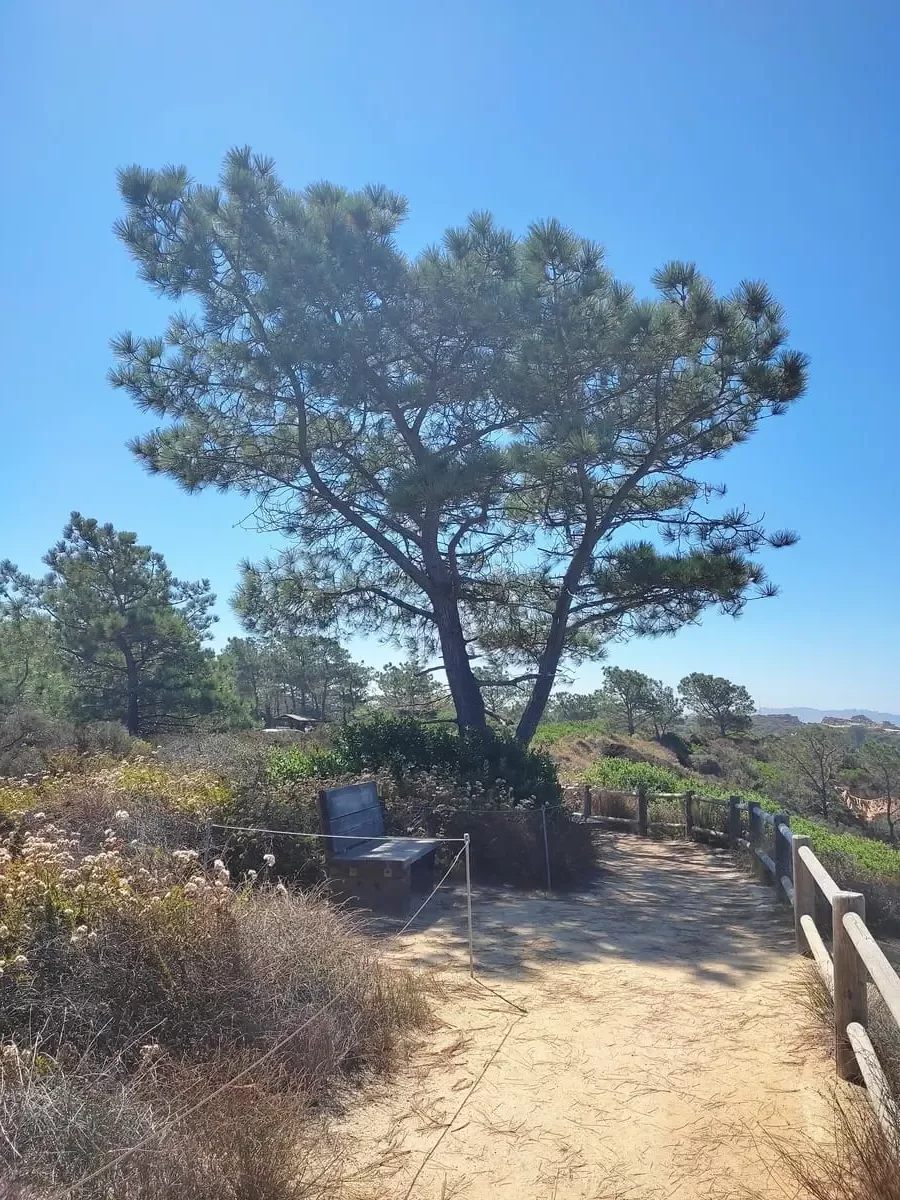 A rare treasure: a bench in the shade
Almost right behind the West Overlook is the Torrey Pines Lodge Visitor Center. This pueblo-style building looked like it was in Santa Fe.
Inside there are some displays of local fauna and flora and from the back terrace I enjoyed the view out towards the lagoon and highway.
On the weekends you can take part in a free organized hike and Sundays they offer meditation walks. I visited on a Thursday though so it was very quiet.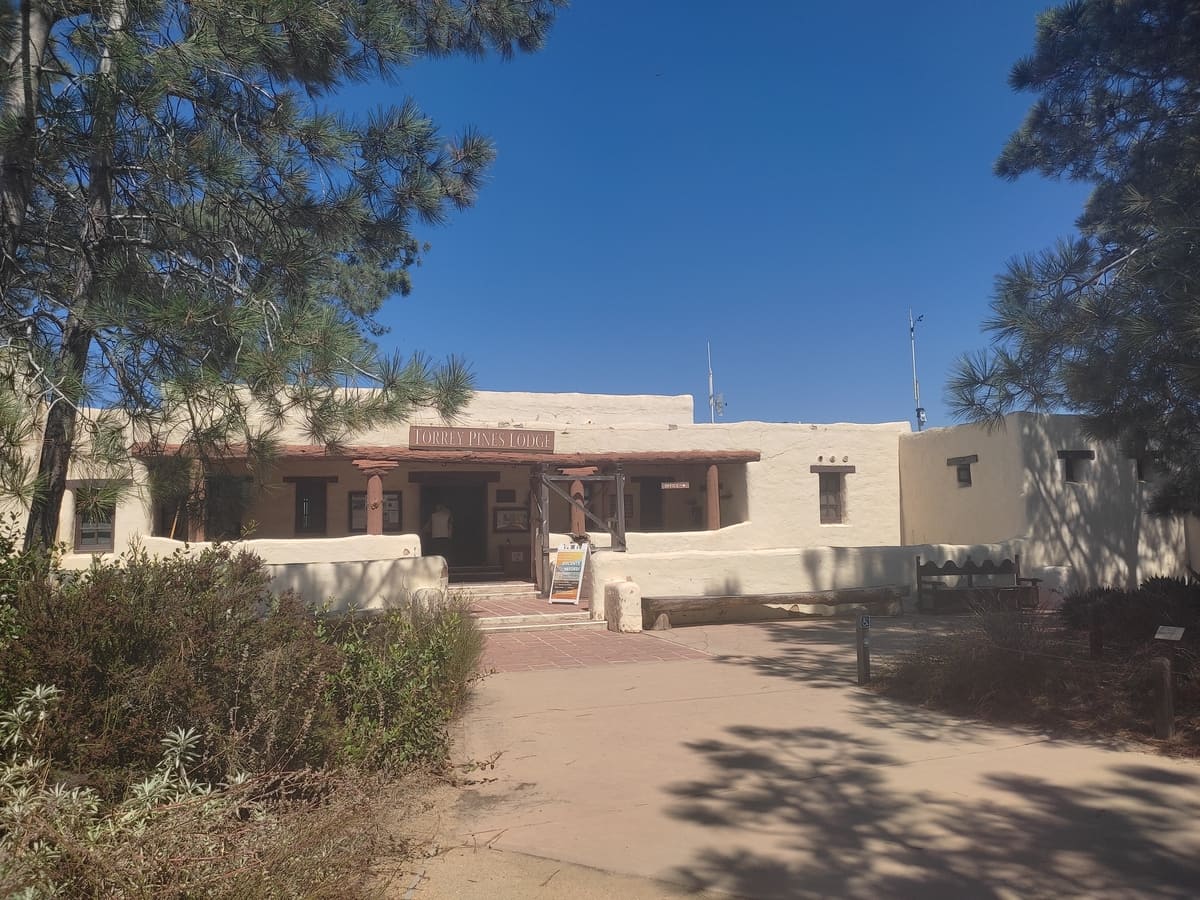 Loved the look of this place – maybe I should put New Mexico or Arizona on my list of travel destinations
Across the parking lot from the visitor center were additional restrooms. This time port-a-potties but this is the last chance before going out in nature so I made do.
Here you will also finde a map that shows all the trails you can explore. Even better, there is also a ranger available if you have any questions.
All the trails are very well sign-posted so you can't really go wrong. Also, the Reserve is not that big and you have a clear view of most of it so there is no chance of getting lost.
I wish hiking paths were always that clearly sign-posted
If you forgot to check the tide tables prior to your visit you can see when high and low tides are here (and hope that you chose the right time for your visit).
Tides make no difference for hiking on the trails but if you decide on the Beach Trail and want to walk back to parking lot/bus stop it is important. The cliffs are quite crumbly and it is not advisable to walk to close to them. So low tide (or close to it) is the time to go.
Anyway, I did know this from my first visit so had made sure to get there around low tide and all was good.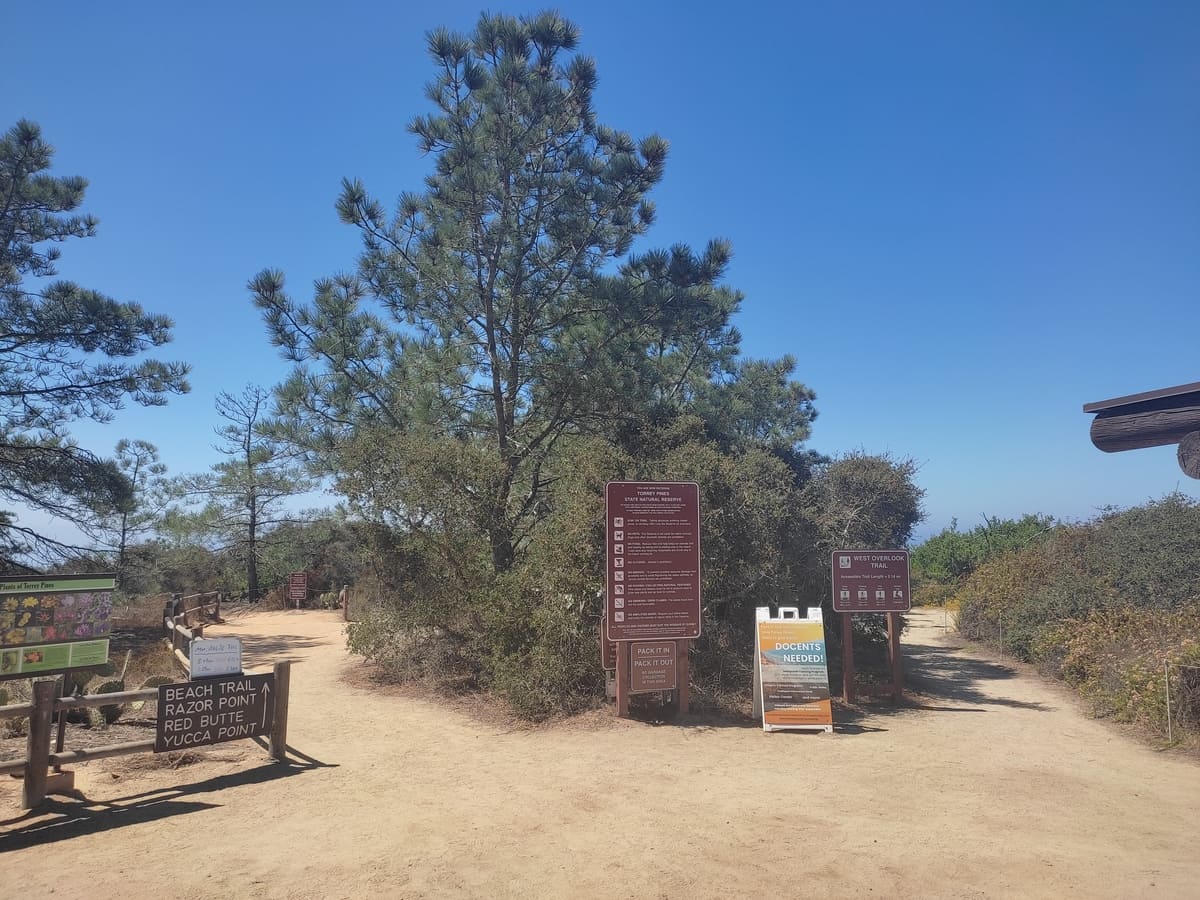 You can choose between several trails
While there are a number of different trails, they aren't very long for the most part and often interloop so you can cover many of the main sights in a couple of hours easily.
I walked out to Red Butte (so weird to see in coastal Southern California), followed the Razor Point Trail to Razor Point, and then joined the Beach Trail all the way to Flat Rock.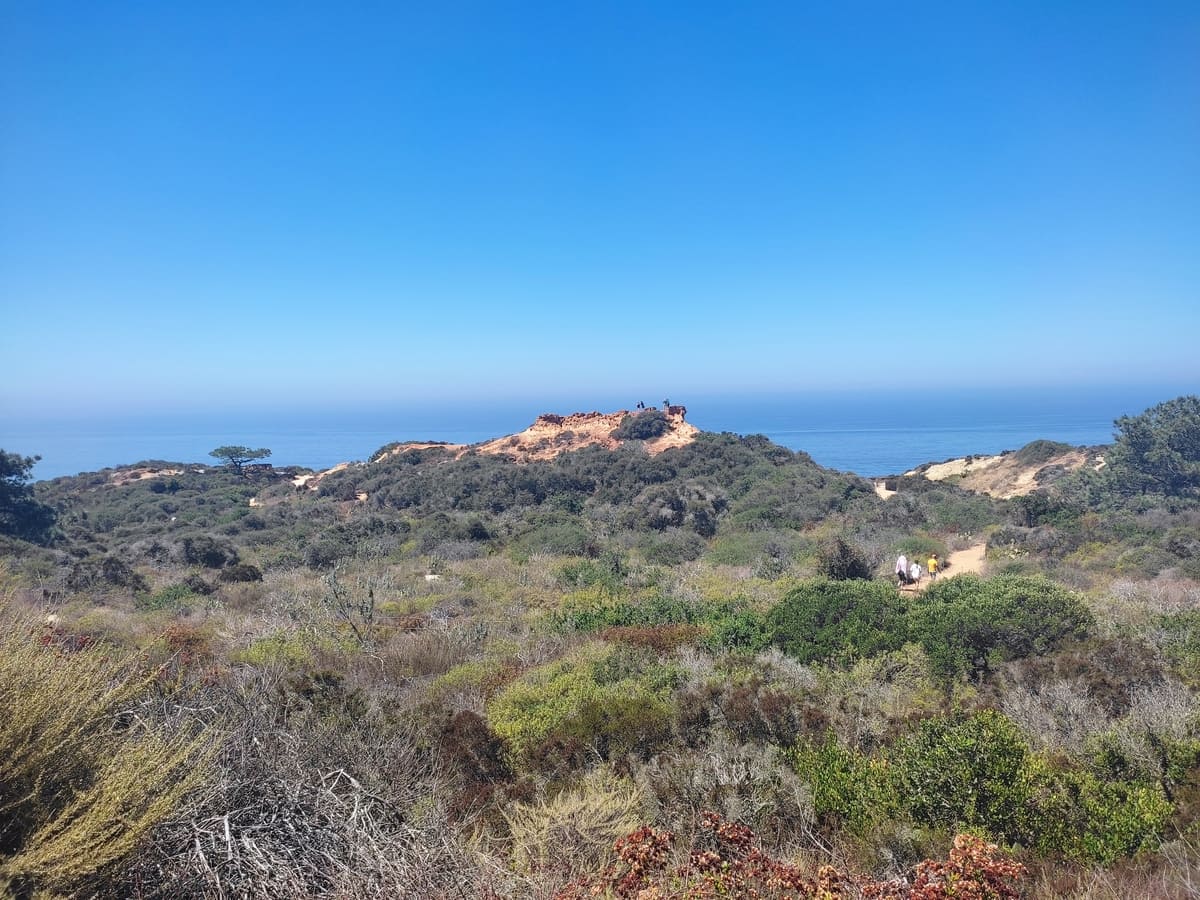 You can clearly see the trails winding over the hilly headlands
After a bit over an hour from the visitor center  I got close to the beach at the end of the path. There were several warning signs about steps at the end but these were not scary at all – much less challenging than the ladder at my Annie's Canyon Hike.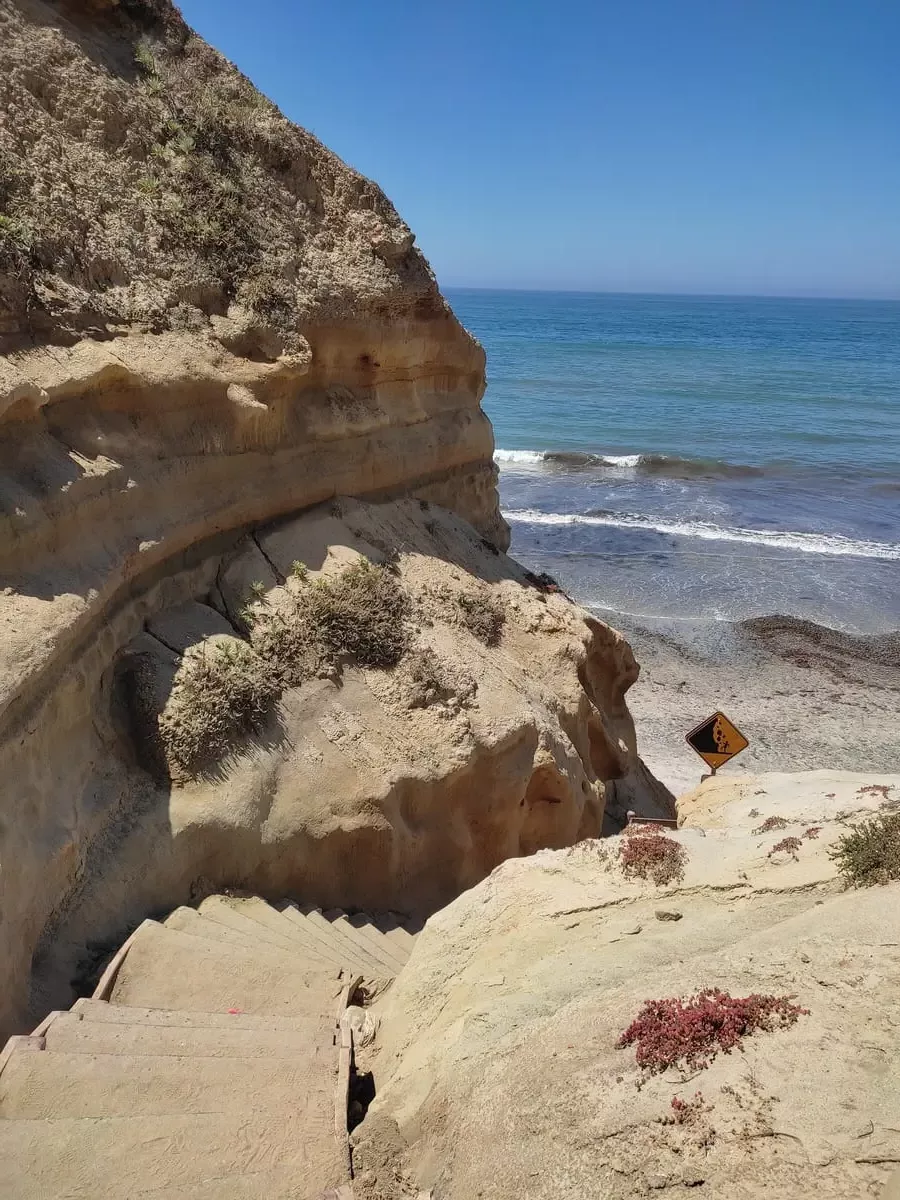 The steps are in good order though the sand can be slippery
These steps should be easily doable unless you have problems walking/with steps. In which case this hike is not a good idea to start with.
It took only a couple of minutes to get down to the beach.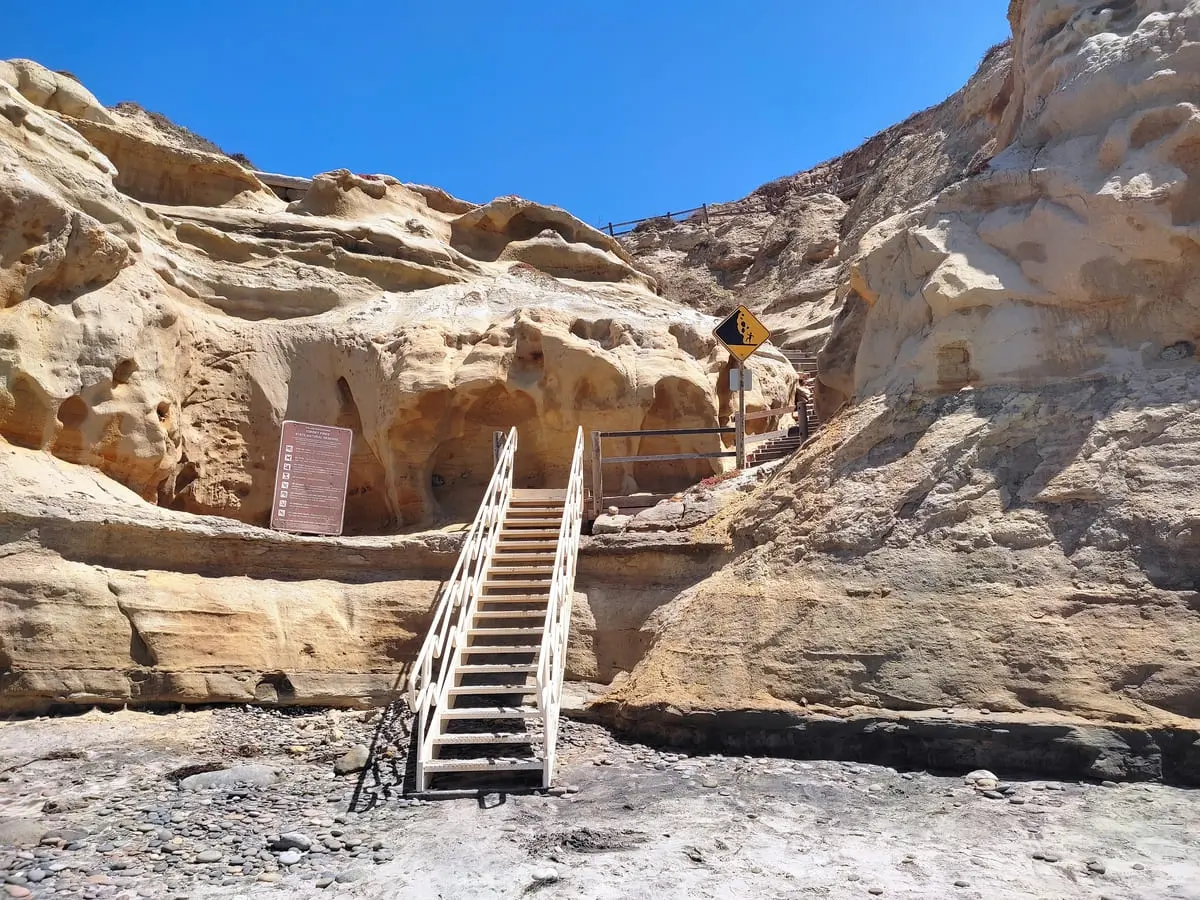 The steps are certainly easier than climbing down the cliff-face
With the tide being fairly low, walking along the beach back to the starting point is easy.
However, do check on the tides – you don't want to get stuck too close to the cliffs as pieces fall down all the time.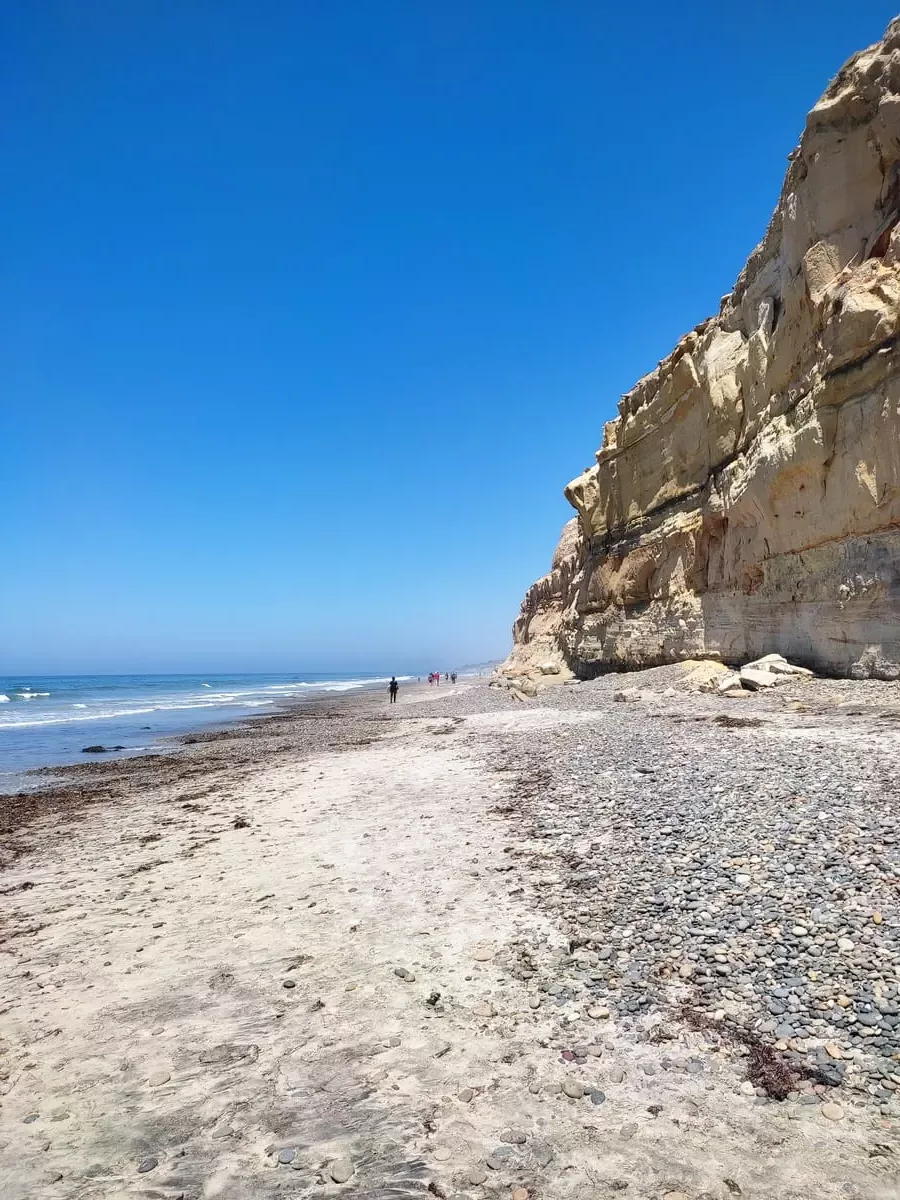 Hardly anyone is at this part of the beach
Walking back along the beach at a slow speed (but without any breaks) took me about 20 minutes.
As you get closer to the parking lot the beach gets busier though it is still a far cry from the crowded beaches in Southern France. 
Here you will also find a lifeguard tower. Given the rather daunting nature of the Pacific with riptides and sharks, I do recommend to swim at beaches with supervision!
A long sandy beach, the Pacific, a lifeguard tower, and surfers – what could be more quintessential Californian?
At this point I was back at my starting point and I should just have caught the bus from here. But for some reason I thought I needed more exercise and decided to walk back towards Del Mar.
Now let me first say that it is possible to walk between Torrey Pines Parking Lot and Del Mar and the walk is actually quite nice. Still, I wish I had not done so (read on to find out why).
After crossing the bridge you walk up the hill next to the road but there is a narrow walking path.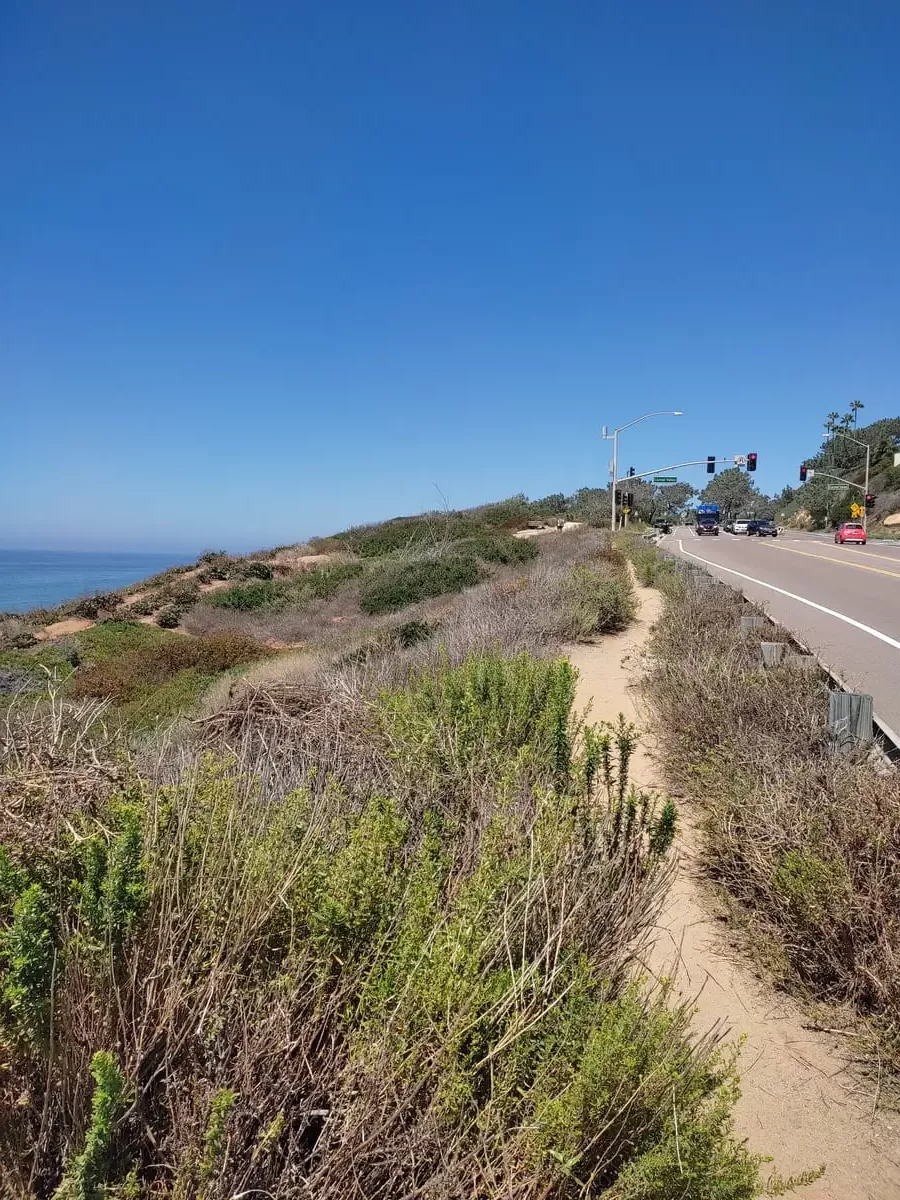 Once you reach the top of the hill, the path widens and it is like a little park. I saw people walking dogs there and it is quite pleasant with benches and even some artwork.
You also can enjoy a beautiful view out to sea and there are some gorgeous mansions to admire.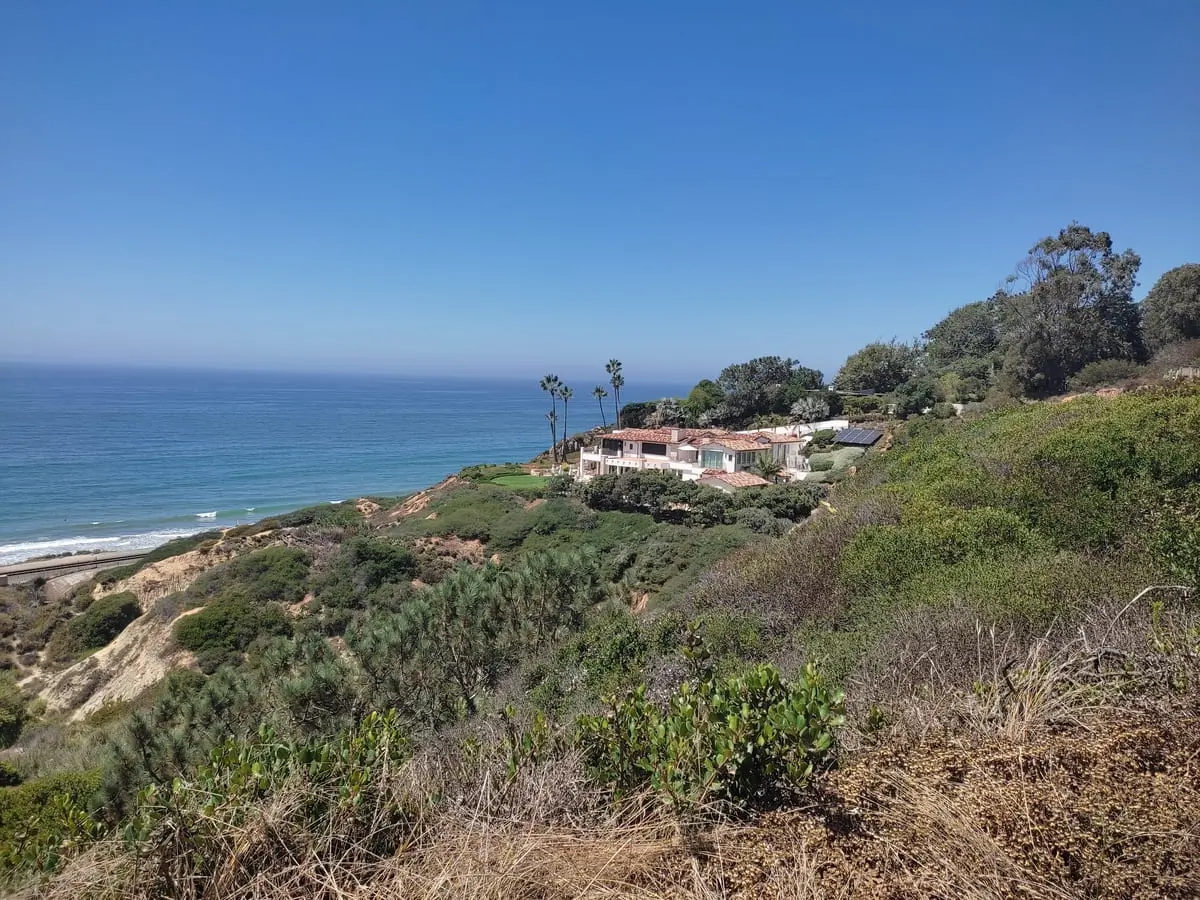 I wonder whose house this is?
Eventually, I did get to the outskirts of Del Mar. After walking pretty long through nice upscale streets I finally made it to Del Mar's main street.
So why would I not do it again?
Though the walk was nice enough it dragged on a bit and it was quite hot. After already having hiked 2.5 hours at Torrey Pines, the longish walk to Del Mar was more of a chore than a joy.
Personally, I would take the bus next time. However, if you have a lot of energy and are in the area when it is not quite so hot, walking on to Del Mar would be fine.
Whether walking, by bus or car, I definitely recommend finishing up the day in Del Mar!
Here you will find shops and restaurants. From a prior visit I can recommend Monarch Ocean Pub at the Del Mar Plaza in the center of Del Mar. 
I loved my Cobb salad, the price wasn't horrible, the atmosphere California-hip and relaxed, and the views wonderful!
On this visit I was too hot to be hungry though so just got a treat at An's Hatmakers – a top contender in my search for the best ice cream in Southern California.
And to cap off the day I went down to Seagrove Park. A pretty park with wind-swept trees, sweeping views of the Pacific, and a chance to watch surfers gliding over the waves – pure perfection!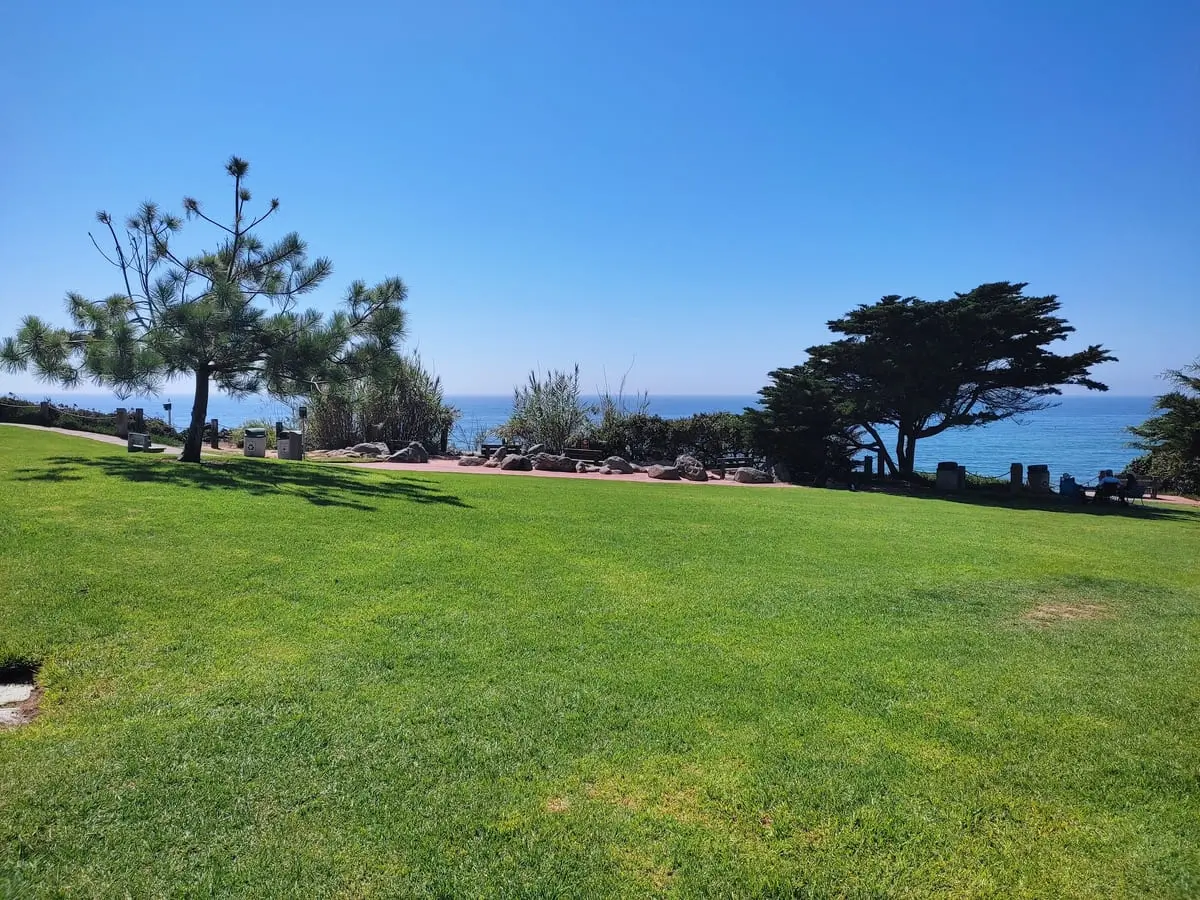 Seagrove Park in Del Mark is one of my favorite places in Southern California
Some practical information about Torrey Pines State Reserve
How do you get to Torrey Pines State Reserve?
By Car:
The Torrey Pines South Parking Lot is right of Highway 101 between Del Mar and La Jolla.
The day use/parking fee varies from $10-25 per vehicle (depending on demand). In summer the South Beach lot can get full so come early or park at North Beach.
By Bus:
Take the 101 bus to N Torrey Pines Road & Torrey Pines State Beach and you are right at the entrance to the parking lot! 
Is hiking in Torrey Pines State Natural Reserve difficult or dangerous?
Hiking at Torrey Pines State Reserve is not difficult. Some trails may be a bit harder than others but all the ones I tried were quite doable for basically anyone.
While hiking here is not dangerous per se do make sure to have plenty of water and sun protection. You also need to keep out an eye for rattlesnakes! If you encounter any, use commonsense (i.e. do not approach).
What is special about Torrey Pines?
Torrey Pines' greatest claim to fame is a rare pine tree species, Pinus torreyana. It grows only here and on one of the Channel Islands. Torrey Pines State Natural Reserve is definitely the easiest way to see this tree!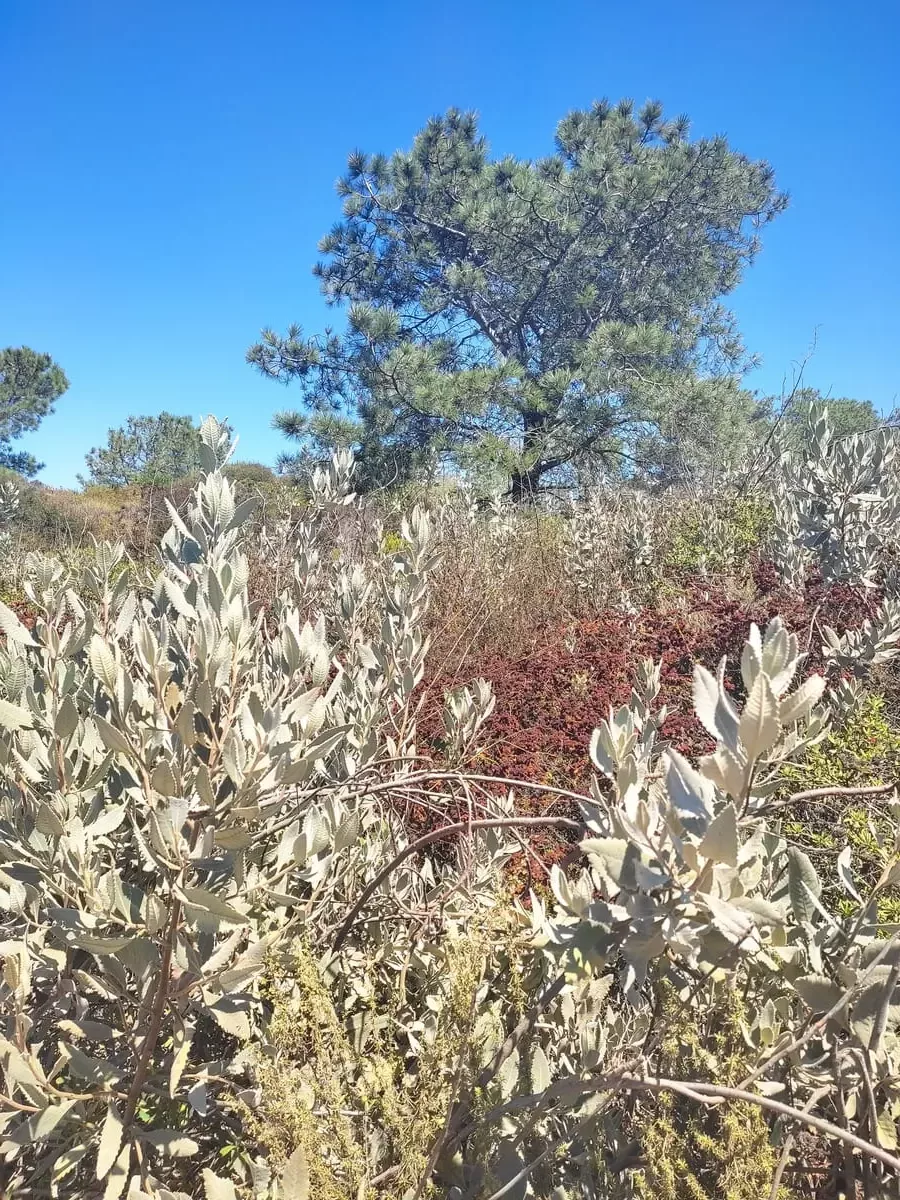 One of the rarest trees, Pinus torreyana
How busy is Torrey Pines State Natural Reserve?
On a weekday in late August, there were definitely people there but it wasn't crowded. For my taste it was the perfect amount of people as it didn't feel abandoned but still had a serene atmosphere.
How long does hiking at Torrey Pines take?
How much time you will need depends on which trails you follow (and of course how fast you walk).
I am a fairly slow walker and spent a good 2.5 hours from the time I started at the bus stop until back at the lifeguard tower of Torrey Pines Beach. 
So my estimate would be about 2 to 3 hours for a visit. Of course you can spend a couple of hours at the beach as well.
What should you bring with you to Torrey Pines?
It can get hot at Torrey Pines so make sure to wear sunscreen and a hat. I would also recommend decent shoes.
Don't forget to bring water! Eating is not allowed in the Reserve but if you have snacks along you can eat them at the beach either before you start your explorations or after.
Is there a bathroom on this hike?
There are public bathrooms at the beginning of the hike at the parking lot.
And you will find port-a-potties near the visitor center on top of the hill. However, there are no restrooms along the trails.
Can you buy food or drink on this hike?
No, there are no stores once you start the hike. The nearest place to buy anything would be in Del Mar.
Is Torrey Pines State Reserve worth a visit?
Absolutely! Torrey Pines is a piece of unspoiled nature easily accessible. There are great views to be had and it smells wonderful. My favorite part is the beach trail.
What else is there to do nearby?
With car or bus you can easily get from Torrey Pines State Reserve to La Jolla, Del Mar, or Solana Beach.
I would recommend ending the day at Del Mar. Here you will find some nice restaurants, stores, and a great beach.
Final Thoughts
Torrey Pines State Natural Reserve is a true gem. Easily accessible both by car and public transport, it is a piece of unspoilt natural beauty.
You can enjoy native vegetation (love that smell!), deep ravines, broken cliffs, and meandering trails. A highlight is the Beach Trail – what better combination than spending time at the beach and hiking through wilderness.
But one of the biggest advantages is that even though Torrey Pines feels like you are far from civilization you really aren't. This is a very accessible hiking destination. You don't have to be a true hiking enthusiast, in great shape nor do you need any special hiking equipment.
If you are in the San Diego area, a visit to Torrey Pines is a great idea!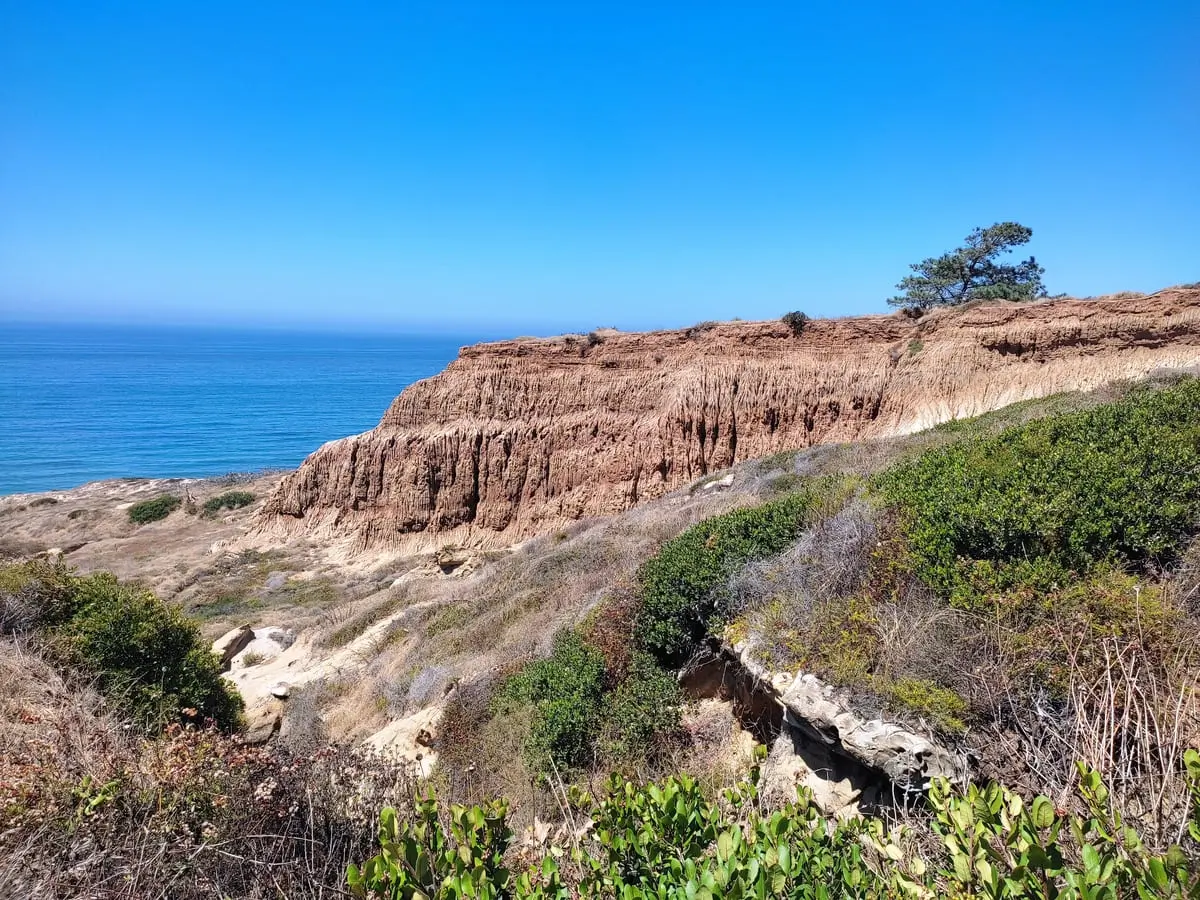 I love the color contrasts between red rocks, green plants, and the bright blue sea