Annie's Canyon Trail is one of the main attractions in Solana Beach (at least according to TripAdvisor): A short hike through a slot canyon to a viewpoint over the San Elijo Lagoon.
As we own a timeshare at Winner's Circle Resort in Solana Beach we have spent a week in town fairly regularly. This was the second time I challenged myself to Annie's Slot Canyon, and while last time I went with my teenage son I was on my own this year.
So what was it like? Is it worth the effort? How difficult is it?
Read on for a detailed description of my experience (with plenty of pictures). At the end I will answer various questions you may have if you consider taking on this hike.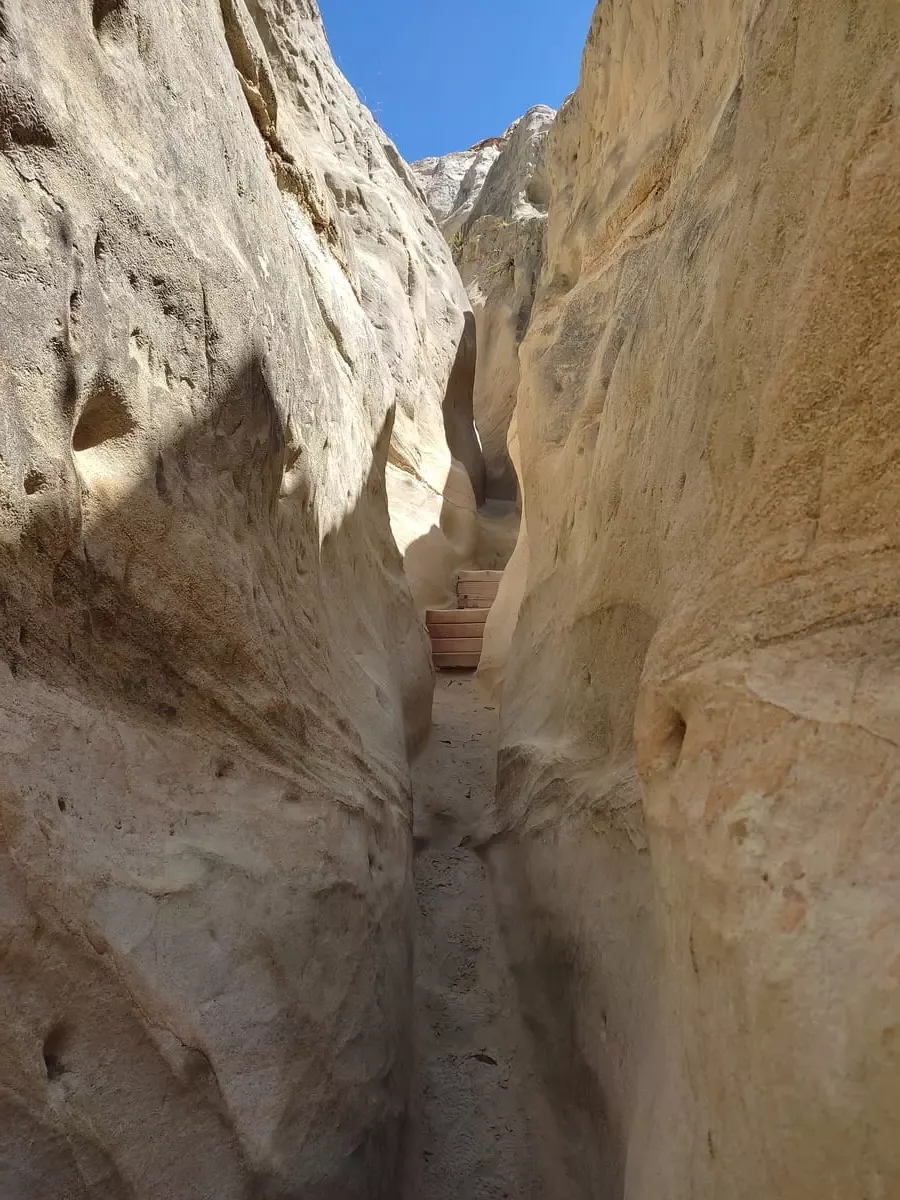 Annie's Slot Canyon is a great experience – but maybe not for the claustrophobic
My experience hiking Annie's Canyon Trail
As I was staying in Solana Beach for the week, I made my way to the other side of town. This was actually the longest part of my walk as the actual trail is fairly short.
(See the end of this post to find out how you get to the trail if you are from out of town.)
After leaving busy Cedros Avenue, I walked along Rios Avenue, a residential street. There are nice houses on either side of the road but it is just a basic neighborhood, nothing too exciting.
Finally, I got to the end of the street. Here the San Elijo Lagoon was before me. Apparently there is a nature center but I have as yet to visit. Instead I turned right to follow the path to Annie's Canyon Trail.
The start of the trail at the end of Rios Ave. is clearly marked
The first part of the path is quite easy to walk on. Fairly wide with a sand floor it can be hot but at least in part there are overhanging trees providing some shade. Still, I was very glad I had bought a sunhat earlier on my trip!
The walk along the side of the lagoon isn't challenging
One of my favorite things in Southern California are the smells. No, I am not talking about car exhaust and movie popcorn. Instead I love the fresh scent of eucalyptus, pine, sage, and thyme (and whatever else is growing).
Along the way you can admire birds (if you are so inclined) as well as various plant species. Some have been labeled so you can check off your daily learning.
Somehow I am always surprised to see cacti growing along the Southern California coast
As you walk you get closer and closer to I-5 in the distance. But just when you start to wonder if you are in the right place, you come to a small clearing announcing the start of Annie's Canyon Trail.
Here you have to pass through a small gate. I am not sure whether this gets closed at some time. Google Maps suggests that the trail is open daily from about 6 am to 6 pm so maybe it gets locked outside of these times?
Honestly, I don't see why you would want to come here in the dark so you shouldn't have any problems with the gate.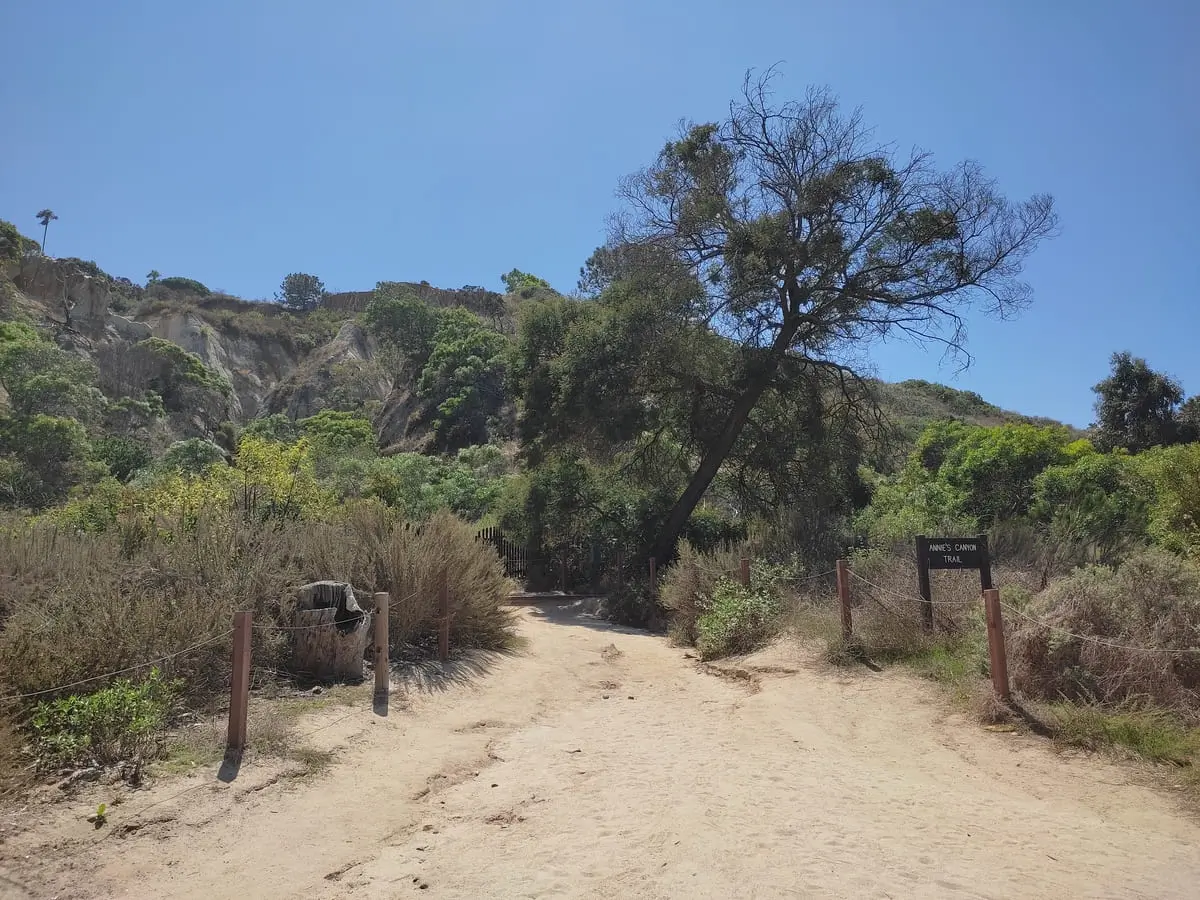 Luckily, the gate was open when I got there 
The path starts out easy enough with shallow steps along a wide sandy path. Nothing to it, I thought!
The early part of this hike is quite easy to manage
Now it is decision time: there are two different paths to get to the viewpoint.
You can choose between the difficult route through the slot canyon and the easier switchback trail.
If you don't feel up to the hike, have a dog /small children with you or if you tend to claustrophobia the switchback will be your friend. You can still enjoy the same view from the top without having to squeeze through the canyon.
I tend to optimisim (or maybe hubris) so I didn't even hesitate. The difficult route it was for me.
Once I decided on the difficult slot canyon route, I first had  to squeeze by the roots of a tree to start my climb in the slot canyon.
 A good place to see if the tight quarters inside the canyon will be a problem for you.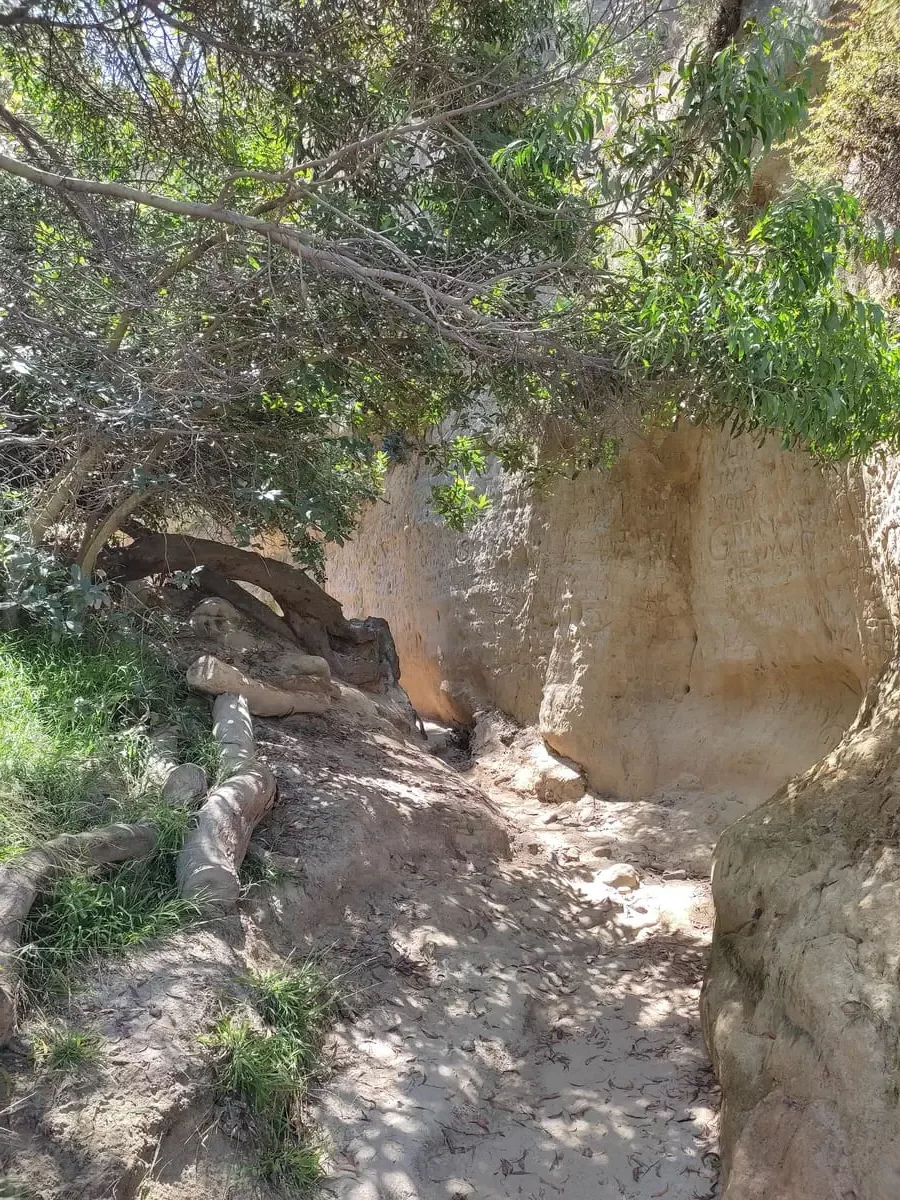 "Squeeze right by", said the spider to the fly
And then you are in the slot canyon proper. The path is very narrow with a sandy/slightly muddy ground. I would assume that it is not much fun after heavy rains – luckily not a major concern in Southern California!
The walls are very close together – I was quite worried that I might get stuck if the path narrowed even further.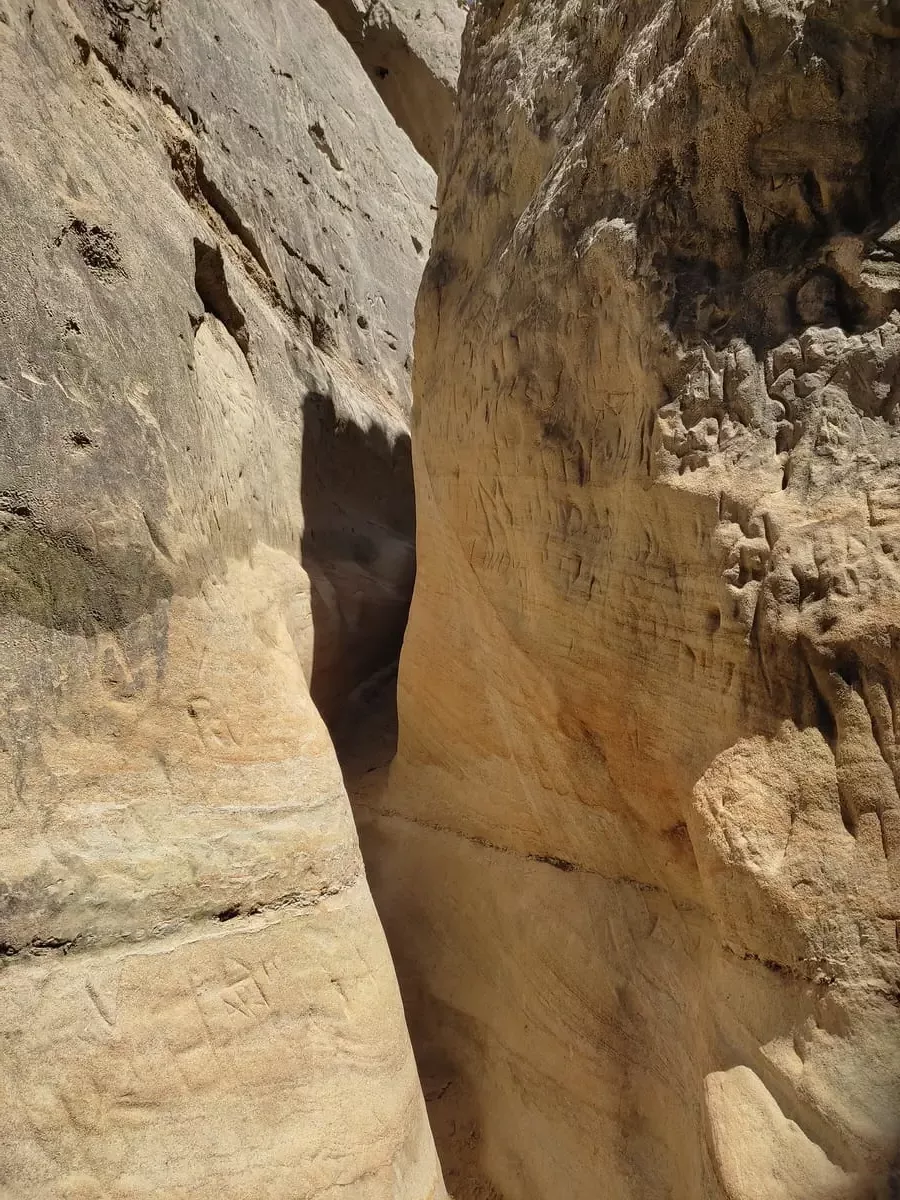 Yes, there is really enough space here to squeeze through!
And not only is the path narrow but also increasingly steep. At at least one part I had to basically crawl up on hands and knees. However, when I went the year prior with my teenage son he clambered up like a mountain goat so your mileage may vary.
Other than freaking out about possibly getting stuck, this was my favorite part of the Annie's Canyon hike.
Buffered by the high sandstone cliffs on both sides you feel like you are in a world of your own. The trail has a serene vibe, almost like a church.
The path slants upward between the towering cliff sides.
Now comes the final but probably most exciting part of this excursion: You get to climb a metal ladder for the last section.
Once on the ladder I actually found this a bit easier but getting up on the first step was tricky. Not being in prime shape I had to drag myself up on it with shaking hands. For a moment I even considered backtracking (but there were people coming up behind).
Once I had managed to get on the first step of the ladder this last part was actually not too bad
But I made it!
From the top you can see over the lagoon all the way to the Pacific. You aren't high up like in the Swiss Alps but the view is very pretty indeed!
The viewpoint area isn't very big so there is no bench or any other place to sit and rest. Too bad as I felt fairly shaky by the time I managed the top!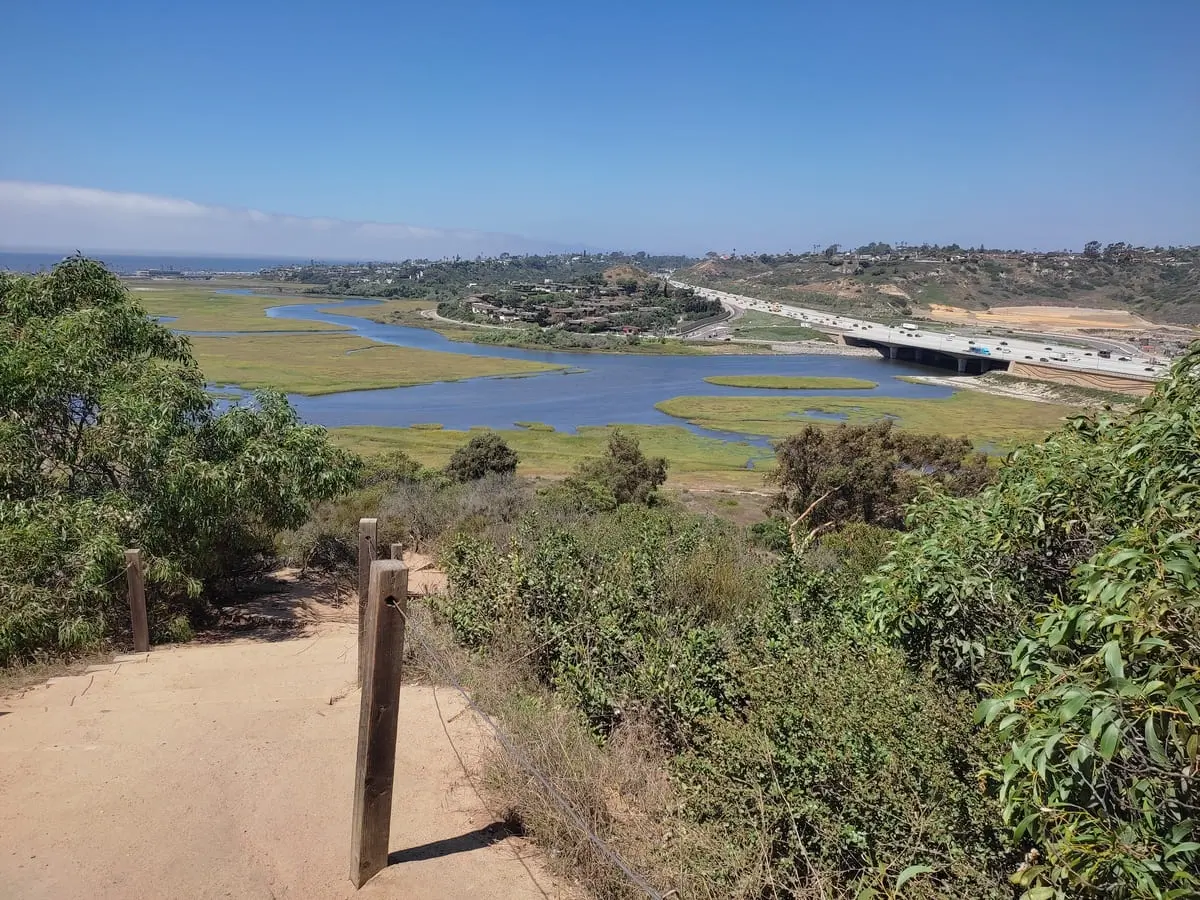 The view makes the climb worth it (I think?)
Without a convenient place to rest, I soon started my way back down. The switchback path is definitely much easier to manage than the slot canyon.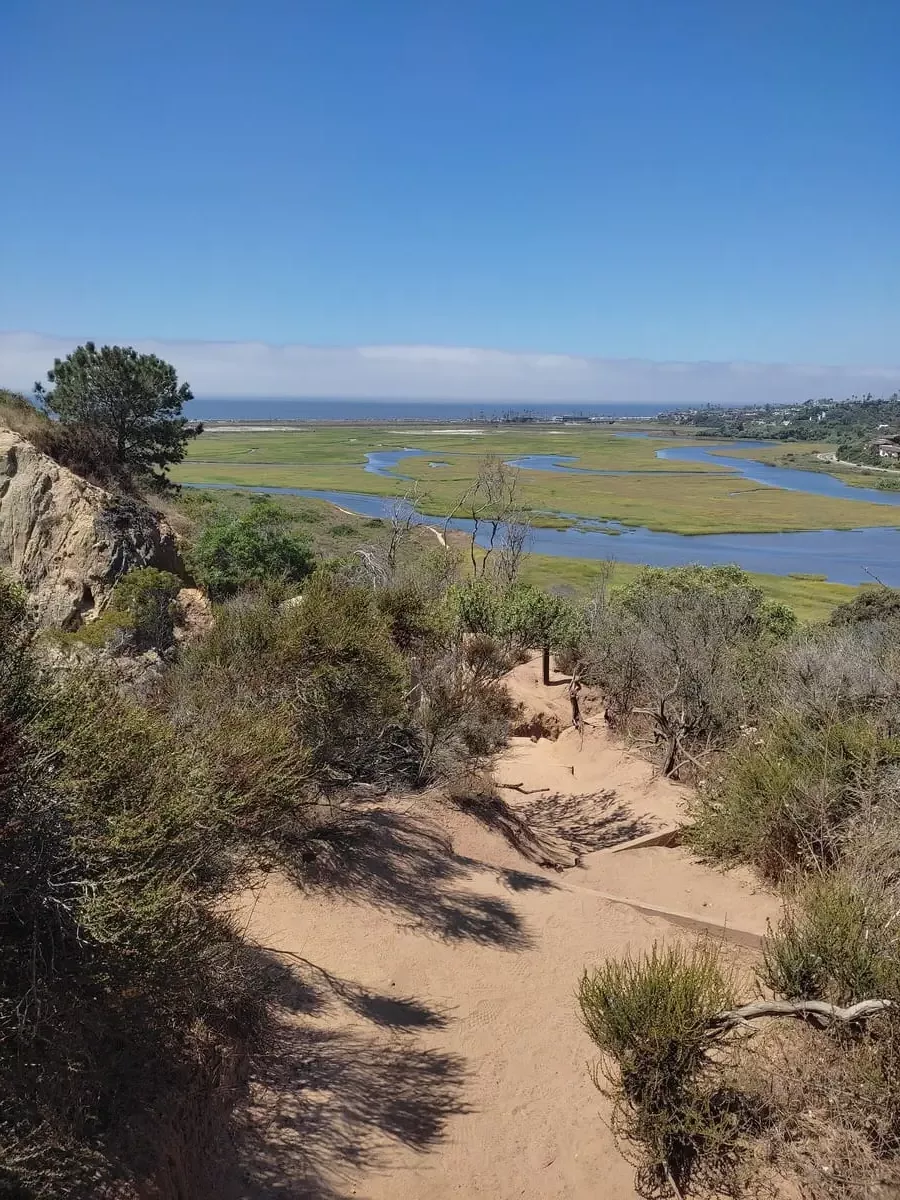 Easier than the canyon path but the sand can be a bit slippery
Once back on the main path I retraced my steps towards town. The bench along the path was a lot more inviting now!
Back in town I rewarded myself with an ice cream and looked around the shops on Cedros Avenue for a bit. A perfect ending to this little excursion!
Alternatively, you could also go to the right after going down the trail. The path will lead towards the freeway and after a turn to the right a perfectly safe (but boring) path will lead you to a strip mall with various stores and food outlets.
If you are here with a car this may also be a better option for you to start your walk as there should be plenty of parking.
Some practical information about Annie's Slot Canyon Trail
How do you get to Annie's Canyon Trail?
By Train:
If you arrive in Solana Beach by train just follow the train tracks towards the South/in the direction of San Diego until you get to Lomas Santa Fe Dr (about one block).
Turn left onto Lomas Santa Fe for one or two blocks (depending on which side of the train tracks you started on) to N Rios Ave.
Turn left onto N Rios Ave. and follow that street until the very end.
By Bus:
If you are coming to town on the 101 bus, your best stop is Highway 101 & Cliff St. 
Walk south until you are on the height of Mitch's Surf Shop North and turn left on the path.
Cross N Cedros Avenue and follow E Cliff Street for two blocks until you get to N Rios Avenue. 
Turn left on N Rios Avenue and follow the street to its end.
By Car:
Just follow your car's navigation to the Solana Beach Coaster station and park in the adjacent lot.
How difficult is Annie's Canyon Trail?
While not truly challenging or difficult, the slot canyon path is not easy either. You don't have to be a mountaineer or in top form but it may be challenging.
I am definitely not in great shape (really need to work on that) and managed but it was about as far as I would want to stretch myself.
The slot canyon is definitely not for you if you have difficulties walking or bum knees and you might want to avoid it if tight spaces freak you out.
I am not as skinny as I used to be but not very big either. I didn't exactly have to squeeze through but there wasn't a lot of room to spare.
The ground is sandy and in parts slightly muddy. Some of the steps are quite high – I ended up crawling on all fours a couple of times.
The view of the canyon walls is gorgeous though and quite unexpected. You feel like you are in Bryce Canyon or something. Very pretty so I am glad I did it.
The last part is made up of a ladder. Personally, I found this part easier to navigate than some of the high steps earlier.
While the view from the top is nice, the walk through the canyon is a big part of the overall appeal. So I do encourage you to do this if you feel up for it.
If not you can take the switchback path and enjoy at least the view.
On the way back I appreciated the bench and took a well-deserved rest
How busy is Annie's Canyon Trail?
Around lunch time on a Wednesday in August it was busier than I expected. Not crowded by any means but you did meet someone every couple of minutes.
For me that was a plus as there would be help available if I ran into trouble as a solo traveler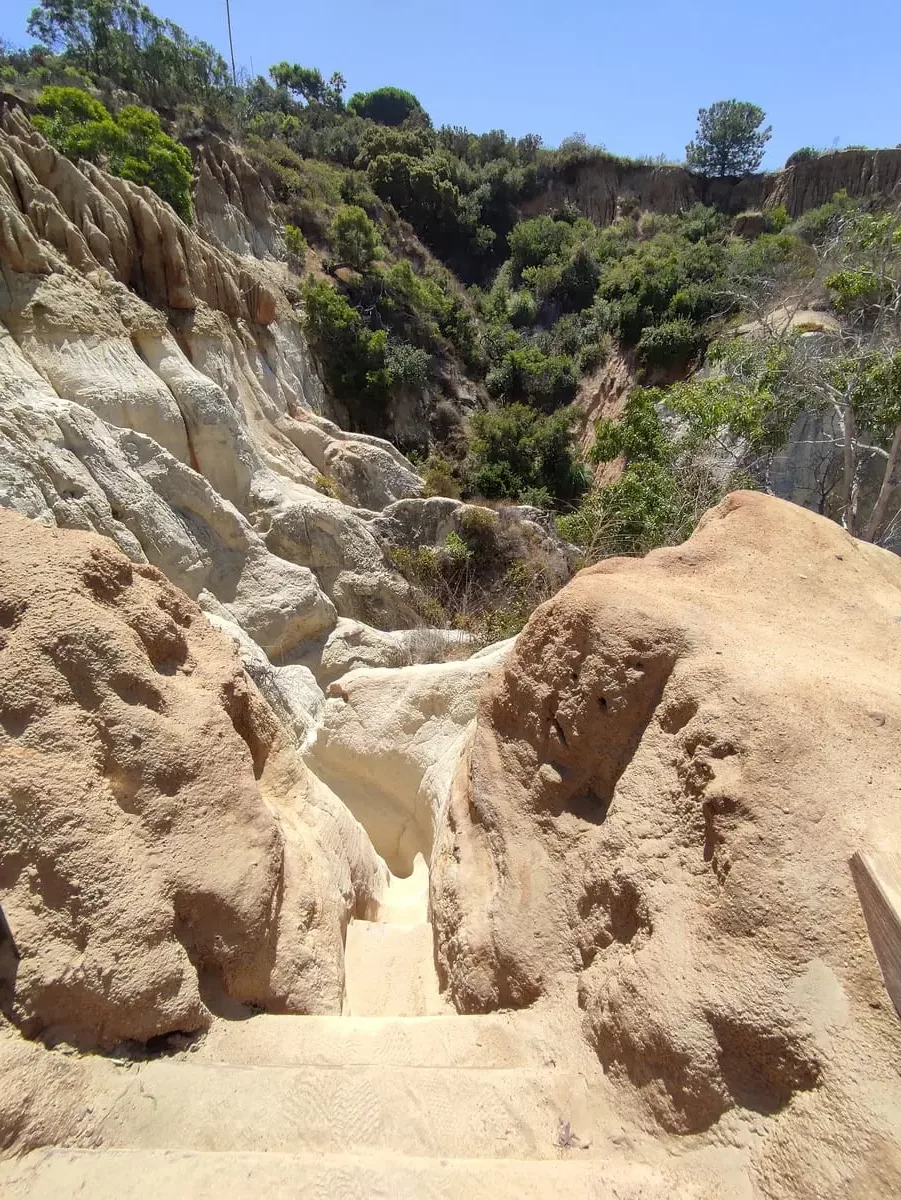 A look back at where I came from
How long does a hike along Annie's Canyon Trail take?
The actual climb up is fairly short (luckily as it was hard enough as it is). Maybe 10 minutes?
Walking from the train station to the start of the climb will take about 30 minutes. So around 1 to 1.5 hours should do it.
What should you bring with you to the Annie's Canyon Trail?
Definitely wear plenty of sunscreen, a hat, and decent shoes. Also make sure to take enough water with you – it is easy to get dehydrated in the dry and warm climate.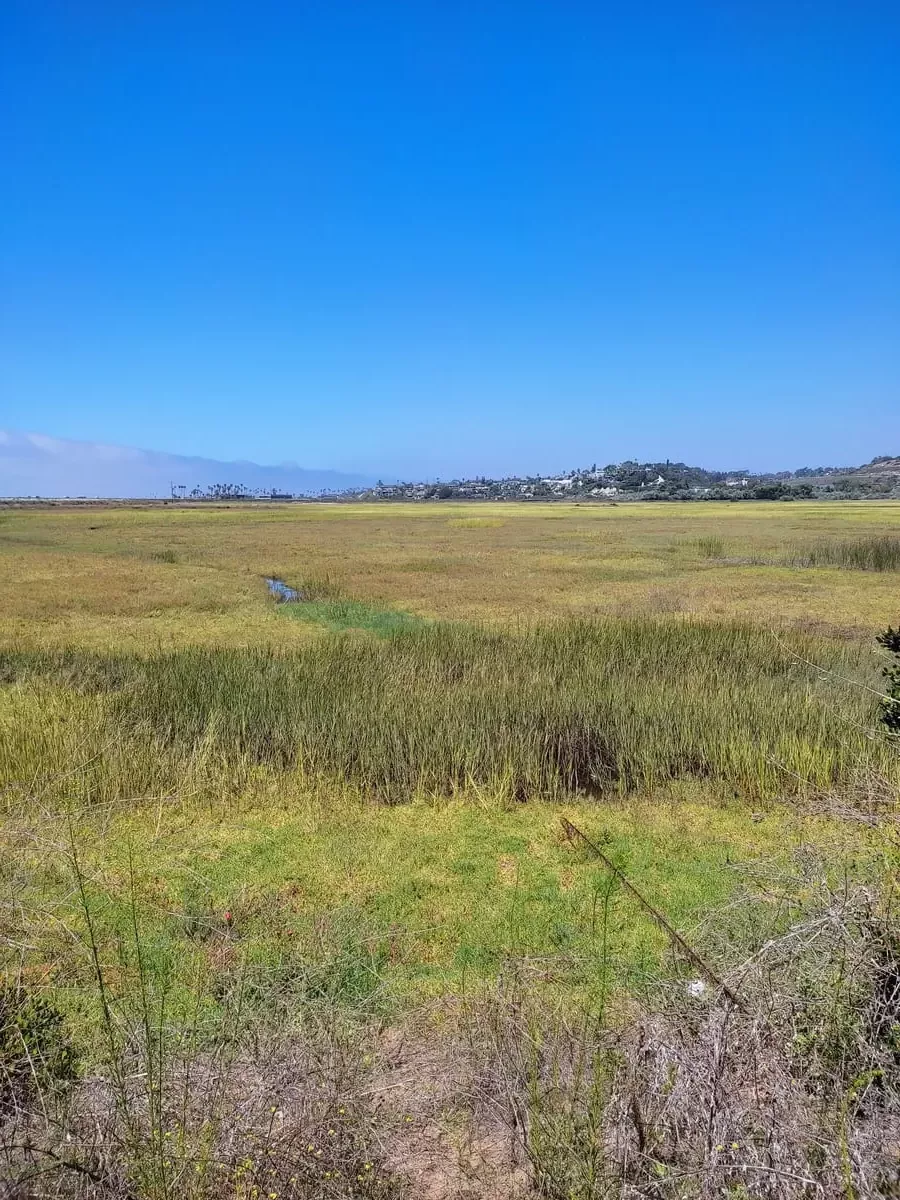 You can explore the lagoon along various nature trails
Is there a bathroom on this hike?
There is no public bathroom on this walk. The closest bathrooms are probably either at the Solana Beach Town Center shopping center or at Fletcher Cove beach.
Can you buy food or drink on this hike?
No, there are no stores once you start the hike. You can buy food/drink either near the train station or in the shopping center.
Is Annie's Canyon Trail worth the effort?
Yes, this hike is definitely worth the effort. It is challenging but a great experience.
What else is there to do nearby?
After hiking through the canyon, you could do a little shopping along Cedros Avenue or spend time at Solana Beach's Fletcher Cove Park.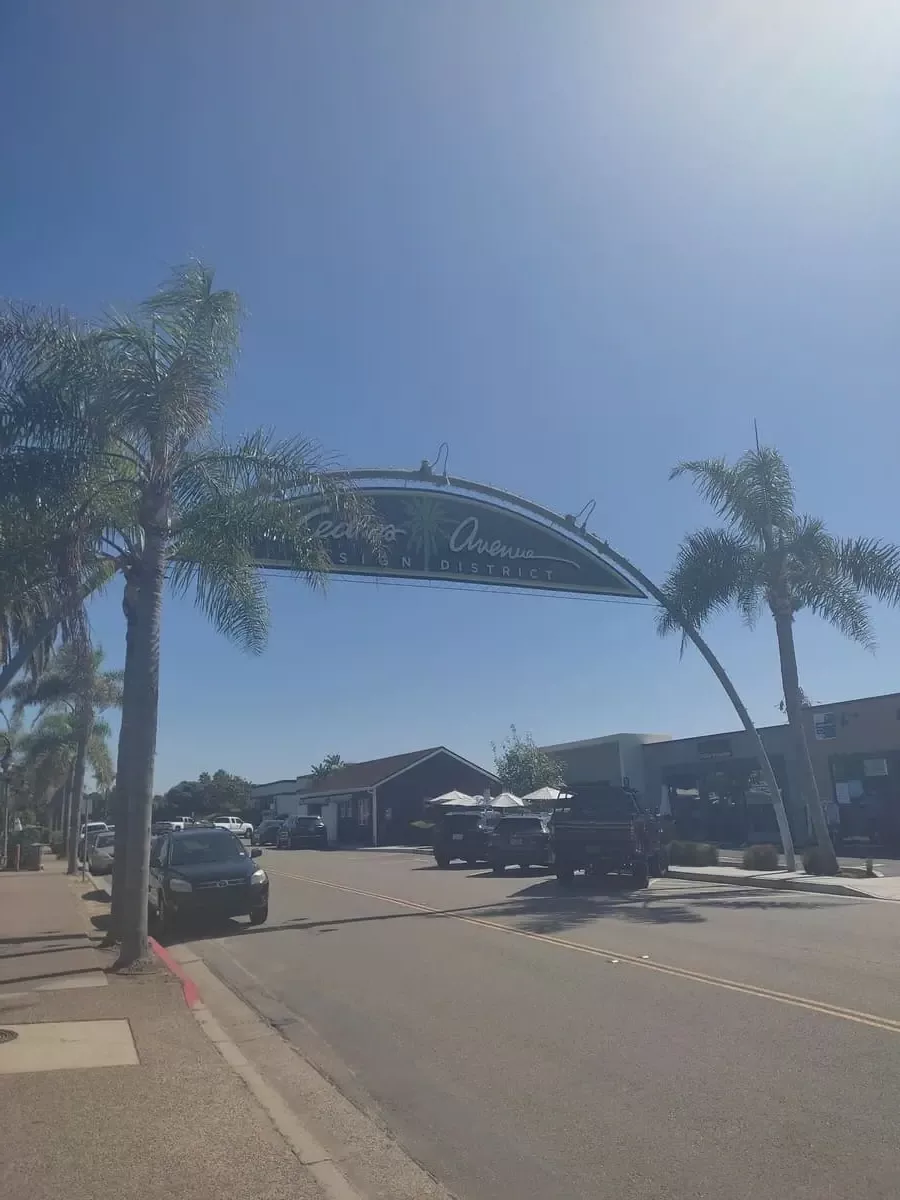 Cedros Avenue in Solana Beach is lined by interior decoration stores
Final Thoughts
Annie's Slot Canyon Trail in Solana Beach is definitely worth a detour. The entire walk/hike will take not much more than an hour and the climb through the slot canyon probably only about 10 minutes.
While this hike does not require any special skills, it is somewhat challenging if you are not used to similar adventures. However, you can still enjoy the view over the lagoon out to sea by following the easier switchback route.
As for me, I am glad I did it even though I wasn't quite so sure during my climb!
The canyon walls are very close together for sure