With almost 800,000 inhabitants, Frankfurt am Main is one of the biggest cities in Germany but it is generally not on top of the list for tourists (other than as the location of Germany's busiest airport). Nor do I think it should be!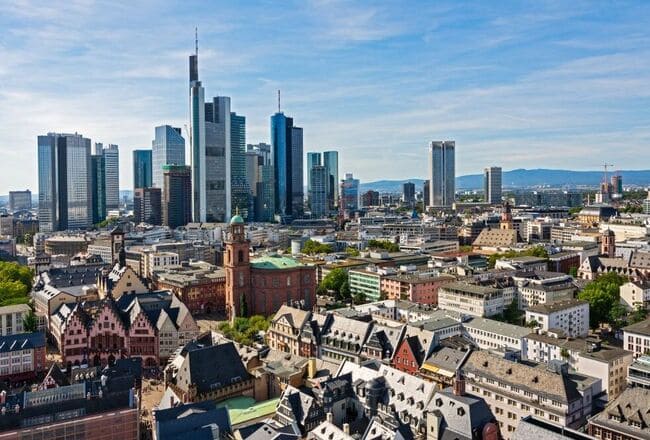 I do apologize to all "Frankfurter" (people who are from or live in Frankfurt, not sausages) but Frankfurt is not my favorite city in Germany. I don't know the town very well and it may be delightful to live in but it just doesn't seem to have very much to offer for visitors.
Sure, there is a busy city center with the famous Römer (a medieval building that serves as a local landmark) and Frankfurt is known for its many skycrapers that have given it the nickname of "Main-hattan". And there are of course various museums, public buildings, stores, etc.
But compared to other cities like London and Rome or even compared to Munich or Berlin, Frankfurt doesn't seem to have very many must-see sights.
My personal recommendation for visitors to Frankfurt
So why even write a travel blog post about Frankfurt if I don't think it has a lot to offer? Well, it is a large city and a major transportation hub so there is a good chance you may have some free time there if you are travelling in Germany (one of my recommended 7 day German itineraries even starts there).
That is exactly what happened to me last summer. After dropping off my son at the airport in Frankfurt, I still had most of the day before I had to catch my train.
And luckily there is one attraction in Frankfurt that I do love and can happily recommend – the Palmengarten (German for "Palm Garden").
Now, don't get me wrong – even though I love the Palmengarten it is not so unique that I would recommend going out of your way to see it. But if you are in the are it is definitely worth a visit!
What is the Palmengarten in Frankfurt?
The Palmengarten is botanical garden/park with various green houses in the north-western part of Frankfurt (the main entrance is in the Siesmayerstraße), somewhat similar to Kew Gardens in London.
The gardens cover about 20 hectars and there are approximately 13,000 species of plants outside or in one of the greenhouses.
The Palmengarten has been around for quite a while – it was established in 1871! Consequently, you will find a number of buildings composed of steel and glass in the manner of the 1867 World Expo. A very cool and steam-punk inspired aesthetic!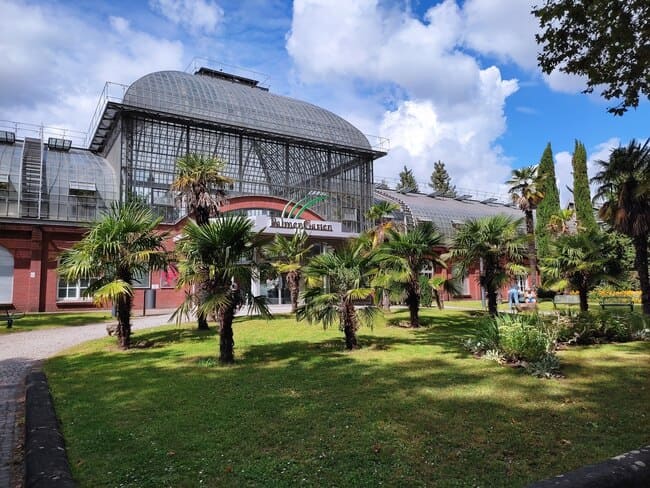 Palmengarten: Opening Times and Tickets
The Palmengarten is generally open from 9 am to 7 pm in the summer (March to October) and from 9 am to 4 pm in the winter.
The entrance fee is a quite reasonable €7 (there are reduced tickets for youths/seniors etc.). There is no need to pre-book – you can just show up and buy a ticket.
How to find the Palmengarten in Frankfurt
Getting to the Palmengarten in Frankfurt is quite easy.
I would recommend you take either U6 or U7 to Station Westend. From there you only have a couple of minutes walk to enter at the main entrance at Siesmayerstraße.  Alternatively, Bus 36 has a stop "Palmengarten" which may work even better. If you have a Deutschlandticket both the subway and the bus are included.
Or, you could walk like I did. It took about half an hour from the center of town and you pass through parts of the business district and see various embassies. 
Looking for a hotel in Frankfurt? Check out my review of the Hotel Palmenhof. It is just 5 minutes by foot from the Palmengarten but also a great location to explore the city or before a flight as it is well connected by public transit!
What can you see at the Palmengarten
The Palmengarten is basically not too different from other parks/botanical gardens. Here are some impressions of what there is to see and do:
Near the entrance you will find manicured flower beds and plenty of benches to enjoy the serene atmosphere.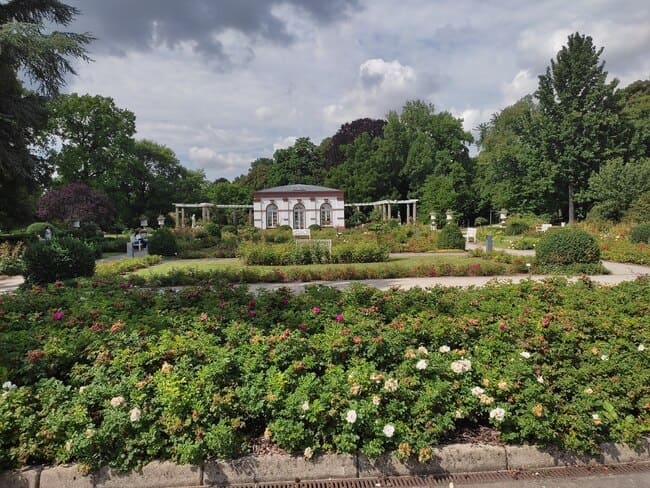 There is a fairly big lake and if the weather is nice you can rent a paddle boat.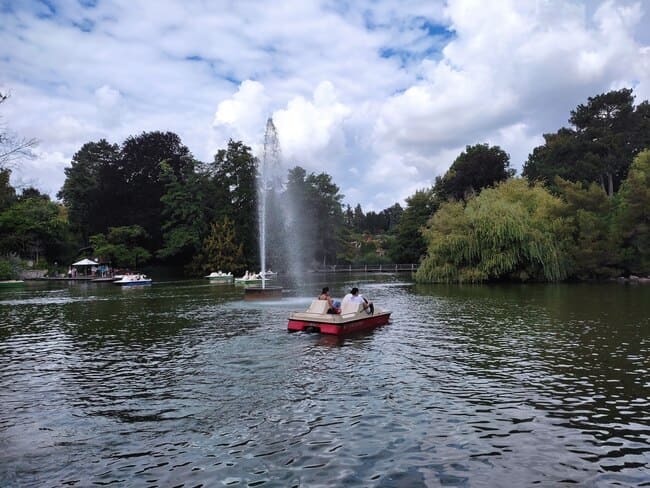 On one side of the lake there is a small grotto from which you can look out through a waterfall to the lake.
Follow the paths and admire different plants and trees.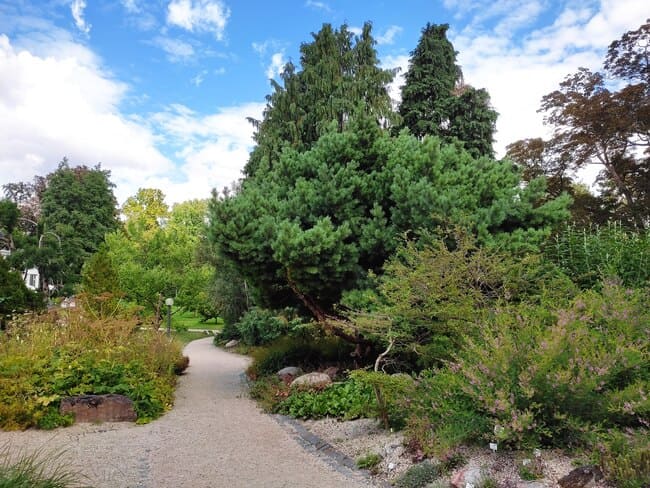 Enjoy the sunshine near a small pond with water lilies.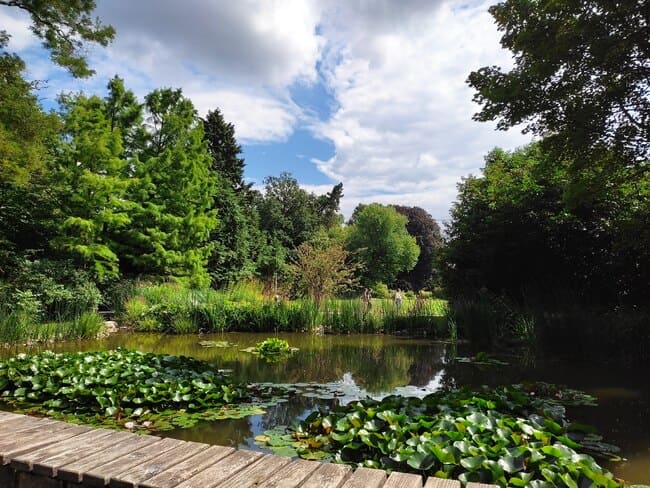 At the Villa Leonhardi you will find a restaurant.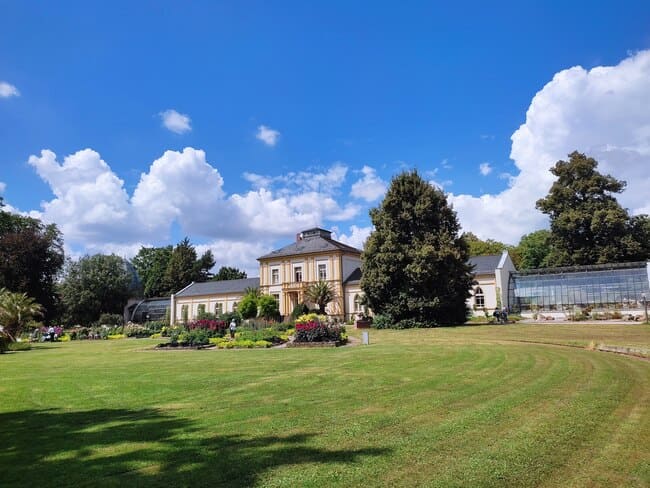 The wild meadow with the herb garden is a great change from the more manicured areas.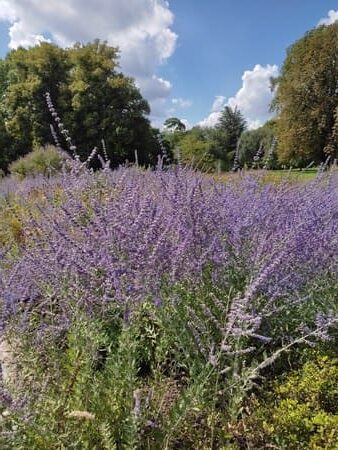 I was so impressed by these floating leaves – they are strong enough for birds to stand on!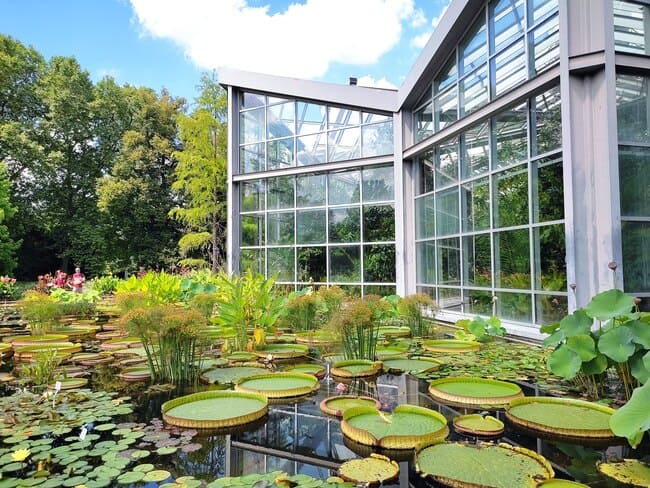 A definite highlight are of course the green houses with palm trees for which the park is named!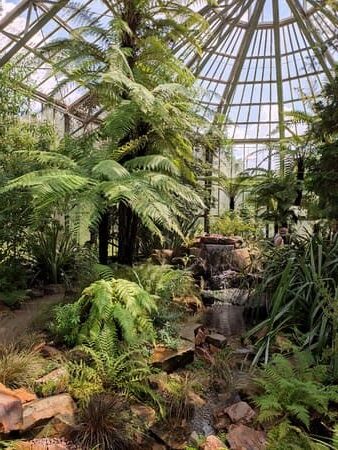 The small pond at the Western edge invites you to just sit and relax for a while. In the summer you can get snacks and drinks at a nearby kiosk.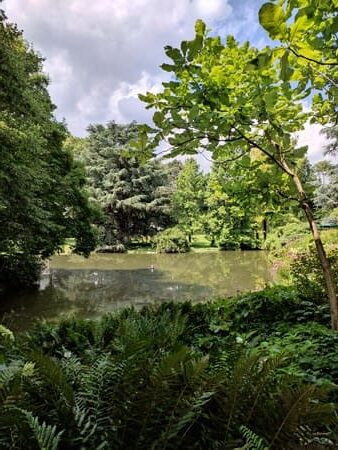 One aspect I really enjoy about the Palmengarten is the juxtaposition of serene countryside and busy metropolis. From many points in the garden you can see the tall Europaturm (Tower of Europe). At 337.5 meter, this telecommunications tower is the second highest in Germany.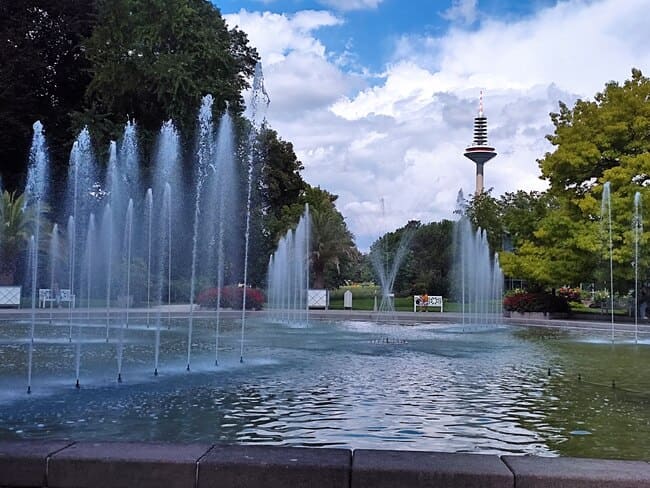 At the exit of the Palmengarten you will find a small store, toilets, and a restaurant.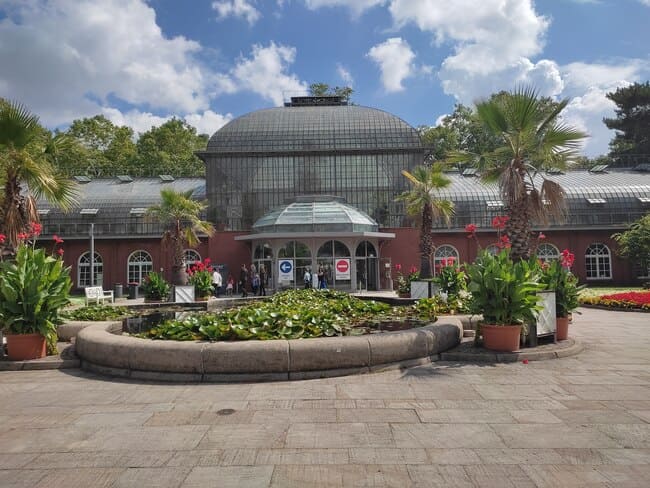 How long does a visit to the Palmengarten take?
This will largely depend on your style of touring and what you are interested in. But I would say you need at least an hour to make it worth going.
On average, I would expect to stay there somewhere between two and four hours, depending on the weather, whether you want to eat something at one of several restaurants, and how long you like to linger to smell the roses (or whatever may be in bloom).
What is the best time to visit the Palm Garden?
Like any garden, the Palmengarten is probably most enjoyable in spring/summer/fall with nice weather.
But due to the greenhouses with their tropical plants a visit in the winter is possible and could be a nice change from the cold.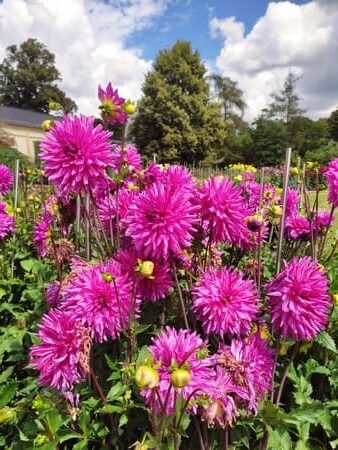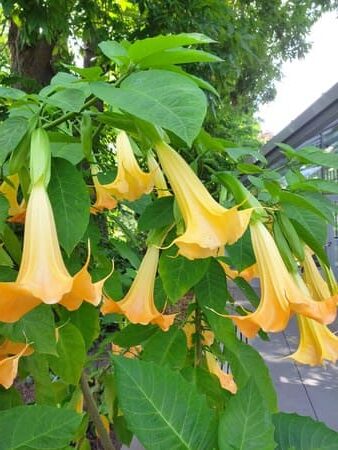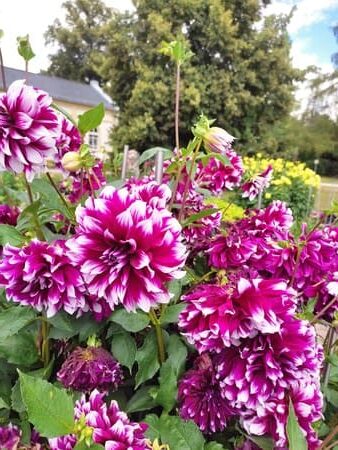 Further Activities in Frankfurt, Germany
Of course there are more things you can do in Frankfurt:
Botanical Garden/Grüneburgpark/University – If you want to see more nature you could explore the Botanical Garden and the large park that are adjacent to the Palmengarten. And beyond that starts the Westend Campus of the Goethe-Universität Frankfurt. So if you have always wanted to see a German university this is your chance!
Main Tower – Do you want to learn more about the tall communication tower that is visible from many spots in the Palmengarten? For €9 you can even admire the city with its skyscrapers from the top of this tower!
Old Town – Here you will find not only the famous city hall (Römer) but also various churches, famous buildings, and of course many shops.
Museumsufer Frankfurt – This is a collection of 39 museums. There should be something here for everyone – from the famous Natural History Museum Senckenberg to a museum for the soccer club Eintracht Frankfurt and from the Schirn Kunsthalle to the Caricatura Museum.
So as you can see Frankfurt does have quite a bit to offer – but the Palmengarten remains my favorite!