Are you considering a stay at the Fortaleza do Guincho 5-star luxury hotel in Guincho, Portugal, but are unsure if it is right for you?
During my recent 5-day trip to Portugal I was lucky enough to spend one night at this atmospheric hotel. I absolutely loved my stay – read on for a detailed review.
For my time in Portugal I followed my mix-and-match strategy to craft a luxury vacation without breaking the budget by mixing less expensive accomodation with a couple of more expensive resorts. Fortaleza do Guincho was definitely a splurge and fell in the later category. 
Was it worth the expense?
Location of Hotel Fortaleza do Guincho
The hotel Fortaleza do Guincho is located right on a cliff at the ocean's edge next to Guincho beach on the West Coast of Portugal, close to Cascais. If you look at a map of Portugal you will see that Guincho, Sintra, and Lisbon basically form a small triangle.
How to get to Fortaleza do Guincho
Guincho is well connected by road with Sintra, Cascais, and Lisbon. However, if you – like me – do not have a car you can also get to Fortaleza do Guincho by public transportation and it was actually easier than I had expected.
First you make your way either to the bus station (if coming from Sintra) or the train station (if coming from Lisbon) in Cascais. There are frequent trains connecting Cascais with Lisbon (about minutes travel 40 time) and the bus from Sintra also took about 40 minutes.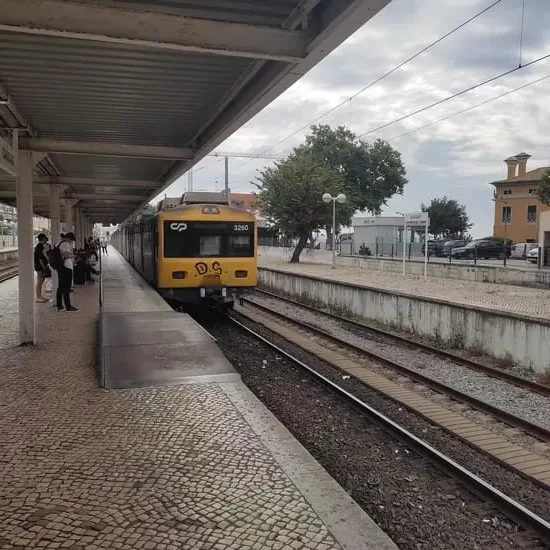 Once in Cascais (either at the bus or train station) you will catch bus M05 or M15. If you have a Lisbon travel card it will unfortunately not work (well, there is a good chance they will just wave you through and let you ride for free but it isn't supposed to work there). However, for Euro 2 you can get an all day hop-on-hop-off ticket for the bus which has a circular route.
Depending on which bus you get and where you travel from (bus or train station) the drive to Fortaleza do Guincho will take 15 to 30 minutes and there is a bus twice an hour.
The bus stop is right in front of the hotel so even if you have a bit of luggage it is easy enough. No need to drag a suitcase far. A big plus!
Unparalleled Location on the coast
Getting to Fortaleza do Guincho by public transport is quite doable but does take some time. However, the wonderful location right at the coast is well worth the extra effort!
The location is definitely one of the best things about Fortaleza do Guincho. The hotel is on top of a cliff sandwiched between two beautiful sandy beaches, Praia do Guincho, and Praia da Crismina.
Across the street you will find a small nature preserve with impressive sand dunes. And there is a great walking/biking path along the main street so you can walk or bike all the way to Cascais!
The location is truly outstanding and not to be missed!
Hotel Fortaleza do Guincho itself
Fortaleza do Guincho is located within an old fortress from the 17th century. It has a distinctly Moorish/North African vibe and reminds me of the desert house on Tatooine in Star Wars (I think it is the color).
I am a sucker for hotels that are a bit different. Generic five star hotels are fine but I am more interested in a unique atmosphere and some history so Fortaleza do Guincho was perfect for me!
Great Service at Fortaleza do Guincho
I am often a bit dissatisfied when staying at 5-star-hotels. The service is generally fine but often not as outstanding as I would expect from a luxury property.
For once this was not the case at Fortaleza do Guincho – the service really impressed me. It started when I was crossing the parking lot with my small suitcase and was greeted by a hotel employee. He not only crossed part of the parking lot to take my suitcase but he also didn't blink an eye seeing that I had arrived by the local bus instead of by car. Kudos!
Checking in at Fortaleza do Guincho
The check-in process was also extremely friendly and competent. They made you feel like a valued guest, something that not all hotels (expensive or not) manage. As I had arrived quite early in the day, my room was not ready but instead of making me feel like an intruder the hotel truly welcomed me.
I was shown around the property and it was clear that I was more than welcome to enjoy the amenities until my room was ready. I opted for exploring the area instead but I did appreciate the warm welcome very much.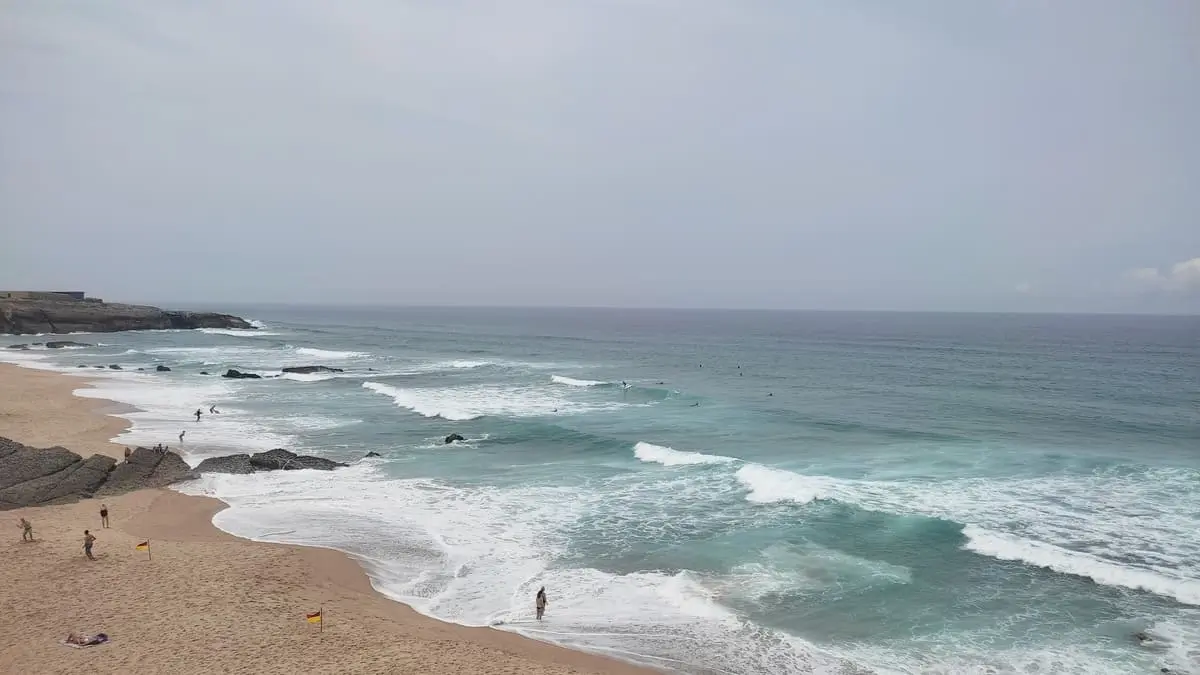 Amenities of Fortaleza do Guincho Hotel
Fortaleza do Guincho is beautiful – an interesting mix between medieval fortress, Portuguese charm, and an old-world English vibe.
Unfortunately, the hotel does not have a pool as the historic nature of the property precludes any additional building work. However, there is a partnership with another hotel and guests at Fortaleza do Guincho can use the pool there. As I was only staying one night, I unfortunately did not have time to check this out.
The hotel offers electric bikes for guest use. Again, not enough time for me to check it out and comment but it seems a great amenity. There is a bike path along the main road towards Cascais so a bike could come in very handy.
In addition, the hotel has a small bar area and two restaurants, a casual place for a relaxed lunch as well as a Michelin stared restaurant.
One of the nicest things about Fortaleza do Guincho is the terrace with a great view of the Atlantic. In the evening, around sunset time, it was quite crowded and very inviting indeed!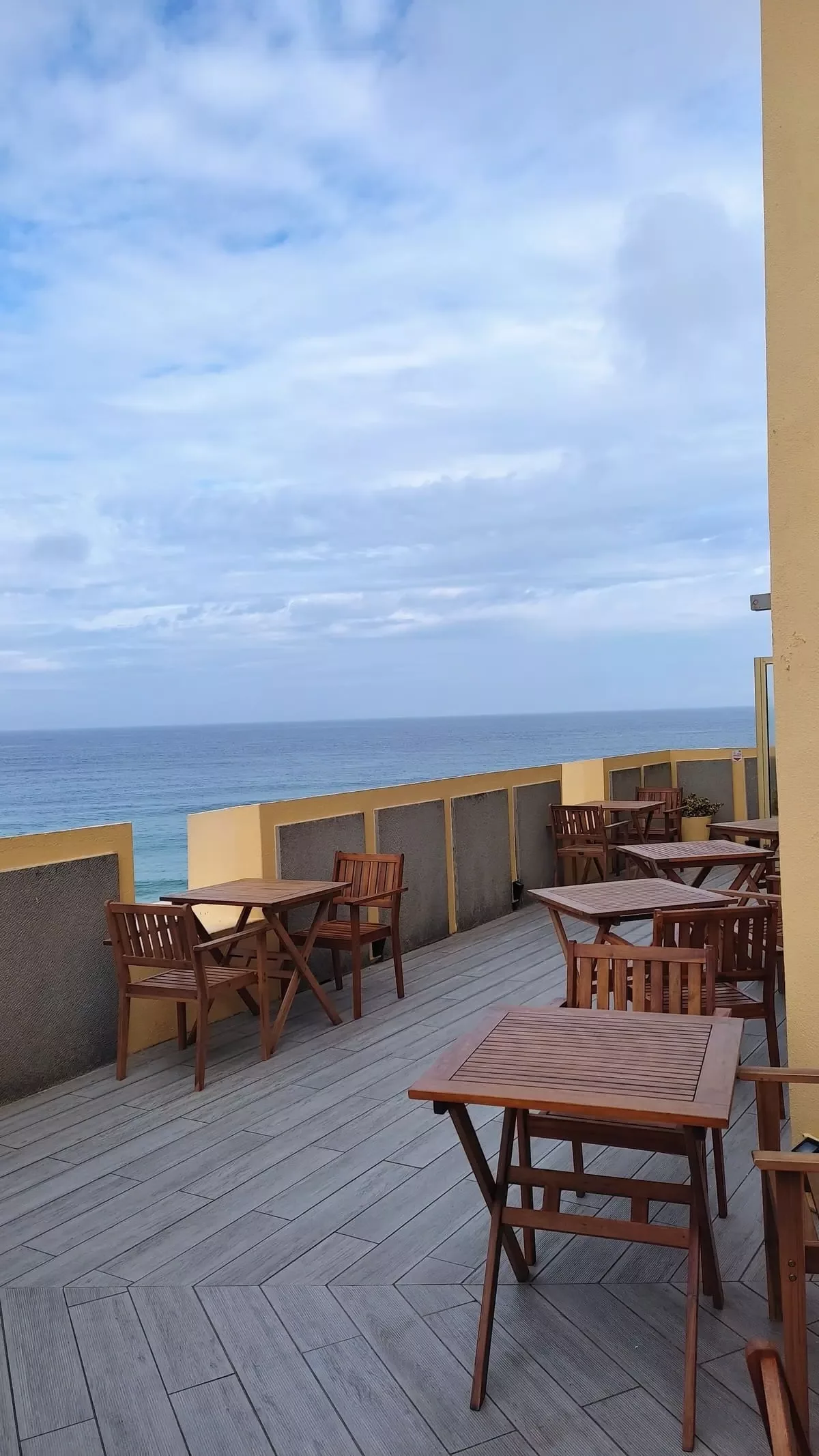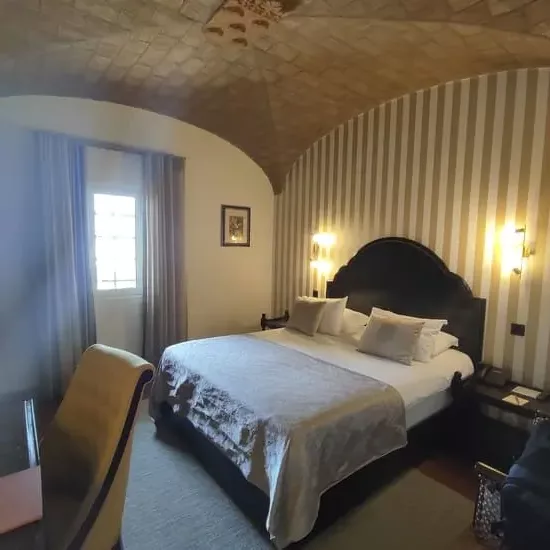 But as this was an old fortress and not a jail the view from the window was much nicer here: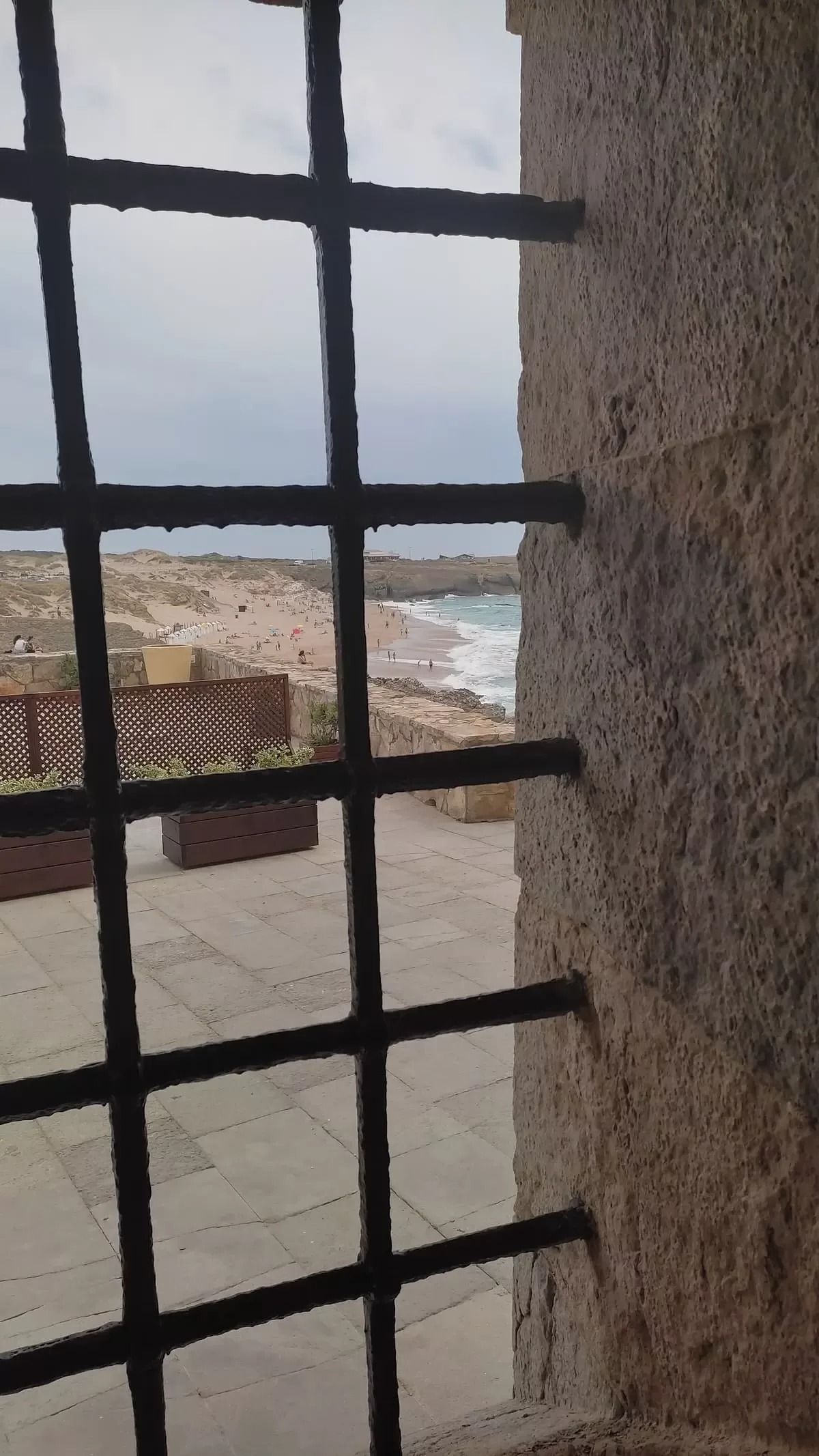 I was very impressed by the included freebies with my room. Not only was there a bottle of water and a coffee maker (fairly standard) but also two batches of very tasty cookies (chocolate chip and nuts), a free minibar (!) and a small bottle of port!
I honestly can't remember the last time I had so many things included with the room. Quite often expensive hotels charge hefty fees for drinks/snacks etc. so I very much appreciated this!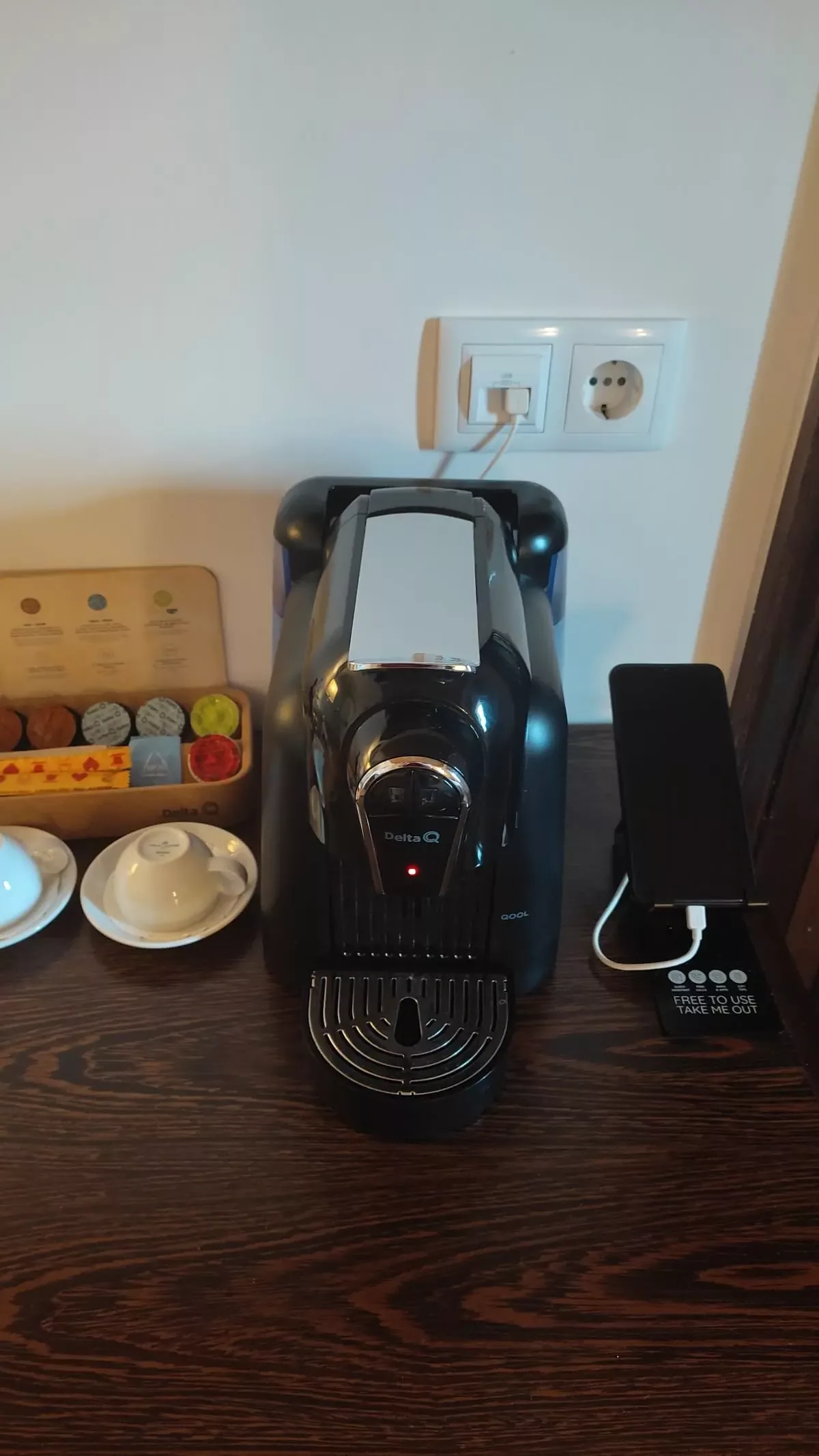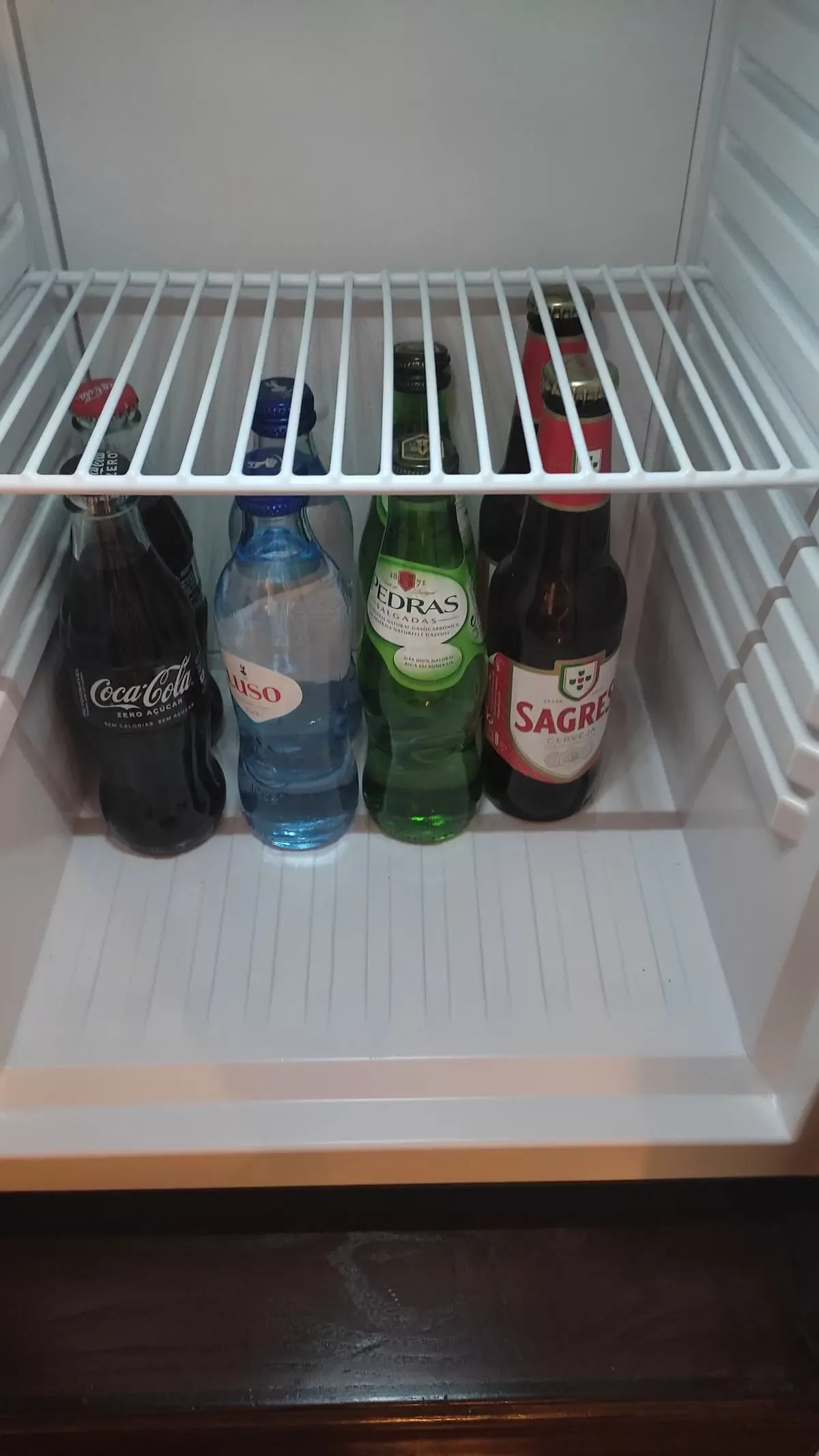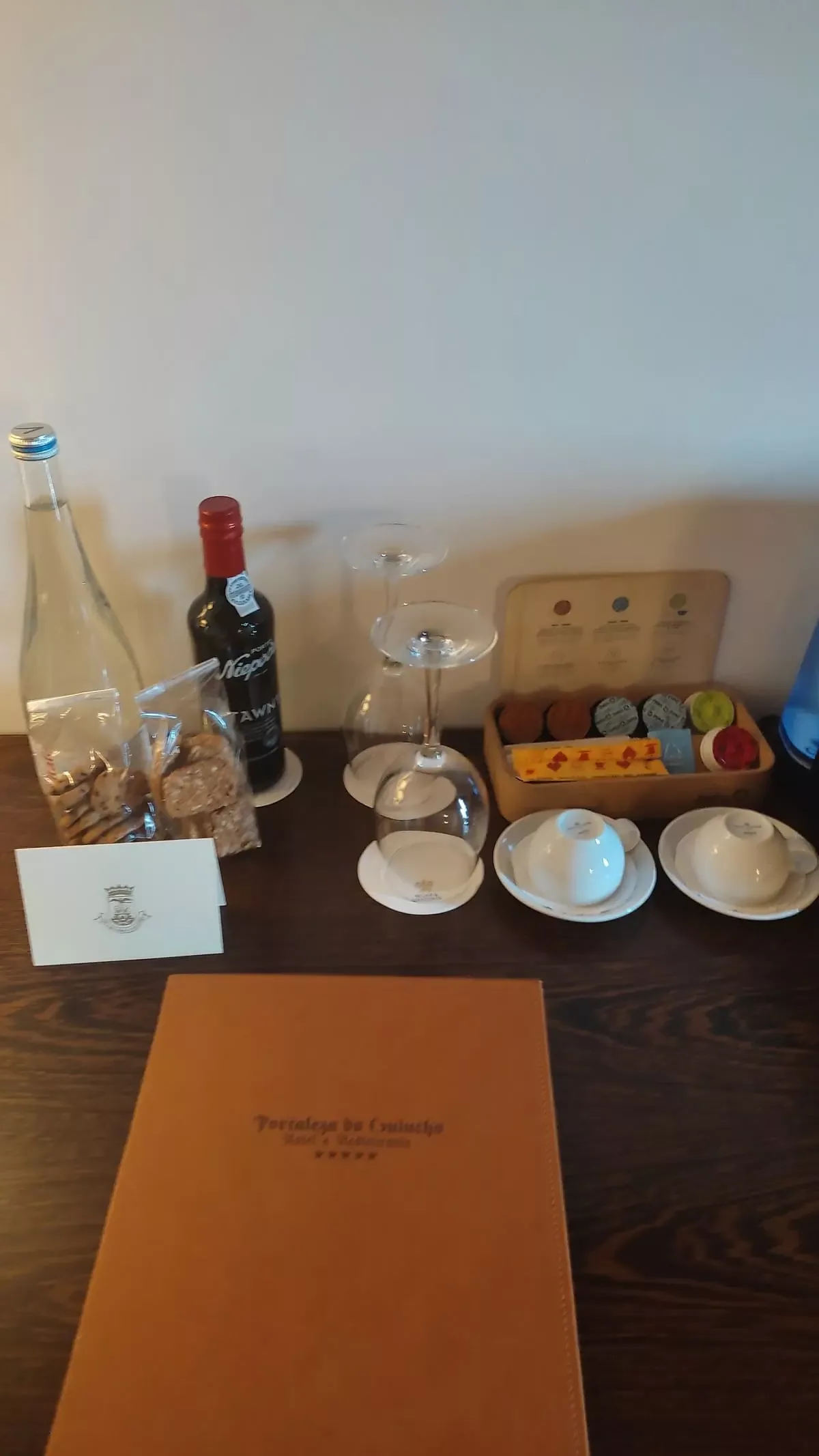 The bathroom was nicely styled and fit well in the hotel's overal ambiance. Towels were fluffy and the included bathroom amenities quite luxurious.
The one aspect I did not care about so much was that the bathroom window was towards the interior courtyard/lobby. You couldn't see through it but it still felt slightly uncomfortable. However, Fortaleza do Guincho is located in an old fortress so clearly some adjustments had to be made.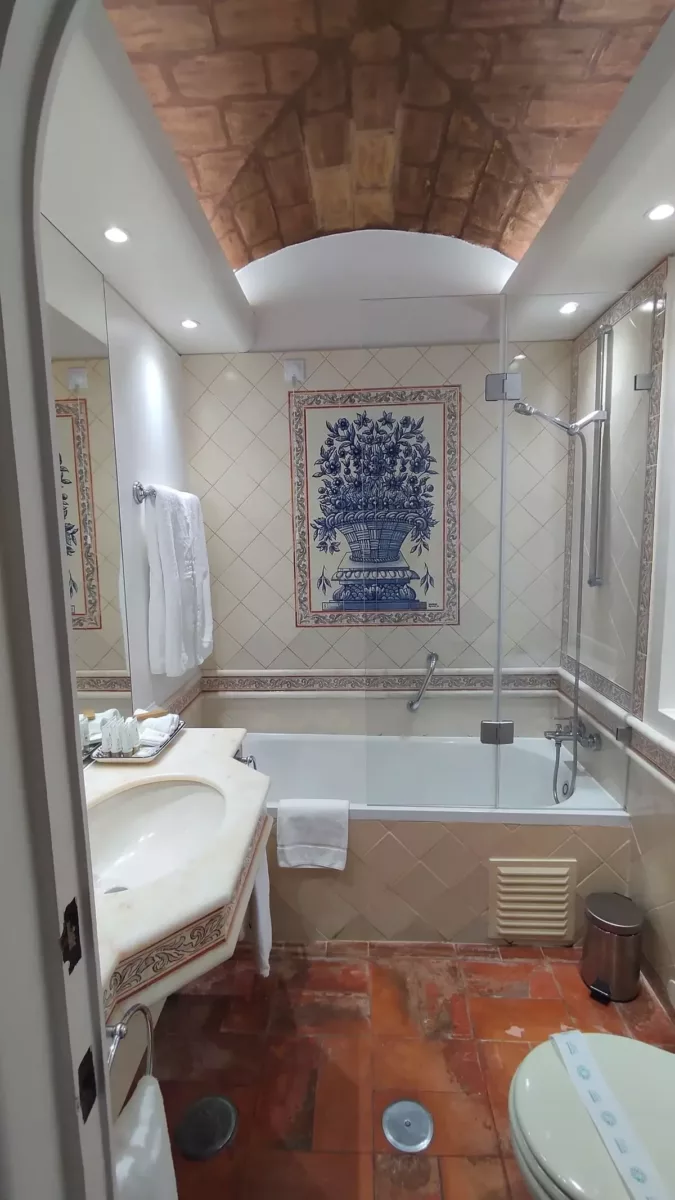 Food and Drink at Fortaleza do Guincho
Fortaleza do Guincho's Michelin-stared restaurant
The star at Fortalza do Guincho is of course the Restaurante Gastronomico Fortaleza do Guincho. The restaurant has managed to hold on to its Michelin star since 2001 – not a mean feat!
The restaurant Fortaleza do Guincho gets rave reviews and I would have loved to eat there. Unfortunately, it is only open Tuesday to Saturday and as I was there on a Sunday night I didn't get the chance to try it.
However, if I return to Fortaleza do Guincho I would make dinner at this Michelin-stared restaurant a priority and book for a night when it is open.
Breakfast at Fortaleza do Guincho
I did however have breakfast included with my rate. Breakfast is served in the same room that houses the Michelin-stared restaurant at dinner so I did have a chance to admire the incredible views.
I am not a big breakfast person but did enjoy the provided breakfast at Fortaleza do Guincho. There were a couple of hot dishes buffet style but you also had the option to order various egg dishes à-la-carte. I skipped this (not a big breakfast person at all) and just got a small breakfast from the buffet.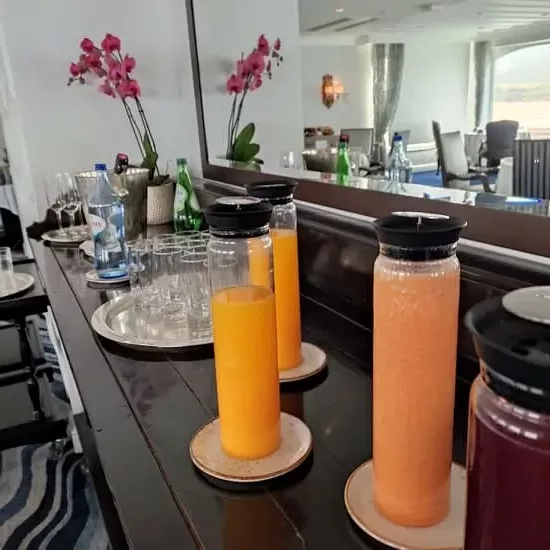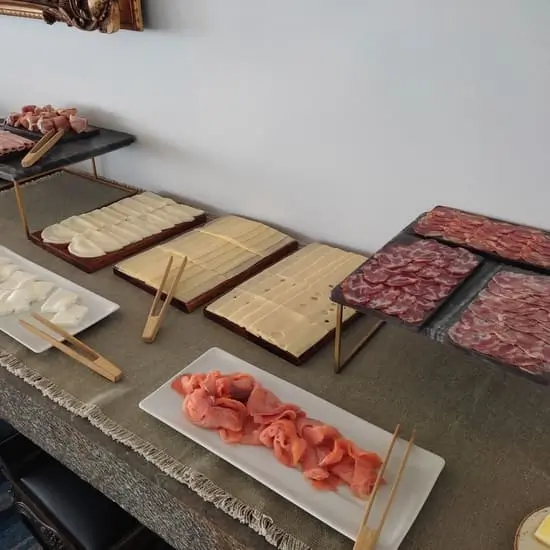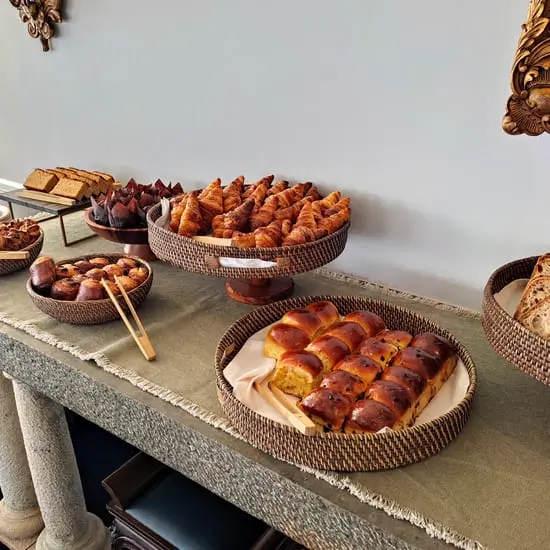 Casual Restaurant Spot by Fortaleza do Guincho
As much as I regret not having a chance to experience Fortaleza do Guincho's fine dining restaurant, I did at least have lunch at the casual restaurant Spot.
The atmosphere here is a successful mix of upscale elegance and casual dining. It felt luxurious but not pretentious and the views out to sea were stunning.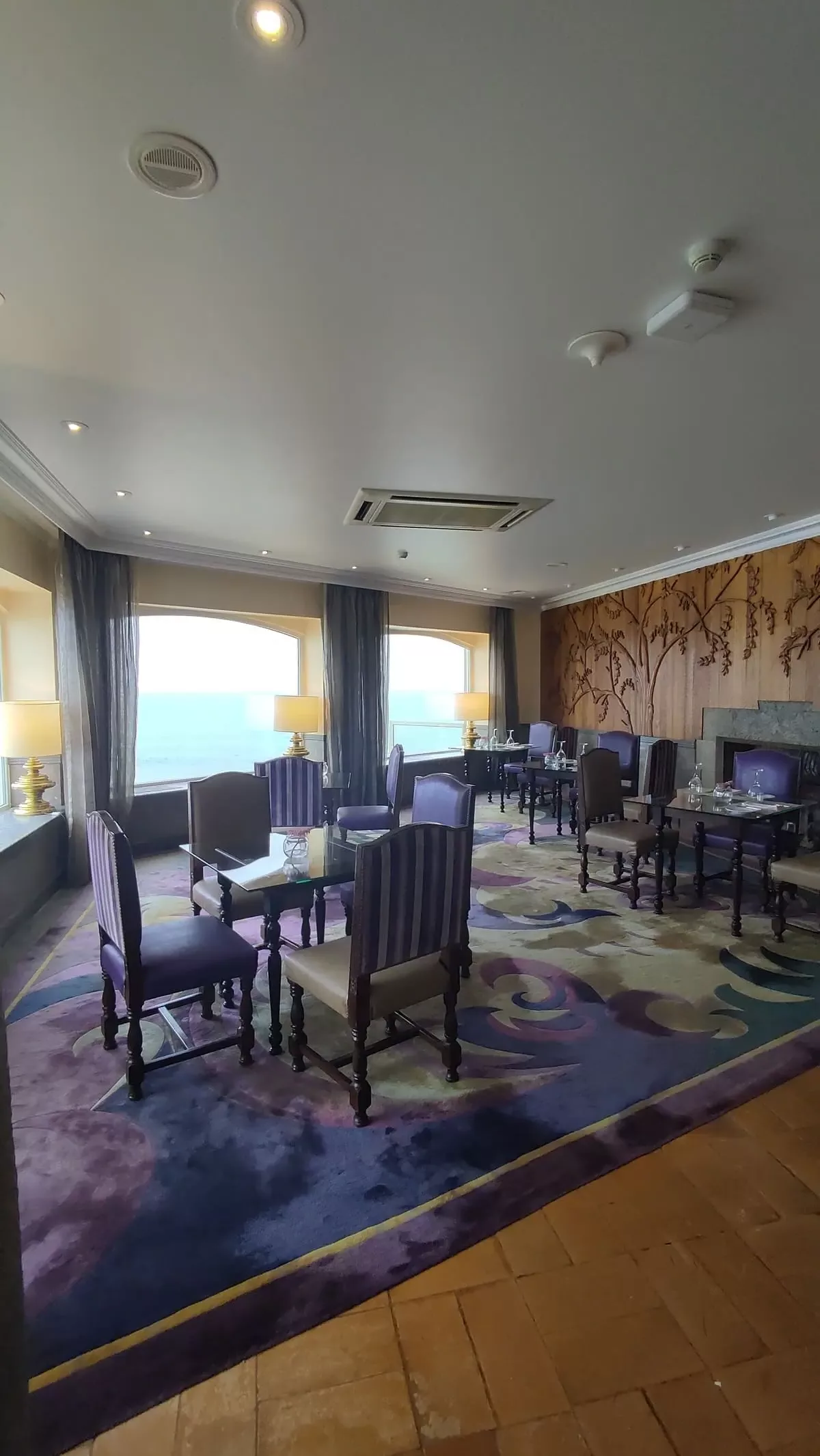 The menu isn't extensive but offers a decent selection of lunch fare. Prices are a bit high (at least for Portugal) but not excessive.
Unfortunately, the service here wasn't as good as in the rest of the hotel. It wasn't horrible but neither very welcoming nor very efficient.
However, my guess is that the regular waiters are probably shared between the two restaurants and as the Michelin stared restaurant is closed on Sundays the waiters have their day off.
I ordered the sandwich Prego do Guincho with fries. For €20 you get a traditional steak sandwich with caramelized onion, tomato, cheese sauce and fries.
For my taste the fries were a bit too salty but the sandwich was delicious and hit the spot. The oozing cheese had a nice tang and the steak was incredibly tender and there was a good amount of it. 
I would definitely order this again on a future visit.
Value for Money of my Stay at Fortaleza do Guincho
I paid Euro 232 for my one night stay at the Fortaleza do Guincho. For me, that is a bit of a splurge and it was the most expensive hotel I stayed at during this trip.
However, Fortaleza do Guincho really had the vibe of a luxury property. Quite often I stay at 5-star-properties and am less than impressed with the service or amenities. This was not the case here. Fortaleza do Guincho really delivered on its promise and I loved staying here.
Euro 232 is a quite reasonable price for a luxury hotel with a bunch of included amenities (like free minibar) so in my opinion the value for money was very good.
Pros and Cons of Hotel Fortaleza do Guincho
Fortaleza do Guincho exceeded my expectations but there were still some aspects that I want to include for a balanced and honest review:
Negatives:
The service at the casual restaurant was just okay
Unfortunately, there is neither pool nor a private beach at the hotel
The location is wonderful but a bit remote so it may not be ideal for a sightseeing trip
The rooms are right off the interior courtyard so privacy isn't complete
However, there were many more aspects that I loved at Fortaleza so Guincho:
Positives:
The location right at the sea with wonderful sunset views is incredible
This is not a generic hotel but has a very unique look and feel
The food I tried (lunch and breakfast) was very tasty
There were many amenities included even in a basic room: free food and drinks, bathroom toiletries, use of bikes and smartphone
Service at the hotel was outstanding – a true 5-star-experience
What is there to do at Fortaleza do Guincho?
When I was planning my trip and saw pictures of the converted Fortress I knew I wanted to stay there. But I wasn't so sure whether getting there would be inconvenient and whether I would be bored due to the remote location.
I needn't have worried. Getting there did take a bit of time but was easier than expected as the bus literally stops right in front of the hotel and buses drive quite regularly.
And there was also more to do than I had expected. As a matter of fact I very much regretted that I did not have two nights at this hotel so I could have enjoyed the area a bit more.
With a car it would be very easy to go to Sintra/Cascais/Lisbon of course but even without there were a number of options:
Things to do from Fortaleza do Guincho without a car
1) Take the bus to Cascais and explore this cute town
Unfortunately, I had to cut Cascais completely as there just was not enough time. But you can easily and cheaply get there by bus and based on what I have heard it would make for a great day out.
2) Explore the nature reserve across the street
After checking in early and dropping off my luggage, I crossed the street to explore the Duna da Cresmina Nature Reserve.
It consists of quite impressive dunes. You can not walk on the dunes but there is a nice elevated walkway through them and at the other end you will find a small café with a great view over the dunes and out to sea. It is also a good spot to have a soda and a small snack.
3) Explore along the coast towards the South
If you follow the walkway long enough (either on foot or by bike) you will get to Cascais.
I had only limited time so made it only to Farol do Cabo Raso but it was an enjoyable walk and there were many tempting coves on the way.
4) Explore towards the North
You could take a bus to Cabo da Roca, the westernmost point of mainland Europe. Or you can just spend time at Praja do Guincho.
5) Just chill and relax
But above all, Fortaleza do Guincho is a place to relax, recharge, and enjoy nature. 
The beaches are some of the nicest I have seen in mainland Europe. The sea here may not be ideal for swimming – the water is a bit chilly and the waves rather rough -but it is ideal for surfing.
Spend some time just chilling out on the sand or the cliffs above and don't forget to admire the incredible sunsets!
How long should you stay at Fortaleza do Guincho?
Obviously, this will be an individual decision but I would say two or three nights are perfect. The hotel would be the ideal place to stay and recharge after touring Portugal and there is plenty to do for a couple of days.
Overall Opinion of Hotel Fortaleza do Guincho
Overall, I loved my stay at Fortaleza do Guincho. It was easily my favorite hotel during my trip to Portugal (and all the other hotels were quite nice as well).
Nothing is perfect so I did have a few minor complaints, but the experience as a whole was very luxurious and a great end to my long trip (a week in Orlando followed by a 12-day transatlantic cruise followed by sightseeing in Portugal).
Next time I visit Portugal I would definitely try to stay here again – it was a wonderful experience!
Highly recommended!