A great way to experience another country is to attend local events so I was superexcited when I saw that the Royal Cornwall Show was to take place during my trip to Cornwall.
Even though getting to the show with public transportation was a bit tricky, I was determined to fit it into my itinerary. And after some cuts and juggling things around I managed.
So what was it like? Read on and I will tell you all I learned about this great event.
What is the Royal Cornwall Show?
The Royal Cornwall Show is the biggest annual event in the county and takes place over three days in early June. You can expect to see horse events, livestock competitions, sports displays, and so much more. In 2023, the show will be held from June 8 to 10.
How do I get to the Royal Cornwall Show?
The Royal Cornwall Show is located in the small town of Wadebridge, in the North-East of Cornwall. Unfortunately, this is not the most central location for tourists.
The easiest way to get there would probably be by car (though there was a lot of traffic on the day I attended and roads were very congested). Travelling there by public transport is a bit trickier but like most of Cornwall you can get there without a car.
Your best bet if coming from London or Western Cornwall would be to take the train to Bodmin Parkway and then use Bus 11 to Wadebridge (about 45 minutes).
Buses seem to run about every 30 minutes during the day mid-week but there are only a few in the evening (so double-check your return times). Be careful if you stay overnight in Wadebridge on Saturday as there is no connection to Bodmin Parkway on Sundays!
Luckily for me, there is a connection to Tintagel on Sundays and as that was my next stop it worked out perfectly.
Once in Wadebridge, getting to the show grounds is easy as the bus stops right at the fairgrounds. I had to make a stop in town first to drop off my luggage at the hotel but it is an easy walk from there to the showgrounds.
Do I need to stay overnight?
If you are travelling to the Royal Cornwall Show by car, there isn't really a need to stay overnight in town (unless you plan on enjoying some adult beverages).
However, if you like me use the bus to get to Wadebridge it may be easiest to stay the night. 
Where should I overnight for the Royal Cornwall Show?
If you do decide to stay over night in Wadebridge, your choices are somewhat limited. If I remember correctly, there are only two hotels in the town itself.
I stayed at the Molesworth Arms right in the center of town. This was a good choice – the quirky building dating back to the 16th century had a great location and friendly service.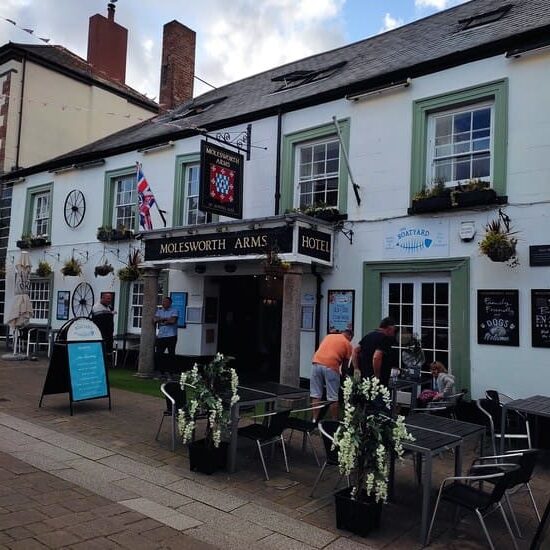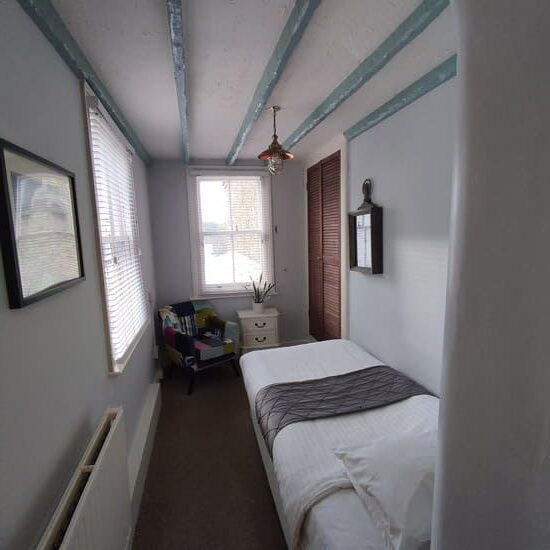 Reviews for the attached pub are quite good but I was too exhausted after a long day and just picked up a bite at the Co-op Grocery Store down the street.
Where do I get tickets and how much does it cost?
Regular tickets for the Royal Cornwall Show in 2023 are GBP22 per day. You can buy tickets on the day (helpful if you want to make sure about the weather before you commit) or buy them ahead of time online.
Reserved grandstand seats are GBP9. I recommend buying one of those as it will ensure you get a seat even if it is busy. If not, you can get unreserved seats on the day (if available) for GBP6.
What is there to see and do at the show?
My favorite part were the events in the main ring (which you can best see from one of the grandstand seats).
In addition, you will find various animal judgings, a flower and cider show, loads of trade stands, plenty of food and drink stalls and of course facilities like toilets and drinking water points.
Main Events
The main events change a bit from day to day but they are similar. These were some of the highlights during my visit:
Show Jumping
Fairly similar to show jumping anywhere – not as professional as for example at the Royal Windsor Horse Show but still fun to watch.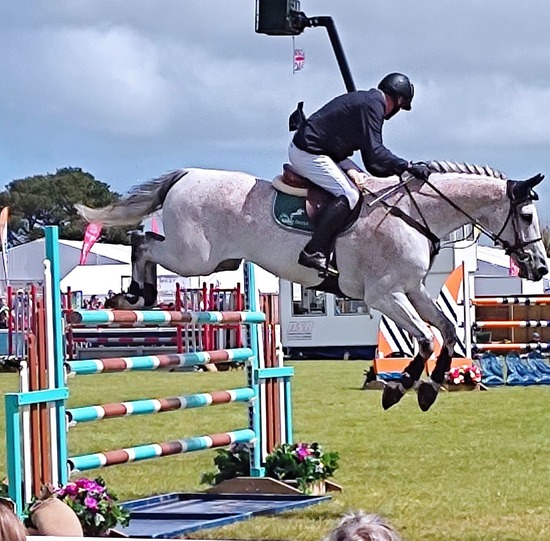 Shetland Pony Grand National
This is so much fun! I still can't believe they let those little kids (aged 8 to 14) race around on their little shetland ponies so fast. The race only takes a couple of minutes but it is exhilarating!
They were riding so fast that I couldn't get a picture that wasn't blurry – sorry about that!
Freestyle Motocross Display Team
I had never seen anything like this before and didn't know what to expect. Basically it is acrobatics on a motorcycle while doing death-defying stunts. Very much enjoyed this – a definite highlight.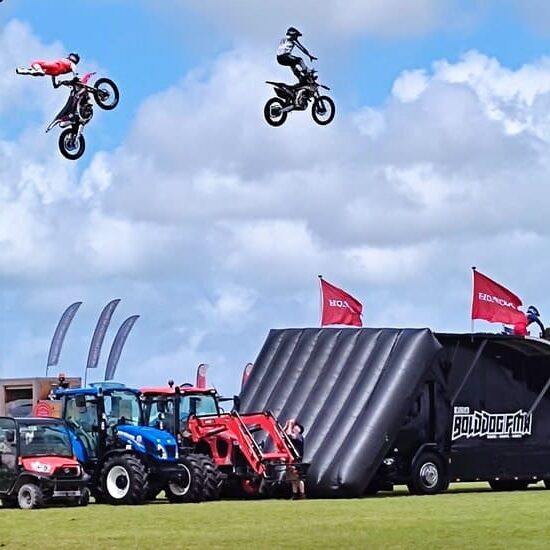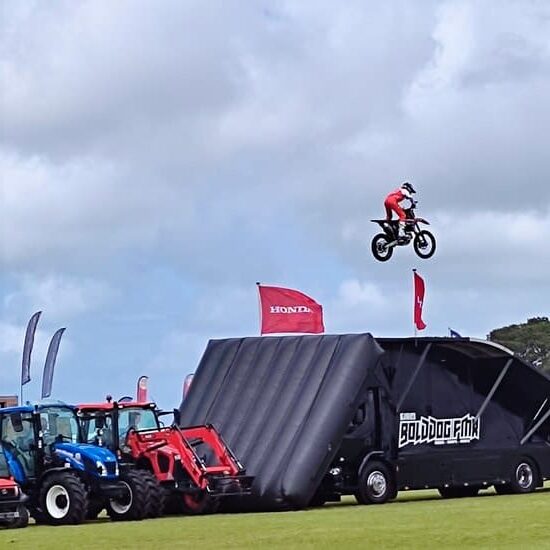 The RAF Parachute Display Team
Another thrilling experience – normally. Unfortunately, it was cancelled due to wind during my visit so I have no personal experience. But it sounds exciting.
Grand Parade of Cattle, Sheep and Goats
Pretty much exactly what it sounds like – farmers lead in dozens of cows, sheep, and goats of various breeds and the best of the best are given a price.
Cute but how much you enjoy it will depend on how interested you are in livestock.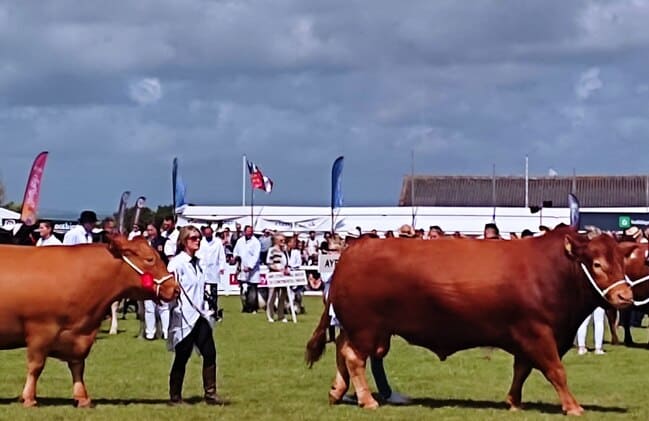 Cornish Mascot Challenge
This one is so very English… Basically, there are several people in costumes that have some connection to Cornwall, like a Camel for the river Camel or dairy cows etc. and they have a race. Crazy and fun!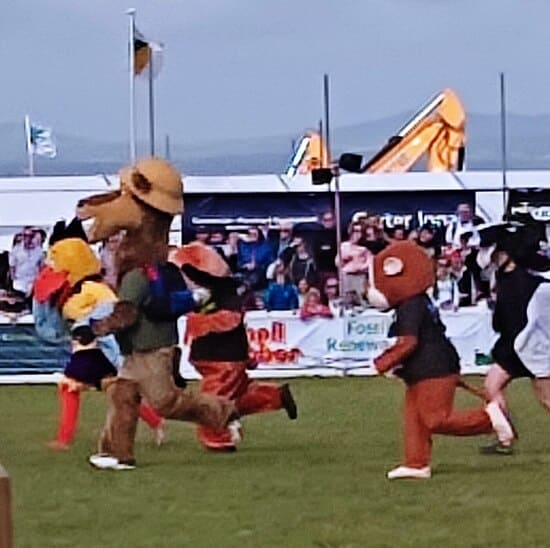 Parade of Hounds
Different hunting groups come in with their hunting dogs – reminds you of a period drama (at least if you are not from England).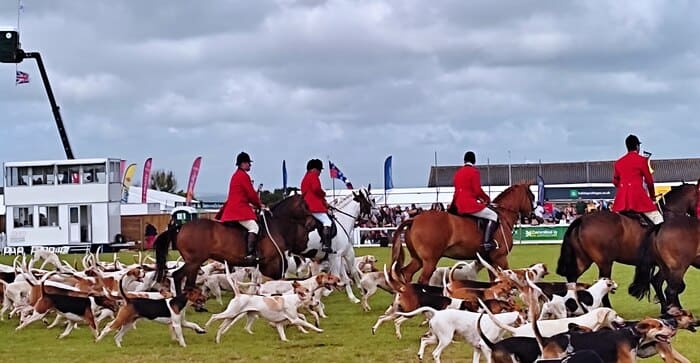 Inter Hunt Relay Competition
This was the last event on the Saturday I attended. The participants in this relay race on horseback over/around obstacles are local hunt groups.
A great end to the day. Many of the spectators seemed to know the contestants so everyone got into the spirit of it and cheered on their friends.
Is the Royal Cornwall Show worth going?
The Show has something to offer for anyone and the atmosphere was very festive and fun. Like any fair it depends on the weather of course. I doubt it would be as pleasant in the rain.
I had a good time watching the different events but would have probably enjoyed it more in a group. But I am glad I attended the show – it made for a great interlude between visiting the more touristy attractions of Penzance and Tintagel.
If you happen to be in the area when the Royal Cornwall Show takes place you should consider attending. It makes for a great day out, especially if you like horses and agriculture.