I have been to London many times but like many tourists I have spent little time in the City of London. Kensington, Buckingham Palace, Harrods, Hyde Park, Covent Garden – all these famous sights in the western part of London are actually in the Borough of Westminster.
At just a bit over one square mile the City of London is much smaller and though it has a couple of famous landmarks (like the Tower and St. Paul's) I haven't spent that much time there.
What was different this time? After attending the Royal Windsor Horse Show I had a very early flight out from Stanstead. I decided to stay close to Liverpool Street Station so I could easily get on the Stanstead Express and wouldn't have to worry about the much too frequent strikes/delays plaguing the London transport system.
Also, dragging a suitcase up and down the steps when trying to get from one end of town to the other is far from fun.
I finally decided on the Premier hub Inn Spitalfields as the price was decent and the location quite close to the train station. This ended up to be one of my favorite hotels in 2022 so definitely didn't regret it.
As I had my hotel there, it just made sense to also spent the majority of my time there and as it turned out that was the right decision as the City of London has so much more to offer than I expected.
Brick Lane was a great Hotel Location
Not only was it close to Liverpool Street Station (about 10 minutes by foot) but it was right in Brick Lane. This historic street is quite hip and full of restaurants and shops.
Definitely a convenient location  (and it felt a bit classier than for example the Earl's Court area I have stayed in before). It would also be a good base for various day trips from London.
On the way from Liverpool Street Station to the Premier Inn I walked past some really cool art installations.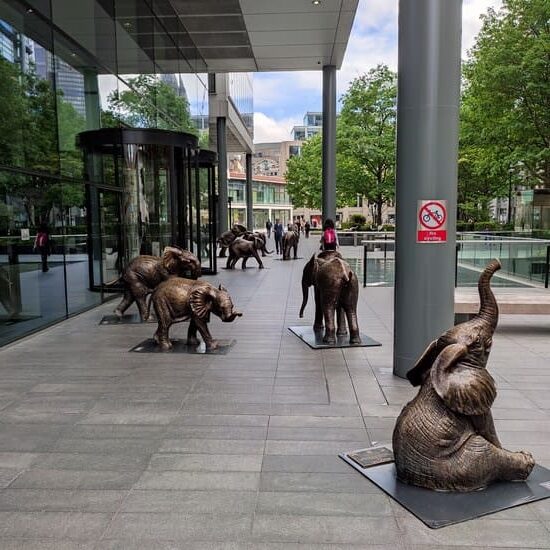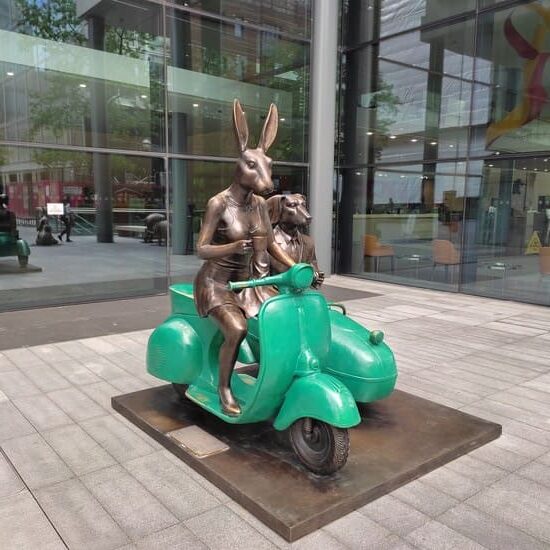 And of course Spitalfields Market is right there as well. It is a cool place to spend some time and hang out (maybe do some souvenir shopping if you feel so inclined).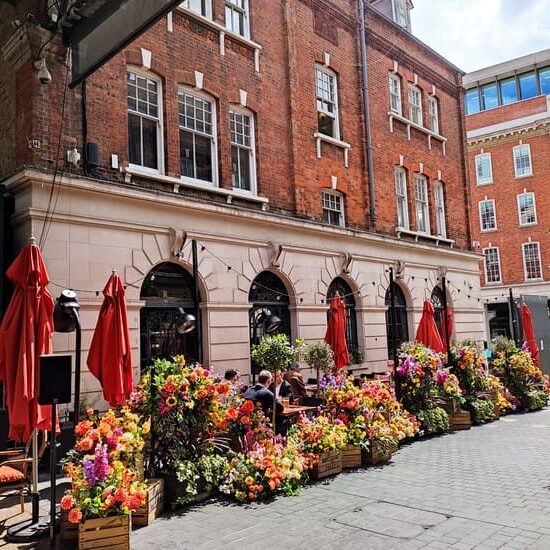 This is also a good place to grab lunch. There are several restaurants within the market and many food stalls. 
A great choice especially for fellow solo diners. Dining solo can be awkward but many of the other guests are there on lunch break from the financial district. So you won't be the only solo diner here!
I definitely enjoyed the Indian food I ordered!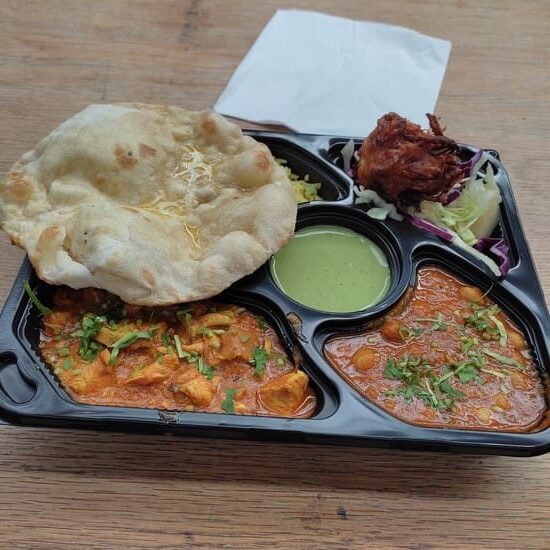 City of London – an often overlooked Jewel
This is definitely an area with lots to see. The combination of modern skyscrapers next to narrow alleys and old monuments is very charming.
I spent part of my time there doing a Treasure Trail (I did the Gherkin one but have tried many different ones and absolutely love them). It would also be a great place for taking part in an organized walk – I have had very good experiences with London Walks.
I explored the area in bits and pieces but did come up with a great itinerary for a day spent in this part of town:
One Day Itinerary for City of London
If you have just one day for this part of town (after all there is just so much to see in London) I would recommend the following itinerary.
According to Google Maps this is just under 3 miles – quite walkable (unless you add a bunch of detours or get lost like I did). How long it would take you really depends but it should be doable in a day (or less if you don't tour any of the sights).
Start at Liverpool Street Station
If you aren't staying in this area, you can easily reach the station by bus, train, or tube. Exit the station through the main exit onto Liverpool Street and make your way towards the Gherkin.
The Gherkin
The Gherkin, located at 30 St Mary Axe and completed in 2003, is a skyscraper named for its resemblance to a pickle. Not sure what I think about the building but it is definitely different.
Head further down the street and go westwards to Leadenhall Market.
Leadenhall Market
You may be familiar with this market – yes, it is Diagon Alley from the Harry Potter films so if you are a fan you definitely should stop by. There are various shops and stores but for me it was just a short photo op.
Exit onto Lime Street and make your way to the Sky Garden.
Sky Garden
Sky Garden is a highlight of any visit and one of the best free things to do in London. It is indeed free but you do need to plan ahead. The process reminded me of The Broad museum in Downtown Los Angeles!
Free tickets for the coming week are always released on Mondays (at least as I am writing this – as always do check with the website when you are making your plans to get up-to-date information) and they do run out. You will have to choose a time (but can stay as long as you want) and don't forget to bring ID.
There is a line to queue up in in front of the building. As you wait, someone may check whether you have a reservation so make sure to bring it along. After you are checked in you wait your turn to ride the elevator up to the 35th floor.
Once on top you can enjoy the garden, have a drink at the bar, and of course enjoy the spectacular views over the City of London and beyond. You will also find free bathrooms here (always good). If you prefer you could make a dinner reservation at the restaurant there.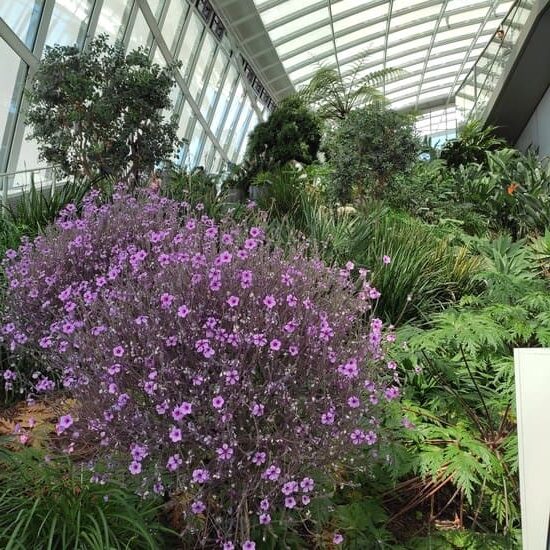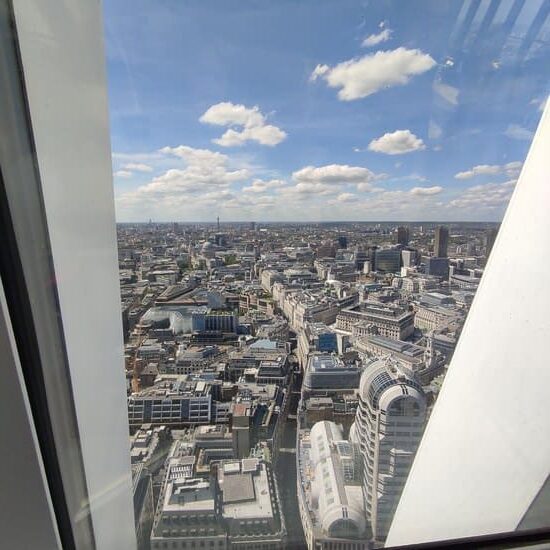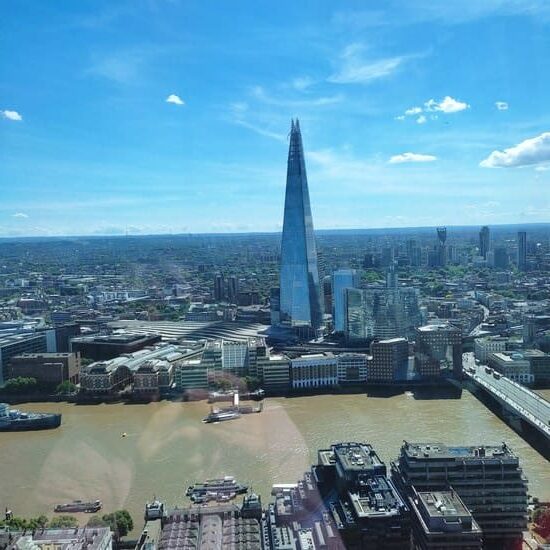 St-Dunstan-in-the-East
When you have looked your fill, make your way to the ruined church of St-Dunstan-in-the-East. It should take you just minutes or so and it is a great place to sit and relax a little bit.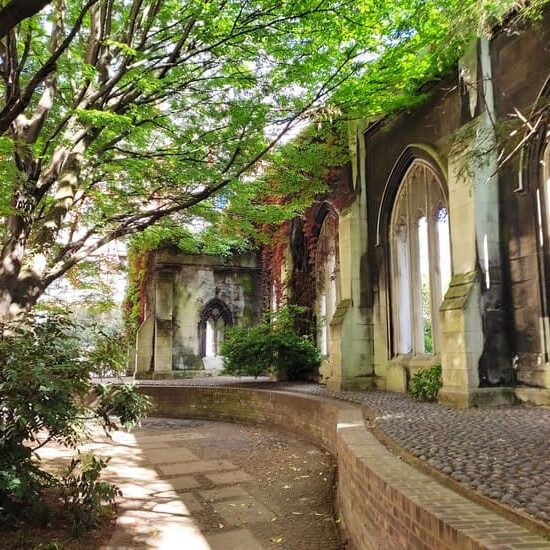 Tower of London
If you keep on walking along Street you get to from where you have a great view of the Tower of London and Tower Bridge.
Go down the hill and around the corner and you are at the ticket shop for the Tower of London (you will also find bathrooms here). Personally, I think the Tower is one of the best sights London has to offer and highly recommend a tour if you have never been. Depending on your style of touring, I would expect this to take around 3 hours or so.
I have visited the Tower several times before so decided to skip it this time but I will definitely be back in the future.
Thames Path
If you are lucky like me with the weather it is worthwhile to go down to the water and walk along the Thames towards the west. There are benches to sit, enjoy the view, and soak up the atmosphere.
You could also board one of the Thames ferries here at the Tower Millennium Pier. Otherwise, continue on until you have almost reached London Bridge and turn right at the Church of St Magnus-the-Martyr.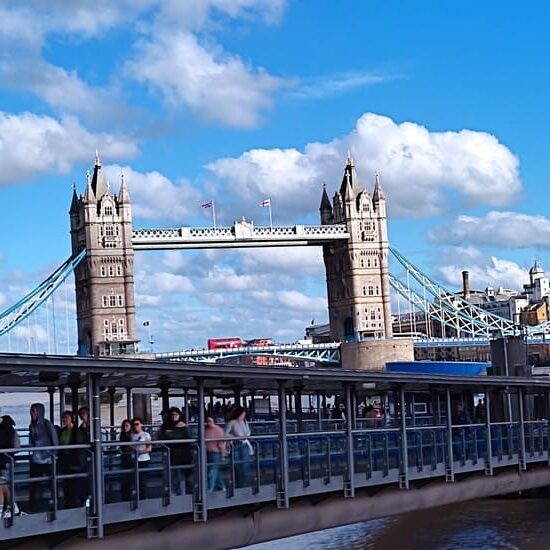 Monument to the Great Fire of London
Soon you will see the column that was erected in memory of the Great Fire of London. This fire completely devastated this part of the city in 1666. The monument stands on the site of the first church that was destroyed in the fire.
The column was intended to double as a scientific instrument – unfortunately, heavy traffic in the area make the central shaft unsuitable for experimental measurements nowadays.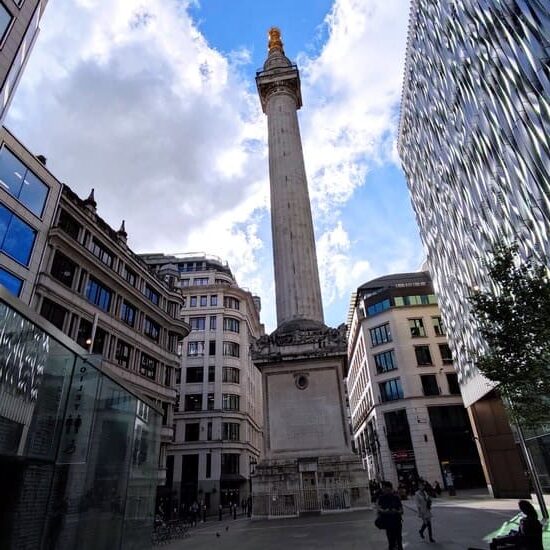 You can actually tour the Monument – after climbing 311 steps you are rewarded by breathtaking views. Especially recommended if you were not able to get tickets for the Sky Garden!
Follow King William Street until you get to a large building, the Bank of England.
Bank of England Museum
After you take a good look at the Bank of England itself (just like in all these heist movies), you can visit the Bank of England Museum. This free museum is fairly small but quite interesting if you are interested in the history of money.
The highlight for me was definitely the large gold bar you can lift. I am always surprised at how much heavier gold is than it looks! In the museum you will also find bathrooms so a visit might be worth it for that alone.
Please note – the entrance to the museum is in a side street, Bartholomew Lane. It is not at the main entrance on Threadneedle Street (The guard at the door was kind enough to send me the right way when I looked quite confused).
If you follow Old Broad Street you will be back at Liverpool Street Station in about 10 minutes or alternatively you could get on the Underground right at the Bank of England at the appropriately named Bank station.
Additional Attractions in the City of London
Here are a couple of additional sites that are definitely worth a visit:
St. Paul's Cathedral – This iconic church is definitely one of the most famous landmarks of London. Surprisingly enough, I don't think I have ever properly toured it but it is on top of the list for my next trip to London.
Barbican Centre – This huge performing arts centre has something for everyone – it houses the London Symphony Orchestra, a large theatre as well as an Art Gallery, a Library, Conference Halls, Restaurants and more – so a great place to spend the evening as a solo traveler. You can also take part in architecture tours and visit their conservatory (free but reservation required). Something else that I hope to get to soon!