With almost 350,000 residents, Nice in the South of France is a major city yet it has the vibe of a vacation destination.
To tell the truth, I first chose Nice as the base for my vacation on the Cote d'Azur because it had great transportation links to many dream destinations – Cannes, Antibes, Monaco – and a good variety of affordable hotels.
I had no special interest in or high expectations of Nice itself. It is often overlooked for its more famous neighbors and I thought it would be just a generic city. So my expectations were fairly low.
I was pleasantly surprised. The moment I stepped out of the tram at Place Guiseppe Garibaldi I was immersed in the vibe of a Mediterranean vacation: loads of outdoor cafés and restaurants, a bustling atmosphere, bright sunshine (that wasn't so surprising I guess), and just a sparkle in the air that puts a spring into your step.
In the evening, young and old, locals and tourists stroll along the Promenade des Anglais and the restaurants and ice cream parlours do a brisk business.
And as public transporation to the rest of the Cote d'Azur was as easy, plentiful, and inexpensive as hoped for, I would definitely recommend Nice as a holiday base or even just for a quick visit.
How to get to Nice
Most travellers will probably – like me – arrive in Nice by plane. And they are in luck – in contrast to so many other cities the Nice Airport is not many miles out of town and doesn't require a lengthy and expensive transfer.
The airport is quite small (not the smallest one I have been to but fairly small nevertheless) so you won't have a hard time finding your way. There is no danger here that you almost miss your plane because you get out at the wrong terminal (if you have been to London Heathrow you know what I am talking about)!
The airport is at the western edge of town, about 30 minutes from the town center by tram. It really couldn't be any easier.
Alternatively, you can get to Nice by car, train – the main train station, Nice-Ville, is right in the middle of town – or by ship. While most cruise ships stop in Villefranche, some smaller ships do dock in Nice, at Port Lympia at the eastern edge of town.
Public Transportation in and around Nice
Public transportation in Nice is not only plentiful but also inexpensive. The main modes of transport within town are buses and the tram.
There are three distinct tram lines in Nice:
No. 1: North/East via the city center
No. 2: West/East from Airport to Port
No. 3: Airport to Saint-Isidore via Allianz Riviera Stadium
Any single ride on the tram or a bus (good for 74 minutes) will cost you Euro 1.50. Alternatively,  you can get a day ticket for Euro 5, a ticket with 10 rides for Euro 10, or a weekly pass.
You can buy tickets from automatic machines at tram stations or directly from the bus driver.
It is important to validate your ticket when entering a bus or tram. To do that, insert the ticket face up in the slot of the machine near the driver (bus) or in the validating machines in the tram.
And not only can you get around town cheaply, but buses run to neigboring towns (e.g. Èze, Monaco, Villefranche) and most don't cost much more.
In addition, there are trains covering many destinations along the Cote d'Azur. Trains are a bit more expensive than buses but generally quite a bit faster and still affordable.
Finding your way around Nice
It is not difficult to find your way around Nice. Basically, the city stretches along the coast. On the Western edge you will find the airport and on the Eastern Port Lympia.
The Promenade des Anglais runs along the beach and is a popular place to stroll along in the evenings. The beach itself is made of pebbles – not as comfy or pretty as sand but at least you will not get sand everywhere either. There are different public and private beach segments, making it easy to find the right one for everyone.
Towards the eastern part of Nice you will find the old town, Vielle Ville. A popular place here is the flower market, Marché aux Fleurs Cours Saleya. Plenty of restaurants are waiting for visitors and though it is very touristy it is a pleasant place to sit and enjoy the vibe in the evenings.
Of course there are also many more restaurants hidden in the quaint alleys that make up the old quarter of town (and likely offering better food and value).
One interesting landmark of Nice is the big Rock/Mountain that separates Vielle Ville from the port. You can walk around it along the coast or around its Northern edge (or of course climb it for a great view over town).
Getting from Nice Airport to your Hotel
If you are staying at a hotel somewhere in central Nice getting there from the airport is quite easy – there is no need for an expensive taxi.
Just leave the airport through the main exit once you have cleared customs and picked up your luggage.
After only a few meters you will see the tram stop. Buy a ticket from one of the machines – as all tram tickets cost the same, regardless how far, it is quite easy.
Then hop onto the next train that comes but make sure it is No. 2 with destination Port Lympia. Then enjoy the ride until you are close to your accomodation if you are staying along the southern edge of the city.
If your hotel is further inland you may have to change tram lines or take the bus. Luckily, there are plenty of clear announcements and signs so you will know where you are at any point in time.
Where to stay in Nice
Of course, choosing a hotel is largely up to personal preference and budget. 
I feel that in Nice, location is less important than in many other cities as the town is so compact. Anything along the No. 2 tram line should work well.
Unless you plan on spending loads of time at the beach in Nice, really need a pool, or money is no objective (lucky you!), I would choose one of the plentiful hotels of one of the well-known budget chains (ibis, B&B, etc.) in a convenient location.
Of course there are some iconic hotels, like the Hotel Le Negresco, but they are very expensive. If spending around Euro 800 per night doesn't face you, you should go for it – I definitely would (it looks so pretty)!
But don't despair if money is a bit tighter – one of the budget hotels should work just fine. And you could always visit the Hotel Negresco for a meal or even just a drink and soak up the atmosphere.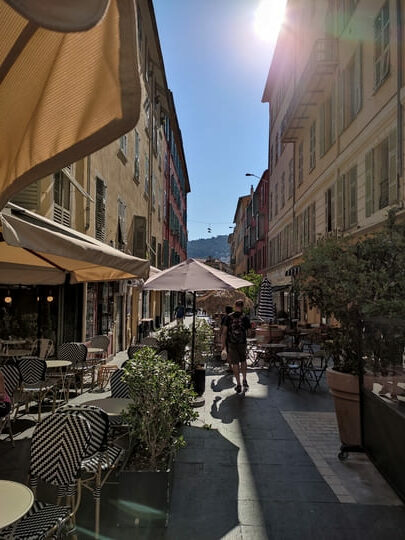 Hotel Recommendation – Ibis Styles Nice Vieux Port
I am usually fairly happy with my hotels (I do spend a lot of time and effort researching beforehand) but only some of them get my full recommendation as often they are nice but no different from many others. But the Ibis Styles Nice Vieux Port was much nicer than I expected.
As part of the more upscale "style" version of the ibis brand (the regular ibis hotels are pretty basic), it offered all you would expect from a hotel at that level.
Don't expect a five star luxury resort – it is a basic city hotel. But the service was good and the room was was expected.
So what was special about it? Like they say – location, location, location! I can't say enough about how much I loved the location.
It was an easy walk to the port to admire the yachts or eat in one of the restaurants there. You could walk to the train station Nice Riquier in about 15 minutes and many bus routes stopped just a street over. Vielle Ville was right around the corner and the tram stops at Place Garibaldi, 5 minutes by foot.
But almost as important as the great transportation links is that the area felt very touristy and safe. There are cafés and restaurants right around the corner and you can find grocery stores nearby as well.
So on my next trip to Nice I would definitely first check whether the ibis styles Nice Vieux Port has available rooms at a reasonable price!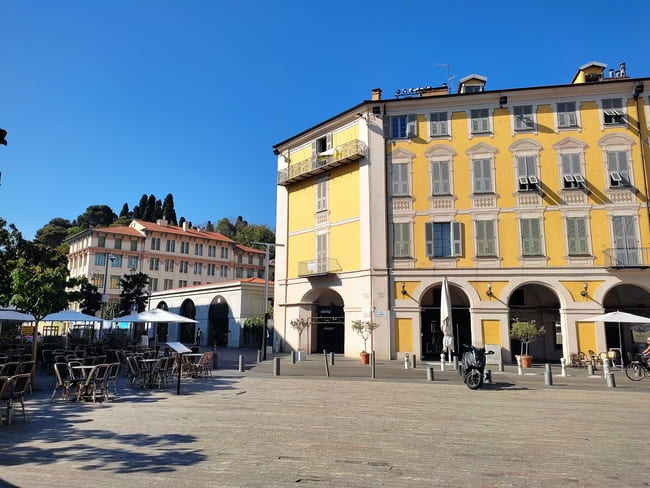 What to see and do in Nice
I stayed in Nice for a week but as I went on day trips almost every day I just explored Nice in bits and pieces. But if you are in town just for a day (maybe on a cruise) I would recommend the following:
Climb the large rock/mountain at the Eastern end of town, Colline du Chateau. There isn't much left of the former castle but you have a great view over town and port. If the hill seems too daunting you can use an elevator instead.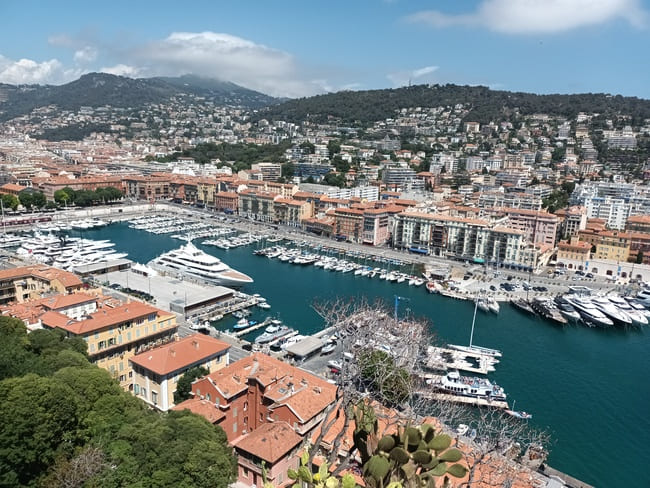 Stroll through the narrow alleys of Vielle Ville, the old part of town. This is especially pleasant early in the morning when everything is still closed, there isn't a glut of tourists yet, and the streets have a serene charm.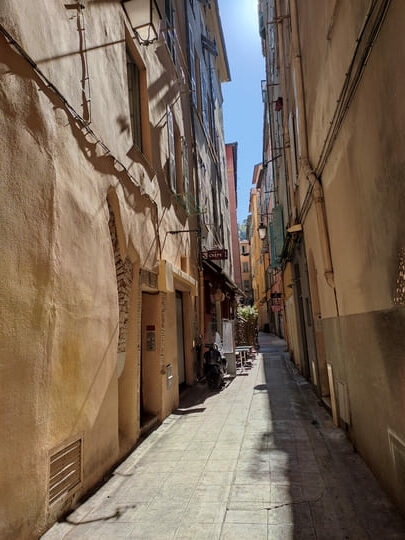 Stop in at the Cathédrale Sainte-Réparate de Nice. This newly renovated baroque cathedral is dedicated to the patron saint of Nice and was finished in 1699. Entry is free (but they do require "appropriate" clothing).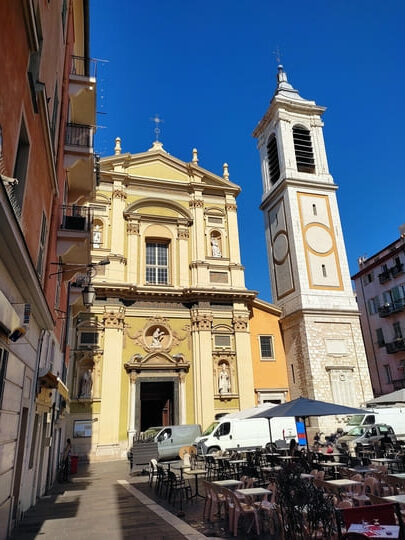 Treat yourself with a snack. There is a fierce rivalry about who sells the best ice cream in town (I generally just look for the longest lines to see what is popular) but you could also go for some macarons or another baked treat.
Do try the local specialty – socca. It's a pancake made from chickpeas and you can buy it cheaply from street stalls all over town.
To be quite honest, I thought it was a bit bland but definitely filling and good value. Next time I would say yes to the pepper though to spice it up a bit.
Stroll along the Promenade des Anglais. A great place to people-watch – maybe you will spot some celebrity or millionaire in town on their yacht.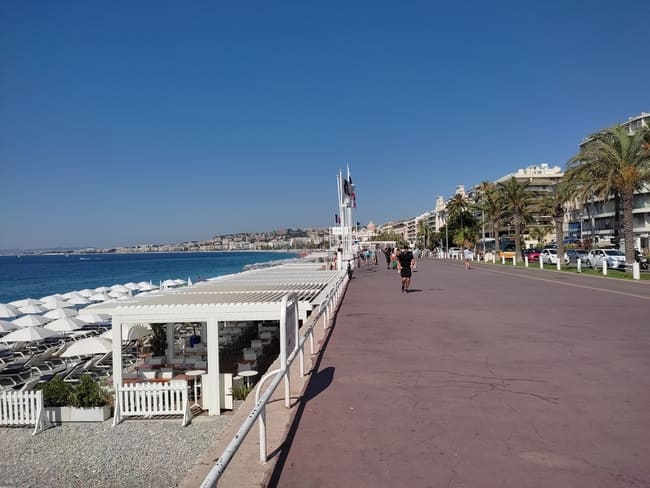 Visit Port Lympia and wonder about who the many yachts anchored here belong to. The port is lined by plenty of inviting cafés and restaurants. It is a great place to sit and soak up the atmosphere.
Marvel at the grandeur of Place Massena. If you are an art lover (or if the weather should unexpectedly be bad), Nice also offers a number of quite impressive museums: Musée Matisse, Musée d'Art Moderne et d'Art Contemporain, Musée du Beaux Arts, and Musée National Marc Chagall are probably the most famous ones.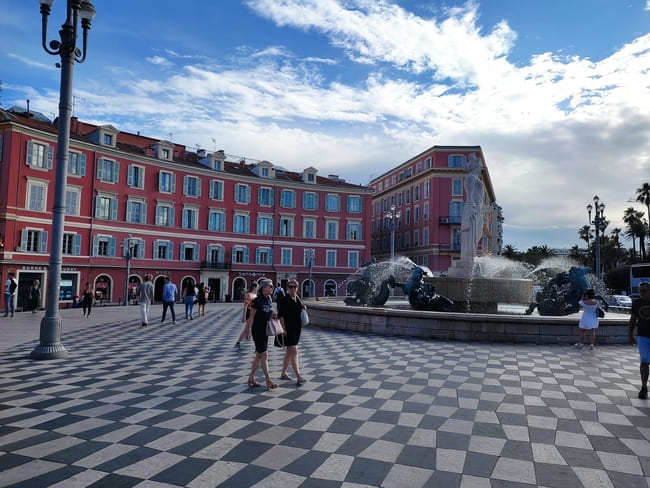 It's a little out of the way and may not be worth it if you only have a very limited amount of time but as soon as I saw the Russian-Orthodox Cathédral Saint-Nicolas de Nice when riding by in the train I just had to go and see it up close.
So pretty – and so unexpected in the South of France!
Explore the flower market at Cours Saleya. Most mornings you will find fruit and vegetables there as well as flowers, various souvenirs, and artisanal products.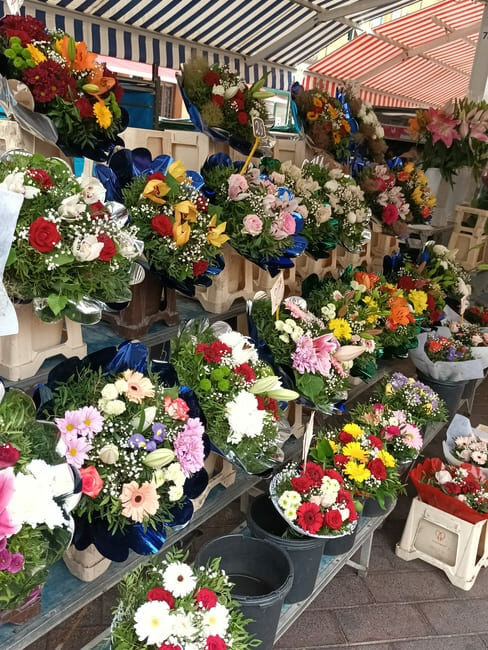 And don't forget the beach! What would a visit to Southern France be without some time at the beach? Though there are prettier beaches around (e.g. on Cap Ferrat), the long stretch of pebbles in Nice is nothing to sneeze at.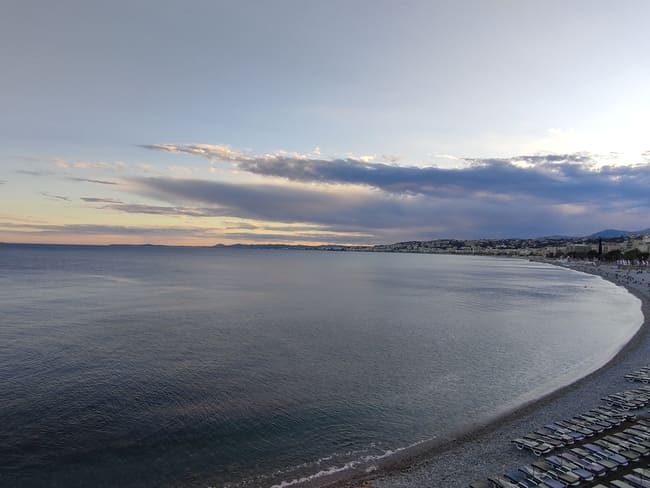 Excursions from Nice
Nice is nice (sorry, couldn't resist) but if you are here longer you will surely want to explore all the Cote D'Azur has to offer.
Here are some of the best places to see:
Villa Ephrussi and Cap Ferrat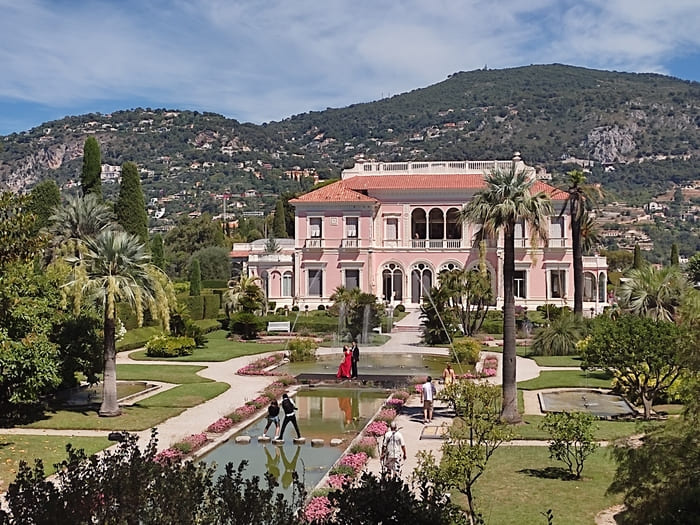 Probably my favorite excursion from Nice. The beautiful pink Villa with its gorgeous gardens, the quaint village of Saint-Jean-de Ferrat, and the walk along the rugged coast are everything one expects from the Cote d'Azur.
How to get there:
Take Bus No. 15 to Villa Ephrussi/Villefranche/Beaulieu or  to Saint-Jean-Cap Ferrat, depending on what you want to see first.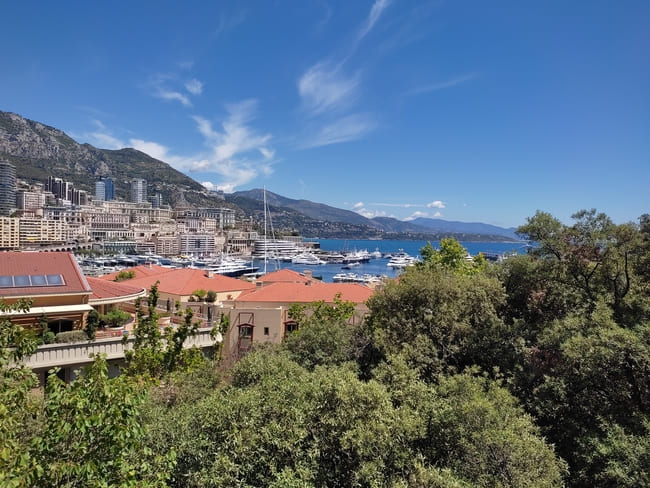 This principality is mostly known for its casino and the millionaires calling it home. But there is more to discover here – a nice sand beach (rare on the Cote d'Azur as most beaches are pebbles), the Museum Oceanographic, and of course the casino.
How to get there:
The easiest way from Nice to Monaco is by train. You can either board at the main train station or at Nice Riquier.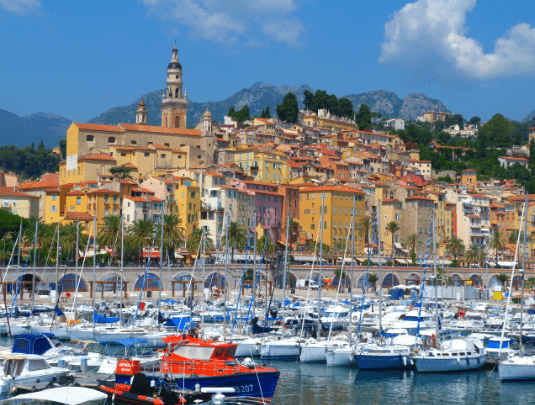 Menton is a small town near the border between France and Italy and has the nickname "Pearl of France". It is best known for its mild climate and its lemons (there is an annual Fete du Citron in February).
How to get there:
Take the same train as to Monaco but stay on a little longer.
Pretty as a picture, Èze is on many cruise tour itineraries and definitely worth a visit. There isn't that much to do here (other than to enjoy the romantic vibe) so half a day should be sufficient. Definitely don't skip the Botanical Garden!
How to get there
Take bus 602 from Nice to Èze. Be careful: The Train and some bus routes go to Èze Cote Mer – the town down at the seaside. From there it would be quite  a hike up to the old village!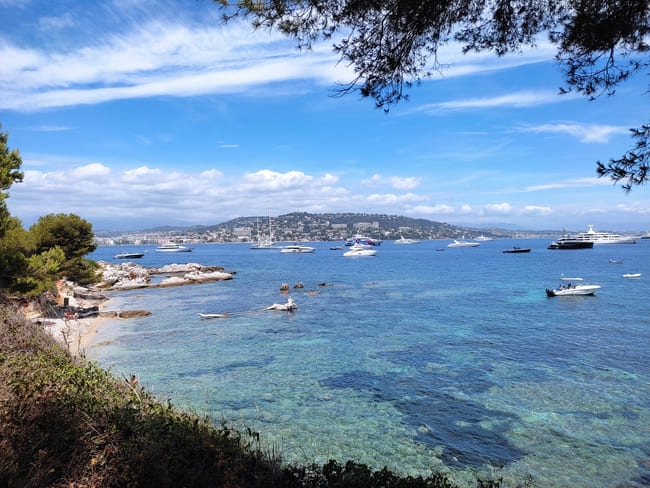 Cannes is of course best known for its famous Film Festival which will take place from May 16th to 27th in 2023. But the town is also worth a visit during the rest of the year.
The newer part of Cannes is quite upscale (think a French Beverly Hills) and there is also an older, more rustic part of town. However, my personal recommendation is a boat ride out to one of the Iles de Lérins.
How to get there
Take the train to Cannes (about 40 minutes, twice an hour or so).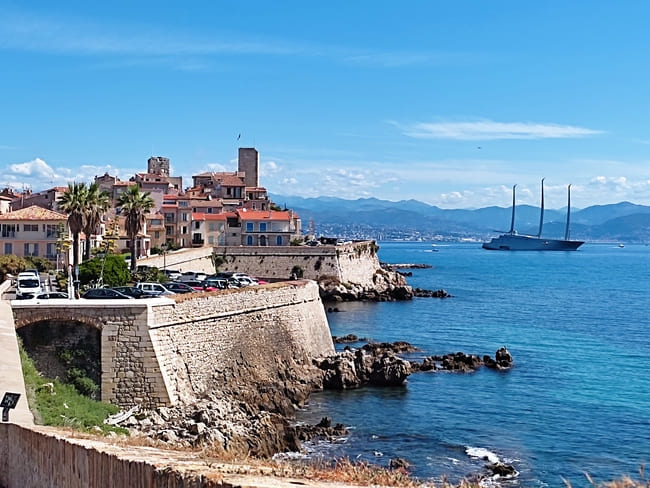 Antibes is a beautiful town with a long and varied history. Highlights are Port Vauban (the largest yachting harbour in Europe and your chance to see some truly impressive yachts), the old town, the Picasso Museum, and Cap d'Antibes with pretty beaches, a beautiful hike and some stunning millionaires' villas.
How to get there
You will take the same train as for Cannes (if you are up for a full day you could even combine Antibes and Cannes) but the ride will only be around 25 minutes.