Are you wondering whether Bodmin has enough fun things to do to be included in your trip to Cornwall?
I wasn't quite sure myself – Cornwall has so many outstanding attractions and Bodmin is not one of the big hitters.  So the only reason I did include Bodmin in my itinerary was that I wanted to attend the murder mystery train – but am so glad I visited as it was one of my favorite places in Cornwall!
Bodmin wasn't really on my radar until I saw that the Bodmin Railroad just happened to offer a Murder Mystery Evening right as I was in that part of the county.  I knew right away that I just had to take part! I have been dreaming of something like this for years (or even decades) and this was finally my chance!
To be honest, the rest of my time in Bodmin  was structured all around the Murder Mystery Train Experience.
When I booked the ticket I saw that the train ride was supposed to end around 10 pm. Rather late for still getting out of town – the public transportation system here is tricky (more about that later).
Consequently, I started to look for a hotel to stay the night. So glad I did – this was my very favorite hotel of 2022 and I highly recommend you stay there if you are in the area.
How to get to Bodmin without a car
Traveling from London or Penzance to Bodmin
If travelling from London or Western Cornwall, it is quite easy to get to Bodmin Parkway by train. It is a stop on the main route between London and Penzance and there is a train at least once an hour.
However, somewhat surprisingly the train station Bodmin Parkway is quite a distance from the town itself. So you will have to either get a taxi (definitely prebook!) or the local bus to reach the town itself.
Traveling from Tintagel by bus
My day started in Tintagel, another absolute highlight and must-see of my trip to Cornwall. From there I took an early bus with a bunch of school kids. It took about an hour to get to Bodmin, not too bad all things considered. It isn't always easy but you can tour Cornwall without a car.
Things to Do in Bodmin – One Day
1. Explore the Town of Bodmin
With a population of around 15,000 Bodmin isn't huge but it is a cute little town worth a visit.
You can of course just wander around, but I highly recommend the local Treasure Trail. If you have read more of my posts you might already know that these "treasure hunts" are my favorite thing to do in England.
The Bodmin Trail basically led me through town and passed by most of the main sights.
Here are some impressions on the way:
And in the park I noticed this cute trash can: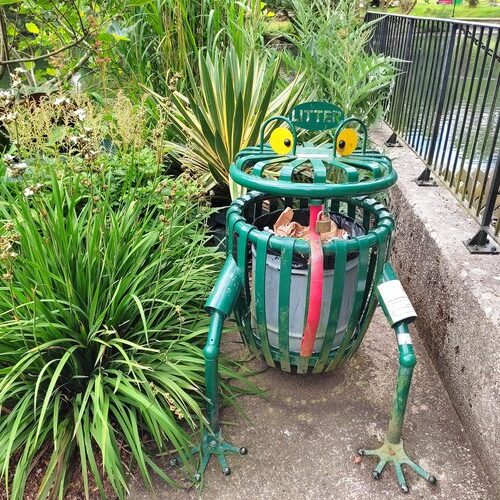 On treasure trails I often take a break to tour sights along the way and in this case I split the adventure in half and went to Lanhydrock.
2. Visit Lanhydrock
Lanhydrock is a late Victorian Country House that is now run by the National Trust. I loved my visit there – building and gardens are stunning and you get a chance to see parts of the house you usually do not see on tours.
Getting to Lanhydrock without a car
Unfortunately, there doesn't seem to be any public transportation between Bodmin and Lanhydrock so without a car you will have to either get a taxi or walk.
I decided to walk the approximately 2.5 miles and it proved a bit trickier (and more exhausting) than expected. The first part of the walk was easy enough as there were plenty of signs in town but I must have taken a wrong turn because eventually there were no more signs and I was pretty lost.
I kind of guessed at the way. After a couple of wrong turns I was tempted to give up. But I was determined and soldiered on (and I am so glad I did – Lanhydrock is not to be missed).
The walk itself is quite pretty (if you don't get lost). After leaving town you can follow the former carriage path through the woods.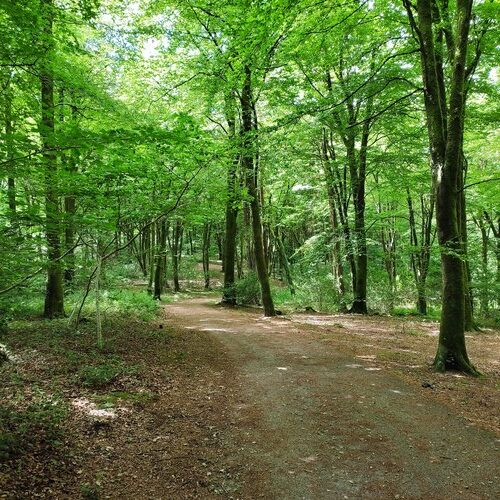 The forest path is parallel to the motorway so eventually you will come to a bridge to cross the busy road.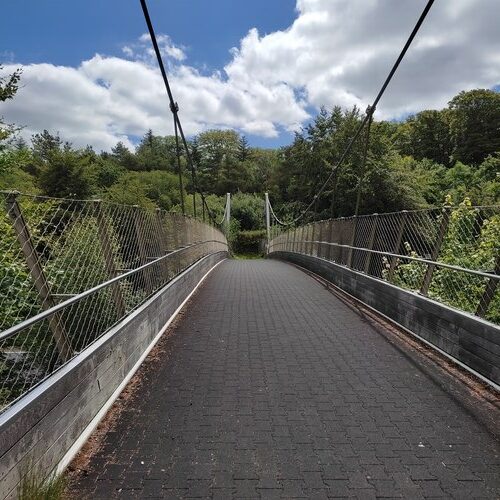 Along this forest path you will also find a marker for the National Cycle Network. At least at that point I was sure that I was on the right track!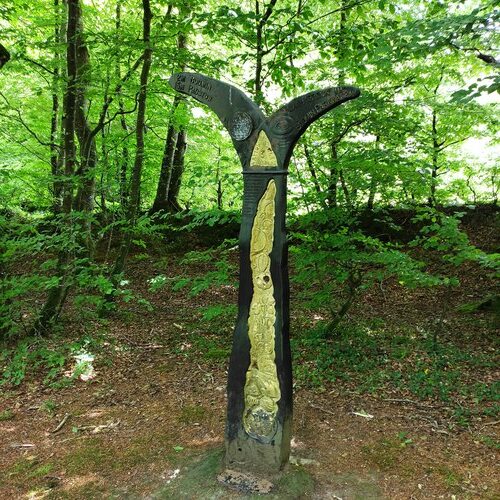 Eventually, you will reach the parking lot of Lanhydrock and soon after the entrance to the estate.
Touring the National Trust's Lanhydrock Estate
There is a small building where you can pay your entrance fee (unless you have a National Trust membership) and get some information about the different tours offered.
You still have a bit more walking to do though as the house is further on in the park.
I absolutely love the look of Lanhydrock – it reminds me of a fairy tale building. The topiary trees give it a definite Alice-in-Wonderland-vibe.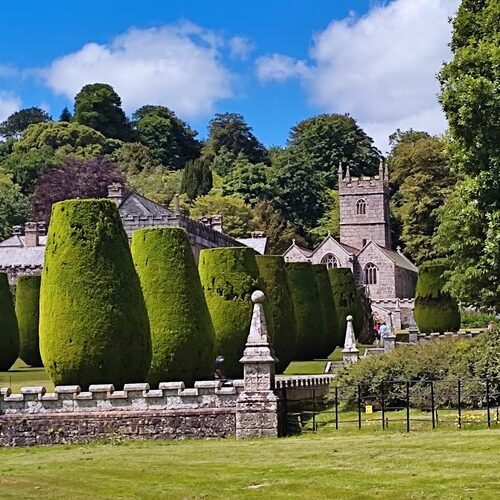 Visit the Victorian Splendor of Lanhydrock
Lanhydrock was the country home of the Agar-Robarts family. The Jacobean home was completely refurnished in the Victorian Style after a devastating fire in 1881.
The most interesting thing was that you can tour areas that you do not usually see when visiting stately homes: the kitchen/servant area and the family rooms/nursery. If you are a fan of Downton Abbey you will definitely get a kick out of this!
My favorite part of visiting Lanhydrock was that you get a real feel for the family that once lived here. So much more fun than just looking at a soulless mansion without priceless art.
Explore the Park and Gardens of Lanhydrock
The house is set in extensive parklands and if you go to the National Trust website you will see several recommended walks.
I would have loved to go on one but after walking there from Bodmin I was already dreading the long way back. I definitely wasn't walking any further than I had to. But if you have more energy I would recommend spending some time exploring!
After touring the house I had a quick lunch at the cafeteria (the less said about the soup the better!), visited the chapel, and enjoyed the gardens for a while.
For me the garden was definitely a highlight – the house was interesting (you really got a feel for the family) but I the garden with the topiary trees. It made me feel like I was in a story book (Alice in Wonderland maybe).
I wouldn't have minded spending a bit more time here but I still had plans. It was time to start back. Luckily, the way back to Bodmin went better then the way there – I only got lost once or twice!
3. Murder Mystery Train, Bodmin Railroad
The Murder Mystery Train Ride takes place on the Bodmin & Wenford Railway which operates (only on some days) from Bodmin Station. Not to be confused with Bodmin Parkway which is on the main train route between London and Cornwall but is out in the countryside, over 4 miles from the town – very strange!
What is the murder mystery train experience?
The Bodmin & Wenford Railway is a heritage train line with steam trains. It operates mostly in the summer and only on certain days. On the 13-mile round trip you feel like you stepped back in time.
Murder Mystery Evenings are only offered a couple of times a year so I was very lucky that I just happened to be there at the right time. And it is a great deal – for around 24 GBP you get the train ride, the murder mystery experience, a pasty, and a drink! You can also buy very reasonably priced drinks and snacks at the station as well as alcoholic drinks on the train.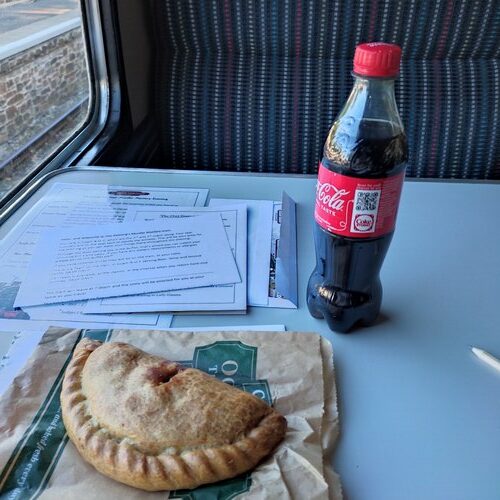 So how does this Murder Mystery Evening work?
Basically, you sit in the train as it goes from Bodmin to Stop A, back to Bodmin, to Stop B and back to Bodmin. During the ride the acting troupe will go into the different train wagons to enact the play. There is a chance to ask questions of the characters towards the end but for the most part it is more of a show with you as the bystander. At the end, everyone turns in their guess of who the murderer is and then all is revealed.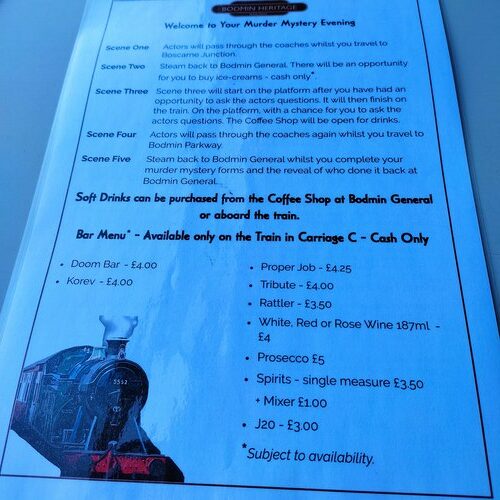 If you book alone or as a couple you may be sharing a compartment with another solo/couple. I was lucky enough to have a great companion – a retired police officer of all things! We had a great time and his experience paid off as he did guess the culprit correctly. Me not so much – but I was elected to pull the winner from the pile of correct guesses – the price was a bottle of wine. Not too bad! All in all, I had a great time – highly recommended.
It was fairly late – around 10 pm – when we finished and I was completely exhausted. It had been a long and tiring day.
Things to do in Bodmin – if you have more time
Hard to believe, but there are even more fun activities in or near this small town that I unfortunately did not have enought time for:
4. Bodmin Jail – The former jail does not only house a hotel but is also a major tourist attraction. You can explore it on your own or join a guided tour. They even offer paranormal tours and events! Unfortunately, I didn't have enough time to see this attraction but I definitely will if I go back to Cornwall.
5. Bodmin Moor – I really wanted to experience this moor on a hike but ended up skipping it. I couldn't figure out a way to get there given the limited time I had (and did Lanhydrock instead). But I do hope to get there sometime – you can even visit Jamaica Inn, the setting for Daphne du Maurier's novel.
6. Camel Trail – This path through the Cornish countryside from Wenfordbridge to Padstow has nothing to do with the humpbacked animal. The 18 mile long trail along a disused railway line is instead named for the river Camel. The Camel Trail would be perfect for a bike tour – there are several bike hire places in town.
Where to stay in Bodmin: The Bodmin Jail Hotel
The Bodmin Jail Hotel is located in what was once an actual jail.
Bodmin Jail was in use from 1779 to 1927 and truly evokes the feeling of old mystery novels by Edgar Wallace or Sir Arthur Conan Doyle.
After the prison was closed it fell into ruin but eventually was bought and turned into a tourist attraction. The hotel portion was opened 2021 so it was still very new when I visited.
The outside of the hotel is quite imposing (if not a little eery) and they did a great job converting the jail in a way that screams luxury while at the same time evoking true jail vibes.
The hotel lobby of Bodmin Jail Hotel has kept the layout of the original jail.
Accomodation at Bodmin Jail Hotel
Rooms are located in different wings of the former jail:
Rooms consist of three original cells (two for the sleeping area and one for the bathroom). The room was maybe a bit on the dark side but then what else would you expect from a jail?
 Unfortunately, I didn't have much time to enjoy the luxurious bathroom as I had to get going if I didn't want to be late for the Murder Mystery Train.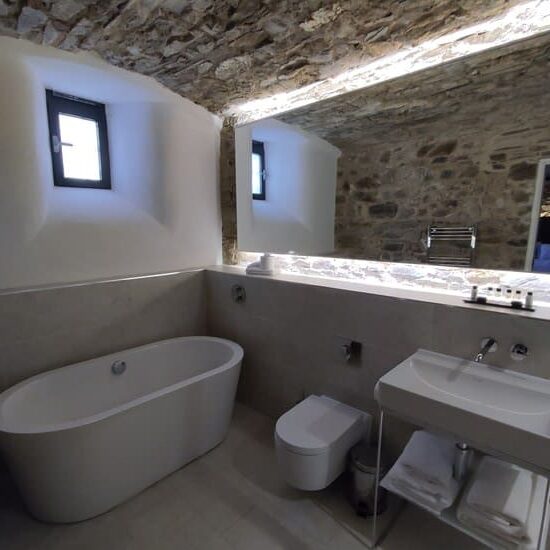 In the morning I ate breakfast in the very stylish Chapel that had been converted to a restaurant. The food was delicious!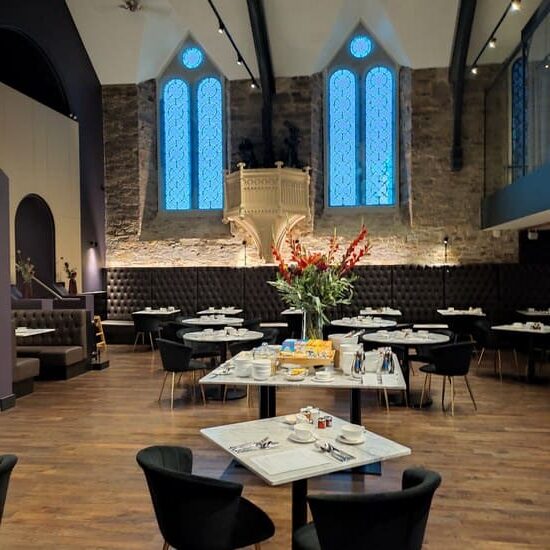 Service at Bodmin Jail Hotel
The service at Bodmin Jail Hotel was very friendly and competent. They were welcoming when I showed up early in the morning (a disadvantage when traveling without a car as you always have to drop off your luggage somewhere) and helpful in getting me a taxi to get to the train station on departure.
Overall impression of Bodmin Jail Hotel
I absolutely loved my stay at Bodmin Jail Hotel and would highly recommend it. The atmosphere is unique, service great, and accomodation quite luxurious.
If you are looking for a spooky/haunted overnight experience, this is right up there with a stay at the Queen Mary in Long Beach!
Is Bodmin worth a visit?
Absolutely! There are enought great things to do in and near Bodmin to easily fill two days. 
I highly recommend visiting Lanhydrock, Bodmin Jail (or even better a stay at Bodmin Jail Hotel), and exploring the town. The murder mystery train was another highlight of my visit!
Bodmin was one of my favorite stops during my trip to Cornwall and makes a great addition to any Cornwall itinerary.