One of the first things that come to my mind when I think of Switzerland (aside of watches and chocolate) is the Matterhorn so of course Zermatt had to be on my itinerary for my Interrail trip to Switzerland last summer.
Zermatt, located in the German-speaking canton of Valais has less than 6,000 full-time residents but it indeed packs a big punch when it comes to tourism.
Not only does the town offer unrivalled views of the iconic Matterhorn but it is also the final stop of the famous Glacier Express and boasts several other major sights.
I wish I could have spent more time here (there is easily enough to spend three days) but unfortunately my time was quite limited (so much to see!). Still, the weather in Interlaken was pretty rainy (read about my time in Interlaken here) so I left there early in the morning instead of in the late afternoon, giving me 1.5 days in Zermatt.
Now, you could cram in a bit more than I did in the same amount of time but overall I think I used my time fairly well. Read on to see what I did, what I learned (do avoid my mistakes!), and what I recommend.
The Town of Zermatt
The town of Zermatt is actually quite small and heavily shaped by tourism. You will find any number of hotels, guest houses, restaurants, shops selling skiing or mountaineering equipment etc.
Zermatt lies at the southern end of the Matterhorn Valley and is surrounded by mountains on most sides – of course the Matterhorn itself is the most famous one of them.
Like most of Switzerland, Zermatt is expensive. Expect to pay at least 50% more than you would in neighboring countries.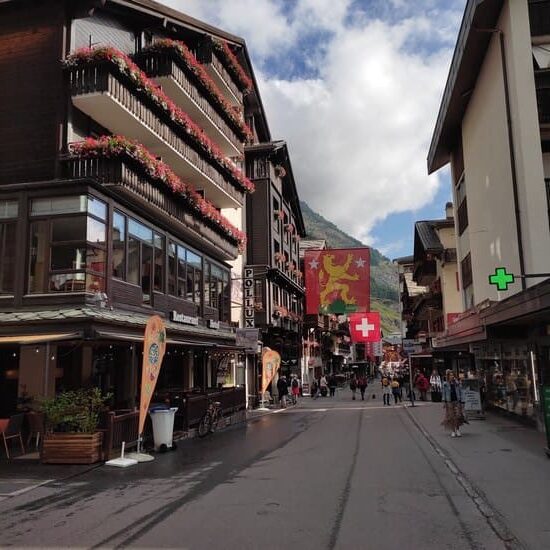 How to get to Zermatt
If you are reading my blog regularly you probably know that I am a big proponent of using public transportation (okay, I guess you could also say I am just too nervous to drive most places).
But in Zermatt that is not an exception. It actually isn't even possible to visit the town by car – it is a car-free town. If you are touring Switzerland by car, you will have to park at Täsch, about miles north of the town itself and take a train (every 20 minutes) or taxi from there.
Otherwise you, like me, will just travel from other towns in Switzerland by train. Given Zermatt's rather remote location, there is only one route leading there – the last segment of the Matterhorn-Gotthard-Bahn (the Glacier Express uses the same tracks, just a fancier train).
Exact travel times/cost depend of course on where you are coming from. In my case I was travelling from Interlaken which meant a total travel time of 2 hours 17 minutes (from Interlaken to Spiez, then Spiez to Visp and finally 10 minutes from Visp to Zermatt).
The train station in Zermatt is centrally located pretty much at the northern end of the Bahnhofsstraße, the town's main street.
Depending on your accomodation, you may be able to request a pick-up with one of the small electric vehicles that are common in town. Otherwise, you will have to walk – no worries though as the town really is quite manageable.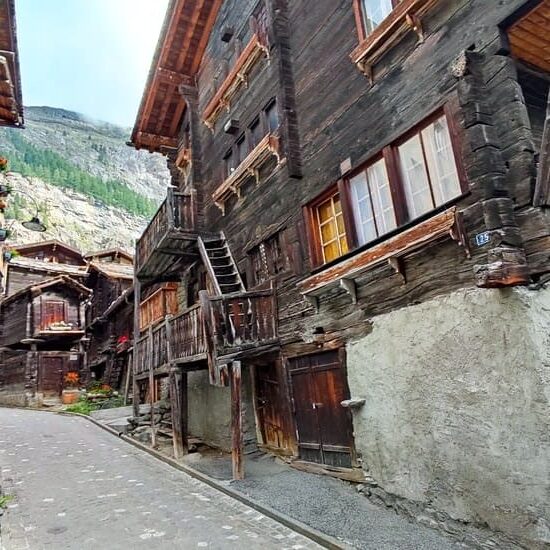 Where to stay in Zermatt
I spent quite a bit of time pouring over Google Maps, trying to decide where to stay. But to be quite honest, in Zermatt it doesn't matter as much as in most places.
The town is so small and the Matterhorn so prominent that you will pretty much see it from everywhere (unless of course it is hiding behind some clouds).
So basically any accomodation with good reviews that fits your budget will be a decent choice.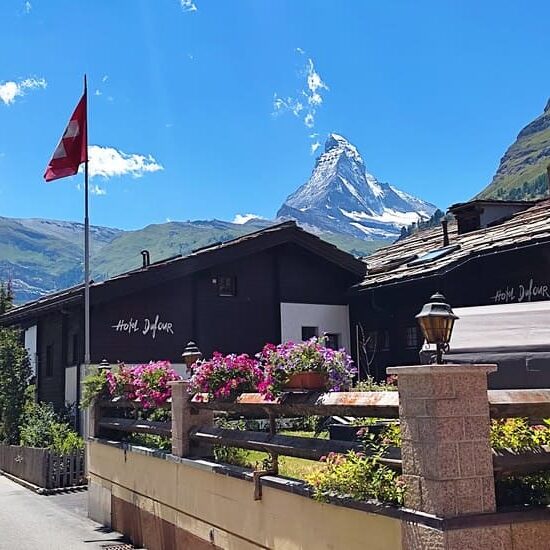 My Hotel: Hotel Capricorn in Zermatt
I stayed at the Hotel Capricorn and was very happy with it. From in front of the hotel you had a great view of the Matterhorn. I am sure the same is true for the mountain view rooms. Of course my economy single did not have any view but it was significantly cheaper.
As a matter of fact, I thought hotel prices in Zermatt (and in Switzerland in general) were fairly reasonable. I paid around Euro 110 per night, breakfast included which isn't bad at all. Unfortunately, I can't say the same for other prices in Switzerland though.
I was quite happy with my room – the bathroom was modern and functional, there was a desk and chair (a pet peeve of mine as apparently many places think these unnessary in single rooms) and the bed was comfortable.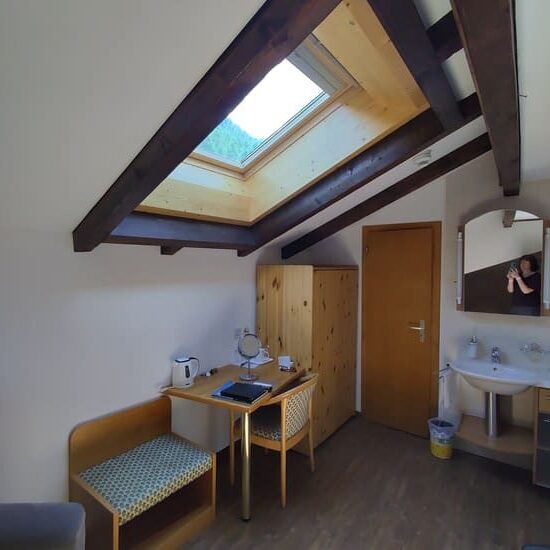 However, the setup was a bit unusual with the bed set apart in a small alcove. I thought that gave the place charm and made for a cozy little cave but opinions may vary on this.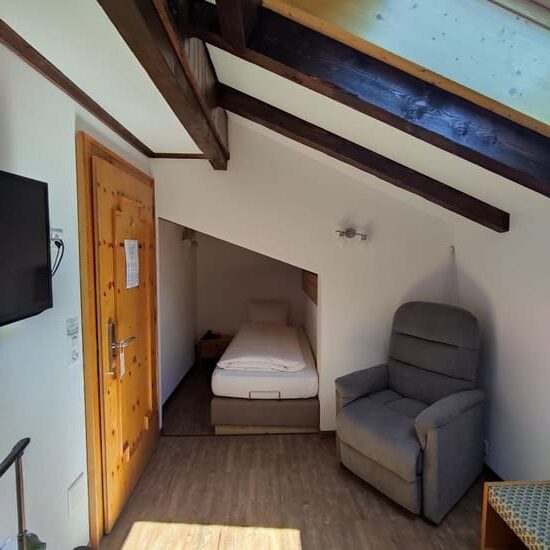 The service was very friendly and the breakfast (though of course Continental) quite nice. Included breakfasts will probably be the cheapest food you will eat during your time in Switzerland so they are a definite plus.
Bonus points: Even though I arrived at the hotel a little before noon, my room was ready and I was able to check in. Obviously, you can't rely on that happening but it was very much appreciated!
My First Day in Zermatt
I am a bit embarrassed to admit it but after my early morning train ride I was plain exhausted when I checked into my room and I went and had a bit of a nap. Shocking, I know, but wonderful nevertheless.
Now, there are two main big-hitters in Zermatt, Matterhorn Glacier Paradise and Gornergrat, and I wasn't quite certain which one I would visit (or maybe I could do both?). Originally, I wasn't slated to get to Zermatt until late afternoon as I had still plans in Interlaken (that got unfortunately rained out).
So what was I going to do with this extra half-day? I could probably still have taken the train up to one of the main mountains but I ultimately decided against it.
The mountain trains are just so expensive that I couldn't see myself spending all that money for what was only a half-day (especially as everything else in Switzerland was also more expensive than I had realized).
So I looked at some brochures they had at the hotel and decided on an easier afternoon – the Gorner Gorge.
Gorner Gorge
And you know what? Even though I do regret not getting to Matterhorn Glacier Paradise (Spoiler Alert: I didn't go there the next day either) I think it was the right decision.
It was a very pretty, unexpected, and absolutely worthwhile afternoon.
To get to the Gorner Gorge, you walk towards the southern end of Zermatt (if you have any difficulties walking do be aware that some hotels in Zermatt require an uphill walk to get to) and follow the river Mattervispa.
I got turned around a bit but eventually found my way. Towards the end of town you will see the station for the Matterhorn Glacier Paradise gondola (I checked it out as I still thought I might go up there).
Keep on following the river – on the way you will have a great view of the Matterhorn (weather permitting).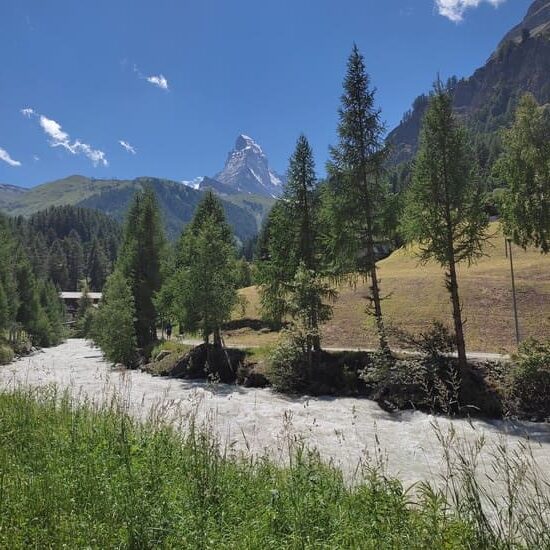 Once you get close to the gorge you will see signs pointing the way. At the start of the gorge there is a little hut where you pay the entrance fee of CFR 5. After that you follow the wooden walkways along the gorge. It is pretty and quite impressive.
Fun Fact: I am not really afraid of heights but for some reason I get really nervous if I walk on wooden bridges. So this actually quite gentle walk did get my adrenaline pumping more than expected.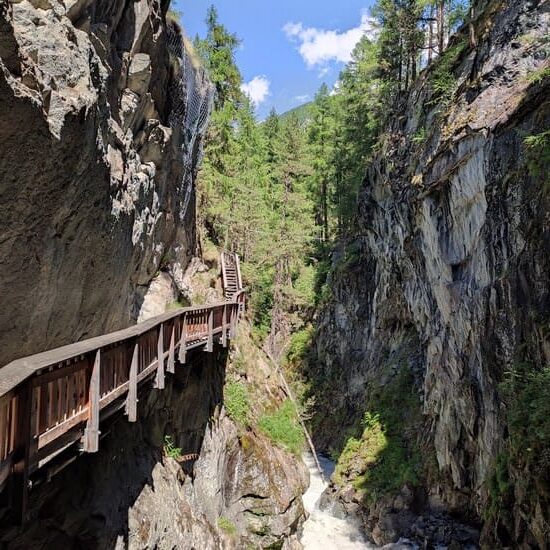 When you get to the end of the gorge you can follow the signs kind of around in a circle to slowly make your way back to town.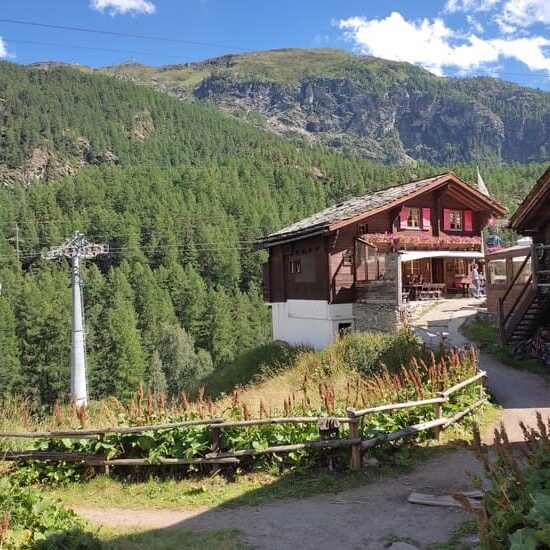 There was a nice mountain hut/restaurant there, Bergrestaurant Blatten, and I was pretty hungry and thirsty so stopped in. I tried a local specialty – Rösti mit Ei und Speck. Basically potato pancakes topped with a fried egg and bacon – very tasty.
CFR 24 wasn't exactly cheap but it was very pleasant to sit in the sunshine, enjoy the fresh mountain air, and relax a bit so no complaints.
Afterwards, I made a quick (like less than five minutes walk) detour to the Ricola Herb Garden. Ricola is of course the well-known Swiss cough drop brand. I have had those before but never noticed how many flavours there are.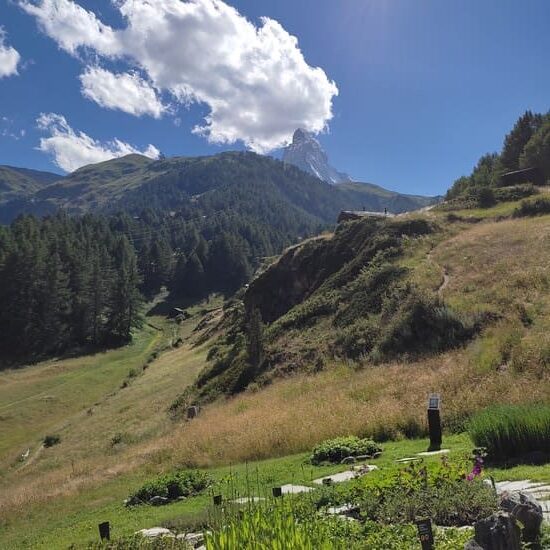 They sell them pretty much everywhere in Switzerland and in a huge variety! Anyway, in this little garden you can see (and smell) the different herbs used for the iconic recipe.
Not a major attraction and probably not worth much extra effort but as I was so close by it was a nice little spot to sit and admire the view – very serene.
After that I slowly made my way back to Zermatt. After a quick stop at the local supermarket for some cheese/wine/bread I returned to my hotel. In spite of the nap I had earlier I was quite tired and glad to call it a day – after all I had big plans for the next day.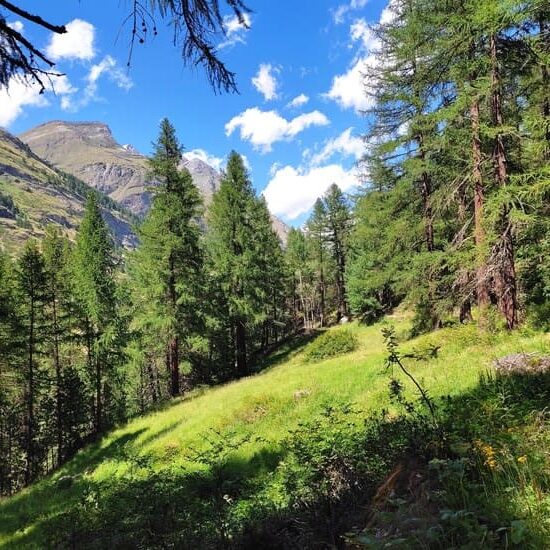 Second Day in Zermatt
I was very happy to see that the sun was shining – after all the rain in Interlaken I was getting a bit worried. Sure, there is no bad weather, just inappropriate clothing but let's face it – the view from a mountain top is just not the same in grey, drizzly rain.
Like I mentioned above, I had a hard time deciding between the Gornergrat and the Kleine Matterhorn and eventually decided on the Gornergrat.
Mostly because at that time I was still contemplating doing both in one day. You can get a combination ticket and do both in a row but it is a bit of a hustle.
One of the coolest things at Gornergrat is the mirror effect at the Riffelsee. And as I had read that morning was the best time for taking photos there, I decided to start with the Gornergrat.
In the end I never made it to the second mountain – mostly because I was just too cheap to pay for the train ticket but also because it would have been a bit of a rush and I do prefer seeing less but with more time/depth in general.
But if you only have one day and would like to see both, it is worth considering. Especially if you live far from mountains/glaciers yourself and this is a once in a lifetime opportunity.
Cogwheel Railroad to Gornergrat
Gornergrat is 3,089 meter high and from the top you have a great view of the Matterhorn and all the other surrounding mountains and glaciers. Highly recommended!
Getting to the top is easy. There is a comfortable train so no need to hike up. And if you are at all nervous about heights the good news is that this is a cogwheel railway so no scary gondola ride needed.
The Gornergrat Railway has its own station in Zermatt – right across the street from the regular train station you arrive at.
There are different ticket prices depending on the season, one way or return, and how many stops you plan to travel. You can calculate the price here. Expect to pay around CHF 134 for a return ticket to the top of Gornergrat in the summer though.
I plunked down the cash for a one way ticket all the way to the top – yes, at that point I was a bit overly optimistic and thought I might just hike all the way down. Stay tuned to find out how that worked out for me (spoiler alert: not well).
Now, I had done some research and knew that you should sit on the right side of the train for the best view. So I spent several minutes looking for the perfect place to sit. Unfortunately, I was a bit confused as to in which direction the train was to travel (apparently I thought it was going to drive out the front door of the station onto main street instead of up the mountain). Yes, you guessed it – I carefully selected a seat on the wrong side.
So you are warned: If you want to have good views on your ride up the mountain follow my intention not my action.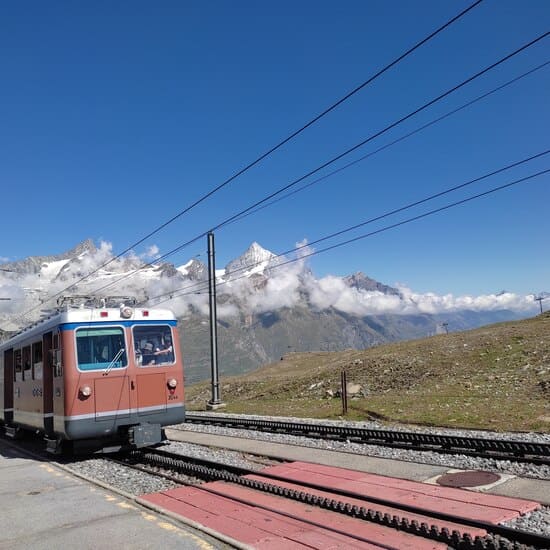 The ride all the way to the top takes around 33 minutes and climbs 1,469 meter. However, I got off at Rotenboden, at 2,815 meter. The ticket allows you to get off the train, explore a bit, and then get back on to continue your ride, provided you hang on to your ticket (you will need to scan it to get through the gate).
Rotenboden and Riffelsee
Rotenboden is the perfect stop if you want to see the Riffelsee. The mirror effect is truly spectacular and I highly recommend you stop there on your way up (or down) the mountain.
Now, important, from Rotenboden you have to start walking down, not up to get to the small pond. Yes, again I made the wrong decision – it clearly was not my day.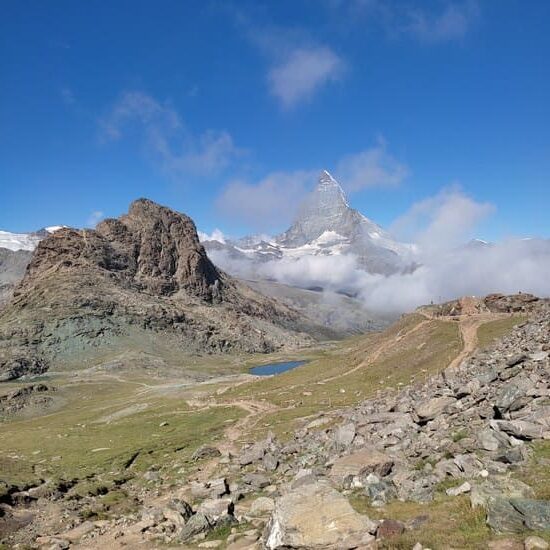 On the picture you can see the small level area next to the train stop and the path down to the lake.
But no worries, I did notice fairly soon so other than some extra exercise no harm was done. The ground is a bit uneven but shouldn't be too challenging for most anybody.
Now, I have been told that my photos of Riffelsee with the mirror image of the Matterhorn aren't as impressive as I think but let me tell you – it was indeed very impressive and special in real life. Do not miss this opportunity if you are in Zermatt!
I highly recommend you take this detour in the early morning (it loses a lot of its appeal when crowded) to see this. One of my top experiences in Switzerland!
The mountain air is nice and crisp and aside of the Matterhorn you can also see loads of other impressive mountains.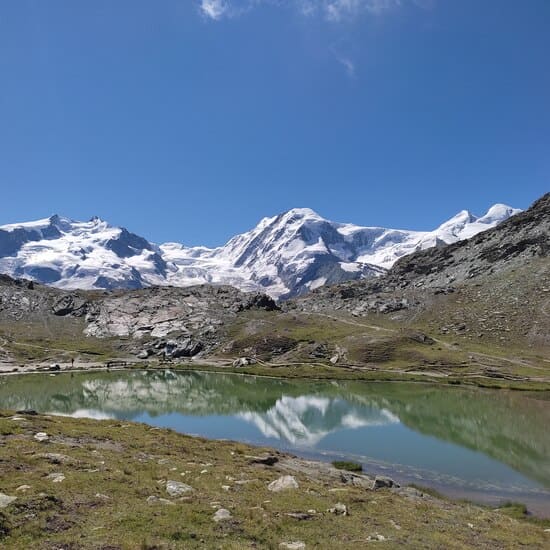 The walk down to Riffelsee from the Rotenboden stop doesn't take very long but after first going up instead of down and then walking around it, looking for the best spot, chilling out a bit to soak up the mountain majesty, climbing back up to Rotenboden, and waiting for the train it did probably take about an hour. But it was definiteyl worth it!
Top of Gornergrat
Hopefully, you held on to your train ticket because you will need it to get back through the gate to board the train again.
Once back on the train it takes only a couple of minutes to reach the top. At the top there are several attractions/things to do:
The Kulmhotel
If the room prices at this iconic hotel weren't quite so high (CHF 470 for one night in June with half-board) I would have loved to stay here! If your budget allows and you want to experience "the highest hotel in the Swiss Alps" overnight, I recommend you book early. Checking for Summer 2023 it seems to be mostly booked already!
The Kulmhotel is very touristy with various upscale shops and two restaurants. I had a soup in the cafeteria which was slightly underwhelming – not bad but not really hot either (possibly my expectations for a CHF12 soup were a bit high though).
Anyway, I love the look of this hotel. It looks like some SciFi-Station on Mars or something. Definitely worth a picture (or two or three…)
Here you will also find bathrooms (always a plus) and a small visitor center (included in the train ticket). I would say go and look at it if you have time but don't worry too much if you miss it. It is quite well made but can't compete with the beauty of the surrounding mountains.
They did have a small VR-ride (you sit in a kind of hammock and experience a virtual paragliding flight). I wasn't too impressed but possibly because I had a hard time getting it to work properly.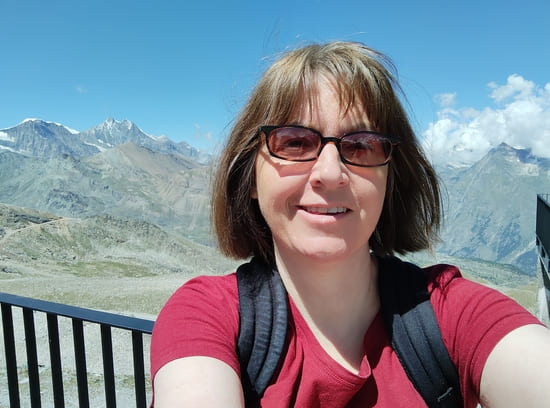 Right from the Kulmhotel/Visitor Center you can start a short circular walk. It is a bit over 1 km long (about 15 to 20 minutes plus time to soak up the beautiful mountain panorama) and gives you amazing views of the Monte-Rosa Massif with the Dufourspitze, the highest peak in Switzerland. That's right, the Matterhorn may be the most famous but it is not the highest you will see!
This small loop trail is definitely worth your time and I highly recommend it. It was a bit trickier than anticipated though – not difficult per se but if you have difficulty walking or with heights it may be a bit much. It should be fine for most anybody but I guess I had expected it to be even easier than it was.
If for whatever reason you decide to skip this small walk, you can still enjoy the view from the main viewing platform.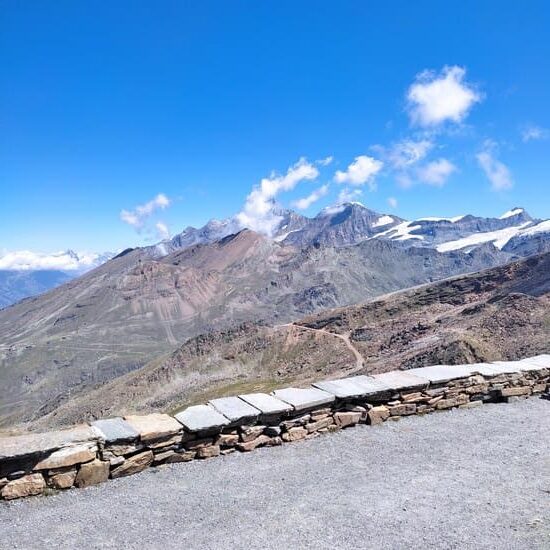 But in general I highly recommend to take the time for this short walk so you can really soak up the stark beauty of the mountains.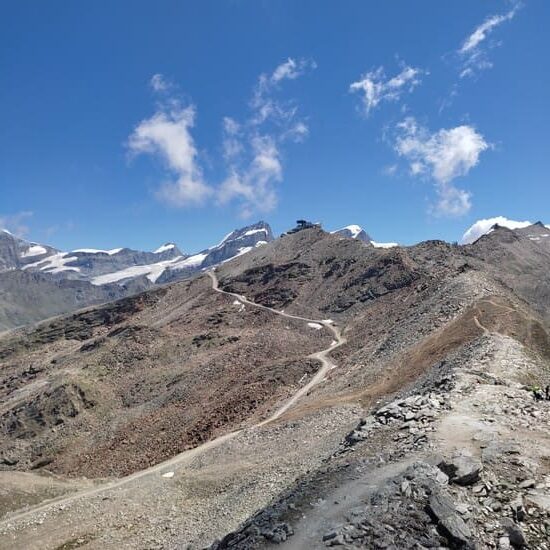 Hike down from Gornergrat or know your limits
By that time I had given up on the day to still do the Matterhorn Glacier Paradise so I decided to hike down the mountain. Okay, to be honest I also didn't fancy paying the high fee for riding down the train. I figured, it would be easy enough to make my way back to Zermatt by walking (Spoiler Alert – it wasn't).
What I especially enjoyed about this hike was that you could really see how the vegetation changed as you got to lower altitudes.
In the first section there was basically no vegetation at all and you walk over gravel/rubble. I was glad that I had decent shoes with some traction at that part though hiking sticks would have been even better.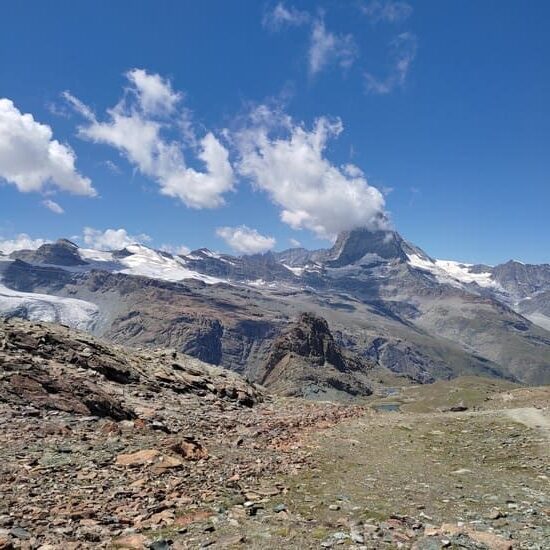 After some slipping and sliding I got back to Riffelsee. If you didn't have time to stop there in the morning you could see it now. The light and reflection was definitely better in the morning though so it makes sense to get there first in the morning.
Soon after, you will see more green – there is grass on the mountain and quite a number of pretty alpine flowers.
Around that time I noticed that it took me significantly longer to walk a section of the hike than was sign-posted. I am not sure if the signs are overly optimistic or if I was just much slower than average (more likely) but it took so much longer than I had expected.
To be honest, I did get passed by faster hikers quite a bit but I also saw others that struggled even more than me. So just be aware that this isn't quite an easy stroll!
By the time I could see Zermatt in the valley I was getting seriously exhausted. The hiking was getting easier as it was less steep and the paths weren't as uneven, but my knees were starting to shake.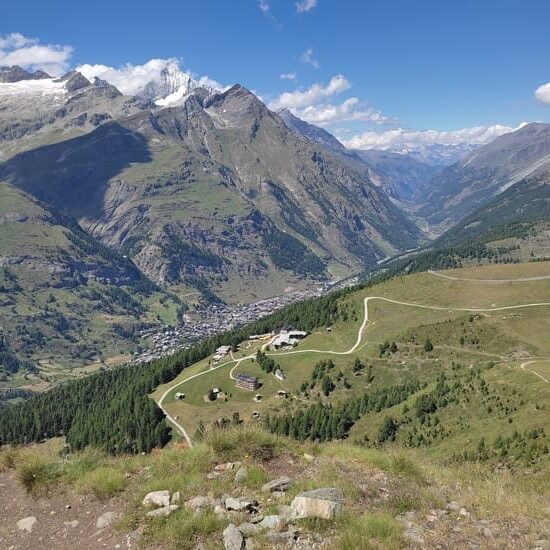 The barren landscape in the upper section of Gornergrat had been very impressive but the more idyllic mountain scenery once I got back down to the tree line was definitely another highlight of this day.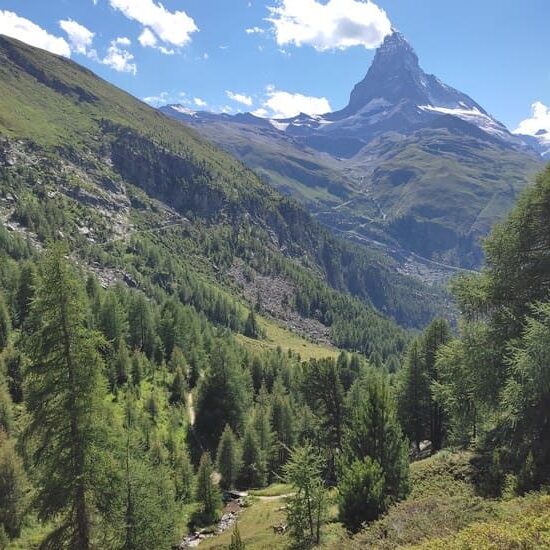 Still, by the time I got near the Riffelalp station I had to admit that hiking all the way back to Zermatt wasn't going to happen. Instead, I made my way along a pretty, level mountain path towards the train station.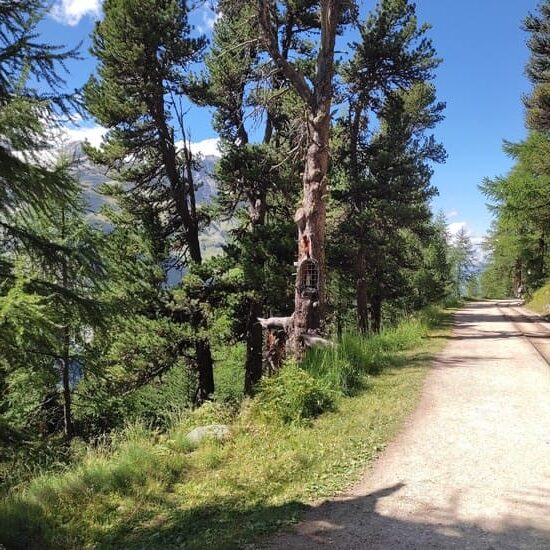 Riding the train back to Zermatt didn't take long at all (so much faster than walking!) and soon I was able to relax back at my hotel. Something my sore feet really appreciated!
Final Thoughts
Even though I made a number of mistakes – starting with sitting on the wrong side of the train and ending with overestimating my stamina – I had a great time!
Visiting Riffelsee and Gornergrat was definitely a highlight of my time in Switzerland and I highly recommend you do the same (minus my mistakes of course).
Additional Attractions from Zermatt
I have mentioned it a couple of times already, but aside of taking the Cogwheel Railroad up to Gornergrat you can also take the gondola up to Matterhorn Glacier Paradise from Zermatt.
This takes you up on the Kleine Matterhorn (Small Matterhorn) where you can visit the ice cave and walk out on the snow. It looks great fun but is not exactly cheap.
If you have at least two days in Zermatt, I would recommend getting a combination ticket so you can visit both Glacier Paradise and Gornergrat.
Zermatt is of course also one end of the famous Glacier Express route. I did indeed take that train after my time exploring Zermatt and you can read all about my experiences there (and find out how it compares to the Bernina Express).