Royal Ascot is probably the most famous horse race worldwide and one of the biggest events in the British Social Calendar. But what is Royal Ascot really like and what can you expect?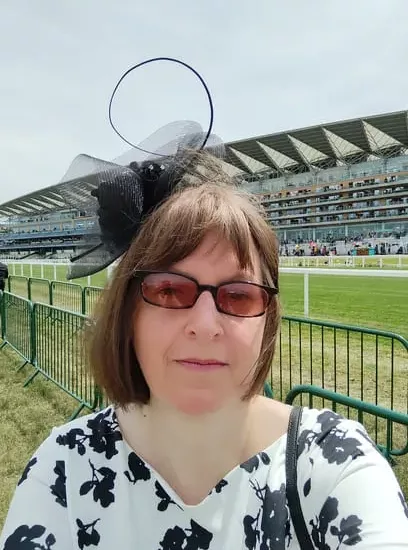 I attended Royal Ascot last year on Ladies' Day. My visit wasn't quite perfect but I have learned many things that will be helpful for a second visit – or for you if you are going the first time!
What is Royal Ascot
Royal Ascot is the name given to a series of race days at the Berkshire racecourse in Ascot that usually take place in June.
Royal Ascot has a very long tradition – the first four-day event was held in 1768!
It is a big social event and attended by members of the Royal Family as well as many other celebrities.
Aside of being a social event, Royal Ascot is of course also a big sporting event. Many of the top racehorses compete for millions of pounds in price money.
When does Royal Ascot take place
Royal Ascot generally takes place in June. The dates for 2024 are June 18th to June 22nd.
On race days, the gates open at 10:30 am, the Royal Procession takes place at 2 pm, the first race at 2:30 pm, and the last one at 6:10 pm.
Where is Royal Ascot and how do you get there?
Ascot Racecourse is near Windsor, about 25 miles west of London in the town of Ascot, Berkshire.
Getting to Ascot racecourse for Royal Ascot on public transportation is very easy. South Western Railway runs special services on race days.
Visiting Royal Ascot by Train
There are trains from Reading (about 27 min), Guildford, and London Waterloo (about 52 min) to Ascot station. The price for a return train ticket from Waterloo is around GBP20.
Be prepared for very full trains though on race days! If you are getting in somewhere on the way and want to make sure to arrive on time, add in a bit of a buffer as it can happen that trains are so full that no new passengers are allowed to get in.
I got in at Feltham and the train was full (standing room only) but at least I got on. And it wasn't too bad as the ride was only about 20 minutes, so no worse than a commute on the underground.
Walkway to Racecourse
Once you get to Ascot you will have to walk to the racecourse. According to the official website it is a "7-minute walk down a spacious path". This is of course basically true but depending on what kind of shoes you wear may feel quite a bit longer!
Also, if this is your first visit, make sure to follow the directions to the correct enclosure you booked your ticket for! The path splits and you don't want to have to retrace your steps – every step counts with high heels.
Where to stay for Royal Ascot?
As Ascot is quite close to London and South West Railways offers plenty of trains for race days, you can basically stay anywhere in the London area for visiting Royal Ascot.
If you plan on going to Royal Ascot several days in a row/if Royal Ascot is the main destination of your trip, staying close by may be best (but book early in this case as rooms sell out).
I visited Royal Ascot at the end of my trip to Cornwall. As I mostly wanted to go to Royal Ascot I decided against a more expensive hotel in London and stayed at the Premier Inn at London-Heathrow instead.
My Hotel for Royal Ascot – Premier Inn London Heathrow Terminal 4
The Premier Inn London Heathrow Terminal 4 (there are several Premier Inns at Heathrow so make sure you know which one you book) is fairly typical for this chain. Nothing extraordinary but a solid choice at a good price.
I had dinner in the attached restaurant and was quite happy with it. There is also a coffee shop selling snacks, drinks etc.
This is a large Premier Inn located right at Terminal 4. Terminal 4 is not the most convenient for traveling into London (you have to first transfer to the other terminals) but doable.
It is a good location for getting to Royal Ascot though as it is not too far. There was a bus stop directly behind the hotel where I caught a bus to Feltham. From there, the train to Ascot took just 23 minutes.
The location worked very well for me and at an average of GBP 53 per night was a great deal.
All in all, I was very happy with the Premier Inn London Heathrow Terminal 4 – so happy that I stayed there again later in the year when I had a one-night layover in London.
However, for visiting Royal Ascot any inexpensive hotel with a good travel connection to the racecourse would work.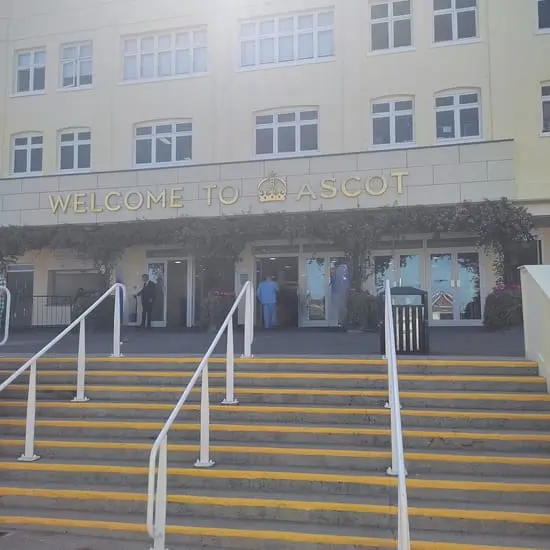 How do you get tickets for Royal Ascot?
You can book tickets for Royal Ascot at the official website. Tickets do sell out, especially for the more popular days and/or enclosures.
The following prices are pre-registration prices – they will rise on October 27th at midnight. So if you are sure you can attend get them now to save!
On Tuesday and Wednesday, only two enclosures are available – Windsor and Queen Anne and the cost is GBP 25 and GBP 70 respectively.
Thursday, Friday, and Saturday you can choose between three categories: Windsor, Village, and Queen Anne Enclosure. The price on those days is GBP 40/65/85.
For an extra GBP 15 you can book the Party Package. This includes the ticket, a racecard voucher, and two drinks voucher. The drinks vouchers are good for a beer, wine, or a soft drink.
I recommend getting the Party Package as it will save you money (definitely if you get a glass of wine or beer). And you are more than likely to have at least two drinks during your time at Royal Ascot.
When I booked my ticket last year, the only option for me as a non-UK visitor was collect on the day. This may have been because I booked rather late. If I look at it now it seems they may send it in the post if you order long enough ahead of time (can't tell for sure without actually booking).
Picking it up on the day was a major pain (see below) so if you do have the option to get the ticket sent to you ahead of time I would highly recommend it.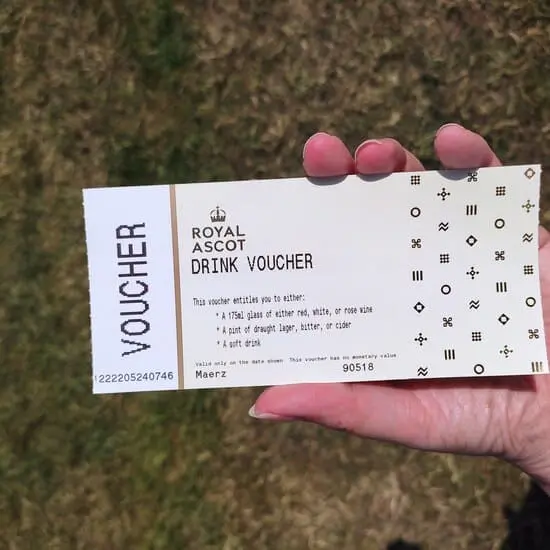 What categories are offered at Royal Ascot?
When buying a ticket for Royal Ascot you have to choose which "enclosure" you want to be in. Enclosures are basically different categories with different pros and cons (and prices).
The following enclosures are offered in 2023:
Windsor Enclosure:
The least expensive and most relaxed area to watch in. There is no dress code (though many do dress up). They offer live music and a party atmosphere.
My ticket was for the Village Enclosure but based on what I saw/heard I would say the Windsor Enclosure is best if:
– You are going with a larger group
– You are looking for a fairly uninhibited party atmosphere with live music and lots of booze
– You don't want to worry about the dress code
– You don't want to spend more than absolutely necessary
Village Enclosure:
The "middle-of-the-road" option (and what I booked last year). There is live music and you have a decent view of the race track. However, there is no elevated view so all you can see is the race track right in front of you.
The atmosphere is similar to other festivals and there is a good variety of drink and food stalls. I did find that there was comparatively little seating.
There is a dress code but it is somewhat less formal than in the Queen Anne enclosure.
I would say the Windsor Enclosure is best if:
– You are going with a a couple of friends
– You are looking for a fun time
– You want to/don't mind dressing up a bit but don't want to go all out
Queen Anne Enclosure:
The most upscale "regular" enclosure (and what I wish I had booked). Based on what I heard and saw, this enclosure is probably closest to the what people envision when they hear "Royal Ascot". 
There is a pretty strict dress code but also the most impressive dresses to be seen.
Aside of the lawns, you can also watch the races from the Grandstand viewing steps. In addition, the Queen Anne Enclosure grants guests access to the Bandstand for the Singing at the end of the races.
I would say the Queen Anne Enclosure is best if:
– You are willing to follow the strict dress code
– You are looking for a "fancier" experience
– You don't mind paying a little more
The Royal Enclosure:
This is of course the "top" location if you go to Royal Ascot more for the social aspect than just the horse races.
Unfortunately, you can't just buy a ticket for the Royal Enclosure. Only invited guests have access to this special area.
Kitty's Special Tip: However, I have learned that there is a way to gain access to the Royal Enclosures – for a price. Apparently, anyone who books a meal at one of the upscale restaurants located within the Royal Enclosure will have a ticket/access included.
This will set you back around GBP700 and up per person per day and you do have to book far in advance. You can find the offers on the official website. Unfortunately for solo travelers, it looks like you have to at a minimum book (and pay) a table for two guests. But if you decide the experience is worth it for you – go for it!
Map of Royal Ascot Setup
It is surprisingly difficult to find a map that shows where all the enclosures are located and how they are set up.
Consequently, I felt quite lost and confused when I got there. I also think a better understanding of where the enclosures are located and what they offer would have helped me choose which ticket to buy.
So I went ahead and made a little map of my own. It isn't perfect and I have only included what I consider the most important aspects. Still, I hope it will help you get an idea of what to expect!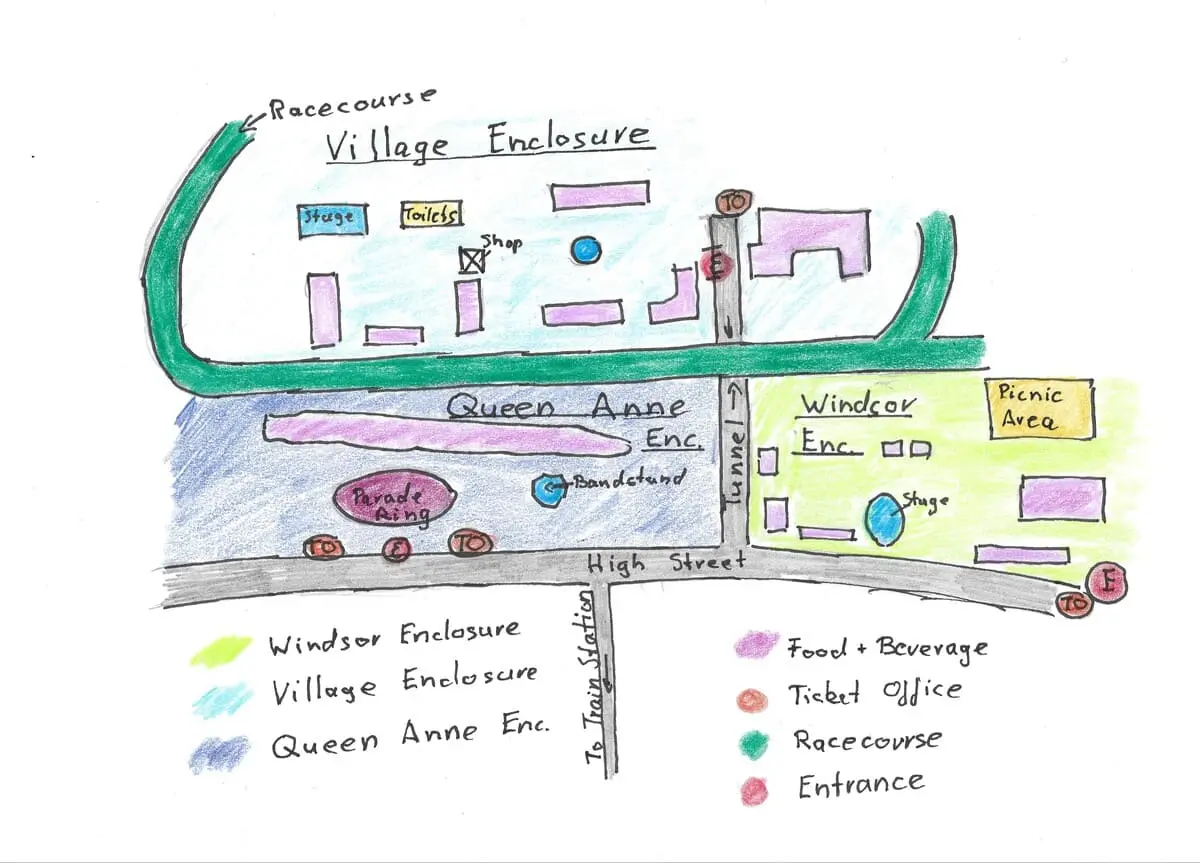 What day should you go to Royal Ascot?
This will depend on what it is you are looking for.
Tuesday and Wednesday are less expensive and would be a good option if you want to check out Royal Ascot without spending too much. It seems that Wednesday is the most relaxed day of  Royal Ascot.
Thursday is Ladies Day – it is more of a party day and is of course the best choice for you if you are more interested in fashion than fast horses.
Friday and Saturday are busy days with a weekend atmosphere and good racing.
I attended Royal Ascot on a Thursday. On my next attempt I would probably go for another day – mostly to compare the different days.
What should you wear for Royal Ascot?
For any event, people wonder what to wear even though it generally doesn't matter too much. However, for Royal Ascot there is actually a fairly strict dress code so do make sure you know what is expected of you.
What you can wear depends on which enclosure you will be in. The dress code is as follows:
Dress Code for Windsor Enclosure
There is no actual dress code for the Windsor Enclosure but "smart daywear" is encouraged. They also recommend a hat or fascinator for women. Men should ideally wear a jacket, collared shirt, and long pants.
Now, I did not attend the Windsor Enclosure but in the train/on the path I didn't notice people dressed very casually. So personally I would avoid shorts/jeans etc. and go for something fairly smart.
Dress Code for Village Enclosure
In contrast to the Windsor Enclosure, the Village Enclosure does have a dress code. Women are required to wear clothing appropriate to a "formal daytime occasion".
By that they mean a dress or skirt with top with shoulder or halter neck straps. There is no minimum length for the dress. Smart trouser suits and jumpsuits (below the knee) are acceptable. I addition, a hat, headpiece, or fascinator is to be worn.
If coming from overseas you may also wear the formal National Dress of your country (and you may forego a hat if it is not part of your national dress).
You may not wear strapless or off-the shoulder dresses/tops, show a bare midriff, or wear sheer clothing (i.e. fabric that is transparent).
Men must wear a suit jacket or blazer, full-length trousers, collared shirt, necktie, bow tie or cravat, and socks that cover the ankles.
Dress Code for Queen Anne Enclosure
Last year, the dress code for the Queen Anne Enclosure was a bit stricter than the one for the Village Enclosure (I believe fascinators were not acceptable).
However, looking at the official website, the requirements for women now seem identical to Village Enclosure.
For once, the dress code for men is more restrictive – they should wear a full-length two or three piece suit (trousers and jackets made of matching material), collared shirt, socks (as above) and a necktie.
However, even though the actual dress code for ladies is now identical to the one for the Village Enclosure, I would expect guests in the Queen Anne Enclosure to be dressed more conservatively/smarter.
Additional Info on what to wear to Royal Ascot
Visitors may not wear fancy dress, novelty, and branded or promotional clothing. So leave those garish clothes with designer names all over them at home!
Which shoes to wear at Royal Ascot
As far as shoes are concerned, I would go as simple as you feel comfortable with. High heels look good but are not the most practical!
Don't forget that you will spend a lot of time on grass surfaces. Depending on the weather these can get muddy – so be prepared.
There is quite a bit of walking involved and during my visit I saw a number of women going barefoot and carrying their shoes in their hands.
The small Ascot souvenir shop also seemed to do quite a brisk business selling ballet slippers. Maybe bring a pair along in your purse if you are not sure how your shoes will hold up!
Ladies' Headwear at Royal Ascot
It is recommended (or obligatory) for women to wear a hat or fascinator.
Before I went to Royal Ascot I had not even heard of fascinators and had no clue what it is.
Apparently, a fascinator is a decorative head piece attached to a band or clip. A smaller version of hat if you wish.
I would have prefered wearing a hat but decided against dragging one around on my vacation. So I ended up buying a fascinator in London the day before my visit at Royal Ascot.
Unfortunately, this little headpiece wasn't exactly cheap (and not sure I will ever wear it again) but that is what you get when you have to buy something last minute!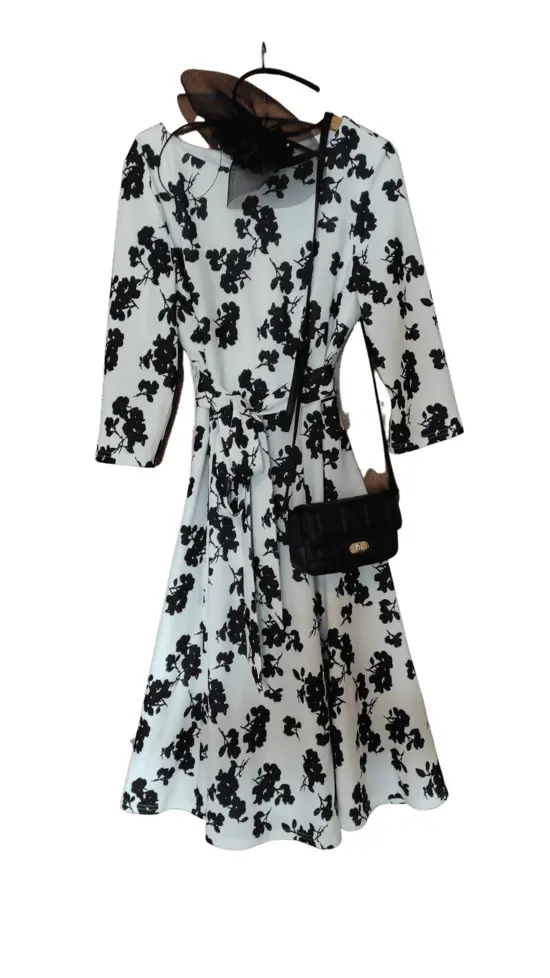 My dress for Royal Ascot – Good and Bad
I spent quite a bit of time deciding on my dress beforehand and ended up buying a white below the knee dress with black flowers.
Major considerations were an affordable price, easy to pack (after all I had to first drag it around Cornwall for 10 days), and a fabric/cut that would be wearable even if the English weather in June should be capricious.
At around $50 the dress did fit into my budget and I managed to keep it in decent shape even though it spent quite a bit of time in the suitcase.
However, the weather was even more capricious than expected – it was hot as anything. My dress would have been comfortable for anything from a drizzly spring day to warm sunshine but was not made for a heatwave well over 85 degree Fahrenheit!
If/when I give Royal Ascot another shot, I would take two outfits (or a more summery dress with an additional layer) to be prepared for all possibilities.
What can you expect at Royal Ascot?
Arriving at Royal Ascot
When you get off the train at Ascot, you can just follow the masses of event goers. There are also plenty of security guards that you can ask if you have any questions.
The walk to the race course entrance isn't very far but if you are wearing high heels it may be far enough for you.
I would recommend you bring another pair of shoes along for the walk if your actual shoes are very uncomfortable.
Important to note: If you have ordered your tickets online and need to pick them up on the day, your pickup point will be near the entrance to your enclosure, no matter what the confirmation email says.
Yep, you guessed it – my confirmation email told me to pick up tickets at the Queen Anne center but when I got there it turned out to be incorrect. As I had booked Village Enclosure the pickup point was somewhere else.
Not only was it bothersome and cost time, but having to retrace my steps in (moderately) high heels was no fun! So don't believe the email.
Once you have your tickets, you make your way to the actual entrance of your enclosure and go in.
Facilities at Royal Ascot
I had my issues with the ticket process, but did think the facilities offered at Royal Ascot were good.
Within the Village Enclosure there was a large building with numerous bathrooms. There was generally a line but it moved fast and the bathrooms were clean and perfectly adequate (not just port-a-potties).
Around the grassy main area of the Village Enclosure were many trucks selling food and/or drinks. Prices were okay but the drink vouchers from the Party Package did come in handy.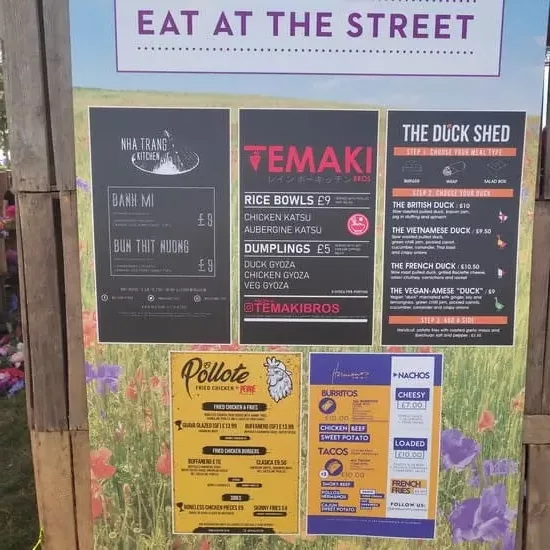 There is also a small kiosk selling souvenirs and doing a booming business with slip-on shoes! Many visitors found out that their high heels were even less comfortable than they had expected.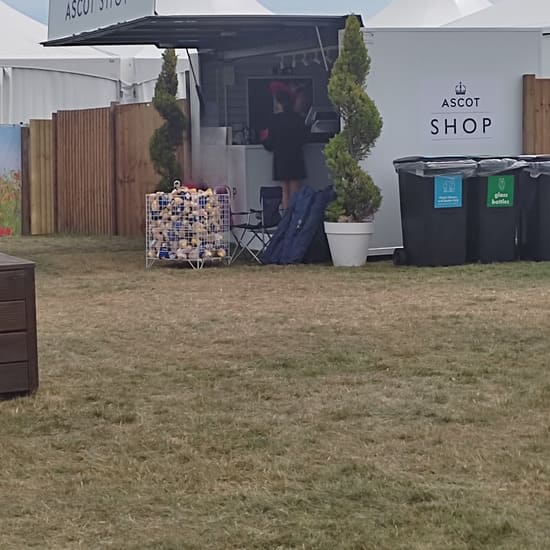 There were some converted crates to sit on as well as a number of chairs. However, there really weren't enough seats which I found rather annoying.
Activities at Royal Ascot
The first major event is of course the Royal Procession. Carriages with members of the Royal Family drive with some fanfare along the race course to the Royal Enclosure.
During the course of the afternoon, a number of races will take place. However, please remember that each race only takes a couple of minutes so watching the races themselves doesn't take up that much of the afternoon.
The main activities during Royal Ascot are probably people-watching and socializing. There is also quite a bit of drinking!
During the afternoon you can also enjoy live-music and the famous singing at the end of the day!
Is Royal Ascot a good event for Solos?
I wish I could say that Royal Ascot is a great day out for solo travelers. But even though I generally enjoy traveling alone, I did think that Royal Ascot would be better with family or friends.
If you are one of those lucky extroverts that have never met a stranger, you may feel differently. However, for me an introvert attending Royal Ascot felt slightly uncomfortable.
This was mainly because
a) There isn't that much to do aside of socializing (the races take up very little time)
b) Due to the lack of seating, you feel quite exposed
So was it a complete bust? Not, not at all. It was interesting and I am thinking of going again (maybe next year). Read on to find out what I will do differently next time.
What I would do different on my next visit of Royal Ascot
I learned a lot from my first visit at Royal Ascot and there are a number of things I would do differently next time.
Book early to get day and enclosure you want
Book the Enclosure that sounds best to you – I originally wanted to book the Queen Anne enclosure (well the Royal Enclosure would be even better) but it was sold out for the day I wanted so I went with the Village Enclosure instead. Next time I would prioritize the enclosure over the day. Or just follow tip 1.
Wear comfortable shoes – Next time I would wear comfy shoes (at a minimum for the trip to Ascot) or at least bring along my own slip-ons.
Prepare for all kinds of weather – Next time I would bring two outfits on my trip. One for cooler British weather and a summery one in case it is hot as Hades again.
Pick up tickets at the right place – Next time I would not blindly follow the email instructions (I now do know where to go)
Figure out how to bet on the races – I didn't quite understand how this works and was already a bit stressed with the entire experience. But having a couple of pounds on the winners would make the races more exciting (and keep you busier)
Things that worked well for me:
I was happy with my hotel and its price
Getting to and from Ascot by train worked just fine
I also thought the drink vouchers with the Party Package were a good deal
Have you been to Royal Ascot? If so, do you have any tips to share?