Are you planning a trip to Sintra but feeling overwhelmed? Do you find it confusing to figure out which attractions to see there? If so this short guide is for you!
Until a couple of years ago, Portugal had never been on my radar as a vacation destination. Sure, the country offers sunshine and coast but I figured a trip to the Cote d'Azur offers the same.  So why bother traveling all the way to Portugal?
But then I saw a picture of the Palace de Pena in Sintra and I was enchanted. I mean – how much more fairy tale-like could a castle be? Even Bavaria's famous Neuschwanstein is nothing compared to this incredible colorful beauty.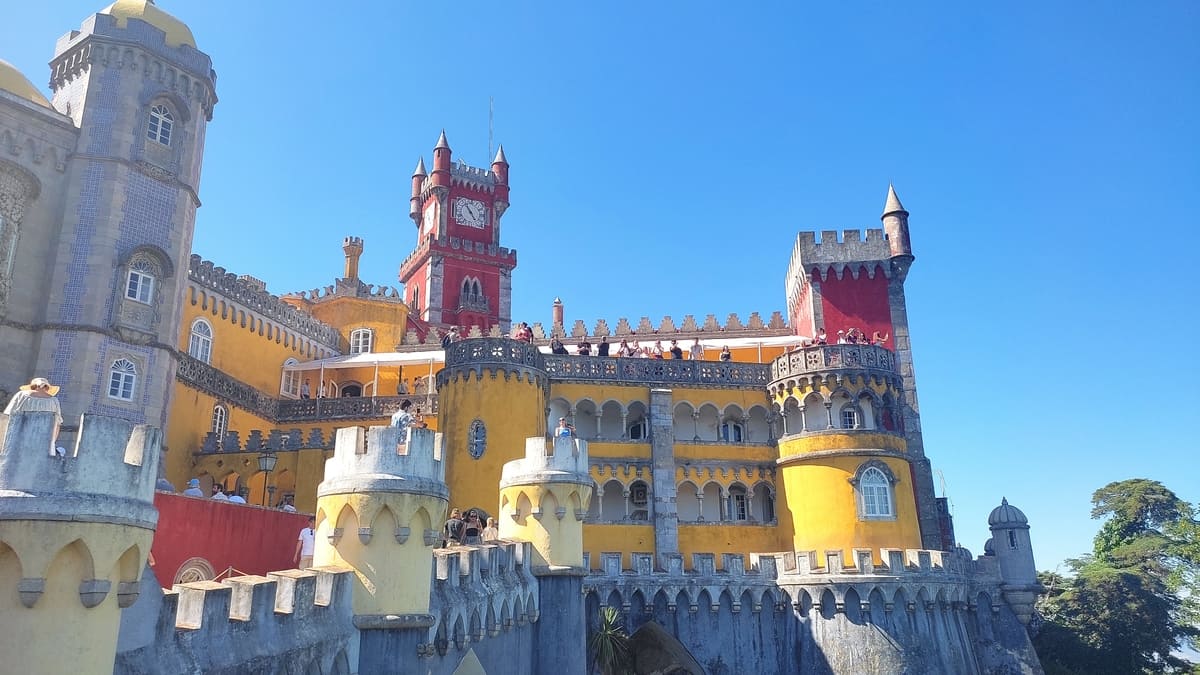 Right away Portugal – and specifically Sintra – went to the top of my bucket list.
Two years ago I did visit Lisbon for a day on my Cunard Canary Cruise but it was rainy (it was December after all) and I decided against going. I wanted to see Sintra on a beautiful sunny day. So I toured Lisbon instead – I had a great time but Sintra was still on my bucket list.
Wanting to see Sintra was the main motivation for my five-day trip to Portugal this June and one of the reasons I decided on a transatlantic cruise that ended in Lisbon.
But when I tried to plan my trip to Sintra it wasn't as easy as I had thought. There are so many different palaces and mansions – which ones did I want to see?
I had a hard time figuring out which palace was which. Obviously, seeing everything is best but with limited time choices have to be made.
After spending two full days in Sintra, I had a much better sense of this UNESCO World Heritage Site and decided to write up this Short Guide to Sintra to help you out with your travel plans!
What is Sintra?
Sintra is the name of both a town and municipality about 25 km to the Northwest of Lisbon. It is also an UNESCO World Heritage Site.
In this short guide, Sintra generally refers to the small town with around 10,000 inhabitants and the immediate area around it and not the larger region.
Sintra is located on a small mountain range (more about that later). Due to this location, the weather is milder than in Lisbon. That led to Portuguese royals, nobles, millionaires, and artists building their summer homes (or palaces) there – the main attraction for today's tourists.
Can you visit Sintra without an organized tour?
Definitely! It is easy to visit Sintra on your own – no tour is necessary.
You can easily and inexpensively get to Sintra by train from Lisbon. 
Once in Sintra you can either walk to the attractions or take the Tourist Shuttle Bus (recommended unless you just want to see Quinta da Regaleira, National Palace, and the town of Sintra itself).
Tickets for the various palaces are not very expensive and can be bought either ahead of time on the internet or on-site.
A tour may be best if you want to combine Sintra with another destination, enjoy organized tours, or have little time and want to see everything (but it will be rushed even with a tour).
Visiting Sintra without a tour let's you pick the sights you are most interested in and spend as much time there as you want.
How to get to Sintra from Lisbon
Getting to Sintra from Lisbon is luckily very easy and inexpensive.
You can visit on a day trip (or even as a shore excursion) by train without a problem. 
Train from Lisbon to Sintra
Your best bet to quickly, easily, and cheaply get from Lisbon to Sintra is the train.
There are regular trains from train stations Rossio (40 minutes ride, every 60 minutes), Oriente (47 minutes ride, every 30 minutes), and Braco de Pata (44 minutes ride, every 60 minutes).
It would be best to check the actual schedule when you travel but there are several trains between Lisbon and Sintra per hour and it should take 40 to 50 minutes to get there.
Cost of traveling to Sintra from Lisbon
Even better – it will cost you only €1.65 one way! I recommend you get a Viva Viagem card and charge it with a bit of money if you plan to use public transportation in the Lisbon area (all the way to Sintra) during your trip to Portugal.
You can buy the Viva Viagem card right at the ticket machine and charge it and then just zap it when using bus/train/tram etc. Very similar to London's Oyster card (but cheaper!).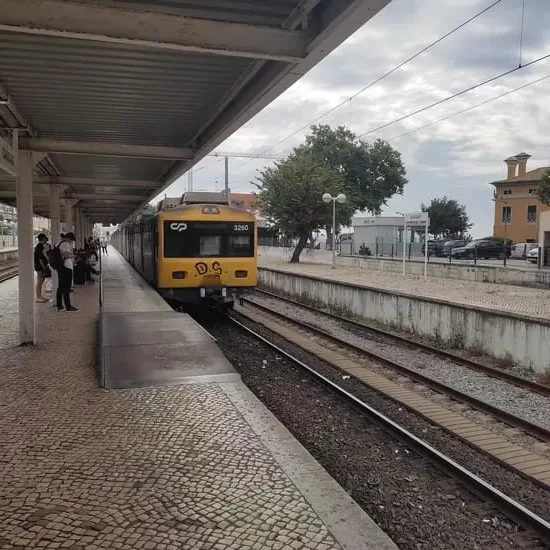 How to get around Sintra
When traveling to Sintra by train you will arrive at the town's train station. Unfortunately, it is located at quite a distance to some of Sintra's sights.
You can of course walk everywhere but I recommend you don't (if you have read more on my blog you will be shocked to hear this!).
There is so much walking involved in touring Sintra's attractions – and almost all of it very steep and hilly – that I recommend you save your energy for the actual touring.
I did read similar advice before my trip and thought the bloggers were just wimpy. I thought: "Nope, no silly tourist shuttle bus for me. After all, I am used to walking." But I soon changed my tune.
So you have been warned!
Tourist Buses in Sintra
You will find more detailed instructions on how to get to the various attractions further on but basically there are two tourist shuttle buses: 434 and 435.
Each route serves different attractions:
434 runs between Train Station, Sintra Town, National Palace, Moorish Castle and Pena Palace.
435 runs between Train Station, National Palace, Quinta da Regaleira, Palacio de Seteais and Palacio de Monserrate. It runs in a circle (i.e. from Monserrate back to Train Station and not back to Seteais etc.). It runs every 20 minutes.
Neither of those trains accepts the Viva Viagem card – you can buy your ticket from the driver. 
What to do in Sintra
As mentioned above, the main attractions in Sintra are palaces, mansions, and their gardens.
I found it quite confusing to figure out which palace is which (and which are must-sees) so I will try to give a very quick overview here to help you choose what you want to visit most.
Likely you won't be able to see all of Sintra's sights unless you stay several days or are much faster than me. So picking out which ones you are most interested in is crucial.
I will do a more detailed write-up about my experiences and the attractions I saw. This is only a quick overview to help you prioritize. I will start with those attractions I actually visited and then mention the others that are still on my list for a future visit.
Palace de Pena
This is the biggest hitter in Sintra in my opinion and probably what you think of when you hear Sintra.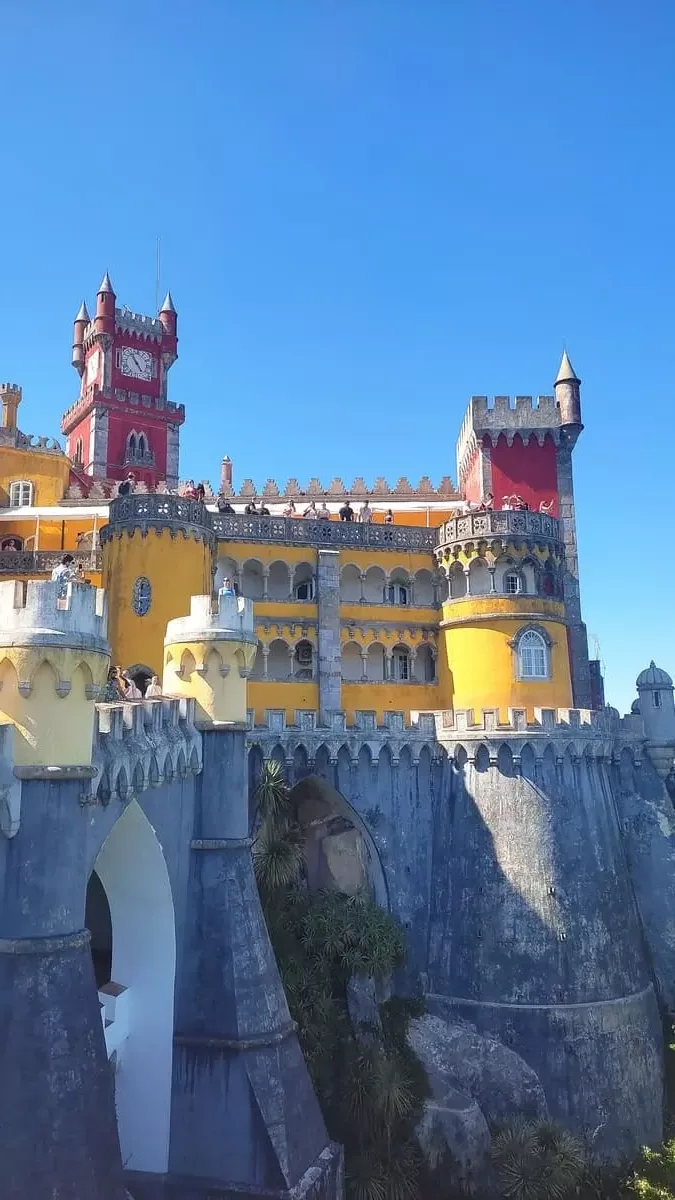 It is also one of the busiest attractions in Sintra and will require the most time and planning.
The Palace de Pena was originally a monastery that was converted to a summer palace by the Portuguese King. It is a true fairy-tale castle and not to be missed on your visit to Sintra!
You need a timed ticket to tour the palace and its interior. They are very strict and enforce the ticket time strictly. Touring the palace will probably take around 1.5 hours.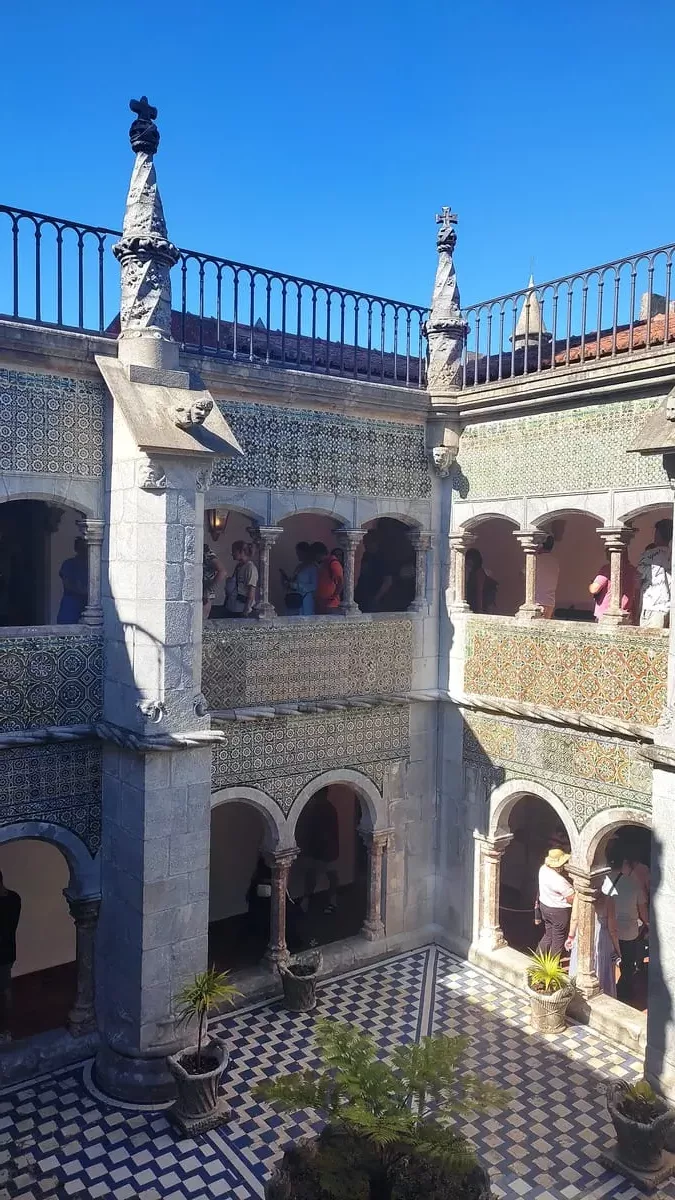 The Palace is also located in a huge park with various attractions/highlights and quite a bit of walking.
I did not have enough time to even see the main highlights of the park. I would recommend a minimum of two hours for the gardens if you are at all interested.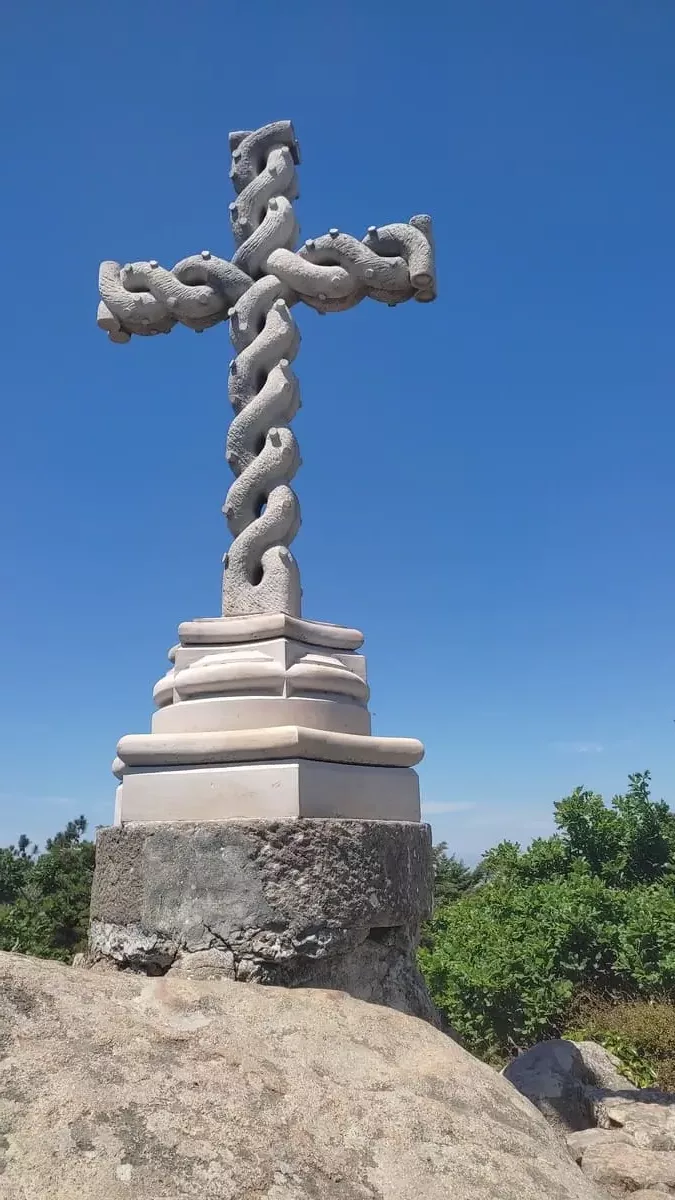 Included with your Pena Palace Ticket is also a ticket for the Chalet and Garden of the Countess of Edla. Unfortunately, I had no time to visit but it would be worth spending a bit of extra time there.
Short Description Pena Palace: Impressive fairy-tale castle in extensive park on mountain – makes you feel like you are in a Disney Princess movie.
Duration of Visit: A visit to Palace de Pena and its park would take at least half a day if you want to see it properly. You could probably even spend the better part of the day here.
Moorish Palace
The Moorish Palace is another main attraction in Sintra. It almost reminds me of the Great Wall of China!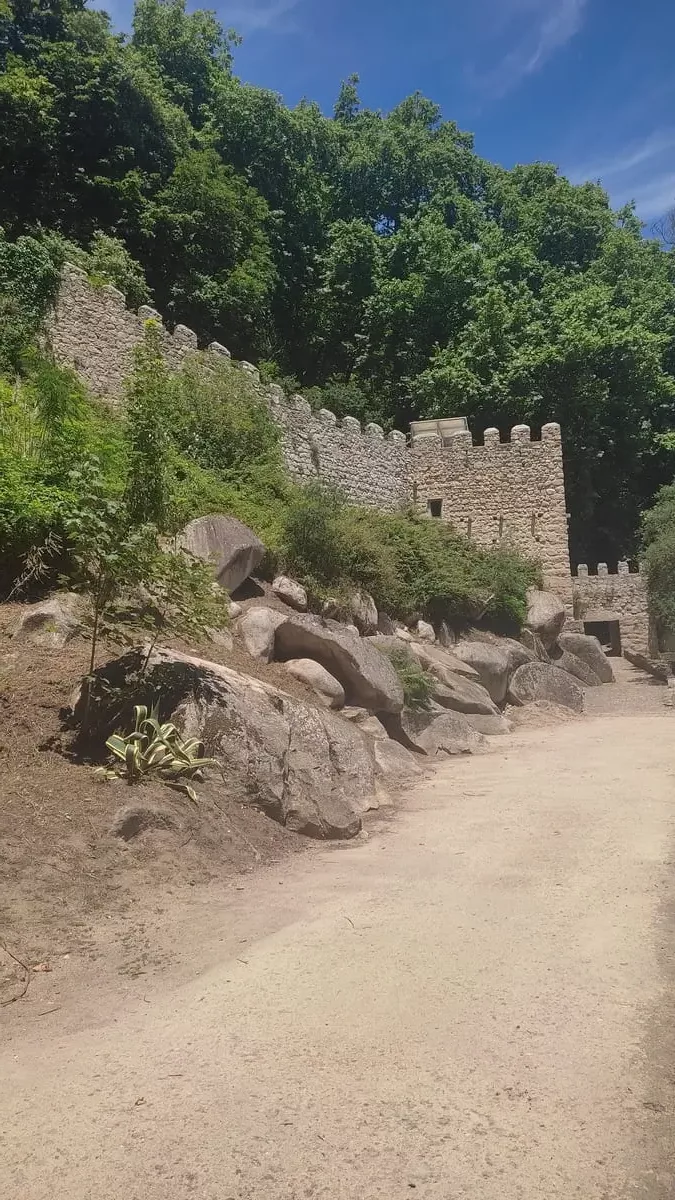 I was very much looking forward to visiting here but due to several mistakes during my trip to Sintra I only saw it in passing.
There was just no way I could still fit it in – quite a disappointment (but a reason to return to Sintra)!
Based on location (and the route of bus 434) it would make most sense to combine the Moorish Castle with Pena Palace. You can even easily walk between the two (I did).
Short Description Moorish Castle: Old Moorish inspired castle walls and towers with a great view – think knights and crusades.
Duration of Visit: I would expect to spend at least two hours here.
Quinta da Regaleira
Quinta da Regaleira is basically a mansion built by an eccentric (think Illuminati) millionaire.
I highly recommend you include Quinta da Regaleira in your Sintra itinerary. The outside of the main building is gorgeous.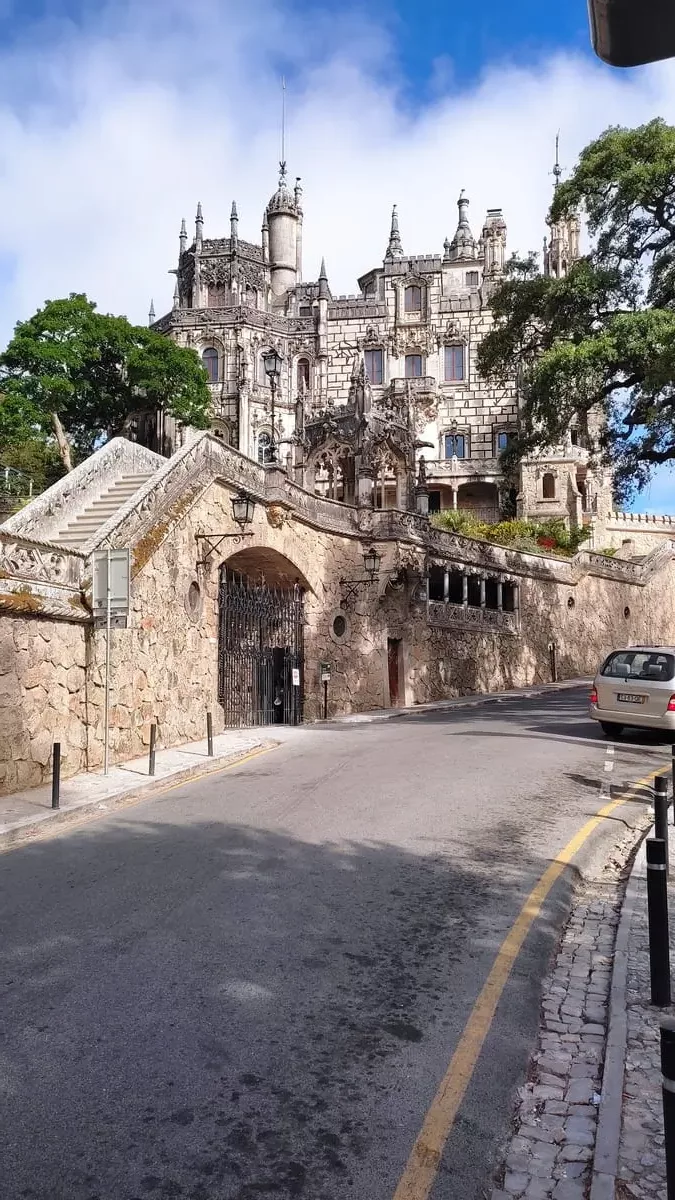 Personally, I wasn't as excited about the interior as everything else here but it might just have been because I had seen so many other highlights.
No matter, the real star of Quinta da Regaleira is the gardens. The Inception Well is one of the coolest places I have ever seen.
The only negative was that it was quite crowded which did take away some of the mystique of the place.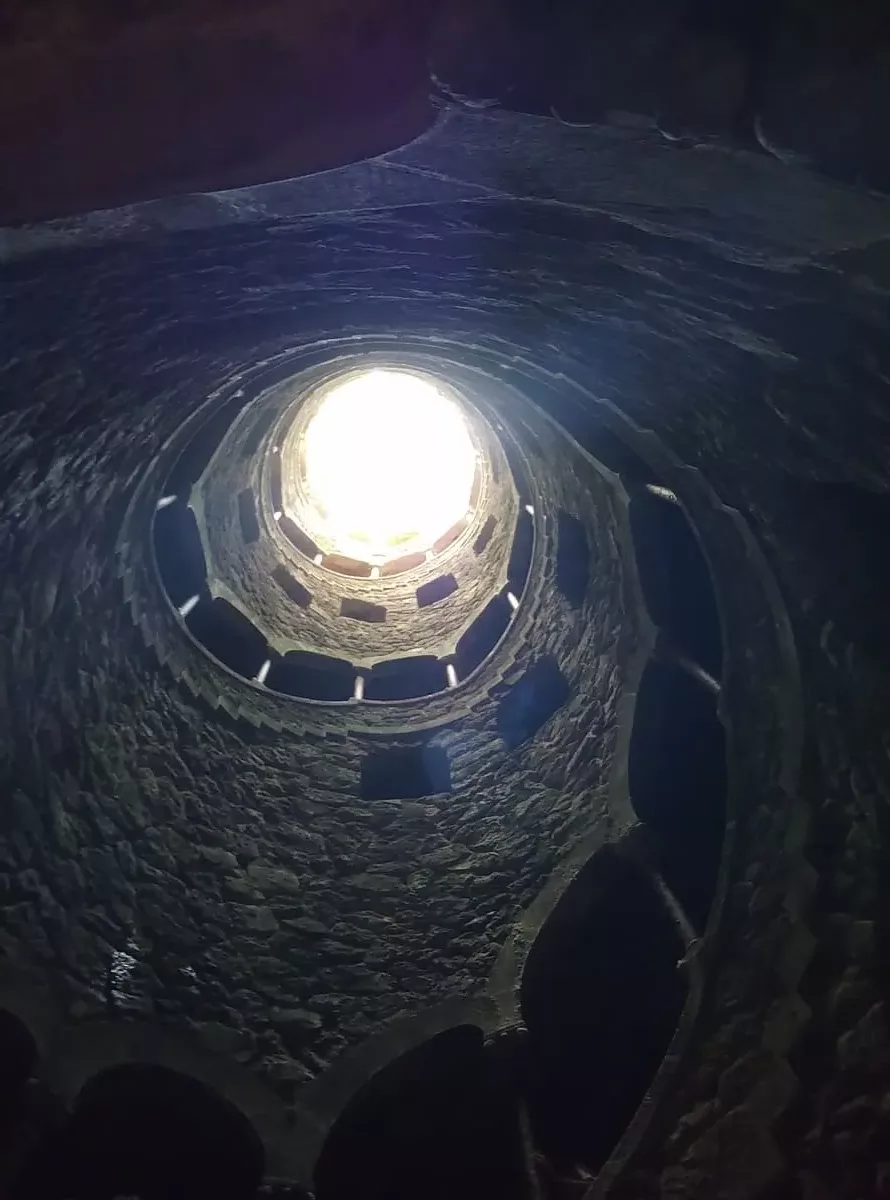 In the gardens there are cool tunnels, fun towers, beautiful flowers and anything else you can think of.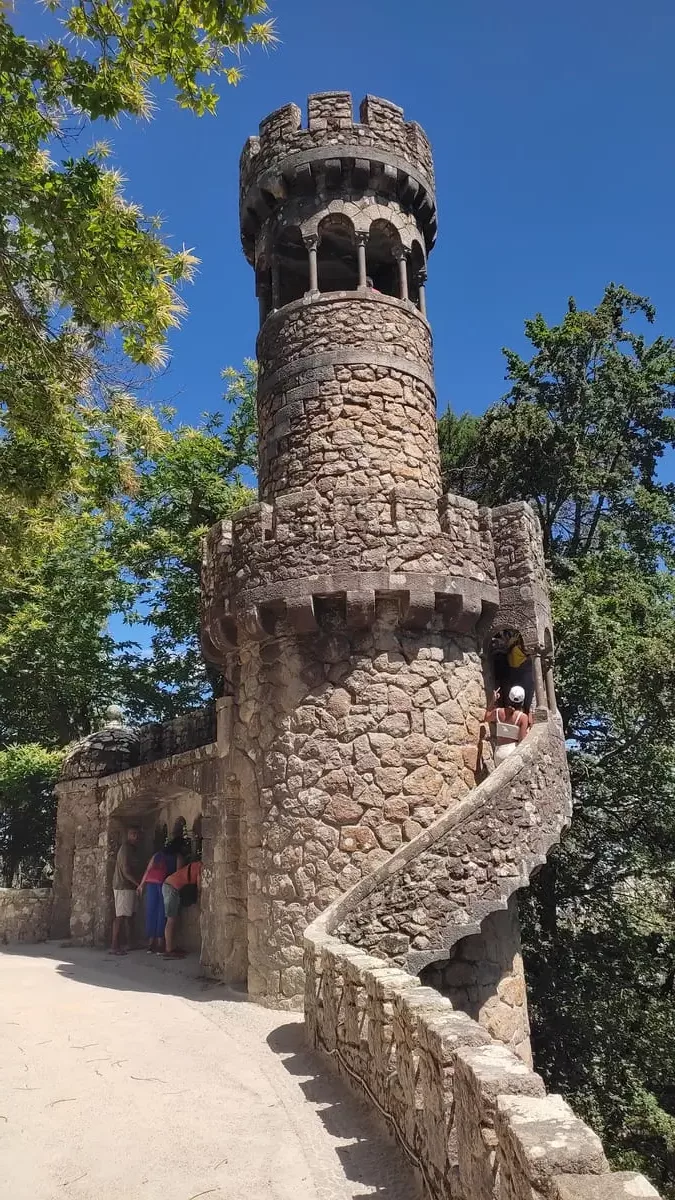 A visit here gives you the impression you fell straight into some fantasy adventure!
Short Description Quinta da Regaleira: Eccentric mansion in a park full of mysterious and slightly spooky features – think Knights of Templar, Alice in Wonderland, and secret societies.
Duration of Visit: You could probably see everything here in about 3 hours.
Parque e Palacio de Monserrate
Monserrate Palace is another mansion originally built by an English merchant.
It is an eclectic mix of Romanticism, English country style, and Moorish Revival architecture. Or, to put it in simpler terms, it looks like a cross between a Sultan's palace and a wedding cake stuck in an English landscape garden.
The description may not sound appealing but Monserrate Palace is pretty as a picture. Instead of the slightly spooky mystical air of Quinta da Regaleira it has the vibe of a family home.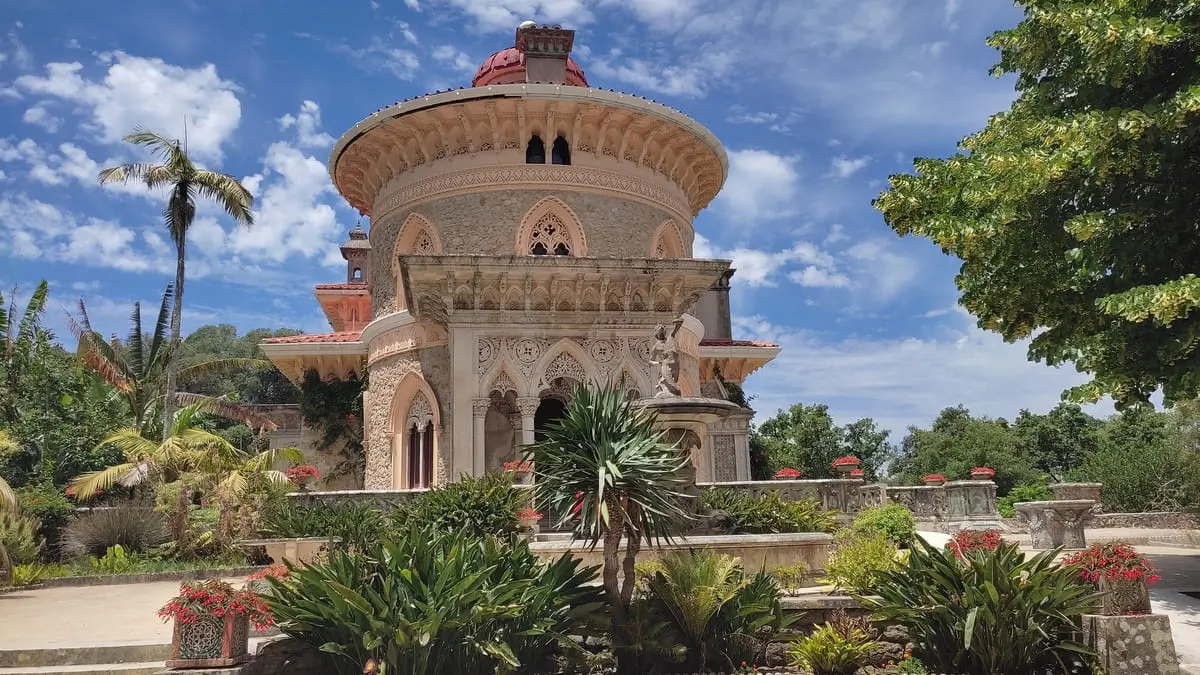 Whereas the interior of Quinta da Regaleira did not wow me I loved the inside of Monserrate.
Even though the building is mostly empty of furniture the structure itself is so ornate that there is still plenty to see. The bright and airy hallways with columns and arches in an Islamic style are very inviting – I would not mind spending my summers here!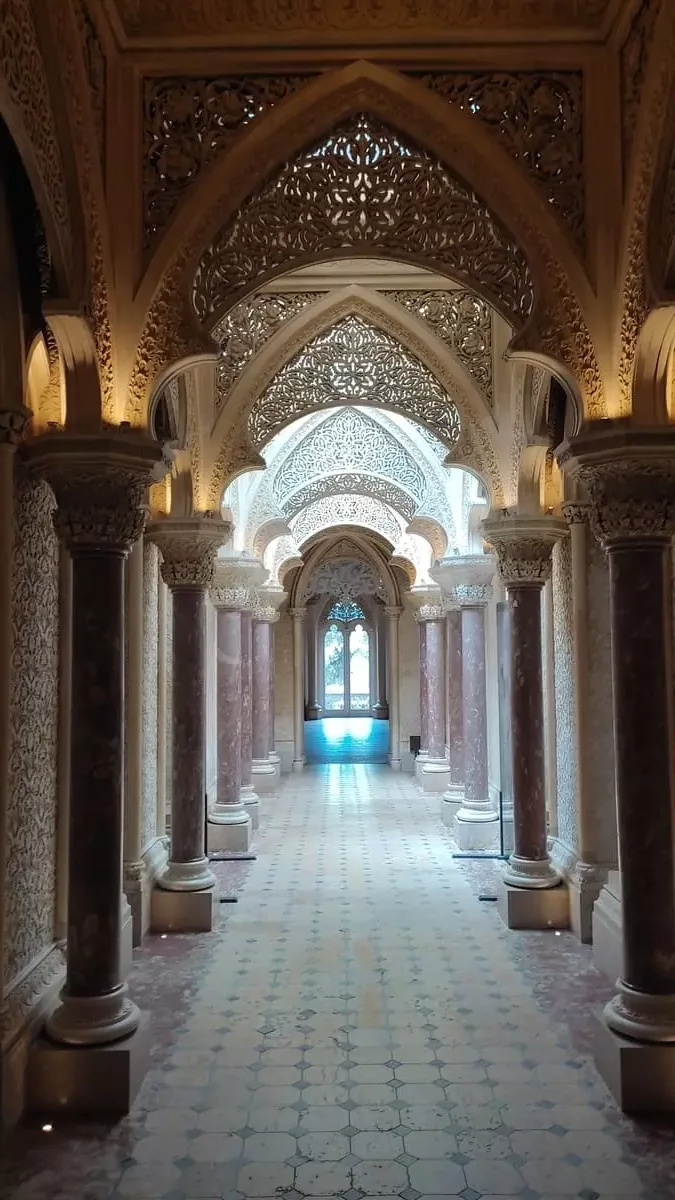 And just like the other mansions in Sintra Monserrate has a gorgeous park with many highlights.
One of the nicest things about my visit at Monserrate Palace was that it was a lot less crowded than the other attractions. Maybe because it is a bit further from town?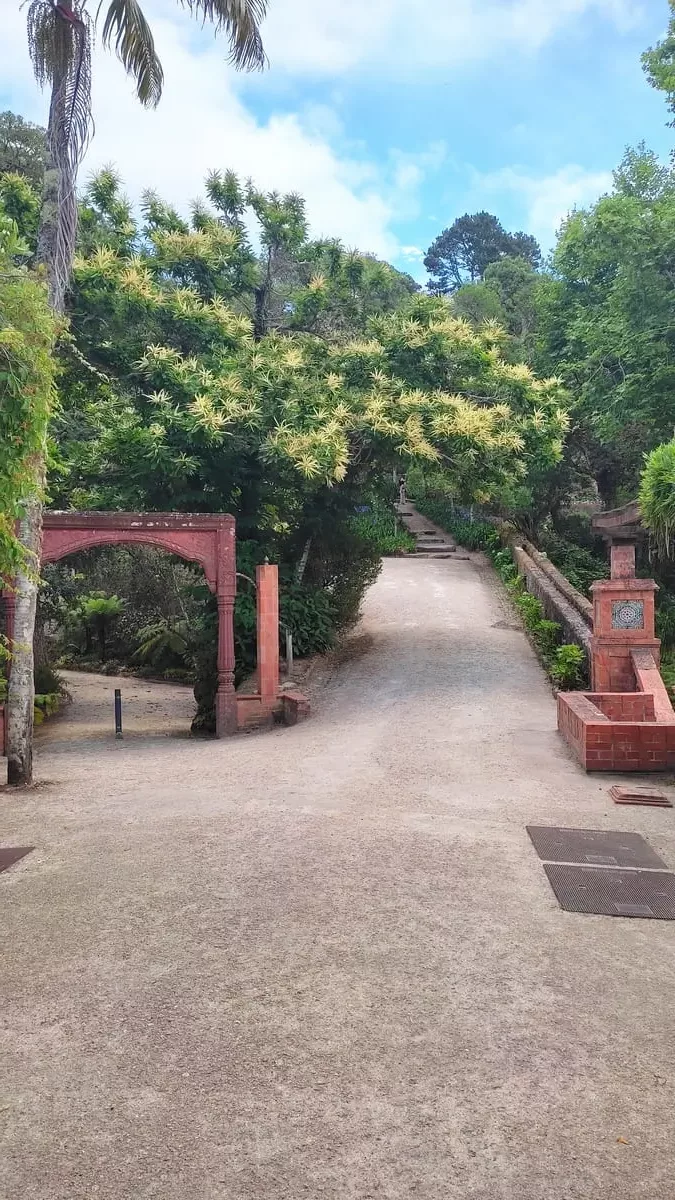 So if you are not a fan of long lines and big crowds, Palacio de Monserrate should be at the top of your list when visiting Sintra!
Short Description Monserrate Palace: Adorable mansion in a beautifully landscaped garden – think fancy summer home for rich English families.
Duration of Visit: 2.5 to 3 hours should be enough to see all the highlights. However, you could spend more time here just enjoying the beautiful gardens.
Sintra National Palace
Sintra National Palace is the easiest sight to visit in Sintra as it is in the middle of town and not too far from the train station.
The history of Sintra National Palace goes back to the Moorish era and it is the best-preserved medieval royal residence. It now serves as a historic house museum.
Unfortunately, I did not have time to visit the inside of the palace so could only admire the outside with the iconic twin coneshaped towers.
Looking at some pictures of the interior I wish I could have still visited (but I was completely exhausted after my two days)! National Palace is definitely worth a visit.
Short Description National Palace: Former Royal Palace in the middle of town – kind of a Portuguese Buckingham Palace.
Duration of Visit: Unfortunately, I did not manage to tour the inside (outside will take 5 to 10 minutes) but I would estimate 2 hours.
Palacio e Parque Biester
Palacio Biester is yet another mansion well worth a visit. Less popular than the main attractions above, it is a good choice if you want to avoid crowds.
A hidden gem that would be on top of the list at most other destinations.
Unfortunately, I didn't even get to see this palace from the outside so no personal impressions (yet).
Convento dos Capuchos
Prior to my trip I read about the Convento dos Capuchos and was determined to visit. This former monastery is hidden deep in the forest around Sintra and reminds me about an enchanted hideaway.
Visiting Convento dos Capuchos without a car seems to be rather difficult. I thought I had figured out a way to get there but I did run out of time (two days was not enough!).
Hopefully, I will get there on a future visit!
Short Description Convento dos Capuchos: Abandoned monastery hidden in the remote woods on the hills of Sintra – think Angkor Wat meets Sleeping Beauty.
Sintra Town Hall
Sintra's Town Hall is not a tourist attraction per se as it is still in use. Howeer, it fits right in with the fairy tale style of Pena Palace and Quinta da Regaleira.
You can easily admire the outside of the building on your way through town. I just wish more cities would build such beautiful municipal buildings instead of ugly concrete blocks.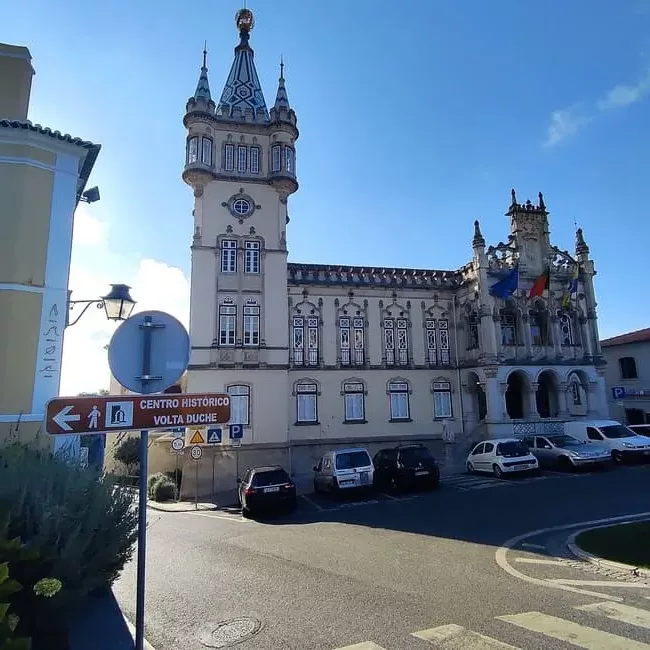 Town of Sintra
The small old town area of Sintra is very cute and pretty. On its own it might not be any different from many other towns and villages in Portugal (e.g. Ribeira Grande on Sao Miguel) but it does make for a beautiful base.
You can see the Moorish Castle on the hill behind town and there are plenty of restaurants and small shops for some down-time after sightseeing.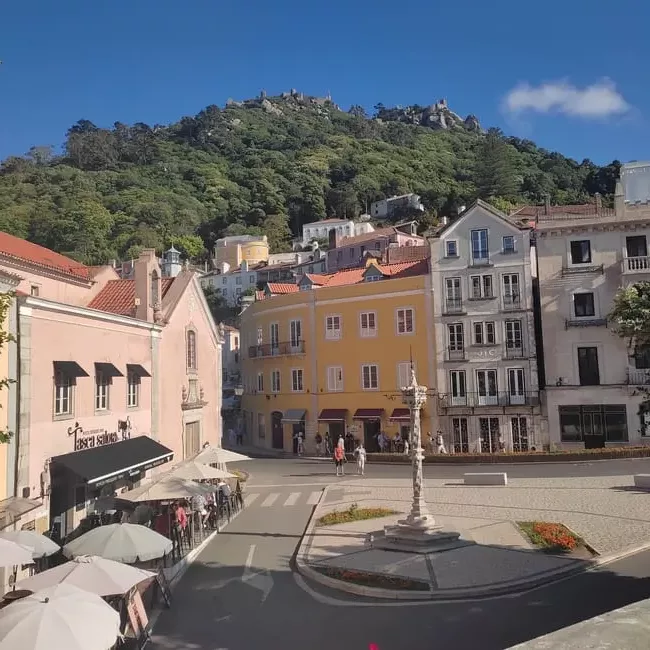 How many days in Sintra?
This is a difficult question as it will depend on how much time you have and what your interests are.
One Day in Sintra
You can definitely do a great day trip to Sintra. You won't be able to see all the sights but two or three should be doable.
I would recommend either seeing Moorish Castle and Pena Palace (plus maybe National Palace/Town) or Quinta da Regaleira and Palacio de Monserrate due to their location.
However, you could pick any two of the list and make it work, especially if you are willing to pay for a taxi ride in between.
Two Days in Sintra
I had two full days and if it hadn't been for a couple of mistakes I made it would have been enought to see Moorish Castle, Pena Palace, Town of Sintra, Palacio do Monserrate, and Quinta da Regaleira. I might even have been able to fit in the National Palace.
So two days should be enough to see most of Sintra's sights properly.
One Week in Sintra
But there are definitely enough sights to fill a third day. And as there are plenty of side trips and excursions you could do from Sintra, it would be easy to spend a week in town without getting bored!
Recommendation
If you haven't much time you can definitely experience Sintra on a day trip – just be prepared not to see everything. Choose two or at most three of the sights and enjoy those. A great reason to come back!
In two days you should be able to hit all the highlights and anything longer is just extra gravy!
Do you need to stay overnight in Sintra?
No, not unless you want to make Sintra your main destination. Sintra can easily be done on a day trip from Lisbon.
I did spend two nights in/near Sintra. It was nice to see the town in the evening with less tourists. But changing hotels is always a bit of a pain and may not be worth it if you only plan on one or two days in Sintra.