Are you looking for best tips for NCL's Norwegian Getaway? If so, you are in the right place!
Modern cruise ships are almost like small cities and their layout can be confusing. Given the huge variety of offerings – food, entertainment, drink – it can be difficult to know what to choose.
My recent transatlantic cruise on Norwegian Getaway had eight sea days so I had plenty of time to explore the ship. And as I love planning vacations, I have also stalked various internet forums to find out all I could.
You will find my best tips divided in different categories – before your trip, right after boarding, dining etc. At the end, I am listing some of the best places for relaxing and exercising on Norwegian Getaway.
So here are my top tips and recommendations for your cruise on Norwegian Getaway!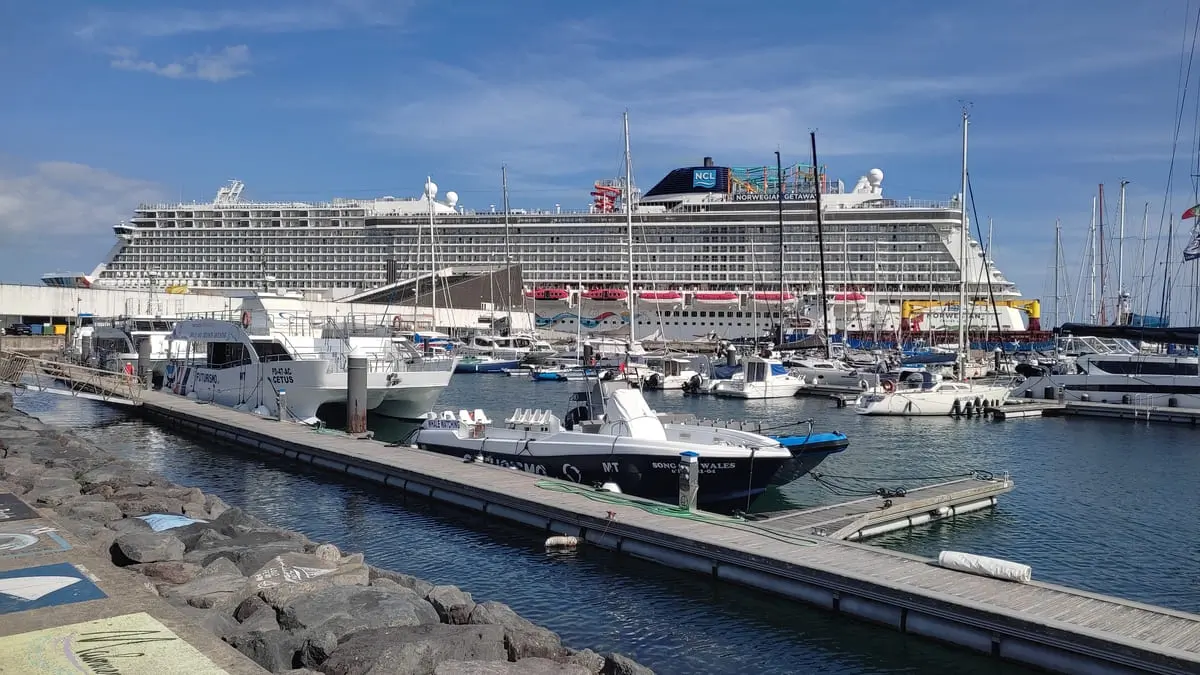 Tips for before your Norwegian Getaway Cruise
1) Make reservations for Specialty Restaurants as early as possible
You can adjust times once you are on the ship (there will be a special place for this on embarcation day) but at least you have logged something in. The most popular restaurants seem to be Cagney's Steakhouse and Ocean Blue so if you would like to eat there it may be best to not wait until you are on the ship.
2) If you are a solo traveler and there are no reservations for one available, reserve a two top
The restaurants don't have any "one person tables" anyway so reserving a regular table for two should be perfectly fine. The same applies for groups of three.
3) Book any excursions as soon as possible
I wasn't aware of this on my first cruise, but tours quite often sell out. Sometimes the cruise line will add additional tours closer to the day, but it is not guaranteed. I loved my Island Excursion in the Azores and it was completely sold out weeks ahead of time.
Make sure you don't get stuck with an excursion you are not interested in and book now. You can cancel/change most reservations (usually up to 48 hours ahead but do read the fine print).
4) Make reservations for any "big shows" early
If you have no loyalty/suite perks, you can make reservations for the main shows on Norwegian Getaway, Burn the Floor and Million Dollar Quartett, 21 days before your cruise. Reserve your seat as early as possible so you don't lose out!
5) Switch between NCL App and Website as needed
I hate to say it but Norwegian Cruise Line's app and website suck. For some reason though some actions work better on one than the other. So if you can't do online check in on the computer try your phone and if restaurant reservations crash on the app, try the website!
6) Consider paying for the Thermal Spa Pass if travelling in bad weather
Probably the biggest complaint I (and others) have about Norwegian Getaway is a lack of comfortable, quiet spaces indoors. This is no problem in sunny weather but not ideal for sea days in colder regions.
On a cruise with several sea days and potentially/likely bad weather (e.g. a winter transatlantic) I would recommend getting a Thermal Spa Pass (if this is something that sounds good to you).
7) Use the right credit card
If possible, enter the credit card you actually want to use during online check in. If that is not possible or if you change your mind about which one to use, talk to guest services and correct it as soon as possible on board.
Unfortunately, I kept putting this off and even though I was able to change the credit card details close to the end of the cruise, NCL had already put a hold on my other card.
So even though the amount due was taken off the correct credit card, it took several days (or even longer) to get the hold on the other card resolved.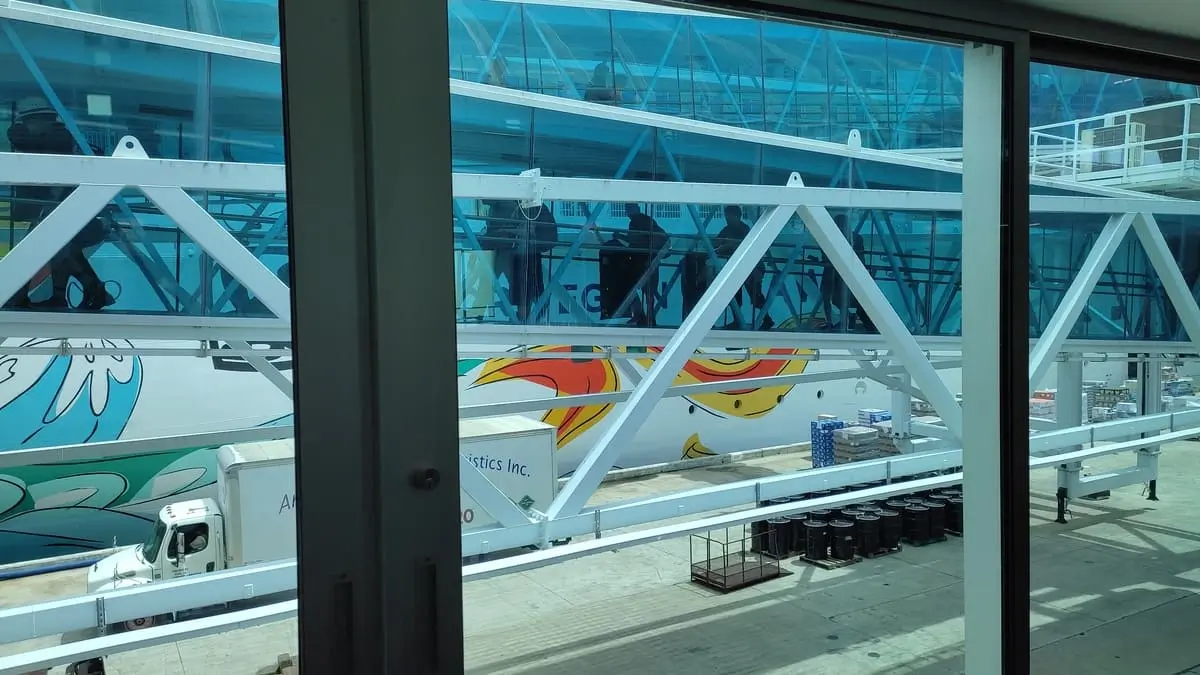 Tips when boarding Norwegian Getaway
8) Make your way to your lifeboat station and complete your muster sign-in
It won't take more than a couple of minute and that way you won't have to worry about it anymore.
9) If you haven't managed to make reservations or need to change yours do so now
Apparently, only a certain percentage of restaurant reservations are available for booking prior to the cruise. So if you did not get the restaurant/date/time you wanted, you can get this adjusted now.
On my cruise, this was done in front of Le Bistro or at the Headliners Comedy Club but it should be clearly posted on your cruise where to go. If you have changes to restaurant reservations later on, you can make these at a counter next to Guest Services.
10) If possible board earlier rather than later
Not only will you have more vacation hours that way, but your chances of getting the perfect restaurant reservation or buying one of the coveted Vibe passes are much better early in the day.
I booked an early transfer with Go Port Shuttle from Orlando and was on board before lunch time!
11) Be prepared for a lengthy wait to get into your cabin
On my transatlantic cruise, some cabins weren't ready until 5 pm. So try to bring as little carry-on luggage as possible but do pack anything you may need until evening (medications, sun screen, bathing suit etc.)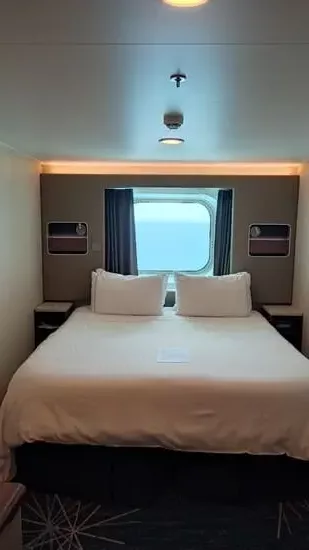 Tips for Excursions on Norwegian Getaway
Ports with Tender Operation
12) Get a tender ticket the day before
If you are planning to take one of the earliest tender boats, you need to get a tender ticket/reservation the day before. I got mine at the Box Office on deck 7. It actually wasn't a separate ticket but just keyed onto your room card.
They will call the tender numbers so you know when you can board. Usually, you can take whichever boat you want later in the day when the first rush is over.
13) Check the Weather before Boarding the Tender
Make sure to check the weather before boarding the tender. Not only can you ensure you have all you need (sun hat/umbrella/rain coat etc.) but you can also abandon your plans if the weather is lousy.
I made the mistake of assuming nice weather in the Bahamas and didn't notice the drizzly rain until I was on my way. Of course you can just return to the ship on the next tender, but tendering takes quite a bit of time.
14) Take seasickness prevention medication prior to tendering if needed
If you tend to motion sickness – this is the time to get out the heavy guns. Based on my trip, tendering may be the roughest seas you will experience.
15) Make sure you have everything you need
Yes, you obviously always want to take everything you need but it takes more time and is a lot more bother returning to the ship to pick up something when tendering.
16) Take beach/pool towels when going to Great Stirrup Cay
You can borrow a (blue) beach/pool towel on the pool deck on deck 15 – no need to take a towel from your bathroom.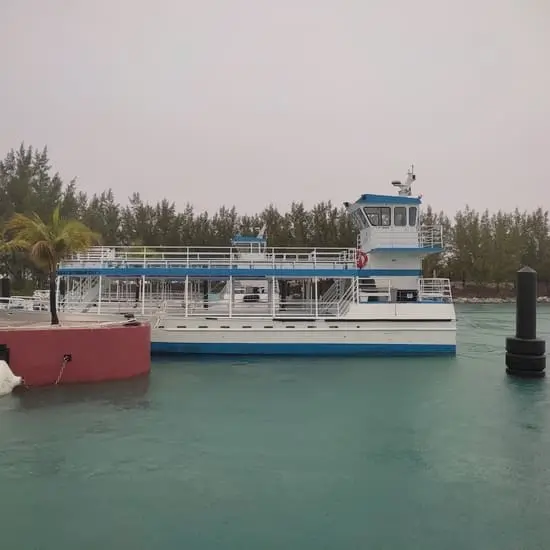 Norwegian Getaway Excursions in General
17) Check the tour tickets in your cabin
If you have booked any excursions with NCL, you should find an envelope with the tickets in your cabin. Make sure to check them to ensure they are correct and make a note of meeting place/time. Of course you can also find the excursions in your NCL app profile.
18) Meeting your Norwegian Cruise Line excursion
When you look at your tour ticket/instructions in the Dailys you will see that you are advised to not show up at the meeting point until a few minutes prior to the time stated. Don't believe this!
While you will be fine if you show up on time (they will wait for you), you will be rushed and there is a good chance you will be stuck with the worst seats on the bus.
I used to follow this instruction but have learned my lesson. Quite often guests can already meet the bus before the meeting time and you will feel like you are late if you are on time!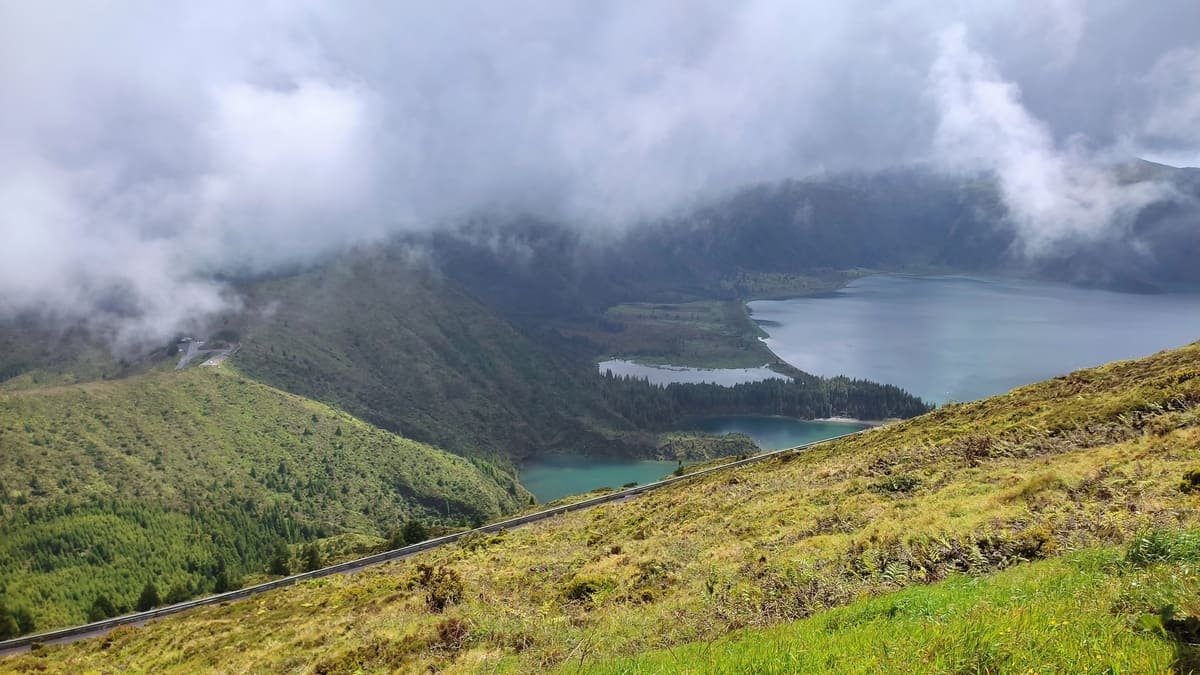 Tips for Dining
19) Don't worry too much about reservations for regular restaurants
While I do recommend early reservations for any specialty restaurants (see above), I wouldn't bother making reservations for Tropicana, Savor, or Taste unless you are part of a larger group.
I did start out making reservations for these main dining rooms but found that either there were none available (Tropicana) or only really late ones (i.e. 9 pm). One day I was really hungry a bit earlier and when I went to the MDR it was no problem getting seated.
After that I just showed up whenever and always got seated right away. So I wouldn't worry about making a reservation for non-specialty restaurants, especially if there are no times that work for you.
20) Head towards the Pool Deck if you have a hard time finding seats in the Garden Café
I was positively surprised – it wasn't too difficult to find a table in the Garden Café most of the time. However, if it was crowded there were usually seats available at the enclosed outside area towards the pool deck. Bonus: these are some of the best seats!
21) Use dining credits for specialty restaurants
Most of the specialty restaurants on Norwegian Getaway have a-la-carte-pricing and let's just say meals would be quite expensive if you made a reservation and just ordered. My bill at Cagney's just for food would have been over $100!
It is much better to use dining credit. You may get credits either as loyalty perks or as part of a Free at Sea promotion. In addition, you can usually upgrade with additional specialty meals. These come out to around Euro 40 per meal. Not cheap but much better than the a-la-carte-price.
In most restaurants (e.g. at Ocean Blue and Cagney's) a dining credit will get you an appetizer, soup or salad, one main, two sides, and a dessert. More than enough food! There may be an upcharge for certain dishes (e.g. lobster) but this is clearly marked on the menu.
22) There is (almost) no dress code on Norwegian Getaway
NCL is proud of its Freestyle cruising and there is little to no dress code for the restaurants. You will see shorts and T-Shirts almost in all the restaurants.
Cagney's and Le Bistro do ask guests to dress smart casual though. And of course you can always dress up if you want to!
 23) Recommended dishes on Norwegian Getaway
During my transatlantic, I had a chance to eat a good portion of the dishes offered on Norwegian Getaway. Most of it was pretty good but there were a couple of stand-out dishes I would especially recommend.
The list is based on my personal experience as well as on what I have heard. Dishes I did not try myself are marked with an * as I can't personally vouch for them. Still, the internet masses are probably not wrong.
Obviously, tastes differ (and dishes turn out differently) but these were my dining highlights:
 Sweet Corn Hush Puppies (MDR)
Cajun Chicken Pasta (MDR)
Mocha Pot de Crème (MDR)
Roast Beef Sandwich (Garden Café)
Vegetable Spring Roll (Shanghai Noodle Bar)
Reuben Sandwich (O'Sheehan's)
Lechón Asado* (O'Sheehan's)
Lobster Bisque (Cagney's)
Sautéed Garlic Mushrooms (Cagney's)
French Onion Soup* (Le Bistro)
Valrhona Dark Chocolate Mousse Cake (Ocean Blue)
If you want to know more about the food on Norwegian Getaway, you can find loads of photos and my personal opinion in my complete food review.
Tips for Entertainment on Norwegian Getaway
24) Don't be late for shows even with a reservation
Even if you have a reservation for one of the main shows – Million-Dollar-Quartett or Burn the Floor – it is best to be in the theater well before the time.
Seats are first come, first served and if you are not checked in 10 to 15 minutes before the show starts, your seat may be given to someone in the standby line.
Finally, getting there early allows you to order (and get) a drink!
25) Get in line early for shows without reservations
Several of the entertainment venues on Norwegian Getaway are quite small – especially Syd Normans. So if you want to see the show there it is best to line up well before the official start time!
26) Try O'Sheehan's Pub if you can't find a seat with a view in the Atrium
The Atrium – where most game shows, trivia etc. take place – can be very crowded. If you can't find a good seat try your luck up on deck 7.
O'Sheehan's Pub has a number of seats along the edges with a fairly good view of the stage in the Atrium.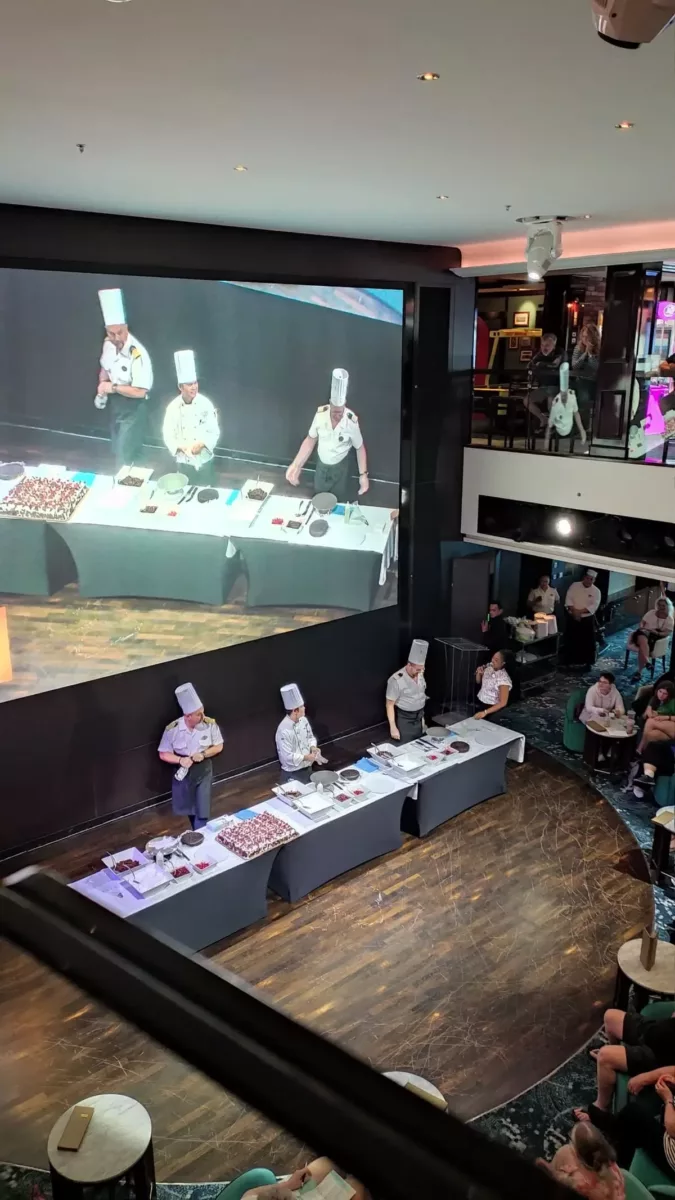 Internet Tips for Norwegian Getaway
27) Don't forget to log out!
If you have a certain number of internet minutes instead of unlimited daily access, it is imperative that you log out as soon as you are done!
You might think that closing your browser or powering off your device is sufficient but it is not. Your minutes will keep on ticking and be gone before you know it.
The only way to stop the usage of your minutes is by typing the logout command in your browser. You will find instructions for this online but it is easy to forget – don't!
28) Talk to the internet manager if you lost minutes
Did you forget to follow the last tip? No worries – it happens all the time. If you talk to the internet manager (next to the Atrium) s/he will likely reinstall your minutes.
The same holds true if your minutes were lost due to a horrible connection. So if it took you 45 minutes to send that one email because the connection kept dropping – don't just accept it but talk to the internet manager.
29) Save money by upgrading a day or two later
Your Free at Sea promotion may include a certain number of minutes for internet access. If you plan on getting unlimited internet these minutes are actually worth money.
When you upgrade the minutes can be used as a credit so you will pay less. On my 12 day cruise I paid $145 less! Not an insignificant savings!
However, in order to get this credit you have to upgrade before you have used any of your minutes (i.e. the first time you log in). So if you first use up the minutes and upgrade after you will have lost the chance to save.
Finally, to save even more you can wait (without logging in other than the free WIFI for the NCL app) until day two or three. The unlimited WIFI is currently $29.99 per day so you can save almost $60 if you can go without for two days.
Waiting longer generally does not help as you can only buy the unlimited WIFI for the whole cruise (minus the first two days). So on a twelve day cruise you will pay ten days if you buy Unlimited on day 3 but you would also pay ten days if you buy on day 8.
30) Looking for a fun activity on Norwegian Getaway? Try my free photo scavenger hunt!
Have fun looking for the images as you explore the ship. Can you spot all the photos?
You can download the pdf for the completely free Norwegian Getaway Scavenger Hunt right here.
Norwegian Getaway is a big ship and it can take a while to find the best spots. But no worries, I have explored the ship extensively during the many, many sea days on my recent cruise and am happy to share what I have discovered.
So here are some of the best places on board Norwegian Getaway:
Best Areas to stretch your legs on Norwegian Getaway
Deck 7 outside (both sides)
For me, this is the best place to get some exercise walking. Here you will find a nice, long stretch without many obstacles (chairs/people).
It isn't very atmosperic and the view of the sea is obstructed by life boats. However, the life boats also shelter this deck so it is less likely to be wet or slippery.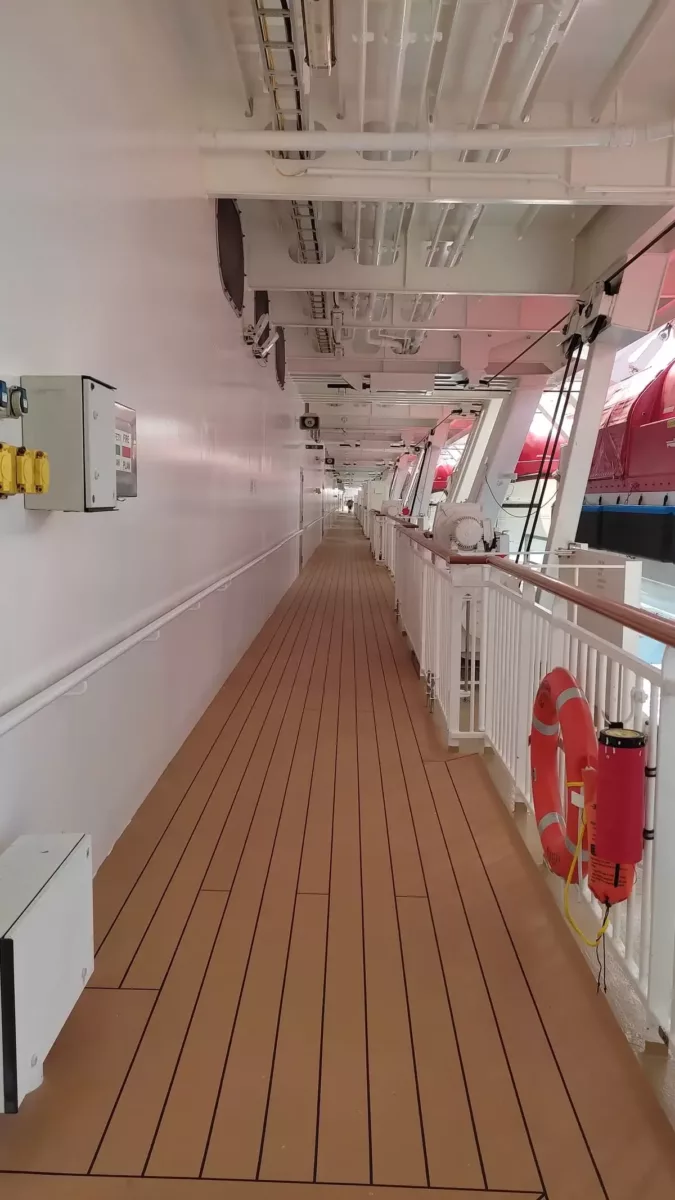 Waterfront on Deck 8
The Waterfront on deck 8 is definitely prettier than deck 7 and a great place for a nice stroll.
Here you will find cozy chairs to take a break as well as a bar. However, unless early or late in the day it is better suited to a leisurely meander than a brisk walk.
Deck 16
This is the official jogging track and the only place where you can make a complete loop without going inside (both deck 7 and 8 require you to cut through the ship).
The Jogging track has a sportier vibe and is the only place for a run (best early or late as it is a rather busy place).
The loop isn't very long though so for a normal walk I prefered decks 7 or 8.
Best quiet outside Areas to Relax
To my delight, there were a lot of pleasant outside areas to sit/lie in, enjoy a tasty drink, read a book, or just gaze out on the ocean.
Waterfront Promenade on Deck 8
Even though this area is very popular, I could always find a comfortable place to sit down (though sometimes you have to walk/wait a bit). Great vibe and very pleasant!
Spice H2O
This adults-only area on deck 16 is a bit difficult to find (it is located all the way aft and to get to it you make your way between American Diner and the Video Arcade).
Again, Spice H2O is popular but I always found a place to sit. Here there is also a hot tub, a water feature, as well as a bar with tasty drinks (loved the BBC)!
Sundecks up on Deck 17 and 18
If you are having a hard time to find a sun lounger closer to the pool, you are more than likely to find one here. Quiet (almost deserted) you have a great view!
On the negative side, you will feel a lot more motion here (not for weak stomachs) and it can be quite windy.
Chairs near Jogging Track
If you are looking for actual chairs to sit in, there are some located inside the jogging track on deck 16, near American Diner.
Not as pretty as the other options but a good alternative if the weather isn't great (it is covered) and if you enjoy people running/walking by.
Area between Garden Café Buffet and pool deck
Another somewhat protected space with fresh air  that is popular.
Vibe Beach Club
If you want to spend time in this exclusive area you will have to pay for one of the cruise length access passes. These are not cheap and very popular so if you are interested make sure to buy it early!
I did not splurge on Vibe Beach Club so have no personal experience but I did peek in and it did look nice indeed!
Best Quiet Inside Areas for Relaxation
Unfortunately, there were not that many quiet areas to sit and relax inside on Norwegian Getaway. On a regular port-intensive cruise this is probably not even noticeable but it is something to consider when cruising in a colder climate (or with many sea days).
Like many people, I disliked the noisy Atrium (but give it a try as you may like it). The Illusionarium and Bliss were usually closed off when I checked.
Your best bets in my opinion are:
Sugarcane Mojito Bar
This bar offers cozy seating and a nice quiet space. The only problem is that it isn't very big so you may not always find a space.
Sunset Bar
Similar to the Mojito Bar, this is also a good space to sit and chill out. Unfortunately, it isn't very big either so you won't always get lucky and find an empty seat.
Hallway between Sunset and Mojito Bar
There are several comfortable chairs along this hallway and for some reason these seats were usually empty (maybe the distance to the bar was too big). Probably your best bet when looking for a place to sit down.
Your cabin
Yep, the situation in regards to quiet indoor relaxation areas is a bit dire on Norwegian Getaway. If you are cruising in inclement weather, your cabin may be your best bet.
Spa Thermal Suite
Similar to Vibe Beach Club, this is an exclusive area for which you need an access pass. At around $350 for 12 days it isn't exactly cheap, but you will have access to sauna, vitality pool, jacuzzi, salt room, as well as heated loungers.
Again, I did not splurge on this so have no personal experience but reviews are great.
Best Places to Play Games/Cards on Norwegian Getaway
Library/Game Room on deck 6
Sugarcane Mojito or Sunset Bar on deck 8
Enclosed area between Garden Café and pool deck
Outside restaurant tables along Waterfront on deck 8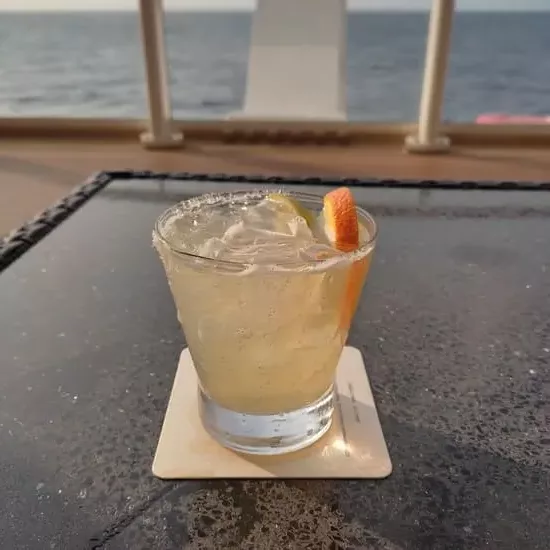 Have you cruised on Norwegian Getaway? If so, do you have any tips I may have missed? Let me know – the more the better!