Do you have a cruise stop in the Azores coming up? Are you wondering which excursion (if any) to pick?
Not so long ago, I was in the same boat (or more accurately on the same ship). On my recent transatlantic cruise on Norwegian Getaway, Ponta Delgada was the first stop after six long sea days so I wanted to make the most of it.
After some (okay, a lot) of deliberation, I opted for Norwegian's Shore Excursion "Island Views, Tastes and Horses".  Read on to find out exactly what this excursion entailed and what I thought of it.
Not traveling with Norwegian Cruise Lines or thinking of a different excursion? My post may still be helpful for you – there is a limited number of attractions visited on Azores shore excursions. Most excursions involve some combination of these so reading about my stops will help you decide which of them you would love to see.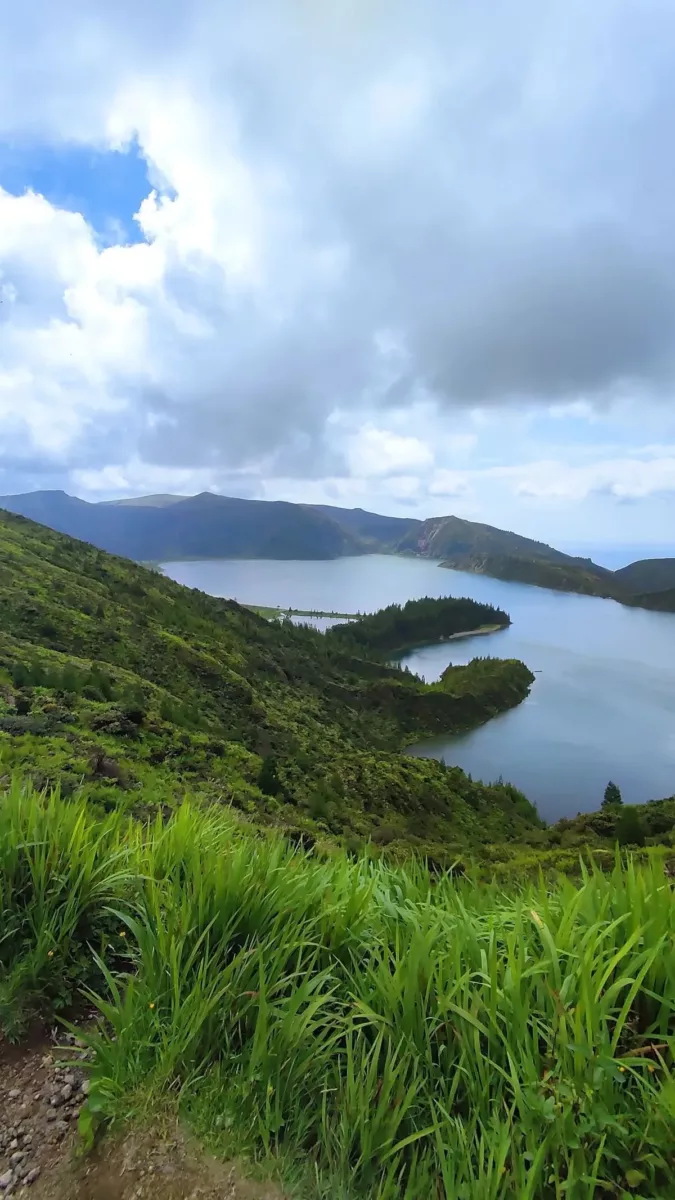 Should you take a cruise line excursion in Ponta Delgada?
Probably. I am generally not a huge fan of organized bus tours as I would rather do my own thing. But when I was looking at what to do on Sao Miguel I quickly found that there is not a lot of public transportation.
Unless you want to rent a car (definitely not for me), it will be difficult to tour much of the island by public transport on a cruise stop. There are usually very few (if any) buses per day or week. It may be possible to make public transportation work on a landbased vacation in the Azores but I did not want to chance missing the ship.
Now, you can have a perfectly lovely time in Sao Miguel's capital, Ponta Delgada, without a tour. As a matter of fact I had some time after my "Island Views, Tastes and Horses" excursion and explored the town a bit on my own on a short walk.
But as quaint and interesting as Ponta Delgada is, it is the lush green landscape formed by volcanic activity that is the true star of the Azores so I absolutely wanted to venture outside of town.
So why book a cruise line tour and not an independent shore excursion?
Simply put, convenience. Not only can you be sure that the ship will wait on any ship excursions but you also don't have to worry if there are any changes or cancellations to your cruise stop. Our time in port actually did get changed at some time prior to the cruise – instead of arriving on Sao Miguel by 9 am we were now scheduled for 11 am. With a cruise line excursion this was automatically adjusted.
Ship excursions can often be more expensive than independently booked tours. However, with NCL's Free at Sea Promotion I had a €50 credit for any excursion so my tour came to €79 – not cheap but not excessive either.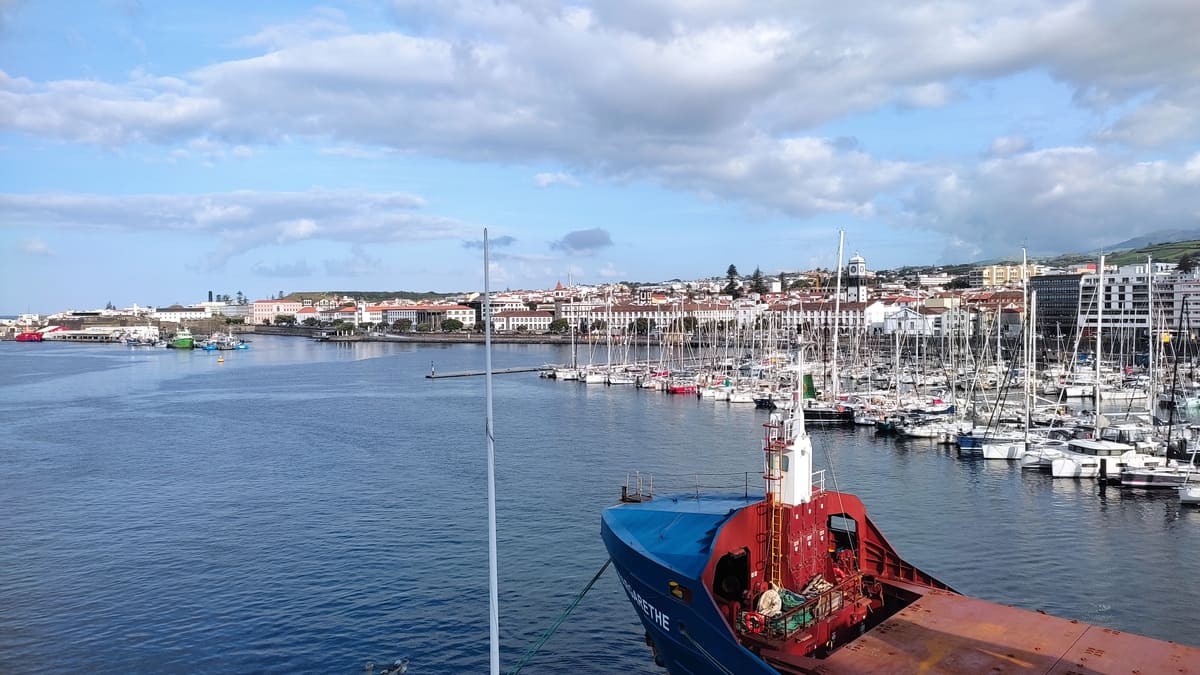 Booking NCL's Tour "Island Views, Tastes, and Horses"
I booked my ship excursion well before the trip via NCL's app. This worked quite well – my credit card was charged (minus the credit for the Free at Sea promotion) and the tour showed up in my account.
Cruise ship tours do sell out quite often so I highly recommend you book as early as possible. You can generally change your mind and cancel until a couple of days prior so really don't have anything to lose.
I especially recommend early booking for the "Island Views, Tastes and Horses" tour. Many of the other tours had multiple buses but due to the visit at the horse ranch this excursion was only offered once. It definitely was sold out – I spoke to someone who luckily still got on via the waiting list because someone did not show up.
Meeting up for my Norwegian Cruise Line Shore Excursion
My ticket quite clearly stated to not show up at the meeting point (the Getaway Theater) more than 15 minutes prior to our planned departure. Luckily, I did not follow instructions – our group left the theater for the bus several minutes before we were supposed to meet.
I have seen the same happen at a number of cruise line tours – if you get there exactly on time you will be late! The bus will not leave without you but you will likely not get your choice of seat (and everyone may already be waiting on you).
The meet-up went without a hitch. When entering the theater you join a line to sign-in. Once they check off your name you will be given one of those infamous stickers with the number of your tour. And yes, you are supposed to wear those (they will remind you until you do).
Once you are appropriately "labeled" you get to sit in the theater and wait until the call your number. At that point you make your way off the ship (don't forget your room card!) and through the terminal building on your own (well, you follow all the other people on your tour like a lemming but there is no guide with you).
After the terminal, an employee will point you to your bus which is generally clearly labeled. And if you followed my tip and showed up a bit early and if you didn't dawdle when getting off the ship, you can now stake out the seat of your choice on the bus!
NCL's Shore Excursion "Island Views, Tastes and Horses"
"Island Views, Tastes and Horses" consists of several quite distinct stops that combine to make a rather eclectic but fun mix. On my tour these were (do check the actual description as there may be changes):
Lago do Fogo Viewpoints
Caldeira Velha
Ribeira Grande
Horse Farm Quinta do Pico da Cruz
Pineapple Farm
Read on to find out more about each of these stops.
Lago do Fogo Viewpoints
As soon as everybody was settled in the bus, we started our drive towards Lago do Fogo. During the drive, our tour guide gave us plenty of information about the Azores, Sao Miguel, and the sights we were seeing.
Our first viewpoint was on the 947 meter high Pico da Barossa. As we were coming from sea level there were quite a number of turns along the road. So if you tend to motion sickness you may want to be prepared!
"Fire Lake" is a crater lake located in the center of the Azores island Sao Miguel. I had seen pictures prior to my trip so I knew that it was stunning. However, as we neared the top of the mountain it was increasingly cloudy so that I was getting worried.
But we were in luck – Lago do Fogo was clearly visible when we got out of the bus for a quick look/photo break.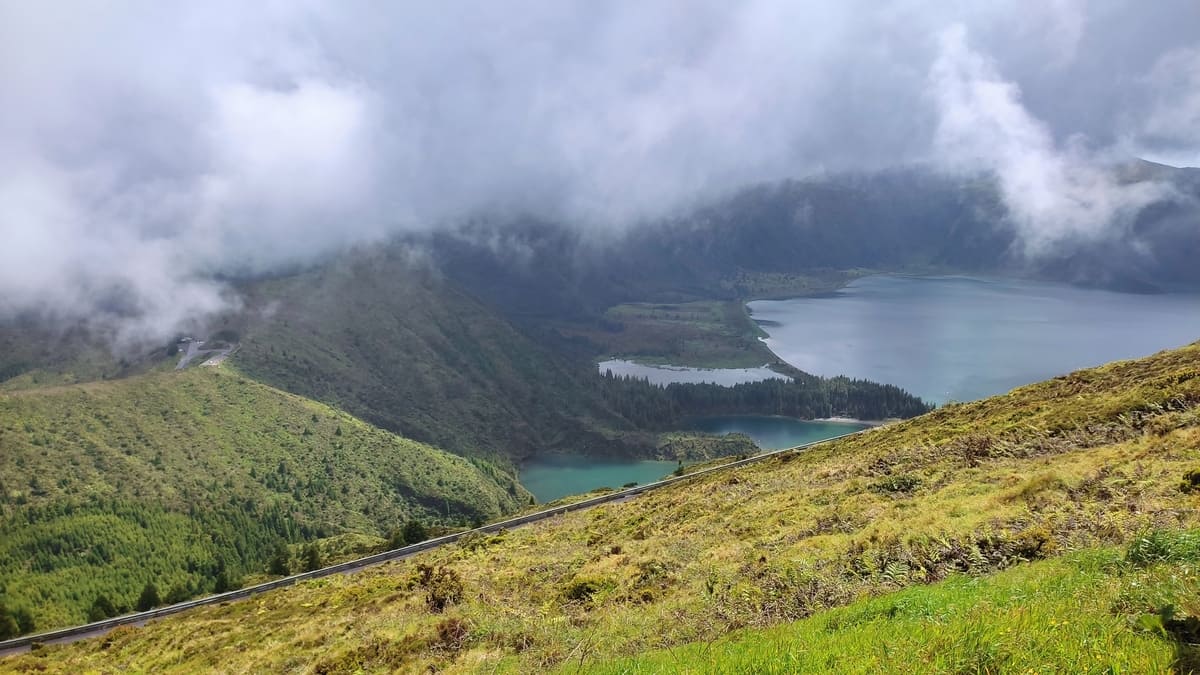 The weather on Sao Miguel is quite unpredictable so it is best to wear layers and be prepared for anything. During this first photo stop it was decidedly chilly and I was glad for my cozy sweater.
We only had about 10 minutes here. While I generally dislike these short stops, it was fine here. Even though the view was beautiful there wasn't much to do so I probably wouldn't have stayed very long in the chilly air if I had been there on my own anyway.
One disadvantage of the short stop is though that you may not see the lake at all if clouds move through. We had been there about 5 minutes (and luckily I had managed to take plenty of pictures) when the view pretty much disappeared completely.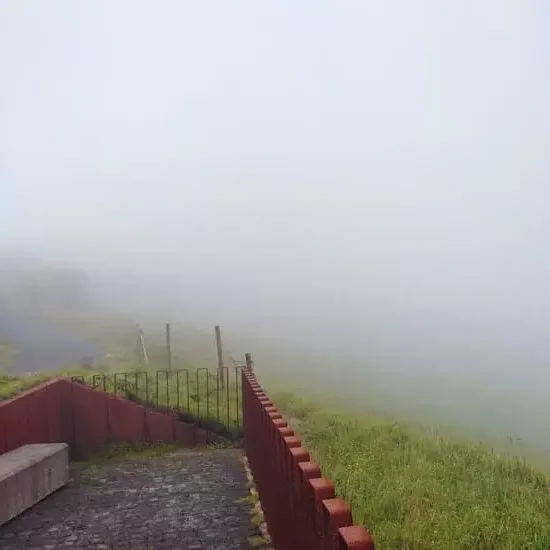 If traveling on your own you could probably wait it out but if our bus had been only five minutes later we would have missed the view completely!
Luckily, right after we drove to a second viewpoint. This one was at less altitude so was sunnier and the view clearer.
Again, the stop was very short. On a longer stay on Sao Miguel I would love to hike down from this point to the lake. But on a island tour like this obviously there is not enough time for anything similar so getting back into the bus after 10 minutes was fine. There was nothing much else to do other than admire the view anyway.
Caldeira Velha
Our next stop was Caldeira Velha, a Natural Monument known for its flora and thermal pools. If you have ever wanted to feel like you are in Jurassic Parc (minus the dinos) – do not miss this place!
I loved the atmosphere – dense jungly foliage and bubbling thermal pools combined to make you feel like you have traveled back in time – very far back. Even though it was somewhat busy, Caldeira Velha had a peaceful, secluded vibe.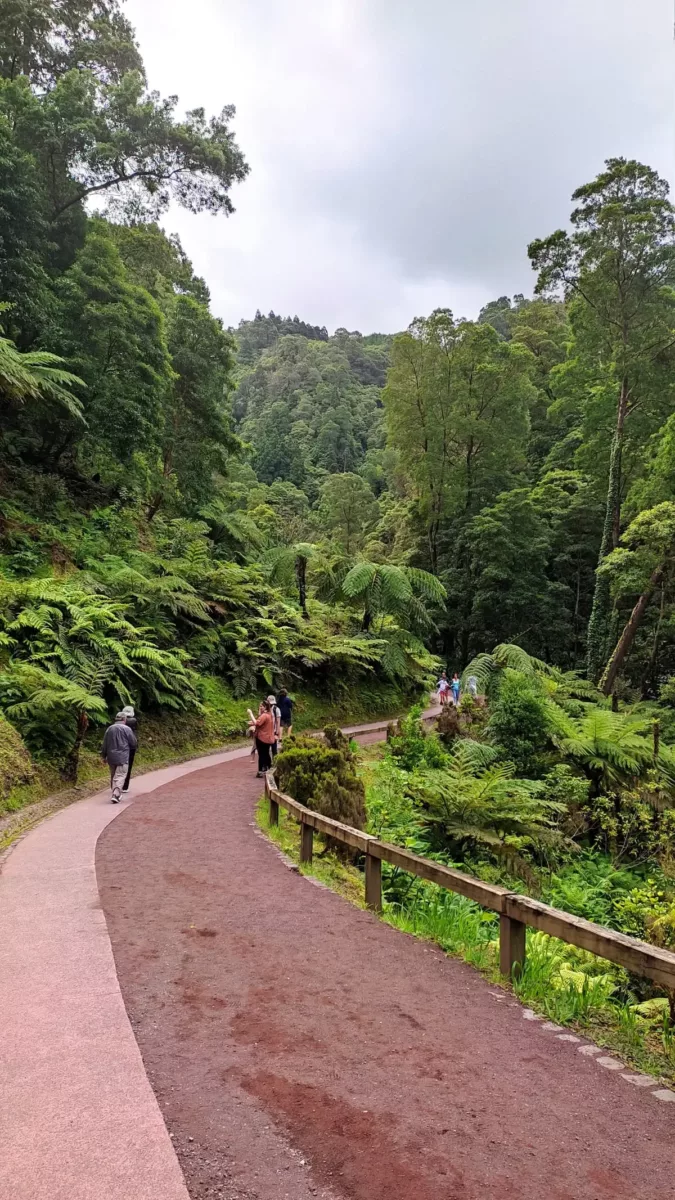 At Caldeira Velha, we walked a couple of minutes through the dense vegetation until we reached the thermal pools. They looked incredibly inviting!
With the two prior stops I did not mind having only a couple of minutes to look around but Caldeira Velha would be much better as the main part of a tour. While it was cool to look at, spending some time in the heated thermal pools would be the main attraction.
If someone was well prepared (e.g. wearing a swim suit underneath regular clothing) it would probably have been possible to take a quick dip in one of the pools. Unfortunately, I was not that prepared (nor I believe anyone else on our tour). It would have to be a very quick dip though as we had maybe 15 minutes at the thermal pools.
Kitty's Tip: If you are hoping to use the bathroom at Caldeira Velha, make sure to be one of the first of your tour to do so. The line at the Ladies' got very long. Some guests spent most of the 15 minutes at the site waiting for the bathroom – a great pity as you can see a pretty little waterfall as well as hot springs that looked like a witch's bubbling cauldron.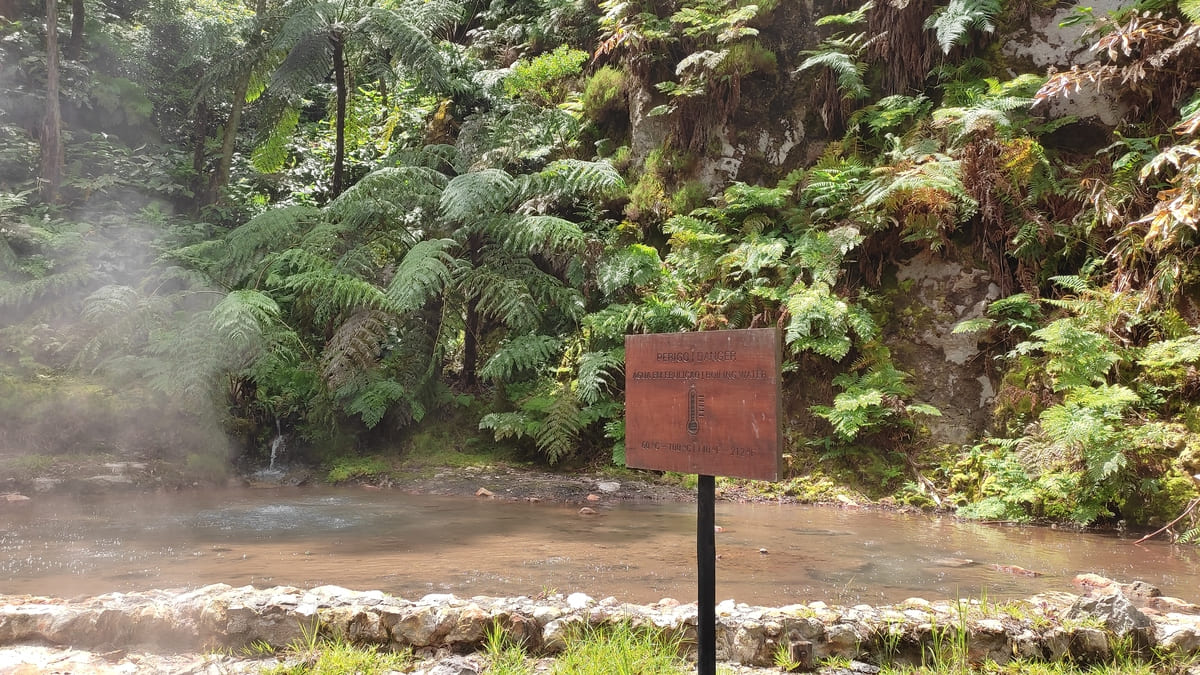 Kitty's Tip: Make sure you understand where to meet your bus after visiting Caldeira Velha. On our tour the parking lot was not the same place we got off the bus.
Actually, the only real complaint of this shore excursion I had was that it was a bit unclear where the bus would wait for us. The tour guide did repeatedly explain that it was at a different place but I couldn't quite figure out how to get there. No big problem as I just kept an eye on the tour guide and then followed him on the way to the bus.
However, one couple apparently did not realize what was going on and got lost on the way back. This very annoying for everyone as we now were 15 minutes behind schedule – and if you have been on such a bus tour before you know that it means something else will have to be skipped/shortened. But I also felt bad for the lost passengers who were very flustered and stressed when they finally rejoined the bus (as was the guide who probably already imagined how he would explain having lost two cruise ship passengers).
Getting back to the bus did involve quite a number of steps – definitely more than the ship's description for this excursion had warned of. Not a problem for most but if you are having a hard time walking this may not be the excursion for you.
Ribeira Grand
Our next stop was the small town of Ribeira Grande. As a matter of fact, Ribeira Grande was part of most cruise tours – luckily, as the town is well worth a visit.
After parking the bus, the entire tour group walked down the hill towards the town square. This little market place looked like a picture on a chocolate box – very quaint and inviting.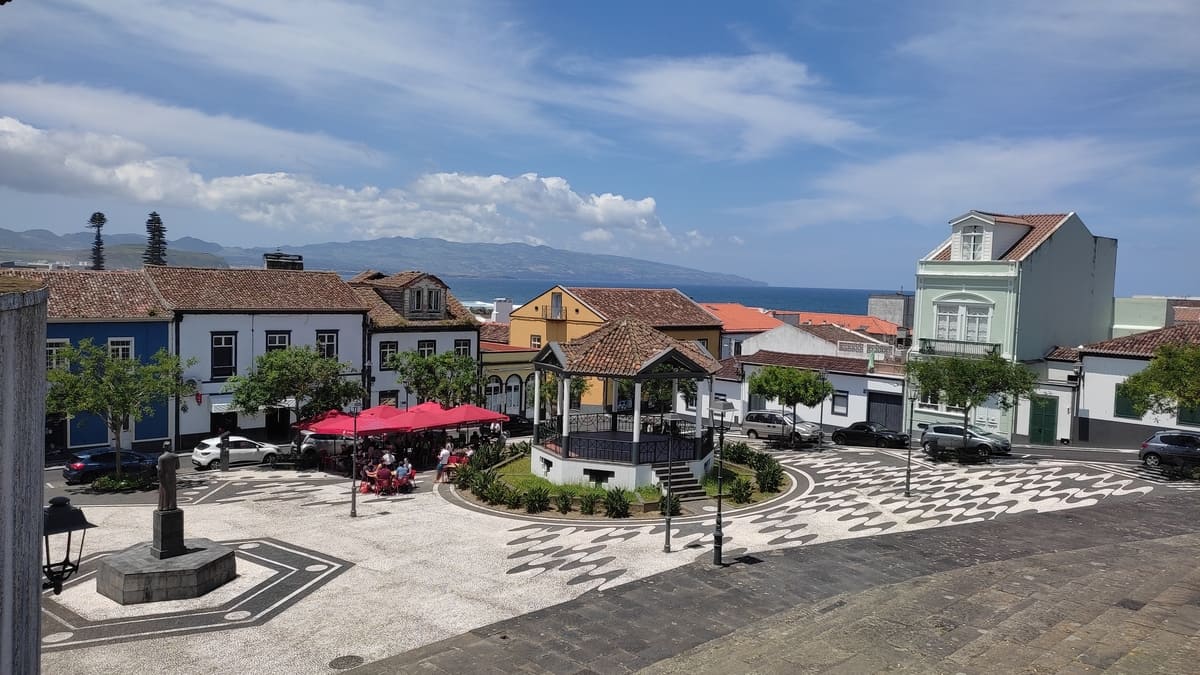 We walked by several churches and admired Ribeira Grande's stunning City Hall.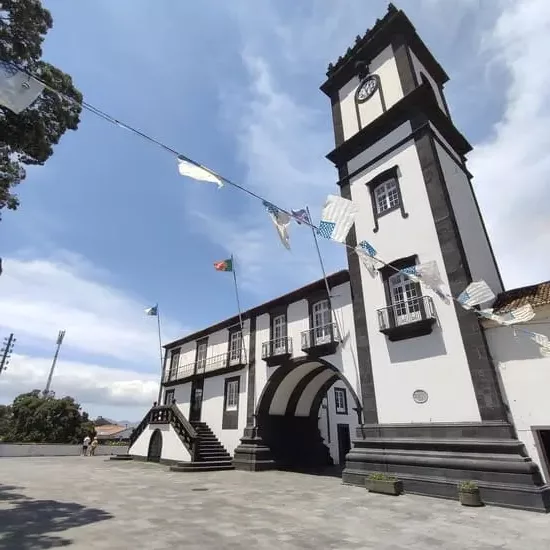 Unfortunately, we only had 10 minutes of free time to look around this adorable town – I assume there would have been a little more time if we hadn't lost time at the previous stop.
Ribeira Grande would have been perfect for a quick lunch but there definitely wasn't enough time. Some of the passengers managed to buy a cool drink or an ice-cream instead though.
Luckily, ten minutes was enough to take a quick look at the Municipal Gardens. This park wasn't huge but well worth a visit. It straddles the river that gives Ribeira Grande its name (Ribeira Grande is Portuguese for Big River) and runs right through the middle of town.
All in all, Ribeira Grande is well worth a visit but our stop there was quite rushed.
Horse Farm Quinta do Pico da Cruz
The stunning natural wonders and idylic small-town vibe of Sao Miguel were great but for most guests the next stop, Quinta do Pico da Cruz, was probably the highlight.
Depending on personal tastes this had two reasons: Horses and Cheese!
After a short drive we finally arrived at the Horse Farm and were welcomed at the gate by one of their beautiful Lusitanos horses, complete with rider in traditional Portuguese costume.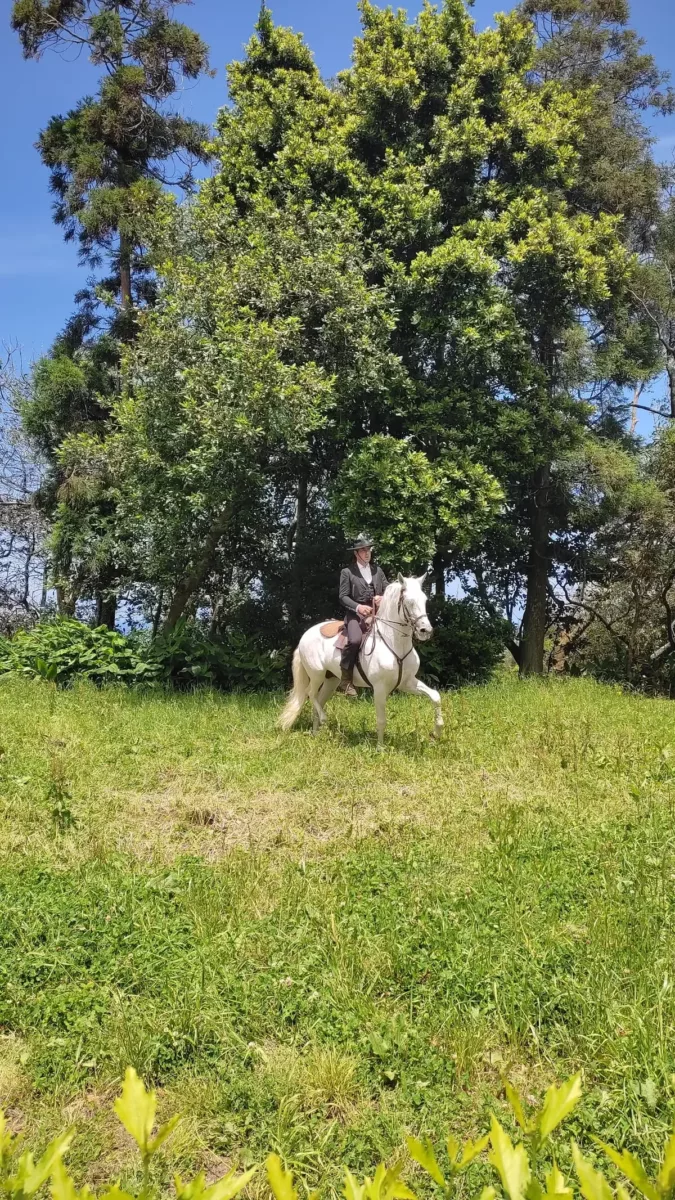 The first part of our visit at this Lusitanos farm was spent in the stable. The owners gave a short talk about the Lusitano horse breed and the history of their family-owned stables.
For some reason I had expected the farm to be a bit bigger – they had around 10 Lusitanos. However, all the horses were beautiful and to my surprise they were not all white.
There was enough time to pet one of the horses, take pictures, and ask questions. The owners were very invested in their farm and genuinely seemed to care for the animals.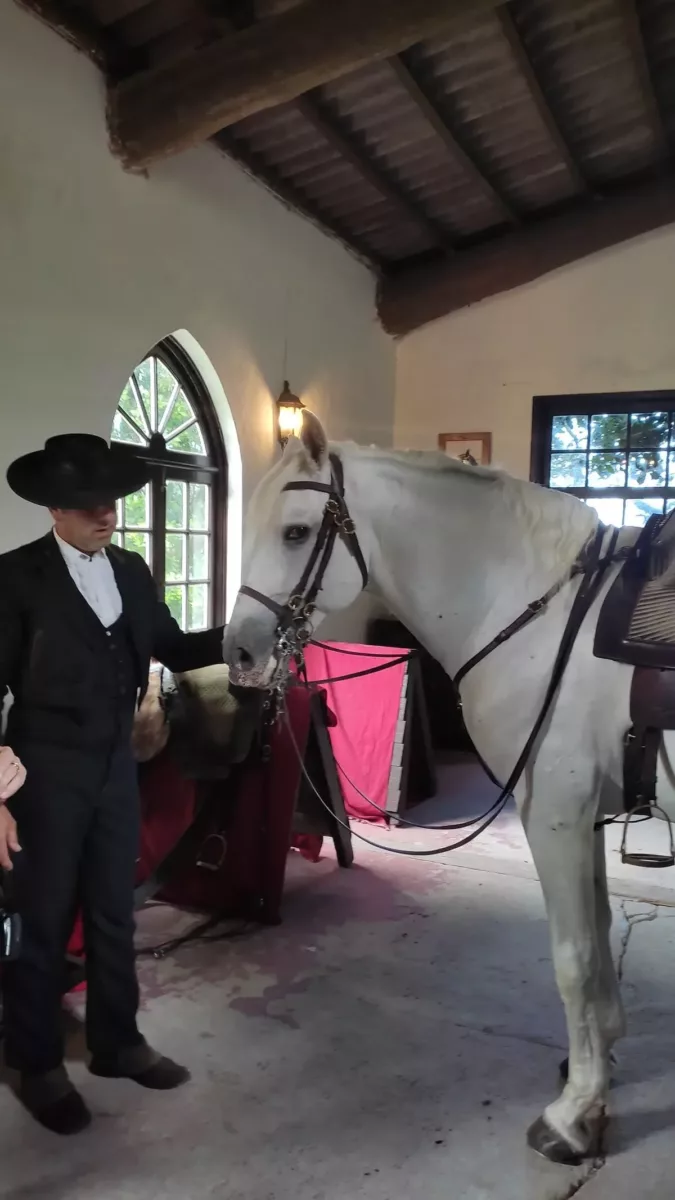 Some of the true horse lovers in our group stayed in the stable quite a while but even though I like horses I couldn't resist the lure of a wine and cheese tasting for long!
On the way to our little snack I admired the farm. The grey stone building with the shiny reddish-brown doors and shudders was pretty enough for a picture book.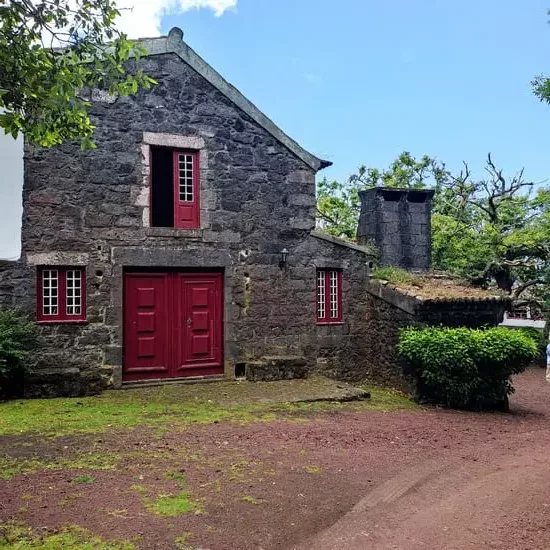 I am neither a wine nor cheese expert so unfortunately can't give a very deep description of our tasting. There were three different wines I believe (red, green (!), and sparkling) and several (5? 7?) different cheeses. In addition they had different crackers and dips.
Even though I can't describe the food and drinks much better than that I can say that it was very tasty and quite generous. It was not one of those places where they give you five little cheese cubes to try.
Instead there was a small buffet with large bowls full of cheese and you could pretty much fill up on cheese and crackers (washed down with the wine). Maybe it was just as well there was no time to buy lunch in Ribeira Velha!
With now full tummies and after getting our horse fix, it was time to return to Ponta Delgada.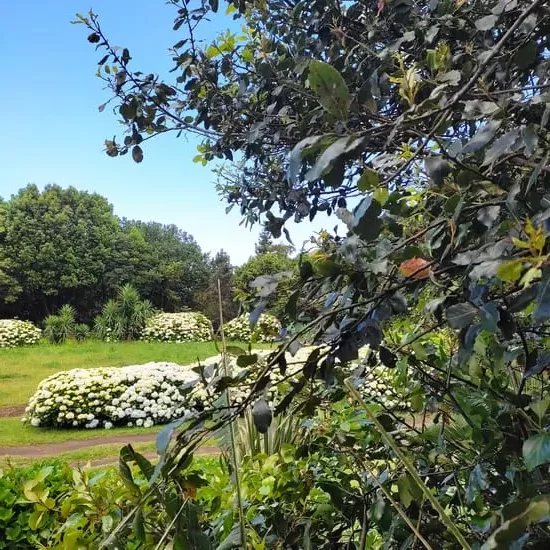 Pineapple Farm in Ponta Delgada
Our last stop, at a Pineapple Farm in Ponta Delgada, was the one I enjoyed least. It was interesting to hear about the complicated cultivation process necessary to make this tropical fruit grow in the Azores and to see the greenhouses, but it was less stunning than our other stops.
It is also possible that I was just a bit worn out after all the walking/bus time/wine and ready to get back to the ship. Almost all shore excursions visit the Pineapple Farm so you can see what you think yourself on your visit.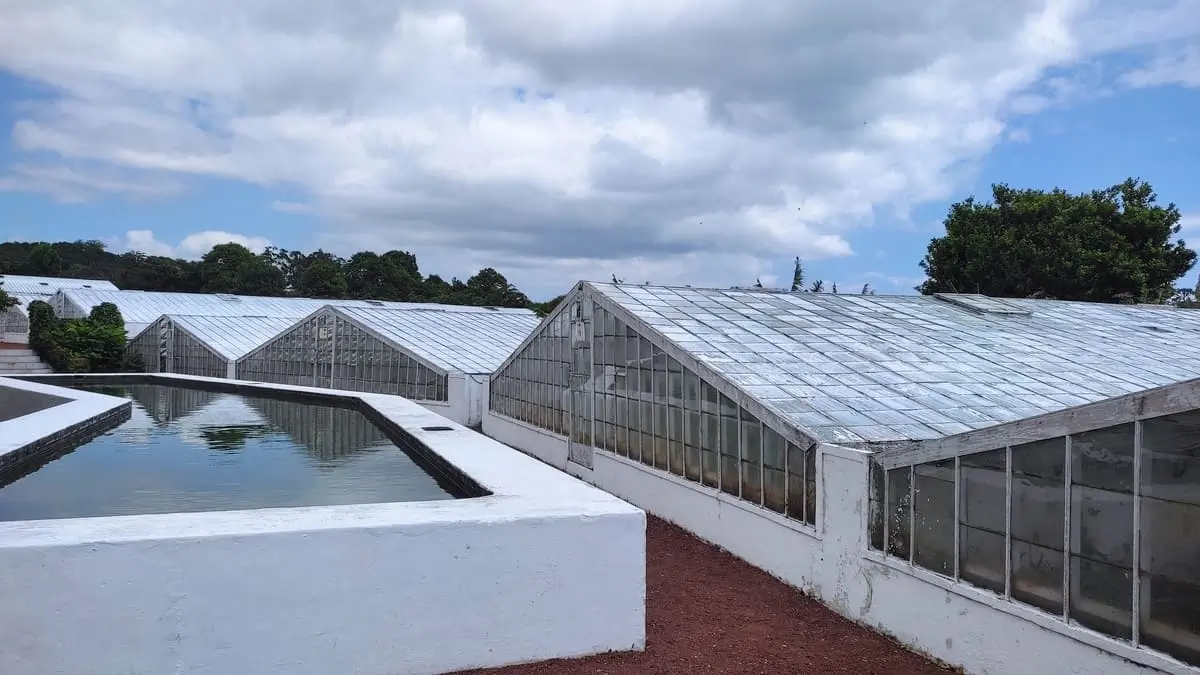 The little store at the Pineapple Farm (yes, this is your obligatory "buy some stuff" stop on this tour) gave out samples of the local Pineapple Liquor. For some reason, I expected it to be somewhat similar to Limoncello, only even sweeter (it is pineapple after all). However, this liquor was significantly stronger and tasted more like alcohol than candy. Given that I prefer my drinks sickly sweet, I was not tempted into buying any of it.
Return to Ponta Delgada
From the Pineapple Plantation our bus returned to port. We got back to Norwegian Getaway around 4:30 pm. Our ship was not due to leave until later in the evening so there was plenty of time to still explore a bit of Ponta Delgada itself.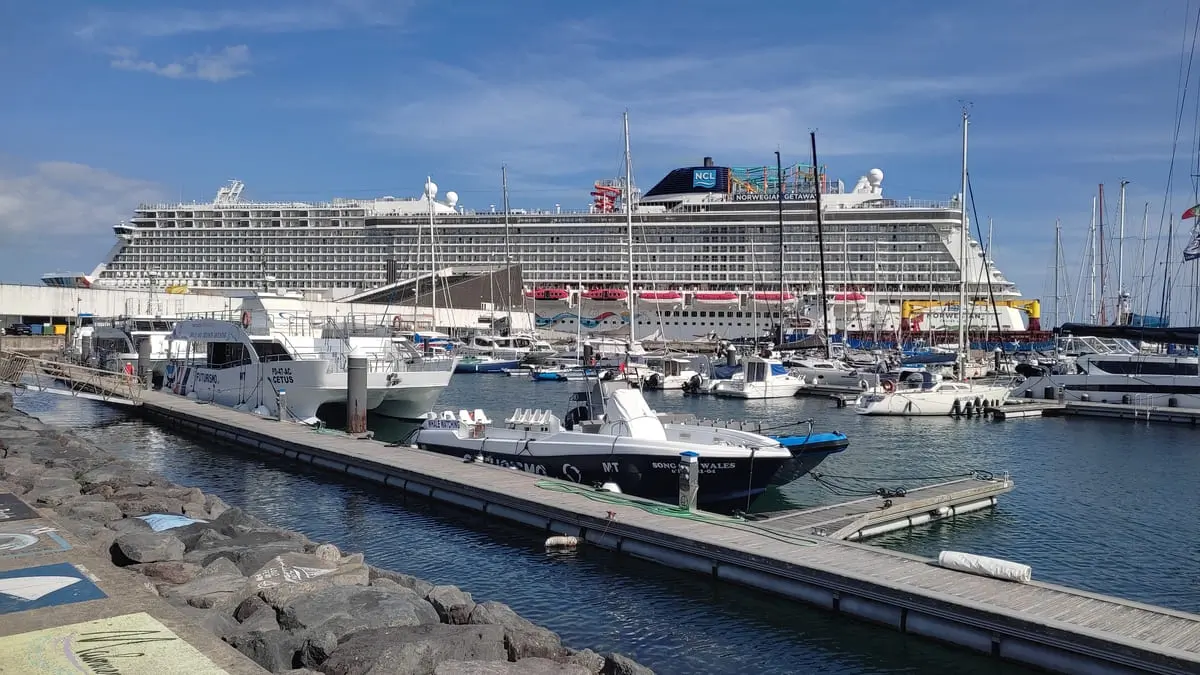 Final Thoughts about my Shore Excursion Azores with NCL
All in all, I loved this tour – and based on what I heard on the bus everyone else enjoyed it too!
The only negative aspect of this (as of most similar tours) shore excursion was that we had only very limited time at each stop and it was a bit rushed. This was probably worse than it should have been due to people getting lost/being late at Caldeira Velha.
Nevertheless, it was a great introduction to the island of Sao Miguel and gave a taste of quite diverse attractions: beautiful landscapes, a quaint town, gorgeous horses, and delicious food.
Though not cheap, at around €130 (or €79 after the Free at Sea credit) the price was in line with most 5-hour tours and cheaper than most excursions that include food.
If you want to see some of the best sights of the Azores and if you like horses and cheese (who doesn't) I definitely recommend the "Island Views, Tastes and Horses" excursion from Ponta Delgada.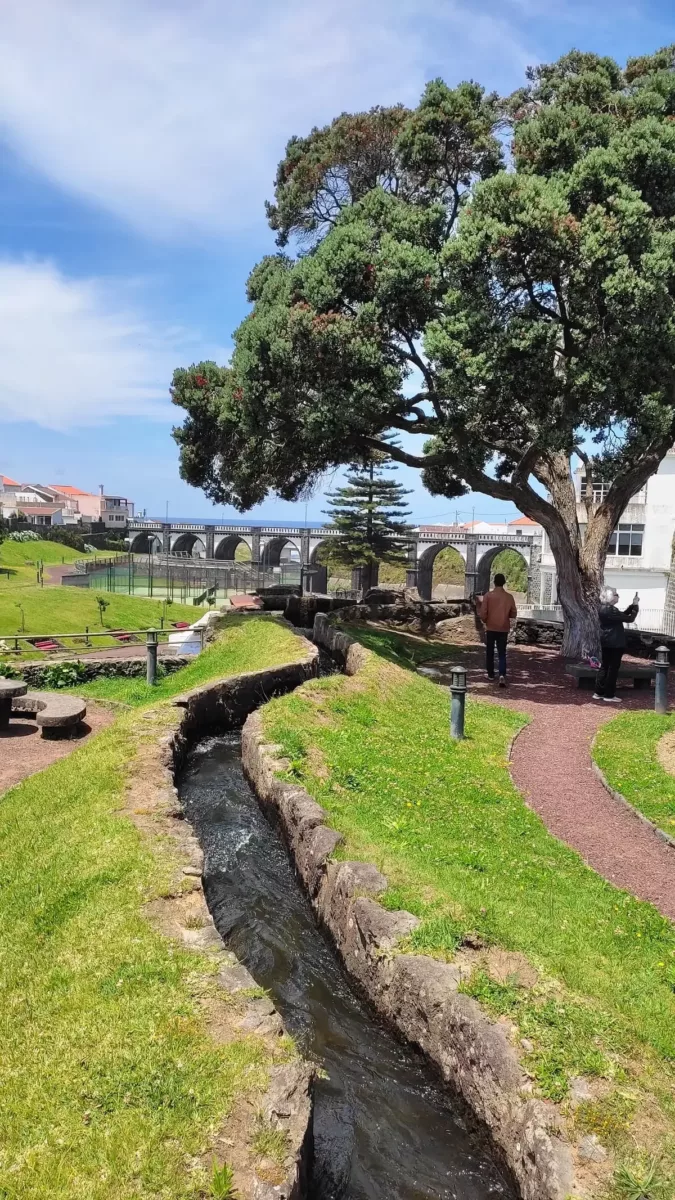 FAQ Shore Excursion Azores "Island Views, Tastes and Horses"
How long does this shore excursion take?
According to the description, this shore excursion was supposed to be 5 hours long. However, it was closer to 5.5 hours until we got back to the ship.
Are there bathrooms along the way?
There are bathrooms at most of the stops, definitely at Caldeira Velha (but get in line first or wait until everyone else is done or you won't have much time to look around) and at the Pineapple Farm. Though I don't remember seeing it, I am certain there is also a restroom at the horse farm. And finally, there were plenty of little restaurants and shops in Ribeira Grande so it should be easy to find a bathroom there as well.
How difficult/exhausting is this Azores shore excursion?
I would say it has a medium difficulty (as far as organized tours go). You definitely don't need to be athletic but getting in and out of the bus and walking around at the sights was quite exhausting.
Though the official description for this tour states "600 meters of walking" and "23 steps" I am positive it was quite a bit more. Nothing to worry about for most but if you have difficulty walking or if you think 23 steps may be a bit much this tour may not be for you.
Top Tips for NCL's Shore Excursion Azores "Island Views, Tastes and Horses"
Book early – this excursion does sell out
Arrive at the meeting point on the ship at least 30 minutes prior to the meet-up time. You don't want to be the last one on the bus!
The weather can change quite a bit in the course of a day on the Azores. Dress in layers and definitely bring a sweater. It gets chilly up on the mountain!
Take something for motion sickness along if you are sensitive to it. There are lots of curves driving up to Barrosa viewpoint.
If you need to use the bathroom at Caldeira Velha try to be one of the first in line or wait until the end so you don't spend all your time waiting
Pay attention to where to meet up after a stop. It is no fun having an entire bus waiting for you!
Have fun!