Are you looking for ideas for a walking tour to explore Ponta Delgada? Do you have some free time before/after an organized tour or just not feeling up to an all day excursion? You have come to the right place!
During a cruise stop in Ponta Delgada on my recent transatlantic cruise on Norwegian Getaway I had some free time to explore this quaint town. On my short walking tour I managed to hit most of the main sights – follow along to find out more!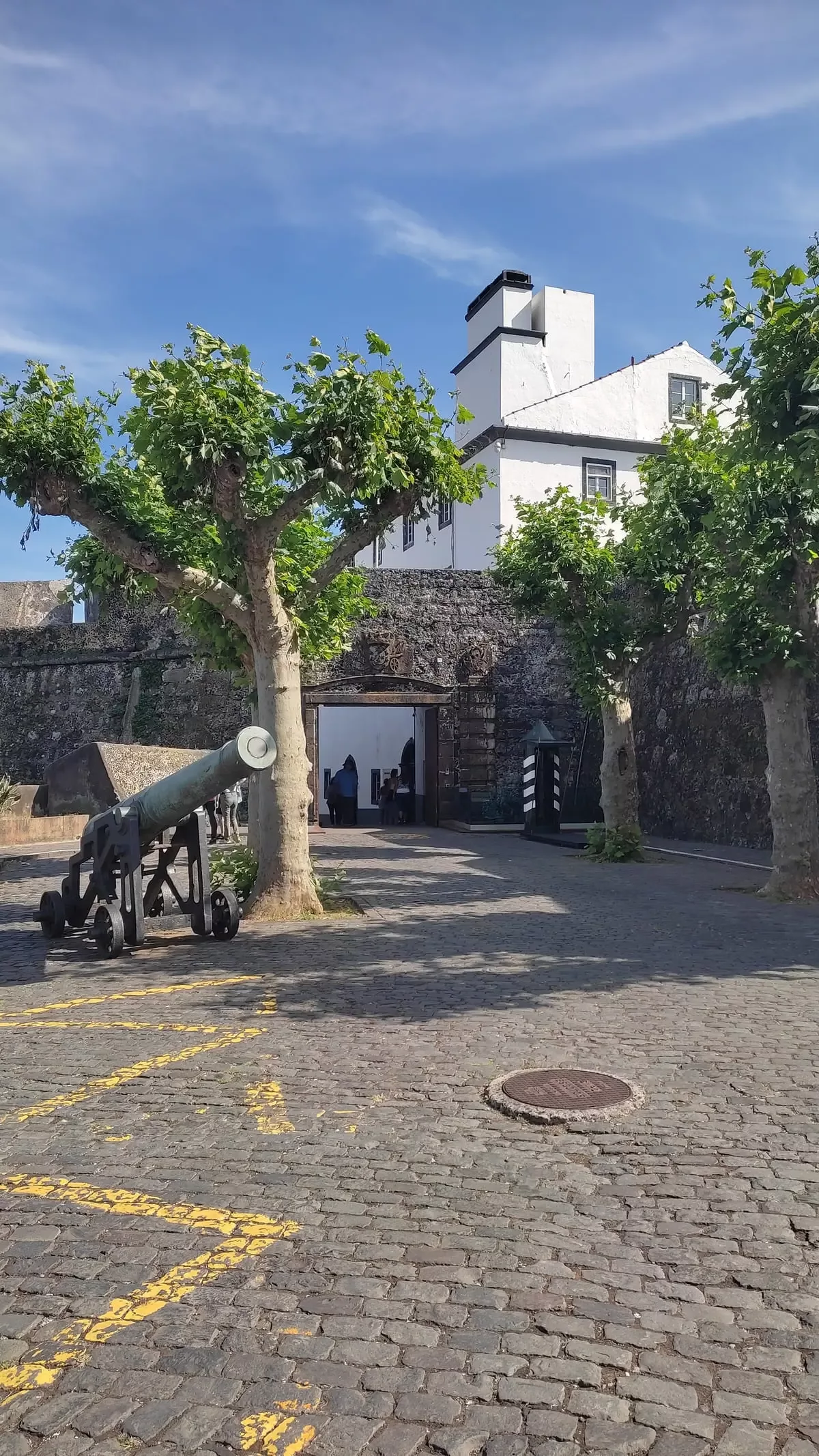 Is Ponta Delgada worth a visit?
Absolutely. Ponta Delgada is not only a great departure point to explore the Azores island of Sao Miguel but also well worth a visit itself. The city of around 67,000 inhabitants with its distinctive white-and-black colored buildings has a distinctly Portuguese flair that is quite different from what you will see in most other European countries.
What is there to do on a cruise stop in Ponta Delgada?
The biggest draw of the Azores is undoubtedly their vibrant green landscape. With its volcanic formations, thermal pools, and rich vegetation, the island of Sao Miguel will make you feel like you traveled back in time to the Jurassic era. Consequently, I would recommend exploring the island on a tour during your visit. You can read all about my shore excursion with Norwegian Cruise Lines here.
But what if you decide against a tour? Maybe all tours you are interested in are already sold out. Maybe you have already stretched your budget as far as it will go (those cruise excursions can be expensive!). Or maybe you are just looking for a more relaxed way to spend half a day in Ponta Delgada.
No worries – while the nature on Sao Miguel is stunning, Ponta Delgada itself offers plenty of sights to keep you entertained. I would recommend just getting off the ship on your own, strolling through the town and soaking up the atmosphere.
You can follow the short walking tour of Ponta Delgada I did during my recent visit. It will pass by most of the main sights. Read on to get more information.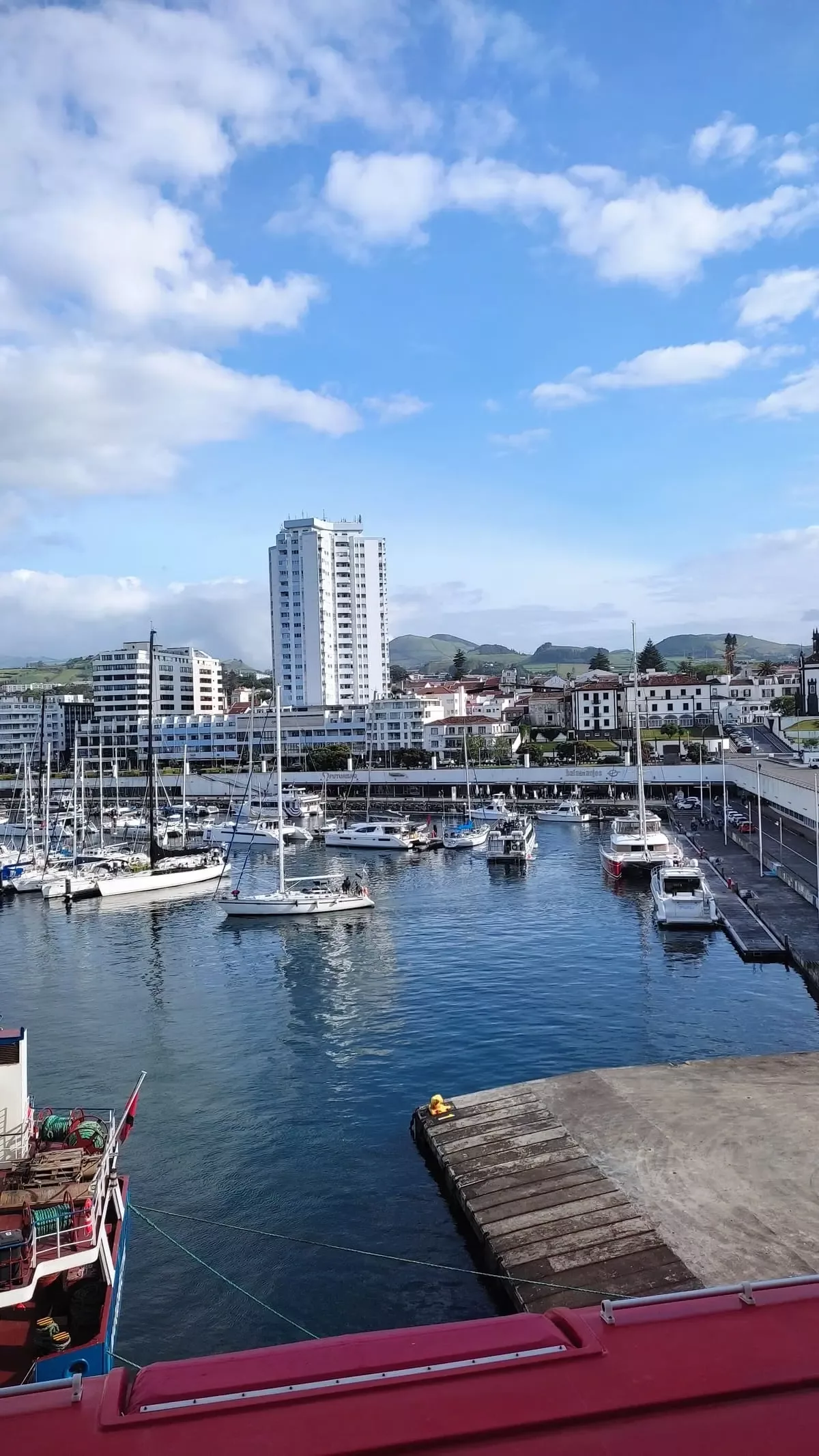 Is Ponta Delgada easy to explore on your own on a cruise?
Yes, Ponta Delgada is extremely easy to explore on your own during a cruise stop. You can easily walk from the ship to the center of town. Everywhere I went in Ponta Delgada seemed very safe and easy to navigate. Ponta Delgada is definitely a great cruise port for just doing your own thing!
How long does this walking tour of Ponta Delgada take?
My quick walk through the center of Ponta Delgada just took about an hour. However, if you go inside all the churches, sit down for a drink or a meal somewhere, and maybe take a detour to the botanical gardens, it would be perfect for a 3 to 4 hour half-day tour of Ponta Delgada.
Short Walking Tour of Ponta Delgada
This walk assumes you are in Ponta Delgada on a cruise and so starts at the port. However, if you are in Ponta Delgada already you can just start at the Portas da Cidade (the large gates on the main square).
This is a short circular walk (with a possible detour) that will pass by the main attractions of town and can be done in about one hour (but you can easily linger and spend more time).
I have drawn a little map to give you an idea of where you will be going. While I hope it is helpful it isn't to scale and far from perfect – trust Google Maps when in doubt.
Map of Ponta Delgada Walking Tour
Start by walking towards town
If you are on a cruise, your ship will likely dock near the center of Ponta Delgada. Once you have cleared the terminal building just follow the path towards town.
As you stroll along, you will pass several cafés as well as plenty of souvenir shops. A good place to grab a bottle of water or a quick snack for your walk!
1) Portas da Cidade
Keep walking along the shore line to the left until you see the Portas da Cidade to your right.
Those large stone gates to the city are easy to spot. Cross the plaza with the statue of Goncalo Velho Cabral (Portuguese explorer).
These gates were built in 1783 and originally part of the town fortification. However, in 1948 they were moved to the square you now see them in.
The design on the ground is beautiful – so much prettier than just plain grey pavement.
2) Igreja Matriz de Sao Sebastiao
Right after the city gates the church Igreja Matriz de Sao Sebastiao will be on your right. I wish I had had the energy to explore the inside (famous for its wood carvings) but instead I just passed by. Love the clock tower!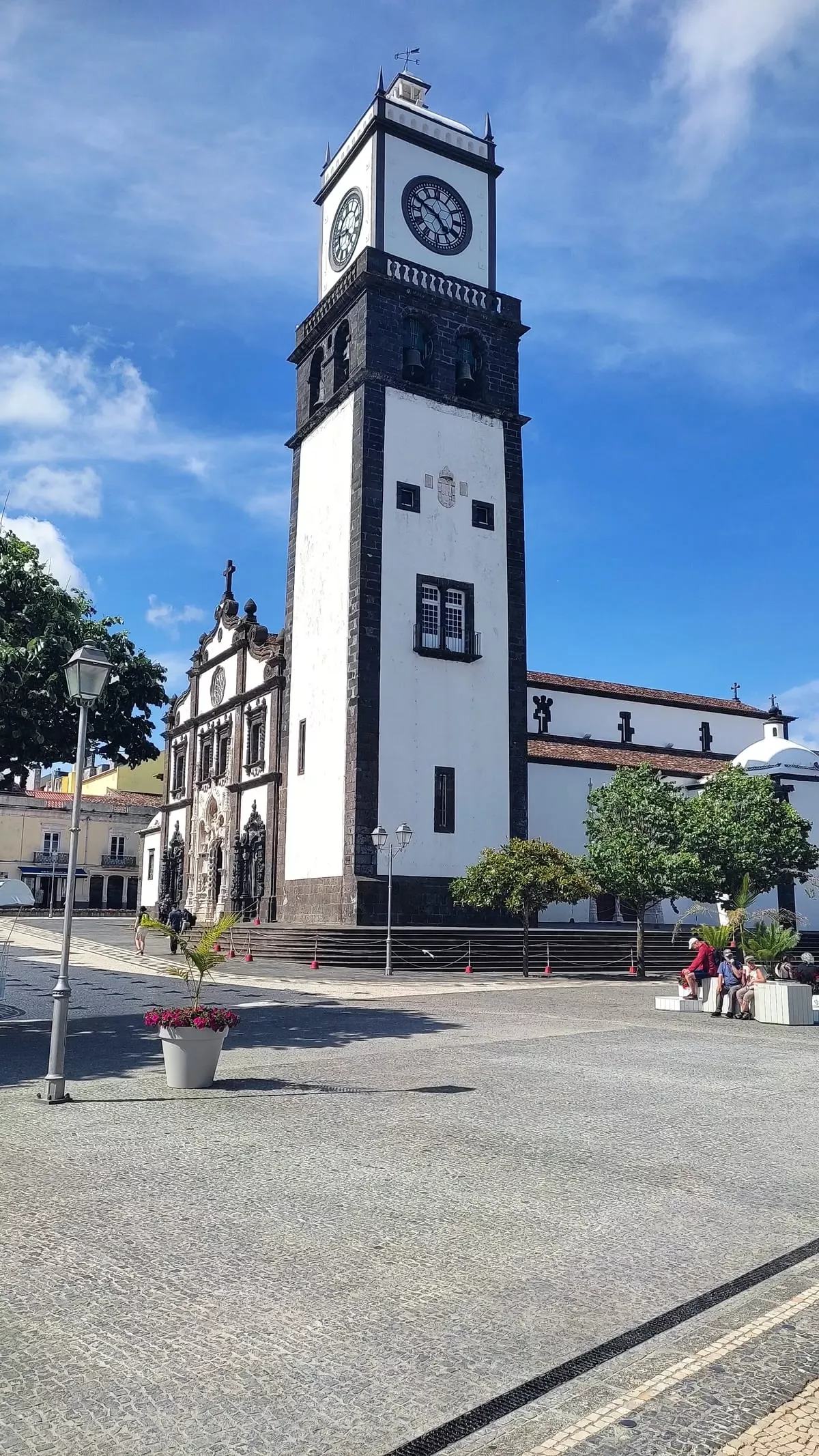 3) Ponta Delgada Town Hall
Turn left into R. dos Mercadores and you will see the Ponta Delgada Town Hall in front of you. The large fountain in front of it looks so inviting on a warm day. During my visit I saw someone actually swimming in it (if you look closely at the picture you can spot the head). I wouldn't recommend doing the same though as I am fairly sure it is not allowed.
4) Explore Ponta Delgada' s narrow streets
For the next part it doesn't matter too much which of the tempting narrow streets you follow – just head West and slightly North (or left and up as I call it). You can always quickly check Google Maps if you are not sure about your location.
On your way peek into shop windows or take a short break to get something to eat or drink. This walk is more about enjoying the experience than getting to a specific destination.
Just following your whim can be half the fun but if you prefer you can follow the route I took:
Follow the street along the right side of the fountain (R. do Acoreano Oriental)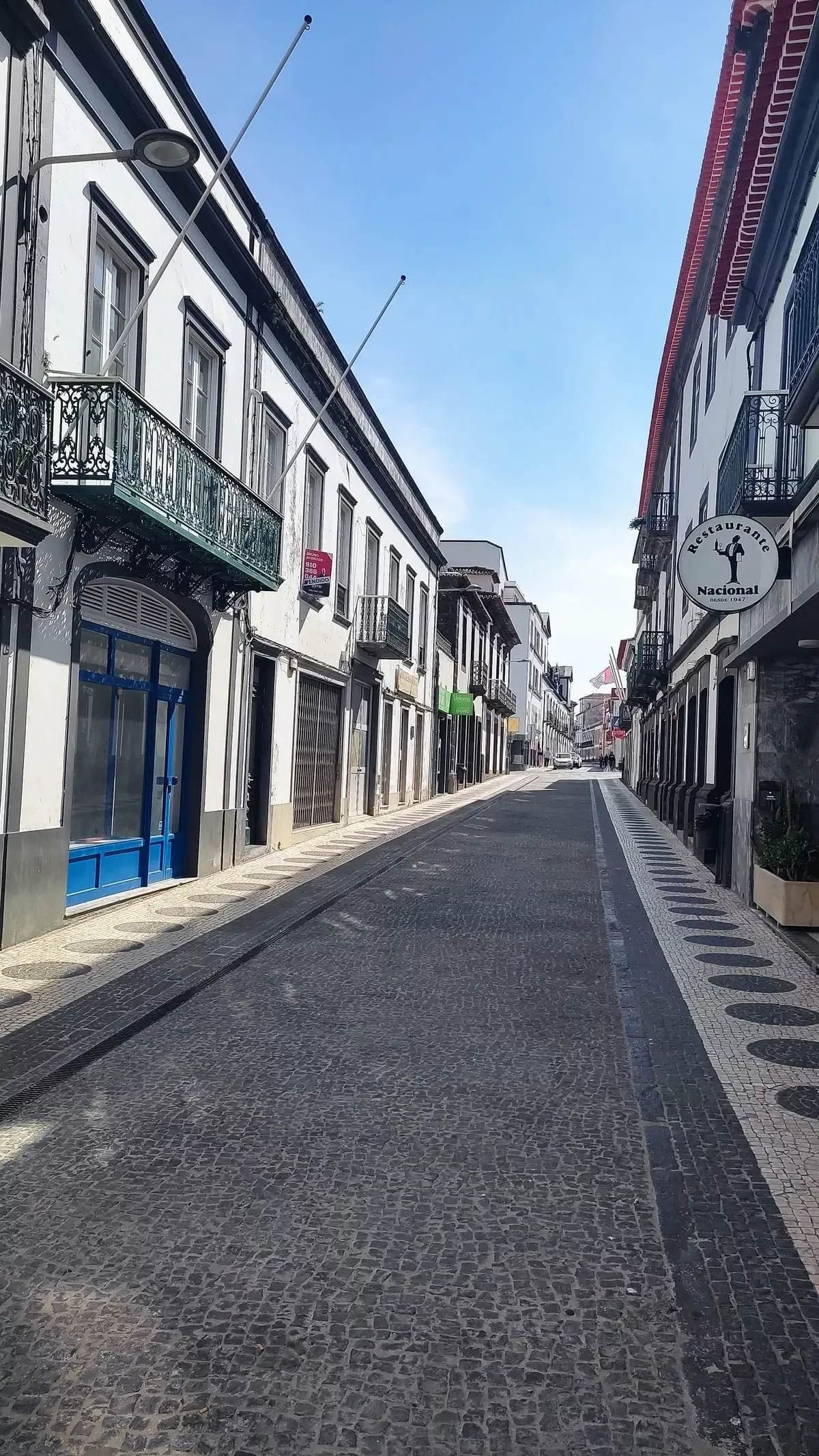 Cross R. Cons. Dr. Luis Bettencourt Medeiros Camara (Wow, that is a long street name) and keep going on R. Luis Soares de Sousa (not much shorter)
Turn right on the next block into R. da Cruz and continue along this street for two blocks.
Looking for a longer walk? Keep heading north along R. da Cruz (name changes but just keep on same street) for four blocks. Then turn right into Rua do Jardim and after a good block you will reach the Botanical Garden, Jardim Botanico Antonio Borges.
I was much too exhausted for this but based on pictures it is well worth the extra effort of getting there!
If you do decide on extending your walking tour this way, just retrace your steps to continue.
After two blocks on Rua do Cruz turn left into R. Dr. Gil Mont' Alverne Sequeira and keep going until you get to the large square at the end
One of the things I enjoy most in Portugal are the mosaics/stone work on the side walks and streets. They are so inventive and fun and a great example how the everyday can be turned into art. I wish more places would follow this example!
5) Campo de Sao Francis
At the end of this street you should step out into a large tree-lined square, Camp de Sao Francis. If my directions were misleading (or if you just followed your inclination) you can easily find it via Google Maps.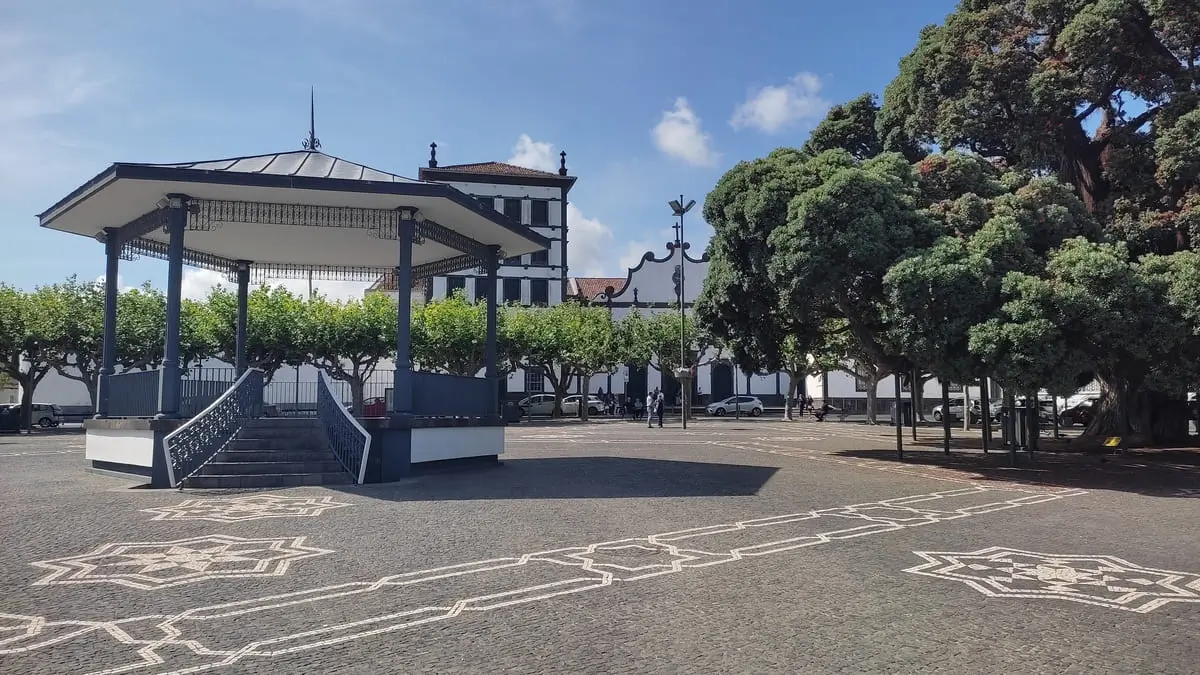 On the sides of this square you will find not just one but two important religious buildings in the Azores:
6) Santuario do Senhor Christos dos Milagros
This sanctuary belongs to the Convent of Our Lady of Hope and is the home of a religiously important statue depicting Jesus Christ with a crown of thorns. The yearly celebration associated with this work of art includes a procession and is the second biggest religious festival in Portugal!
I had no clue about any of this (not enough preparation) when I passed by on my walk. However, when I saw the open door and heard music I realized that it was Sunday and decided to join in the service.
Unfortunately, I was (very) late as the service was already concluding but I am so glad that I went in. Not only was the inside of the chapel quite impressive with lots of gold, but the nuns' singing was truly inspiring.
This turned out to be one of my favorite moments during my vacation! Funnily enough, though I spend a lot of time preparing for my trips often the best and most memorable experiences are completely unplanned.
I highly recommend that you visit this sanctuary on your walking tour of Ponta Delgada – if possible by attending a service (if you are so inclined).
7) Igreja do Sao Jose
Catty-corner to the Sanctuary of Christ of the Miracles you will find another church. As I was quite exhausted after my bus tour earlier in the day, I just walked by. But checking it out on the internet, it looks like it would definitely be worth a visit as well.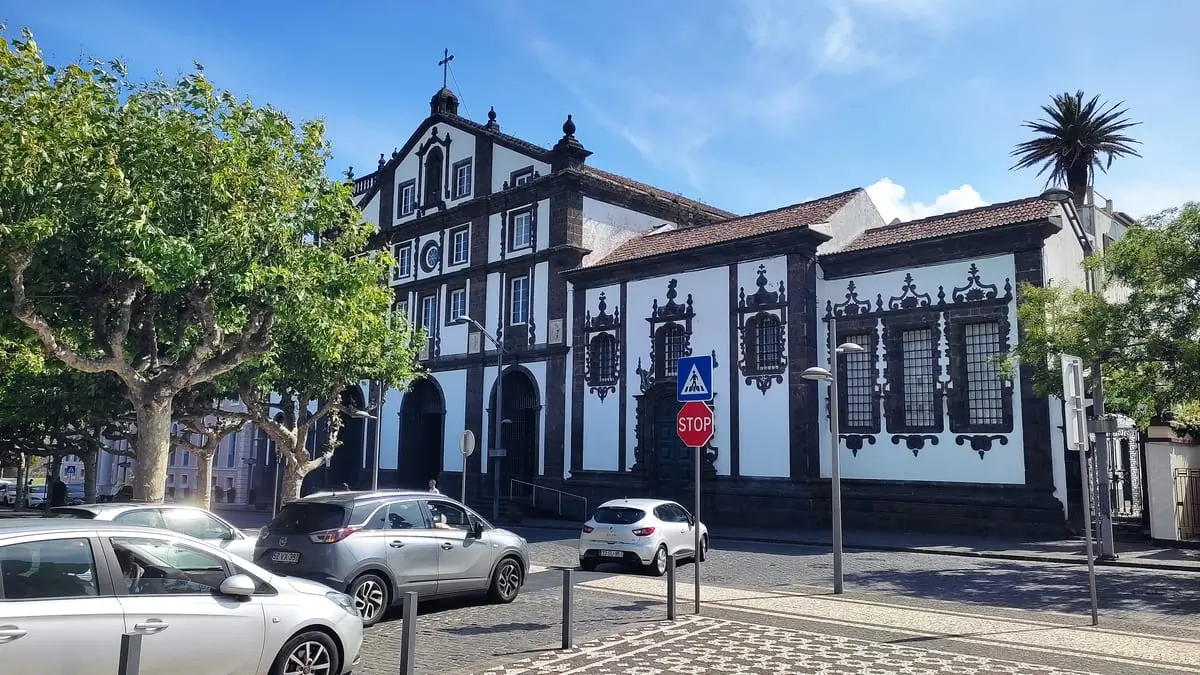 8) Forte de Sao Bras
This military fortress is the only one remaining in Ponta Delgada after the seafront was redone. It now houses the Military Museum of the Azores. Its opening hours are fairly limited and the museum is closed on Sundays so I didn't have to feel bad about skipping it.
9) Enjoy the Walk back to your ship
You can walk back from the fortress to your ship in about 10 to 15 minutes. You will pass by some cool houseboats as well as many small boats. There are also plenty of places to sit down and enjoy the view of your ship and the port!
I hope you enjoyed this short walking tour of Ponta Delgada! Is there something I missed that should be included in the walk? If so, please let me know in the comments!