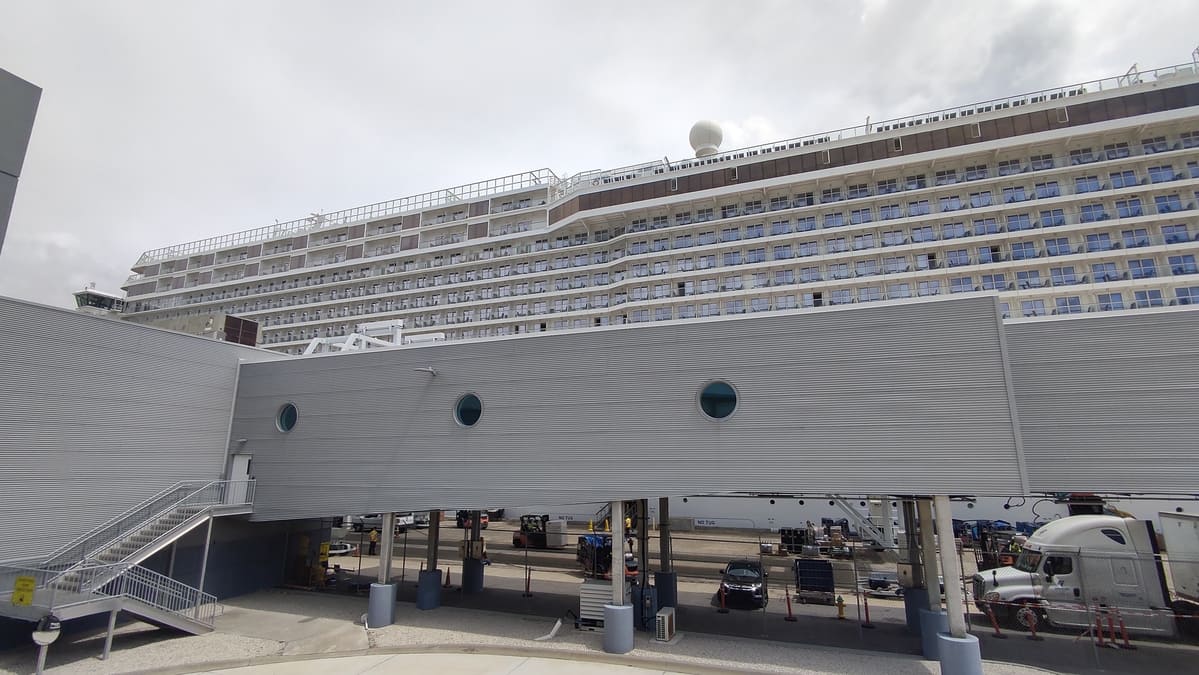 What is Go Port's Shuttle Service?
Go Port offers regular shuttle services from the Orlando airport (and some surrounding airport hotels) to your terminal at Port Canaveral. Generally, the shuttle runs on all days with cruise ships at Port Canaveral. Usually buses depart the airport continously from 10 am to 12:30 pm. The fee for this service is $29.99.
Booking Experience
I pre-booked my trip with Go Port  before leaving home. The website was clear and informative and booking was easy (well, it would have been easy if I hadn't made a mess of it as you will see below).
I did have some issues with my credit card but that happens frequently so nothing to do with Go Port.
Customer Service
Okay, here it gets a bit embarassing. I had barely checked into my Orlando hotel when I got an email from Go Port asking me how I rated the experience.
I was a bit surprised to get the review email before my transfer but didn't think too much of it until a couple of days later when I suddenly wondered – did I even book for the right day?
Nope, turns out I booked my port transfer for the day I flew into Orlando's MCO airport not for the next Saturday when my cruise was to start. Oops!
I sent an email to Go Port explaining my mistake and asking if there was any way to move my reservation to the next week. And Go Port's customer service in the person of Diana came through – she was so kind to just re-issue my ticket for the correct week.
I so appreciated this – thank you!
Based on this experience I would rate the Go Port customer service as excellent.
Check-in Process at MCO
On the (correct) day I took an Uber to MCO which dropped me of at Terminal A.
From the departure area, you take the elevator down to ground level where Arrivals are located. Move to the right (coming from the entrance/elevator) end of the car rental counters  and you will easily see the Go Port counter.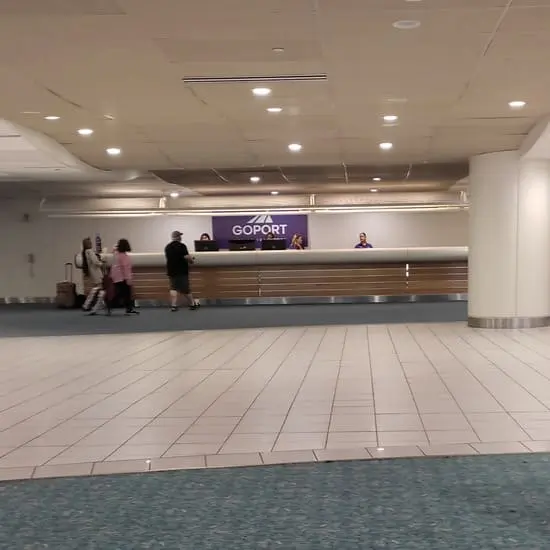 When I got there just a bit before 10 am there was no line. I could walk right up to the counter. There was no need to show my ticket, my name was enough. Within a minute or two, I got a tag for my suitcase with the Terminal I had to go to.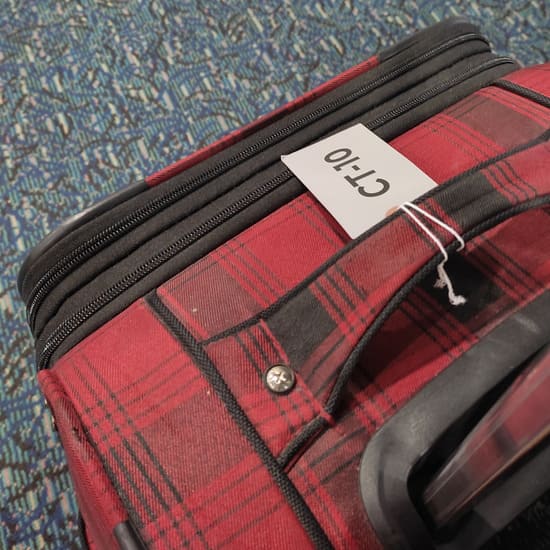 I also received a sign with a boarding number.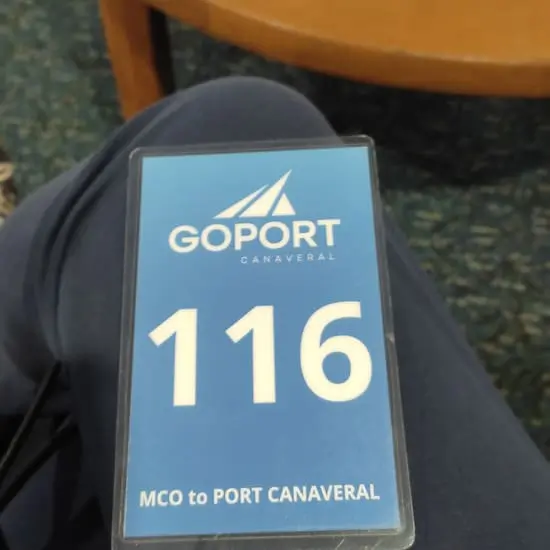 After check-in, I waited in an area with plenty of chairs. Even though quite a number of people were already waiting the wait time wasn't bad at all. It took maybe 15 minutes until my number was called.
We then walked to the bus with our luggage and handed it over to be put into the bus's luggage compartment.
If you have difficulty walking or a huge amount of luggage this may be a problem but for most it should be easy.
The Go Port Bus Ride
The bus was comfortable though nothing out of the ordinary. It does not have a bathroom and all the seats were taken on my trip so you will have to sit next to a stranger if you are traveling on your own. It is also a somewhat tight fit (unless you are a lot skinnier than me).
The ride took about 50 minutes to an hour and was easy and uneventful.
Arrival at Port Canaveral
Our driver was very nice and friendly but I am not sure if this was her first trip to Port Canaveral. She seemed a bit confused about what terminal to go to/where to park.
This was especially strange as it wasn't too difficult and weell-signposted. Even I could have probably figured it out.
I was rather surprised by this but it didn't matter in the end. We got where we wanted to go and were plenty early for our cruise.
Like always, there was a bit of pandemonium once you get off the bus and hand your luggage over to the porters but this is really no longer Go Port's concern.
Price of Go Port transfer from Orlando
The Go Port price of $29.99 was quite reasonable.
However, if you are not flying into MCO on that day and not staying at an airport hotel, you will have the additional expense of getting to the airport.
In my case I paid for an Uber – on Saturday morning the ride from Sheraton Vistana Resort to MCO was significantly cheaper than my trip from airport to hotel at night the previous week.
However, at $29.99 (plus tip) it cost exactly the same as the Go Port shuttle so doubled my total cost.
Taking Go Port was still quite a bit cheaper than taking an Uber all the way to Port Canaveral but for two passengers it would be about the same price and an Uber would be more convenient in that case.
Final Thoughts about my Go Port Experience
All in all, I was very happy with my Go Port experience in getting from Walt Disney World to Port Canaveral.
Making a reservation/payment went without a hitch, instructions were clear, and the whole process very efficient and streamlined.
They honored my reservation even though I messed it up and replied promptly to my emails – I was very impressed with their customer service.
The shuttle ride itself was fine though a bit crowded and the shuttle times chosen so as to get to the ship at the correct times.
The biggest difficulty cost is getting to Orlando's MCO airport if you are not flying there that day. This can add quite a bit to the expense, making Go Port less attractive.
Would I use Go Port again to get from Orlando to Port Canaveral?
I would definitely use Go Port again if traveling on my own. With two or more people, I might go for Uber/Lyft due to the added comfort (go when you want, pick-up at hotel, etc.) at a similar price.