Are you thinking of flying from Maastricht Aachen Airport? If so, read on for all the info!
When planning my Interrail trip to Cornwall last year I apparently didn't do such a good job planning. I had no clue that you had to reserve seats on the Eurostar train from the continent to London way ahead of time.
As I was locked into my dates, I had to get to London another way – and preferably without spending too much money. It turned out that the cheapest option was a Ryanair flight from Maastricht Aachen Airport.
Due to the small size of this airport, I had a hard time finding much info about the airport, how to get there, and where to stay. So I thought I would share my experience and what I have learned!
What and where is Maastricht Aachen Airport?
Maastricht Aachen Airport began as a temporary airfield during WWII and eventually developed into a small regional airport that is mainly used for cargo flights.
However, Corendon Dutch Airlines and Ryanair also use it as a base for flights to Antalya, Burgas, Heraklion, Hurghada, Rhodes, Ohrid, Zakynthos, Alicante, Barcelona, Bari, London, and Porto.
Maastricht Aachen Airport is located in Limburg, Netherlands, partway between the Dutch city of Maastricht (about 10 km) and the German city of Aachen (about 28 km).
How to get to Maastricht Aachen Airport by public transport
The easiest way to get to Maastricht Aachen Airport without a car is per train and then per bus.
Step 1:
Take the train to Maastricht, Sittard, Beek-Elsloo, or Meerssen.
Meerssen is the closest stop to the airport so was my choice (and the following instructions assume you make the same choice).
My train from Aachen to Meerssen took 48 minutes and was quite modern though not fancy.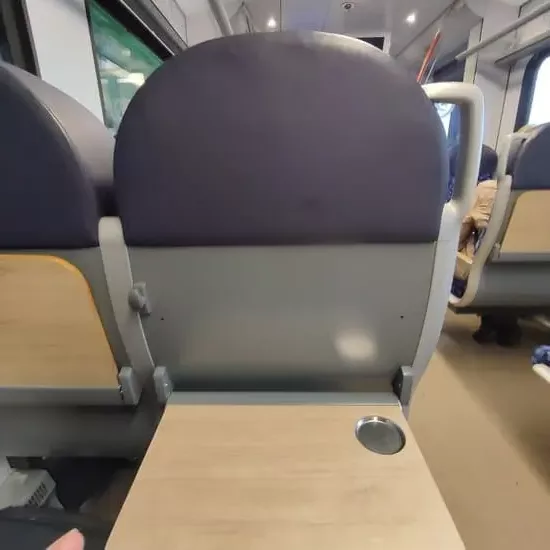 Step 2:
Get off at the train station in Meerssen. This is a tiny station with no (or very limited) services.
I did not see any taxis there so definitely call ahead to arrange one if you want to use a taxi for the rest of the way!
Luckily, the bus stop is right in front of the station and easy to find.
You are looking for Arriva Bus Line 30 in the direction of Sittard.
For such a small station they have a very snazzy bus information sign (one of the fanciest I have ever seen).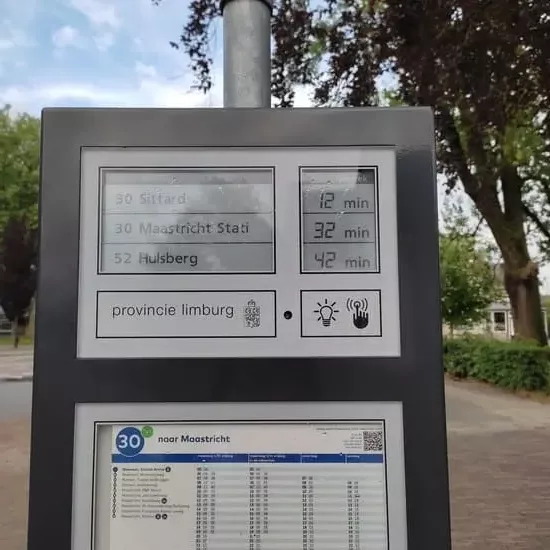 The bus doesn't go that often so you may have a bit to wait.
When it came I was quite surprised – it was a regular full-sized bus but I was the only passenger (probably because I was arriving the day before my flight).
The bus ride takes only about 10 minutes. I think  you could walk from the train station to the airport if you had to but it would take about an hour.
The bus will stop right across from the airport building.
What is Maastricht Aachen Airport like?
My impression in one word: Tiny.
The airport is so small that it was actually locked off when I arrived the evening before my flight!
However, the small size was an advantage the next morning during check-in. There was only one check-in/security line and everything went very smoothly. There was also a café to grab breakfast and a small shop.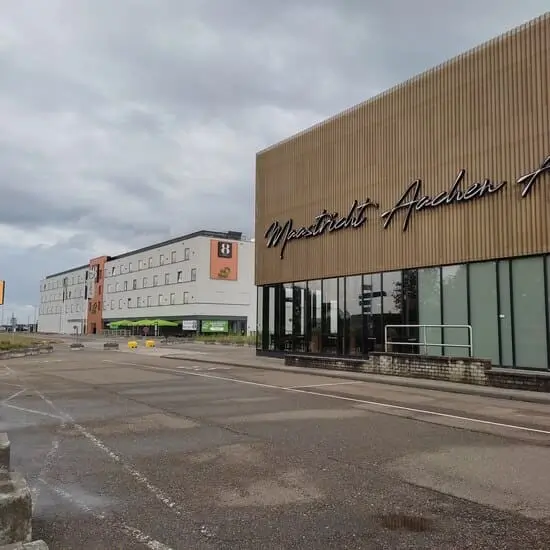 Where to stay at Maastricht Aachen Airport?
Public transport from Aachen (and presumably Maastricht) actually works quite well so you could stay at any hotel in those towns or along the train route.
However, if you have an early flight or (like me) tend to get stressed out about possibly missing your flight, I recommend staying at the Gr8 Hotel Maastricht-Aachen Airport.
As you can see above, this airport hotel (in the back with the large 8 on it) may well be bigger than the terminal building. Definitely different!
Hotel Review Gr8 Hotel Maastricht Aachen Airport
Location
The location is perfect for getting to your flight. It literally is a two minute walk.
Check-in
I didn't love the check-in. They had a weird computer/terminal for self-check in. For some reason it took me several tries to get the system to work.
There was a hotel employee there but he pretty much ignored my struggles (to be fair he was serving drinks to other customers). However, as soon as I managed to complete my check-in he turned up to ask for the additional tourist fee (about 1 Euro per night).
It wasn't horrible but not the most welcoming experience.
Hotel in General
Overall, the hotel had a modern vibe and tried hard to be stylish. Personally, I found the hallway somewhat disturbing as it reminded me of a nightmare/fun house but this may be just me (and after all, who cares about the hallway).
Room and bathroom
The room was modern and quite nicely set up. No complaints there.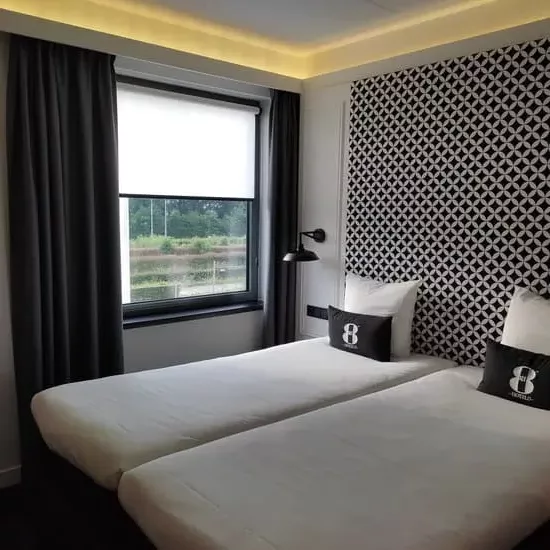 The bathroom set-up was interesting. The sink was separate and quite stylish. There were also more bathroom amenities provided than I would normally expect at an airport hotel.
Similar to some other modern hotels, the shower compartment has a glass wall. Not sure why hotels do that – almost everyone hates it. However, for me as a solo traveller it didn't really matter.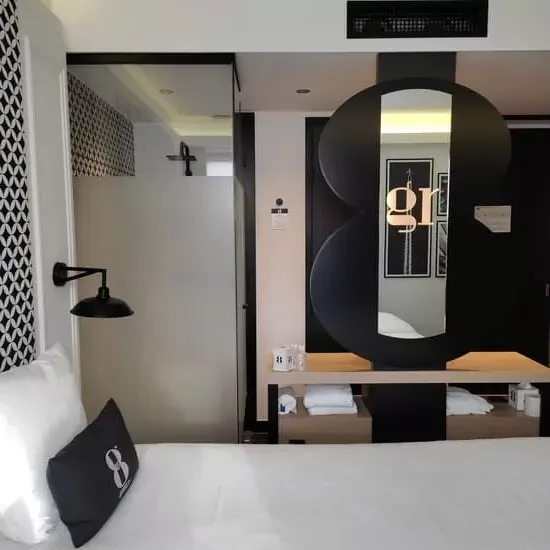 The shower was roomy and the toilet was in its own small room and (luckily) had a regular door. So all in all a pretty decent set-up.
I have no recollection of the WIFI so presumably it worked just fine.
Food and Drink
The hotel does not have its own restaurant and the airport restaurant (as well as all other airport facilities) was already closed.
Luckily, I was able (after some miscommunication) to buy some snacks and a soda at the front desk. Chips, Coke, and M&Ms – what more could you want for dinner!
Final Thoughts
The hotel wasn't perfect but at Euro 98 (with tourist fee) the price was reasonable, the room clean and fairly well set up, and the location perfect for an early morning flight. If I had another early or late flight from Maastricht Aachen Airport I would definitely stay again at the Gr8 Hotel.
So is Maastricht Aachen Airport a good choice?
Maastricht Aachen Airport doesn't offer very many services but does make a convenient departure point if you live nearby/get a good flight from there.
Getting to the airport with train and bus works well and the Gr8 Airport Hotel is convenient for early/late flights (and nervous travelers).
Do make sure to bring some food with you though if you will be arriving after about 7 pm in the evening as there really isn't much available nearby.