Getting to LAX without a car can be quite a challenge. In most cases Uber is your best option but on my recent trip to Southern California I had already more than maxed out my travel budget so was looking for a cheaper option.
Luckily, I was at the Inn at Venice Beach, just south of Santa Monica. And from a prior trip I knew that Santa Monica's Big Blue Bus offers a pretty decent bus option to get to LAX.
Follow along to read a step-by-step description of my trip and to find out what I thought about getting to Los Angeles International by public bus from Santa Monica/Venice.
Not staying in Santa Monica but still wondering how best to get to LAX? You can find more general information in my post about getting to LAX without a car.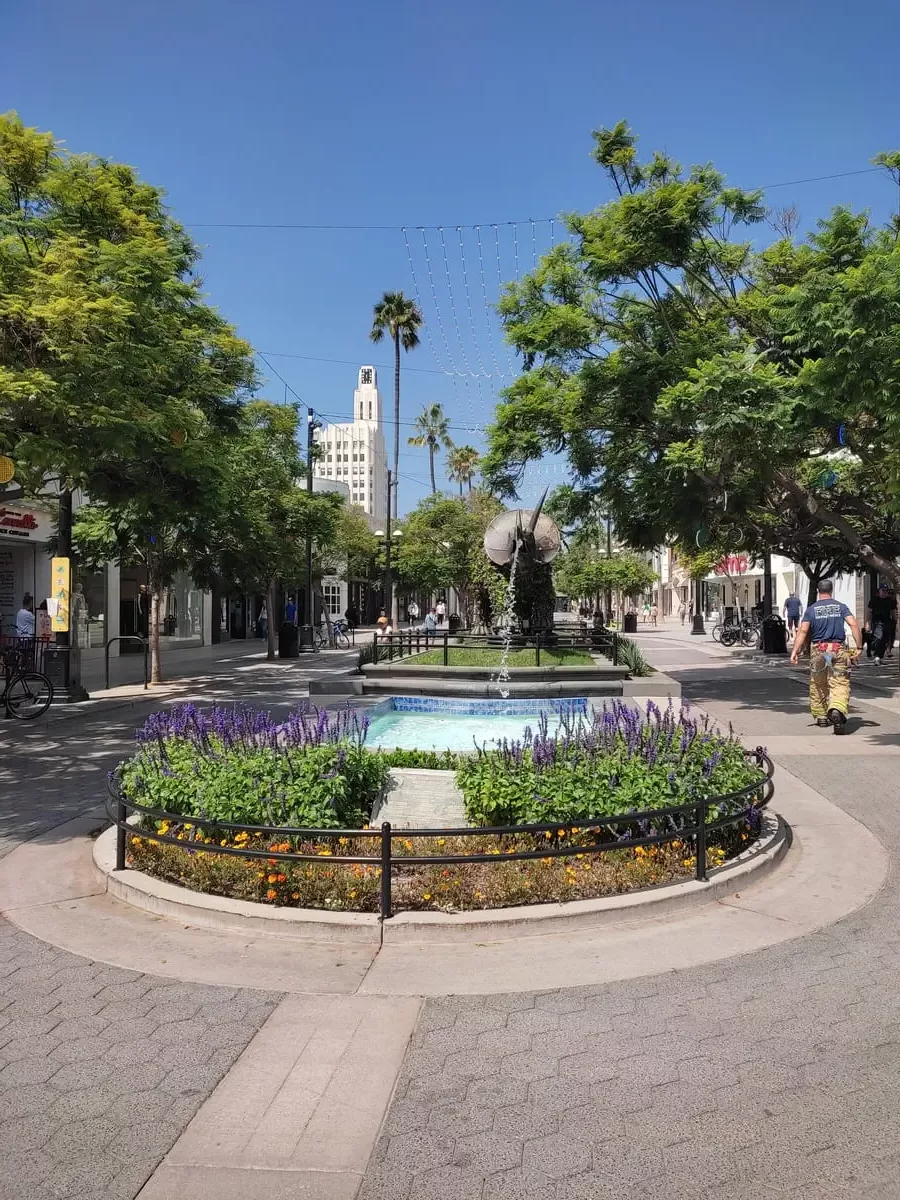 Basics of getting from Santa Monica to LAX by Bus
With Route 3 Santa Monica's Big Blue Bus (or BBB) offers a route from several stops in Santa Monica along Lincoln Boulevard all the way to the LAX City Bus Center.
At the LAX City Bus Center you have to transfer to an LAX Shuttle to get to the various terminals.
On weekdays, Route 3 runs about every 13 minutes from around 5 am to just before 11 pm.
On weekends, service starts slightly later and runs every 15 minutes. You can find a detailed schedule on the Big Blue Bus website.
The trip will cost you $1.25 (no matter where you go on). You can pay with cash (exact fare only, no change given).
If you have a TAP card for the Los Angeles public transport system you get a small discount and pay only $1.10. You get the same discount if you pay for your fare with their app.
The Big Blue Bus ride is scheduled to take about 44 minutes from Arizona & 5th in Santa Monica to the LAX City Bus Center (though of course it depends on traffic).
Once at the LAX City Bus Center you will have to wait for a shuttle to come around. The duration of that ride will depend on which terminal you are going to.
I would allow at least 20 minutes for this part of your trip so the entire ride will be slightly over one hour.
My Big Blue Bus trip from Venice to LAX
Now that you know the basics of how to get to LAX from Santa Monica/Venice you may wonder what the trip is actually like.
It is cheap but how difficult/inconvenient is it? Where and how do you change to the shuttle? What do you do once at LAX?
No worries, I have taken plenty of pictures to give you a step-by-step description of the entire process.
Step 1: Get to your nearest Big Blue Bus stop in Santa Monica/Venice
Depending on where you are staying, this may be the most cumbersome part of the trip.
Route 3 has several stops in the downtown area of Santa Monica (mostly on 4th street) as well as at the E Line Station so if your hotel is located centrally you shouldn't be too far from the nearest stop.
My hotel, the Inn at Venice Beach, was close to the beach in Venice (hence the name) so I had to get a bit farther east to the nearest stop of Route 3 on Lincoln Boulevard.
I could have taken a bus but opted to just walk to the nearest bus stop. It was a bit of a hike (about 25 minutes) but not at all unpleasant. Around 8 am on a weekday the streets were fairly empty and I saw mostly locals walking their dogs.
With just carry-on luggage the walk was no big deal but if you have more luggage you should definitely use the bus to connect with Route 3!
Step 2: At the Big Blue Bus Stop
My bus stop was clearly marked and even had a digital sign showing when the next bus was due!
I had to wait about 10 minutes – not bad at all. There were a couple of other people waiting as well. 
Step 3: Riding the Big Blue Bus to LAX City Bus Center
Like usual, you pay for your ride when entering the bus. You can either put exact fare in the fare box next to the driver or pay with app/TAP card.
I had a TAP card with a little bit of money left and scanned it at the machine up front near the driver. It worked without a problem and I saved 10 cents as compared to the cash price.
The bus wasn't empty but there were plenty of seats available. The bus interior was clean and the other passengers were regular people going either to work or to the airport.
I think this was the only bus on my trip that had a sign overhead which showed what the next stop would be. There was also an audio announcement of upcoming stops.
You pull on the overhead cable to indicate if you want the bus to stop. However, going to the LAX City Bus Center I am sure the driver would stop even if noone pulled the cable.
If you are at all worried about missing your stop you can always follow along on Google Maps!
Step 4: Change to shuttle at LAX City Bus Center
By the time we got to the LAX City Bus Center there were only two passengers left on the bus.
Once I got out at the not very inviting looking platform I did get a bit confused. Instead of looking at all the signs I followed my fellow passenger who looked like she knew what she was doing and started crossing over to the parking lot. 
Luckily, someone pointed out our error and we just backtracked so no problem. Don't make the same mistake – you do not have to leave the platform where you disembark!
Instead look at the signs along the cement platform of the LAX City Bus Center. Going to the airport you want Bay 12 that reads "LAX Shuttle to all terminals" like on the picture.
If you are using Big Blue Bus (or any other bus) to travel from the airport to your destination, just look at all the signs to find the bay that corresponds to the bus line you are looking for, e.g. Culver City Bus or Big Blue Bus.
Step 5: Ride the Shuttle from the Bus Center to your terminal
Shuttle buses run every 10 to 15 minutes so your wait should not be too long. We waited probably about 7 or 8 minutes.
The LAX shuttle buses are clearly marked – you can't really make a mistake. The ride is free so no need for a ticket or cash.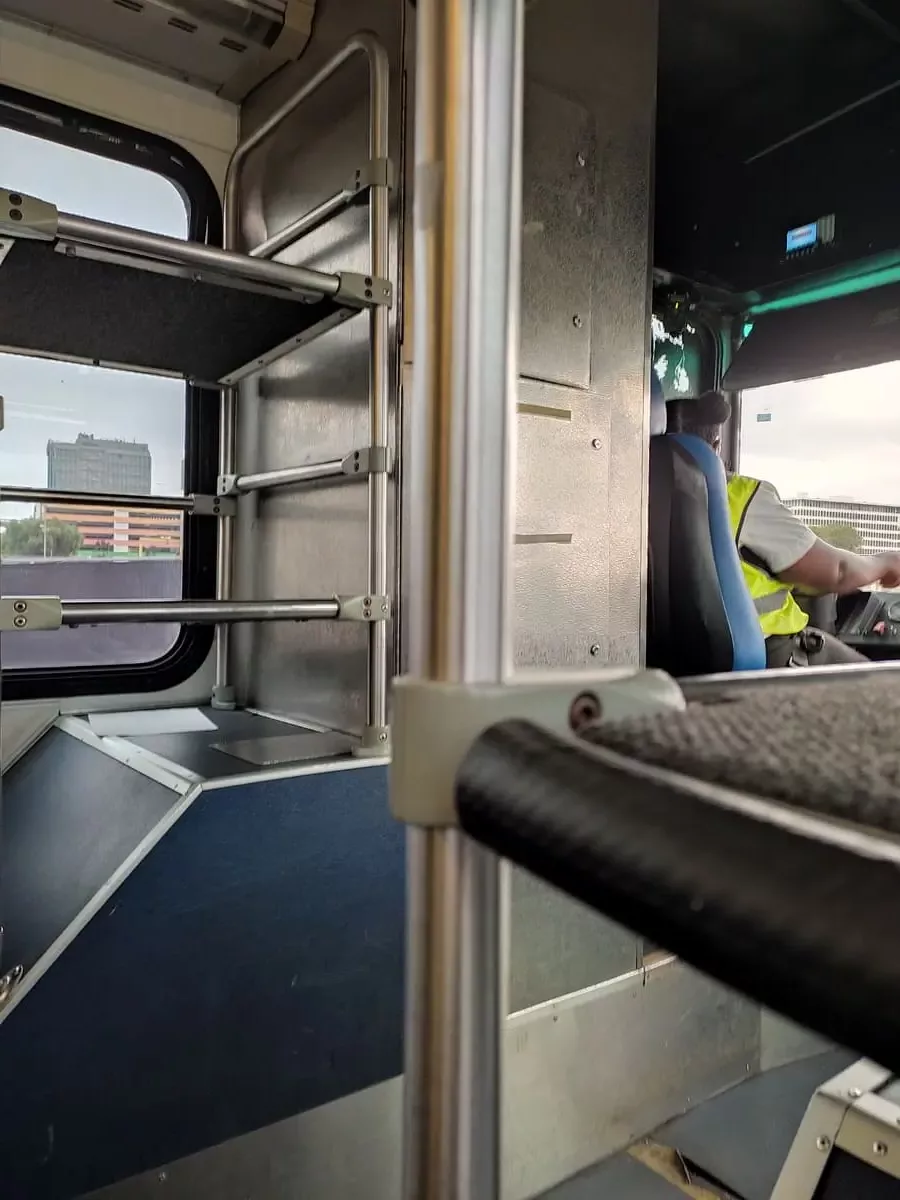 The shuttle buses have special racks for luggage both in the front and middle of the bus. I highly recommend using these even if the bus is empty when you get on. It can get crowded quickly.
The shuttle bus ride does not take long but how long depends on which terminal you are going to.
Make a note of which terminal you want prior to your trip! If you get off at the wrong terminal you could always hop on another shuttle (or walk) but best to get it right the first time.
The shuttle travels through the terminals in order, i.e. Terminal 1, Terminal 2,….
I got off at the stop for Terminal 7, United.
If you are traveling from the airport to Santa Monica (or anywhere else) you board the shuttle at the pink column. There are different shuttle lines – make sure you get the one you need. Shuttle C goes to the City Bus Center where all the bus lines leave from.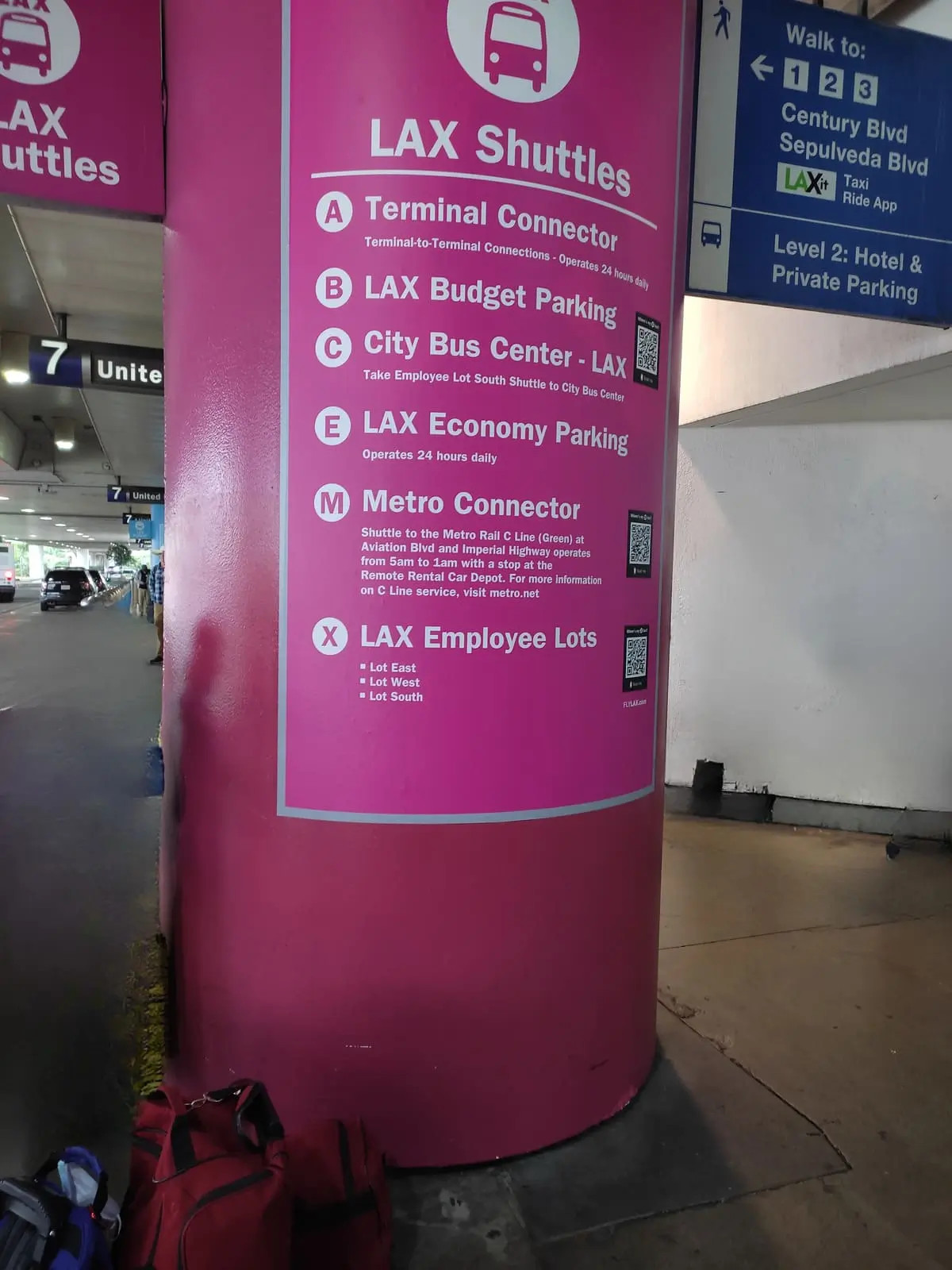 Step 6: Make your way inside the airport
Once off the shuttle I went inside the terminal building.
The shuttle drops off on level 1 which is the arrivals area. To get to check-in I turned right and soon came to an elevator for going up to Level 2 which is departures.
And that was it – I was at LAX, ready to check in for my flight!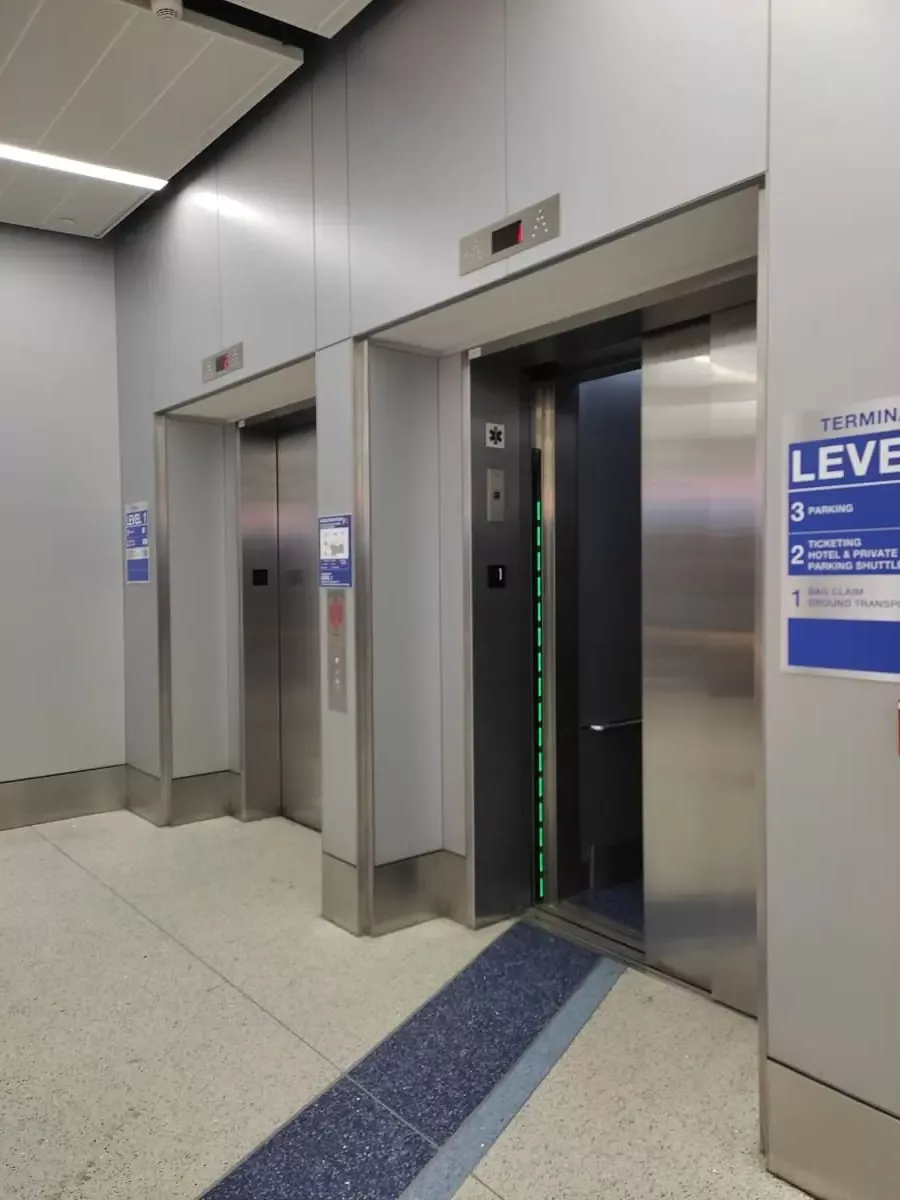 My opinion about taking the bus from Santa Monica to LAX
I am so glad I decided to use Big Blue Bus to get to Los Angeles International Airport!
I had checked on the Uber app and a ride from my hotel to LAX would have cost around $40. As I ended up paying only $1.10 the savings were significant.
Aside of walking to the bus stop (about 25 minutes in my case), the trip took probably about the same time as an Uber ride would have.
Uber can not drop off at the terminals at LAX either so you also have to change to a shuttle (at LAXit instead of at the Bus Center).
So really the bus ride wasn't more troublesome than an Uber ride would have been but so much cheaper.
In my opinion the Big Blue Bus Route 3 is a great alternative for getting to LAX from Santa Monica or Venice if you are close to one of the bus stops and don't have a huge amount of luggage.
Have you taken the Big Blue Bus to LAX before? If so what did you think?
If you are staying in a different part of LA or if you are wondering how to get to LAX without using the bus you can find more information in my more general post about getting to LAX without a car.