Are you looking for a great day trip from London by train?
London is a wonderful city and has so much to offer – world-class museums, posh stores, excellent restaurants, interesting historical sites… But it is still just that – a big city – and if you are like me you will wish for a bit of a change of scenery when in London for more than two or three days.
When I visit London for any length of time I almost always include a day trip or two outside the city itself. Not only does this offer a welcome break from the noise and bustle of a busy metropolis but it also provides a completely different experience. England instead of just its capital.
Of course you don't want to venture too far either – you want to experience nature, a cute town, or some stately mansion and not spend all day in transit.
So here I will share with you what I consider the 10 best day trips from London by train based on my past adventures.
Day Trips by Train close to London
Day Trip to Kew Gardens
If you are at all interested in gardening or plants you will certainly have heard of Kew Gardens – after all it is one of the most famous botanical gardens in the world. With over 50,000 living plants and several fascinating greenhouses you could easily spend the whole day there (or you could combine it with Syon House as I did).
The Royal Botanic Gardens in Kew are very easy to get to and definitely worth a visit!
How to get there from London:
There are many options to get there from central London:
The easiest is probably by tube train – take the District Line to Kew Gardens station and you will have about 1/3 miles to walk.
A very cool alternative is a boat ride from Westminster Pier to Kew Pier.  Departure times vary depending on day and time of year. The ride will take about 90 minutes – something I will definitely try next time.
Approx. Cost:
GBP 24 (at gate, summer), you can save some money by buying ahead of time
Good to Know:
Wear comfortable shoes as you will want to do quite a bit of walking
Best for:
Sunny Days, Nature Lovers, Gardening Enthusiasts
Day Trip Syon House
Syon House is maybe less well known (when I was there years ago I was the only one on the house tour) but well worth a visit. It is the London home of the Duke of Northumberland – the family has owned it since 1594! The house is interesting and beautiful but what I loved most were the gardens. Really England at its finest!
How to get there from London:
The easiest way to get there is probably by train (Southwestern Railway takes about 30 minutes from Waterloo Station to Syon Lane, about a 15 minute walk from the house).
There are also various bus routes that may work better for you, depending on where you are coming from.
You could also walk from Kew Gardens (about 2.5 miles so a bit of exercise).
Approx. Cost:
GBP 14
Good to Know:
The Great Conservatory in Syon Park had a starring role in Bridgerton – it was the scene of Lady Danbury's ball!
As it is a private home, the opening times vary more than most places. Check before you travel!
Best for: Garden Enthusiasts, Fans of Bridgerton, Sunny Days
Day Trip Greenwich from London
Greenwich is another evergreen side trip from London proper. Easy to get to, it offers several major sights – the Cutty Sark (a restored tea clipper), the National Maritime Museum, the Old Royal Naval College, and of course the Greenwich Meridian Line at the Royal Observatory. Who wouldn't want to stand in both hemispheres at the same time? One of the best photo ops ever.
How to get there from London:
There are many ways to get to Greenwich from London – by train (about 8 minutes from London Bridge), Tube (Jubilee Line), the Elizabeth Line, or Docklands Light Railway (about 20 minutes from Bank station). Bus and boat services are also available. The best option will depend on where you are travelling from – the DLR station is especially convenient for Cutty Sark though.
Approx. Cost:
The National Maritime Museum, and Queen's House are free to enter. Cutty Sark and Royal Observatory are about GBP 16 each.
Good to Know:
If the weather is nice Greenwich Park is a great spot for a picnic!
Best for:
Anyone interested in History or Geography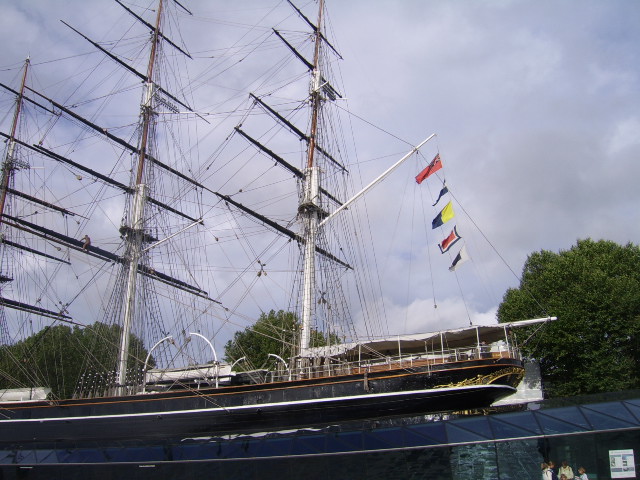 Day Trip Hampton Court from London
Hampton Court is definitely not to be missed (I think I even prefer it to Windsor Castle). The castle itself is very interesting (Henry VIII's kitchens and the Great Hall are highlights) but I especially loved seeing the Royal Tennis Court. Did you know that the first tennis court at Hampton Court Palace was built between 1526 and 1529? And that Henry VIII was athletic and loved sports when young?
However, my favorite part of the Palace is course the Hampton Court Maze (I am a sucker for mazes so that alone is enough for me to put Hampton Court on my itinerary.) It covers about a third of an acre and it takes about 20 minutes to reach the center!
How to get there from London:
There are regular trains from London Waterloo to Hampton Court train station. In the summer there is also a riverboat service (the ride from London Westminster is at around 4 hours pretty long though).
Approx. Cost:
Tickets cost around GBP 28
Good to Know:
During the year various special events are offered, often centered on the gardens (e.g. Tulip Festival).
Best for:
History Buffs, Shakespeare Lovers, Gardening Enthusiasts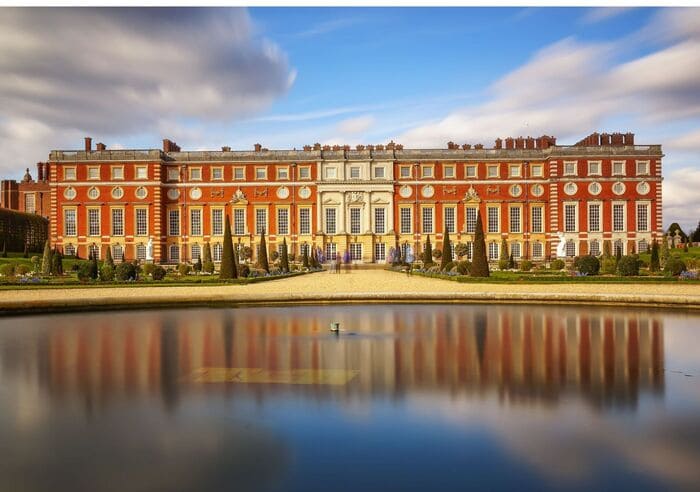 Day Trip Windsor Castle and Eton by train
Even if you are not in town to see the Royal Windsor Horse Show, Windsor (and its neighbor Eton) has so much to offer!
Of course the main attraction in Windsor is Windsor Castle. Highlights of the castle are definitely Queen Mary's Dolls' House and St George's Chapel (where Queen Elizabeth II was laid to rest). The Long Walk and the town of Windsor itself are also worth a visit.
And when you are done touring the castle and maybe had some lunch there should be enough time to stroll through Eton (it is just a five minute walk away) and soak up the atmosphere. Eton College may not exactly look like Hogwarts but it does definitely give off Hogwarts vibes. And maybe one of the students you see walking around in their fancy suits will one day be the new Prime Minister.
How to get there from London:
The easiest way to get there is probably by train – you can either go to Windsor & Eton Central or to Windsor & Eton Riverside (you will normally have to change trains in Slough or Staines).
Approx. Cost:
Current price is GBP 30 (you will save GBP 2 if prebooking)
Good to Know:
Windsor Castle is closed on Tuesdays and Wednesdays. Also, as a working castle it may be closed at other times. So do check opening times before heading out to avoid disappointment!
Best for:
History Fans, Anyone interested in the Royal family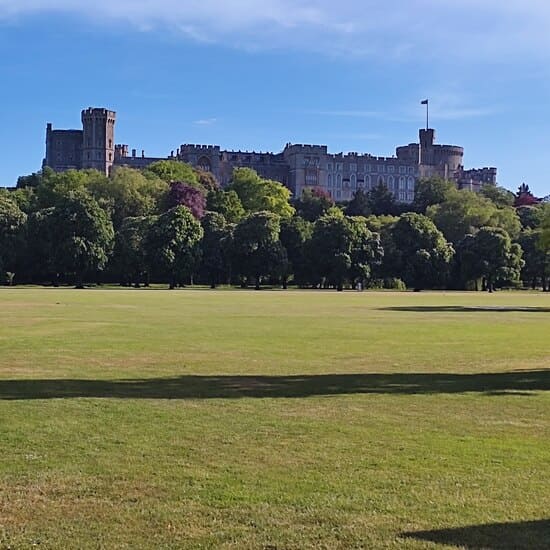 Day Trip Richmond from London by train
Richmond is just over eight miles from the center of London but has a completely different vibe. Aside of a cute town it offers serene riverside walks, many parks, as well as one of the best views far and wide! In less than 30 minutes you can leave the town behind and stroll along the Thames, hang out at Richmond Green, or see deer in Richmond Park.
How to get there from London:
There are many ways to get to Richmond – taking a train from London Waterloo is probably the fastest but it will  depend on where you are starting from.
Approx. Cost:
Most attractions (parks, riverside walks, etc.) are free! I did a Treasure Trail (about GBP 10) and had a great time.
Good to Know:
Richmond can easily be combined with a visit to Kew Gardens.
The view from up on the hill (near the entrance to Richmond Park) is incredible! But make sure to bring some water with you – I didn't and was too thirsty to enjoy the view for long.
Best for:
Anyone wanting to get out of the city for a bit, friends of green spaces, Sunny Days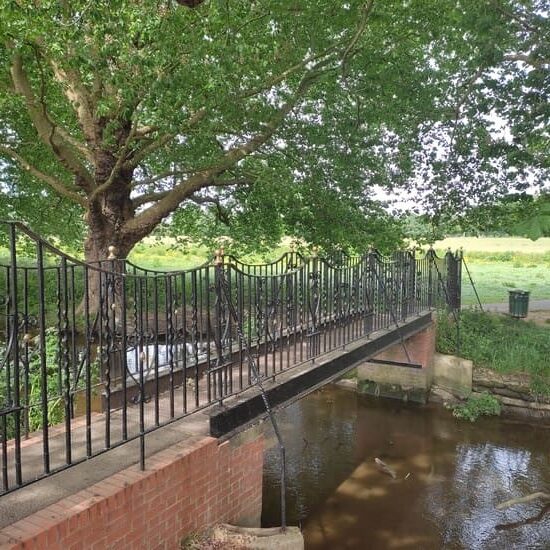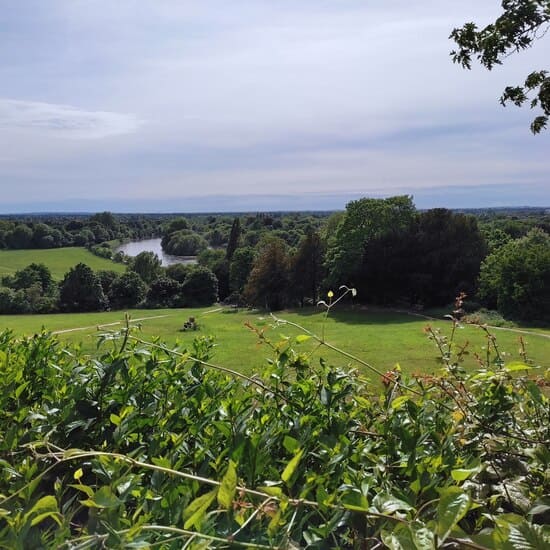 Day Trips by train further afield from London
Oxford by train from London
Oxford is of course mainly known as the home of the oldest University in the English speaking world. The University consists of 39 independent colleges and their ancient buildings and quads are a highlight of any visit to this town.
But you can also visit several world-class museums, the History of Science, Museum of Natural History, the Pitt Rivers Museum, and the Ashmolean Museum amongst them.
And of course there are botanical gardens or you could spend time on the river – what better on a sunny summer's day?
How to get there from London:
Great Western Railroad has regular services from London Paddington (about one hour) and Chiltern Railways offers trains from London Marylebone.
There is also a bus directly from London Heathrow (90 minutes) or London Gatwick (about 2.5 hours) airports as well as the Oxford Tube bus from London Victoria.
Approx. Cost:
Most colleges are free to visit or have a small fee
Good to Know:
Opening times of the various colleges are very diverse and subject to change so make sure to check close to the time of your intended visit if you want to see a specific college.
Christ Church College (the dining hall from Harry Potter!!!) requires pre-booked tickets (GBP 16). There may be availability without pre-booking (GBP 18) but if you are keen to follow in Harry's footsteps I would buy tickets ahead of time!
Best for: Harry Potter Fans, Literature Buffs, Mystery Readers, Scholars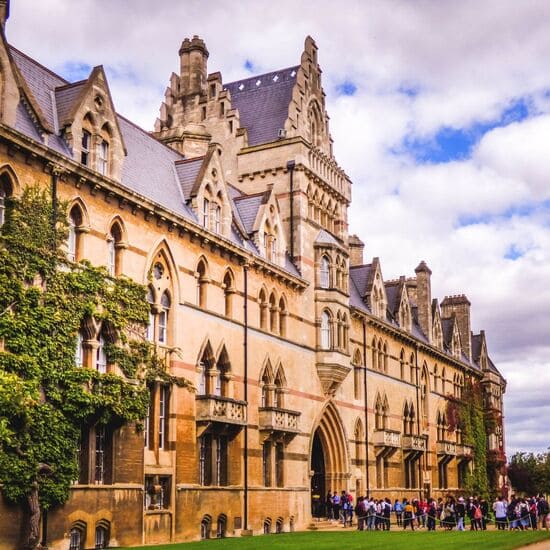 Blenheim Palace
An easy side-trip from Oxford, Blenheim Palace is a truly magnificent country house and the birthplace of Sir Winston Churchill.
Aside of the Palace Rooms and the Downstairs Tour you can also see the room Sir Winston Churchill was born in and learn more about his life.
But again, my favorite part is the gardens. Specifically, the Marlborough Maze (yes, I am a sucker for mazes). There is also a miniature train that runs between the Palace and the Garden.
How to get there from London:
The easiest way to get to Blenheim Palace from London is to take a train or bus to Oxford (see above) and then Stagecoach Bus 3 or 7 to Woodstock. Buses stop outside the main gates of Blenheim Palace, a 10 minute walk to the house.
Approx. Cost:
The entrance fee is rather pricey at GBP 35 (GBP 22.5 if you only want to visit the park and gardens).
Good to Know:
At this time tickets have to still be purchased online in advance.
There are various special events during the year – definitely worth checking to see what is on during your time in London.
Best for: History Buffs, Admirers of Sir Winston Churchill, Gardening Enthusiasts, Maze Lovers
Brighton
Anyone who has read a Regency romance has heard of Brighton, a seaside resort made popular by the Prince Regent George, later King George IV.
And ever since I first saw a picture of the Royal Pavilion – so un-English, so exotic, so unexpected – I have wanted to see it myself. And on a recent trip to England I finally managed it!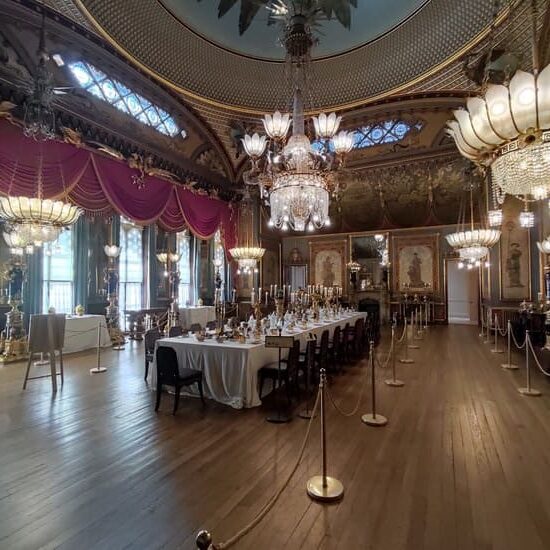 The Pavilion isn't very big so you have plenty of time to enjoy everything else Brighton has to offer, especially the Lanes (quaint lanes with various stores, restaurants, pubs etc.) and the beach with the pier.
Or you can combine Brighton with a hike on the Downs like I did (see the following day trip idea).
How to get there from London:
Brighton is very well connected to London. There are multiple trains per hour (mostly Thameslink from London Bridge and Southern as well as Gatwick Express from Victoria station) and the ride takes about an hour.
Approx. Cost:
The entrance fee for the Royal Pavilion is a bit steep with GBP 17 as the place is not huge. However, it is unique so I was okay with paying a bit more.
Good to Know:
Queen Victoria disliked Brighton so she sold the Palace to the city in 1850 and took the furnishings with her. Luckily, many of them were later returned.
Best for:
History Buffs, Readers of Regency romances, anyone wanting an easy day out at the seaside.
Seven Sisters Hike to Eastbourne
This is a great hike – the views are stunning, you can smell the sea and the fresh grass, and the wind whips through your hair. Highly recommended!
On a sunny day there were enough fellow hikers to make it feel completely safe for me as a solo hiker but not so many that it took away from the feeling of being out in the wilds. And you really can't get lost and won't have to worry whether you are going the right way.
However, be advised that hiking up and down the undulating hills is way more exhausting than one might think.
I combined this hike with a visit of the Brighton Pavillion so didn't get started hiking until almost lunch time. This meant that I didn't have much time to rest if I wanted to finish before dusk and it was quite challenging.
Next time I would either do just the hike and get started in the morning or take a bus/train to Eastbourne and then the open-top bus to the halfway-point of the hike. That would still give you mostly the same experience without the exhaustion.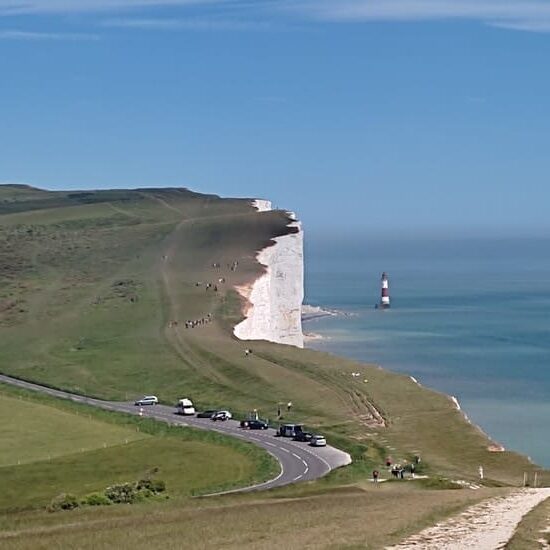 How to get there from London:
The first option is a bus from Brighton (see above on how to get from London to Brighton) to the Visitor Center of Seven Sisters Country Park.
In the summer you could take the train to Eastbourne (with Southern it will take about 1.5 hours from London Victoria) and then the open-top bus to Birling Gap.
Approx. Cost:
The hike itself is free.
Good to Know:
Make sure to bring something to drink and possibly to eat as there are very few places to buy anything on the way.
Be aware that the sun can be strong even though it may feel even chilly due to the wind. I ended up with a pretty bad sunburn as it didn't even occur to me to put sunscreen on.
And of course stay well back from the cliff edge!
Best for:
Nature Lovers, Hikers, Good Weather.
More great Day Trips from London by Train
Here are some other destinations that are definitely worth a visit:
Canterbury– The Cathedral is of course the main attraction here. But the town has many other historic religious sites and quaint old buildings to offer.
Ascot– Getting to the horse races at Ascot from London by train is easy. While there are races all through the year, Royal Ascot is of course the most famous and popular!
Bath – As a reader of Jane Austen and Georgette Heyer Bath definitely was on my itinerary on my last trip to London. Unfortunately, there was a major train incident and I got stuck halfway there. So my visit of the Historic Roman Baths, the Royal Crescent, and Pulteney Bridge had to be postponed. But no matter – something to look forward to!
The Isle of Wight – The Isle of Wight is a bit of a stretch for a day trip as you will need to take a train to Southampton or Portsmouth and then travel on by ferry. However, it is doable – and I have indeed done it – and the Isle of Wight is truly a wonderful place with many different attractions. If possible, I would recommend staying at least a couple of nights in Shanklin but if you do not have time a day trip will at least give you a taste of what you are missing!