Whether you are vacationing on the Cote d'Azur or just stopping for the day in Villefranche or Nice on a cruise – the beautiful Villa Ephrussi de Rothschild with its gorgeous gardens and the natural beauty of Cap Ferrat should be at the top of your list!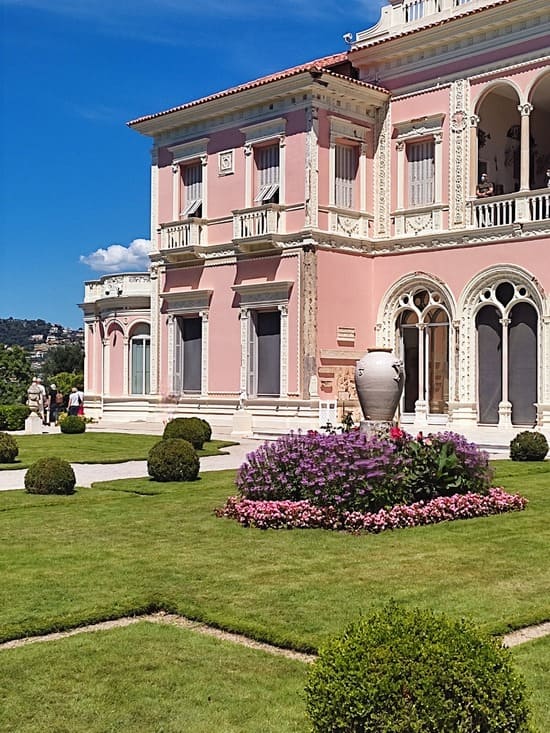 In this post I will first tell you all about visiting the Villa Ephrussi de Rothschild and then describe two different walks – a longer one around the main Cap Ferrat and a shorter one around the Headland.
Highlights of this excursion:
Beautiful gardens, pretty villas, a cute town, a glimpse of multi-million-dollar mansions and fancy super-yachts, a relaxing (if you don't make the same mistake I did) walk along a stunning coastline, and plenty of places for a quick swim.
Map Overview
And to give you a first idea of where to go, I have drawn a rudimentary map so it is easier to understand where to go and what to see (check Google Maps for details though).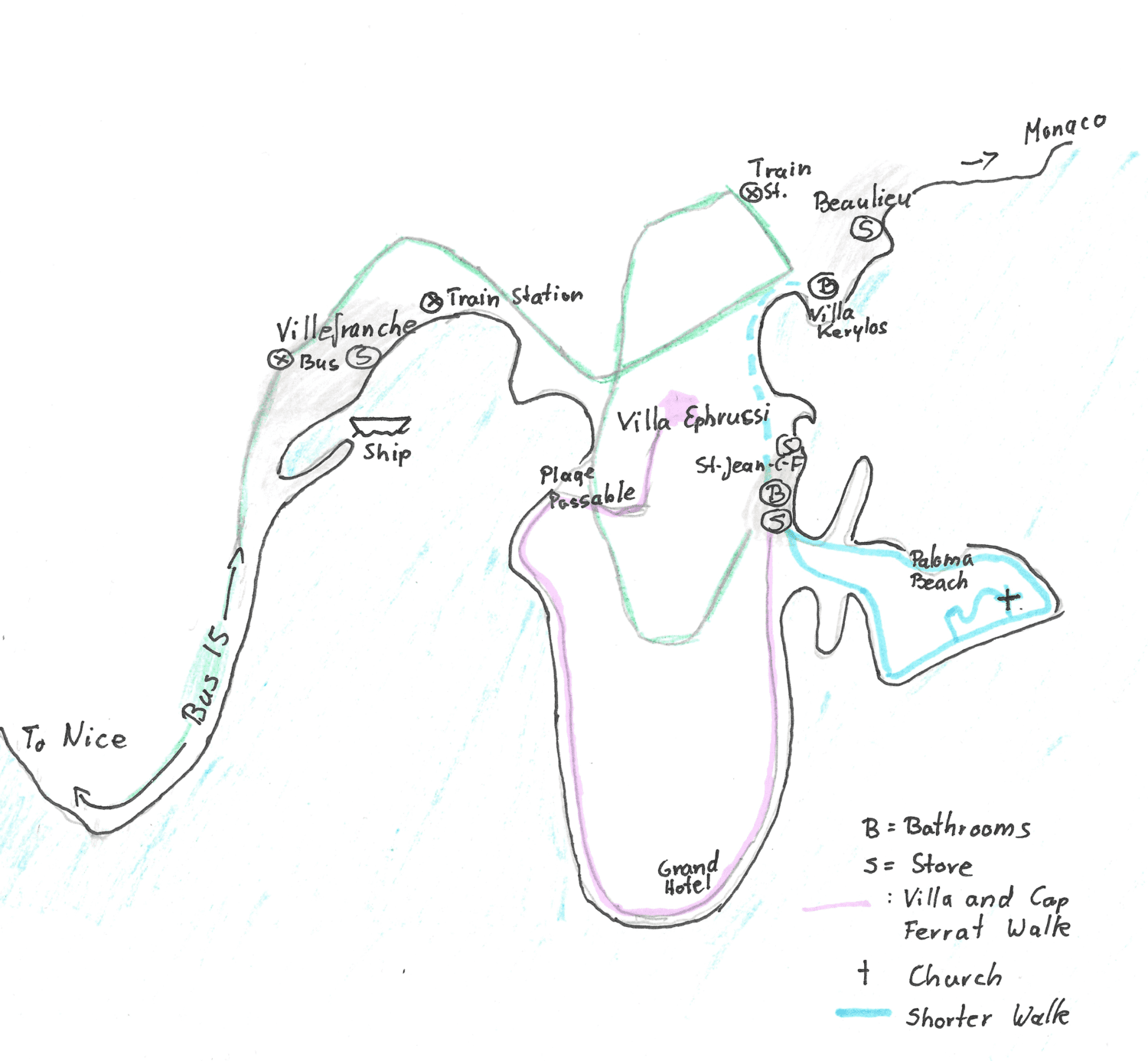 What is the Villa Ephrussi de Rothschild?
Villa Ephrussi is the former home of Beatrice Rothschild, heiress of the banking fortune.  Beatrice married young, a Parisian banker named Maurice Ephrussi (hence the name). Unfortunately, the marriage was unhappy as he was a gambler and wastrel.
In 1905 she put her mind to creating her dream home on Cap Ferrat, near the town of Villefranche in Southern France. Her special love was for the gardens that were to resemble a cruise ship.
At her death in 1934 the Villa, Beatrice's art collection and the 7 hectares of land were bequeathed to the Ademie de Beaux-Arts. After some ups and downs, the Villa and its gardens were redeveloped and are now open to the public.
What is there to see at Villa Ephrussi?
You can explore the villa itself as well as the gardens. There is also a tea room and a souvenir shop as well as sporadic events during the year.
The gorgeus view over the Mediterranean and the surrounding estates are additional benefits of a visit.
How do I get to Villa Ephrussi?
Getting to Villa Ephrussi is fairly easy, making for a great shore excursion.
If you are coming from Nice, the easiest way would be to take Bus No. 15 near Port Lympia. For just EUR 1.50 this will take you to the Villa Ephrussi (Stop Passable/Rothschild) in less than 40 minutes.
If you are travelling from Villefranche (the main cruise port in the Nice area) it is even easier. Take the same bus – you will have to walk up the hill a bit to La Barmassa to catch the bus but the ride will be only 15 minutes.
The No. 15 bus will stop right outside the entrance to the Villa on the main road. You are unlikely to miss your stop as normally quite a number of passengers will get off here.
Now just cross the street and walk up the driveway of the Villa to buy your ticket at the house.
If you are energetic you could also walk from Villefranche – just follow the coast towards the East. This would probably take around 45 minutes.
When can I visit and how much will it cost?
The Villa is open 365 days a year, generally from 10 am to 6 pm (longer in summer, shorter in winter).
A visit of the Villa will cost you €16 (some reductions available for students, seniors etc.).
Visiting the Villa et Jardins Ephrussi de Rothschild
Villa
The inside of the villa is definitely worth a visit – it is very opulent and strongly influenced by the fashions of the 18th century. Of special interest (if you are so inclined) is Beatrice's porcelain collection.
But let's be real – the main attractions are the gardens and the Villa's exterior.
Gardens
From various places there is a gorgeous view out to sea, over the surrounding estates (wonder who all lives here) and back towards Villefranche and Beaulieu.
The garden actually consists of nine different gardens – the French Garden, Spanish Garden, Florentine Garden, Stone Garden, Japanese Garden, Exotic Garden, Provencal Garden, and Rose Garden.
Each of these gardens has its own ambience and is worth a look. You will get a map with some information to help guide you along the paths.
My favorites were:
The Spanish Garden
This small patio with a narrow channel and arcades truly reminded me of gardens in Andalusia. Definitely something you don't see in every botanical garden.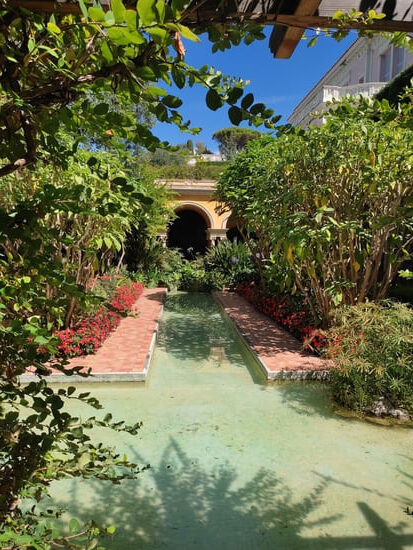 Japanese Garden
Japanese gardens on the other hand you do find quite often. But there is a reason for this – they are so serene and pleasing to the eye while at the same time quite different from more Western gardens.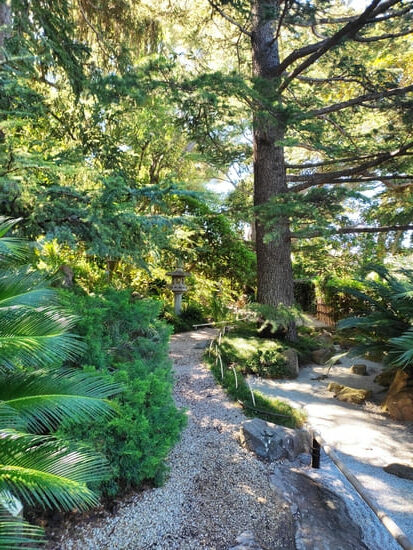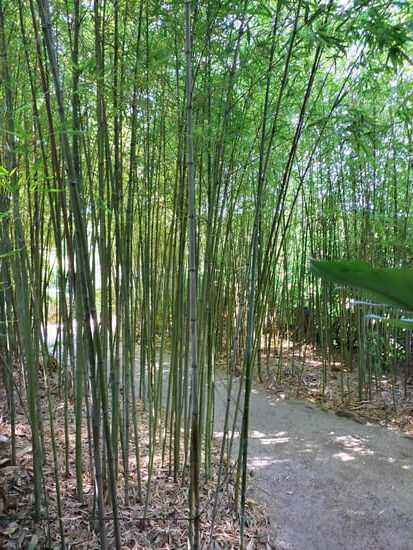 Rose Garden
I will be honest – I loved the idea of the rose garden more than the actual garden. As I was visiting in June, the best time to visit the Rose Garden was over and most of the flowers were past their best bloom.
But you could still enjoy their sweet scent and see the promise – I bet this area is stunning if you are there a couple of weeks earlier. And I did find a couple of roses that were still looking great.
Best Time to Visit: May to July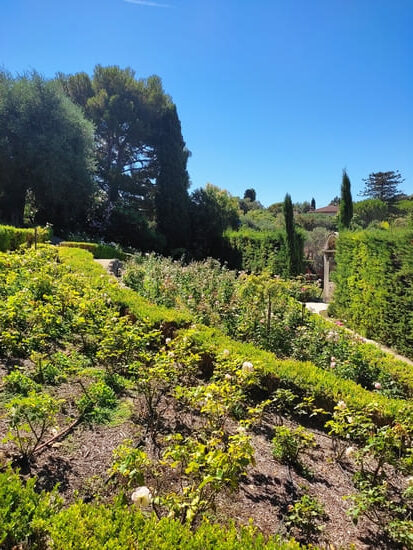 Stone Garden
It was extremely hot during my visit so the shady Stone Garden was a very pleasant place. Here you will find an amalgam of works of art – arches, fountains, gargoyles – basically anything made of stone.
Best time for a visit: February to April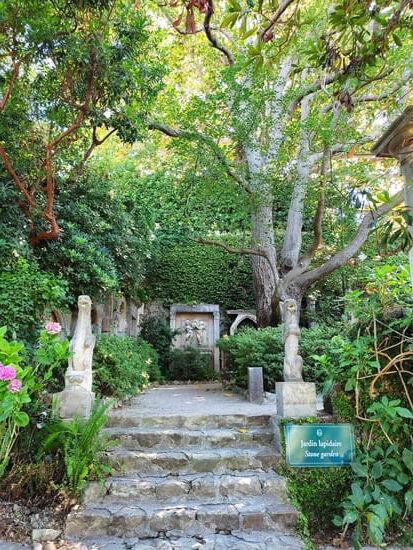 French Garden
This was definitely my favorite part of all – with waterfalls, ponds, and a Temple of Love it was just so pretty!
Béatrice designed the French Garden so that she could imagine being on board a ship and looking out on deck from her balcony. I think she achieved her aim – what do you think?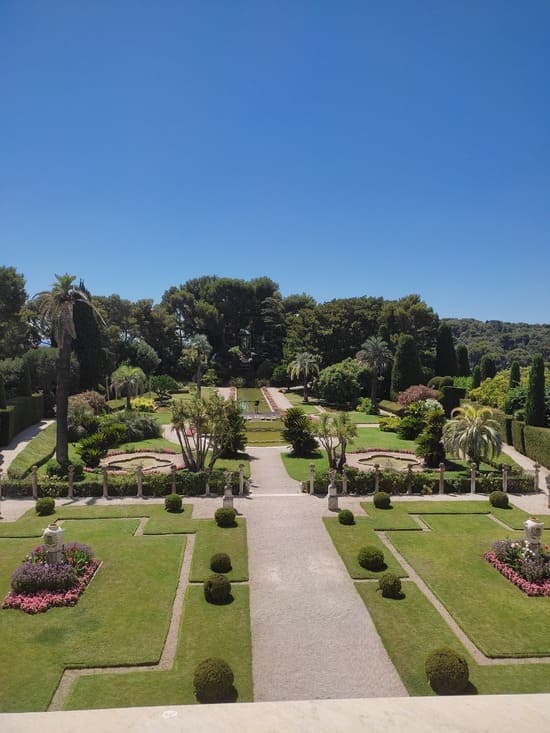 This is also the best place to admire the pink Villa in all its glory. It may be difficult to get a good picture though – there was a photo shoot going on while I visited.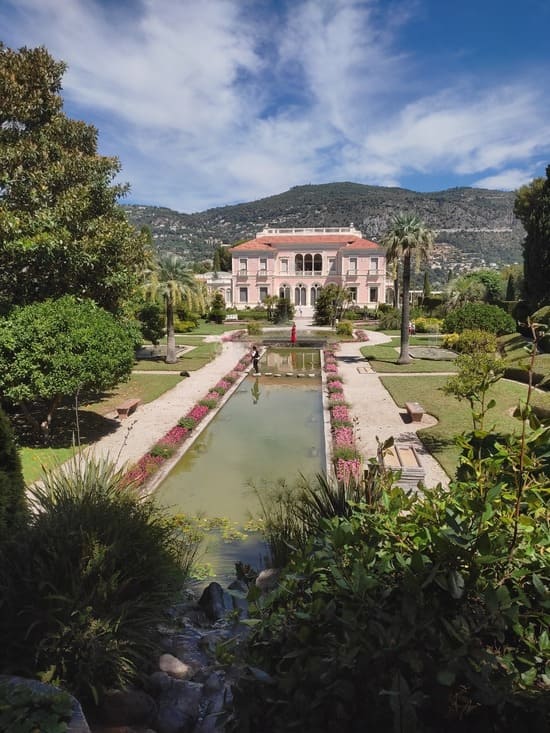 A highlight for me were the musical fountains near the Villa. The water sparkles and glitters as it jumps through the air in time with the classical music they pipe in.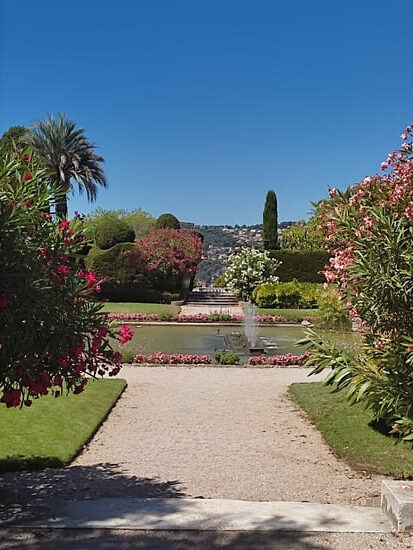 This would be a great place to just sit and soak up the beauty around you. Unfortunately, it was just too hot when I was there – and I still had plans so couldn't linger too much.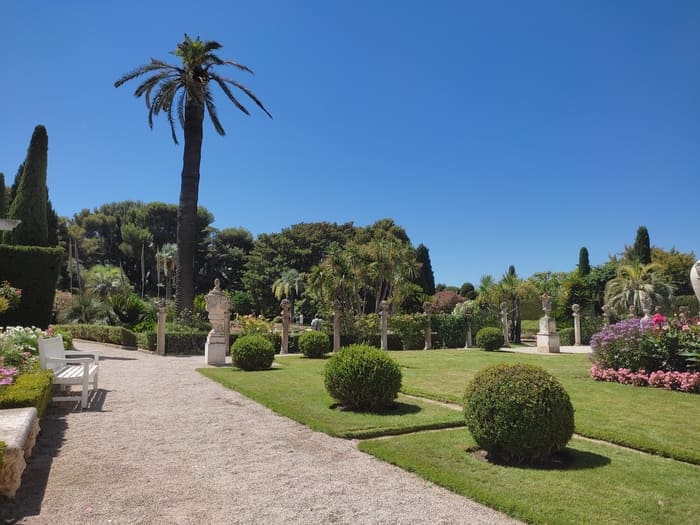 Walk around Cap Ferrat
The Plan
The second part of the day is perfect to hike around the peninsula of Cap Ferrat and that was also my plan.
Now, in theory that is a good plan but I did run into some problems. But as you are reading this, you will luckily be able to avoid making the same mistakes I did!
Basically, what you want to do is follow the Chemin de Douaniers around Cap Ferrat. Once you are on that path you can't go wrong as there will be the sea on one side and high fences/walls of multi-million dollar estates on your other side.
The first difficulty is finding the beginning of the path. It took me a little while – what you need to do is first go to Plage de Passable.
Follow Avenue Denis  Semeria towards the South (this is the street where you got off the bus) and then turn right on Chemin de Passable. Just follow this street until you hit the beach.
At the far end of this beach you can start your walk along the Chemin des Douaniers.
The Problem
Now for the important part – do NOT forget to bring sufficient water (and sun protection). There will be no opportunity to buy anything for most of the walk.
You may have guessed it – I did not do this. I set out in the blistering heat with just one small bottle of water, figuring I "would just pick up some nice cold water on the way". Yeah, right.
Turns out, Cap Ferrat is for the most part residential and once you start on this hike there really is nowhere to buy anything and no good way to leave the path.
The walk is indeed beautiful. On your left the manicured gardens of the local billionaires and on your right the glittering blue sea with cheery white yachts bobbing on it.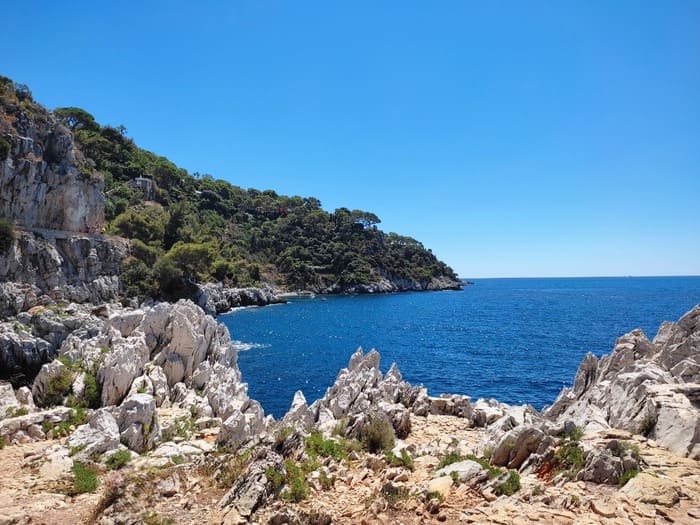 However, this is far less enchanting if you are starting to get dehydrated and realize that you are basically stuck on this path. It is almost like a tunnel – there is no good way off.
As I walked, I got thirstier and thirstier and started to really worry about dehydration and/or heat stroke. I thought of turning back but that wouldn't have helped either as I was already at least half-way, I hoped. And I knew that I would not find anything to drink on that path so kept on, hoping that I would make it.
I was getting so dehydrated I was actually considering begging a passing stranger for some water (and anyone who knows me knows I would only do that in truly dire circumstances).
Saved
I kept on walking and then I saw it, like an oasis in the desert – the Grand Hotel du Cap-Ferrat! Prior to my trip I had checked the room prices (I do have a weakness for luxury hotels and you never know) but had been staggered to learn that the cheapest rooms there run Euro 3,885 a night (without breakfast)!
I was hoping that maybe I could at least cut through the hotel grounds to get back to civilization i.e. a store. Turns out you can't enter the hotel grounds but even better – they have a beach bar/kiosk at the edge of the property and it sells to the public!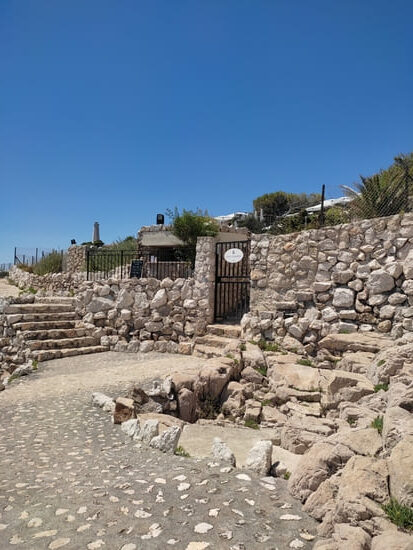 I have never been so happy to shell out 5€ for a small soda (well, €10 as I splurged on a soda and a water). I bet the waiter was wondering why I was quite so giddy to get my drink!
Anyway, I sat down right there on the path, gulped down the drinks, munched on a couple of cookies, and honestly felt happier than I remember in a long time. Escaping looming disaster will do that to you!
Originally I was going to walk all the way around the Cape but due to the heat I decided to skip the small bump (no worries, I went back a different day and you can read about it below).
Instead, I soldiered on from the Grand Hotel to Saint-Jean-Cap-Ferrat, an adorable little town.
Saint-Jean-Cap-Ferrat
I just love the look of this little jewel (though I am not sure how much of this was caused by the immense relief that I hadn't keeled over on my hike).
But it really is cute, don't you think?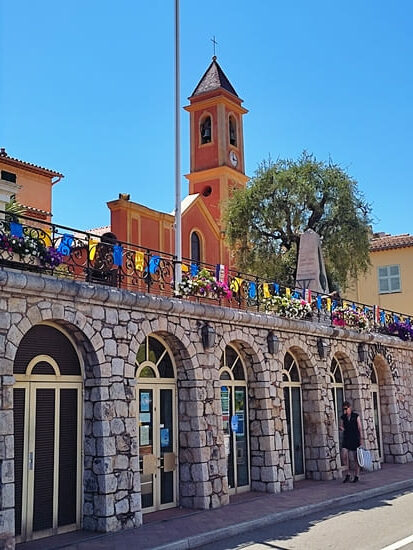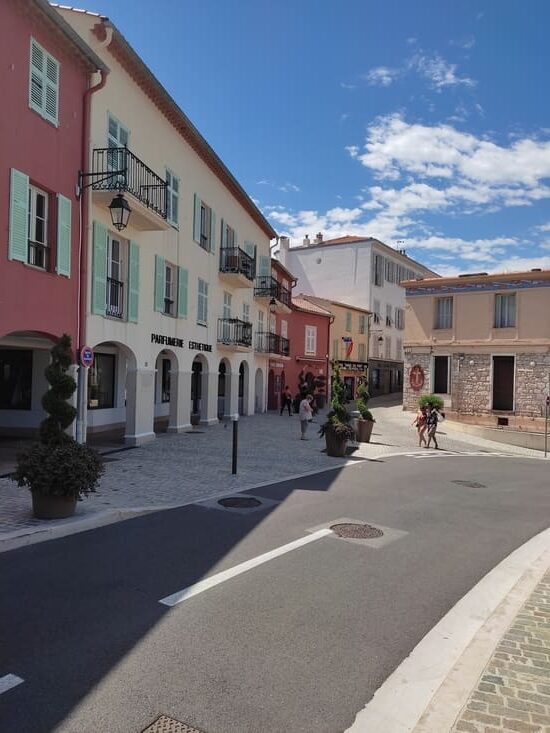 I found a small grocery store where I got myself some cheese, crackers, and another soda and then found a great place to enjoy my snack.
You will find plenty of cafes and restaurants at the marina but if you want to save some money you can climb up the steps to get to a terrace above the restaurants.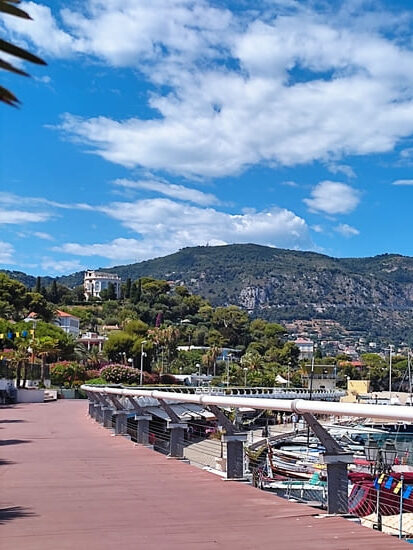 There you will find plenty of benches with a great view of town, the marina with its yachts, and the sea. And there is even a free bathroom!
I did splurge on an ice cream from the ice cream parlor but again ate it up on top. Highly recommended.
After all that excitement, the trip home was easy. Almost right behind the marina you will find a bus stop where you can catch a bus back to Villefranche/Nice (again No. 15 for €1.50).
Variations
You should be able to visit Villa Ephrussi and walk along the Cape as described above quite easily in a day.
I would estimate about two to three hours for the Villa and another two hours for the walk (it's around 7 kilometer but it will be more fun if you don't have to rush).
So including the bus ride to Villefranche (or Nice) you would be able to comfortably do it in around 7 hours.
However, there are several variations you may prefer:
A) Little/No Walking
Maybe you don't have a lot of time or you don't enjoy walking. In that case you could visit the Villa as above and then skip the walk along the Cap.
Either take the bus or walk across the peninsula instead around it. If you walk it should take just 15 to 20 minutes but is of course not as pretty.
B) Shorter Walk
Visit the Villa by bus as above and then take the bus on to Saint-Jean-Cap-Ferrat (or cut across the peninsula). Enjoy the town and take the shorter walk as described below. This is an excellent choice as it is very similar to the longer walk and has some additional highlights.
C) You want to walk more
Combine the two walks and walk all the way around Cap Ferrat (around 10 km). And if you want to walk even further you could even make your way from Villefranche or Beaulieu.
D) Add in some time at a beach
There are a number of cute beaches along the way. Spend as much or as little time there as you want (without missing your ship of course)
E) Isn't there more to see?
If you want a busier day you could add in Villa Kérylos. I haven't visited this reconstruction of an ancient Greek Villa in Beaulieu yet but it looks enticing from a distance. Please note, this Villa is closed until the end of May 2023 for renovations.
Shorter Walk
It really bothered me that I had not managed to walk around the entire Cap Ferrat so I had to return on a second day.
Beaulieu to Saint-Jean-Cap-Ferrat
I did not visit the Villa Ephrussi this time but started out in Beaulieu (the same bus No 15 will take you there).
The Casino there is so pretty!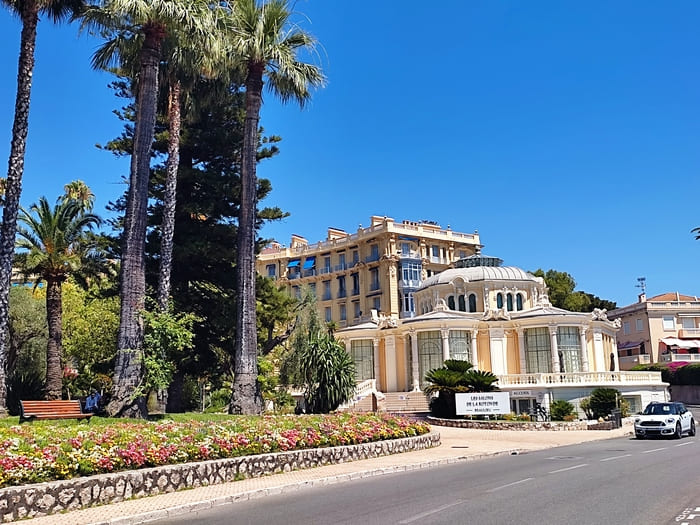 There is also a decent sized beach in Beaulieu.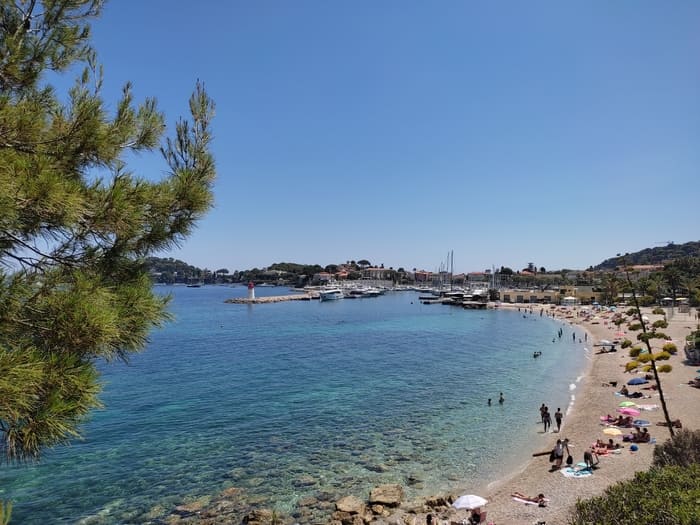 However, I passed by and made my way along Promenade Rouvier down towards Saint-Jean-Cap-Ferrat.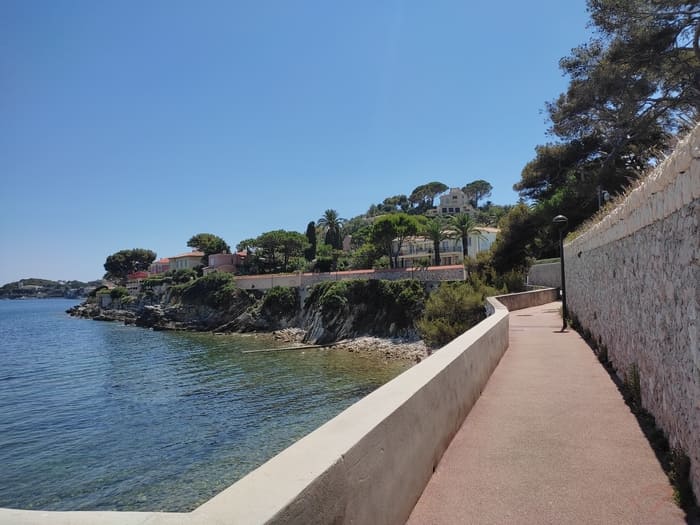 On the way you will pass Place David Niven. Many famous people have lived or stayed here besides this famous actor, including King Leopold III and Charlie Chaplin. Why can't buildings everywhere be so pretty?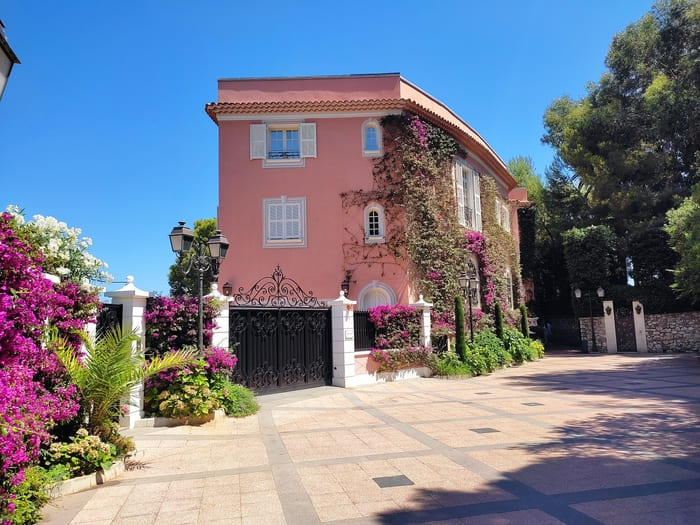 Next, you walk through a small path lined by the most gorgeous flowers…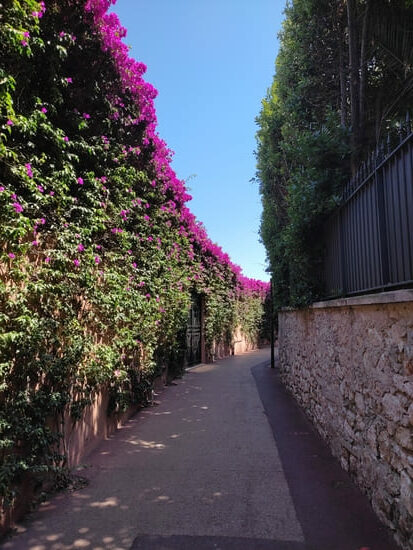 In another 15 minutes or so you will be back at Saint-Jean-Cap-Ferrat. But this time you continue south and turn left along Avenue Jean Mermoz.
Paloma Beach
This will lead you to Plage Paloma. In this beautiful bay you will find one of the private beach clubs Southern France is known for.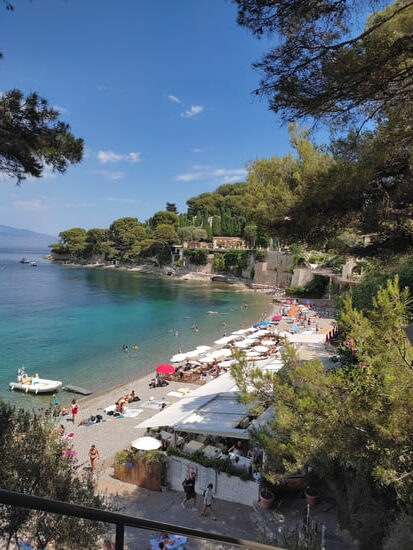 I actually went ahead and splurged on a day bed there. Not cheap at €57 (sunbed and umbrella)! However, it did make me feel like a millionaire living the high life so it was worth it for me.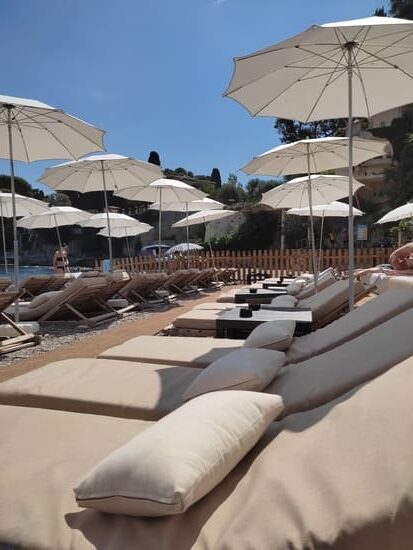 If you opt for a visit here, you get a cozy lounger and use of bathroom/changing room. You can also order (fairly expensive) food and beverages to your chair or visit the attached restaurant.
Though you could combine this with a visit of Villa Ephrussi de Rothschild and a walk around Cap Ferrat you may not have enough time to spend at the beach to make it worth the steep fee.
You could however choose to either see the Villa or do the shorter walk described below and it should work out perfectly.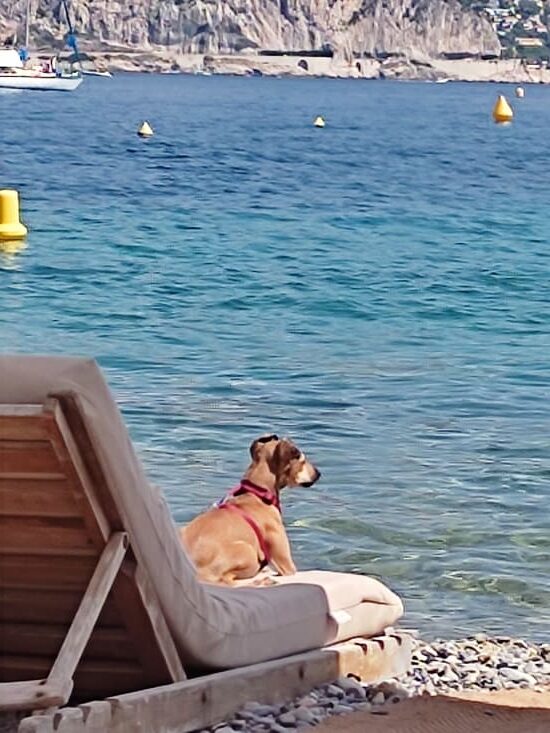 Some dogs have all the luck!
But you could just as easily spend some time at the small stretch of public beach right next to it. Here you have the same people-spotting chances as in the beach club without having to pay a penny (though the loungers were more comfortable than the pebbly stones).
It is fun to watch the restaurant's small boat shuttle ferry guests from their yachts to the beach and restaurant. I wonder who it is?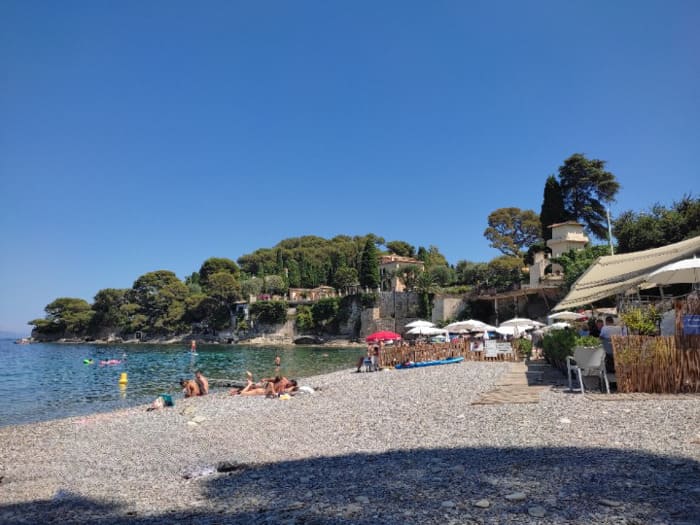 Walk around Saint-Hospice Headland
Pass by the beach club to start the rest of your hike. Once you are on the far side of the restaurant you will see the path to follow (it is up a couple of steps).
The walk is quite similar to the longer walk described above as far as what you will see. There is plenty of azure blue water and many, many fancy yachts to admire.
About half-way around this smaller peninsula you can take a short detour up the hill to see the Belgian Military Cemetery. I don't think you can go in but it does make for a pretty view.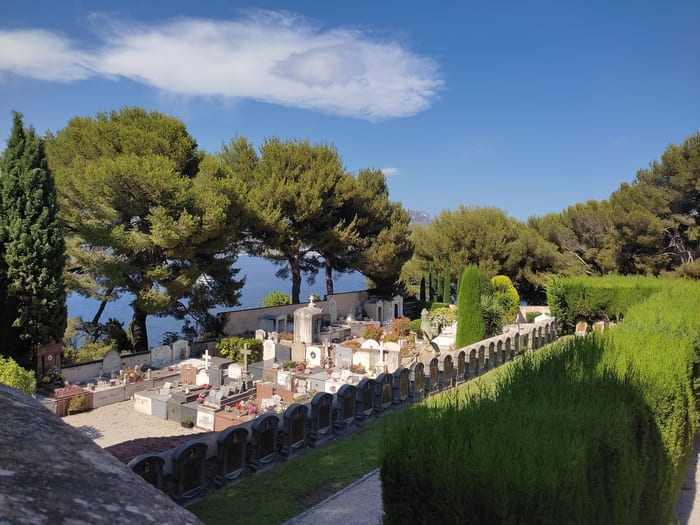 There is also a small church (Chapel de Saint Hospice) here. During my visit it was under revovation. Funny thing was though that I did not see the statue of the Virgin Mary (1903) until I was right next to it because it was hidden by construction sheets etc.
It almost knocked me over as it was so unexpectedly huge (almost 12 meter)!
Once back on the main path, I took my time, breathing in the fresh, pine-scented air and watching people have fun on their yachts.
I ended my walk back at Saint-Jean-Cap-Ferrat with another ice cream before taking the bus back to Villefranche/Nice.
My Top Tips for Villa Ephrussi and Cap Ferrat
Wear plenty of sunscreen and don't forget a hat
Take plenty of water!!! Once on the path there are no shops (or bathrooms)
The hiking path may be closed in inclement weather
Take your swimming stuff along – there are plenty of places to enjoy a quick swim
Enjoy and take your time – Villa Ephrussi and Cap Ferrat are best enjoyed by sitting and soaking up the atmosphere so don't just rush through
Be aware that the bus to/from Nice/Villefranche may be crowded (especially on weekends)