What better than some creamy ice cream on a hot and sunny day? But not all ice cream is the same – some isn't worth the calories.
During my recent trip to Southern California I tried out a bunch of different ice cream/gelato places all along the coast. Read on to find out which ones I recommend and how.
How I picked which ice cream to try
Obviously, I wasn't able to try all the ice cream places in Southern California. To still get a decent idea of which ice cream shop is the best I did some research on Google.
In each town I visited I used Google Maps to see which ice cream shops had the highest scores in reviews. I then chose one of the most recommended places based on location/convenience (e.g. if they were open when I was there).
I avoided any larger chains (I think). Not because I dislike them but because visitors may already be familiar with their product. And of course it is always great to try something new!
How I conducted my seach for the best ice cream
I tried to keep this review as objective as possible, mostly by ordering the same flavors (strawberry/caramel/coffee) whenever possible. All ice cream was bought in little tubs so the taste of cones/waffles had no influence on my opinion.
It was hot in late August/early September and I definitely had a preference for fruity flavors that were not too sweet. In different weather (or if you prefer heavier flavors) the results might have been different.
In this review I did not distinguish between gelato and ice cream. I realized though that I may prefer gelato so that might have influenced my overall opinion a bit. I will however call them all "ice cream" in this review even though it may not be technically correct.
An's Hatmaker, Del Mar
An's Hatmaker  has a rather unique theme – all the flavors are named for different hat styles. Not sure exactly where the connection between ice cream and hats comes from but it is a cute idea.
Store and Seating
The store has a great location in the Del Mar Plaza right in the center of Del Mar. The inside was clean, inviting, and upscale as you would expect given the location.
There were a couple of tables outside (with sunshade) but also inside seating. Great if you need a bit of a break from the heat!
Service
Service was very friendly and they were happy to let me try several different flavors.
Flavors
They offer only a smallish number of flavors. I actually prefer that as it makes it easier to choose. I tend to get overwhelmed when there are 30+ flavors! They have a number of regular flavours and a couple that rotate seasonally.
There was a nice split between more traditional flavours (strawberry, salted caramel, chocolate) and less common ones (e.g Brown Butter + Chocolate Chip Cookies) but nothing too wild.
Ice Cream
I decided on a large (which didn't really look very big) tub with two flavors: Fascinator (Strawberry) and Velour (Salted Caramel).
I also sampled Leather (Brown Butter) which I liked quite a bit. But I didn't want something very sweet so went with the salted caramel instead.
All flavors I tried were extremely smooth and creamy. I would say it was some of the creamiest ice cream I have had. I loved the texture. A 5 out of 5 for me.
The strawberry was very good and fruity but maybe a hint too sweet for my taste. There were tiny pieces of fruit (speckles) in the ice cream but no larger pieces.
The Salted Caramel was a bit too salty for me but I think it may be that I just don't like Salted Caramel as much as I thought.
The Strawberry was definitely my favorite.
Overall, I would give the ice cream here a 8/10. I was rather overheated and may not have been in the ideal ice cream mood.
Price
Price was $6.90 for the large size. The small looked tiny but in hindsight it would probably have been enough for me.
Overall Impression
I loved the location, theming, and creaminess of the ice cream. Flavors were very good.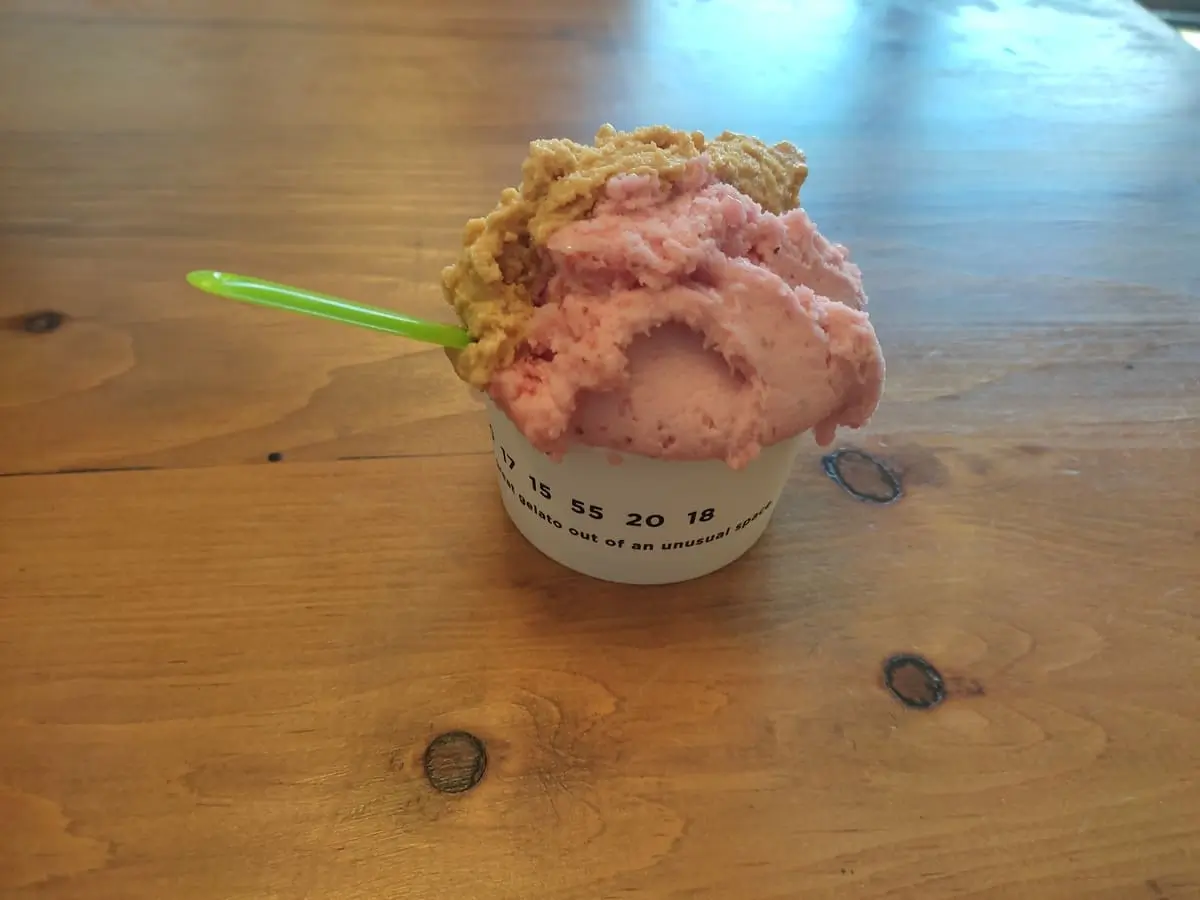 Gelato 101 in Solana Beach
I stopped by Gelato 101 in Solana Beach after hiking Annie's Canyon so was looking for something nice and refreshing.
Store and Seating
The location of Gelato 101 is also very central, right along highway 101 in Solana Beach, close to Fletcher Cove.
This store didn't have a theme – it looked more like a generic ice cream place. Unfortunately, there is no seating inside (it was hot and I wouldn't have minded some airconditioning).
There were seats outside and you can watch highway 101 go by. But there was no shade and it wasn't awfully inviting so I ended up taking my ice cream along to a small park.
I did fall down on the job and completely forgot to take pictures (aside of the ice cream). However, I did see another location of Gelato 101 in Encinitas. This one looked much prettier and inviting and I did get a picture here.
Service
Service was friendly and I did again get to try several flavours.
Flavors
There were about 12 different flavours to choose from. I did not have a hard time finding something I liked.
Ice Cream
One flavor I tried but did not purchase was Salted Caramel. I think I liked it slightly better than the one from An's Hatmaker as it seemed a bit more caramel and less salty. But again it wasn't my favorite so decided on other flavors.
I went with Wild Berries and Chef's Surprise (Strawberry with chocolate chips and balsamico). I ordered the small (2 flavours) for $5.50. 
The ice cream was creamy but not as creamy as An's. I did like the Wild Berries but prefered the strawberry/chocolate chip one.
It wasn't very sweet and a bit more on the sour side (possibly because of the balsamico) which I prefered, especially on a hot day. I would definitely order this flavour again.
Price
The small tub (2 flavors) was $5.50. This was a bit cheaper than most places I tried.
Overall Impression
I enjoyed the ice cream (especially the strawberry/chocolate chip/balsamico) quite a bit but didn't love the location. However, the sister store in Encinitas looked very cute and inviting.
Jojo's Creamery, Encinitas
Jojo's Creamery also specializes in Chocolate Chip Cookie and with the ice cream purchase I got a small cookie for free – a very nice extra! I stopped by here on my way from the San Diego Botanic Garden to the Meditation Gardens and it was the perfect treat on a warm day.
Store and Seating
The shop itself was perfectly nice but the highlight was the outdoor seating. There is shared seating with several other establishments in a pretty little courtyard. Loved this!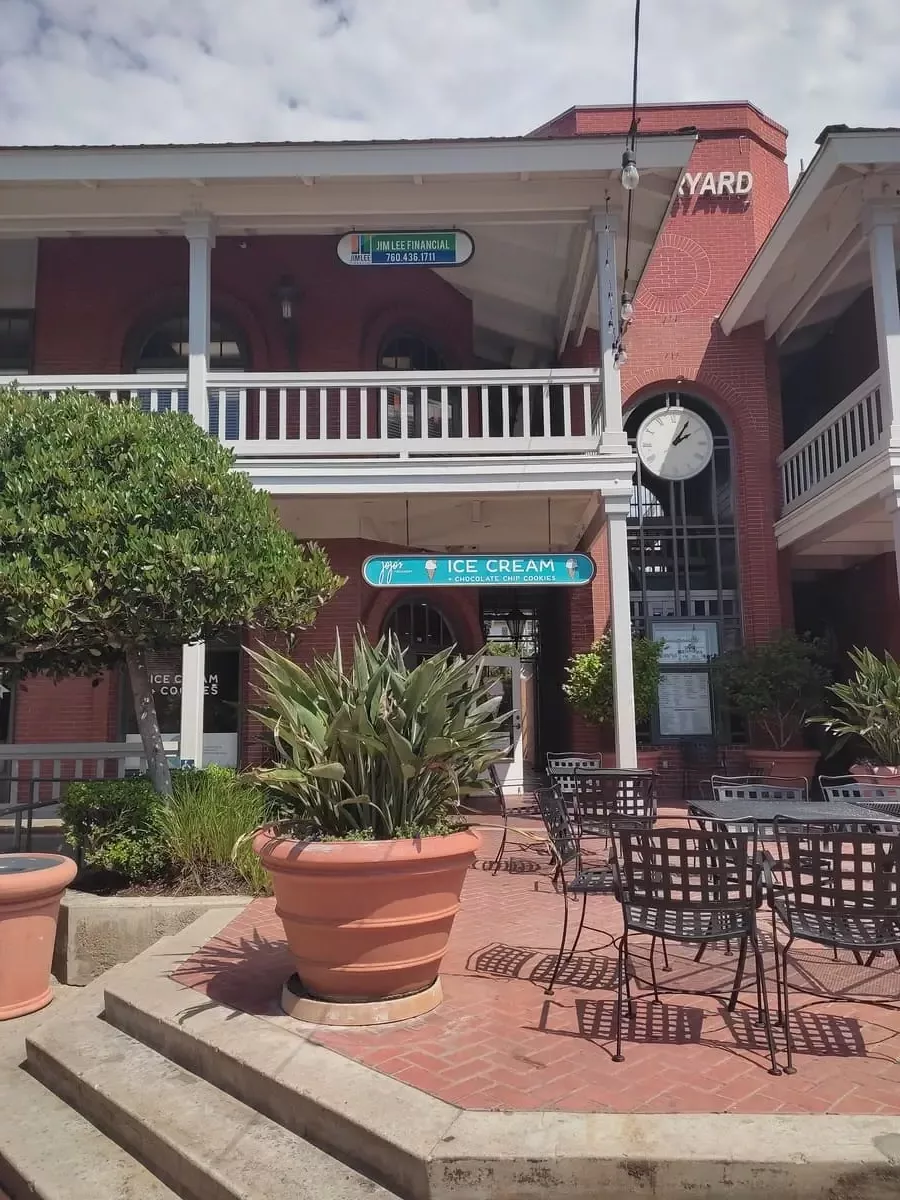 Service
The service was friendly and very patient with me. I had a hard time finding a flavor I liked enough to buy and  must have tried about half of them.
Flavors
And this leads directly to what I didn't like so much about this ice cream store: Even though I tried at least five flavours I didn't really love any of them.
They all were quite heavy and maybe slightly salty. I probably would have liked them better if it hadn't been so hot. As it was, I was looking for something fruity and refreshing and couldn't really find it.
For me, summer flavors are more fruit-based and light but their selection didn't really reflect that.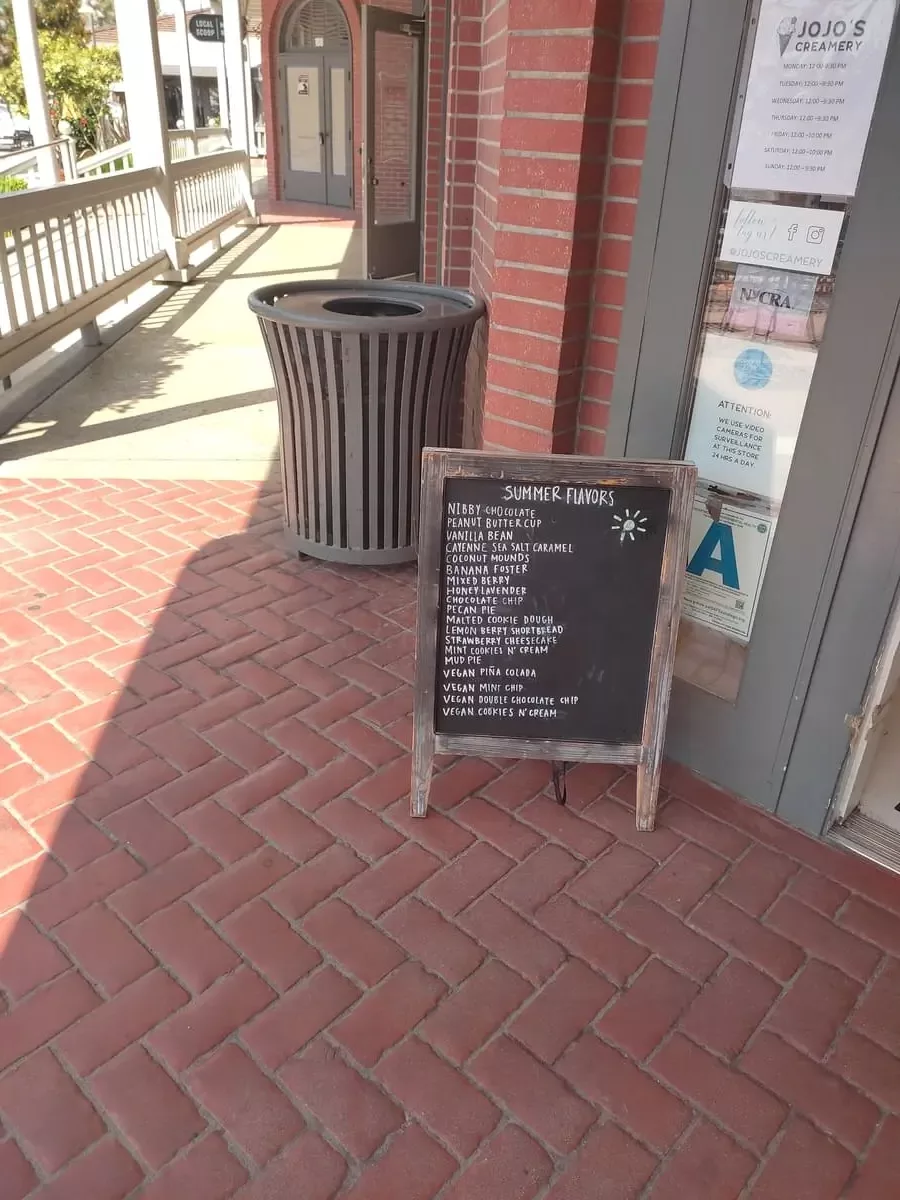 Ice Cream
I ended up getting the Cayenne salted Caramel and Mixed Berries. Unfortunately they didn't offer strawberry (which I have been getting everywhere to make this review more comparable).
They had a strawberry cheesecake on the menu but had apparently gotten rid of it. The closest I could find was Mixed Berries.
The Mixed Berries ice cream was creamy and tasty but it didn't have as much of a fruit flavour as I had been hoping for. It tasted more milky than fruity if that makes any sense.
On the other hand I quite liked the caramel. There wasn't much salt in it and the cayenne gave it a nice little kick. It mostly tasted of caramel which I liked. So overall the ice cream was good but didn't wow me.
Price
I got the small size and paid $6.25 which is about average (but did get a small cookie with it).
Overall Impression
I loved the outside seating but the offered flavors weren't my favorite. However, this was partly due to the heat which made me wish for something lighter and fruitier.
Gelato Paradiso, Laguna Beach
Gelato Paradiso in Laguna Beach is apparently extremely popular and known for its long lines. Even around noon on a cloudy/rainy (yes, in Southern California) Tuesday in September they did a fairly brisk business.
Store and Seating
The store itself is cute and located in a small arcade/alley close to the center of Laguna Beach.
My main complaint is that there isn't really seating. There were are a couple of benches in the alley/arcade shared by various stores (all were filled by ice cream eaters) but no seats inside.
On a busy day you will have to take the ice cream with you. Luckily, the beach and Laguna Hills' Hensler Park are just minutes away so it shouldn't be too much of a problem.
Service
I was very happy with the service (and am rather picky). Service was generally good at all the ice cream places I tried but I think Gelato Paradiso had the friendliest workers.
I again got to try several flavors without them getting impatient and they were mega-nice. Top marks!
Flavors
They offered a fair number of flavors – more than I can easily decide between. However, that is more a me problem than anything else.
At Gelato Paradiso I actually tried only two flavors – I loved them both so there was no need to go on.
A big plus is that even with the smaller size tub you can try three flavors (or maybe even four). Definitely helpful foranyone who has  a hard time choosing (like me).
I also appreciated that they had a fair number of fruity sorbet flavors.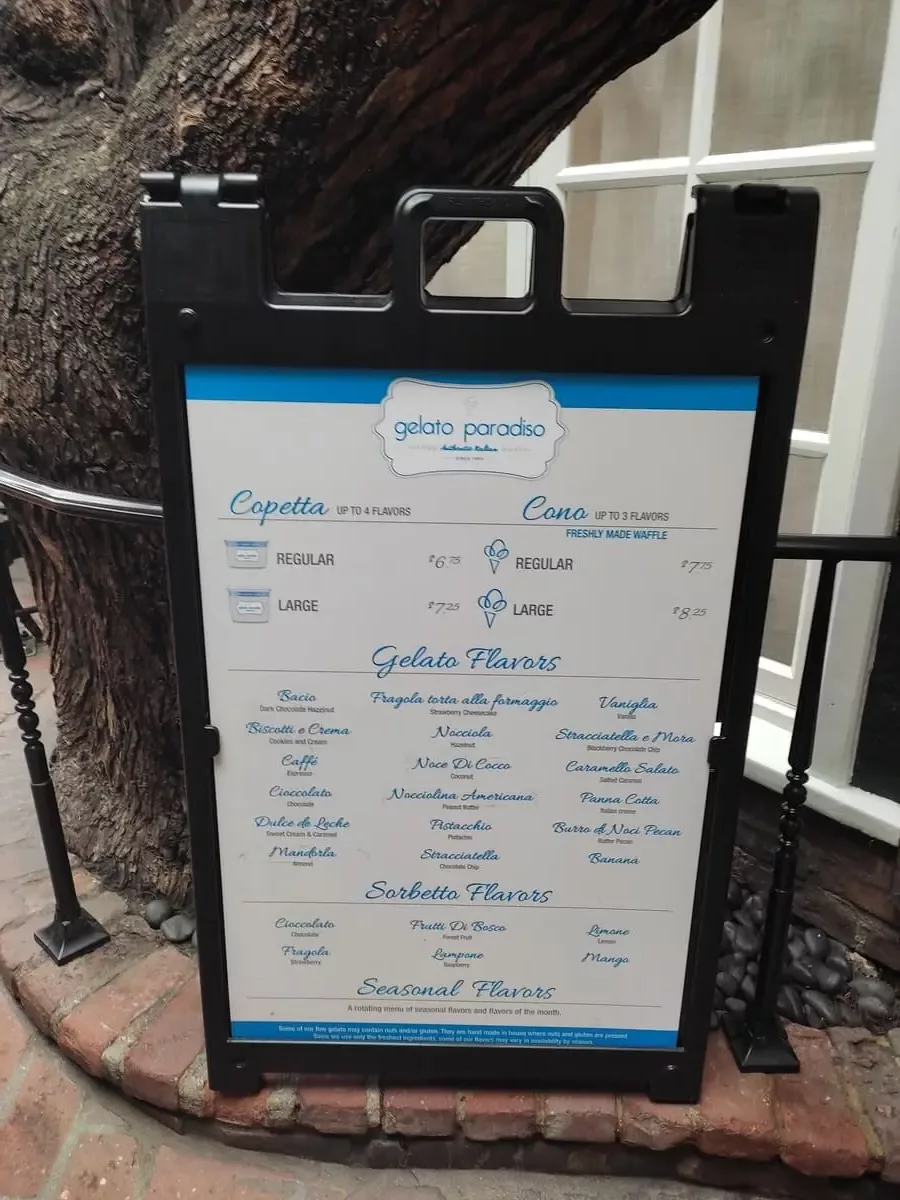 Ice Cream
I ended up getting Coffee, Dulce de Leche, and Strawberry.
The coffee had quite an intense flavor and was almost slightly bitter. Dulce de Leche was sweet and caramely – definitely more my speed than overly salted caramels.
And finally the strawberry had an especially fresh and fruity taste. If it had been just slightly less sweet it would have been absolutely perfect but as it is it was still very good.
Price
The regular at $6.75 does give you a good amount of ice cream. Especially given that you can try three/four flavours I felt the price better than at most places I tried.
Overall Impression
I did enjoy all three flavours (although it maybe wasn't the best flavor combination) a lot. The ice cream was creamy and the flavors very good. I just wish they had more seating.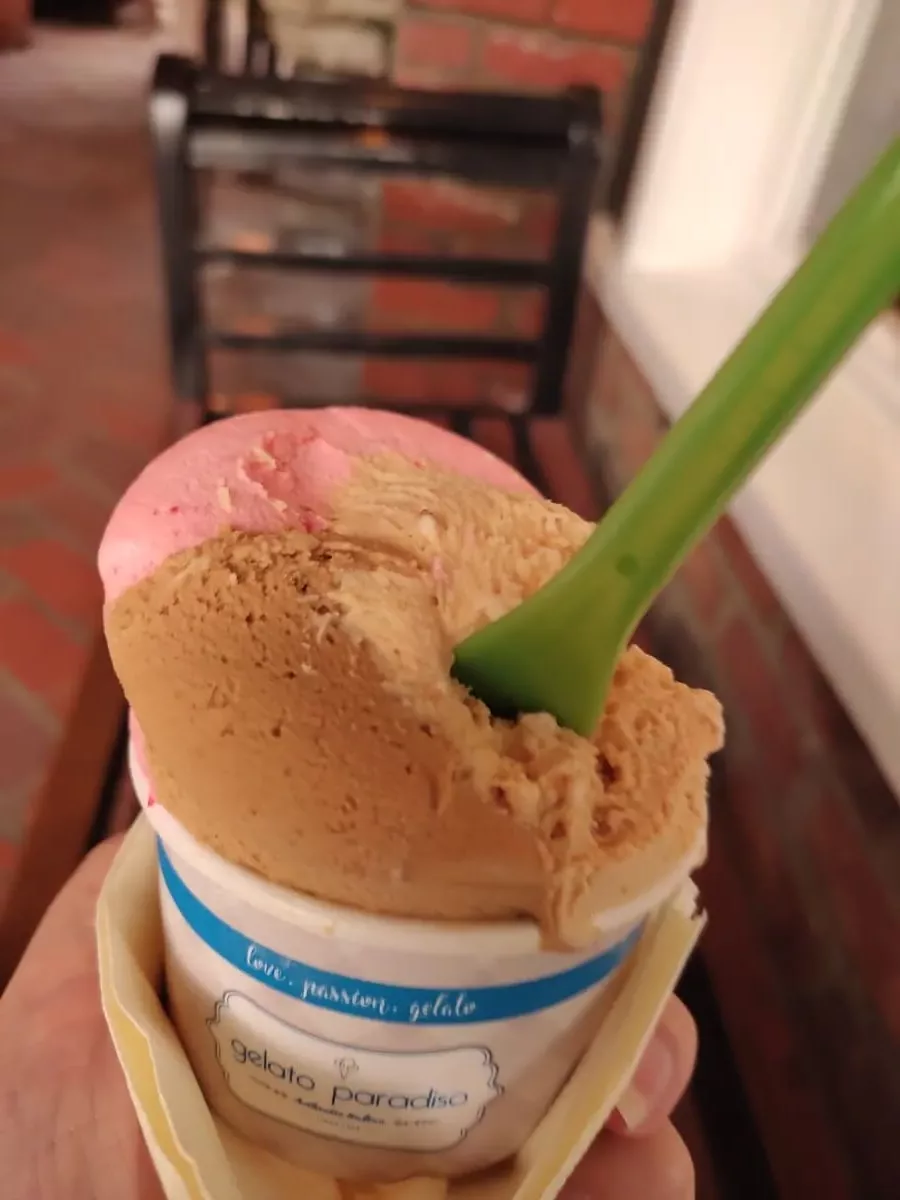 Orange County Creamery, San Clemente
Orange County Creamery is located on Avenida del Mar, the main street in San Clemente leading down to the beach and the pier.
Store and Seating
This was again a fairly generic ice cream shop. It looked clean and modern but didn't really stand out in my mind.
Unfortunately, there was again no indoor seating (am I the only one craving airconditioning in Southern California?).
There were a couple of chairs and tables outside but for some reason I didn't find them too inviting. I found a nice bench nearby instead.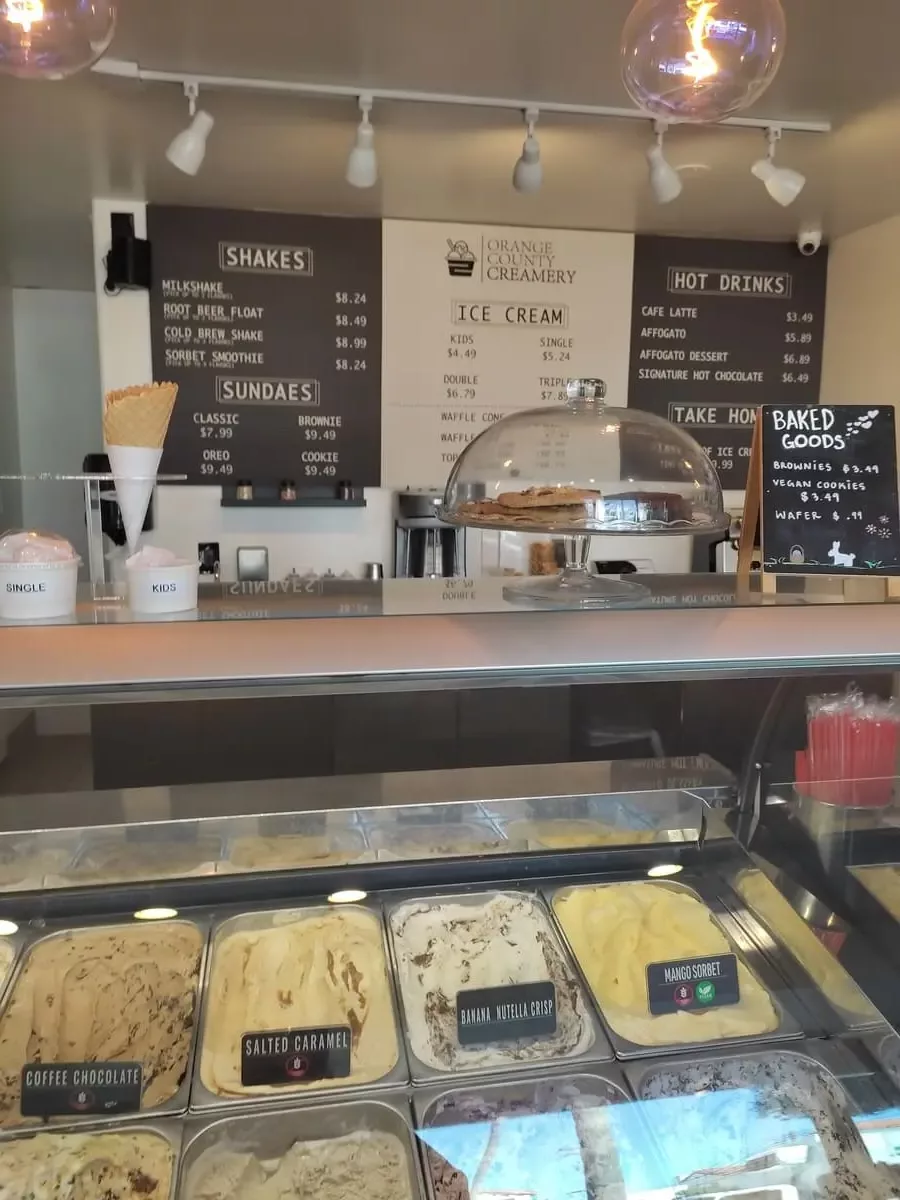 Service
Service was fine but didn't wow me. They were certainly friendly but I didn't feel the love if you know what I mean.
Flavors
They had a decent range of flavors and – most importantly – offered both strawberry and caramel which I was looking for.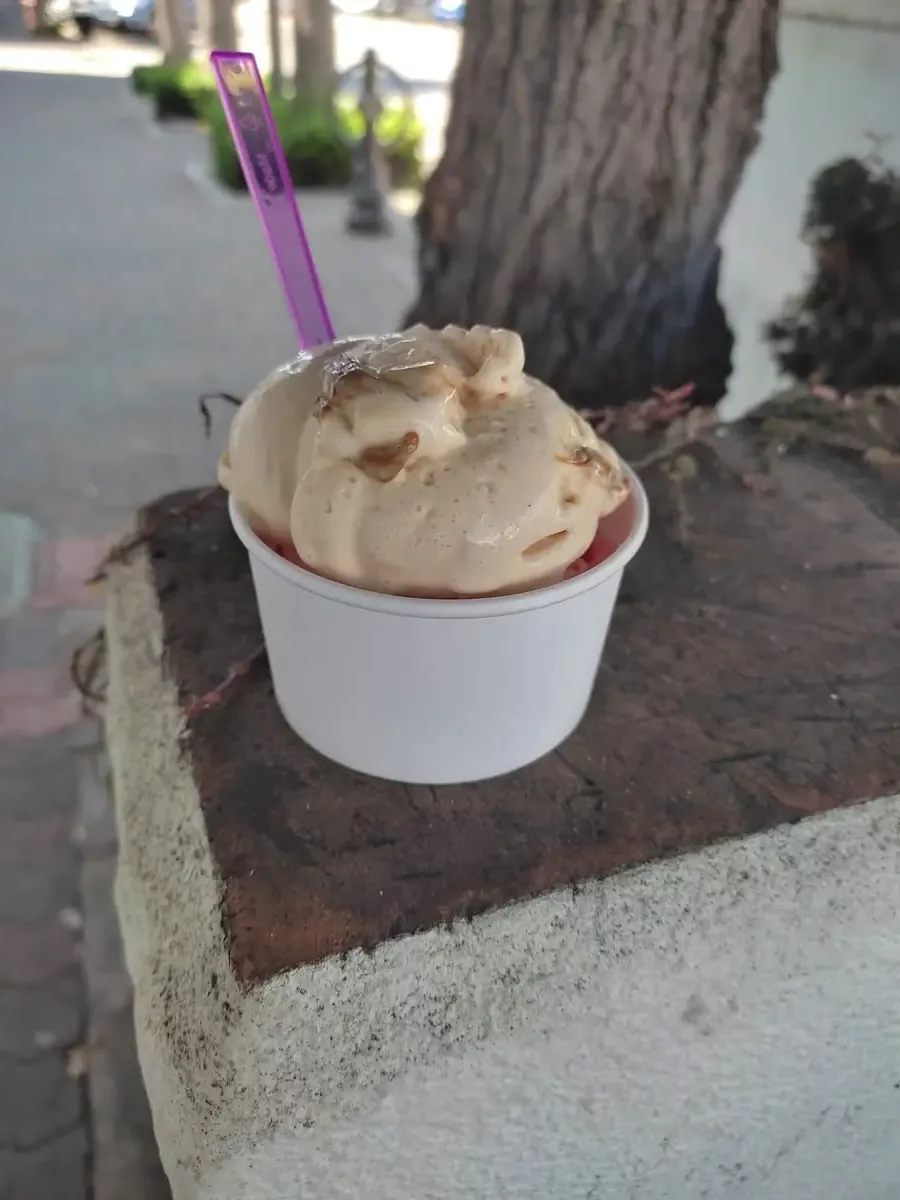 Ice Cream
Unsurprisingly I ordered Strawberry and Salted Caramel. 
The Salted Caramel was creamy, had a nice caramel flavor, and I loved the swirls of caramel in the ice cream. Unfortunately, it was way too soft/almost melted though.
If it had been properly frozen it might have been my favorite Salted Caramel of all the ones I tried but I really dislike partly melted ice cream.
The Strawberry was tasty (and not as soft) with little seeds and a good fresh fruit taste. As almost always it was a hint too sweet for me but again a me-problem.
Price
$6.79 for two flavors was about average compared to all the ice cream I tried.
Overall Impression
This wasn't my favorite ice cream place on this trip, mostly because the Caramel ice cream was partly melted. Otherwise the flavors were good.
Store and Seating
Mashti Malone's is in a small strip mall on busy North La Brea Avenue in LA. The location not far from Hollywood doesn't really lend itself to a cozy atmosphere but the store actually had a very clean, upscale, and modern atmosphere. The inside was definitely much nicer than I would have expected based on the location.
They also had a couple of tables and chairs outside. Given that you sit right next to the parking spaces it isn't the coolest space ever but it was handy for eating my ice cream.
Service
The service was friendly and I got to try several interesting flavors. I had a problem getting my credit card to work. They were perfectly understanding but the resulting embarassment probably tainted my experience a bit.
Flavors
I know I said I prefer less choices but I did love all the exotic flavors they had. Sour cherry and rice noodles? Saffron Rosewater with Pistacchios? How cool is that?
I was a bit overwhelmed though and didn't feel I could try as many flavors as I would have liked.
The Orangeblossom flavor was good but less fruity than I had expected and I wasn't sure if I would want a whole scoop of the Saffron. But I had no problems finding something to order.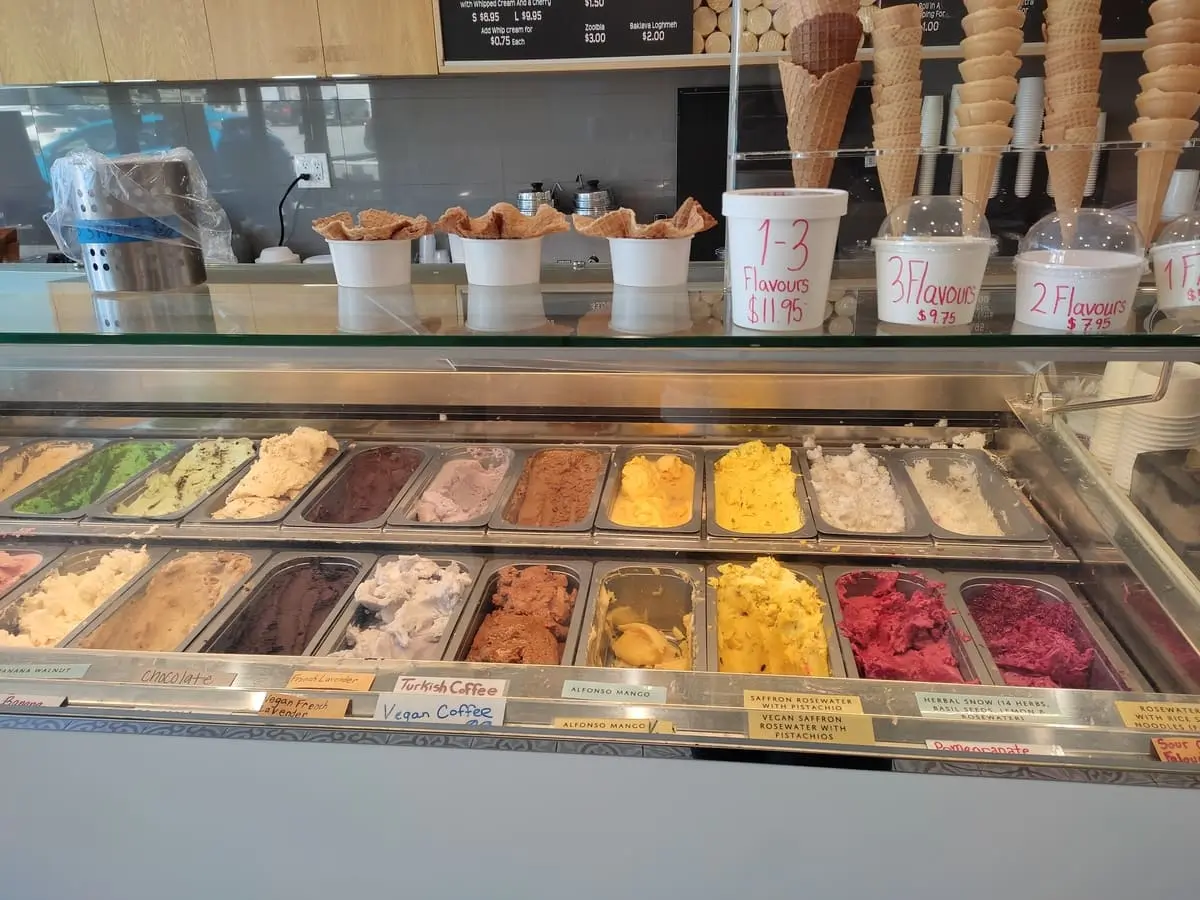 Ice Cream
My final choices were Turkish Coffee and (surprise!) Strawberry.
I liked the Coffee a lot. It had quite an intense flavor and wasn't too sweet. The Strawberry was a touch soft (though not as bad as at Orange County Creamery) and didn't have as strong a flavor as I had expected. It was still tasty though!
Price
$7.95 for two flavors was on the high side. The smaller size would have been enough ice cream for me but I did want to try two different flavors.
Overall Impression
The location isn't the coziest but the store itself was nice. It was also quite busy, especially considering the location. While I was eating my treat several cars stopped by specifically to buy ice cream – a definite sign that people love this place.
I loved the variety of exotic flavors but found the prices a bit too high.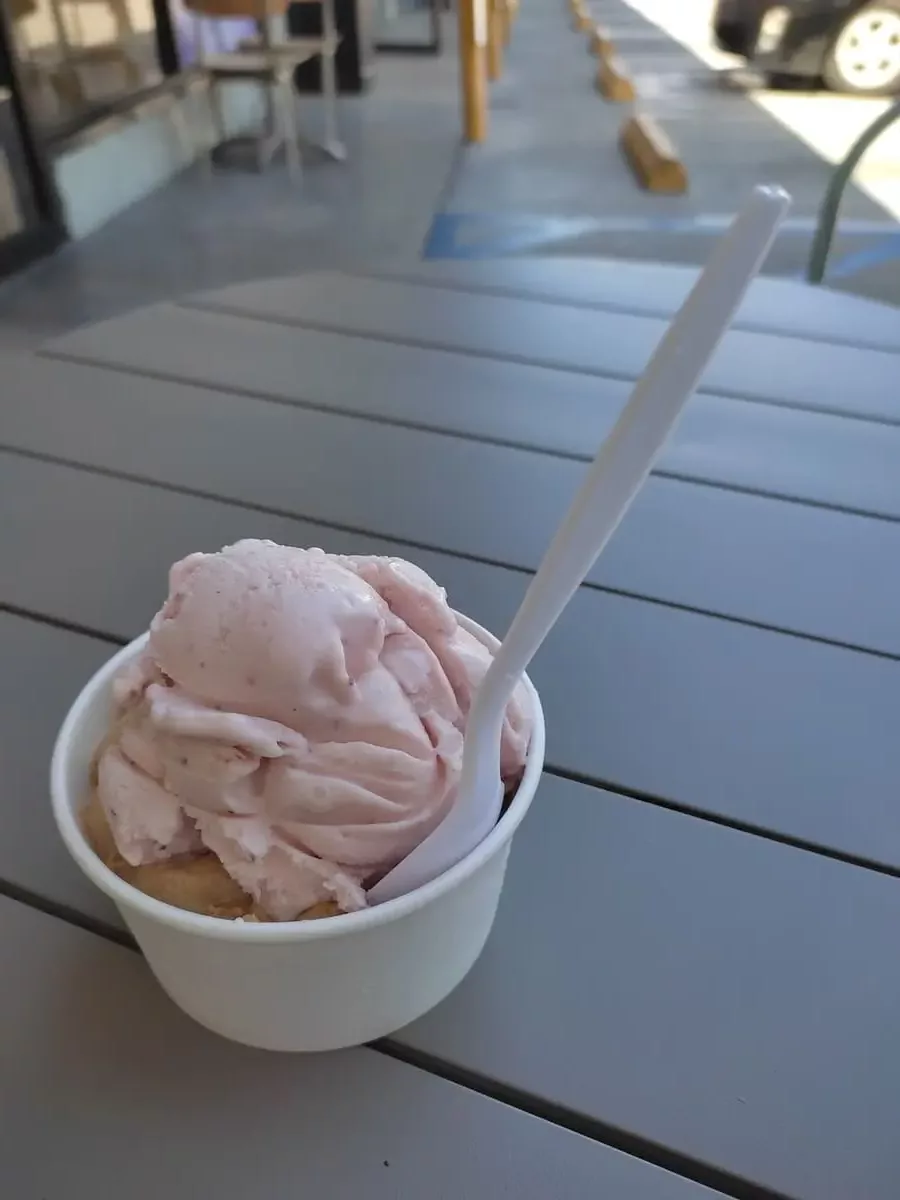 Final verdict about Southern California's best ice cream
I enjoyed all the ice cream I tried and at first I thought I wouldn't be able to pick a favorite.
However, it's been over a week since I got back from my trip and it has gotten easier because looking back some places and some ice creams stick in my mind more than others.
So here is my unofficial, completely subjective verdict:
Consolation Prices
Ice Cream Shop I would want to try again the most:
Mashti Malone's: They had so many exciting flavors I would love to try!
Single favorite flavor: Chef's Surprise (Strawberry, chocolate chips, balsamico) at Gelato 101
Best outdoor seating: Jojo's Creamery, Encinitas
But now it is time for the main event – the winner of my search for the best ice cream in Southern California.
Overall favorite ice cream shop:
Gelato Paradiso in Laguna Beach
I just loved everything here (other than the lack of seating): Price was okay (several flavors even with a smaller size), service great, and I loved all the flavors I tried.
Runner-up: An's Hatmaker in Del Mar
Very creamy ice cream, great service and a cute and unique concept
What about you? Do you have a favorite ice cream place I should try on my next trip to Southern California? Let me know and I will put it on the list.